Daily Prelims Notes 17 May 2022
May 17, 2022

Posted by:

OptimizeIAS Team

Category:

DPN

Daily prelims Notes
17 May 2022
Table Of Contents
Subject: IR
Section: International body
Context:
Finland and Sweden are poised to end decades of neutrality by joining NATO, a dramatic evolution in European security and geopolitics sparked by Russia's invasion of Ukraine.
NATO membership — Process
NATO has what it calls an "open door policy" on new members — any European country can request to join, so long as they meet certain criteria and all existing members agree.
A country does not technically "apply" to join; Article 10 of its founding treaty states that, once a nation has expressed interest, the existing member states "may, by unanimous agreement, invite any other European State in a position to further the principles of this Treaty … to accede."
Ratification of new members could take a year, as the legislatures of all 30 current members must approve new applicants.
Both Finland and Sweden already meet many of the requirements for membership, which include

having a functioning democratic political system based on a market economy;
treating minority populations fairly;
committing to resolve conflicts peacefully;
the ability and willingness to make a military contribution to NATO operations; and
Committing to democratic civil-military relations and institutions.
What does NATO membership entail?
The reason most countries join NATO is because of Article 5 of the North Atlantic Treaty, which stipulates that all signatories consider an attack on one an attack against all.
Article 5 has been a cornerstone of the alliance since NATO was founded in 1949 as a counterweight to the Soviet Union.
The point of the treaty, and Article 5 specifically, was to deter the Soviets from attacking liberal democracies that lacked military strength.
Article 5 guarantees that the resources of the whole alliance — including the massive US military — can be used to protect any single member nation, such as smaller countries who would be defenseless without their allies. Iceland, for example, has no standing army.
Subject: Economy
Section: External Sector
New Delhi banned wheat exports on Saturday and only exports backed by letters of credit (LCs), or payment guarantees, issued before May 13 can proceed before the ban takes effect.
Letter of credit?
A letter of credit (L/C) is a type of "documentary credit" or a "non-fund based credit". It is a document issued by a bank or financial institution at the request of a buyer whereby the bank or financial institution gives assurance  of payment to a seller if the terms and conditions specified in the document are fulfilled. This means that a Letter of Credit is a promise made by the Bank to pay to the exporter / seller on behalf of the importer / buyer. The seller receives the payment only when all the requirements specified in the L/C are met including the documents, delivery dates, product specification, etc.
Parties:
Buyer / Importer: Also known as Opener, as he opens the credit
Bank / Financial Institution: Also known as Issuer, as it opens the letter of credit
Seller / Exporter: Also known as beneficiary as credit is opened in favour of him.
Types:
Irrevocable Letter of Credit-It cannot be modified or cancelled without the agreement of all the three parties.
Revocable Letter of Credit-It may be modified or even cancelled by the issuing bank at any time and without notice to the beneficiary. Such L/Cs are rare nowadays as they give maximum flexibility to the buyers but involve risk to the seller.
Confirmed Irrevocable Letter of Credit-In a confirmed Irrevocable L/C, another bank (called Confirming Bank) is yet more party which obliges itself to honour the L/C in the same manner as issuing bank. Such L/C is used to back up the credit standing of the issuing bank and to mitigate the risk in foreign trade by replacing foreign bank risk by domestic bank risk.
Unconfirmed Irrevocable Letter of Credit-In the Unconfirmed Irrevocable Letter of Credit, a seller's domestic bank (called advisory bank)  acts as agent of the issuing bank but without assuming any responsibility towards the beneficiary. The role of advisory banks here is limited to taking care of the authenticity of the issuing bank and documentary credit.
Revolving Letter of Credit- It is used in the case of regular business transactions between the buyer and the seller. The L/C is issued only once but remains valid for a stated period of time for a number of transactions without issuing another L/C. The Revolving L/C can be either revocable or irrevocable.
Bank Guarantee vs Letter of Credit: What's the Difference?
Bank guarantees represent a more significant contractual obligation for banks than letters of credit do. A bank guarantee, like a letter of credit, guarantees a sum of money to a beneficiary. The bank only pays that amount if the opposing party does not fulfill the obligations outlined by the contract. The guarantee can be used to essentially insure a buyer or seller from loss or damage due to nonperformance by the other party in a contract.
A letter of credit acts as a promissory note from a financial institution—usually a bank or credit union. It guarantees a buyer's payment to a seller or a borrower's payment to a lender will be received on time and for the full amount. It also states that if the buyer can't make a payment on the purchase, the bank will cover the full or remaining amount owed. The letter of credit ensures the payment will be made as long as the services are performed.
Bank guarantees are often used in real estate contracts and infrastructure projects, while letters of credit are primarily used in global transactions.
3. Grey market and Grey market premium 
Subject :Economy
Section :Money Market
LIC shares are now trading at a mild discount in the grey market, signaling negative to at par listing.
Concept:
A grey market/Parallel Market  is a place where trading takes place 'unofficially' before the listing of a scrip in the secondary market. In this market, financial securities are traded and investors trade for shares or IPO applications before they are listed in the secondary market.
A typical example of a grey market is a business selling merchandise of a particular company even though they are not the authorised dealers in the market. In this market, the shares are bought or sold even before they get listed for IPO.
Grey market is not backed or regulated by any third party firms like the Securities and Exchange Board of India (SEBI).
Grey Market: How does it work?
Trading in the grey market is done in cash and in person. It gives an idea about the demand and value for an IPO before listing.
The IPO GMP or Grey Market Premium starts unofficially in the unregulated market after the IPO date and price band are announced. Grey market premium is the extra amount the buyers are ready to pay over and above the issue price. For example – assume the share price of a company is Rs 100 and GMP is Rs 50, it means the people are ready to buy the shares at Rs 150.
Indicates-It may be noted that when premium falls in the grey market, it is an indication that grey market traders are assuming that the issue will be listed at discount. When the premium increases in the grey market, it indicates that the IPO will list at a higher price than the issue. Example-If the company comes up with an IPO of ₹100 and the grey market premium is around ₹20 then we can assume that the IPO might list at around ₹120 on its listing day.
Trading in the grey market is very risky because SEBI or any other regulatory body for securities is not involved in this. Transactions are totally executed on a mutual trust basis in the grey market.
Kostak is a term which is used for the amount a person is ready to pay for the IPO application before the listing. One can buy and sell their full IPO application on Kostak rates in the grey market and make a profit. For instance, if a person has 3 applications for one IPO and sells each application at a premium of Rs 2,500 premium, it means that the individual has secured a profit of Rs 7,500. If he gets the allotment in 2 applications, still his profit will be the same. When he will sell the stocks earned in two applications, he will have to share the profit with the person who bought the application. If one buys or sells the IPO application on the subject to 'sauda' it means one can get the said amount if one will get the allotment otherwise sauda will be cancelled.
4. Double Taxation Avoidance Agreements (DTAA)
Subject: Economy
Section: Fiscal Policy
Holcim CEO Jan Jenisch on Monday said the company's $10.5-billion sale of its stakes in Ambuja Cements and ACC to the Adani Group will not attract any capital gains tax.
Details:
As it will sell the shares in the Indian companies to the Adani family's offshore special purpose vehicle (SPV) through a Mauritius-incorporated entity. This will likely give the Swiss company the cover of India's tax treaty with the island nation. Capital gains from the sale of these stakes to the overseas SPV won't be taxed in India.
Concept: 
Double Taxation Avoidance Agreements (DTAA)  is a treaty signed between two or more countries and is applicable in cases where a taxpayer residing in one country has to earn his/her income from another country.
It is signed between two countries, which, through the elimination of international double taxation, promotes the exchange of goods, services, and investment of capital between the two countries. This implies that there are consented tax rates and jurisdiction on specified kinds of incomes arising in one country to a tax resident of another nation. 
India establishes DTAAs with other countries through Section 90 of the Income Tax Act, 1961. India has DTAAs with more than 80 countries. It is legislated on a reciprocal basis and covers residents of India as well as the residents of the negotiating country. An individual or a corporation not a resident of India or the country with which DTAA is signed cannot claim benefits under DTAAs.
DTAA can either cover all types of income or can target a specific type of income depending upon the types of businesses/holdings of citizens of one country in another. The following categories are covered under the Double Taxation Avoidance Agreements (DTAA):
services
salary
property
capital gains
savings/fixed deposit accounts
Benefits:
Sections 90 and 91 under the Income Tax Act 1961 offer specific relief to taxpayers to avoid double taxation.
Section 90 deals with those provisions involving taxpayers who have paid tax to another country with which India has a DTAA.
Section 91 is for those countries with which India does not have a DTAA.
Some of the major benefits of Double Taxation Avoidance Agreements (DTAA) are mentioned below:
Relief on double taxation is provided by the exemption of incomes earned abroad from tax in the resident country or by providing credit to the extent taxes that have already been paid abroad.
In some cases, the DTAA also provides concessional rates of tax.
DTAA can become an incentive for even legitimate investors to route investments through low-tax regimes to sidestep taxation.
DTAA also provides tax certainty to the various investors and businesses of both the countries through the clear allocation of taxing rights between the contracting states by Agreement.
Subject: Economy
Section: Fiscal Policy
Under the Income Tax Act, gains from the sale of capital assets, both movable and immovable, are subject to 'capital gains tax'. It covers real estate, gold, stocks, mutual funds, and various other financial and non-financial assets.
According to the Income Tax Act, if a person inherits property and does not sell it, no capital gains tax is required. However, if the person who inherited the property decides to sell it, he or she will have to pay tax on the earnings.
Exclusions:
The following items are not considered capital assets:
Any stock, consumables, or raw materials stored for business or profession.
Personal items held for personal use, such as clothing and furniture
Agricultural land in India's rural areas
The central government's 6½% per cent gold bonds (1977) or 7 per cent gold bonds (1980) or national defence gold bonds (1980).
Special bearer bonds (1991)
A gold deposit bond or deposit certificate issued under the Gold Deposit Scheme (1999) or the Gold Monetisation Scheme (2015).
Types:
Short-term capital gains tax
Normally if an asset is held for less than 36 months, any gain arising from selling it is treated as a short-term capital gain (STCG).
The term for immovable assets, such as real estate, buildings, and land, has been decreased from 36 to 24 months.
Long-term capital gains tax
If the asset is held for 36 months or more. However, Shares and equity mutual funds with a holding period of 12 months or more qualify as 'long-term'.
Current tax laws state LTCG arising on the sale of listed equity shares or equity oriented mutual funds are exempt from tax if one pays Securities Transaction Tax (STT) on the sale transaction.
Any of the assets listed below are considered long-term investments if you own them for more than a year:

Zero-Coupon Bonds (not dependent on whether they are quoted or not)
Units of the Unit Trust of India (UTI) (not dependent on whether they are quoted or not)
Units of equity-based mutual funds (not dependent on whether they are quoted or not)
Securities that are listed on a recognised Indian stock market. Government securities, bonds, and debentures are examples of such securities.
Preference shares or stocks held in a corporation that is listed on a recognised stock exchange in India.
Tax rates:
| | | |
| --- | --- | --- |
| Tax type | Condition  | Rate  |
| Long-term capital gains tax | Except on sale of equity oriented fund units/ equity shares | 20% |
| Long-term capital gains tax | On sale of equity oriented fund units/ equity shares | 10% over and above Rs.1,00,000 |
| Short-Term capital gains tax | When securities transaction tax is not applicable | The STCGT is added to the ITR of the taxpayer and the individual is taxed as per his income tax slab. |
| Short-Term capital gains tax | When securities transaction tax is applicable | 15% |
6. Fair and Average Quality (FAQ) norms
Subject: Economy
Section: External Sector
Context:
The Centre on Sunday (May 15) relaxed the Fair and Average Quality (FAQ) norms for wheat in the ongoing rabi marketing season in Punjab, Haryana, and Chandigarh.
Reason and Changes:
The permissible limit of "shriveled and broken grains" is raised to 18% from the existing 6%.
Due to unseasonal heat in March, when the rabi crop goes through its grain-filling stage, has led to shriveling, making the grain unfit for procurement as per the usual quality norms.
About Fair and Average Quality(FAQ) norms
Every year, before procurement begins in this region in April, the Storage and Research (S&R) division of the Department of Food & Public Distribution in the Union Ministry of Consumer Affairs, Food & Public Distribution, notifies specifications to ensure the quality of the procured wheat.
This year, wheat containing up to 0.75% foreign matter, 2% damaged grain, 4% slightly damaged grain, 6% shriveled and broken grain, and 12% moisture was cleared for procurement.
The specifications are implemented at the time of procurement by qualified personnel from the quality control wing of the central government's nodal agency for procurement, the Food Corporation of India (FCI).
The government has in the past relaxed norms for moisture content and loss of luster following heavy rain during the harvesting season, when ripe crops were flattened, and the grain turned blackish. This is for the first time, however, that such a major relaxation has been allowed for shriveled grain.
This relaxation of procurement parameters is to "reduce the hardship of farmers and avoid distress sale of wheat" as there is no loss of quality.
It is just that the wheat will now be called "Under Relaxed Specifications (URS) wheat" instead of FAQ.
7. Supreme Court will hear an appeal against the video survey of Varanasi's Gyanvapi mosque
Subject: History
Section: Art and Culture
Concept:
Objective of the Act:
To freeze the status of any place of worship as it existed on August 15, 1947.
To provide for the maintenance of the religious character of such a place of worship as on that day.
To pre-empt new claims by any group about the past status of any place of worship and attempts to reclaim the structures or the land on which they stood.
Main features:
The Act declares that the religious character of a place of worship shall continue to be the same as it was on August 15, 1947. It says no person shall convert any place of worship of any religious denomination into one of a different denomination or section.
Section 3 of the Act bars the conversion, in full or part, of a place of worship of any religious denomination into a place of worship of a different religious denomination — or even a different segment of the same religious denomination.
Section 4(1) declares that the religious character of a place of worship "shall continue to be the same as it existed" on August 15, 1947. Section 4(2) says any suit or legal proceeding with respect to the conversion of the religious character of any place of worship existing on August 15, 1947, pending before any court, shall abate — and no fresh suit or legal proceedings shall be instituted.
Exceptions:
These provisions will not apply to monuments and sites covered by the Ancient Monuments and Archaeological Sites and Remains Act, 1958; a suit that has been finally settled or disposed of; and any dispute that has been settled by the parties or conversion of any place that took place by acquiescence before the Act commenced.
Section 5 says that the Act does not apply to the place of worship commonly referred to as Ram Janmabhoomi-Babri Masjid in Ayodhya.
Penal provision in the Act: The Act provides for imprisonment up to three years and a fine for anyone contravening the prohibition.
8. Report flags risk of fortified rice for some
Subject: Science & Technology
Section: Disease
Context: 'Excess iron in fortified rice may lead to adverse health effects in specific population'
Content: 
Sickle cell anemia: A group of disorders that cause red blood cells to become misshapen and break down.
With sickle cell disease, an inherited group of disorders, red blood cells contort into a sickle shape. The cells die early, leaving a shortage of healthy red blood cells (sickle cell anaemia) and can block blood flow causing pain (sickle cell crisis).
Infections, pain, and fatigue are symptoms of sickle cell disease.
Treatments include medication, blood transfusions and rarely a bone-marrow transplant.
Sickle cell disease (SCD) is a genetic disorder caused by a mutation in both copies of a person's HBB gene. This gene encodes a component of hemoglobin, the oxygen-carrying protein in red blood cells. The mutation causes hemoglobin molecules to stick together, creating sickle-shaped red blood cells.
Hemoglobin is the protein in red blood cells that carries oxygen. It normally has two alpha chains and two beta chains. The four main types of sickle cell anemia are caused by different mutations in these genes.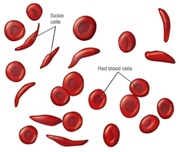 Hemoglobin SS disease is the most common type of sickle cell disease. It occurs when you inherit copies of the hemoglobin S gene from both parents. This forms hemoglobin known as Hb SS. As the most severe form of SCD, individuals with this form also experience the worst symptoms at a higher rate.
Hemoglobin SC disease is the second most common type of sickle cell disease. It occurs when you inherit the Hb C gene from one parent and the Hb S gene from the other. Individuals with Hb SC have similar symptoms to individuals with Hb SS. However, the anemia is less severe.
Hemoglobin SB+ (beta) thalassemia affects beta globin gene production. The size of the red blood cell is reduced because less beta protein is made. If inherited with the Hb S gene, you will have hemoglobin S beta-thalassemia. Symptoms are not as severe.
Hemoglobin SB 0 (Beta-zero) thalassemia: Sickle beta-zero thalassemia is the fourth type of sickle cell disease. It also involves the beta-globin gene. It has similar symptoms to Hb SS anemia. However, sometimes the symptoms of beta zero thalassemias are more severe. It is associated with a poorer prognosis.
Hemoglobin SD, hemoglobin SE, and hemoglobin SO
Thalassemia (thal-uh-SEE-me-uh) is an inherited blood disorder that causes your body to have less hemoglobin than normal. Hemoglobin enables red blood cells to carry oxygen. Thalassemia can cause anemia, leaving you fatigued. If you have mild thalassemia, you might not need treatment.
The main cause of thalassemia: Thalassemia is an inherited (i.e., passed from parents to children through genes) blood disorder caused when the body doesn't make enough of a protein called hemoglobin, an important part of red blood cells.
Types of thalassemia: The specific part of hemoglobin that is affected (usually either "alpha" or "beta"), or the severity of thalassemia, which is noted by words like trait, carrier, intermedia, or major.
Hemoglobin, which carries oxygen to all cells in the body, is made of two different parts, called alpha and beta.
When thalassemia is called "alpha" or "beta," this refers to the part of hemoglobin that isn't being made.
If either the alpha or beta part is not made, there aren't enough building blocks to make normal amounts of hemoglobin. Low alpha is called alpha thalassemia. Low beta is called beta-thalassemia.
Tuberculosis (TB) is a potentially serious infectious disease that mainly affects the lungs. The bacteria that cause tuberculosis are spread from person to person through tiny droplets released into the air via coughs and sneezes A potentially serious infectious bacterial disease that mainly affects the lungs.
The bacteria that cause TB are spread when an infected person coughs or sneezes.
Most people infected with the bacteria that cause tuberculosis don't have symptoms. When symptoms do occur, they usually include a cough (sometimes blood-tinged), weight loss, night sweats, and fever.
Treatment isn't always required for those without symptoms. Patients with active symptoms will require a long course of treatment involving multiple antibiotics.
What causes tuberculosis?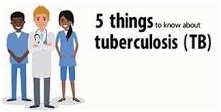 Tuberculosis (TB) is caused by a bacterium called Mycobacterium tuberculosis. The bacteria usually attack the lungs, but TB bacteria can attack any part of the body such as the kidney, spine, and brain. Not everyone infected with TB bacteria becomes sick.
Which food is good for TB patients?
Foods Rich in Vitamin A, C, and E
Fruits and vegetables like orange, mango, sweet pumpkin and carrots, guava, amla, tomato, nuts, and seeds are excellent sources of Vitamin A, C, and E. These foods must be included in the daily diet regime of a TB patient.
Can TB medicine reduce iron?
Iron supplementation is commonly used to treat anaemia in TB patients, but may be unnecessary if inflammation is the cause. Body iron sequestered by TB inflammation can be mobilized during treatment and used to correct the anaemia.
Potential sources of host iron for Mtb. TB are contracted via inhalation of Mtb into the lungs. Mtb is primarily an intracellular organism, residing in the phagosome of lung macrophages during initial infection.
What is the concern about giving supplemental iron to patients with tuberculosis?
The low levels of iron in blood were linked with an increased risk of treatment failure for all patients and tuberculosis recurrence in HIV-infected patients. The high levels of iron were associated with an increased risk of death in all patients.
Thalassemia, sickle cell anemia, and malaria are conditions where there is already excess iron in the body, whereas TB patients are unable to absorb iron. Consumption of iron-fortified foods among patients with these diseases can reduce the immunity and functionality of organs.
The Right to Food implies the right to food at appropriate nutritional levels and the quantum of relief to those in distress must meet those levels in order to ensure that this right is actually secured and does not remain a theoretical concept.
Subject: Science & Technology
Section: Disease
Context: 'Vaccine against 3 encephalitis viruses found safe, effective
Content: Encephalitis (en-sef-uh-LIE-tis) is inflammation of the brain, often due to infection. The infection may be bacterial or viral. Encephalitis may be the result of an immune system disorder.
Symptoms of encephalitis may vary and they are as follows
Mild cases may cause no symptoms or mild flu-like symptoms.
Immediate medical attention is required for symptoms such as confusion, hallucinations, seizures, weakness and loss of sensation.
Severe cases can be life-threatening.
Infectious Encephalitis
Infectious encephalitis is typically caused by a viral infection. Vaccines for measles, mumps, rubella and chickenpox have reduced the rate of encephalitis from these diseases, but other viruses can cause encephalitis.
The most common causes of viral encephalitis are herpes simplex virus types 1 and 2, varicella zoster virus and enteroviruses, which cause gastrointestinal illness.
Encephalitis can also result from certain viruses carried by mosquitoes, ticks and other insects or animals such as:
West Nile virus
Japanese encephalitis virus
La Crosse virus
Louis virus
Equine viruses
Powassan virus
Zika
Chikungunya
A vaccine for eastern equine encephalitis virus (EEEV), western equine encephalitis virus (WEEV), and Venezuelan equine encephalitis virus (VEEV) was found to be safe, well-tolerated and induced a neutralising antibody response in adult volunteers, according to results from a phase 1 clinical trial.
EEEV, WEEV and VEEV are spread to humans through the bites of infected mosquitoes.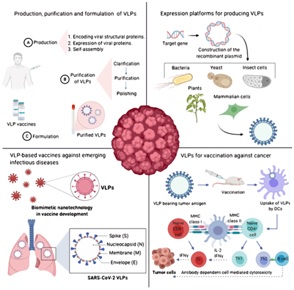 Horses are also susceptible to infection, but horses cannot transmit the viruses directly to humans. Infections in humans are rare but can lead to flu-like symptoms and, in some cases, severe neurological damage or death.
Virus-like particles (VLPs) Virus-like particles (VLPs) are virus-derived structures made up of one or more different molecules with the ability to self-assemble, mimicking the form and size of a virus particle but lacking the genetic material so they are not capable of infecting the host cell.
How are virus-like particles made?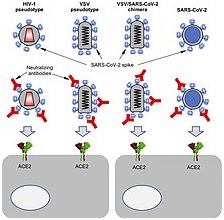 Virus-like particles (VLPs) are molecules that closely resemble viruses, but are non-infectious because they contain no viral genetic material. They can be naturally occurring or synthesized through the individual expression of viral structural proteins, which can then self assemble into the virus-like structure.
What are particle based vaccines?
Virus-like particles (VLPs) are engineered vaccine candidates that have been studied for decades. VLPs are constructed by viral protein expression in various expression systems that promote the self-assembly of proteins into structures resembling virus particles.
10. The Monk Skin Tone (MST) Scale Tool
Subject: Science& Technology
Section: IT
Context: 'Google's new skin tone scale for refined search results and more'
Content: The Monk Skin Tone (MST) Scale is a tool that will be primarily incorporated by Google into computer vision, which is a type of AI that allows computers to see and understand images developed by in partnership with Dr Ellis Monk, associate professor of sociology at Harvard University.
Artificial intelligence (AI): Computer actions that mimic human decision making based on learned experiences and data.
Machine learning (ML): Processes that allow computers to derive conclusions from data. ML is a subset of AI that enables the ability for computers to learn outside of their programming.
What is the difference between AI and machine learning and ML?
AI solves tasks that require human intelligence while ML is a subset of artificial intelligence that solves specific tasks by learning from data and making predictions. This means that all machine learning is AI, but not all AI is machine learning.
Artificial Intelligence
Machine Learning
AI manages more comprehensive issues of automating a system. This computerization should be possible by utilizing any field such as image processing, cognitive science, neural systems, machine learning, etc.
Machine Learning (ML) manages to influence user's machines to gain from the external environment. This external environment can be sensors, electronic segments, external storage gadgets, and numerous other devices.
AI manages more comprehensive issues of automating a system. This computerization should be possible by utilizing any field such as image processing, cognitive science, neural systems, machine learning, etc.

AI manages the making of machines, frameworks, and different gadgets savvy by enabling them to think and do errands as all people generally do.

Machine Learning (ML) manages to influence user's machines to gain from the external environment.

This external environment can be sensors, electronic segments, external storage gadgets, and numerous other devices.

It depends on the user input or a query requested by the client, the framework checks whether it is available in the knowledge base or not.

If it is available, it will restore the outcome to the user related to that query,

if it isn't stored initially, the machine will take in the user input and will enhance its knowledge base, to give a better value to the end-user
Future Scopes of AI
AI digs out the facts from algorithms for a meaningful execution of various decisions and goals predetermined by a firm.
AI and ML are likely to replace the current mode of technology that we see these days, for example, traditional programming packages like ERP and CRM are certainly losing their charm.
Firms like Facebook, Google are investing a hefty amount in AI to get the desired outcome at a relatively lower computational time.
AI is something that is going to redefine the world of software and IT in the near future.
Monk Skin Tone Scale is a 10-point skintone scale that aims to be more representative of those with deeper skintones.
It is used to ensure all kinds of skin tones are accurately portrayed and represented
It provides a huge contrast from the more popular Fitzpatrick scale which was developed in the 1970s that simply demonstrate how fair skin would look with a tan.
It is good for possibly expanding AI-powered skintone matching in beauty shopping.
It also aims to change the game when it comes to skin type assessment in dermatology, as well as improved app development for other skin-related concerns.
Google surveyed a significant number said a 10-point scale matched their skin as well as a 40-shade palette did.
It is also being deployed to ensure a range of people are satisfied with filter options in Google Photos and that the company's face-matching software is not biased.
11. Co-infection of Hepatitis in COVID 19 Children
Subject: Science & Technology
Section: Disease
Context: 'M.P. study finds hepatitis in COVID-hit children'
Content: 
Hepatitis refers to the liver being inflamed and is most commonly caused by medications, viruses, or exposure to certain chemicals.
Once the liver is affected, it loses its ability to clear certain substances from the blood, including a blood product called bilirubin. Without bilirubin, a child can become jaundiced, resulting in a yellowish color in their skin and eyes.
When the liver stops working, all these chemicals start accumulating in the bodies that we usually flush away. The child will start having a yellow color in their skin and the white part of the eyes. Other symptoms include dark urine and stools becoming white
What causes hepatitis in a child?
Hepatitis in children can be caused by many things. Your child can get hepatitis by being exposed to a virus that causes it. These viruses can include:
Hepatitis viruses. There are 5 main types of the hepatitis virus: A, B, C, D, and E.
Hepatitis A and E are specific to certain villages or regions,
Hepatitis A
This form of the virus is passed through fecal-oral contact. It's spread to children in the following ways:
Eating food made by an infected person who didn't wash their hands well after using the bathroom
Drinking water that is contaminated by infected feces. This is a problem in developing countries.
Touching an infected person's feces or dirty diaper and then putting your hands near your mouth. Outbreaks may happen in child-care centers.
International travel to areas where hepatitis A is common
Using illegal drugs
Blood transfusions (very rare)
Hepatitis B
Hepatitis B is spread when blood from an infected person enters another person's body. It can also be spread by sharing personal items such as razors and toothbrushes.
The following children are at risk for hepatitis B:
Children born to mothers with hepatitis B
Children born to mothers who have come from a country where hepatitis B is widespread. These include Southeast Asia and China.
Children who live in long-term care facilities or who are disabled
Children who live in households where someone is infected with the virus
Children who have a blood-clotting problem and need blood products. This can include hemophilia.
Children who need dialysis for kidney failure
Teens who do high-risk activities. These include IV (intravenous) drug use and unprotected sex.
Hepatitis C
Hepatitis C passes through infected blood. It can also be passed through sexual contact and during pregnancy from mother to child. The following children are at risk for hepatitis C:
Children born to mothers who have the virus
Children who have a blood clotting problem, such as hemophilia
Children who need dialysis for kidney failure
Teens who do high-risk activities. These include IV (intravenous) drug use and unprotected sex.
Hepatitis D
This type of hepatitis can only happen with hepatitis B. Hepatitis D can happen at the same time your child is infected with hepatitis B, or it can start later.
Hepatitis D only happens in people already infected with hepatitis B.
Hepatitis D is usually from a parent or from a blood transfusion.
Hepatitis E
This form of hepatitis is like hepatitis A.
It's spread through fecal-oral contact.
Hepatitis E is most common in developing countries.
Cytomegalovirus. This virus is a part of the herpes virus family.
Epstein-Barr virus. The virus causes mononucleosis.
Herpes simplex virus. Herpes can affect the face, the skin above the waist, or the genitals.
Varicella zoster virus (chickenpox). A complication of this virus is hepatitis. But this happens very rarely in children.
Enteroviruses. This is a group of viruses often seen in children. They include coxsackieviruses and echoviruses.
Rubella. This is a mild disease that causes a rash.
Parvovirus. This virus causes fifth disease. Symptoms include a slapped-cheek rash on the face.
Adenovirus. This is a group of viruses that causes colds, tonsillitis, and ear infections in children. They can also cause diarrhea.
Adenoviruses are common viral pathogens in childhood; however, they can cause serious disease in an immunocompromised host. Fulminant hepatitis is a rare complication of adenoviral infection.
Co-infection of COVID and adenovirus
On the recent cases of hepatitis, the WHO has said, "laboratory testing has excluded hepatitis type A, B, C, and E viruses (and D where applicable) in these cases while Severe acute respiratory syndrome coronavirus type 2 (SARS-CoV-2) and/or adenovirus have been detected in several cases."
Liver Disease
The liver has many important functions, including digesting your food and processing and distributing nutrients.
There are many kinds of liver diseases and conditions. It occurs either suddenly (acute) or gradually (chronic). Causes include a reaction to medication, high doses of acetaminophen or paracetamol, hepatitis infection, alcohol abuse and advanced fatty liver. Long-lasting injury or scar tissue in the liver can cause cirrhosis. Yellowed skin and eyes (jaundice) along with stomach pain and swelling are symptoms of liver failure.
Treatment options include medication, dietary changes or possibly a liver transplant.