Immunity
May 17, 2022

Posted by:

OptimizeIAS Team

Category:

DPN Topics

Immunity
Subject: Science & Technology
Section: Disease
Context: 'Vaccine against 3 encephalitis viruses found safe, effective
Content: Encephalitis (en-sef-uh-LIE-tis) is inflammation of the brain, often due to infection. The infection may be bacterial or viral. Encephalitis may be the result of an immune system disorder.
Symptoms of encephalitis may vary and they are as follows
Mild cases may cause no symptoms or mild flu-like symptoms.
Immediate medical attention is required for symptoms such as confusion, hallucinations, seizures, weakness and loss of sensation.
Severe cases can be life-threatening.
Infectious Encephalitis
Infectious encephalitis is typically caused by a viral infection. Vaccines for measles, mumps, rubella and chickenpox have reduced the rate of encephalitis from these diseases, but other viruses can cause encephalitis.
The most common causes of viral encephalitis are herpes simplex virus types 1 and 2, varicella zoster virus and enteroviruses, which cause gastrointestinal illness.
Encephalitis can also result from certain viruses carried by mosquitoes, ticks and other insects or animals such as:
West Nile virus
Japanese encephalitis virus
La Crosse virus
Louis virus
Equine viruses
Powassan virus
Zika
Chikungunya
A vaccine for eastern equine encephalitis virus (EEEV), western equine encephalitis virus (WEEV), and Venezuelan equine encephalitis virus (VEEV) was found to be safe, well-tolerated and induced a neutralising antibody response in adult volunteers, according to results from a phase 1 clinical trial.
EEEV, WEEV and VEEV are spread to humans through the bites of infected mosquitoes.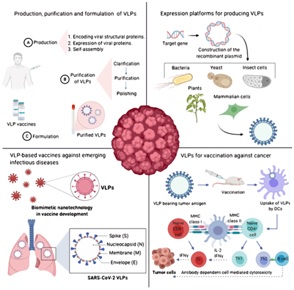 Horses are also susceptible to infection, but horses cannot transmit the viruses directly to humans. Infections in humans are rare but can lead to flu-like symptoms and, in some cases, severe neurological damage or death.
Virus-like particles (VLPs) Virus-like particles (VLPs) are virus-derived structures made up of one or more different molecules with the ability to self-assemble, mimicking the form and size of a virus particle but lacking the genetic material so they are not capable of infecting the host cell.
How are virus-like particles made?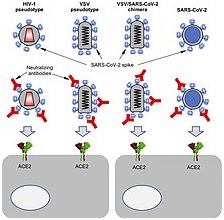 Virus-like particles (VLPs) are molecules that closely resemble viruses, but are non-infectious because they contain no viral genetic material. They can be naturally occurring or synthesized through the individual expression of viral structural proteins, which can then self assemble into the virus-like structure.
What are particle based vaccines?
Virus-like particles (VLPs) are engineered vaccine candidates that have been studied for decades. VLPs are constructed by viral protein expression in various expression systems that promote the self-assembly of proteins into structures resembling virus particles.