Daily Prelims Notes 18 November 2021
November 18, 2021

Posted by:

admin1

Category:

DPN

Daily Prelims Notes
18 November 2021
Table Of Contents
Subject – Governance
Context – Coming up across the country, 10 tribal museums
Concept –
In July, MoS Tribal Affairs Renuka Singh told Rajya Sabha that her ministry had sanctioned Tribal Freedom Fighters Museums in 10 states "under the Centrally Sponsored Scheme 'Support to Tribal Research Institutes' to acknowledge the heroic and patriotic deeds of tribal people who struggled against the Britishers and refused to be bowed down…".
At the country's first Tribal Day (Janjatiya Gaurav Diwas) celebration, the birth anniversary of Birsa Munda, Prime Minister Narendra Modi inaugurated a museum dedicated to the legendary folk hero and freedom fighter in Ranchi.

Work on nine other tribal museums across the country was progressing rapidly.

These museums will also preserve and promote songs, music, art-skills, handicrafts and crafts passed down from generation to generation.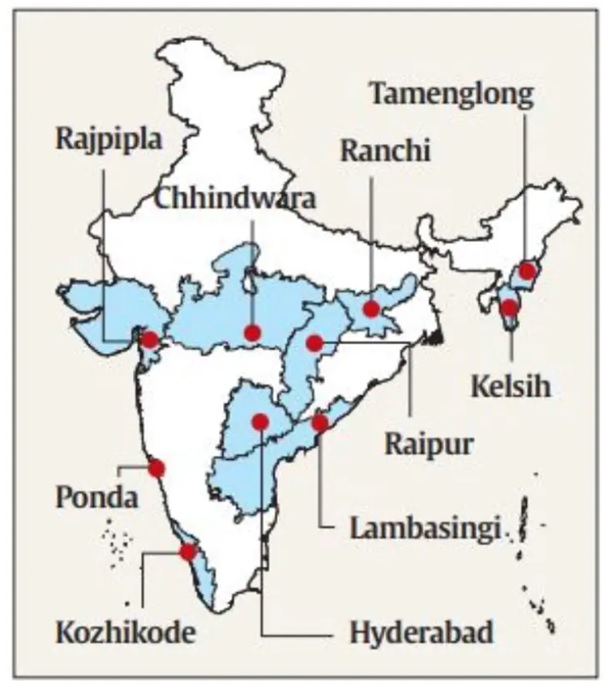 Subject – Art and Culture
Context – At Pushkar fair, renewed concern over Rajasthan's 2015 camel law
Concept –
Fair

Description

KhumbhMela

Largest gathering of Hindu pilgrims, celebrated every twelve years at four holy places Prayag (Allahabad), Haridwar, Ujjain and Nashik.

The grand event held by rotation, on the banks of the sacred river Godavari, Kshipra, Yamuna and The Gange.

SonepurMela

In Bihar, near Patna, on the confluence of river Ganges and Gandak.

Biggest cattle fair in Asia and world's largest animal fair.

Also known as the HariharChhetraMela

Haathi Bazaar is one of the major attraction of the fairs, where elephants are lined up for sale.

Pushkar Fair

One of the world's largest camel fairs, held (October-November) in the oldest city of Rajasthan "Pushkar".

The biggest fair of Rajasthan held on the banks of the Pushkar Lake.

HemisGompa Fair

A religious fair and one of the most auspicious Occasions for the of Buddhist community in India.

The grand fair held at the world's famous HemisGompa "the biggest Buddhist monastery" located in Ladakh.

The famous HemisGompa is surrounded by mountain rocks and concealed inside the Hemis National Park.

Kolayat Fair

Also known as Kapil Muni Fair is the another largest cattle fair held in Bikaner district of Rajasthan.

The major attraction of the fair is when thousands of devotees take a sacred dip and put several lit oil lamps to float in the calm waters of the Kolayat lake.

ChandrabhagaMela

Also known as Magha SaptamMela, A grand fair is held at Khandagiri near Bhubaneswar Orissa.

During the seven day fair thousands of pilgrims gather to bathe in the holy Chandrabhaga River.

GangasagarMela

Second largest congregation of mankind after the holy Kumbha Mela.

The big religious fair held annually where the holy river Gange meet the Bay of Bengal in West Bengal.

Ambubasi Fair

The three-day traditional fair is organized every year during monsoon in the Kamakhya temple at Guwahati, Assam.

Baneshwar fair

Most popular tribal fair held in Dungarpur district in Rajasthan.

This is a religious fair with simple and traditional rituals to worship the Lord Shiva.

Kolkata Book Fair

The world's third largest annual conglomeration of books and world's largest non-trade book fair.
Subject – Art and Culture
Context – Conceived in 2016, the Puri Heritage Corridor Project was unveiled in December 2019 to transform the holy town of Puri into an international place of heritage.
Concept –
The main architectural features of Odisha temples are classified in three orders, i.e., rekhapida, pidhadeul and khakra.
Most of the main temple sites are located in ancient Kalinga—modern Puri District, including Bhubaneswar or ancient Tribhuvanesvara, Puri and Konark.
The temples of Odisha constitute a distinct substyle within the nagara order.
In general, here the shikhara, called deul in Odisha, is vertical almost until the top when it suddenly curves sharply inwards.
Deuls are preceded by mandapas called jagamohana in Odisha.
The ground plan of the main temple is almost always square, which, in the upper reaches of its superstructure becomes circular in the crowning mastaka.
The exterior of the temples are lavishly carved, their interiors generally quite bare.
Odisha temples usually have boundary walls.
Sun temple
At Konark, on the shores of the Bay of Bengal, lie the ruins of the Surya or Sun temple built in stone around 1240.
The Sun temple is set on a high base, its walls covered in extensive, detailed ornamental carving.
These include twelve pairs of enormous wheels sculpted with spokes and hubs, representing the chariot wheels of the Sun god who, in mythology, rides a chariot driven by seven horses, sculpted here at the entrance staircase.
Its shikhara was a colossal creation said to have reached 70m, which, proving too heavy for its site, fell in the nineteenth century.
The vast complex is within a quadrilateral precinct of which the jagamohana or the dance-pavillion (mandapa) has survived, which though no longer accessible is said to be the largest enclosed space in Hindu architecture.
On the southern wall is a massive sculpture of surya carved out of green stone.
4. Animal Husbandry Dept signs MoU with Food Processing Ministry
Subject – Agriculture
Context – Animal Husbandry Dept signs MoU with Food Processing Ministry
Concept –
The Department of Animal Husbandry & Dairying signed a memorandum of understanding (MoU) with the Ministry of Food Processing Industries for extending the benefits of various schemes to the beneficiaries by providing them credit support in establishing dairy processing, meat processing and animal feed plant.
Ministry Of Food Processing Industries has been implementing schemes such as One District One Product (ODOP), while the Department of Animal Husbandry and Dairying runs the credit link grant assistance scheme to dairy, fisheries, poultry and animal feed units.
One District One Product (ODOP) of Ministry of Food Processing Industries
The scheme adopts the One District One Product (ODOP) approach to reap the benefit of scale in terms of procurement of inputs, availing common services and marketing of products.
The States would identify the food product for a district, keeping in perspective the focus of the scheme on perishables.
The ODOP product could be a perishable Agri produce, cereal-based product, or a food product widely produced in a district and their allied sectors.
Support for agricultural products would be for their processing along with efforts to reduce wastage, proper assaying, and storage and marketing.
The Department of Commerce is focusing on agriculture crops on a cluster approach for support for exports under the Agriculture Export Policy.

Ministry of Agriculture is also focusing on a cluster approach for the development of specific agriproducts in districts having a comparative advantage.
For ODOP of different states, please refer the link –ODOP.
Subject – Economy
Context – The Biden administration is considering tapping the US Strategic Petroleum Reserve (SPR) to cool oil prices in conjunction with other big consumers like China and India.
Concept –
Besides the United States, the other 29 member countries in the International Energy Agency (IEA), including the United Kingdom, Germany, Japan and Australia, are required to hold oil in emergency reserves equivalent to 90 days of net oil imports.
Japan has one of the largest reserves after China and the United States.
China, an associate member of the IEA and the world's second-leading oil consumer, created its SPR 15 years ago and held its first oil reserve auction in September.
Another IEA associate member, India, the third-biggest oil importer and consumer, also maintains a reserve.
Overall, OECD governments held more than 1.5 billion barrels of crude as of September, according to the IEA. That is about 15 days of global demand prior to the pandemic.
What is the IEA's role in national SPRs?
The IEA helps coordinate member releases, provides data on levels and plays other roles.
There are typically three ways to maintain SPR levels to meet the 90-day requirement, according to the IEA website:

commercial stocks held by refiners,
those held by the government and agency stocks,
with countries choosing which balance to maintain.

The stockholding structure is peer-reviewed every five years among members.
Measures to restrain demand or otherwise help supply can also be taken, the IEA says.

These may include calls for voluntary fuel savings, fuel-switching such as oil to gas for power generation or "surge production" to quickly tap underground reserves.
Relaxing environmental standards can also help make supplies more flexible, the IEA says.
To know about Strategic Oil Reserves of India, please refer October 2021 DPN.
Subject – Economy
Context – Focus on tribal, LWE-hit areas as Cabinet okays rural connectivity boost
Concept –
The Cabinet Wednesday approved and extended schemes to improve road and telecom connectivity in villages, especially in tribal regions and areas affected by left-wing extremism (LWE).
As per one of the decisions, 7,287 villages from 44 aspirational districts in Andhra Pradesh, Jharkhand, Chhattisgarh, Maharashtra and Odisha will get new telecom towers.
The villages will get 4G connectivity and be able to access e-governance facilities.
In the second decision the Cabinet approved the continuation of the phases 1 and 2 of the Pradhan Mantri Gram SadakYojana, till September 2022 for completion of the roads and bridge works that are yet to be finished under the first two phases.
The Cabinet Committee on Economic Affairs also approved continuation of 'Road Connectivity Project for Left Wing Extremism Affected Areas' upto March 2023.
Pradhan Mantri Gram SadakYojana
Launched on: 25th December, 2000.
Objective: To provide connectivity, by way of an all-weather road to unconnected habitations.
Eligibility: Unconnected habitations of designated population size (500+ in plain areas and 250+ in North-Eastern States, Himalayan States, Deserts and Tribal Areas as per 2001 census) in the core network for uplifting the socio-economic condition of the rural population.

An Unconnected Habitation is one with a population of designated size located at a distance of at least 500 metres or more (1.5 km of path distance in case of Hills) from an All-weather road or a connected Habitation.
Core Network: It is that minimal Network of roads (routes) that is essential to provide Basic access to essential social and economic services to all eligible habitations in the selected areas through at least single all-weather road connectivity.

Latest Funding Pattern: The Union Government bears 90% of the project cost in respect of projects sanctioned under the scheme in North-Eastern and Himalayan States, whereas for other states the Union Government bears 60% of the cost.
Construction of Rural Roads: The Rural Roads constructed under the PMGSY will be in accordance with the provision of the Indian Roads Congress (IRC).

IRC is the Apex Body of Highway Engineers in the country.
The IRC was set up in 1934.

PMGSY – Phase I was launched in December, 2000 as a 100 % centrally sponsored scheme.
The Government of India subsequently launched PMGSY-II in 2013 for upgradation of 50,000 Kms of existing rural road network to improve its overall efficiency.

While the ongoing PMGSY – I continued, under PMGSY phase II, the roads already built for village connectivity was to be upgraded to enhance rural infrastructure.
The cost was shared between the centre and the states/UTs.

Phase III was approved by the Cabinet during July 2019.It gives priorities to facilities like:

Gramin Agricultural Markets (GrAMs) – GrAMs are retail agricultural markets in close proximity to the farm gate, that promote and service a more efficient transaction of the farmers' produce.
Higher Secondary Schools and
Hospitals
Subject – Environment
Context – Unfairly blamed for diluting COP26 coal reference: Official
Concept –
India said it was being "unfairly blamed" for getting a reference to a "phase out" of coal in the COP26 final agreement changed to "phase down", claiming that all it had done was to borrow the phrase that was used in a US-China joint statement a few days earlier.
Among other things, the Glasgow Climate Pact, as the final outcome of the recently concluded two-week climate change conference was called, had called upon all countries to work towards the "phase-out" of unabated coal power.
India, and many other countries, were not very happy with this language, and moved an amendment at the last minute to get it changed to "phase-down" of unabated coal power.
This was the first time that a phase-out of coal had been explicitly mentioned in any decision of the climate change meetings, and was seen as one of the progressive elements in the Glasgow outcome.
Subject – Economy
Context – India resists rich nations' attempt to 'divide' developing nations, LDCs
Concept –
India is resisting attempts by developed nations to "draw a wedge" between developing countries and LDCs in the ongoing negotiations for subsidising public stock holding programmes at the WTO, under the garb of offering an early resolution, and has asked poorer nations not to fall into the trap.
The G33 group of developing nations, which includes India, has been seeking a permanent solution for rules on public stock holding that will allow developing nations and LDCs to give subsidies for such programmes, including minimum support prices for farm produce, without any limitations, as it is essential for supporting the countries' poor and for ensuring food security.
Under the Agreement on Agriculture, developing countries and LDCs have to limit subsidies for public stock holding to 10 per cent of production value, beyond which they could be penalised.
At the Bali Ministerial Conference in 2013, India managed to get a `peace clause' as part of an interim solution which allows immunity against action on breach of the ceiling limit, but it is only limited to traditional staples and excludes new programmes.
The G33, in its submission in September 2021, demanded that the permanent solution should include all crops and all new programmes with no upper limit on total procurement (the Chair's text proposes a tentative upper limit of 15 per cent). It also wants less onerous notification obligations.
9. Countries of Particular Concern: US
Subject – IR
Context – U.S. designates Pakistan and China as countries of particular concern for religious freedom violation
Concept –
The United States designated several nations, including Pakistan, China, Iran, North Korea and Myanmar, as countries of particular concern for violation of religious freedom.
US also announced to place Algeria, Comoros, Cuba, and Nicaragua on a Special Watch List for governments that have engaged in or tolerated "severe violations of religious freedom.
The U.S. also designated al-Shabaab, Boko Haram, Hayat Tahrir al-Sham, the Houthis, ISIS, ISIS-Greater Sahara, ISIS-West Africa, JamaatNasr al-Islam walMuslimin and the Taliban as 'Entities of Particular Concern'.
Country of Particular Concern (CPC):
Designation of the CPC is the top tier recommendation by the US Commission on International Religious Freedom (USCIRF) when it comes to violation of international religious freedom. It is followed by Special Watch List Countries for severe violations.
This is in line with the International Religious Freedom Act of 1998 which was passed to promote religious freedom as a foreign policy of the United States.
The Act aims to promote greater religious freedom in countries which engage in or tolerate violations of religious freedom, and to advocate on the behalf of individuals persecuted for their religious beliefs and activities in foreign countries.
Nations on the CPC list for engaging in or tolerating systematic, ongoing, egregious violations of religious freedom.
Special Watch List: Governments that have engaged in or tolerated "severe violations of religious freedom" are included in this list.
10. The International Court of Justice (Review and Reconsideration) Bill 2021
Subject – IR
Context – New Pak. law allows Jadhav to file appeal
Concept –
The International Court of Justice (Review and Reconsideration) Bill, 2021 is aimed at fulfilling the obligation under the verdict of the ICJ.
The law allowed Mr. Jadhav to challenge his conviction in the High Court through a review process, which was a requirement of the ICJ verdict.
Jadhav, a 51-year-old retired Indian Navy officer, was sentenced to death by a Pakistani military court on charges of espionage and terrorism in April 2017.
India approached the International Court of Justice (ICJ). After hearing both sides, The Hague-based ICJ issued a verdict in July 2019, asking Pakistan to give India consular access to Mr. Jadhav and also ensure review of his conviction.
International Court of Justice
ICJ is a principal judicial organization of the United Nations (UN). It was established in 1945 by a UN Charter and began working in 1946 as the successor to the Permanent Court of International Justice.
It settles legal disputes between member countries and gives advisory opinions to authorized UN Organs and Specialized Agencies.
An Indian, Judge Dalveer Bhandari has been a member of the ICJ since April 2012.
It is seated in the Peace Palace of Hague, Netherlands.
Unlike the six principal organs of the United Nations, it is the only one not located in New York (USA).
Consular Access
Consular access is the ability of foreign nationals to have access to consulate or embassy officials of their own country in the host nation.
India had demanded the consular access to former Indian Navy officer Kulbhushan Jadhav in Pakistan under the rules of the Vienna Convention.
The convention allows foreign nationals who are arrested or detained to have the access.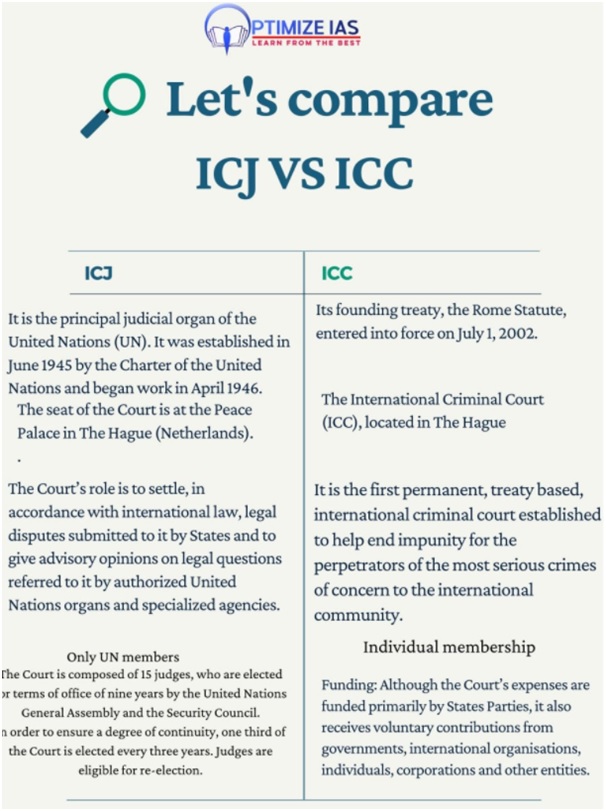 Subject – Governance
Context – 'School enrolment fell during pandemic'
Concept –
The sixteenth Annual Status of Education Report (Rural) 2021 was released online on 17th November 2021
Every year from 2005 to 2014, and then every alternate year till 2018, ASER has reported on the schooling status of children in the 5-16 age group across rural India and their ability to do basic reading and arithmetic tasks.
Last year, COVID-19 interrupted this trajectory, along with so much else.
In 2020, ASER developed an entirely new design, consisting of a phone-based survey that explored children's access to learning opportunities.
With the pandemic extending into yet another year, field-based survey operations were still not possible on a national scale. As a consequence, ASER 2021 followed the same format of a phone-based survey.
Conducted in September-October 2021, eighteen months after the first lockdown, the survey explores how children in the age group of 5-16 studied at home since the onset of the pandemic and the challenges that the schools and households now face as schools reopen across states.
ASER 2021 FINDINGS
The percentage of rural children who were not enrolled in school doubled during the pandemic, with government schools seeing an increase in enrolment at the expense of private schools, according to the Annual Status of Education Report (ASER), 2021.
Over a third of children enrolled in Classes 1 and 2 have never attended school in person.
In 2018, only 2.5% of children were not enrolled in school. In both the 2020 and 2021 surveys, that figure had jumped to 4.6%.
School Enrollment Patterns
At an all-India level, there has been a clear shift from private to government schools.
No change in children aged 6-14 not enrolled in school: The proportion of children not currently enrolled in school increased from 1.4% to 4.6% in 2020. This proportion remained unchanged between 2020 and 2021
More older children in school than ever before: Among older children in the age group of 15-16, an increase in government school enrollment from 57.4% in 2018 to 67.4%.
Tuition
Big increase in children taking tuition: At an all-India level, in 2018, less than 30% children took private tuition classes. In 2021, this proportion has jumped to almost 40%. This proportion has increased across both sexes and all grades and school types.
Tuition is up across the country.
Increase in tuition-taking highest among the less advantaged: Taking parental education as a proxy for economic status, the proportion of children with parents in the 'low' education category who are taking tuition increased by 12.6 percentage points, as opposed to a 7.2 percentage point increase among children with parents in the 'high' education category.
Access To Smartphones
Smartphone ownership has almost doubled since 2018
Household economic status makes a difference in smartphone availability: As parents' education level increases (a proxy for economic status), the likelihood that the household has a smartphone also increases
Smartphone availability does not translate into access for children: Although over two thirds of all enrolled children have a smartphone at home (67.6%), over a quarter of these have no access to it (26.1%). There is also a clear pattern by grade, with more children in higher classes having access to a smartphone as compared to children in lower grades.
Learning Support At Home
Learning support at home has decreased over the last year.
School reopening is driving decreasing support: Among both government and private school going children, those whose schools have reopened get less support from home.
Access To Learning Materials
Almost all children have textbooks: Almost all enrolled children have textbooks for their current grade (91.9%).
Slight increase in additional materials received: Overall, among enrolled children whose schools had not reopened, 39.8% children received some kind of learning materials or activities (other than textbooks) from their teachers during the reference week.
Subject – Governance
Context – A new NITI Aayog report defies accepted logic that universal health coverage entails a strong role for the Government
Concept –
Under the guidelines, IRDAI asked the general and health insurers to offer product that can take care of basic health needs of customers with maximum sum insured of Rs 5 lakh and a minimum of Rs 1 lakh.
The product will be named as Arogya Sanjeevani Policy, succeeded by the name of the insurance company. No other name is allowed in any of the documents.
The standard product should have the basic mandatory covers, no add-ons or optional covers are allowed to be offered along with the standard product and the insurer may determine the price keeping in view the covers proposed to be offered subject to complying with guidelines.
The standard product shall be offered on indemnity basis only and the policy tenure shall be for a period of one year.
IRDAI has fixed the minimum entry age as 18 and maximum as 65 years.
Note – NITI Aayog recently published a road map document entitled "Health Insurance for India's Missing Middle".
13. Memorandum of Procedure (MoP)
Subject – Polity
Context – Chief Justice of the Madras High Court Sanjib Banerjee has been abruptly transferred to head the Meghalaya High Court.
Concept –
Memorandum of Procedure (MoP) is an agreement between the judiciary and the government. It contains a set of guidelines for making appointments to the Supreme Court and High Court.
The MoP is a crucial document as the Collegium system of appointing judges is a judicial innovation that is not mandated through legislation or text of the Constitution.
The Memorandum of Procedure for judicial appointments and transfers says a proposal to transfer a High Court judge can only be initiated by the CJI, "whose opinion in this regard is determinative".

In addition, the views of "one or more knowledgeable Supreme Court judges" are taken.
These views are considered by the five-member Collegium.

This system was put in place as a safeguard against arbitrary transfers at the instance of the executive.
Evolution of MoP:
The MoP evolved based on three SC decisions – the First Judges Case (1981), Second Judges Case (1993), and the Third Judges Case (1998).
In 2016, the MoP re-negotiations took place following the Supreme Court's decision to strike down the National Judicial Appointments Commission (NJAC).
However, a judicial order can overturn the negotiations as an order of the SC is the law of the land binding the government.
Subject – Polity
Context – Anglo-Indian leaders meet Naqvi
Concept –
The Anglo-Indian community in India traces its origins to an official policy of the British East India Company to encourage marriages of its officers with local women.
The term Anglo-Indian first appeared in the Government of India Act, 1935.
In the present context, Article 366(2) of the Constitution Of India states: "An Anglo-Indian means a person whose father or any of whose other male progenitors in the male line is or was of European descent but who is domiciled within the territory of India and is or was born within such territory of parents habitually resident therein and not established there for temporary purposes only…"
National Commission for SCs (Article 338) : It investigates all matters relating to the Constitutional and other legal safeguards for the Anglo-Indian community and report to the President upon their working.
The reservation for the Anglo-Indian community was extended till the year 2020 through the 95th Amendment, 2009. Originally,this provision was to operate till 1960.
In January 2020, the Anglo-Indian reserved seats in the Parliament and State Legislatures of India were abolished by the 104th Constitutional Amendment Act, 2019.
What is the Anglo-Indian population?
The number of people who identified themselves as Anglo-Indian was 296, according to the 2011 Census.
Under what provisions was reservation in legislature granted?
Provision for nomination of two Anglo-Indians to Lok Sabha was made under Article 331 of the Constitution. It says: "Notwithstanding anything in Article 81, the President may, if he is of opinion that the Anglo-Indian community is not adequately represented in the House of the people, nominate not more than two members of that community to the House of the People."
The idea of such nominations is traced to Frank Anthony, who headed the All India Anglo-Indian Association. Article 331 was added in the Constitution following his suggestion to Jawaharlal Nehru.
Article 333 deals with representation of the Anglo-Indian community in Legislative Assemblies. It says: "Notwithstanding anything in Article 170, the Governor of a State may, if he is of opinion that the Anglo-Indian community needs representation in the Legislative Assembly of the State and is not adequately represented therein, [nominate one member of that community to the Assembly]."
Currently, some Assemblies have one Anglo-Indian member each: Andhra Pradesh, Bihar, Chhattisgarh, Jharkhand, Karnataka, Kerala, Madhya Pradesh, Maharashtra, Tamil Nadu, Telangana, Uttar Pradesh, Uttarakhand and West Bengal. The 126th Amendment does away with this as well.
According to the 10th Schedule of the Constitution, Anglo-Indian members of Lok Sabha and state Assemblies can take the membership of any party within six months of their nomination. But, once they do so, they are bound by their party whip. The Anglo-Indian members enjoy the same powers as others, but they cannot vote in the Presidential election because they are nominated by the President.