Daily Prelims Notes 18 October 2022
October 18, 2022

Posted by:

OptimizeIAS Team

Category:

DPN

Daily Prelims Notes
18 October 2022
Table Of Contents
1. Interpol not playing any role in curbing state-sponsored terrorism, says Secretary-General
Subject: International Organisation
Context: Interpol Secretary-General Jürgen Stock on October 17 said the international criminal police organisation was not playing any role in curbing state-sponsored terrorism and that it focussed primarily on ordinary law crimes.
Concept:
The 90th General Assembly of Interpol will be held from October 18 to 21
The Interpol General Assembly meeting is taking place in India after 25 years.
The event will provide India the chance to showcase its best practices in law and order to the entire world.
About INTERPOL
Its full name is the International Criminal Police Organisation (INTERPOL) and is an inter governmental organization.
It was founded in 1923 as the International Criminal Police Commission (ICPC).
In 1956, the ICPC adopted new constitution and the name INTERPOL.
It has 195 member countries and it helps police in all of them to work together to make the world a safer place.
It is headquartered in Lyon, France.
It published Global Crime Trend Report
It doesn't deal with state sponsored terrorism.
In each country, an INTERPOL National Central Bureau (NCB) provides the central point of contact for the General Secretariat and other NCBs.
An NCB is run by national police officials and usually sits in the government ministry responsible for policing.
India is a member of INTERPOL since 1956.
The Central Bureau of Investigation (CBI) is designated as the National Central Bureau of India.
Structure of INTERPOL
The head of Interpol is the President who is elected by the General Assembly. He comes from one of the member-nations and holds office for four years.
The day-to-day activities are overseen by a full-time Secretary General elected by the General Assembly, who holds office for five years.
The General Assembly lays down the policy for execution by its Secretariat which has several specialised directorates for cybercrime, terrorism, drug trafficking, financial crime, environmental crime, human trafficking, etc.
Every member-country is the Interpol's face in that country.
Interpol Notices
Its notices are international requests for cooperation or alerts allowing police in member countries to share critical crime-related information.
Notices are issued by the General Secretariat at the request of a member country's INTERPOL National Central Bureau.
They are made available for all our member countries to consult in our Notices database.
Notices can also be used by the United Nations, International Criminal Tribunals and the International Criminal Court to seek persons wanted for committing crimes within their jurisdiction, notably genocide, war crimes, and crimes against humanity.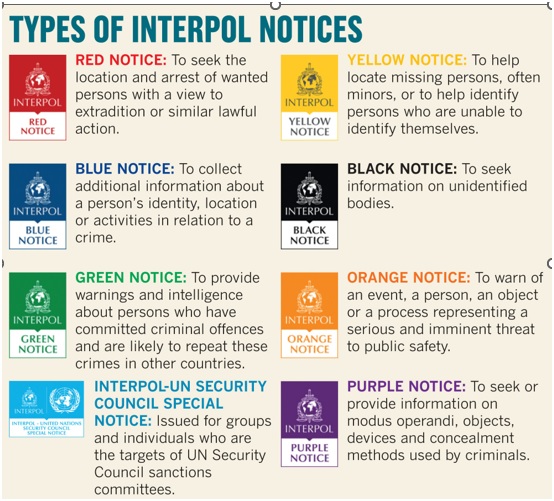 2. One Nation One Fertilizer Scheme
Subject :Govt Schemes
Context :Prime Minister Narendra Modi on Monday inaugurated 600 Kisan Samriddhi Kendras and 'One Nation, One Fertilizer' scheme and said that these steps were being taken to modernize agriculture.
Details of the Sammelan:
A scheme named- 'Pradhan Mantri Bhartiya Jan UrvarakPariyojan– One Nation, One Fertiliser'–launched.
Bharat urea bags–which will assist companies in marketing fertilisers under the single brand name 'Bharat' was launched.
600 Pradhan Mantri Kisan SamruddhiKendras (PMKSK) under the Ministry of Chemicals & Fertilisers was inaugurated.

Centre plans to develop more than 3.25 lakh fertiliser shops across the country as PMKSKs.

The 12th installment of the PM-Kisan scheme was released.

Under the scheme, eligible farmer families are provided a benefit of Rs. 6000 per year in three equal installments of Rs. 2000 each.

Suggestion to reduce import bill– cars should run on ethanol produced from farm produce;
Concept:
Pradan Mantri Kisan SamruddhiKendras:
It is under the Ministry of Chemicals & Fertilizers.
Under the scheme, the fertilizer retail shops in the country will be converted into PMKSK in a phased manner.
Under it farmers can buy not only fertiliser and seeds but also implement soil testing and get useful information on farming techniques
PMKSK will cater to a wide variety of needs of the farmers and provide agri-inputs (fertilizers, seeds, implements);

Testing facilities for soil, seeds, fertilizers;
Generate awareness among farmers;
Provide information regarding various government schemes and ensure regular capacity building of retailers at block/ district level outlets.
Pradhanmantri Bhartiya JanurvarakPariyojna
It aims to brand all subsidised fertiliser under one brand — 'Bharat' — to eliminate product differentiation and confusion caused to farmers by multiple brands.
Under the scheme companies are allowed to display their name, brand, logo and other relevant product information only on one-third space of their bags.
On the remaining two-thirds space, the "Bharat" brand and PradhanmantriBharatiya Jan UrvarakPariyojana logo will have to be shown.
The single brand name for UREA, Di-Ammonium Phosphate DAP, Muriate of potash (MOP) and Nitrogen Phosphorus Potassium NPK etc. would be BHARAT UREA, BHARAT DAP, BHARAT MOP and BHARAT NPK etc. respectively for all Fertiliser Companies, State Trading Entities (STEs) and Fertiliser Marketing Entities (FMEs).
This scheme applies to both public & private sector companies.
Under ONOF companies are allowed to display their name, brand, logo and other relevant product information only on one-third space of their bags.
On the remaining two-thirds space, the "Bharat" brand and Pradhan mantriBharatiya Jan UrvarakPariyojana logo will have to be shown.
The single brand name for Urea, Di-Ammonium Phosphate DAP, Muriate of potash (MOP) and Nitrogen Phosphorus Potassium NPK etc would be BHARAT UREA, BHARAT DAP, BHARAT MOP and BHARAT NPK etc
It applies for all Fertiliser Companies, State Trading Entities (STEs) and Fertiliser Marketing Entities (FMEs).
This scheme applies to both public & private sector companies.
It will bring about uniformity in fertiliser brands across the country
Subject :Economy
Context 'Bigtechs' pose systemic risks to financial stability: RBI paper–''Bigtechs' in the Financial Domain: Balancing Competition and Stability'.
Details:
They pose challenges to financial stability due to their  technological advantages, large user base, wide-spread use by financial institutions and network-effects.
The complex governance structure of bigtechs limits the scope for effective oversight and entity-based regulations.
It can easily acquire cross-functional databases which can be exploited for generating innovative product offerings including shadow banking activities.

Involvement in shadow banking by them can lead to operational risk due to any failure of non-financing services and further disruption of financing activity.
Increasing complex inter-linkages between financial institutions and tech-companies needs the regulatory frameworks to be updated.
Concept:
Big techs
Large non-financial technology firms, referred to as "bigtechs"
Example-  Alibaba, Amazon, Facebook, Google, and Tencent.
They usually hold service licenses through subsidiaries or JVs with varying levels of ownership control and jurisdictional regulatory advantages.
Bigtechs' core businesses are in information technology and consulting, including cloud computing and data analytics. Other services include shadow banking and financial intermediation.
Shadow banking:
It  is a term used to describe bank-like activities (mainly lending) that take place outside the traditional banking sector.
It is also referred to as non-bank financial intermediation or market-based finance.
Generally, it is not regulated in the same way as traditional bank lending.
The term 'shadow bank' was coined by Paul McCulley in 2007.
Example: Private equity funds, credit hedge funds, exchange-traded funds, credit investment funds, structured investment vehicles (SIV), NBFCs and hedge funds are some of the entities included in shadow banking.
These institutions function as intermediaries between the investors and the borrowers, providing credit, thus, leading to financial inclusion and hence generating liquidity in the system.
Types of Risks in Banks 
A bank faces many different types of risks and these need to be managed very carefully.Broadly speaking, Risks in the Banking sector are of two types namely Systematic Risks and Unsystematic Risks.
Systematic Risks:

Systematic risk is also known as Undiversifiable Risk or Volatility and market risk.
Systematic risk affects the overall market and not just a stock or industry in particular.
Examples of it include interest rate changes, inflation, recessions, and wars.

Unsystematic Risks:

It is also called Nonsystematic Risk, Specific Risk, Diversifiable Risk, and Residual Risk.
This type of risk refers to the uncertainty inherent to a company or industry investment in particular.
Examples include a change in management, a product recall, a regulatory change that could drive down company sales, and a new competitor in the marketplace with the potential to take away market share from a company in which you've invested.

Other specific risks 

Credit of Default Risk:-The Basel Committee on Banking Supervision defines credit risk as the potential that a bank borrower, or counter-party, will fail to meet its payment obligations regarding the terms agreed with the bank.
Market Risk:-The Basel Committee on Banking Supervision defines market risk as the risk of losses in on-balance or off-balance sheet positions that arise from movement in market prices.

Interest Risk: It causes potential losses due to movements in interest rates.
Equity Risk: It causes potential losses due to changes in stock prices as banks accept equity against disbursing loans.
Commodity Risk: It causes potential losses due to changes in commodity (agricultural, industrial, energy) prices.
Foreign Exchange Risk: It causes potential loss due to changes in the value of the bank's assets or liabilities resulting from exchange rate fluctuations

Liquidity Risk:-It can be defined as the risk of a bank not being able to finance its day-to-day operations.
Operational Risk:-The Basel Committee on Banking Supervision defines operational risk as the risk of loss resulting from inadequate or failed internal processes, people, and systems or external events.There are three main causes of this risk:

Human Intervention & Error
Failure of the IT/internal software & systems.
Failure of Internal Processes to transmit data & information accurately
4. 9 trustees of Gujarat Vidyapith resign over governor's appointment as chancellor
Subject : History
Context: Nine trustees of Gujarat Vidyapith, founded by Mahatma Gandhi in 1920, have tendered their resignations to protest against the recent decision of the governing council to appoint governor Acharya Devvrat as 12th chancellor of the university.
Concept :
What is the role of the Chancellor in public universities? 
State public universities are established through laws passed by state legislatures.

In most laws the

Governor

has been designated as the Chancellor of these universities.

The

Chancellor

functions as the

head of public universities,

and appoints

the Vice-Chancellor of the university.

The Chancellor can

declare invalid,

any university proceeding which is not as per existing laws.  In some states (such as Bihar, Gujarat, and Jharkhand),

The Chancellor has the power to

conduct inspections

in the university.

The Chancellor also presides over the convocation of the university, and confirms proposals for conferring honorary degrees. (This is different in Telangana, where the Chancellor is appointed by the state government.)

The Chancellor presides over the

meetings of various university bodies

(such as the Court/Senate of the university).  The Court/Senate decides on matters of general policy related to the development of the university, such as: (i) establishing new university departments, (ii) conferring and withdrawing degrees and titles, and (iii) instituting fellowships.
Does the Governor have discretion in his capacity as Chancellor?
In 1997, the Supreme Court held that the Governor was not bound by the aid and advice of the Council of Ministers, while discharging duties of a separate statutory office (such as the Chancellor).

The

Sarkaria 

and 

Puunchi Commission

also dealt with the

role of the Governor

in educational institutions.   Both Commissions concurred that while discharging statutory functions, the Governor is not legally bound by the aid and advice of the Council of Ministers.  However, it may be advantageous for the Governor to consult the concerned Minister.

The Sarkaria Commission recommended that state legislatures should avoid conferring statutory powers on the Governor, which were not envisaged by the Constitution. The Puunchi Commission observed that the role of Governor as the Chancellor may expose the office to controversies or public criticism.  Hence, the role of the Governor should be restricted to constitutional provisions only.
Other recent development:
The West Bengal University Laws (Amendment) Bill, 2022 designates the Chief Minister of West Bengal as the Chancellor of the 31 public universities in the state.  Further, the Chief Minister (instead of the Governor) will be the head of these universities, and preside over the meetings of university bodies (such as Court/Senate).
Gujarat Vidyapith
Gujarat Vidyapith is a university in Ahmedabad, Gujarat, India.
The university was founded on 18 October 1920 as a 'Rashtriya Vidyapith' ('National University') by Mahatma Gandhi, the leader of the Indian independence movement.
Mahatma Gandhi served throughout his life as the chancellor of the university.
The university helped nationalists establish a system of education for all Indians, thus proving the country's independence from British-run institutions and de-legitimizing the British Raj.
Its foundation was one of the important event of a satyagraha initiative launched by Gandhi as a means to peacefully terminate British rule in India.
The Gujarat Vidyapith became a 'deemed university' in 1963.
It is funded and governed by the University Grants Commission, under the Union Ministry for Human Resources Development in New Delhi.
Although considerably modernized in its structure and curriculum, the university maintains its commitment to Gandhian ideals, human studies, social service and development work.
Deemed University
Deemed University is a type of higher education institute, it has been recognized by the status of "deemed to be university" under Section 3 of the University Grants Commission (UGC) Act, 1956.
In broad terms, it means that the institution has been granted permission to offer its own degree programs, which are equivalent to those provided by regular universities.
5. Top court to examine if Muslim girl competent to marry at age of 16
Subject: Fundamental Rights
Context:
The Supreme Court will examine the question whether a Muslim girl who had attained 16 years of age is competent to enter into a contract of marriage with a person of her choice given the ban on child marriages.
SC bench will comprise Justices S K Kaul and A S Oka.
Senior AdvocateRajshekhar Rao has been appointed  as amicus curiae in the matter.
The matter has now been listed on November 7, 2022 for future hearin
History of the Case:
The case is related to a Punjab and Haryana High Court decision.
The High Court had recognised the marriage of a 16-year-old Muslim girl of her own free will in this decision.
According to the High Court, marriage of girls after puberty (menstruation) is permissible under Muslim Personal Law.
The National Commission for the Protection of Child Rights has filed an appeal with the Supreme Court.
Legality Involved:
The High Court had allowed this citing Muslim Personal Law while disposing of a protection plea of a Muslim couple.
According to Muslim Personel law Article 195 from the book Principles of Mohammedan Law by Sir DinshahFardunji Mulla, puberty and majority are one and the same, and that there is a presumption that a person attains majority at the age of 15 years.
The Delhi High Court had issued a similar order some time ago. The marriage of a Muslim girl over the age of 15 and a Muslim boy over the age of 25 was upheld by the Delhi High Court.
Issues Involved:
According to NCPCR's petition, the High Court's ruling is essentially allowing a child marriage and this violative of the Prohibition of Child Marriage Act,2006.
6. Power of Governor to remove minister
Context:
Kerala Governor Arif Mohammed Khan has warned ministers who lower the dignity of his office that they would invite action including removal from their post.
What is the issue:
The recent development came amid a tussle between Arif Mohammed Khan and the Pinarayi Vijayan-led state government on the governor's approval to legislations such as the Lok Ayukta and University Laws Amendment Bills as well as a matter relating to appointment to universities.
Last week, Arif Mohammed Khan withdrew 15 of his nominees from the senate of Kerala University in his capacity as the chancellor of the university.
The whip on the Senate members was issued after they kept away from a meeting of the university body which should have proposed its nominee for the search-cum-selection committee for the next V-C of the university.
Earlier, Arif Mohammed Khan  had formed a search committee without the Senate nominee. 
Since the University Act mandates that the committee should have a nominee of the Senate and there was no recommendation for the nominee from the CPI(M)-dominated Senate, Khan notified only a two-member committee.
Constitutional Power of Governor:
Article 163: There shall be a council of ministers with the chief minister as the head to aid and advise the governor in the exercise of his functions, except in so far as he is required to exercise his functions in his discretion.
Article 164: The chief Minister shall be appointed by the Governor and the other Ministers shall be appointed by the Governor on the advice of the Chief Minister, and the Ministers shall hold office during the pleasure of the Governor.
Article 174: The Governor can also summon, prorogue, and dissolve the Legislative Assembly. By convention, he does this on the advice of the Council of Ministers while they enjoy the confidence of the Assembly.
Article 200: Every Bill passed in an Assembly has to be sent to the Governor, after which he has four options
To assent to the Bill,
Withhold assent,
Reserve the Bill for the consideration of the
Return the Bill to the legislature, asking it to reconsider the Bill or an aspect of it. The Governor can also suggest an amendment to the Bill.
Views of the legal experts:
The legal fraternity is divided over a Governor's constitutional power to remove a minister.
A section argues the Kerala Governor's warning is in line with the powers granted under the Constitution. The Governor can, in fact, remove the ministers appointed out of discretion and when that pleasure no more exists,
Another section believed that such dictatorial powers are not vested with the governor.
Former Lok Sabha Secretary General P D T Achary says the Governor cannot remove a minister in their own capacity without obtaining the sanction of the Chief Minister or consulting with the latter
A Governor can recommend the President to dismiss the state Government based on the prevailing political situation. However, it's the President who has to make the final call. 
The first Kerala government was dismissed based on the Governor's recommendation.
7. Dilip Mahalanabis's miracle cure, ORS
Subject :Science
Context-
Dilip Mahalanabis, known for  oral rehydration therapy (ORT) passed away on October, 16, 2022.
About him-
Dilip Mahalanabis (12 November 1934 – 16 October 2022) was an Indian paediatrician known for pioneering the use of oral rehydration therapy to treat diarrheal diseases.
In the mid-1960s he did research on cholera and other diarrheal diseases at the Johns Hopkins International Center for Medical Research and Training in Calcutta, India.
In the mid-1980s and early 1990s, he was a medical officer in the Diarrheal Disease Control Programme of the WHO.
Later in the 1990s, he served as the Director of Clinical Research at the International Centre for Diarrhoeal Disease Research (ICDDR,B), Bangladesh.
In 1994,Mahalanabis was elected a foreign member of the Royal Swedish Academy of Sciences.
In 2002 Dr. Mahalanabis, Dr. Nathaniel Pierce, Dr. David Nalin and Dr. Norbert Hirschhorn, were awarded the first Pollin Prize in Pediatric Research for their contributions to the discovery and implementation of oral rehydration therapy.
In 2006 Dr. Mahalanabis, Dr. Richard A. Cash and Dr. David Nalin were awarded the Prince Mahidol Prize, also for their role in the development and application of oral rehydration therapy.
His contribution-
In 1971, as the Bangladesh Liberation War in the refugee camp in Bangaon, West Bengal, Cholera was spread taking the toll on life. The camp was under the supervision of Kolkata paediatrician DilipMahalanabis, andthe situation was turning critical.
The camp was running out of intravenous fluid saline, the then-standard treatment for the severe — frequently fatal — diarrhoea that cholera causes, and lacked enough trained staff to administer it.
In desperation, Mahalanabis turned to oral rehydration therapy (ORT), still not widely accepted as a diarrhoea treatment, and with the support of the Johns Hopkins University Centre for Medical Research and Training in Kolkata, began administering a precise mixture of table salt, baking soda and commercial glucose with clean drinking water.
The results were near-miraculous: Within two weeks, the death rate dropped from 30 per cent to 3.6 per cent.
About ORT-
Oral rehydration therapy is an alternative to intravenous rehydration therapy for preventing and treating dehydration from diarrhea when intravenous therapy is not available or feasible. Oral rehydration therapy is calculated by the World Health Organization to have saved the lives of over 60 million persons.
Inspiring contribution to the medical world-
The story of ORT spans many years and involves several important figures, from Yale paediatrician Daniel Darrow who concluded in the 1940s that an oral solution of potassium, lactate and glucose could help restore electrolytes lost due to diarrhoea to physician Robert A Phillips, whose work during a cholera epidemic in the Philippines demonstrated the viability of oral therapy, which had long been dismissed as being too simple to be effective.
8. What are green crackers & how do we identify them?
Subject: Environment
Context-
As Chandigarh allows the use of green crackers here is how one should identify green crackers and the harmful toxins crackers emit.
What is the difference between green crackers and traditional crackers?
Both green crackers and traditional crackers cause pollution and people should refrain from using either.
However, the only difference is that green crackers cause 30 per cent less air pollution as compared to traditional ones.
Green crackersreduce emissions substantially and absorb dust and don't contain hazardous elements like barium nitrate.
Toxic metals in traditional crackers are replaced with less hazardous compounds.
According to the National Green Tribunal (NGT), green crackers are permitted only in cities and towns where air quality is moderate or poor.
There is reduction in emission of sound as well in green crackers.
How does one identify and differentiate them?
One should look for green crackers falling only in these three categories– SWAS, SAFAL and STAR: the crackers developed by the Council of Scientific and Industrial Research (CSIR).
SWAS is 'safe water releaser', which suppresses the dust released by releasing water vapour in the air.
It does not comprise potassium nitrate and sulphur and the particulate dust released will reduce approximately by 30 per cent.
Similarly, STAR is the safe thermite cracker, which does not comprise potassium nitrate and sulphur, emits reduced particulate matter disposal and reduced sound intensity.
SAFAL is 'safe minimal aluminium' which has minimum usage of aluminium, and used magnesium instead.
It ensures reduction in sound in comparison to traditional crackers.
If chemical identification cannot be done, the identification of green crackers can be done through the CSIR NEERI logo.
The scanner may be downloaded using the CSIR NEERI green QR code app from Google Playstore.
Toxic metals that traditional crackers release-
| | |
| --- | --- |
| Colors bursting out of traditional crackers | Chemical responsible for those colors |
| 1. White color | Aluminium, magnesium and titanium |
| 2. Orange colour | Carbon or Iron |
| 3. Yellow colour | Sodium compounds |
| 4. Blue colour |  Copper compounds |
| 5. Red colour | Strontium carbonates |
| 6. Green colour | Barium mono chloride salts or Barium nitrate or Barium chlorate. |
What damage and harm can these chemicals do when a person is exposed?
| | |
| --- | --- |
| Toxins in crackers | Harmfull effects to the exposed person |
| 1. Lead | Nervous system |
| 2. copper | Respiratory tract irritation |
| 3. sodium |  Skin issues |
| 4. magnesium |  Mental fume fever |
| 5. Cadmium | Anemia, damages the kidney |
| 6. nitrate | Mental impairment, Irritation in mucous membrane, eyes and skin |
Why are green crackers being preferred over conventional ones?
Firecrackers made with reduction in size of shell, elimination of ash usage, reduced usage of raw materials, uniform acceptable quality, etc., leading to reduction of particulate matter and gaseous emission is why green crackers are being preferred.
9. New Covid-19 variants spreading across the globe, what risk do they pose?
Subject : Science
Context-
2,060 new infections were recorded in the country over the last 24 hours– omicron sub-variants such as the BF.7 and recombinant variants such as XBB are spreading in several countries.
Latest situational report of WHO-
The BA.5 sub-variant of omicron continues to be the dominant one across the globe, accounting for 76.2 per cent of the cases, according to the latest situation report by the World Health Organisation.
In India, BA.4 and BA.5 sub-variants never became the dominant variants.
At present, BA.2.75 continues to cause most of the infections.
New variants across the globe-
New variants scientists are watching out for, In the United States,BQ.1, BQ.1.1, and BF.7 are being monitored as variants of concern because of an increase in cases caused by them.
As per data from the Centre for Disease Control– USA, BQ.1 and BQ.1.1 each account for 5.7 per cent of the total cases, while BF.7accounts for 5.3 per cent.
In the United Kingdom, the BQ.X variant and BF.7 are under the scanner as they gain ground over the dominant BA.5.
According to the UK Health Security Agency, BF.7 accounted for 7.26 per cent of Covid-19 cases and is showing a relative growth advantage of 17.95 per cent over BA.5.
Closer home, recombinant variant XBB–  which is a combination of two omicron sublineagesBJ.1 and BA.2.75 – is driving up infections in Singapore, accounting for 54 per cent of the local cases.
New variant in India-
XBB is spreading in India too.
BA.2.75 was the dominant variant in India, accounting for almost 98 per cent of cases till as recently as last week.
However, XBB is on the rise, causing 20 to 30 per cent of infections in some states, like Maharashtra.
The scientist, however, added that the three big labs in Maharashtra, Gujarat, and West Bengal have been sequencing more samples than other parts of the country, and hence newer variants are being identified there.
Risk posed by new variants-
Although these variants are causing a larger share of infections, they are not leading to more hospitalisations and deaths.
Hospitalisation was down 4.4 per cent and deaths 8.5percent in the USA.
United Kingdom, on the other hand, has seen an increase in hospitalisations and deaths in October.
Singapore has also reported an increase in hospitalisation, but the number of severe cases has remained low.
As for India although XBB seems to be more transmissible, there hasn't been any increase in hospitalisations or deaths.
The emerging variants are becoming more transmissible and better able to escape immunity.
A large chunk of the population now has immunity either through vaccination or infection, so the virus needs to adapt to continue to survive.
How are New Variants Formed?
When a virus multiplies it doesn't always manage to produce an exact copy of itself.
This means that, over time, the virus may start to differ slightly in terms of its genetic sequence.
Any changes to the viral genetic sequence during this process is known as a Mutation.
Viruses with new mutations are sometimes called Variants. Variants can differ by one or multiple mutations.
When a new variant has different functional properties to the original virus and becomes established in a population, it is sometimes referred to as a New Strain of the virus.
All strains are variants, but not all variants are strains.
The WHO has decided to name the variants after the letters of the Greek alphabet, to avoid the countries that first detected them being stigmatised.
Subject :Science
Context: Three kamikaze drones struck the small town of Makariv, situated west of the Ukrainian capital Kyiv.
About Kamikaze Drones:
These are small unmanned aircraft packed with explosives that can be flown directly at a tank or a group of troops that are destroyed when it hits the target and explodes. The name comes from the World War 2 era's feared Japanese kamikaze pilots, who conducted suicide attacks by intentionally crashing their explosive filled aircraft into enemy targets.
A loitering munition (also known as a suicide drone or kamikaze drone) is a weapon system category in which the munition loiters (waits passively) around the target area for some time and attacks only once a target is located.
Loitering munitions enable faster reaction times against concealed or hidden targets that emerge for short periods without placing high-value platforms close to the target area, and also allow more selective targeting as the attack can easily be aborted.
Loitering munitions lie between cruise missiles and unmanned combat aerial vehicles (UCAVs), sharing characteristics with both.
They differ from cruise missiles in that they are designed to loiter for a relatively long time around the target area, and from UCAVs in that a loitering munition is intended to be expended in an attack and has a built-in warhead.
Loitering weapons first emerged in the 1980s for use in the Suppression of Enemy Air Defenses (SEAD) role against surface-to-air missiles (SAMs).
11. Multi Dimensional Poverty Index
Subject :Governance
Context: According to the Global Multidimensional Poverty Index report the number of poor people in India dropped by about 415 million over the last 15 years. However, the country still has the highest number of poor people and children worldwide.
Multi Dimensional Poverty Index
Launched in 2010 by the Oxford Poverty and Human Development Initiative at the University of Oxford and the Human Development Report Office of the United Nations Development Programme, the global MPI is updated annually to incorporate newly released surveys and share fresh analyses.
In the global MPI, people are counted as multidimensionally poor if they are deprived in one-third or more of 10 indicators (see figure), where each indicator is equally weighted within its dimension, so the health and education indicators are weighted 1/6 each, and the standard of living indicators are weighted 1/18 each.
It also monitors if a child or adult is underweight or if any child may have died in the past five years.
Among other factors, it considers access to basic amenities such as access to school, housing material, phone, bicycle, television, health, water and others.
The MPI is the product of the incidence of multidimensional poverty (proportion of multidimensionally poor people) and the intensity of multidimensional poverty (average share of weighted deprivations, or average deprivation score, 1 among multidimensionally poor people) and is therefore sensitive to changes in both components. The MPI ranges from 0 to 1, and higher values imply higher multidimensional poverty.
Report uses methodology developed by Oxford Poverty and Human Development Initiative and UNDP.
The Multidimensional Poverty Index has been used by the United Nations Development Programme in its flagship Human Development Report since 2010. It is the most widely employed non-monetary poverty index in the world
Poverty Measurement
Economists and policymakers estimate "absolute" poverty as the shortfall in consumption expenditure from a threshold called the "poverty line".
The official poverty line is the expenditure incurred to obtain the goods in a "poverty line basket" (PLB).
Poverty can be measured in terms of the number of people living below this line (with the incidence of poverty expressed as the head count ratio).
Six official committees have so far estimated the number of people living in poverty in India :

The working group of 1962
V N Dandekar and N Rath in 1971
Y K Alagh in 1979; D T Lakdawala in 1993
Suresh Tendulkar in 2009
C Rangarajan in 2014

The government did not take a call on the report of the Rangarajan Committee; therefore, poverty is measured using the Tendulkar poverty line. As per this, 21.9% of people in India live below the poverty line.
Tendulkar committee
The committee was constituted by the Planning Commission to address the following shortcomings of the previous methods:
Changes in the consumption patterns of the poor since that time, which were not reflected in the poverty estimates.
There were issues with the adjustment of prices for inflation, both spatially (across regions) and temporally (across time).
It recommended four major changes:
A shift away from calorie consumption-based poverty estimation to Nutritional outcomes
A uniform poverty line baskets (PLB) across rural and urban India;
A change in the price adjustment procedure to correct spatial and temporal issues with price adjustment; and
Incorporation of private expenditure on health and education while estimating poverty.
It based its calculations on the consumption of the following items: cereal, pulses, milk, edible oil, non-vegetarian items, vegetables, fresh fruits, dry fruits, sugar, salt & spices, other food, intoxicants, fuel, clothing, footwear, education, medical (non-institutional and institutional), entertainment, personal & toilet goods, other goods, other services and durables.
The Committee computed new poverty lines for rural and urban areas of each state.