Daily Prelims Notes 18 September 2021
September 18, 2021

Posted by:

admin1

Category:

DPN

Daily Prelims Notes
18 September 2021
Table Of Contents
Subject – Geography
Context – New study challenges argument on existence of Saraswati river
Concept –
A study conducted by the Centre of Excellence for Research on the Saraswati River (CERSR) at Kurukshetra University has concluded that all major archaeological sites in Haryana – Siswal, Rakhigarhi, Banawali, Bhirrana, Kunal, Balu, Thana – were located at a radial distance of less than 500m from the paleochannels of Saraswati or the Drishadwati rivers.
A paleochannel is a deposit of sediment filling the course of an ancient river.
The study was conducted to find out why only Saraswati river which was spatially sandwiched between Yamuna and Sutlej rivers went into oblivion while all other rivers mentioned in the Rig Veda still exist.
The new findings have shattered the belief that Saraswati river was a paleochannel of old Sutlej river.
A general belief has been made that Saraswati river was merely 10,000 years old. Research carried out on Ghaggar-Hakra (GH) system which is a further extension of Saraswati river system revealed that the GH system was more than 86,000 years old.
Harappan settlements in Haryana and Rajasthan nucleated and prospered in the fertile channel bars and interfluves of this river system.
The presence of significant clay beds indicates that around 14,000 years, 6,000 years and 4,000 years ago there was a weakening of monsoon and drought conditions which resulted in near absence of flow in the channels.
Saraswati river paleochannels formed a dense web of inter-connecting channels which were continuously networked for over 2,984km in Haryana.
Saraswati river system has two major paleochannels. One passes through Yamunanagar, Ambala, Kurukshetra, Pehowa, Kaithal, Jind, Fatehabad and Sirsa before entering Hanumangarh in Rajasthan. The other which represented Drishadwati river, a Vedic period tributary of Saraswati, passed through Yamunanagar, Karnal, Panipat, Sonepat, Jind and Hisar districts before passing through Rawatsar in Rajasthan.
The study found that Saraswati river was flowing in Haryana until 1402 AD and then there was a sudden absence of flow in the channel thereafter.
This abrupt change appears to be consequence of sudden modification or diversion of contributing channels for constructing five canals (western Yamuna canal) starting from the foothills in Yamunanagar wherein there was a considerable anthropogenic rerouting of streams so as to make water available in Fatehabad and Hisar.
The channels of the Drishadvati river and the Chautang stream have been extensively utilised for routing this canal.
Apart from this, natural factors comprising weakened summer monsoon, shrinkage of glacial cover and melt waters, channel avulsion and channel capture, climate change and tectonic disruption of the input channels in the lesser Himalayan terrain also contributed towards the gradual decay and ultimate extinction of this mega river system.
Subject – Environment
Context – A team of scientists has resolved the genetic mystery of Simlipal's so-called black tigers
Concept –
The study found that a single genetic mutation in these tigers caused black stripes to broaden or spread into the tawny background.
Tigers have a distinctive dark stripe pattern on a light background of white or golden. A rare pattern variant, distinguished by stripes that are broadened and fused together, is also observed in both wild and captive populations. This is known as pseudo-melanism, which is different from true melanism, a condition characterised by unusually high deposition of melanin, a dark pigment.
While truly melanistic tigers are yet to be recorded, pseudo-melanistic ones have been camera-trapped repeatedly, and only, in Simlipal, a 2,750-km tiger reserve in Odisha, since 2007.
Through whole-genome data and pedigree-based association analyses from zoo tigers, the study found that pseudo-melanism is linked to a single mutation in Transmembrane Aminopeptidase Q (Taqpep), a gene responsible for similar traits in other cat species.
Black tiger sightings have been claimed sporadically at least since 1773 when artist James Forbes painted a watercolour of one shot in Kerala.Similar claims were made from Myanmar (1913) and China (1950s).
Besides, pseudo-melanism is caused by a recessive (hidden) gene.
Long before three black tigers were camera-trapped in 2007, Simlipal furnished the first confirmed record of the mutant in 1993 when a tribal youth killed a pseudo-melanistic tigress in self-defence.
Pseudo-melanistic tigers are also present in three zoos in India — Nandankanan (Bhubaneswar), Arignar Anna Zoological Park (Chennai) and BhagwanBirsa Biological Park (Ranchi) — where they were born in captivity. All of them have ancestral links to one individual from Simlipal.
Natural selection
Natural selection eliminates the weakest from a gene pool, and the traits of the more successful get passed on.
Niche modelling, the study said, shows higher frequency of melanistic leopards in darker tropical and subtropical forests than in drier open habitats. Likewise, darker coats may confer a selective advantage in both hunting and avoiding hunters in Simlipal's tropical moist deciduous and semi-evergreen closed-canopy forest, with a relatively darker understory.
Meanwhile, India's northwestern tiger population shows higher mean relatedness between individuals (46%) and lower heterozygosity (22%) than even Simlipal (38% and 28%). While Ranthambhore has been a genetic island for decades, tiger siblings were handpicked from this inbred population for repopulating Sariska. That is another study in the offing.
To know about Simplipal Tiger Reserve, please click here.
Subject – Environment
Context – General Sherman: world's largest tree threatened by California wildfires
Concept –
Two wildfires in California – one called the Colony fire and the other called Paradise – are burning through the Sequoia National Park in the Sierra Nevada that is home to some of the largest trees in the world.
Among these trees is the world's largest tree popularly known as General Sherman, which firefighters are now trying to protect from the blaze. While these sequoia trees are fairly fire-resistant, the "extraordinary intensity" of some of the wildfires can be overwhelming for the trees.
The General Sherman tree is the world's largest in terms of volume and exists in the Giant Forest sequoia grove of the national park. As per recent estimates, General Sherman is about 2,200 years old.
It stands at a height of 275 feet (taller than the leaning tower of Pisa) and has a diameter of 36 feet at the base. Even 60 feet above the base, the tree has a diameter of 17.5 feet.
Significantly, the burned area represents a third of all sequoia grove area across the Sierra Nevada, the only area in the world where giant sequoias occur naturally,
Giant sequoia trees have existed in the Sequoia National Parkfor thousands of years and there are an estimated 2,000 such trees in the park. Firefighters are now trying to save the world's largest tree and some other large trees in the area by wrapping fire-resistant aluminium blankets onto the bases of the trees.
4. World Bank discontinues Doing Business rankings
Subject – Economy
Context – WB clears India, blamesChina for pressuring
Concept –
AWorld Bankinternal audit report did not find any irregularities in the data used by India in the 'Ease of Doing Business' index, but found that China used its clout to pressure the top management into reversing its dip in ranking.
The World Bank said it ended the publication of its 'Doing Business' report on the country wise investment climate after a board ordered investigation conducted by law firm WilmerHale cited undue pressure by top bank officials to boost China's ranking in 2017.
After reviewing all information available to date on 'Doing Business', including past reviews, audits, and the report the Bank released today on behalf of the Board of Executive Directors, the World Bank Group management has decided to discontinue the 'Doing Business' report, a World Bank statement said.
To know about World bank's EODB, please click here.

India's performance –
India had successfully improved its position from 142 in 2014 to63 in 2020. The fact that the World Bank audit has not found any irregularities with India's ranking reflects positively on its rapid improvement as an investment destination.
India remains the preferred investment destination for the world and a reliable, trustworthy partner while China has slipped in attractiveness. Fraud by China will boost multilateral initiatives like supply-chain resilience to move manufacturing to India.
Subject – Economy
Context – GST Council tweaked rates for drugs, shifted tax liability to food delivers firms
Concept –
Rate cuts for a number of cancer and Covid-related medicines and a shift in tax payment liability to restaurant delivery aggregators such as Swiggy, Zomato instead of restaurants, were two of the key decisions taken by the Goods and Services Tax (GST) Council in its 45th meeting in Lucknow.
The Council, which held an in-person meeting after 20 months, also decided to continue compensation cess levy only for repayment of borrowed amounts beyond June 2022.
A proposal to bring petroleum products under the indirect tax regime was discussed, but it was decided to keep the proposal out of its ambit for now.
Key decisions made by GST Council
Existing concessional rates, which were valid till September 30, have been extended till December 31 for Covid-19 medicines: Remdesivir (5 per cent), Tocilizumab (nil), Amphotericin B (nil), and anti-coagulants like Heparin (5 per cent). However, the concessional tax for medical equipment will end on September 30.
Reduction of GST rate to 5 per cent on more Covid-19 treatment drugs, up to December 31: Itolizumab, Posaconazole, Infliximab, Favipiravir, Casirivimab & Imdevimab, 2-Deoxy-D-Glucose, Bamlanivimab & Etesevimab.
The Council also decided to remove GST on the import of muscular atrophy drugs like Zolgensma and Viltepso, which cost crores of rupees, Sitharaman said. The GST rate for Keytruda, used for the treatment of cancer, has been cut to 5 per cent from 12 per cent.
The Council also cut GST rates on fortified rice kernels to 5 per cent from 18 per cent, and on bio-diesel for blending in diesel to 5 per cent from 12 per cent. National permit fee for goods carriage has been exempted.
GST on ores and concentrates of metals such as iron, copper, aluminum, and zinc has been increased from 5 per cent to 18 per cent, and that on specified renewable energy devices and parts from 5 per cent to 12 per cent.
Cartons, boxes, bags, and packing containers of paper will now attract a uniform 18 per cent tax in place of the 12 per cent and 18 per cent rates. Waste and scrap of polyurethanes and other plastics will also see tax going up to 18 per cent from 5 per cent currently.
All kinds of pens will be charged an 18 per cent rate, while miscellaneous goods of paper like cards, catalogues, and printed material will see GST increasing to 18 per cent from 12 per cent. The rate for carbonated fruit beverages and carbonated beverages with fruit juice will attract a GST rate of 28 per cent, plus compensation cess of 12 per cent.
IGST of 12 per cent on import of medicines Zolgensma for spinal muscular atrophy and Viltepso for Duchenne muscular dystrophy, has been waived. These drugs cost up to Rs 16 crore.
The Council also decided to put an end date of June 2022 to the compensation mechanism, as mandated in law. The levy of compensation cess will continue from July 2022 onwards till March 2026 to service the borrowing, which had been resorted to in order to bridge the compensation gap in the years 2020-21 and 2021-22.
The debt for making compensation payments to states is estimated to be around Rs 2.7 lakh crore.
States were guaranteed compensation under GST for the revenue gap between actual collections and the protected amount based on 14 per cent compounded rate from base year 2015-16 for five years after the GST rollout, until June 2022. Last year, the government had decided to borrow to meet the compensation cess deficit through back-to-back loans to states.
Effective January 1 next year, the Council has decided to make e-commerce operators engaged in restaurant services liable for payment of tax. This will essentially shift the responsibility of paying the 5 per cent GST to the aggregators from the restaurants.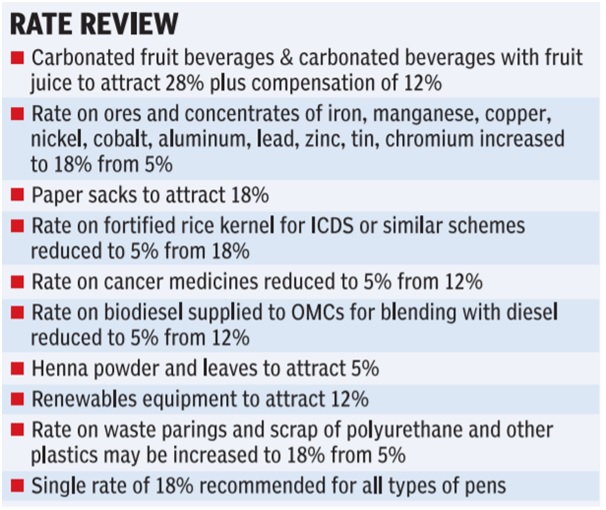 To know about GST Council and Compensation cess, please click here.
Subject – Science and Tech
Context – The TV show Star Trek: The Next Generation introduced millions of people to the idea of a holodeck: an immersive, realistic 3D holographic projection of a complete environment that you could interact with and even touch.
Concept –
In the 21st century, holograms are already being used in a variety of ways such as medical systems, education, art, security and defence. Scientists are still developing ways to use lasers, modern digital processors, and motion-sensing technologies to create several different types of holograms which could change the way we interact.
Scientists are developing "aerohaptics", creating feelings of touch with jets of air. Those jets of air deliver a sensation of touch on people's fingers, hands and wrists.
In time, this could be developed to allow you to meet a virtual avatar of a colleague on the other side of the world and really feel their handshake. It could even be the first steps towards building something like a holodeck.
To create this feeling of touch we use affordable, commercially available parts to pair computer-generated graphics with carefully directed and controlled jets of air.
In some ways, it's a step beyond the current generation of virtual reality, which usually requires a headset to deliver 3D graphics and smart gloves or handheld controllers to provide haptic feedback, a stimulation that feels like touch. Most of the wearable gadgets-based approaches are limited to controlling the virtual object that is being displayed.
It's a modern variation on a 19th-century illusion technique known as Pepper's Ghost, which thrilled Victorian theatregoers with visions of the supernatural onstage.
To know about Virtual Reality and Augmented Reality, please click here.
7. Climate crisis may destroy aquatic food systems
Subject – Environment
Context – Climate crisis may destroy aquatic food systems, according to a recent study published in Nature Food.
Concept –
Climate change can put much of Africa, South and Southeast Asia as well as the Indo-Pacific under 'double jeopardy' by destroying their marine and freshwater systems. This may pose risk to not only livelihoods, but economies of countries in the regions, if appropriate measures are not taken in time to mitigate the crisis, according to a recent study published in Nature Food.
Africa, South and Southeast Asia and the Indo-Pacific face 'high' to 'very high' climate risk for one or more food system outcomes by the middle of this century under a high-emissions scenario (RCP8.5). It also noted that countries that are among the highest emitters of greenhouse gas emissions do not necessarily face the highest risk from climate change.
India, along with other South Asian countries, is at a 'high' risk to its aquatic food systems, according to the study. India also has 'high' to 'very high' climate risk for three food system outcomes by the middle of this century under a high-emissions, no-mitigation scenario.
The study noted that countries with high climate vulnerability are projected to face compound climate risks across three or four of the food system outcomes, either in marine fisheries (primarily coastal Africa) or in freshwater and deltaic fisheries and aquaculture (South and Southeast Asia and Central Africa). These different risk profiles across countries and regions call for region-specific and context-specific risk reduction interventions.
In contrast, most countries in North America and Europe, as well as Chile, Argentina, Australia and New Zealand, face 'low' to 'medium' climate risk across all food system outcomes for this period.
The study was published by Blue Food Assessment — a collaboration between Sweden-based Stockholm Resilience Centre, United States-based Stanford University and the non-profit EAT.
With a larger magnitude of warming on large continental land masses than in the ocean, freshwater fisheries in some countries are projected to face 'very high' hazards by the mid-twenty-first century, especially in water-stressed areas such as northern Africa and the Middle East.
In terms of nutrition, this may equate to reductions in aquatic food access and limit essential nutrients such as iron, zinc, vitamin B12 and omega-3 fatty acids in populations that are already at thresholds for deficiency.
The report called for urgent action to support the long-term sustainability, resilience, and equity of aquatic food systems. It suggested reducing actual climate hazards, greenhouse gas emissions reductions, for example, as well as the sensitivity of the production systems to these hazards.
Subject – Geography
Context – Korean Met agency, too, puts out La Nina watch
Concept –
To know more about El-nino and La-nina, please click here.
9. Agreement on Agriculture at WTO
Subject – Economy
Context – WTO agri agreement tilted against developing nations: Piyush Goyal
Concept –
The Agreement on Agriculture (AoA) is a World Trade Organisation treaty that focuses on reducing the agricultural support and subsidies given to domestic producers by countries. It is one of the most contentious agreements within the WTO.
The Agreement on Agriculture (AoA) is a WTO treaty that was negotiated during the Uruguay Round of the General Agreement on Tariffs and Trade (GATT) and formally ratified in 1994 at Marrakesh, Morocco. The AoA came into effect in 1995.
According to its provisions, developing countries were to complete their reduction commitments by 2000 and developing countries by 2004.
The Least Developed Countries were not required to make any reductions.
The Agreement covers products that are normally considered part of agriculture but excludes forestry and fishery products and also rubber, sisal, jute, coir and abaca.
The focus of the AoA is the elimination of what are called "trade distorting" agricultural subsidies.
According to the WTO, the overall aim of the Agreement is "to establish a fairer trading system that will increase market access and improve the livelihoods of farmers around the world."
The WTO Agriculture Agreement provides a framework for the long-term reform of agricultural trade and domestic policies, with the aim of leading to fairer competition and a less distorted sector.
The Agreement covers:
Market access — the use of trade restrictions, such as tariffs on imports
Domestic support — the use of subsidies and other support programmes that directly stimulate production and distort trade
Export competition — the use of export subsidies and other government support programmes that subsidize exports.
Under the Agreement, WTO members agree to "schedules" or lists of commitments that set limits on the tariffs they can apply to individual products and on levels of domestic support and export subsidies.

10. Participatory notes (P-notes)
Subject – Economy
Context – Investments via P-notes stand at Rs 97,744 cr till August
Concept –
P-notes are issued by registered foreign portfolio investors (FPIs) to overseas investors who wish to be part of the Indian stock market without registering themselves directly. They, however, need to go through a due diligence process.
According to Securities and Exchange Board of India (Sebi) data, the value of P-note investments in Indian markets — equity, debt and hybrid securities — was at Rs 97,744 crore in August-end compared to Rs 85,799 crore in July-end.
To know more about P-Notes, please click here.
Subject – Polity
Context – SC Collegium on mission mode to fill vacancies
Concept –
To know about SC Collegium, please click here.
Subject – IR
Context – HRW slams harassment of activists, journalists
Concept –
Human Rights Watch (HRW) is an international non-governmental organization, headquartered in New York City, that conducts research and advocacy on human rights.
The group pressures governments, policy makers, companies, and individual human rights abusers to denounce abuse and respect human rights, and the group often works on behalf of refugees, children, migrants, and political prisoners.
Human Rights Watch in 1997 shared in the Nobel Peace Prize as a founding member of the International Campaign to Ban Landmines and it played a leading role in the 2008 treaty banning cluster munitions.
Pursuant to the Universal Declaration of Human Rights (UDHR), Human Rights Watch (HRW) opposes violations of what are considered basic human rights under the UDHR. This includes capital punishment and discrimination on the basis of sexual orientation. HRW advocates freedoms in connection with fundamental human rights, such as freedom of religion and freedom of the press.
HRW seeks to achieve change by publicly pressuring governments and their policymakers to curb human rights abuses, and by convincing more powerful governments to use their influence on governments that violate human rights.
Human Rights Watch and Amnesty International are the only two Western-oriented international human rights organizations operating in most situations of severe oppression or abuse worldwide. The major differences lie in the group's structure and methods for promoting change.
13. Transfer of High Court Judges
Subject – Polity
Context – Higher judiciary set for biggest reshuffle in recent times. Judges of 14 HCs may be transferred
Concept –
Article 222 of the Constitution makes provision for the transfer of a Judge (including Chief Justice) from one High Court to any other High Court.
The initiation of the proposal for the transfer of a Judge should be made by the Chief Justice of India (CJI).
The opinion of the CJI "is determinative".
Consent of the Judge for his first or subsequent transfer would not be required.
CJI is expected to take into account the views of the Chief Justice of the High Court from which the Judge is to be transferred and Chief Justice of the High Court to which the transfer is to be effected.
The views of one or more Supreme Court Judges who are in a position to offer his/their views are also taken into account.
In the case of transfer of a Chief Justice, only the views of one or more knowledgeable Supreme Court Judges need to be taken into account.
The views on the proposed transfer of a Judge or a Chief Justice of the High Court should be expressed in writing and should be considered by the CJI and the four senior most Judges of the Supreme Court.
The proposal once referred to the Government, the Union Minister of Law, Justice and Company Affairs would submit a recommendation to the Prime Minister who will then advise the President as to the transfer of the Judge concerned.
After the President approves the transfer, the notification will be gazetted and the judge remains transferred.
14. National Centre for Biological Sciences (NCBS)
Subject – Government Bodies
Context – NCBS rapped for handling of scientific misconduct
Concept –
National Centre for Biological Sciences (NCBS) in Bangalore, Karnataka, is a research centre specialising in biological research. It is a part of the Tata Institute of Fundamental Research (TIFR) under the Department of Atomic Energy of the Government of India.
The mandate of NCBS is basic and interdisciplinary research in the frontier areas of biology.
The research interests of the faculty are in four broad areas ranging from the study of single molecules to systems biology.
NCBS focuses on fundamental research from diverse fields of biology including Biochemistry, Biophysics, Bioinformatics, Neurobiology, Cellular Organization and Signalling, Genetics and Development, Theory and Modelling of Biological Systems, Ecology and Evolution etc.
Subject – Science and Tech
Context – Chinese astronauts back after 90 days in space
Concept –
Shenzhou 12 was a Chinese spaceflight launched on 17 June 2021.
The flight marked the seventh crewed Chinese spaceflight and the twelfth flight of the Shenzhou program.
The spacecraft carried three members of the People's Liberation Army Astronaut Corps (PLAAC) on the first flight to the Tianhe core module, the first module of the Tiangong space station.
The Shenzhou-12 craft connected with the Tianhe space station module about six hours after takeoff from the Jiuquan launch center in Gobi Desert.
The three-man crew will spend three months on the Tianhe module, which is orbiting at some 340km to 380km above the earth.
China is the third country after the former Soviet Union and the United States to carry out a manned mission on its own.
This is the first of two manned space missions planned for this year, part of an intense schedule of launches aimed at completing the Chinese space station in 2022.
At least five more missions are planned for the year, with the Shenzhou-13 manned mission, also carrying three astronauts, set for later this year.
The three astronauts are the first to take up residency in the main living module and will carry out experiments, test equipment, conduct maintenance and prepare the station for receiving two laboratory modules next year.
It was China's seventh crewed mission to space but marked a number of firsts for the country – the first manned one during the construction of China's space station, the first in nearly five years after the country's last manned mission in 2016 and China's longest crewed space mission to date.
16. Shanghai Cooperation Organisation (SCO)
Subject – IR
Context – Recently SCO meet was held.
Concept –
To know about SCO, please click here.
Subject – Environment
Context – Biden unveils plan to cut methane emissions
Concept –
Global Methane Pledge, a U.S.–EU led effort to cut methane emissions by a third by the end of this decade.
Biden made the announcement at the Major Economies Forum on Energy and Climate (MEF), hosted virtually by the White House on Friday, in which leaders from several countries and the EU, as well as UN Secretary General AntónioGuterres and (India's ) Environment Minister Bhupender Yadav, participated.
Methane –
Methane, a greenhouse gas, is 80 times more potent than carbon dioxide in terms of its global warming capacity. Approximately 40% of methane emitted is from natural sources and about 60% comes from human-influenced sources, including livestock farming, rice agriculture, biomass burning and so forth.
Methane is gas that is found in small quantities in Earth's atmosphere. Methane is the simplest hydrocarbon, consisting of one carbon atom and four hydrogen atoms (CH4). Methane is a powerful greenhouse gas. It is flammable, and is used as a fuel worldwide.
Methane is produced by the breakdown or decay of organic material and can be introduced into the atmosphere by either natural processes – such as the decay of plant material in wetlands, the seepage of gas from underground deposits or the digestion of food by cattle – or human activities – such as oil and gas production, rice farming or waste management.
It is responsible for creating ground-level ozone, a dangerous air pollutant.
Subject – Governance
Context – 'Thematic' POSHAN Maah to Be Celebrated Across The Nation Throughout The Month of September As Part Of AzadiKaAmritMahotsav
Concept –
POSHAN Abhiyaan is Government of India's flagship programme to improve nutritional outcomes for children, adolescent Girls, pregnant women and lactating mothers.
POSHAN (Prime Minister's Overarching Scheme for Holistic Nutrition) Abhiyaan directs the attention of the country towards the problem of malnutrition and address it in a mission-mode.
Focusing on the aims of POSHAN Abhiyaan, Mission Poshan 2.0 (SakshamAnganwadi and Poshan 2.0) has been announced in the Budget 2021-2022 as an integrated nutrition support programme, to strengthen nutritional content, delivery, outreach and outcomes with focus on developing practices that nurture health, wellness and immunity to disease and malnutrition.
POSHAN Abhiyaan is a Jan Andolan or "People's Movement" byincorporating inclusive participation of public representatives of local bodies, government departments of the States/UTs, social organizations and the public and private sector at large. In order to ensure community mobilization and bolster people's participation, every year, the month of September is celebrated as POSHAN Maah across the country.
To know more about Rashtriya Poshan Maah, please click here.
Subject – Polity
Context – District Level Committees to be constituted which shall exercise oversight over all power related schemes of Government of India:Power Ministry.
Concept –
District Level Committees to be constituted which shall exercise oversight over all power related schemes of Government of India.
Committees will also look at impact on the provision of power services to the people
Committee to be chaired by Seniormost MP of the District; composition will include elected representatives, officials; District Collector to be Member Secretary.
This is being done in order to ensure the involvement and oversight of the people in the process of power sector reforms, and their implementation, in the country.
The Composition of the Committee would be:

(a) Most Senior MP in the district: Chairperson
(b) Other MPs in the district: Co-chairpersons
(c) District Collector: Member Secretary
(d) Chairperson/President of the District Panchayat: Member
(e) MLAs of the district: Members
(f) Most Senior representatives of CPSUs of Ministry Members of Power and NRE located in the concerned district, or their nominated officials for the district.
(g) Chief Engineer/Superintending Engineer of the Convenor DISCOM/ Power Department concerned

The order states that the Committee of a district will meet at District Headquarters at least once in three months to review and coordinate overall development of power supply infrastructure in the district in accordance with the schemes of the Government.
The Union Government has been providing funds under different schemes for strengthening the Distribution Systems in the country.
In the past five years almost 2 lac crore were provided under Deendayal Upadhyaya Gram Jyoti Yojana (DDUGJY), Integrated Power Development Scheme (IPDS), Pradhan Mantri Sahaj Bijli Har Ghar Yojana (SAUBHAGYA), etc. to ensure universal access by electrifying every village and every hamlet and every household; and for setting up more substations, upgrading existing substations, for High Tension/Low Tension. Lines, Transformers etc. for strengthening the Distribution systems.
Recently, the Govt. has approved a new scheme of 3 lac crores for further strengthening the Distribution Systems wherever necessary, and modernizing it to meet emerging challenges.