Daily Prelims Notes 19 January 2022
January 19, 2022

Posted by:

admin1

Category:

DPN

Daily Prelims Notes
19 January 2022
Table Of Contents
Subject – Economy
Context – A 2005 satellite deal between Antrix Corporation — the commercial arm of the Indian Space Research Organisation (ISRO) – and Devas Multimedia Pvt Ltd, a start-up headquartered in Bengaluru, is at the heart of a global legal tussle between the Indian government and foreign investors in Devas.
Concept –
A 2005 satellite deal between Antrix Corporation — the commercial arm of the Indian Space Research Organisation (ISRO) – and Devas Multimedia Pvt Ltd, a start-up headquartered in Bengaluru, is at the heart of a global legal tussle between the Indian government and foreign investors in Devas.

The tussle is fallout of the cancellation of the deal in 2011 by the then UPA government citing requirement of satellite spectrum allotted to Devas for security purposes.

Supreme Court upheld a May 25, 2021 order of the National Company Law Tribunal (NCLT) to liquidate Devas on the ground that the firm was created under fraudulent circumstances.
What was the Devas-Antrix deal?
They signed an "Agreement for the Lease of Space Segment Capacity on ISRO/Antrix S-band spacecraft by Devas Multimedia Pvt Ltd" on January 28, 2005, a month after Devas was incorporated in Bengaluru in December 2004 by two former ISRO employees.
Under the deal, ISRO would lease to Devas two communication satellites (GSAT-6 and 6A) for 12 years for Rs 167 crore.
Devas would provide multimedia services to mobile platforms in India using S-band transponders on the satellites, with ISRO leasing 70 MHz of S-band spectrum.
The deal progressed smoothly for six years before it was annulled by the UPA government on February 25, 2011, following a Cabinet Committee on Security decision of February 17 to terminate the agreement to use the S-band for security purposes.

The government decision was taken in the midst of the 2G scam and allegations that the Devas deal involved the handing over of communication spectrum valued at nearly Rs 2 lakh crore for a pittance.

Devas and its foreign investors approached various international tribunals and courts seeking compensation. Devas was awarded compensation of $1.2 billion by an International Chamber of Commerce tribunal on September 14, 2015.

The German investors claimed compensation for violation of an India-Germany bilateral investment treaty and the Mauritius investors for an India-Mauritius BIT, who were awarded compensation too.

Supreme Court upheld a May 25, 2021 order of the National Company Law Tribunal (NCLT) to liquidate Devas on the ground that the firm was created under fraudulent circumstances.
2. Front running in Stock Markets
Subject – Economy
Context – In December, 2021, SEBI conducted multiple raids in Ahmedabad and other parts of Gujarat and caught those running Telegram channel 'Bull-run 2017.'Also, the founders of Bull-run 2017 were not registered with SEBI, which is necessary for investment advisors.
Concept –
Frontrunning is when a person, mainly a broker or advisor, takes a buy or sell position in any stock based on exclusive knowledge that the recommendations being issued by them will certainly lead to price variation in the particular stock in the near future.
How does it work?
Stock market operators give 'buy or sell' recommendations in closed or private groups that have a higher subscriber base.
Most of such recommendations are given on stocks where the liquidity is less and even a small amount of buying or selling can impact share prices.
Multiple groups are formed on Whatsapp, which further spread these recommendations.
Who can legally give stock tips?
Giving investment advice in 'closed groups' on social media by those who are not registered with SEBI is considered illegal as per investment advisor rules.
Still, talking about macro ideas and stock market patterns or giving ideas on wide public platforms like television channels, online or newspapers is allowed.
But rules prohibit people from giving specific stock tips on 'closed groups,' which are accessible only to limited members or work on subscription models.

In any case, those giving stock tips even on television channels cannot indulge in frontrunning.

Unless registered with SEBI, a person cannot portray himself as an investment advisor.
However, any investment advice given through any electronic or broadcasting or telecommunications medium, which is widely available to the public will not be considered as investment advice under applicable SEBI Regulations.
General market comments in good faith in regard to trends or economic situations, which do not specify stock tips or investment products are exempt from SEBI rules.
Also, brokers, distributors of mutual funds, fund managers and other SEBI registered intermediaries are exempt from investment advisor norms.
What is the difference between frontrunning and insider trading?
There is a thin red line that divides the two.
Insider trading is when a person, who fits in the definition of a company insider as per SEBI rules, buys and sells stocks based on unpublished price sensitive information (USPI).
Anybody from a company promoter, management officials, accountants or even key clients of the company fall under the definition of SEBI's insider trading rules.
When they use the UPSI, which is available to them by the virtue of their position or closeness to the company, to trade, they are said to have indulged in insider trading.
3. Small Industries Development Bank of India (SIDBI)
Subject – Economy
Context – SIDBI extends ₹650-crore fund line to AU SFB, Jana SFB
Concept –
SIDBI is the principal development financial institution for promotion, financing and development of Micro, Small and Medium Enterprises (MSME) sector in India.
It was established on April 2, 1990 through an Act of Parliament (thus, it is statutory body).
It is headquartered in Lucknow, Uttar Pradesh.
SIDBI aims to facilitate and strengthen credit flow to MSMEs and address both financial and developmental gaps in MSME eco-system across the country.
It co-ordinates functions of institutions engaged in similar activities.
Currently, the shares of SIDBI are held by Central Government and 29 other institutions including public sector banks (PSBs), insurance companies owned and controlled by Central Government.
SIDBI also functions as a Nodal/Implementing Agency to various ministries of the Government of India viz., Ministry of MSME, Ministry of Textiles, Ministry of Commerce and Industry, Ministry of Food Processing and Industry, etc.
To know about Small Finance Bank (SFBs), please refer August 2021 DPN.
4. 5G Telecoms – a threat to Airline Safety
Subject – Science and Tech
Context – The chief executives of major US passenger and cargo airlines have warned of a "catastrophic" aviation crisis this week as AT&T and Verizon deploy new 5G services.
Concept –
The United States auctioned mid-range 5G bandwidth to mobile phone companies in early 2021 in the 7-3.98 GHz range on the spectrum known as C band, for about $80 billion.
The US Federal Aviation Administration (FAA) has warned that the new 5G technology could interfere with instruments such as altimeters, which measure how far above the ground an airplane is travelling.
Altimeters operate in the 4.2-4.4 GHz range and the concern is that the auctioned frequencies sit too close to this range.
In addition to altitude, altimeter readouts are also used to facilitate automated landings and to help detect dangerous currents called wind shear.
What difference does the frequency make?
The higher the frequency in the spectrum, the faster the service. So in order to get full value from 5G, operators want to operate at higher frequencies.
Some of the C band spectrum auctioned had been used for satellite radio but the transition to 5G means there will be much more traffic.
To know more about it, please refer December 2021 DPN.
Subject – Economy
Context – DigiYatra Scheme for airports may encounter privacy issues, says IFF
Concept –
Air passengers can soon use facial recognition technology to enter any airport in the country under the Digi Yatra initiative by the Ministry of Civil Aviation.
The initiative seeks to promote paperless and hassle-free air travel.
There would be one-time verification at the departure airport while travelling for the first time using the ID. After successful verification, facial recognition biometric would be captured and stored in the Digi Yatra ID.
With this initiative, the civil aviation ministry is looking to make ticket booking, airport entry and boarding pass security check-in digital.
Key features of the initiative and how it works–
Centralised registration system for passengers and each of them would get a unique ID on booking the tickets
2. ID can be created by sharing name, e-mail id, mobile number and details of any identity proof, including Aadhaar
The airline would share the passenger data and the ID with the airport from where the passenger would be flying out
Optionally linking of Aadhaar to airlines at the time of booking for faster airport entry and automated check-ins without requiring any paper-based interventions
A biometrics-based digital processing system for passenger entry and related requirements at the airport
Voluntary for passengers on whether to opt for facial recognition biometric for air travel
The Digi Yatra platform would be operational by February 2019
Will be available at major airports in the country
Real-time notifications about congestion and delays of flights
Passengers would be notified when their luggage reaches the baggage claim belt.
Digi Yatra Journey Concept
6. Convention on the Prevention and Punishment of the Crime of Genocide of 1948
Subject – IR
Context – In the last few weeks, incendiary speeches by YatiNarsinghanand at a religious assembly have reignited discussion regarding hate speech, and the limits of the law. The speeches made include calls for the genocide of Muslims in India.
Concept –
Raphael Lemkin is credited with the use of the term 'genocide' and campaigned relentlessly for it to become an international treaty.
In 1946, Cuba, India and Panama co-sponsored General Assembly Resolution 96(I), which affirmed genocide as a 'crime under international law'.
The Convention on the Prevention and Punishment of the Crime of Genocide (CPPCG), or Genocide Convention, is an international treaty that criminalizes genocide and obligates state parties to enforce its prohibition.

It was the first legal instrument to codify genocide as a crime, and the first human rights treaty unanimously adopted by the United Nations General Assembly, on 9 December 1948.

As a result of this resolution, a convention on the prohibition of genocide was drafted, which was passed by the General Assembly in 1948 and came into effect in 1951, with more than 150 states party to the convention presently.
The Genocide Convention has as its objective the prevention of genocide as well as the punishment of the crime.
Legal obligations on states that are party to the convention include

the obligation not to commit genocide, to prevent genocide, and to punish genocide(Article I),
to enact legislation to give effect to the provisions of the convention (Article V);
to provide for effective penalties for those found guilty of criminal conduct (Article V);
the obligation to try those charged with genocide in a competent tribunal (Article VI).

The ICJ, relying on a previous case of Belgium v. Senegal, stated, "It follows that any State party to the Genocide Convention, and not only a specially affected State, may invoke the responsibility of another State party with a view to ascertaining the alleged failure to comply with its obligations ergaomnespartes, and to bring that failure to an end."

Even a state that may not be specially affected can still raise a legal claim on the basis of being part of the community of states.

Disputes between the Contracting Parties relating to the interpretation, application or fulfilment of the present Convention, including those relating to the responsibility of a State for genocide or for any of the other acts enumerated in article III, shall be submitted to the International Court of Justice at the request of any of the parties to the dispute.
Laws in India
Since signing the Genocide Convention and ratifying it, to date India has not enacted any legislation in accordance with Article VI of the Genocide Convention.
Indian Penal Code provisions relating to rioting, unlawful assembly and 'promoting enmity between different groups' do not embody the basic elements of the crime of genocide, which is against a collectivity or a group, with the specific intent to cause its destruction.
Subject – IR
Context – On October 30 last year, Prime Minister Narendra Modi met Pope Francis at the Vatican
Concept –
The Pope is not a "head of state" in the conventional sense nor does the UN recognise him as one.
Under the Lateran Treaty, a purely bilateral one entered in 1929, King Victor Emanuel of Italy had granted the Vatican independent status. It has neither separate citizenship nor any formal government.
What was admitted at the UN in 1948 as a "non-member state" with only an observer status was not the Vatican but the "Holy See".
The "Holy See" is the supreme governing body of Catholic churches the world over.

The Holy See also called the See of Rome or Apostolic See, is the jurisdiction of the Bishop of Rome, known as the Pope.
The Holy See is thus viewed as the central government of the Catholic Church.
The Catholic Church, in turn, is the largest non-government provider of education and health care in the world.
The Holy See maintains bilateral diplomatic relations with 183 sovereign states, signs concordats and treaties, and performs multilateral diplomacy with multiple intergovernmental organizations, including the United Nations and its agencies.

The Pope is designated as its head, not through any political process but under canon law.
Vatican City is regarded only as the "vassal" territory of the Holy See.
Subject – Governance
Context – Proposed Amendment of IAS (Cadre) Rules, 1954: Changes against cooperative federalism, Mamata Banerjee writes to PM
Concept –
As per the current guidelines, the Centre every year asks states for an "offer list" of officers from the All India Services (IAS, IPS and Indian Forest Service) cadre who are willing to go on central deputation, after which it selects officers from that list.
The proposed insertion in the rules state that, "Each State Government shall make available for deputation to the Central Government, such number of eligible officers of various levels to the extent of the Central Deputation Reserve prescribed under regulations referred to in Rule 4(1), adjusted proportionately by the number of officers available with the State Government concerned vis-a-vis the total authorised strength of the state cadre at the given point of time. The actual number of officers to be deputed to the Central Government shall be decided by the Central Government in consultation with State Government concerned."
Rule 6(1) of the IAS Cadre Rules says an officer may, "with the concurrence of the State Governments concerned and the Central Government, be deputed for service under the Central Government or another State Government…"
It says "in case of any disagreement, the matter shall be decided by the Central Government and the State Government or State Governments concerned shall give effect to the decision of the Central Government."
The Centre cannot take action against civil service officials who are posted under the state government, unless the latter agrees.

Rule 7 of the All India Services (Discipline and Appeal) Rules, 1969, states that the "authority to institute proceedings and to impose penalty" will be the state government if the officer is "serving in connection with the affairs of a state…"
For any action to be taken against an officer of the All India Services, the state and the Centre both need to agree.
9. Illegally Intercepted Messages Violate Fundamental Rights
Subject – Polity
Context – Allowing illegally intercepted messages as evidence violate fundamental rights: Delhi HC
Concept –
Delhi High Court has said that if illegally intercepted messages or audio conversations are permitted as evidence, it would lead to "manifest arbitrariness" and promote "scant regard" to the procedure and fundamental rights of the citizens, and the law laid down by Supreme Court.
Justice Chandra Dhari Singh said that rules framed under Telegraph Act require that the order granting permission to intercept telephone conversations is to be forwarded to the review committee within seven days of the order.
In its order, the court also said that as per Section 5 (2) of Telegraph Act, an order for interception can be issued on either occurrence of any public emergency or in the interest of public safety as per the law laid down by Supreme Court in the PUCL case.
Indian Telegraph Act, 1885
It governs the use of wired and wireless telegraphy, telephones, teletype, radio communications and digital data communications.
It gives the Government of India exclusive jurisdiction and privileges for establishing, maintaining, operating, licensing and oversight of all forms of wired and wireless communications within Indian territory.
It also authorizes government law enforcement agencies to monitor/intercept communications and tap phone lines under conditions defined within the Indian Constitution.
Section 5(2) of the act allows central and state governments to prevent the transmission of messaging during a "public emergency or in the interest of public safety", or "in the interests of the sovereignty and integrity of India, the security of the state".
To know about Indian Telegraph Right of Way (Amendment) Rules 2021, please refer October 2021 DPN.
Subject – Economy
Context – '20 states express interest to avail extra borrowing'
Concept –
The Ministry of Finance had launched a programme in June last year to allow additional borrowing space of Rs 80,000 crore to states, which is conditional on them undertaking and sustaining specific reforms in the power sector.

There are three parameters a state must meet under the power sector reforms – reduction in Aggregate Technical & Commercial (AT&C) losses, targeted reduction in Average Cost of Supply and Average Revenue Realisation (ACS-ARR) gap, and direct benefit transfer (DBT) of electricity subsidy to farmers.

REC Ltd is working as nodal agency for implementation of the scheme, for the Ministry of Power.
Under the programme, the additional borrowing limit permitted for power sector reforms is 0.5 per cent of Gross State Domestic Product.
11. National Commission for Women (NCW)
Subject – Polity
Context – Marital rape, gender neutral laws come up at NCW meet
Concept –
It was set up as a statutory body in January 1992 under the National Commission for Women Act, 1990.
Its mission is to strive towards enabling women to achieve equality and equal participation in all spheres of life by securing her due rights and entitlements through suitable policy formulation, legislative measures, etc.
Its functions are to:
Review the constitutional and legal safeguards for women.
Recommend remedial legislative measures.
Facilitate redressal of grievances.
Advise the Government on all policy matters affecting women.
Composition:
Chairperson: The central government should nominate the chairperson.
Five members: The five members are also to be nominated by the central government from amongst the person of ability, integrity, and standing. They should possess experience in various fields like law or legislation, trade unionism, management of industry potential of women, women's voluntary organization, education, administration, economic development, and social good-being.
Member Secretary: The Central Government also nominates member secretary. He/ she should be either an expert in the field of management, an organization, or an officer who is a member.
Subject – IR
Context – Rising sea levels prompt Indonesia to relocate capital
Concept –
Indonesia passed a bill replacing its capital Jakarta with East Kalimantan, situated to the east of Borneo Island. The new capital city of the country will be called Nusantara.

Nusantara is an old Javanese term that means 'archipelago'.

Jakarta has been Indonesia's capital since the country became independent in 1949. The city has become overcrowded and extremely polluted for the last few decades.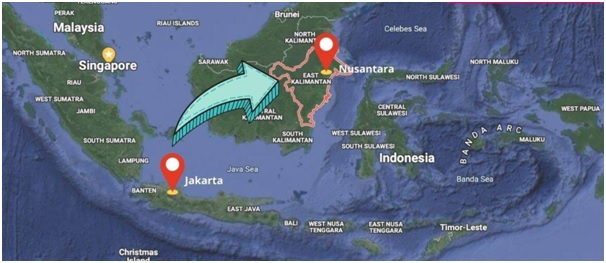 Where is East Kalimantan?
East Kalimantan is 2,300 kilometres from Jakarta on the eastern side of Borneo island, shared by Indonesia, Malaysia and Brunei.
The new capital will be located in the North PenajamPaser and KutaiKartanegara regions.
East Kalimantan is an area with immense water resources and habitable terrain.
East Kalimantan is rich in flora and fauna. Many environmentalists and activists have warned that moving the capital to East Kalimantan would lead to massive deforestation and put the habitat of these animals and trees in danger and damage the ecosystem.
What are the other countries that have changed capitals?
Indonesia is not the first country to change its capital city. There has been a long list of countries that have changed their capitals for various reasons.
Brazil changed its capital city from Rio De Janerio to Brasilia, a more centrally-located city, in 1960.
In 1991, Nigeria hanged the country's capital from Lagos to Abuja.
Kazakhstan moved its capital city from Almaty, which is still its commercial centre, to Nur-Sultan in 1997.
Myanmar changed its capital from Rangoon to Naypyidaw in 2005.