Daily Prelims Notes 19 July 2022
July 19, 2022

Posted by:

OptimizeIAS Team

Category:

DPN

Daily Prelims Notes
19 July 2022
Table Of Contents
1. Bond yield and related topics
Subject :Economy
Section: External Sector 
Context:
Notwithstanding rapid increases in interest rates by the US central bank, the inflation rate for June came in at 9.1%.
Many observers have pointed this to an inversion of the US yield curve and argue that the US central bank will not be able to achieve a soft-landing for the economy.
Further, there has been a tendency of  "reverse currency war" as  most central banks across the world are trying to raise their interest rates to counter the Fed's actions and ensure their respective currency stops depreciating against the dollar.
Concept:
Bond yield curve inversion:
The yield curve is the graphical representation of yields from bonds (with an equal credit rating) over different time horizons.
Example– if one was to take the US government bonds of different tenures and plot them according to the yields they provide, one would get the yield curve.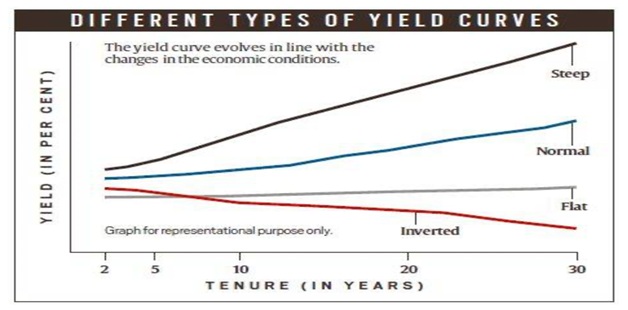 Under normal circumstances, any economy would have an upward sloping yield curve.

Meaning-as one buys bonds of longer tenure — one gets higher yields.
If one is parting with money for a longer duration, the return should be higher. Moreover, a longer tenure also implies that there is a greater risk of failure. 

Bond yield curve becomes inverted when bonds with a tenure of 2 years end up paying out higher yields than bonds with a 10 year tenure.

Such an inversion of the yield curve essentially suggests that investors expect future growth to be weak. 
When investors suspect that the economy is heading for trouble, they pull out money from short-term risky assets (such as stock markets) and put them in long-term bonds. This causes the prices of the long-term bonds to rise and their yields to fall (bond prices and bond yields are inversely related).
Inversion of the bond yield curve has become a strong predictor of recessions. 
In the current instance, the US Fed has been raising short-term interest rates, which further increase the short-end of the yield curve while dampening economic activity.
Soft-landing:
The process of monetary tightening (raising rate of interest) reduces the money supply and increases the cost of money (that is, the interest rate).  It is mostly done to contain soaring inflation.
Ideally, any central bank monetary tightening slows down the economy but doesn't lead to a recession. 

Increasing the rate of interest reduces private investment and growth.

When a central bank is successful in slowing down the economy without bringing about a recession, it is called a soft-landing — that is, no one gets hurt.
But when the actions of the central bank bring about a recession, it is called a hard-landing.
Example-Given the massive gap between the current US inflation rate — over 9%— and the Fed's target inflation rate — 2% — most observers expect that the Fed would have to resort to such aggressive monetary tightening that the US economy will end up having a hard-landing.
Reverse currency war:
Raising interest rates cause capital inflows due to interest rate differential causing appreciation of currency.
Example– the recent Fed interest hike has led to large scale capital inflows in the US causing appreciation of the dollar to other currencies because the dollar is more in demand than yen, euro, yuan etc.
This relative weakness of local currency against the dollar makes their exports more competitive.

For instance, a Chinese or an Indian exporter gets a massive boost. In fact, in the past the US has often accused other countries of keeping its currency weaker against the dollar  just to enjoy a trade surplus against the US. This used to be called the currency war.

Today, every central bank is trying to figure out ways to counter the US Fed and raise their interest rates in order to ensure their currency doesn't lose too much value against the dollar. This is called the reverse currency war.

A currency which is losing value to the dollar, finds that it is getting costlier to import crude oil and other commodities that are often traded in dollars.
But raising the interest rate is not without its own risks. Just like in the US, higher interest rates will decrease the chances of a soft-landing for any other economy.
2. Destabilizing effect  of crypto on fiscal and monetary policy
Subject :Economy
Section: Fiscal Policy
Context:
There should be an international collaboration to make crypto prohibition law effective in the country, according to Finance Minister Nirmala Sitharaman.
Why?
Cryptocurrencies  have a destabilizing effect on the monetary and fiscal stability of a country according to the RBI.
How?
Acceptability-Such digital currency may not be accepted as a medium of exchange, store of value or a unit of account — essentially de-recognising the three key functions of money.
Sovereign guarantee-Cryptocurrencies pose risks to consumers as they are  not a fiat currency.
Market volatility-

The value of fiat currencies is anchored by monetary policy and their status as legal tender
The value of cryptocurrencies however,rests solely on the speculations and expectations of high returns that are not well anchored, so it will have a de-stabilising effect on the monetary and fiscal stability of a country.
 For instance, the value of Bitcoin fell from USD 20,000 in December 2017 to USD 3,800 in November 2018.

Money laundering-Cryptocurrencies are more vulnerable to criminal activity and money laundering.

They provide greater anonymity than other payment methods since the public keys engaging in a transaction cannot be directly linked to an individual.

Regulatory bypass: A central bank cannot regulate the supply of cryptocurrencies in the economy.  This could pose a risk to the financial stability of the country if their use becomes widespread. It will make monetary policy transmission difficult. 
Weaken central bank's control over money supply-When the crypto is introduced, other governmental departments such as IT and telecom will need to be involved for its smooth functioning. This may, initially at least, create coordination and implementation issues.

Further currencies outside RBI's regulatory regime would have inflationary effects.

Destabilise Financial sector-Digital currency assets could weigh heavily on the business of commercial banks, which have for long been acting as the financial intermediary, assisting in India's economic growth.

The deposit base of the financial sector  will erode. This could result in lending rates going up, leading to rise in borrowing costs.

Uncertainty in financial markets-Many public sector and private banks have been hit by a huge number of fraudulent transactions. The situation could worsen when there is an increasing shift to digital currencies without having proper regulation.
Status of Cryptocurrencies:
In 2018, the RBI has prohibited its regulated entities to deal in virtual currencies or provide services for facilitating any person or entity in dealing with or settling VCs.
The RBI's ban was, however, set aside by the Supreme Court on March 4, 2020.
The RBI through a circular,advised its regulated entities to continue to carry out customer due diligence processes for transactions in VCs, in line with regulations governing standards for Know Your Customer (KYC), Anti-Money Laundering (AML), Combating of Financing of Terrorism (CFT), Prevention of Money Laundering Act (PMLA), 2002,Foreign Exchange Management Act (FEMA) etc.
Finally, Cryptocurrencies, though unregulated, are not illegal in India.
Fiat money
It is not backed by physical commodities, such as gold.
It is government-backed money. 
Most paper currencies today are fiat currencies.
Fiat money value is based on the relationship between supply and demand. Fiat holds value because of people's faith in that nation's currency.
In the past, governments minted coins or paper money tied to the value of a physical commodity, which could then be redeemed for a set amount of that commodity. Fiat money cannot be redeemed. 
It gives central banks greater control over the economy, as they can control how much money is printed. Inflation may occur when a government creates too much of a fiat currency, and the money supply increases too rapidly as a result. Governments printing too much money can create hyperinflation.
Legal Tender 
Legal tender is any form of payment recognized by a government, used to pay debts or financial obligations, such as tax payments. 
National currencies, such as the U.S. dollar, are legal tender.
Notably, cheques and credit cards aren't legal tender—rather, they are money substitutes.
Legal Tender is a coin or a banknote that is legally tenderable for discharge of debt or obligation.
India-The coins issued by Government of India under Section 6 of The Coinage Act, 2011, shall be legal tender in payment or on account provided that a coin has not been defaced and has not lost weight so as to be less than such weight as may be prescribed in its case.

Limited legal tender-Coin of any denomination not lower than one rupee shall be legal tender for any sum not exceeding one thousand rupees.
Fifty paise (half rupee) coins shall be legal tender for any sum not exceeding ten rupees.
It means anyone cannot be forced to accept coins beyond the limits mentioned above, voluntarily accepting coins for amounts exceeding the limits mentioned above is not prohibited.
Unlimited legal tender-Currency notes are unlimited legal tender and can be offered as payment for dues of any size.
Every banknote issued by Reserve Bank of India (Rs2, Rs5, Rs10, Rs20, Rs50, Rs100, Rs200, Rs500 and Rs2000), unless withdrawn from circulation, shall be legal tender at any place in India in payment or on account for the amount expressed therein, and shall be guaranteed by the Central Government, subject to provisions of sub-section (2) Section 26 of RBI Act, 1934.
Rs1 notes issued by Government of India are also Legal Tender.
3. Weather modifications by China
Subject: Environment
Section: Climate change
Context:  China's weather modification
Geoengineering is an umbrella term for human interventions that change the earth's climate system .
There are currently two main approaches under the geoengineering umbrella: carbon-dioxide removal (CDR) and solar radiation management (SRM).
CDR tackles the root cause of global warming by removing greenhouse gases from the atmosphere — think carbon capture and storage.
SRM, meanwhile, leaves greenhouse gases untouched, but offsets their impact by reflecting sunlight away from the earth.
Whereas CDR addresses the cause of global warming, reducing greenhouse gases, SRM only masks it or offsets it.
Geoengineering Techniques
Bio-energy with carbon capture and storage (BECCS)
It is the process of extracting bioenergy from biomass and capturing and storing the carbon, thereby removing it from the atmosphere. The carbon in the biomass comes from the greenhouse gas carbon dioxide (CO2) which is extracted from the atmosphere by the biomass when it grows.
Energy is extracted in useful forms (electricity, heat, biofuels, etc.) as the biomass is utilized through combustion, fermentation, pyrolysis or other conversion methods.
Ocean fertilization or ocean nourishment
Ocean fertilizations is a type of climate engineering based on the purposeful introduction of nutrients to the upper ocean to increase marine food production and to remove carbon dioxide from the atmosphere.
A number of techniques, including fertilization by iron, urea and phosphorus have been proposed.
Soil carbon sequestration (SCS)
Soils can serve as a sink for carbon dioxide since atmospheric concentrations of carbon dioxide have crossed 410 parts per million and oceans are already turning acidic.
Carbon sequestration in soils has the potential to offset GHG emissions from fossil fuels by up to 15% annually.
Soil organic carbon (SOC) comes from plants, animals, microbes, leaves and wood, mostly found in the first metre or so.
There are many conditions and processes that determine changes to SOC content including temperature, rainfall, vegetation, soil management and land-use change.
Stratospheric aerosol injection (SAI)
SAI is the main type of solar radiation management (SRM) .
In the case of SAI, gases are pumped into the stratosphere to reflect some of the sun's heat, mimicking an effect that happens naturally in a strong volcanic eruption.
Scale of SAI makes its governance difficult — implementing it in one country can trigger rain and extreme weather across borders. Lack of public support might be the biggest hurdle.
Marine cloud brightening (MCB)
MCB involves reflecting sunlight away from the earth in some way. In this case, sea salt or other particles are sprayed into marine clouds to make them thicker and more reflective.
Cirrus cloud thinning (CCT)
CCT is almost the opposite of marine cloud brightening. High-altitude Cirrus clouds are thin and whispy, so they don't reflect much solar radiation back into space, and instead trap long-wave radiation on earth.
CCT proposes thinning them further through cloud seeding, letting more long-wave radiation escape.
4. What is the Marburg virus, the Ebola-like outbreak now confirmed in Ghana?
Subject: Science and tech
Section:
Context: The first two cases of the Marburg virus, a highly infectious Ebola-like disease, have been confirmed officially by Ghana
What is the Marburg virus disease?
It is earlier known as Marburg haemorrhagic fever and it is a severe, often fatal hemorrhagic fever
Marburg, like Ebola, is a filovirus; and both diseases are clinically similar
Rousettus fruit-bats are considered the natural hosts for Marburg virus
However, African green monkeys imported from Uganda were the source of the first human infection
It was first detected in 1967 after simultaneous outbreaks in Marburg and Frankfurt in Germany; and in Belgrade, Serbia
The disease has an average fatality rate of around 50%
What are the symptoms of Marburg virus disease?
Onset of symptoms, which can begin anytime between 2 to 21 days
It can manifest itself in the form of high fever, muscle aches and severe headache, abdominal pain, vomiting, severe watery diarrhoea and cramping, bleeding from nose, gums and blood appearing in vomits and faeces
How can Marburg virus disease be diagnosed and treated?
It is difficult to clinically distinguish MVD from diseases such as malaria, typhoid fever and other viral haemorrhagic fevers
However, it is confirmed by lab testing of samples
There is noapproved antiviral treatment or vaccine for MVD as of now.
Rehydration with oral or intravenous fluids and treatment of specific symptoms can help prevent death.
Ebola Virus:
Ebola virus disease (EVD) is a deadly disease with occasional outbreaks that occur mostly on the African continent.
EVD most commonly affects people and non human primates (such as monkeys, gorillas, and chimpanzees).
It is caused by an infection with a group of viruses within the genus Ebolavirus
Ebola virus was first discovered in 1976 near the Ebola River in what is now the Democratic Republic of Congo.
The virus first spreads to people through direct contact with the blood, body fluids and tissues of animals.
Ebola virus then spreads to other people through direct contact with body fluids of a person who is sick with or has died from EVD.
Causes for the Zoonotic disease outbreaks in Africa:
Major zoonotic diseases include Ebola,monkeypox, anthrax andplague.
There has been a 63 per cent increase in the number of zoonotic outbreaks in Africa from 2012-2022 compared to 2001-2011, according to World Health Organisation (WHO)
Growth in urbanisation and encroachment on natural habitats of the region's wildlife.
Increasing demand to fulfill food demand for the growing population has increased the risk of 'zoonotic disease outbreaks'
Improvement of transport infrastructure, which includes improved road, rail and airlinks, has removed the natural barrier that poor transportation infrastructure provided
This has also contributed to the spread of zoonotic disease outbreaks from remote to urban areas
6. Centre reissues draft notification on Western Ghats eco sensitive area
Subject : Environment
Section: Biodiversity
Context:The Ministry of Environment, Forests and Climate Change (MoEF&CC) has reissued the draft notification of the Ecologically Sensitive Area (ESA) in Western Ghats, The ESA are spread over 46,832 square kilometres (sq km) across Gujarat, Maharashtra, Goa, Karnataka and Tamil Nadu,of which 20,668 sq. km is in Karnataka.
What are Eco-Sensitive Zones?
Land area within 10 km of the boundaries of national parks and wildlife sanctuaries is to be notified as eco-fragile zones or Eco-Sensitive Zones (ESZ)
While the 10-km rule is implemented as a general principle, the extent of its application can vary
Areas beyond 10-km can also be notified by the Union government as ESZs, if they hold larger ecologically important "sensitive corridors.
Why are Eco-Sensitive Zones created?
ESZs are created as "shock absorbers" for the protected areas, to minimize the negative impact on the "fragile ecosystems" by certain human activities taking place nearby
These areas are meant to act as a transition zone from areas requiring higher protection to those requiring lesser protection
ESZs are not meant to hamper the daily activities of people living in the vicinity, but are meant to guard the protected areas and "refine the environment around them
List of activities prohibited in an ESZ, such as commercial mining, saw mills, commercial use of wood, etc., apart from regulated activities like felling of trees
Permitted activities like ongoing agricultural or horticultural practices, rainwater harvesting, organic farming, among others
Gadgil Report highlights
The Western Ghats Ecology Expert Panel (WGEEP) designated the entire hill range as an Ecologically Sensitive Area (ESA)
The report classified Western Ghats boundary into Ecologically Sensitive Zones (ESZ) 1, 2 and 3
ESZ-1 being of high priority, almost all developmental activities (mining, thermal power plants etc) were restricted in it
recommended that "no new dams based on large-scale storage be permitted in Ecologically Sensitive Zone 1
It asked for a bottom to top approach (right from Gram sabhas) of governance of the environment
The commission recommended constitution of a Western Ghats Ecology Authority (WGEA), as a statutory authority under the Ministry of Environment and Forests, with the powers under Section 3 of the Environment (Protection) Act, 1986
Kasturirangan committee
The Kasturirangan committee was constituted to examine the WGEEP report
Instead of the total area of Western Ghats, only 37% (i.e. 60,000 sq. km.) of the total area be brought under ESA 
A complete ban on mining, quarrying and sand mining in ESA
Distinguished between cultural (58% occupied in the Western Ghats by it like human settlements, agricultural fields and plantations) and naturallandscape (90% of it should come under ESA according to the committee)
Current mining areas in the ESA should be phased out within the next five years
No thermal power be allowed and hydropower projects are allowed only after detailed study.
Red industriese. which are highly polluting be strictly banned in these areas
It excluded the inhabited regions and plantations from the purview of ecologically sensitive areas
6. Why western ghats are so important?
Subject :Environment
Section: Biodiversity
Concept :
Older than the Himalaya mountains, the mountain chain of the Western Ghats represents geomorphic features of immense importance with unique biophysical and ecological processes.
The site's high montane forest ecosystems influence the Indian monsoon weather pattern.
Moderating the tropical climate of the region, the site presents one of the best examples of the monsoon system on the planet.
It also has an exceptionally high level of biological diversity and endemism and is recognized as one of the world's eight 'hottest hotspots' of biological diversity. The forests of the site include some of the best representatives of non-equatorial tropical evergreen forests anywhere and are home to at least 325 globally threatened flora, fauna, bird, amphibian, reptile and fish species.
Western Ghats are one of eight hottest biodiversity hotspots of the world.
What are biodiversity hotspots?
Biodiversity hotspots are regions with high species richness and a high degree of endemism.
The British biologist Norman Myers coined the term "biodiversity hotspot" in 1988 as a biogeographic region characterized both by exceptional levels of plant endemism and by serious levels of habitat loss.
Conservation International (CI) adopted Myers' hotspots and in 1996, the organization made the decision to undertake a reassessment of the hotspots concept.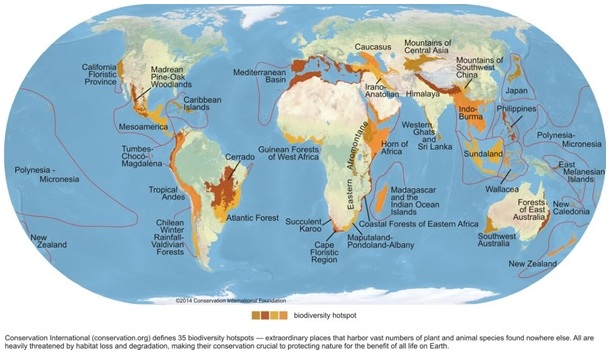 According to CI, to qualify as a hotspot a region must meet two strict criteria:

It must contain at least 1,500 species of vascular plants (> 0.5% of the world's total) as endemics – which is to say, it must have a high percentage of plant life found nowhere else on the planet. A hotspot, in other words, is irreplaceable.
It has to have lost at least 70% of its original habitat. (It must have 30% or less of its original natural vegetation). In other words, it must be threatened.

The 35 biodiversity hotspots cover 2.3% of the Earth's land surface, yet more than 50% of the world's plant species and 42% of all terrestrial vertebrate species are endemic to these areas.
In 2011, the Forests of East Australia region was identified as the 35th biodiversity hotspot.
Biodiversity hotspots in India
Himalaya: Includes the entire Indian Himalayan region (and that falling in Pakistan, Tibet, Nepal, Bhutan, China and Myanmar).
Indo-Burma: Includes entire North-eastern India, except Assam and Andaman group of Islands (and Myanmar, Thailand, Vietnam, Laos, Cambodia and southern China)
Western Ghats and Sri Lanka: Includes entire Western Ghats (and Sri Lanka).
Sundalands: Includes Nicobar group of Islands (and Indonesia, Malaysia, Singapore, Brunei, Philippines).
What are the 8 hottest of the hotspots?
Madagascar
Philippines
Sundaland
Brazil's Atlantic Forest
Caribbean
Indo-Burma
Western Ghats and Sri Lanka
Eastern Arc and Coastal Forests of Tanzania/Kenya
7. European Commission has decided to suspend five certifying bodies
Subject : Agriculture
Section :
Context:
The European Commission has decided to suspend five certifying bodies from clearing or ratifying exports of Indian processed organic food products for their failure to comply with European Union norms and ensure contamination-free product
Concept:
According to Codex Alimentarius the traces pesticides leave in treated products or those left by veterinary drugs in animals are called "residues".
Pesticide residues
A maximum residue limit (MRL) is the highest level of a pesticide residue that is legally tolerated in or on food or feed when pesticides are applied correctly in accordance with Good Agricultural Practice.
Veterinary drug residues
The maximum residue limit (MRL) is the maximum concentration of residue legally tolerated in a food product obtained from an animal that has received a veterinary medicine.
What is Codex standard?
Codex standards are based on sound science provided by independent international risk assessment bodies or ad-hoc consultations organized by FAO and WHO.
Scope:
The Codex Alimentarius includes standards for all the principal foods, whether processed, semi-processed or raw, for distribution to the consumer. Materials for further processing into foods should be included to the extent necessary to achieve the purposes of the Codex Alimentarius as defined. The Codex Alimentarius includes provisions in respect of food hygiene, food additives, residues of pesticides and veterinary drugs, contaminants, labelling and presentation, methods of analysis and sampling, and import and export inspection and certification.
More details:
All  developed and developing countries fix their own Maximum Residue Limit (MRL) of pesticides on Raw Agricultural Commodities (RAC) based on their country specific Good Agricultural Practices (GAP) and dietary consumption pattern.
In India, the Food Safety and Standard Authority of India (FSSAI) under Ministry of Health and Family Welfare evaluate the supervised trial residue data based on the approved GAP, for fixation of MRL.
For tea, according to the Indian Tea Planters' Association an MRL of10 mg/kg is currently established in India.
Organic farming in India:
Organic products are grown under a system of agriculture without the use of chemical fertilizers and pesticides with an environmentally and socially responsible approach.
This is a method of farming that works at grass root level preserving the reproductive and regenerative capacity of the soil, good plant nutrition, and sound soil management, produces nutritious food rich in vitality which has resistance to diseases.
As per the available statistics, India's rank 8th in terms of World's Organic Agricultural land and 1st in terms of total number of producers as per 2020 data (Source: FIBL & IFOAM Year Book, 2020).
The APEDA, Ministry of Commerce & Industries, Government of India is implementing the National Programme for Organic Production (NPOP).
The programme involves the accreditation of Certification Bodies, standards for organic production, promotion of organic farming and marketing etc.
The NPOP standards for production and accreditation system have been recognized by European Commission and Switzerland for unprocessed plant products as equivalent to their country standards. With these recognitions, Indian organic products duly certified by the accredited certification bodies of India are accepted by the importing countries. APEDA is also in the process of negotiation with South Korea, Taiwan, Canada, Japan etc.
AREA
As on 31st March 2021 total area under organic certification process (registered under National Programme for Organic Production) is 4339184.93 ha (2020-21). This includes 2657889.33 ha cultivable area and another 1681295.61 ha for wild harvest collection.
Among all the states, Madhya Pradesh has covered largest area under organic certification followed by Rajasthan, Maharashtra, Chhattisgarh, Himachal Pradesh, Jammu & Kashmir and Karnataka.
During 2016, Sikkim has achieved a remarkable distinction of converting its entire cultivable land (more than 75000 ha) under organic certification.
PRODUCTION
India produced around 34 MT (2020-21) of certified organic products which includes all varieties of food products namely Oil Seeds, fibre, Sugar cane, Cereals & Millets, Cotton, Pulses, Aromatic & Medicinal Plants, Tea, Coffee, Fruits, Spices, Dry Fruits, Vegetables, Processed foods etc. The production is not limited to the edible sector but also produces organic cotton fiber, functional food products etc.
Among different states Madhya Pradesh is the largest producer followed by Maharashtra, Karnataka, Rajasthan and Uttar Pradesh. In terms of commodities Oil seeds are the single largest category followed by Sugar crops, Cereals and Millets, Tea & Coffee, Fiber crops, fodder, Pulses, Medicinal/ Herbal and Aromatic plants and Spices & Condiments.
EXPORTS
The total volume of export during 2020-21 was 68 MT. The organic food export realization was around INR 707849.52 Lakhs (1040.95 million USD). Organic products are exported to USA, European Union, Canada, Great Britain, Korea Republic, Israel, Switzerland, Ecuador, Vietnam, Australia etc.
In terms of export value realization Processed foods including soya meal (57%) lead among the products followed by Oilseeds (9%), Cereals and millets (7%),Plantation crop products such as Tea and Coffee (6%),Spices and condiments (5%),Medicinal plants(5%), Dry fruits (3%), Sugar(3%), and others.
Subject : Geography
Section: Economic geography
Context: Recent studies have shown Baigas are unaware about the recognition of forest rights  and what these rights entail.
Background:
In 2015, in Madhya Pradesh, Baigachak, which comprises seven villages where the Baiga tribe lives, was the first area to receive Habitat Rights under the Forest Rights Act. However, even today several people living in the area are unaware about the recognition and what these rights entail.
9. How Chief Ministers' foreign trips are cleared, and by whom
Subject : Polity
Section: Judiciary
Context: SC stays HC decision
Delhi Chief Minister Arvind Kejriwal has questioned why the Centre has delayed the clearance of his trip to Singapore, where he has been invited to attend a World Cities Summit scheduled during July 31- August 3.
What clearance do Chief Ministers require to travel abroad?
The Cabinet Secretariat and the Ministry of External Affairs should be kept informed of the proposed foreign visit, either official or private, of Chief Ministers and Ministers of State Governments/Union Territories.
However, prior political clearance and FCRA (Foreign Contribution Regulation Act) clearance are mandatory.
In case of Chief Ministers and Ministers of state governments, a copy of the application must also be sent to the Secretary, Department of Economic Affairs (DEA).
What is political clearance?
This comes from the Ministry of External Affairs (MEA). This is required not only for public servants but any government servant for a foreign trip.
The decision is taken based on multiple factors such as the nature of the event, the level of participation from other countries, the kind of invitation that has been extended, and also India's relations with the host country.
Are any other clearances required?
For Union ministers, after getting political clearance from the MEA, additional clearance is needed from the Prime Minister, whether the trip is official or personal.
Lok Sabha MPs need clearance from the Speaker, and Rajya Sabha members from the Chairperson (Vice President of India).
For officers of various ministries up to Joint Secretary level, clearance is given by the minister concerned, after political clearance.
For those above that rank, the proposal needs approval of a screening committee of secretaries.
Do judges need clearance for foreign trips?
For official foreign travel, the proposal by a Supreme Court or High Court judge is sent to the Department of Justice (DoJ) after taking clearance from the Chief Justice of India.
The DoJ, after taking political clearance from the MEA and in some cases from the Home Ministry (when FCRA is involved), issues approval.
Political clearance from the MEA was needed even for personal trips until February 11, 2010, when the DoJ decided to dispense with this necessity in case of private visits.
10. EPFO may soon raise equity exposure to 20%
Subject : Polity
Section: Judiciary
Context: SC stays HC decision
EPFO invests equities in the form of exchange traded funds (ETFS) both Nifty and Sensex.
The finance committee of the Central Board of Trustees (CBT), the highest decision-making body of the Employees' Provident Fund Organisation (EPFO), has suggested raising EPF exposure in equities to 20% of the fresh annual accretions from the present cap of 15%, the government informed Parliament on Monday.
Central Board of Trustees (CBT)

The Central Government reconstituted the CBT, EPFO under section 5A of Employees' Provident Fund & Miscellaneous Provision Act
The key decisions of the Central Board, EPFO are:-
The Board approved the constitution of the following committees and authorized Chairman CBT, EPFO to nominate members to the Committees:-

Finance, Investment and Audit Committee
Pension & EDLI Implementation Committee
Exempted Establishments Committee

The Board mandated Finance Investment & Audit Committee (FIAC), a Sub Committee of the Board to select new Portfolio Managers for managing the corpus of EPFO.
11. Though critical for entering 5G race, why does 700MHz band find no takers?
Subject : Science and Technology
Section: Awareness of IT
The 700MHz has gained massive acceptance among the telcos owing to its many inherent advantages
the premium 700MHz band remained unsold yet again owing to its high reserve price in the spectrum auction 2021
What is 700MHz and what are its advantages?
The 700 MHz band is a set of frequencies between 698 and 806 MHz is a highly sought after around the world in rolling out the 4G technology for mobile licenses.
The 700MHz has gained massive acceptance among the telcos owing to its many inherent advantages like wide coverage, low frequency and a good in building penetration.
It is five times more efficient when compared to 1800 MHz for the rural area coverage and twice as efficient as the 900 MHz.
Given the high proportion of the Indian population residing in villages and an increasing adoption of the mobile technology, the importance of the 700MHz band for the telcos becomes even more
the 700MHz band is said to be cost effective for the telcos. It is significantly cheaper to provide broadband services in 700MHz than in the 2100 MHz band which is almost 70 percent expensive.
What is the role of 700MHz in 5G?
The 700MHz band is being widely used by the telcos in the West for a cost efficient deployment of the 5G technology.
Subject : Environment
Section :Pollution
Ecocide is human impact on the environment causing mass destruction to that environment.
It is defined as "as unlawful or wanton acts committed with knowledge that there is a substantial likelihood of severe and either widespread or long-term damage to the environment being caused by those acts".
Once adopted and incorporated with an amendment to the Rome Statute, this would be the only international crime that does not require direct human impact.
Ten nations have codified ecocide as a crime.
On January 22, 2013, a committee of eleven citizens from nine EU countries officially launched the "European Citizens Initiative (ECI) to End Ecocide in Europe".
13. Supervision by the Supreme Court over the High Courts: A Constitutional quagmire
Subject : Polity
Section: Judiciary
Context: SC stays HC decision
In the Constitutional scheme, the Supreme Court and the High Courts are Courts of record.
The High Court is not a Court subordinate to the Supreme Court, except for the appellate power conferred on the latter. 
The power of the High Court is wider, as it exercises powers to issue writs for infractions of all legal rights, and also has the power of superintendence over all "subordinate courts".
Such power of superintendence is absent in the Supreme Court, which being the highest Constitutional court, was never intended to supervise subordinate courts or the High Courts.  
What places the Supreme Court at a superior place in the hierarchy is that it is the highest court of appeal, law declared by it is binding on all Courts, it has the power to transfer cases from one High Court to another or to itself and Article 144, which requires all authorities including the High Court to act in aid of the Supreme Court
The power of appeal implies the power to reverse, confirm, annul or modify the decree of the High Court including the direction to rehear the matter and comply with such directions as may accompany the order of remand.  This power of appeal includes the power to exercise such other incidental or ancillary powers
The power under this Article (Article 227) cast a duty upon the High Court to keep the inferior courts and tribunals within the limits of their authority and that they do not cross the limits, ensuring the performance of duties by such courts and tribunals in accordance with law conferring powers within the ambit of the enactments creating such courts and tribunal