Daily Prelims Notes 19 November 2022
November 19, 2022

Posted by:

OptimizeIAS Team

Category:

DPN

Daily Prelims Notes
19 November 2022
Table Of Contents
1. Real Estate Investment Trust (REIT)
Subject: Economy
Context:
Nexus Select Trust has filed the Draft Red Herring Prospectus (DRHP) with the SEBI for India's first retail REIT public issue in the first half of 2023.
Details:
At present, there are three listed REITs — Embassy Office Parks REIT, Mindspace Business Parks REIT and Brookfield India Real Estate Trust — on Indian stock exchanges but all these are of leased office assets.
Nexus Select Trust will be the first REIT with rent-yielding retail real estate assets.
What Is a Real Estate Investment Trust (REIT)?
REITs or Real Estate Investment Trusts (REITs) are funds that invest their corpus in income producing commercial and industrial properties.
REITs are similar to Mutual Funds which allow multiple investors to pool their investments and assets are professionally managed by a designated Manager.
The underlying asset in the case of REITs is primarily Real Estate Holdings or loans secured by Real Estate.
Structure:
When a Real Estate Company decides to form a Real Estate Investment Trust, it becomes the Sponsor for the REIT and appoints a Trustee.
The Trustee holds the Real Estate Assets of the Trust in its Trusteeship and these assets are no longer directly controlled by the Sponsor.
Trustee appoints a Manager to manage the Real Estate Assets on behalf of the Trust and also make investment decisions.
The REIT then registered and  raises money through the sale of units either publicly on stock markets or through private investors.

An investor can purchase even one share of REITs at their listed price and can sell on the exchange at the prevalent market price.
An investor earns income in the form of interest, dividends, amortisation of SPV and capital gains.
REIT investment represents ownership of the Real Estate Assets held by the Trust and this entitles the unit holder to a share of the income generated by the REIT.
Different Types of REITs

Retail REITs: These REITs are required to invest at least 24% of their assets into commercial retail such as shopping malls and freestanding retail stores.
Residential REITs: These are Real Estate Investment Trusts that own and operate manufactured housing as well as rental apartment buildings.
Healthcare REITs: As suggested by the name, these trusts primarily invest in and operate healthcare-focused Real Estates such as hospitals, nursing facilities, retirement homes, and medical centers.
Office REITs: These primarily invest in and operate office space. Their main source of income for this type of REIT is thus rental received from tenants with long-term leases.
Mortgage REITs: In the case of these REITs, an estimated 10% of investments are made into mortgages instead of physical Real Estate.

There are other three types of REIT available: equity REITs which purchase, own and manage income-generating properties; mortgage REITs which lend money directly or indirectly to real estate owners; and hybrid REITs which are a combination of the first two.
In India, the current SEBI guidelines related to REITs in India were approved in September 2014.

At least 80% of investments made by a REIT need to be in commercial properties that can be rented out to generate income. The remaining assets of the trust (up to the 20% limit) can be held in the form of stocks, bonds, cash, or under-construction commercial property.
At least 90% of the rental income earned by the REIT has to be distributed to its unitholders as dividends or interest.
Stock market listing of REIT is mandatory
Subject: Economy
Context:
India's deep tech startups need higher seed and early stage funding to grow faster.
Details:
In India only 11 per cent of total technology-related funding is going to deep tech.
Concept:
Deep tech or deep technology startups are enterprises that work in the area of emerging technologies like artificial intelligence (AI), robotics, quantum, blockchain, Internet of Things (IoT), drones and augmented reality (AR).
Seed funding
Seed funding is an investment made by an individual for a business to grow. It is generally the earliest form of capital a startup will raise
Often, seed funding comes from angel investors, friends and family members, and the original company founders.
Seed funding is used to start the company itself, and consequently it is fairly high risk: the company has not yet proven itself within the market.
The purpose of seed funding is intended to give a founding team enough capital to pursue a certain idea or market to prove if the concept works.
The initial investment— seed funding—is followed by various rounds, known as Series A, B, and C.
Types of Seed Funding for Startups
Crowdfunding-is the practice of funding a project or venture by raising money from a large number of people, typically via the internet.
Corporate seed funds-A corporate seed fund is a big source for these company's startups. These companies, including other big companies, use the fund as a great source for their profit.
Incubators-Incubators help entrepreneurs solve some of the problems commonly associated with running a startup by providing workspace, seed funding, mentoring, and training.
Accelerators-Private startup accelerators do provide funding and the money helps cover early-stage business expenses, as well as travel and living expenses for the three-month residency at the in-person startup accelerators.

Startup accelerators generally take between 5% and 10% of your equity in exchange for training and a relatively small amount of funding.

Angel investors- an angel investor is an individual that is looking to diversify their investment portfolio and back intriguing startups. Angel investors help businesses with capital funds whenever the startups have issues in growth in the early stages.
Personal Savings-In this type, the founders of the companies use their wealth and savings as the source for seed funding.
Debt Funding-Usually, money provided by banks or any other financial as loans is considered to be debt funding.
Convertible Securities-Depending upon the progress or growth of the company, the loans provided as seed round changed to equity form.
Angel Funds or Angel Networks-Many a time, many investors are pooled together to invest money in the early stage of the financing round. The formation of investors is known as Angle networks.
VC Funding-Based on the following parameters, venture capitalists provide funds.
3. Central Depository Services Ltd
Subject: Economy
Context:
The settlement of trades at Central Depository Services Ltd was delayed on Friday due to detection of malware in its machines.
Concept:
Depository
It is a place where financial securities are held in dematerialised form.
Depositories act like your bank account. As you store money in your bank account similarly, a depository helps you store securities in your Demat account.
It is responsible for maintenance of ownership records and facilitation of trading in dematerialised securities.
There are two depositories which are functional in India – 

National Securities Depository Ltd (NSDL) –NSDL is the oldest and largest depository in India. It was established on 12th December 1995 and started its operations in 1996 in Mumbai. It was the first depository to provide trading services in electronic format.
Central Securities Depository Ltd (CDSL)-CDSL came into existence after NSDL in February 1999. Its goal is to provide convenient, dependable and secured depository services. CDSL is the first depository to reach five crores Demat accounts.

Apart from above mentioned, they offer a wide range of services like:

Dematerialisation services
Rematerialisation services
Transfers between depositories
Off-market transfers
Lending of securities
Nomination services
Collateral and mortgage of securities

They are entrusted with the safekeeping of the following financial securities in the electronic format:

Stocks
Bonds
Debentures
Commercial papers
Mutual Funds
Difference between NSDL and CDSL:
There is no key difference between having a Demat account with a DP registered either with NSDL or CDSL.
Both are regulated by SEBI and provide similar trading and investing services.
The only difference between both the depositories is their operating markets. While NSDL has National Stock Exchange (NSE) as the primary operating market, CDSL's primary market is the Bombay Stock Exchange (BSE).
How do they work?
Depository interacts with its clients or investors through its agents, called Depository Participants normally known as DPs. 
For any investor or client, to avail the services provided by the Depository, has to open a Depository account, known as Demat A/c, with any of the DPs.

In a strictly legal sense, a DP is an entity who is registered as such with SEBI under the sub section 1A of Section 12 of the SEBI Act. As per the provisions of this Act, a DP can offer depository-related services only after obtaining a certificate of registration from SEBI.
The relationship between the DPs and the depository is governed by an agreement made between the two under the Depositories Act.
A Demat account or dematerialised account 
It converts the shares from the paper form into an electronic form. They are similar to pass books offered by the banks where you have opened an account. One  can easily buy or sell shares of different companies using your Demat account.
Subject: Geography
Context:
Wheat, mustard lead rabi crops coverage, total area up 7%
Details of rabi crop:
The government's target of foodgrains output in 2022-23 (both kharif and rabi) is 328 mt, which is nearly 4 per cent higher than actual production of 2021-22.
Wheat acreage has increased by 15 per cent in November 2022 with respect to year-ago
Except in Haryana, it is higher in all other major wheat-growing States–Punjab, Rajasthan, Uttar Pradesh, Maharashtra and Gujarat .
Wheat's share is nearly 70 percent of the rabi foodgrains
In oilseeds-rapeseed and mustard acreages have increased by 14.7 per cent
There has been a reduction in the acreages of coarse cereals and pulses
Winter-grown paddy area has been increased by 11.5 per cent.
The government has targeted an output of 18.5 mt of rice from the rabi season.
The kharif rice production is estimated at 104.99 mt, against a target of 112 mt.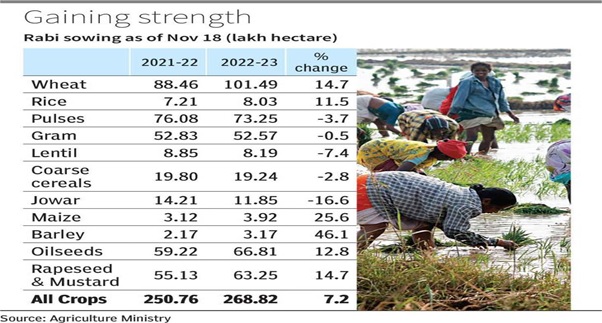 Concept:
Major Cropping season:
Kharif Crops
Kharif crops are also known as monsoon crops or autumn crops.
Kharif crops are usually sown at the beginning of the first rains during the advent of the south-west monsoon season, and they are harvested at the end of monsoon season (October-November).
These crops are dependent on the quantity of rainwater as well as its timing.
Rice is the most important Kharif crop of India.
Other examples of kharif crops are- Jowar, Maize (corn), Millet, Cotton, Green gram, Groundnut, Sesame, Soybean etc.
Rabi Crops 
Rabi crops are agricultural crops that are sown in winter and harvested in the spring.
The rabi crops are sown around mid-November, preferably after the monsoon rains are over, and harvesting begins in April / May.
The crops are grown either with rainwater that has percolated into the ground or using irrigation. Large rain in winter spoils the rabi crops but is good for kharif crops.
The major rabi crop in India is wheat.
Other examples of rabi crops are – Barley, Oats, Pulses, Mustard, Linseed, Bajra etc.
Zaid crops
Zaid crops are summer season crops. 
They grow in long time period mainly from March to June.
They require warm dry weather as major growth period and longer day length for flowering.
The Zaid crop season comes between the Rabi and Kharif crop seasons.
These crops also mature early.
Some of the crops produced during 'zaid' are watermelon, muskmelon, cucumber, vegetables and fodder crops.
States– Most of the northern and northwestern states.
Trends in production:
As per 2nd Advance Estimates, the estimated production of major crops during 2021-22 is as under:
Foodgrains  –316.06 million tonnes. (record)–

The production during 2021-22 is higher by 25.35 million tonnes than the previous five years' (2016-17 to 2020-21) average production of foodgrains.

Rice  –127.93 million tonnes. (record)

It is higher by 11.49 million tonnes than the last five years' average production of 116.44 million tonnes.

Wheat  –111.32  million tonnes. (record)

It is higher by 7.44 million tonnes than the average wheat production of 103.88 million tonnes.

Nutri / Coarse Cereals  –49.86 million tonnes- higher by 3.28 million tonnes than the average production.
Maize  –32.42 million tonnes. (record)-
Pulses  –26.96 million tonnes.(record)-higher by 3.14 million tonnes than the last five years' average production of 23.82 million tonnes.

Gram – 13.12 million tonnes.(record)

Oilseeds –37.15 million tonnes-higher by 4.46 million tonnes than the average oilseeds production.

Rapeseed and Mustard –11.46 million tonnes.(record)

Sugarcane – 414.04 million tonnes.(record)- higher by 40.59 million tonnes than the average sugarcane production of 373.46 million tonnes.
Cotton  –34.06 million bales (each of 170 kg).
Jute  & Mesta –9.57 million bales (each of 180 kg).
Subject : Polity
Context : The Union Finance Ministry decided that it did not need the Election Commission's concurrence for its November 7 amendment to the Electoral Bond Scheme that increased the period of sale of electoral bonds, documents show.
Concept :
The amendment was notified while the Model Code of Conduct (MCC) was in place for the Himachal Pradesh and Gujarat elections.
The proposal was first discussed and approved within the ministry in March 2021.
However, it was only notified on November 7 this year, and the 23rd tranche of electoral bonds were sold from November 9 to November 15.
Economic affairs secretary has said that as this matter was already duly noted by ECI (Election Commission of India) in 2021, another reference on the matter for ECI concurrence is not necessary.
About Electoral Bond Scheme
Introduced with the Finance Bill 2017, Electoral Bond is a financial instrument for making donations to political parties.
These bonds are on the lines of bearer bonds or promissory notes wherein the issuer (bank) is the custodian and pays the one who holds the bonds (political party)
The bonds are issued in multiples of Rs. 1,000, Rs. 10,000, Rs. 1 lakh, Rs. 10 lakh and Rs. 1 crore without any maximum limit.
State Bank of India is authorized to issue and encash these bonds, which are valid for fifteen days from the date of issuance.
These bonds are redeemable in the designated account of a registered political party.
The bonds are available for purchase by any person (who is a citizen of India or incorporated or established in India)for a period of ten days each in the months of January, April, July and October as may be specified by the Central Government.
A person being an individual can buy bonds, either singly or jointly with other individuals.
Donor's name is not mentioned on the bond.
Only parties registered under the Representation of the People Act 1951 could receive donations through electoral bonds, and they also should not have secured less than 1% of the votes polled in the previous elections.
6, Korea's ICBM, with range to strike entire U.S., lands near Japan's waters
Subject : International Relations
Context : North Korea has fired an Intercontinental Ballistic Missile (ICMB) that landed close to Japanese waters recently which is the second major weapons test within a one-month duration that showcases the capability to launch nuclear strikes on all of the U.S. mainland.
Concept : 
As per the experts, the recent launch involved the longest-range missile( Hwasong-17 missile,), which is still under development and is designed to carry multiple nuclear warheads to overcome U.S. missile defence systems.
North Korea's recent tests aim to advance its nuclear arsenal and win greater concessions in future diplomacy and the tests have been conducted at a time when China and Russia have criticised the U.S. moves to toughen UN sanctions on curbing the North's nuclear programme.
The U.S. has condemned the launch and has assured to take all measures to guarantee the safety of its territory and its allies South Korea and Japan.
About Hwasong 17 missile
The Hwasong-17 is nuclear-armed North Korea's biggest missile yet.
It is the largest road-mobile, liquid-fuelled ICBM in the world.
Its diameter is estimated to be between 2.4 and 2.5 metres, and its total mass, when fully fuelled, is likely somewhere between 80,000 and 110,000 kg.
Unlike North Korea's earlier ICBMs, the Hwasong-17 is launched directly from a transporter, erector, launcher (TEL) vehicle with 11 axles.
Intercontinental ballistic missile
An intercontinental ballistic missile (ICBM) is a missile with a minimum range of 5,500 kilometres primarily designed for nuclear weapons delivery.
Conventional, chemical, and biological weapons can also be delivered with varying effectiveness, but have never been deployed on ICBMs.
Countries that have ICBMs: India, Russia, the United States, North Korea, China, Israel, the United Kingdom and France.
ICBMs are differentiated by having greater range and speed than other ballistic missiles.
Short and medium-range ballistic missiles are known collectively as the theatre ballistic missiles.
Types of ballistic missiles based on the range
Short-range (tactical) ballistic missile (SRBM): Range between 300 km and 1,000 km.
Medium-range (theatre) ballistic missile (MRBM): 1,000 km to 3,500 km.
Intermediate-range (Long-Range) ballistic missile (IRBM or LRBM): 3,500 km and 5,500 km.
Intercontinental ballistic missile (ICBM): 5,500 km +.
Ballistic missiles of India: Agni, K-4 (SLBM), Prahaar, Dhanush, Prithvi and Trishul.
7. Odisha govt approves new port policy to attract pvt investment
Subject: Geography
Context-
The Odisha state cabinet approved a new port policy on Friday.
Details of the policy-
The new policy aims to facilitate private sector investments in the maritime sector and the development of ports and port-related industries.
According to the policy, the Odisha Maritime Board (OMB) will prepare an Odisha maritime perspective plan encompassing the key strengths and challenges in maritime development.
The plan will also study the maritime ecosystem involving ports, hinterland potential, cargo evacuation, port connectivity, environmental enhancement and development of the coastal communities.
The policy also promotes other maritime ventures like coastal shipping, the promotion of marine tourism, the development of multipurpose harbours, the introduction of sea-plane connectivity, promotion of facilities and the creation of infrastructure for shipbuilding, ship breaking and related activities in the state.
Earlier the state had formulated a port policy in 2004.
Ports in Odisha-
With a vast coastline of 480 kilometres, Odisha has three operational ports at Paradip, Dhamra and Gopalpur.
12 potential sites have been identified for the development of non-major ports in different districts and a riverine port on Mahanadi.
Policy for children
The cabinet also approved a policy for children in the state called PRARAMBH.
The policy envisions a blueprint which focuses on children's right to survival, protection, physical health, including mental health, upholding the right to education, participation and other milestones required to achieve their optimal development.
Major Sea Ports in India
India has 13 major seaports (12 Government-owned and one private) and 205 notified minor and intermediate ports that handle a huge volume of traffic.
About 95 per cent by volume and 70 per cent by value of India's total international trade are carried on through maritime transportation.
All ports in India are situated in the 9 coastal states of India namely Kerala, Karnataka, Maharashtra, Goa, Gujarat, West Bengal, Odisha, Andhra Pradesh, and Tamil Nadu.
Thirteen major ports in the country handle a lot of volume of container and cargo traffic.
On the west coast, there are the ports of Mumbai, Kandla, Mangalore, JNPT, Vadhavan, Mormugao, and Cochin.
On the east coast are the ports at Chennai, Tuticorin, Visakhapatnam, Paradip, Kolkata, and Ennore.
Ennore is a registered public company with the government owning a 68% stake.
In Andaman and Nicobar Islands, there is Port Blair (a minor port).
Mumbai is the largest natural port in India.
The Indian government has a federal structure, and according to its constitution, maritime transport is to be administered by both the Central and the State governments.
While the central government's shipping ministry administers the major ports, the minor and intermediate ports are administered by the relevant departments or ministries in the nine coastal states – Andhra Pradesh, Goa, Gujarat, Karnataka, Kerala, Maharashtra, Odisha, Tamil Nadu and West Bengal.
What is Landlord Port?
In this model, the publicly governed port authority acts as a regulatory body and as a landlord, while private companies carry out port operations—mainly cargo-handling activities.
Here, the port authority maintains ownership of the port while the infrastructure is leased to private firms that provide and maintain their own superstructure and install their own equipment to handle cargo.
In return, the landlord port gets a share of the revenue from the private entity.
Service Port Model?
In service ports, the port authority does the administration and operation of port activities.
The port operation includes providing navigational services, warehouse facilities, cranes, and skilled employees/labourers. the construction of infrastructure, superstructure, and providing employees, becomes the responsibility of the port authority.
Even if the port authority act in the public interest full ownership of the port remains with the state or the government.
8. Bacterial resistance to antibiotics causes 1.27 million deaths per year: WHO official
Subject: Science and Technology
Context-
Bacterial resistance to antibiotics directly causes 1.27 million annual deaths globally and indirectly contributes to or is associated with an additional 4.95 million deaths annually, according to Dr H Getahun, director of Global Coordination and Partnership on Antimicrobial resistance – World Health Organisation (AMR-WHO).
Antimicrobial resistance-
According to a 2017 World Bank report, if no action is taken now, antimicrobial resistance is may cause US$ 1.2 trillion additional health expenditure per year by 2050, and push up to 24 million more people, particularly in low-income countries, into extreme poverty by 2030.
Antimicrobial resistance occurs when bacteria, viruses, fungi and parasites change over time and no longer respond to medicines, making infections harder to treat and increasing the risk of disease spread, severe illness and death.
As a result of drug resistance, antibiotics and other antimicrobial medicines become ineffective and infections become increasingly difficult or impossible to treat.
Microorganisms that develop antimicrobial resistance are sometimes referred to as "superbugs".
The World Health Organization (WHO) has identified AMR as one of the top ten threats to global health.
Researchers estimated that AMR in bacteria caused an estimated 1.27 mn deaths in 2019.
AMR in India:
India, with its combination of a large population, rising incomes that facilitate the purchase of antibiotics, high burden of infectious diseases and easy over-the-counter access to antibiotics, is an important locus for the generation of resistance genes (such genes help bacteria in surviving on being exposed to antibiotics).
The multi-drug resistance determinant, New Delhi Metallo-beta-lactamase-1 (NDM-1), emerged from this region to spread globally.
Africa, Europe and other parts of Asia have also been affected by multi-drug-resistant typhoid originating from South Asia.
In India, over 56,000 newborn deaths each year due to sepsis are caused by organisms that are resistant to first-line antibiotics.
Global measures-
World Antimicrobial Awareness Week (WAAW):
Held annually since 2015, WAAW is a global campaign that aims to raise awareness of antimicrobial resistance worldwide and encourage best practices among the general public, health workers and policymakers to slow the development and spread of drug-resistant infections.
The Global Antimicrobial Resistance and Use Surveillance System (GLASS):

WHO launched the GLASS in 2015 to continue filling knowledge gaps and to inform strategies at all levels.
GLASS has been conceived to progressively incorporate data from surveillance of AMR in humans, surveillance of the use of antimicrobial medicines, and AMR in the food chain and in the environment.
9. The Vikram-S launch opens exciting possibilities for space exploration in India
Subject: Science and Technology
Context-
On Friday, India's space programme accomplished a landmark when the country's first privately-developed rocket lifted off from ISRO's launch pad in Sriharikota.
Mission Prarambh and the Vikram-S rocket-
The mission named 'Prarambh' will see Vikram-S carry three customer satellites in a sub-orbital flight.
The Vikram-S rocket is a single-stage sub-orbital launch vehicle which will carry three customer payloads and help test and validate technologies in the Vikram series space launch vehicles.
The mission will help the company test its systems in space.
The company is designing three Vikram rockets that will use various solid and cryogenic fuels to carry between 290 kg and 560 kg payloads to sun-synchronous polar orbits.
In comparison, India's workhorse PSLV can carry up to 1,750kg to such an orbit while the newly-developed small satellite launch vehicle – meant for carrying smaller commercial satellites – can carry up to 300 kg to sun-synchronous orbit.
What is a sub-orbital flight-
Sub-orbital flight, just like the ones undertaken by Jeff Bezos and Richard Branson, are those vehicles which are travelling slower than orbital velocity – meaning it is fast enough to reach outer space but not fast enough to stay in an orbit around the Earth.
Private participation in Space sector-
According to industry data, India has more than 350 private firms in the space sector making it the fifth-largest in the world in this respect after the US, UK, Canada and Germany.
But the country's share in the global space economy is barely 3 per cent.
The government intends to increase this to 10 per cent by 2030.
Space sector start-ups-
In June 2020, it approved the participation of private players in all sectors of space activity — earlier they could only be vendors or suppliers.
It also instituted the Indian National Space Promotion and Authorisation Centre, a unit of ISRO, to enable private companies to become independent players.
Skyroot, Agnikul cosmos and Pixxon are start-ups in this sector.
Agnikul Cosmos, a Chennai-based start-up, is planning the commercial launch of its rocket Agnibaan in the first quarter of next year.
Last week, the company test-fired its first rocket engine — manufactured in one go, unlike conventional engines which are assembled using thousands of parts — from the Vikram Sarabhai Space Centre in Thiruvananthapuram.
Companies such as Skyroot and Agnikool promise cost-efficiency as well as innovation.