Daily Prelims Notes 19 September 2021
September 19, 2021

Posted by:

admin1

Category:

DPN

Daily Prelims Notes
19 September 2021
Table Of Contents
Subject – Science and Tech
Context – Washington worrying about Stablecoins
Concept –
Stablecoins might be the most ironically named innovation of the cryptocurrency era, at least in the eyes of many Washington regulators and policymakers.
These digital currencies promise to maintain their value, which is generally pegged to a government currency like the dollar or euro, by relying on stable financial backing like bank reserves and short-term debt.
They are exploding in popularity because they are a practical and cheap way to transact in cryptocurrency.
Stablecoins have moved from virtual nonexistence to a more than $120 billion market in a few short years, with the bulk of that growth in the past 12 months.
But many are built more like slightly risky investments than like the dollars-and-cents cash money they claim to be. And so far, they are slipping through regulatory cracks.
What is a stablecoin?
A stablecoin — stablevalue coin, is a type of cryptocurrency that is typically pegged to an existing government-backed currency.
To promise holders that every $1 they put in will remain worth $1, stablecoins hold a bundle of assets in reserve, usually short-term securities such as cash, government debt or commercial paper.
Stablecoins are useful because they allow people to transact more seamlessly in cryptocurrencies that function as investments, such as Bitcoin. They form a bridge between old-world money and new-world crypto.
But many stablecoins are backed by types of short-term debt that are prone to bouts of illiquidity, meaning that they can become hard or impossible to trade during times of trouble. Despite that somewhat shaky backing, the stablecoins themselves promise to function like perfectly safe holdings.
Types of Stablecoins –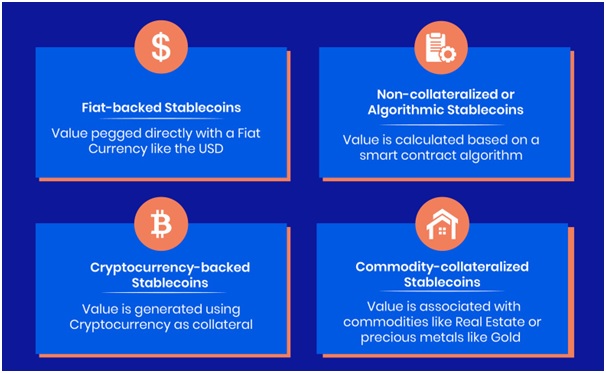 Are they all equally risky?
Stablecoins are not all created equal.
The largest stablecoin, Tether, says it is roughly half invested in a type of short-term corporate debt called commercial paper, based on its recent disclosures.
Other stablecoins claim different backing, giving them different risks.
The common thread is that, without standard disclosure or reporting requirements, it is hard to know exactly what is behind a stablecoin, so it is tough to gauge how much risk it entails.
It is also difficult to track just how stablecoins are being used.
Stablecoins may facilitate those seeking to sidestep a host of public policy goals connected to our traditional banking and financial system: anti-money-laundering, tax compliance, sanctions and the like.
What can regulators do?
The trouble with stablecoins is that they slip through the regulatory cracks.
They aren't classified as bank deposits, so the Fed and the Office of the Comptroller of the Currency have limited ability to oversee them.
To know more about Stablecoins, please click here.
Subject – Science and Tech
Context – researchers are looking for Planet Nine
Concept –
In August 2006, the International Astronomical Union broke several hearts when it announced that it had reclassified Pluto as a dwarf planet.
The decision was based on Pluto's size and the fact that it resides within a zone of other similarly-sized objects.
Currently, there are five dwarf planets: Ceres, Pluto, Eris, Makemake and Haumea.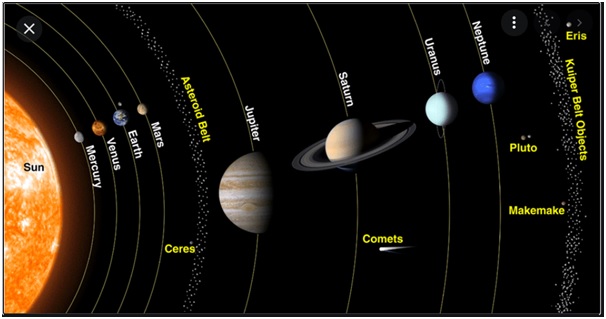 Scientists have continued their search for new planets and in 2016 Konstantin Batygin and Michael E. Brown, both from the California Institute of Technology, published a paper in The Astronomical Journal, stating that they had evidence for a distant giant planet and nicknamed it Planet Nine. They noted that it could have a mass about 10 times that of Earth.
The most distant objects that we know of in the solar system are being slightly tugged by some gravitational effects.
New computer studies said that Planet Nine could be five Earth masses. "Planet Nine is likely to be very reminiscent of a typical extrasolar super-Earth".
Is Planet 9 a black hole?
Researchers from across the globe have carried out several studies on Planet Nine and there are several theories about it, including one that stated Planet Nine could in fact be a black hole.
The paper published last year in Physical Review Letters argued that the unknown object causing anomalous orbits of the trans-Neptunian objects could be a primordial black hole.
Another study published in 2018 in The Astronomical Journal gave more evidence for the existence of Planet Nine. It noted that a trans-Neptunian object called 2015 BP519 had an unusual trajectory because it was affected by Planet Nine's strong gravity.
Related terms:
Comets
Comets, which are much smaller than dwarf planets, are giant pieces of rock and ice that travel through space. Most comets were formed during the formation of planets and stars. When comets become large enough to be pulled by the sun's gravity, they begin to travel towards the sun. This results in a large amount of the ice melting, which gives them a colorful and gaseous tail that travels behind them. Despite the appearance of a comet tail, the comets are circular until they are melted by the sun.
Asteroids
Asteroids, which are smaller than comets, are particles of rock and metal that travel through space. They are categorized in two categories, stony and iron-nickel, although most asteroids contain both stony and iron-nickel elements. They can either orbit a planet or travel aimlessly through the solar system. When asteroids enter the atmosphere of Earth or any other planet, they are called meteorites. Typically, asteroids are too small to form a circular shape, unlike dwarf planets or comets.
Satellites
Satellites is a broad term that is used to describe all orbiting objects. Dwarf planets are satellites, but asteroids are only considered satellites if they orbit something. Comets may be considered satellites when in orbit, but they rarely orbit other structures. The term "satellite" may refer to celestial bodies, but it can also refer to human-made machines that orbit Earth
Subject – Economy
Context – GST compensation regime: Several Opposition-ruled states seek extension
Concept –
States were guaranteed compensation under GST for the revenue gap between actual collections and the protected amount based on a 14 per cent compounded rate from the base year 2015-16 for five years after the GST rollout, until June 2022.
Last year, the government had decided to borrow to meet the compensation cess deficit through back-to-back loans to states.
In FY 2020-21, an amount of Rs 1.10 lakh crore was released to states under the back-to-back loan arrangement.
To know more about GST Council and Compensation Cess, please click here.
4. Commission for Air Quality Management (CAQM)
Subject – Environment
Context – Thermal plant closure on the cards when air quality worsens: Panel
Concept –
The Commission for Air Quality Management (CAQM) is deliberating partial or complete shutdown of thermal power plants in Delhi-NCR, as part of its emergency measures when air pollution hits its peak in winter.
Even if power production is cut by thermal power plants, the gap could be filled by renewable energy sources.
The emergency measure will be taken depending on pollution source data fed by a modelling portal called Decision Support System.
The incremental step was part of the now dissolved Environ-ment Pollution (Prevention and Control) Authority's Graded Action Plan until 2020.
Some measures of GRAP could be retained in the coming post-harvest season.
The reconstituted 18-member CAQM was set up by the Centre in April and can issue directions "for the purpose of protecting and improving the quality of air in the National Capital Region and adjoining areas" in Delhi, Haryana, Uttar Pradesh, Punjab and Rajasthan.
Another regional action plan suggested by the statutory body is asking coal-based industries to switch to cleaner PNG.
CAQM has asked state governments to expedite incentive-based e-vehicle policy.
On stubble burning, share of which in Delhi's PM2.5 pollution rose to 40% last year, the member said the commission is focusing on in-situ management measures through farm machinery or the recently introduced bio-decomposer.
To control dust pollution, the commission has taken a cue from the Noida model under which self-reporting and measuring of air pollution before and after major construction by companies is mandatory. It has directed other states to follow this model, data of which is relayed to the respective pollution control boards and the Central Pollution Control Board.
CQMS Action Plan

— Partial or complete shutdown of thermal power plants in the NCR region as an emergency measure in winter
— Asking states to speed up EV policy
— Directing coal-based industries to switch to PNG
— Self-reporting by construction agencies to cut dust pollution
— In-situ management of crop residue until collection point infrastructure is ready
— Decision Support System, a real-time forecasting model on pollution sources. It will be upgraded by next year after which even ward level pollution sources could be identified.
— Ban on vehicles entering Delhi without RFID tags
About Commission for Air Quality Management (CAQM)
The Commission for Air Quality Management was formed by an ordinance in October 2020, the "Commission for Air Quality Management (CAQM) in National Capital Region and Adjoining Areas Ordinance 2020".
Chairperson: To be chaired by a government official of the rank of Secretary or Chief Secretary.
The Commission will be a statutory authority.
The Commission will supersede bodies such as the central and state pollution control boards of Delhi, Punjab, Haryana, UP and Rajasthan.
It will have the powers to issue directions to these state governments on issues pertaining to air pollution.
Exclusive jurisdiction over the NCR, including areas in Haryana, Punjab, Uttar Pradesh and Rajasthan, in matters of air pollution, and will be working along with CPCB and ISRO, apart from the respective state governments.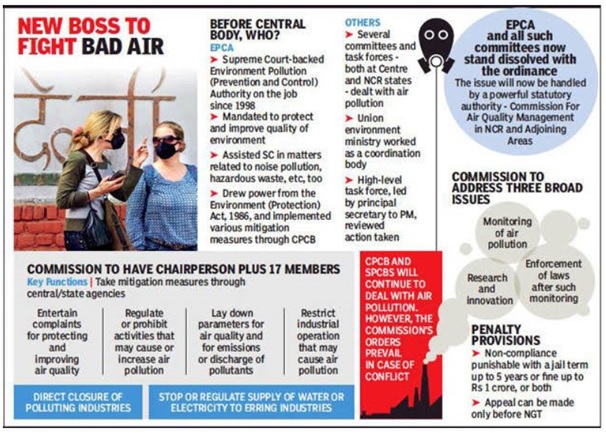 Subject – Economy
Context – Securitisation volumes pick up post-Q1 FY22 as collection efficiency improves: Report
Concept –
Securitisation is the process of pooling and repackaging of homogenous illiquid financial assets into marketable securities that can be sold to investors.
In return, the investors in such securities get interest.
This process enhances liquidity in the market. This serves as a useful tool, especially for financial companies, as its helps them raise funds.
If such a company has already issued a large number of loans to its customers and wants to further add to the number, then the practice of securitization can come to its rescue.
In such a case, the company can club its assets/debts, form financial instruments and then issue them to investors.
This enables the firm to raise capital and provide more loans to its customers. On the other hand, investors are able to diversify their portfolios and earn quality returns.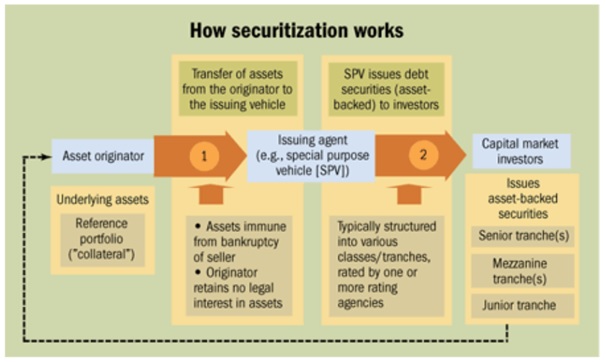 India Ratings and Research said securitisation volumes have picked up post the second wave lull in the first quarter of the current fiscal, helped by the improvement in collections.
Subject – Science and Tech
Context – On one hand, India's COVID-19 vaccine shortage is impeding the success of the ongoing immunisation drive. On the other, there are reports of vaccine wastage.
Concept –
The WHO describes vaccine wastage to be the "sum of vaccines discarded, lost, damaged or destroyed."
On one hand, India's COVID-19 vaccine shortage is impeding the success of the ongoing immunisation drive. On the other, there are reports of vaccine wastage.
According to the latest figures, Jharkhand with 37.3 percent and Chhattisgarh with 30.2 percent recorded the highest vaccine wastage in the country. Certain states like Kerala with -6.3 percent and West Bengal with -5.4 percent recorded a negative wastage.
Accurately calculating the wastage rate is essential for reducing stock-outs and over-stock, choosing the most appropriate vaccine presentation and immunisation session size, as well as sizing supply chain infrastructure at country level.
All vaccination drives do account for some amount of wastage but keeping it to a minimum is imperative, especially in a crisis like the COVID pandemic where it is necessary for the government to immunise the whole country on an urgent basis.
How Does Vaccine Wastage Happen?
Several factors can lead to vaccine wastage in both opened and sealed vials.
Logistical issues such as a weak cold chain, breakage during transportation, unused doses crossing the expiry date, or missing inventory can lead to vaccine wastage.
Alternately, wastage in opened vials can happen because of immunisation workers' practices. Discarding opened vials without optimal use of the doses, suspected contamination, health workers not being able to draw the number of doses indicated on the label of a vial, can all lead to wastage.
Vaccine usage is calculated as the proportion of vaccines administered out of the total vaccines allotted.
Therefore, the percentage of vaccines not administered at all is called the 'rate of vaccine wastage'. The vaccine wastage rate is defined as '100 minus the vaccine usage rate', as per the WHO definition.
The most common problem seen especially in the COVID vaccination drive is incorrect planning. Sometimes the vial is opened but there are only a few beneficiaries, so the remaining doses in the vial go to waste.
Another factor is that once opened the vial should be used within four hours, so if the number of people who turn up for vaccination is low, there will be vaccine wastage.
How Can Vaccine Wastage Be Reduced?
Careful transportation and maintaining proper temperatures are needed to reduce vaccine wastage.
Planning vaccine sessions carefully where health workers open a vial only after a certain amount of beneficiaries are available to ensure full usage of the all the doses available in a vial can also bring down wastage.
Can extra doses in the vial be used?
In multi-dose vials, there can be a difference between the number of doses stated on the vaccine label and the true number of doses that can be withdrawn.
The true number of doses available from a multi-dose vial will depend on several factors such as syringe dead space, vial overfill volume, and technique and accuracy of doses withdrawn and delivered.
If you can withdraw additional accurate vaccine dose(s) after having withdrawn the number of doses listed on a vaccine vial label, you can administer them. It is important to ensure that the vaccine is appropriately stored while in use and that the multi-dose vial policy is respected.
Further, make sure that use of these doses is in accordance with your national policy.
If an accurate dose cannot be withdrawn from a vial, do not combine residual vaccine from multiple vials. Discard any remaining vaccine.
Remember that pre-loading of syringes is not recommended. When you are ready to vaccinate, ensure that you always draw up the accurate vaccine dose (e.g. 0.5mL) and administer immediately.
What is vial overfill volume?
Filling extra vaccine in a vial is a common practice in vaccine production and is called 'overfill'.
Manufacturers include extra vaccine to aid health workers in delivering the intended number of accurate doses.
Overfill accounts for vial-retained volume (the vaccine left in a vial that cannot be withdrawn), vaccine retained in the dead space of the syringe and needle, and losses of vaccine during the adjustment of the dose if ejected in the air.
What is syringe dead space?
Syringe dead space represents a volume of vaccine retained in the syringe after administration.
It can vary among devices: in 'high dead space' syringes vaccine remains within the needle and between the syringe hub and the plunger, and 'low dead space' syringes are designed so that the space between syringe hub and the needle is limited.
7. Constitutional Provisions regarding Education
Subject – Polity
Context – Across the Aisle: Inequity and injustice writ large, writes P Chidambaram
Concept –
'Education' is a State List subject.
List II (State List), Entry 11, as originally enacted, read: Education, including universities, subject to the provisions of entries 63, 64, 65 and 66 of List I and entry 25 of List III.
List III (Concurrent List), Entry 25, as originally enacted, read: Vocational and technical training of labour.
But by 42nd Constitutional Amendment Act 1976, Entry 25 of the Concurrent List was re-written as: Education, including technical education, medical education and universities, subject to the provisions of entries 63, 64, 65 and 66 of List I; vocational and technical training of labour.
Subject – Security
Context – Tamil Nadu Public Department comes under malware attack
Concept –
Ransomware is a type of malicious software (malware) that threatens to publish or blocks access to data or a computer system, usually by encrypting it, until the victim pays a ransom fee to the attacker.
In many cases, the ransom demand comes with a deadline. If the victim doesn't pay in time, the data is gone forever or the ransom increases.
Ransomware attacks are all too common these days.
Users are shown instructions for how to pay a fee to get the decryption key. The costs can range from a few hundred dollars to thousands, payable to cybercriminals in Bitcoin.
History of Ransomware Attacks
Ransomware can be traced back to 1989 when the "AIDS virus" was used to extort funds from recipients of the ransomware. Payments for that attack were made by mail to Panama, at which point a decryption key was also mailed back to the user.
In 1996, ransomware was known as "crypto viral extortion," introduced by Moti Yung and Adam Young from Columbia University.
Attackers have grown creative over the years by requiring payments that are nearly impossible to trace, which helps cybercriminals remain anonymous. For example, notorious mobile ransomware Fusob requires victims to pay using Apple iTunes gift cards instead of normal currencies, like dollars.
Ransomware attacks began to soar in popularity with the growth of crypto currencies, such as Bitcoin.
Examples of Ransomware
WannaCry – A powerful Microsoft exploit was leveraged to create a worldwide ransomware worm that infected over 250,000 systems before a kill switch was tripped to stop its spread.
CryptoLocker – This was one of the first of the current generation of ransomware that required cryptocurrency for payment (Bitcoin) and encrypted a user's hard drive and attached network drives. Cryptolocker was spread via an email with an attachment that claimed to be FedEx and UPS tracking notifications.
NotPetya – Considered one of the most damaging ransomware attacks, NotPetya leveraged tactics from its namesake, Petya, such as infecting and encrypting the master boot record of a Microsoft Windows-based system. NotPetya leveraged the same vulnerability from WannaCry to spread rapidly, demanding payment in bitcoin to undo the changes.
Bad Rabbit – Considered a cousin of NotPetya and using similar code and exploits to spread, Bad Rabbit was a visible ransomware that appeared to target Russia and Ukraine, mostly impacting media companies there. Unlike NotPetya, Bad Rabbit did allow for decryption if the ransom was paid.
REvil – REvil is authored by a group of financially motivated attackers. It exfiltrates data before it encrypts it so that targeted victims can be blackmailed into paying if they choose not to send the ransom.
Ryuk – Ryuk is a manually distributed ransomware application mainly used in spear-phishing.
How ransomware works
There are a number of vectors ransomware can take to access a computer. One of the most common delivery systems is phishing spam — attachments that come to the victim in an email, masquerading as a file they should trust. Once they're downloaded and opened, they can take over the victim's computer, especially if they have built-in social engineering tools that trick users into allowing administrative access.
Some other, more aggressive forms of ransomware, like NotPetya, exploit security holes to infect computers without needing to trick users.
There are several things the malware might do once it's taken over the victim's computer, but by far the most common action is to encrypt some or all of the user's files. If you want the technical details, the Infosec Institute has a great in-depth look at how several flavors of ransomware encrypt files. But the most important thing to know is that at the end of the process, the files cannot be decrypted without a mathematical key known only by the attacker.
In some forms of malware, the attacker might claim to be a law enforcement agency shutting down the victim's computer due to the presence of pornography or pirated software on it, and demanding the payment of a "fine," perhaps to make victims less likely to report the attack to authorities. But most attacks don't bother with this pretense.
There is also a variation, called leakware or doxware, in which the attacker threatens to publicize sensitive data on the victim's hard drive unless a ransom is paid. But because finding and extracting such information is a very tricky proposition for attackers, encryption ransomware is by far the most common type.
How to prevent ransomware
There are a number of defensive steps you can take to prevent ransomware infection. These steps are a of course good security practices in general, so following them improves your defenses from all sorts of attacks:
Keep your operating system patched and up-to-date to ensure you have fewer vulnerabilities to exploit.
Don't install software or give it administrative privileges unless you know exactly what it is and what it does.
Install antivirus software, which detects malicious programs like ransomware as they arrive, and whitelisting software, which prevents unauthorized applications from executing in the first place.
And, of course, back up your files, frequently and automatically! That won't stop a malware attack, but it can make the damage caused by one much less significant.
9. Centre for Development of Advanced Computing
Subject – Security
Context – Tamil Nadu Public Department comes under malware attack. Centre for Development of Advanced Computing (C­DAC) and the Computer Emergency Response Team are trying to retrieve the files.
Concept –
The Centre for Development of Advanced Computing (C-DAC) is an Indian autonomous scientific society, operating under the Ministry of Electronics and Information Technology for carrying out R&D in IT, Electronics and associated areas.
The setting up of C-DAC in 1988 itself was to build Supercomputers in the context of denial of import of Supercomputers by the USA.
Since then C-DAC has been undertaking the building of multiple generations of Supercomputer starting from PARAM with 1 GF in 1988.
India's top five Super-Computers are –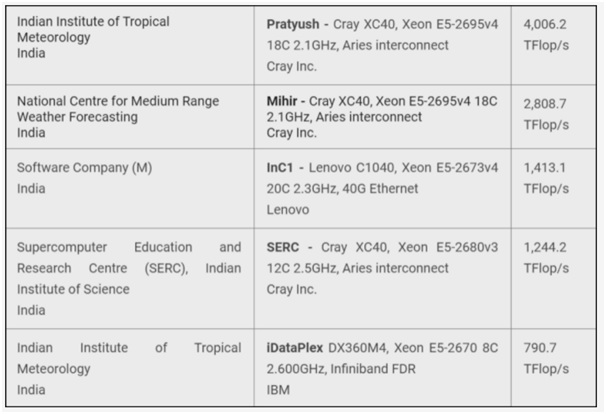 10. Indian Computer Emergency Response Team (CERT-In)
Subject – Security
Context – Tamil Nadu Public Department comes under malware attack. Centre for Development of Advanced Computing (C­DAC) and the Computer Emergency Response Team are trying to retrieve the files.
Concept –
To know about CERT-In, please click here.
11. National Investigation Agency
Subject – Security
Context – NIA needs infra, specialists: experts
Concept –
NIA was constituted under the National Investigation Agency Act, 2008 as the aftermath of the Mumbai Terror attack of 2008.
The National Investigation Agency (NIA) acts as the Central Counter-Terrorism Law Enforcement Agency. The agency is authorised to investigate any terror-related matter across the country without special permission of the states.
The National Investigation Agency aims to be a thoroughly professional investigative agency matching the best international standards.
The NIA aims to set the standards of excellence in counter terrorism and other national security related investigations at the national level by developing into a highly trained, partnership oriented workforce.
NIA aims at creating deterrence for existing and potential terrorist groups/individuals. It aims to develop as a storehouse of all terrorist related information.
Recent Amendments
The various features or provisions of the NIA (Amendment) ACT, 2019 are as follows:
It applied the provisions of the NIA Act also to persons who commit a scheduled offence beyond India against Indian citizens or affecting the interest of India.
It provided that the officers of the NIA shall have the similar powers, duties, privies and liabilities being exercised by the police officers in connection with the investigation of offences, not only in India but also outside India.
It empowered the central government, with respect to a scheduled offence committed outside India, to direct the NIA to register the case and take up investigation as if such offence had taken place in India.
It provided that the central government and the state governments may designate Sessions Courts as Special Courts for conducting the trial of offences under the NIA Act.
It inserted certain new offences in the Schedule of the NIA Act. Consequently, the NIA is also empowered to probe the offences relating to

human trafficking,
counterfeit currency or bank notes,
manufacture or sale of prohibited arms,
cyber-terrorism and
Explosive substances.

The NIA was empowered to probe cases of cyber terrorism under the National Investigation Agency (Amendment) Act, passed by Parliament in July 2019.
Subject – Art and Culture
Context – 'Safdarjung Tomb needs urgent care'
Concept –
Safdarjung's Tomb is a sandstone and marble mausoleum in Delhi, India.
It was built in 1754 in the late Mughal Empire style for Nawab Safdarjung.
The monument has an ambience of spaciousness and an imposing presence with its domed and arched red brown and white coloured structures.
Safdarjung, Nawab of Oudh, was made prime minister of the Mughal Empire (Wazir ul-Mamlak-i-Hindustan) when Ahmed Shah Bahadur ascended the throne in 1748.
Architecture –
The structure was constructed in 1754 in the late Mughal Empire style Safdarjung.
The Safdarjung tomb, the last monumental tomb garden of the Mughals, was planned and built like an enclosed garden tomb in line with the style of the Humayun tomb.
The tomb has four key features which are: The Char Bagh plan with the mausoleum at the center, a ninefold floor plan, a five-part façade and a large podium with a hidden stairway.
The slabs from the tomb of Abdul Rahim Khankhana were used in the construction of the tomb.
The tomb can not be compared to the Taj Mahal or the Humayun Tomb, as, at the time it was built, the Mughal Empire was on the decline and sandstone had to be used and lines were set improperly and the quality appeared "thread bare".
It has several smaller pavilions with evocative names like Jangli Mahal, (Palace in the woods), Moti Mahal (Pearl Palace) and Badshah Pasand (King's favourite).
The complex also has a madarsa.
Subject – Important indices
Context – Global push must to protect rights of Afghan girls: Satyarthi
Concept –
Global Slavery Index is an index developed by Walk Free Foundation to measure the slavery in every country.
The Global Slavery Index provides rankings across three dimensions:

Size of the problem: estimated prevalence in terms of percentage of the population and absolute numbers (by country)
Government response: How governments are tackling the problem
Vulnerability: Factors that explain or predict the prevalence.

A "Global Slavery Index" survey used by ILO also said that India has the highest number of men, women and children in "modern slavery".
14. Substitute for Single Use plastics
Subject – Environment
Context – IISc researchers find a way to substitute for single­use plastics
Concept –
According to a report by Central Pollution Control Board of India, for the year 2018-2019, 3.3 million metric tonnes of plastic waste are generated by Indians.
Another alarming statistic is that of all the plastic waste produced in the world, 79% enters the environment. Only 9% of all plastic waste is recycled.
Researchers from Department of Material Engineering, Indian Institute of Science, Bengaluru (IISc) have found a way to make a substitute for single-use plastic that can, in principle help mitigate the problem of accumulating plastic waste in the environment.
Researchers developed polymers using non-edible oil and cellulose extracted from agricultural stubble. These polymers can be moulded into sheets having properties suitable for making bags, cutlery or containers. The material so made is bio-degradable, leak-proof and non-toxic.
Non-edible Castor oil was used in this process of making the polymer which involves allowing them to react with the cellulose and di-isocyanate compound.
The sheets of polymer made were subjected to a leaching test and were also tested for thermal stability and were found to hold against the tests. These preliminary tests suggest that the material can be used for food packaging.
In order to obtain sheets with properties like flexibility suitable for making different articles, the researchers played with the proportions of cellulose to non-edible oil. The more cellulose they added, and less non-edible oil, the stiffer was the material, so that it was more suitable to making tumblers and cutlery. The greater the proportion of oil, the more flexible was the material and it could be moulded into sheets for making bags
Single-Use Plastics –
Single-use plastics, or disposable plastics, are used only once before they are thrown away or recycled.
Plastic is so cheap and convenient that it has replaced all other materials from the packaging industry but it takes hundreds of years to disintegrate.
If we look at the data, out of46 million tonnes of plastic waste generated every year in our country, 43% is single use plastic.
Further, Petroleum-based plastic is non biodegradable and usually goes into a landfill where it is buried or it gets into the water and finds its way into the ocean.
Pollution due to single use plastic items has become an important environmental challenge confronting all countries and India is committed to take action for mitigation of pollution caused by littered Single Use Plastics.
The Prime Minister of India was also conferred the "champions of the earth" award by the United Nations Environment Programme (UNEP)in 2018 for pledging to eliminate all single-use plastic by 2022.
To know about Plastic waste management amendment rules 2021, please click here.