Daily Prelims Notes 2 December 2021
December 2, 2021

Posted by:

OptimizeIAS Team

Category:

DPN

Daily Prelims Notes
2 December 2021
Table Of Contents
1. Petrol diesel under GST purview
Subject – Economy
Context – A Division Bench of the Kerala High Court on Wednesday expressed dissatisfaction over the reasons given by the GST Council for not bringing petrol and diesel under the purview of the GST
Concept –
Instead of GST, as of now, taxes like 'Excise Duty' and 'VAT' are being imposed on Petroleum goods like petrol, diesel, Air Turbine Fuel (ATF), natural gas and crude oil
When GST was implemented in 2017, States did not allow these goods to be included in GST, because they were getting huge revenues (through VAT) on these goods.
Current taxation process for fuels –
In the current structure, both the central and state governments levy a tax on petrol, diesel, crude, and natural gas.
The Centre charges excise duty, while each state has its own Value Added Tax (VAT).
Added to these are the dealer commissions, all of which inflates the price that consumers pay at the retail pumps.
Subject – Environment
Context – Scientists to map fungal networks, determine climate role
Concept –
Scientists from the United States and Europe announced plans to create the biggest map of underground fungal networks, arguing they are an important but overlooked piece in the puzzle of how to tackle climate change.
By working with local communities around the world the researchers said they will collect 10,000 DNA samples to determine how the vast networks that fungi create in the soil are changing as a result of human activity — including global warming.
Fungi are invisible ecosystem engineers, and their loss has gone largely unnoticed by the public.
Experts agree that tracking how fungal networks, also known as mycelia, are affected by climate change is important for protecting them — and ensure they can contribute to nature's own mechanisms for removing carbon dioxide, the main greenhouse gas, from the air.
Fungi can do this by providing nutrients that allow plants to grow faster, for example, or by storing carbon in the trillions of miles of root-like mass they themselves weave underground.
Some fungi actually produce carbon dioxide as they break down organic matter for food — potentially contributing to global warming if they release more CO2 into the atmosphere than they capture.
About Fungi –
Fungi are among the most primitive members of the plant kingdom. Study of the fungi is called mycology.
The fungi are non-chlorophylous, nucleated, non-vascular, thallophyticmicro organism and due to lack of chlorophyll they do not prepare their own food.
Fungi are eukaryotic organisms that include microorganisms such as yeasts, moulds and mushrooms. These organisms are classified under kingdom fungi.
They are classified as heterotrophs among the living organisms.
The fungi are among the thallophytes or plants with a thallus, which are simple plants, have no roots, stems, flowers and seeds- structures we commonly associate with higher plants.
The thallus of a fungus is usually made of branching threads called hyphae.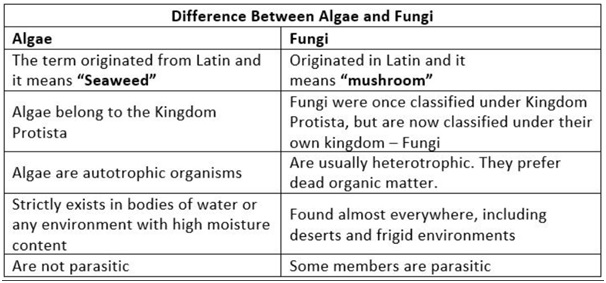 3. 'Continued Habitation' Around Lost Saraswati River
Subject – History
Context – A 1,600-year-old site found in Haryana that claims of 'continued habitation' around lost Saraswati river
Concept –
Archeologists have unearthed a 1600-year-old site in Haryana's Sandhai village in Yamunanagar district that had linked with human settlements that grew around the legendary Saraswatiriver.
The archeologists in their unearthing found evidence that supported the site possible was a religious place and had a temple.
Another Nagara-style temple of stones was located as well.
The officials further said that the coins found are the Indo-Sasanian coins of Sri-ha type and belonged to 7th C.
The artifices on the other hand were of post-Gupta era. The bricks found suggest they belonged to the Kushan era. The actual chronology of the site will be known only after clearance of the vegetation from the site, the archeologist said.
The mythical river, Saraswati is mentioned in the ancient Hindu scriptures. Its existence has been a subject of scientific curiosity for many.
To know about Saraswati River, please refer September 2021 DPN.
To know about Saraswati River Revival, please refer October 2021 DPN.
Subject – Science and Tech
Context – The James Webb Space Telescope, NASA's largest space science telescope ever constructed, is scheduled to be sent into orbit no earlier than December 22, 2021.
Concept –
The James Webb Space Telescope, NASA's largest space science telescope ever constructed, is scheduled to be sent into orbit no earlier than December 22, 2021.
One of the most important objects it will carry is a large mirror which will help collect light from the objects being observed.

The Webb Telescope team has built a mirror that can fold up and fit into a rocket and then unfold in space.
The primary mirror is made of 18 hexagonal-shaped mirror segments — each 1.32 metre in diameter — stitched together in a honeycomb pattern.
When fully open it will be 6.5 metre in diameter. The Hubble Space Telescope's mirror had a diameter of just 2.4 metre.
Each mirror segment weighs approximately 20 kilograms and is made from beryllium.

NASA explains that beryllium was used as it is both strong and light.
Beryllium is a good conductor of electricity and heat and is not magnetic.
NASA added that special care was taken when working with beryllium because it is unhealthy to breathe in or swallow beryllium dust.

After the beryllium mirror segments were polished a thin coating of gold was applied to it. Gold helps improve the mirror's reflection of infrared light.

The James Webb Space Telescope will find the first galaxies that formed in the early universe and peer through dusty clouds to see stars forming planetary systems.
It will study every phase in the history of our Universe, ranging from the first luminous glows after the Big Bang, to the formation of solar systems capable of supporting life on planets like Earth, to the evolution of our own Solar System.
Webb is an international collaboration between NASA, the European Space Agency (ESA), and the Canadian Space Agency (CSA).
The telescope will be launched on an Ariane 5 rocket from French Guiana in 2021.
It is planned to succeed the Hubble Space Telescope as NASA's Flagship astrophysics mission.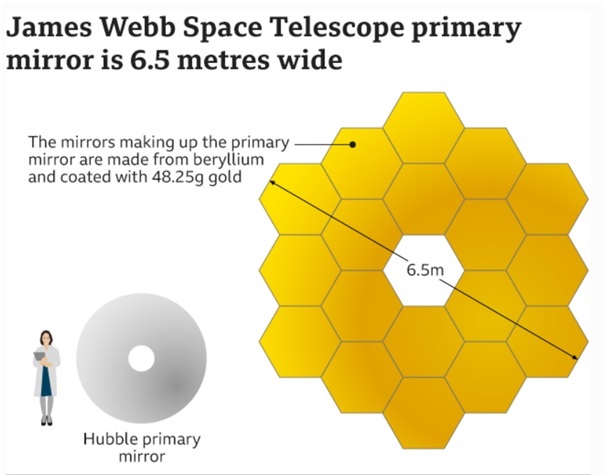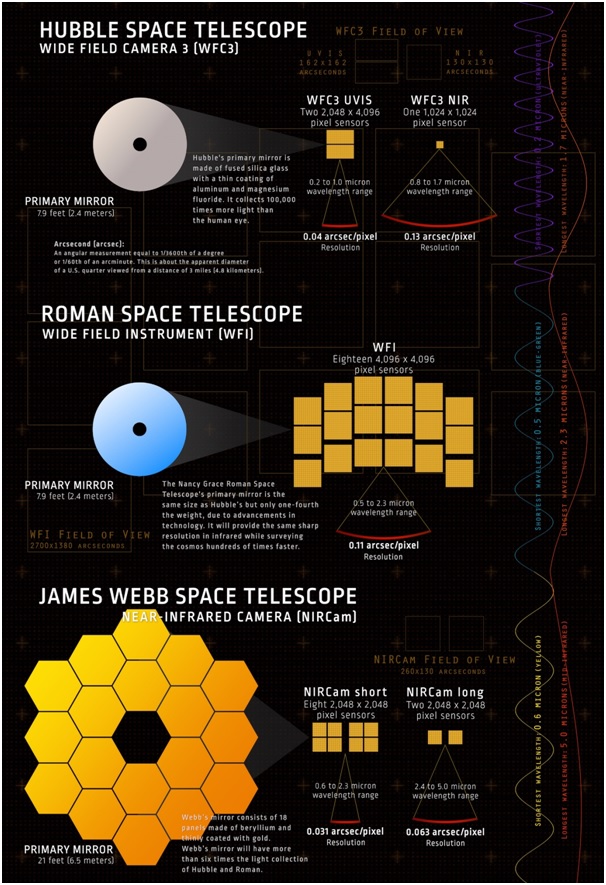 To know more about James Webb Space Telescope (JWST), please refer July 2021 DPN.
5. Changing monsoon patterns over 30 years
Subject – Geography
Context – Between 1989 and 2018, five states — UP, Bihar, West Bengal, Meghalaya and Nagaland — have shown significant decreasing trends in Southwest Monsoon rainfall, according to an India Meteorological Department (IMD) report cited by the government in Lok Sabha on Wednesday.
Concept –
Between 1989 and 2018, five states — UP, Bihar, West Bengal, Meghalaya and Nagaland — have shown significant decreasing trends in Southwest Monsoon rainfall, according to an India Meteorological Department (IMD) report cited by the government in Lok Sabha.

The annual rainfall over these five states, along with Arunachal Pradesh and Himachal Pradesh, also show significant decreasing trends.

A significant increasing trend in the frequency of heavy rainfall days has been observed over Saurashtra and Kutch, south-eastern Rajasthan, northern Tamil Nadu, Andhra Pradesh and adjoining areas of southwest Odisha, and parts of many other states.
Subject – Environment
Context –
'Ambition to achieve net-zero emissions by 2050 would be paved through an All-Electric All-Digital world'
Concept –
Energy is responsible for about 80% of the world's carbon emissions, as per the estimate by the International Energy Agency.
To combat this and contribute to India's recently announced COP26 ambitions, Schneider Electric is launching the Green Yodha program on 25th November to support citizens and enterprises embark on the Sustainability journey and reduce their carbon footprint by adopting energy-efficient practices.
The Green Yodha program aims to build a community of eco-warriors (comprising citizens, businesses, associations, institutions, and others) who are ready to unite and take action to reduce the risks of climate change for people and the planet.
Green Yodha is a sustainability initiative by Schneider Electric that aims to build a community of conscious citizens, businesses, and institutions to unite for a collective action towards the adoption of practices in energy efficiency, renewables and solar, automation, digitalization, and a new world of electricity to meet both individual and corporate sustainability goals.
7. Public Safety and Public Emergency Definition
Subject – Governance
Context – 'No clear public safety, emergency definition: Net ban being used for routine policing'
Concept –
Public safety and public emergency, often used by state and Central governments to justify the suspension of telecom and internet services in an area, are not defined under Section 5(2) of the Indian Telegraph Act.
It is, therefore, left to the "appropriate authority to form an opinion" on whether an event threatens public safety and emergency, and thereby ban internet in the area.
As per a research by UK-based privacy and security research firm Top10VPN, India suffered the largest economic impact in the world in 2020 due to internet shutdowns, adding up to 8,927 hours and $2.8 billion losses.

Of the 21 countries that had resorted to some form of telecom or internet shutdown in 2020, the economic impact in India during that year was more than double the combined cost for the next 20 countries in the list.
Subject – Economy
Context – Richest 1% have 38% of wealth growth globally: World Inequality Report
Concept –
The richest 10 per cent own around 60-80 per cent of wealth and the poorest half less than 5 per cent of wealth.
Published by the Harvard University Press.
How taxation can curb inequality?
The report suggested developing new forms of wealth taxation on multimillionaires, including a progressive rate of wealth tax with tax rates according to the value of the total amount of wealth owned.
Tax ranging from 1 per cent of wealth owned over $1 million to 3 per cent for global billionaires can generate 1.6 per cent of global income.
9. Debt Sustainability of States
Subject – Economy
Context – RBI report says combined debt-to-GDP ratio is worryingly high at 31 per cent
Concept –
The report "State Finance: Study of Budgets" noted that the combined debt-to-GDP ratio of States, which stood at 31 per cent at end-March 2021, is expected to remain at that level by end-March 2022 and is worryingly higher than the target of 20 per cent to be achieved by 2022-23, as per the recommendations of the Fiscal Responsibility and Budget Management (FRBM) Review Committee, chaired by NK Singh.
In view of the pandemic-induced slowdown, the 15th Finance Commission expects the debt-GDP ratio to peak at 33.3 per cent in 2022-23 (given the higher deficits since 2020-21), and gradually decline to reach 32.5 per cent by 2025-26.
States have preferred to borrow from the financial accommodation provided by the RBI through short-term borrowing via the special drawing facility (SDF) and ways and means advances (WMA).
Additionally, in recent years, the States have been accumulating sizeable cash surpluses in the intermediate treasury bills (ITBs) and auction treasury bills (ATBs), although they involve a negative carry of interest rates for the States.
FRBM Act
The Fiscal Responsibility and Budget Management (FRBM) Act, 2003, intends to bring transparency and accountability in the conduct of the fiscal and monetary actions of the government.
The central government agreed to the following fiscal indicators and targets, subsequent to the enactment of the FRBMA
Revenue deficit to be eliminated by the 31st of March 2009. A minimum annual reduction of 0.5% of GDP.
Fiscal Deficit to be brought down to at least 3% of GDP by 31st of March 2008. A minimum annual reduction – 0.3% of GDP.
The FRBM Act made it mandatory for the government to place the following along with the Union Budget documents in Parliament annually:

Medium Term Fiscal Policy Statement
Macroeconomic Framework Statement
Fiscal Policy Strategy Statement

The FRBM Act proposed that revenue deficit, fiscal deficit, tax revenue and the total outstanding liabilities be projected as a percentage of gross domestic product (GDP) in the medium-term fiscal policy statement.
Several years have passed since the FRBM Act was enacted, but the Government of India has not been able to achieve targets set under it. The Act has been amended several times.
In 2013, the government introduced a change and introduced the concept of effective revenue deficit.
This implies that effective revenue deficit would be equal to revenue deficit minus grants to states for the creation of capital assets.
In 2016, a committee under N K Singh was set up to suggest changes to the Act.
Subject – Polity
Context – The CBI has filed an affidavit in the Supreme Court on the withdrawal of 'general consent' to the agency by several States
Concept –
The CBI is governed by the Delhi Special Police Establishment Act (DPSEA). This law makes the CBI a special wing of Delhi Police and thus its original jurisdiction is limited to Delhi.
General Consent
The CBI needs consent of the state government in whose territorial jurisdiction, the CBI has to conduct an investigation (unlike NIA which enjoys All-India jurisdiction).
Section 6 of the DPSE Act authorizes the central government to direct CBI to probe a case within the jurisdiction of any state on the recommendation of the concerned state government.
However, the courts (SC and HC) can also order a CBI probe, and even monitor the progress of investigation in which case it won't need states consent.
However even after withdrawal of the general consent The CBI continues to probe in old cases until specifically taken back by the state government. Further, it continues to investigate cases that were given to it by a court order.
When a state gives a general consent to the CBI for probing a case, the agency is not required to seek fresh permission every time it enters that state in connection with investigation or for every case.
If the general consent is withdrawn CBI needs to seek case-wise consent for investigation from the concerned state government. If specific consent is not granted, the CBI officials will not have the power of police personnel when they enter that state.
In case of lack of general consent the CBI can approach a local court for a search warrant and conduct investigation.
Has the agency's job been affected?
The withdrawal of general consent does not affect pending investigation (KaziLendhupDorji v. CBI, 1994) or the cases registered in another State in relation to which investigation leads into the territory of the State which has withdrawn general consent; nor does the withdrawal circumscribe the power of the jurisdictional High Court to order a CBI investigation.
However, without the States' general consent, the CBI offices get disrobed of their general status as Police Stations.
In other words, the CBI gets handcuffed by the State governments with its freedom of action available only in the aforesaid occasions and in cases in which such a State gives specific consent in relation to an offence to be investigated.
What does the law say?
According to Section 6 of the Delhi Special Police Establishment Act of 1946 under which the CBI functions, the State's consent is required to extend CBI investigation beyond Union Territories.
The general consent given by the States enables the CBI to investigate corruption charges freely, as "police" is Entry 2 in the State List under the Seventh Schedule of the Constitution.
The legal foundation of the CBI has been construed to be based on Entry 80 of the Union List which provides for the extension of powers of the police force belonging to one State to any area in another State but not without its permission.
In the Advance Insurance Co. Ltd case, 1970, a Constitution Bench held that the definition of "State", as contained in The General Clauses Act, includes Union Territories as well and hence the CBI, being a force constituted for Union Territories as recognised under the Delhi Special Police Establishment Act of 1946, can conduct investigation into the territories of the States only with their consent.
The United Nations Convention against Corruption to which India is a signatory also requires firm impartial steps to combat corruption at all levels.
To know more about it, please refer October 2021 DPN.
Subject – Science and Tech
Context – People with past exposure to antiretroviral drugs thrice as likely to resist them: WHO
Concept –
It is a combination of daily medications that stop the virus from reproducing.
The therapy helps in protecting CD4 cells thus keeping the immune system strong enough to fight off the disease.
It, besides reducing the risk of transmission of HIV, also helps in stopping its progression to AIDS (a spectrum of conditions caused by infection due to HIV).
Nevirapine (NVP) or efavirenz (EFV)-based regimens were the most frequent ART regimens initiated in 16 of 20 countries reporting survey findings to WHO (2014-2020).
To know about Human Immunodeficiency Virus (HIV), please refer August 2021 DPN.
HIV Strains and Types
HIV-1 and HIV-2
HIV-1 and HIV-2 are two distinct viruses.
Worldwide, the predominant virus is HIV-1. HIV-1 accounts for around 95% of all infections worldwide.
HIV-2 is estimated to be more than 55% genetically distinct from HIV-1.
The relatively uncommon HIV-2 virus is concentrated in West Africa but has been seen in other countries with links to West Africa. It is less infectious and progresses more slowly than HIV-1, resulting in fewer deaths.
However, without treatment, most people living with HIV-2 will eventually progress to AIDS and die from the disease.
While many commonly used antiretroviral drugs are active against HIV-2, non-nucleoside reverse transcriptase inhibitors (NNRTIs) like nevirapine and efavirenz do not work against it.
The best way to treat HIV-2 has been less clearly defined than HIV-1.
Groups within HIV-1
The strains of HIV-1 can be classified into four groups.

Of these, M is the 'major' group and is responsible for the majority of the global HIV epidemic.
Within group M there are known to be at least nine genetically distinct subtypes of HIV-1. These are subtypes A, B, C, D, F, G, H, J and K.
Subject – IR
Context – India joins G20's Troika with Indonesia and Italy
Concept –
India on Wednesday joined the G20 'Troika'. With this move, India has started the procedure for taking over the G20 presidency next year.
Troika refers to the top grouping within the G20 that consists of the current, previous and the incoming presidencies — Indonesia, Italy and India.
India will assume the G20 presidency on December 1, 2022 from Indonesia, and will convene the G20 Leaders' Summit for the first time in India in 2023.
To know more about G20, please refer November 2021 DPN.
Subject – IR
Context – EU plans €300 billion infra fund to counter China's BRI
Concept –
The European Commission announced on Wednesday a plan to mobilise €300 billion ($340 billion) in public and private infrastructure investment around the world, a move seen as a response to China's Belt and Road strategy.
Global Gateway will aim at mobilising investments of up to 300 billion euros between 2021 and 2027… bringing together resources of the EU, member states, European financial institutions and national development finance institutions.
The Global Gateway plan does not mention China's rival and longer-standing international infrastructure strategy by name — but EU chief Ursula von der Leyen called it a "roadmap for major investment in infrastructure development around the world."
The money to be made available will not come from EU and member state coffers, and the plan will need funding from international institutions and from the private sector if it is to get anywhere near its target.
Context: Lightning strikes killed 2,862 Indians in 2020.
Concept: What is Lightening: July, DPN
15. World Migration Report 2022
Context: More people are being displaced by disasters — caused by the changing climate — than conflicts, reversing a historical trend
The report is published every year by International Organization for Migration (IOM) of the UN.
7 million New displacements were triggered by disasters in 145 countries and territories.
Most of the new displacement is due to climate related events: Storms accounted for 14.6 million displacements and floods for 14.1 million. Extreme temperatures have displaced some 46,000 people anew; droughts caused new displacement of 32,000 people in 2020.
United Nations Convention to Combat Desertification estimates that droughts could lead to the migration of 22 million more in Africa, 12 million in South America and 10 million in Asia by 2059 (in comparison to the 2000-2015 period).
The last World Migration Report, published in December 2019 in 2018, of the total new 28 million internally displaced people in 148 countries, 61 per cent were due to disasters.