Daily Prelims Notes 2 October 2021
October 2, 2021

Posted by:

admin1

Category:

DPN

Daily Prelims Notes
2 October 2021
Table Of Contents
Subject – Economy
Context – Punjab, Haryana farmers are upset about paddy procurement delay
Concept –
Only the paddy crop is procured by the government on minimum support price, while basmati is purchased by private players/basmati exporters in both states.
Today, farmers opt for any of several short-duration varieties that offer high yield. Farmers mainly in Punjab prefer varieties that mature in 93 to 110 days — excluding a nursery period of 25-20 days when seeds are grown into young plants and then transplanted to the fields from the date fixed (June 10 and June 15). The shorter varieties will have started maturing by the end of September.

According to Punjab Agriculture University (PAU), Ludhiana, over 70% of the paddy area in Punjab is under short-duration varieties now, with very little area under traditional varieties such as PUSA-44 that mature in 160 days.

DSR (direct seeding of rice) does not require a puddling process as well as stagnant water in the field at least for three weeks after sowing.
Delayed procurement raises concerns about increased stubble burning this year. This is because farmers, who get only 20 to 25 days between paddy harvesting and wheat sowing to manage the paddy stubble during normal procurement time, will get only 9-15 days this.
Paddy harvesting takes 20 to 25 days and if farmers start it on October 11, it will stretch into the beginning of November.
2. The Pradhan Mantri Sahaj Bijli Har Ghar Yojana or Saubhagya
Subject – Government Schemes
Context – Almost 2.82 crore households have been electrified till March 31, 2021
Concept –
Saubhagya is one of the largest household electrification drives in the world.
The journey of the scheme started with Deendayal Upadhyaya Gram Jyoti Yojana (DDUGJY), which envisaged the creation of basic electricity infrastructure in villages.

The focus of the scheme was on strengthening and augmentation the existing infrastructure and metering of existing feeders/distribution transformers to improve the quality and reliability of power supply in rural areas.

In 2017, Saubhagya was launched, with the objective of achieving Universal Household Electrification in the country through last-mile connectivity and providing access to electricity to all un-electrified households in rural areas and poor households in urban areas.
While launching the scheme, Prime Minister Narendra Modi had pledged to provide access to electricity and work towards equity, efficiency and sustainability in the New Age India.
The Pradhan Mantri Sahaj Bijli Har Ghar Yojana or Saubhagya is funded by the government's grant to Discoms/power departments, utility contributions and loans from financial institutions.
States get 30 per cent of the project cost as loan.
The electricity connection to households involves drawing a service cable from the nearest pole to the household premise, installation of an energy meter, wiring for a single light point with LED bulb, and a mobile charging point.
All States have been requested to launch special campaigns to identify un-electrified households and thereafter provide electricity connections to them.
A dedicated toll-free helpline has also been launched for that purpose.
Limitations –
Even though audits do happen, they are mostly transactional — about physical presence and assets — which doesn't indicate the overall socio-economic impact.
Another issue is ensuring power availability to the last mile. The scheme only targets connecting the last mile with basic electrical networks, but it does not incentivise distribution utilities to provide dependable power across all beneficiaries.
A major challenge is lack of knowledge dissemination, as the beneficiaries rarely understand the incentives made available to them and electricity providers cannot effectively strategise for efficient supply management owing to lack of field data engagement.
3. WHO's emergency-use licence
Subject – Science and Tech
Context – There is a great amount of speculation as to whether the WHO will give its Emergency Use Licence approval for Covaxin.
Concept –
Organisations can apply for WHO's EUL based on the availability of clinical trial data to demonstrate safety, efficacy and manufacturing of the products, in compliance with Good Manufacturing Practices (GMP) and under a functional Quality Management System.
As part of the process, a Common Technical Document containing tens of thousands of pages of data and information will have to be submitted to the WHO, with data from clinical trials, commercial scale manufacturing, quality control and quality assurance.
This vast amount of data and information is reviewed by a galaxy of global experts, followed by queries, samples testing and site audits as required.
As of now, the vaccines of six pharma companies have received EUL – Moderna, Pfizer, Janssen, AstraZeneca, Sinovac and Sinopharm. Several others, including Covaxin, are in process.
Every country has its own independent criteria for international travel. Many countries could use the WHO EUL as a benchmark for international travel, while other countries could establish their own.
To know about Emergency Use Listing, please click here.
Subject – Science and Tech
Context – The first computed tomography image — a CT scan — of the human brain was made 50 years ago, on October 1, 1971.
Concept –
The first computed tomography image — a CT scan — of the human brain was made 50 years ago, on October 1, 1971.
A CT scan, or computed tomography scan, sends radiation through the body. However, unlike a simple X-ray study, it offers a much higher level of detail, creating computerized, 360-degree views of the body's structures.
CT scans are fast and detailed. They take longer than X-rays but are still fast (about one minute). This makes them ideal for emergency situations.
CT scans can spot:

Blood clots
Bone fractures, including subtle fractures not visible on X-ray
Organ injuries
Tumors
Cancer monitoring

A computerized tomography (CT) scan is usually a series of X-rays taken from different angles and then assembled into a three-dimensional model by a computer.
CT scan vs. MRI
CT scans are more widely used than MRIs and are typically less expensive.
MRIs, however, are thought to be superior in regards to the detail of the image. The most notable difference is that CT scans use X-rays while MRIs (use radio waves) do not.
5. Antiviral pill for COVID-19
Subject – Science and Tech
Context – Merck's antiviral pill could change the game for COVID-19
Concept –
A new drug by Merck significantly reduces the risk of hospitalization and death in people who take it early in the course of their COVID-19 illness, according to the interim results of a major study released today.
It is the first oral antiviral found to be effective against this coronavirus.
People who took this drug, called molnupiravir—four pills twice a day for five days—within five days of showing symptoms were about half as likely to be hospitalized as those taking the placebo.
They were also less likely to die, with eight deaths in the placebo group reported within a month of treatment and none in those who received the medicine.
All of the antiviral medicines available today, including remdesivir and the monoclonal antibodies, must be administered through an IV in a medical setting.
Monoclonal antibodies are much more effective against COVID-19 and cut the risk of hospitalization and death by up to 85 percent, but this treatment costs almost three times as much as molnupiravir.
To know about Monoclonal Antibody Therapy and antivirals, please click here.
6. Accommodative monetary policy
Subject – Economy
Context – RBI may signal policy normalisation on October 8, Standard Chartered says.
Concept –
To know about Accommodative monetary policy, please click here.
To know about Monetary Policy Committee, please click here.
Subject – Economy
Context – Credit ratio improves in first half of FY22
Concept –
What is Credit Rating?
A credit rating is an assessment of the creditworthiness of a borrower in general terms or with respect to a particular debt or financial obligation.
A credit rating can be assigned to any entity that seeks to borrow money — an individual, corporation, state or provincial authority, or sovereign government.
What are Credit Rating Agencies?
A credit rating agency (CRA) is a company that assigns credit ratings, which rate a debtor's ability to pay back debt by making timely principal and interest payments and the likelihood of default.
There are six credit rating agencies registered under SEBI namely, CRISIL, ICRA, CARE, SMERA, Fitch India and Brickwork Ratings.
CRAs were set up to provide independent evidence and research-based opinion on the ability and willingness of the issuer to meet debt service obligations, quintessentially attaching a probability of default to a specific instrument.
Evaluating the creditworthiness of an instrument comprises of both qualitative and quantitative assessments, making credit rating far from a straightforward mathematical calculation.
8. Higher GST on RE devices and parts
Subject – Economy
Context – FinMin announces higher GST on RE devices and parts
Concept –
The Finance Ministry has notified 12 per cent rate of goods & services tax (GST) on solar photo-voltaic (PV) module and other renewal energy (RE) equipment with effect from Friday.
The notification also prescribes 18 per cent GST rate for 10 types of minerals ores and concentrate.
All these are follow-ups to recommendations by the GST Council and aims to end the anomaly of inverted duty structure.
According to the notification, renewable energy devices and parts for their manufacture such as bio-gas plants, solar power based devices, solar power generator, wind mills, wind operated electricity generator (WOEG), waste to energy plants and devices, solar lanterns and solar lamps, ocean waves/tidal wave energy devices and plants, and photo voltaic cells, whether or not assembled in modules or made up into panels, will attract GST at the rate of 12 per cent against 5 per cent.
It has also been clarified that the existing regime of 70:30 ratio will continue. Under the existing regime, 70 per cent of the gross value of the contract was considered for the supply of goods, attracting a 5 per cent rate – which will now be 12 per cent.
To know about Inverted Duty Structure, please click here.
9. Renunciation of Indian citizenship
Subject – Polity
Context – Renunciation of Indian citizenship now simpler
Concept –
The Ministry of Home Affairs (MHA) has simplified the process for Indians who want to renounce their citizenship.
Provisions have been made for applicants to upload documents online, with an upper limit of 60 days for the renunciation process to be completed.
Acquisition of Citizenship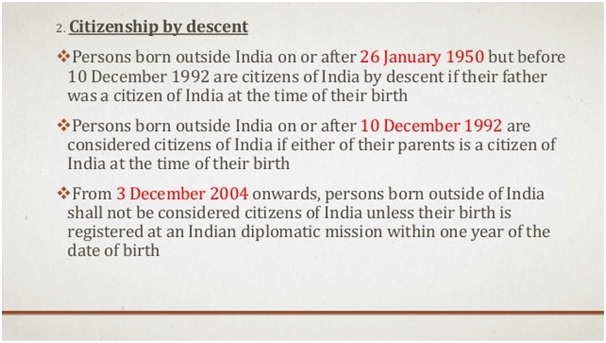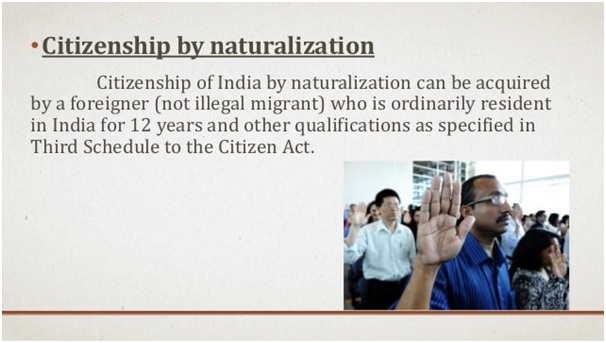 Loss of Citizenship
The Citizenship Act, 1955, prescribes three ways of losing citizenship whether acquired under the Act or prior to it under the Constitution, viz, renunciation, termination and deprivation:
By Renunciation – Any citizen of India of full age and capacity can make a declaration renouncing his Indian citizenship. Upon the registration of that declaration, that person ceases to be a citizen of India. However, if such a declaration is made during a war in which India is engaged, its registration shall be withheld by the Central Government. Further, when a person renounces his Indian citizenship, every minor child of that person also loses Indian citizenship. However, when such a child attains the age of eighteen, he may resume Indian citizenship.
By Termination – When an Indian citizen voluntarily (consciously, knowingly and without duress, undue influence or compulsion) acquires the citizenship of another country, his Indian citizenship automatically terminates. This provision, however, does not apply during a war in which India is engaged.
By Deprivation – It is a compulsory termination of Indian citizenship by the Central government, if: (a) the citizen has obtained the citizenship by fraud: (b) the citizen has shown disloyalty to the Constitution of India: (c) the citizen has unlawfully traded or communicated with the enemy during a war; (d) the citizen has, within five years after registration or naturalisation, been imprisoned in any country for two years; and (e) the citizen has been ordinarily resident out of India for seven years continuously.
10. Handbook of Statistics on Indian Economy
Subject – Economy
Context – 'Bengal tops in per capita income growth'
Concept –
West Bengal Finance Minister Amit Mitra on Friday said that the State had ranked number one in terms of net per capita income growth in 2020-21 as per the Reserve Bank of India's 'Handbook of Statistics on Indian Economy'.
Subject – Science and Tech
Context – Blood pressure, cholesterol control key for Type 1 diabetes
Concept –
Good control of not only blood sugar but also blood pressure and cholesterol is essential for survival and a good quality of life among Type 1 diabetics (T1D), according to a pan-India study of long-term survivors with the condition.
A first-of-its kind report of long-term survivors of T1D from India, a multi-centre study was published in the peer-reviewed journal Diabetes Technology and Therapeutics. Comparing survivors for over 40 years with people who did not survive up to 40 years, the researchers found that "survivors had better glycemic and blood pressure control, more favourable lipid profiles and lower prevalence of complications compared to non-survivors
To know about Type 1 and 2 diabetes, please click here.
12. Permanent Commission For Women
Subject – Defence
Context – 'Why disqualify the 72 women Army officers?'
Concept –
To know about Permanent Commission For Women, please click here.