Daily Prelims Notes 2 September 2021
September 2, 2021

Posted by:

admin1

Category:

DPN

Daily Prelims Notes
2 September 2021
Table Of Contents
Subject – Science and Tech
Context – Breakthrough infections  on expected lines: report.
Concept –
ICMR said that a small fraction of those vaccinated with either Covaxin or Covishield have tested positive (i.e. breakthrough" infections).
However, these instances do not undermine the efficacy of the vaccines.
The immune response begins to develop usually two weeks after every dose and there are variations within individuals, too.
What explains infections after vaccination
Healthcare and frontline workers, who were among the first to be vaccinated, were as a population far more exposed to the virus and therefore more susceptible.
Secondly, the emergence of "the highly transmissible second wave (newer variants)" may have contributed to instances of infection among those vaccinated.
Several variants, which have mutations that have been shown to avoid detection by the immune system, and in some cases reduce the efficacy of vaccines, have been reported globally, including in India.
Subject – Art and Culture
Context – 'Follow SC guidelines on kambala in Maharashtra case'. Karnataka High Court issues direction to State govt.
Concept –
Kambala is an annual buffalo race held in the south western Indian state of Karnataka.
Traditionally, it is sponsored by local Tuluva landlords and households in the coastal districts of Dakshina Kannada and Udupi of Karnataka and Kasaragod of Kerala, a region collectively known as Tulu Nadu.
The Kambala season generally starts in November and lasts until March.
The Kambalas are organized through Kambala samithis (Kambala Associations), of which there are currently 18.
During the race, the racers try to bring the buffaloes under control by holding their reins tight and whipping them.
In its traditional form, Kambala was non-competitive and buffalo pairs raced one after another in paddy fields.
Slushy/marshy paddy field track is used for Kambala.
It was also observed as thanksgiving to gods for protecting the animals from diseases.
Animal activists criticize the sport and argue that the Kambala involves acts of cruelty on animals which are not physiologically suited for racing and they run in the race due to fear of being beaten.

According to them, it violates the Prevention of Cruelty to Animals (PCA) Act, 1960. The Act prevents practices which involve unnecessary pain to the animal amounting to cruelty.

Earlier, the Supreme Court hadbanned jallikattu, bullock-cart races, and kambala events in its judgement on May 7, 2014.
However, the Prevention of Cruelty to Animals (Karnataka Amendment) Ordinance, 2017 approved the organising of kambala event, provided steps are taken to avoid cruelty to the participating bulls.
Jallikattu
Jallikattu is a traditional bull-taming event that is organised in the Tamil Nadu every year as part of the harvest festival
It is popular in Madurai, Tiruchirappalli, Theni, Pudukkottai and Dindigul districts of Tamil Nadu known as the Jallikattu belt.
It is a violent sport in which contestants try to tame a bull for a prize; if they fail, the bull owner wins the prize.
The sport requires fighters to pounce on a running bull, try to hold on to its hump and move along with the animal without falling or getting hurt.
Subject – Environment
Context – India must commit to net zero emissions. The country will need to take a stand on climate change action or risk being cast globally as an outlier.
Concept –
'Net zero emissions' refers to achieving an overall balance between greenhouse gas emissions produced and greenhouse gas emissions taken out of the atmosphere.
Net zero or carbon neutrality is when more carbon is sucked out from the atmosphere or prevented from being emitted than what a country emits and is critical to ensuring that the planet does not heat up an additional half a degree by 2100.
To reach "zero net emissions" and limit global warming to 1.5°C, it is necessary to remove and permanently store CO₂ from the atmosphere. This is called Carbon Dioxide Removal (CDR). As it is the opposite of emissions, these practices or technologies are often described as achieving "negative emissions" or "sinks".

There is a direct link between zero net emissions and CDR: The earlier zero net emissions are achieved, the less CDR is necessary.
Therefore, the projected amount of required CDR over the 21st century varies from 100 to 1'000 Gt CO₂.

Bhutan and Suriname are the only carbon neutral countries in the world.
What does net-zero mean?
Net-zero, which is also referred to as carbon-neutrality, does not mean that a country would bring down its emissions to zero.
Gross-zero means reaching a state where there are no emissions at all.
Therefore, net-zero is a state in which a country's emissions are compensated by absorption and removal of greenhouse gases from the atmosphere.
One way by which carbon can be absorbed is by creating carbon sinks.
CDR can be divided into the three main groups: biological, technological and geochemical processes –
Biological CDR enlarges natural sinks and includes several measures. Examples are:

Afforestation, e. large-scale plantation of trees, and sustainable forest management which store carbon in soil and biomass.
Adapted land management to increase and permanently fix C from atmospheric CO2 in the soil. One example through the incorporation of crop residues, reduced tillage, or even is to renature peatlands.
Pyrolysis of biomass to form charcoal (biochar) that keeps carbon in the soil for many years.
Examples of technological CDR are:

Removing CO2 directly from the exhaust gases of industrial processes and storing it elsewhere, e.g. underground (Direct Air Capture with Carbon Storage, "DACCS").
Bioenergy utilization in combination with carbon capture and storage means burning biomass in power plants, immediately capturing the CO2 underground (Bio-Energy with Carbon Capture and Storage, "BECCS"). This process combines biological and technological CDR.
Geochemical CDR includes measures such as:

Enhanced weathering
Increasing ocean productivity.
Countries that have announced net-zero Targets (Some Examples):
The European Union has a plan, called "Fit for 55", to deliver the carbon neutrality goal.
China also announced that it would become net-zero by the year 2060 and that it would not allow its emissions to peak beyond what they are in 2030.
The International Energy Agency's (IEA) has released its Net Zero Emissions (NZE) Roadmap – named 'Net Zero by 2050'.
NGO Oxfam Report
NGO Oxfam has said that 'net zero' carbon targets that many countries have announced may be a "dangerous distraction" from the priority of cutting carbon emissions.
"Land-hungry 'net zero' schemes could force an 80 per cent rise in global food prices and more hunger while allowing rich nations and corporates to continue "dirty business-as-usual," Oxfam has said in a new report titled "Tightening the Net".
The report says that if the challenge of change is tackled only by way of planting more trees, then about 1.6 billion hectares of new forests would be required to remove the world's excess carbon emissions by the year 2050.
Further, it says that to limit global warming below 1.5°C and to prevent irreversible damage from climate change, the world needs to collectively be on track and should aim to cut emissions by 45 per cent by 2030 from 2010 levels, "with the sharpest being made by the biggest emitters."
"Oxfam's report shows that if the entire energy sector whose emissions continue to soar, were to set similar 'net-zero' targets, it would require an area of land nearly the size of the Amazon rainforest, equivalent to a third of all farmland worldwide.
Why does India object to net-zero emissions?
India is the one opposing this target because it is likely to be the most impacted by it.
Over the next two to three decades, India's emissions are likely to grow at the fastest pace in the world, as it presses for higher growth to pull hundreds of millions of people out of poverty.
No amount of afforestation or reforestation would be able to compensate for the increased emissions.
The net-zero goals do not figure in the 2015 Paris Agreement, the new global architecture to fight climate change.
India has been arguing that instead of opening up a parallel discussion on net-zero targets outside of the Paris Agreement framework, countries must focus on delivering on what they have already promised in Paris Agreement.
Subject – Security
Context – High honour for Naval Aviation.
Concept –
Naval aviation is the application of military air power by navies, whether from warships that embark aircraft, or land bases.
Naval Aviation came into being with acquisition of the first Sea land aircraft on January 13, 1951 and the commissioning of INS Garuda, the first Naval Air Station, on May 11, 1953.
Today, Naval Aviation boasts of nine air stations and three naval air enclaves along the Indian coastline and in the Andaman and Nicobar Islands.
The arrival of the armed Firefly aircraft in 1958 added an offensive punch and 1959 saw the commissioning of the Indian Naval Air Squadron (INAS) 550, with 10 Sea land, 10 Firefly and three HT-2 aircraft.
Over the years, a variety of rotary wing platforms have been added as well. Maritime reconnaissance also grew steadily, beginning with the induction of the Super-Constellation from the Indian Air Force in 1976 to the state-of-the-art Boeing P 8I aircraft in 2013.
The Navy heralded the beginning of carrier aviation with the induction of INS Vikrant in 1957 and integral Sea Hawk and Alize Squadrons INS Vikrant with its aircraft played a crucial role in the liberation of Goa in 1961 and again in the 1971 Indo-Pak war, where its presence on the Eastern seaboard proved decisive.
The Navy inducted its second carrier INS Viraat along with Sea Harrier aircraft in the mid-1980s and Naval Aviation was further strengthened with the arrival of MiG 29K fighters on INS Vikramaditya in the last decade.
Naval Aviation has played a major role in operations such as Cactus, Jupiter, Shield, Vijay and Parakram as well as spearheaded Humanitarian and Disaster Relief (HADR) operations on numerous occasions both in India and the extended neighbourhood.
Naval Aviators have been decorated with one Mahavir Chakra, six Vir Chakras, one Kirti Chakra, seven Shaurya Chakras, one Yudh Seva Medal and a large number of Nao Sena Medals (Gallantry) over the years.
The President's Colour 
The President's Colour is the highest honour bestowed on a military unit in recognition of its exceptional service to the nation.
The Navy was the first among the armed forces to be awarded the President's Colour on May 27, 1951 by then President Rajendra Prasad.
Subject – Security
Context – 200 Army personnel for Zapad exercise.
Concept –
It is a multinational Exercise ZAPAD 2021 being held at Nizhniy, Russia from September 3 to 16.
ZAPAD 2021 is one of the theatre levels exercises of Russian armed forces and will focus primarily on operations against terrorists.
The exercise aims to enhance military and strategic ties amongst the participating nations while they plan and execute this exercise.
In all, 17 countries have been invited by Russia for the exercise. Of these nine are Participating countries which include Mongolia, Armenia, Kazakhstan, Tajikistan, Kyrgyzstan, Serbia, Russia, India and Belarus. The other eight countries are Observers which include Pakistan, China, Vietnam, Malaysia, Bangladesh, Myanmar, Uzbekistan and Sri Lanka.
6. Deputy Speaker of Lok Sabha
Subject – Polity
Context – Delhi HC's poser on LS Deputy Speaker election.
Concept –
Like the Speaker, the Deputy Speaker is also elected by the Lok Sabha itself from amongst its members.
He is elected after the election of the Speaker has taken place. The date of election of the Deputy Speaker is fixed by the Speaker.
Whenever the office of the Deputy Speaker falls vacant, the Lok Sabha elects another member to fill the vacancy.
Like the Speaker, the Deputy Speaker remains in office usually during the life of the Lok Sabha.
However, he may vacate his office earlier in any of the following three cases:

if he ceases to be a member of the Lok Sabha;
if he resigns by writing to the Speaker; and
if he is removed by a resolution passed by a majority of all the members of the Lok Sabha. Such a resolution can be moved only after giving 14 days' advance notice.

The Deputy Speaker performs the duties of the Speaker's office when it is vacant. He also acts as the Speaker when the latter is absent from the sitting of the House.
In both the cases, he assumes all the powers of the Speaker.
He also presides over the joint sitting of both the Houses of Parliament, in case the Speaker is absent from such a sitting.
It should be noted here that the Deputy Speaker is not subordinate to the Speaker. He is directly responsible to the House.
The Deputy Speaker has one special privilege, that is, whenever he is appointed as a member of a parliamentary committee, he automatically becomes its chairman.
Like the Speaker, the Deputy Speaker, while presiding over the House, cannot vote in the first instance; he can only exercise a casting vote in the case of a tie.
Further, when a resolution for the removal of the Deputy Speaker is under consideration of the House, he cannot preside at the sitting of the House, though he may be present.
When the Speaker presides over the House, the Deputy Speaker is like any other ordinary member of the House. He can speak in the House, participate in its proceedings and vote on any question before the House.
The Deputy Speaker is entitled to a regular salary and allowance fixed by Parliament, and charged on the Consolidated Fund of India.
Upto the 10th Lok Sabha, both the Speaker and the Deputy Speaker were usually from the ruling party. Since the 11th Lok Sabha, there has been a consensus that the Speaker comes from the ruling party (or ruling alliance) and the post of Deputy Speaker goes to the main opposition party.
The Speaker and the Deputy Speaker, while assuming their offices, do not make and subscribe any separate oath or affirmation.
7. Electronic Voting Machines (EVMs)
Subject – Polity
Context – Poll body wants 'stuck' EVMs to be released.
Concept –
Electronic Voting Machines (EVM) allow the citizens to vote electronically and ease the job of the Election Commission of India in counting the votes.
Working of EVMs
EVMs are electronic voting machines which enable the voter with a button for each choice of candidate. It is attached by a cable to an electronic ballot box.
It comprises two units – control unit and balloting unit. They are connected by a 5-metre cable.
The EVM runs on a 6-volt single alkaline battery fixed in the control unit.
It can even be used in areas that have no electricity.
The control unit is with the Election Commission selected polling officer.
The Balloting Unit is in the voting section into which the voter enters to cast their vote in secret by pressing the button against the name and sign of the candidate of their choice.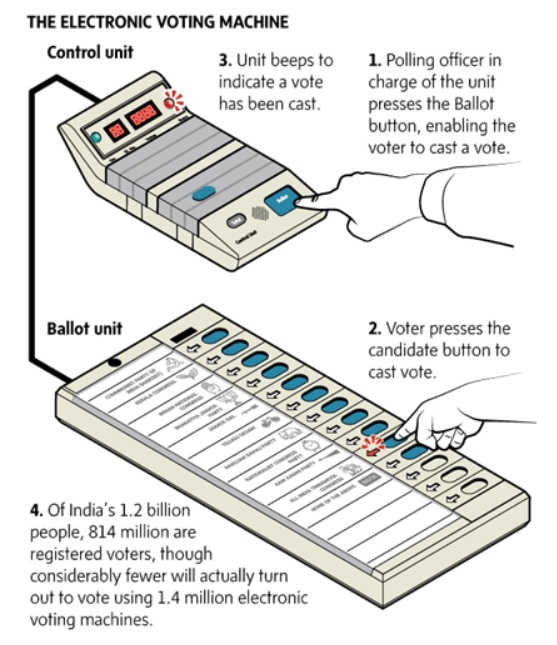 History
The Commission in December, 1977 mooted the idea of EVM to overcome certain problems associated with use of ballot papers and taking advantage of development of technology so that voters cast their votes correctly without any resultant ambiguity and removing the possibilities of invalid votes totally.
MB Haneefa invented the first Indian voting machine in 1980. It was first used in 1981 in the by-election to North Paravur Assembly Constituency of Kerala in 50 polling stations.
The EVMs were commissioned in 1989 by Election Commission of India in collaboration with Bharat Electronics Limited and Electronics Corporation of India Limited.
The law was amended by the Parliament in December, 1988 and a new section 61A was inserted in the Representation of the People Act, 1951 empowering the Commission to use voting machines. The amended provision came into force with effect from 15th March, 1989.
Voter Verifiable Paper Audit Trail (VVPAT) 
VVPAT is an independent verification printer machine and is attached to electronic voting machines.
It allows voters to verify if their vote has gone to the intended candidate.
When a voter presses a button in the EVM, a paper slip is printed through the VVPAT. The slip contains the poll symbol and name of the candidate.
It allows the voter to verify his/her choice.
After being visible to the voter from a glass case in the VVPAT for seven seconds, the ballot slip will be cut and dropped into the drop-box in the VVPAT machine and a beep will be heard.
VVPAT machines can be accessed by polling officers only.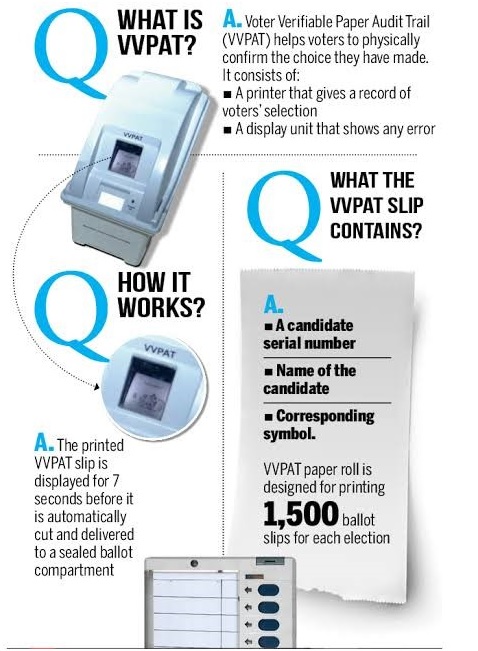 In India, the voter-verifiable paper audit trail (VVPAT) system was introduced in 8 of 543 parliamentary constituencies as a pilot project in 2014 Indian general election.
Voter-verifiable paper audit trail was first used in an election in India in September 2013 in Noksen (Assembly Constituency) in Nagaland.
VVPAT along with EVMs was used on a large-scale for the first time in India, in 10 assembly seats out of 40 in 2013 Mizoram Legislative Assembly election.
VVPAT -fitted EVMs was used in entire Goa state in the 2017 assembly elections, which was the first time that an entire state in India saw the implementation of VVPAT.
voter-verified paper audit trail (VVPAT) system which enables electronic voting machines to record each vote cast by generating the EVM slip, was introduced in all 543 Lok sabha constituencies in 2019 Indian general election.
8. Ladakh adopts state animal and bird
Subject – Environment
Context – Ladakh on Wednesday adopted two endangered species, snow leopard and black-necked crane, as the State animal and the State bird, two years after it was carved out as a separate Union Territory (UT) from the erstwhile State of J&K.
Concept –
Ladakh on Wednesday adopted two endangered species, snow leopard and black-necked crane, as the State animal and the State bird, two years after it was carved out as a separate Union Territory (UT) from the erstwhile State of J&K.
Black-Necked Crane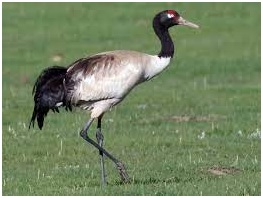 The Black-necked Crane (Grus nigricollis) is a medium-sized crane in Asia that breeds on the Tibetan Plateau and remote parts of India and Bhutan.
The bird is revered by the community of Monpas(major Buddhist ethnic group of Arunachal Pradesh) as an embodiment of the sixth Dalai Lama (Tsangyang Gyatso).
Black-necked cranes are only found in Ladakh's Changthang region.
They are described as majestic birds — around 139 cm long with a 235 cm wingspan and weighing 5-6 kg.
The bird' sighting is considered auspicious in Ladakh.
Both the sexes are almost of the same size but male is slightly bigger than female.
IUCN Red List: Near Threatened
CITES: Appendix I
Indian Wildlife (Protection) Act, 1972: Schedule I
Snow leopard
The snow leopard (Panthera uncia), also known as the ounce, is a felid in the genus Panthera native to the mountain ranges of Central and South Asia.
It is listed as Vulnerable on the IUCN Red List because the global population is estimated to number fewer than 10,000 mature individuals and is expected to decline about 10% by 2040.
It is threatened by poaching and habitat destruction following infrastructural developments.
It inhabits alpine and subalpine zones at elevations from 3,000 to 4,500 m (9,800 to 14,800 ft), ranging from eastern Afghanistan, the Himalayas and the Tibetan Plateau, to southern Siberia, Mongolia and western China.
In the northern part of its range, it also lives at lower elevations.
In India, their geographical range encompasses:

Western Himalayas: Jammu and Kashmir, Himachal Pradesh.
Eastern Himalayas: Uttarakhand and Sikkim and Arunachal Pradesh.

Snow Leopard capital of the world: Hemis, Ladakh. Hemis National Park is the biggest national park in India and also has a good presence of Snow Leopard.
It is listed in Schedule I of the Indian Wildlife (Protection) Act 1972.
It is also listed in the Convention on Migratory Species (CMS), affording the highest conservation status to the species, both globally and in India.
9. Purchasing Manager's Index (PMI)
Subject – Economy
Context – August manufacturing PMI shows recovery losing steam.
Concept –
It is a survey-based measure that asks the respondents about changes in their perception about key business variables as compared with the previous month.
The purpose of the PMI is to provide information about current and future business conditions to company decision makers, analysts, and investors.
It is calculated separately for the manufacturing and services sectors and then a composite index is also constructed.
The PMI is a number from 0 to 100.
A print above 50 means expansion, while a score below that denotes contraction.
A reading at 50 indicates no change.
If PMI of the previous month is higher than the PMI of the current month, it represents that the economy is contracting.
It is usually released at the start of every month. It is, therefore, considered a good leading indicator of economic activity.
PMI is compiled by IHS Markit for more than 40 economies worldwide. IHS Markit is a global leader in information, analytics and solutions for the major industries and markets that drive economies worldwide.
It is different from the Index of Industrial Production (IIP), which also gauges the level of activity in the economy.

IIP covers the broader industrial sector compared to PMI.

However, PMI is more dynamic compared to a standard industrial production index.
Purchasing Manager's Index (PMI) focuses mainly on the five major Survey Areas:

Employment
New orders
Production
Inventory levels
Supplier deliveries
10. Virtual Private Networks (VPNs)
Subject – Science and Tech
Context – Proposal to ban VPNs has India Inc worried
Concept –
The proposal of the Parliamentary Standing Committee on Home Affairs to block virtual private networks (VPNs) in India has left many multinational and Indian companies in a tizzy.
Many companies have been using VPN for enabling secure work-from-home during the pandemic.
While the Committee has sought to ban VPNs to control cybercrime, Internet policy experts and security researchers called it a "strange and ill-judged" idea as this would have a serious impact on the data security of MNCs and financial firms operating remotely
What is a VPN?
A virtual private network, or VPN, is an encrypted connection over the Internet from a device to a network.
The encrypted connection helps ensure that sensitive data is safely transmitted. It prevents unauthorized people from eavesdropping on the traffic and allows the user to conduct work remotely.
VPN technology is widely used in corporate environments.
As it is totally disconnected from the rest of the web, it is a secure system. The network can be used safely by the government, companies, and military to utilise system resources.
How does a virtual private network (VPN) work?
A VPN extends a corporate network through encrypted connections made over the Internet. Because the traffic is encrypted between the device and the network, traffic remains private as it travels.
An employee can work outside the office and still securely connect to the corporate network. Even smartphones and tablets can connect through a VPN.
Is VPN traffic encrypted?
Yes, traffic on the virtual network is sent securely by establishing an encrypted connection across the Internet known as a tunnel.
VPN traffic from a device such as a computer, tablet, or smartphone is encrypted as it travels through this tunnel. Offsite employees can then use the virtual network to access the corporate network.
Protocols of VPN
To build stable networks, there are many distinct VPN protocols are used. Some protocols of this kind are listed below
IPsec (IP security)
PPTP (Point to Point Tunneling Protocol)
L2TP (Layer 2 Tunneling Protocol)
SSL (Secure Sockets Layer)
TLS (Transport Layer Security)
11. Foreign Portfolio Investment
Subject – Economy
Context – FPIs catch IPO bug, invest ₹36,577 cr via primary route
Concept –
It consists of securities and other financial assets passively held by foreign investors.
It does not provide the investor with direct ownership of financial assets and is relatively liquid depending on the volatility of the market.
It is part of a country's capital account and is shown on its Balance of Payments (BOP).
Its investor does not actively manage the investments through FPIs, he does not have control over the securities or the business. The investor's goal is to create a quick return on his money.
It is more liquid and less risky than Foreign Direct Investment (FDI).
Examples of FPIs include stocks, bonds, mutual funds, exchange traded funds, American Depositary Receipts (ADRs), and Global Depositary Receipts (GDRs).
Foreign Direct Investment (FDI)
It is an investment made by a firm or individual in one country into business interests located in another country.
It lets an investor purchase a direct business interest in a foreign country.
It is often referred to as "hot money" because of its tendency to flee at the first signs of trouble in an Economy.
Example: Investors can make FDI in a number of ways. Some common ones include establishing a subsidiary in another country, acquiring or merging with an existing foreign company, or starting a joint venture partnership with a foreign company.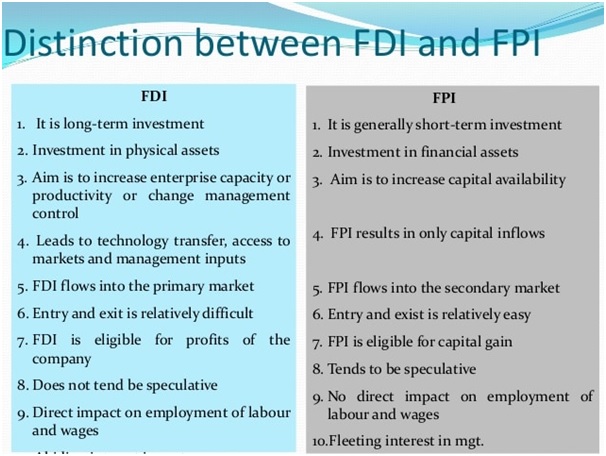 Subject – Agriculture
Context – Implement crop rotation. This can to a large extent ease Punjab's agrarian crisis.
Concept –
Crop rotation is the practice of growing a series of different types of crops in the same area across a sequence of growing seasons.
It reduces reliance on one set of nutrients, pest and weed pressure, and the probability of developing resistant pest and weeds.
Conversely, a well-designed crop rotation can reduce the need for synthetic fertilizers and herbicides by better using ecosystem services from a diverse set of crops.
Additionally, crop rotations can improve soil structure and organic matter, which reduces erosion and increases farm system resilience.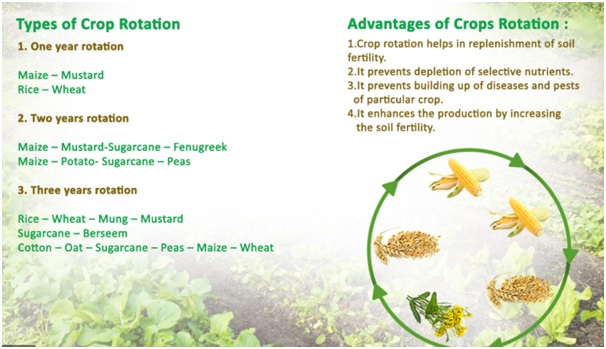 Monocropping
Growing the same crop in the same place for many years in a row, known as monocropping.
It gradually depletes the soil of certain nutrients and selects for a highly competitive pest and weed community.
Without balancing nutrient use and diversifying pest and weed communities, the productivity of monocultures is highly dependent on external inputs.
13. Pandemic And Epidemic Intelligence
Subject – Science and Tech
Context – To prevent outbreaks, WHO sets up hub on pandemic and epidemic intelligence in Berlin
Concept –
Berlin will be home to a new hub for pandemic and epidemic intelligence, an international initiative to be better prepared for global disease threats.
Germany will invest $100 million initially in the hub, which will involve multiple disciplines and technology, to link data, tools and communities so that actionable intelligence is shared for the common good.
Dr Chikwe Ihekweazu, currently Director General of the Nigeria Centre for Disease Control, will lead the WHO hub.
The WHO hub also assumes importance as countries collaborate to identify and map the several variants of the virus.
Subject – Environment
Context – Irrawaddy dolphin found dead in Chilika
Concept –
Irrawaddy dolphins fall under Schedule I of the Indian Wildlife (Protection) Act, 1972 and mentioned in the International Union for the Conservation of Nature (IUCN) Red List of Endangered Species.
Irrawaddy dolphins (Orcaella brevirostris) are found in coastal areas in South and Southeast Asia, and in three rivers: the Irrawaddy (Myanmar), the Mahakam (Indonesian Borneo) and the Mekong (China).
Dolphin distribution in Chilika is considered to be the highest single lagoon population.
Chilika Lake
Chilika is Asia's largest and world's second-largest lagoon.
It lies on the east coast of India in the state of Odisha, separated from the mighty Bay of Bengal by a small strip of sand.
It is located at the mouth of the Daya River, flowing into the Bay of Bengal,
It is the largest wintering ground for migratory birds on the Indian sub-continent and is home to a number of threatened species of plants and animals.
In 1981, Chilika Lake was designated the first Indian wetland of international importance under the Ramsar Convention.
The major attraction at Chilika is Irrawaddy dolphins which are often spotted off Satpada Island.
The large Nalabana Island (Forest of Reeds) covering about 16 sq km in the lagoon area was declared a bird sanctuary in 1987.
Kalijai Temple is located on an island in the Chilika Lake.
At present, the Irrawaddy dolphins are only found between Chilika and Indonesia in Asia.
Subject – Science and Tech
Context – COVID-19 vaccines produce T-cell immunity that lasts and works against virus variants
Concept –
A T cell is a type of lymphocyte.
T cells are one of the important white blood cells of the immune system and play a central role in the adaptive immune response.
T cells can be distinguished from other lymphocytes by the presence of a T-cell receptor (TCR) on their cell surface.
T cells are born from hematopoietic stem cells, found in the bone marrow.
Developing T cells then migrate to the thymus gland to mature. T cells derive their name from this organ where they develop (or mature).
After migration to the thymus, the precursor cells mature into several distinct types of T cells.
T cell differentiation also continues after they have left the thymus. Groups of specific, differentiated T cell subtypes have a variety of important functions in controlling and shaping the immune response.
One of these functions is immune-mediated cell death.
They recognise foreign particles (antigen) by a surface expressed, highly variable, T cell receptor (TCR).
There are two major types of T cells: the helper T cell and the cytotoxic T cell.
As the names suggest, helper T cells 'help' other cells of the immune system, whilst cytotoxic T cells kill virally infected cells and tumours.
The severity of disease can depend on the strength of these T cell responses.
How the immune system works?
The immune system protects us from various infectious diseases, caused by bacteria, viruses, fungi or parasites. To do this, it first determines what type of infectious agent, or pathogen, is causing the infection. Then it mounts an appropriate response. Crucially, at the same time it produces memory cells that can recognise the same pathogen in future. That sets the immune system up to fight potential reinfections.
If the immune system determines that an antiviral response is needed, it launches a combination of two kinds of immunity. One is mediated by antibodies and the other is mediated by T-cells, or cell-mediated. The antibodies bind to viruses and neutralise them, preventing them from infecting cells. Meanwhile, T-cells kill cells that have already been infected by the virus.
While both kinds of immunity are important in fighting viruses, cell-mediated immunity is far more effective at eradicating viruses and more durable. This is important in the continuing fight against COVID-19.
Subject – Environment
Context – Violation of environmental laws needs pressing attention by officials; a strict law enforcement is needed against illegal sand mining, says experts.
Concept –
Sand mining is a pan-India problem.
It is prevalent in the Garo Hills in Meghalaya, the Sutlej in Punjab, Yamuna in Delhi, the Ganga in Haridwar, Urmil and Betwa in Bundelkhand, Kosi in Bihar, the Chambal and Narmada in Madhya Pradesh, Ojat in Gujarat, the Subarnarekha in Odisha, Musi in Telangana, Netravati and Phalguni rivers in Karnataka, Godavari and Krishna in Andhra Pradesh, and Cauvery in Tamil Nadu.
A United Nations study calculates that humankind's total consumption of sand—more than 40 billion tons a year—is now double the number of sediments being replenished naturally on the Earth by the sum of the world's rivers.
UNEP in its report 'Sand and Sustainability' highlighted that the demand for sand has increased three-fold over the last decades, driven by shifting consumption patterns, growing populations, increasing urbanisation and rapid infrastructure development.
Ministry of Environment, Forest and Climate Change has issued Sustainable Sand Mining Management Guidelines, 2016, which, inter-alia, addresses the issues relating to regulation of sand mining. The salient features of the Guidelines in this regard are as follows:
It provides for a detailed programme for ensuring that mining of river sand is done in a sustainable manner;
Grant of Environment Clearance for minor minerals, including sand and gravel, for mining lease of area up to 5 hectare will be done by the District Environment Impact Assessment Authority headed by the District Collector / District Magistrate.
Removal of sand accumulated on the agricultural field after cessation of flooding will not be considered as mining operation and its removal and selling can be allowed without the requirement of environment clearance till it is done only to the extent of reclaiming the agricultural land.
Exemption of certain cases from being considered as mining for the purpose of requirement of environment clearance like:

extraction of ordinary clay or ordinary sand manually by hereditary Kumhars (Potter) who prepare earthen pots on a cottage industry basis;
extraction of ordinary clay or ordinary sand manually by earthen tile makers who prepare earthen tiles on a cottage industry basis;
removal of sand deposited on agricultural field after flood by owner farmers;
customary extraction of sand and ordinary earth from sources situated in Gram Panchayat for personal use or community work in village;
community works like desilting of village ponds / tanks, rural roads under taken in MGNREGS and other Government sponsored schemes;
dredging and desilting of dam, reservoirs, weirs, barrages, river, and canals for maintenance and upkeep and avert natural disaster provided the dredged material is used departmentally. If the dredging activities are under taken for the purpose of winning mineral and selling it commercially it will be considered mining.
Constitutional/ Legal Framework of Mining Sector in India
The entry at serial No. 23 of List II (State List) to the Constitution of India mandates the state government to own the minerals located within their boundaries.
The entry at serial No. 54 of List I (Central List) mandates the central government to own the minerals within the exclusive economic zone of India (EEZ). In pursuance to this Mines & Minerals (Development and Regulation) (MMDR) Act of 1957 was framed.
Also, the Central Government notifies certain minerals as 'minor' minerals from time to time for which the absolute powers for deciding on procedures of seeking applications for and granting mineral concessions, fixing rates of royalty, dead rent, and power to revise orders rest only with the State Government.
Example of minor minerals include building stones, gravel, ordinary clay, ordinary sand.
For minerals specified in the First Schedule to the Mines and Minerals (Development and Regulation) Act, 1957 approval of the Central Government is necessary.
Schedule I contains minerals such as coal and lignite, minerals of the "rare earths" group containing Uranium and Thorium.
Subject – Environment
Context – Assam cabinet drops 'Rajiv Gandhi' from name of Orang National Park.
Concept –
The Orang National Park also known as Rajiv Gandhi Orang National Park is located on the north bank of the Brahmaputra River in the Darrang and Sonitpur districts of Assam and covers an area of 78.81 square kilometers.
It was established as a wildlife sanctuary in 1985 but was declared as National Park in 1999. It is also 49th Tiger Reserve of the country, being notified in 2016.
It is also known as the mini Kaziranga National Park (IUCN site) since the two parks have a similar landscape made up of marshes, streams, and grasslands.
It is the only stronghold of rhinoceros on the north bank of the Brahmaputra river.
Pachnoi River, Belsiri River and Dhansiri River border the park and join the Brahmaputra River.
As per the latest round of Tiger estimation carried by the National Tiger Conservation Authority (NTCA) between January to March 2017, Orang's tiger density is 35.44 tigers per 100 sq km and thus can replace 'Kaziranga National Park' as a park with highest Tiger density in the country.
Kaziranga has the highest Tiger density of 12.72 per 100 sq km in 2014.
Kamlang Tiger Reserve in Arunachal Pradesh is the 50th latest Tiger Reserve that has been notified.
Subject – Economy
Context – IMF allocates 12.57 billion SDRs to India.
Concept –
The SDR is an international reserve asset, created by the International Monetary Fund (IMF) in 1969 to supplement its member countries' official reserves.
The SDR is neither a currency nor a claim on the IMF. Rather, it is a potential claim on the freely usable currencies of IMF members. SDRs can be exchanged for these currencies.
The value of the SDR is calculated from a weighted basket of major currencies, including the U.S. dollar, the euro, Japanese yen, Chinese yuan, and British pound.
The interest rate on SDRs or SDRi is the interest paid to members on their SDR holdings.
International Monetary Fund
IMF is an organization working to foster global monetary cooperation, secure financial stability, facilitate international trade, promote high employment and sustainable economic growth, and reduce poverty around the world.
Created in 1945, the IMF is governed by and accountable to the 189 countries that make up its near-global membership. India Joined on December 27, 1945.
The IMF's primary purpose is to ensure the stability of the international monetary system—the system of exchange rates and international payments that enables countries (and their citizens) to transact with each other.
The Fund's mandate was updated in 2012 to include all macroeconomic and financial sector issues that bear on global stability.