Daily Prelims Notes 20 March 2022
March 20, 2022

Posted by:

OptimizeIAS Team

Category:

DPN

Daily Prelims Notes
20 March 2022
Table Of Content s
Subject: Environment
Context- Locals found the dead bodies of more than 95 Himalayan griffon vultures and a steppe eagle in the Chaiygaon area of Milanpur village in Assam's Kamrup district March 17, 2022.
Concept-
About Vultures:
It is one of the 22 species of large carrion-eating birds that live predominantly in the tropics and subtropics.
They act an important function as nature's garbage collectors and help to keep the environment clean of waste.
Vultures also play a valuable role in keeping wildlife diseases in check.
India is home to 9 species of Vulture namely the Oriental white-backed, Long-billed, Slender-billed, Himalayan, Red-headed, Egyptian, Bearded, Cinereous and the Eurasian Griffon.

Most of these 9 species face danger of extinction.

Bearded, Long-billed, Slender-billed, Oriental white-backed are protected in the Schedule-1 of the Wildlife Protection Act 1972. Rest are protected under 'Schedule IV'.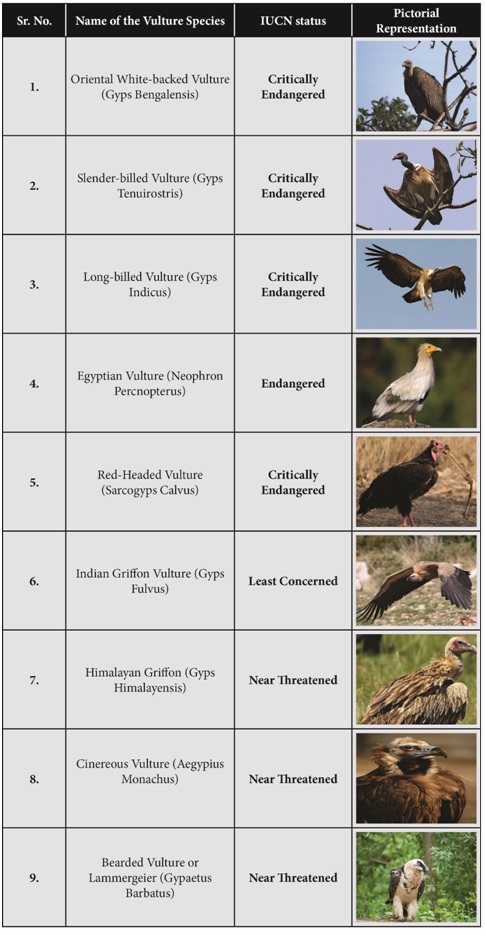 Vulture Conservation: Vulture Action Plan 2020-25:
The Ministry for Environment, Forests and Climate Change launched a Vulture Action Plan 2020-25 for the conservation of vultures in the country.
It will ensure minimum use of Diclofenac and prevent the poisoning of the principal food of vultures, the cattle carcasses.
The Vulture Safe Zone programme is being implemented at eight different places in the country where there were extant populations of vultures, including two in Uttar Pradesh.
To upscaling conservation four rescue centres will be opened like

Pinjore in the north,
Bhopal in central India,
Guwahati in Northeast and
Hyderabad in South India.

To study the cause of deaths of vultures in India, a Vulture Care Centre (VCC) was set up at Pinjore, Haryana in 2001.

Later in 2004, the VCC was upgraded to being the first Vulture Conservation and Breeding Centre (VCBC) in India.

At present, there are nine Vulture Conservation and Breeding Centres (VCBC) in India, of which three are directly administered by the Bombay Natural History Society (BNHS).
More: https://optimizeias.com/action-plan-for-vulture-conservation-for-2020-2025/
2. National Pharmaceutical Pricing Authority (NPPA)
Subject: Science & Tech
Context- Pharma lobby seeking a 10% increase for scheduled drugs listed under the National List of Essential Medicines (NLEM).
Concept-
How does the pricing mechanism work?
Prices of Scheduled Drugs are allowed an increase each year by the drug regulator in line with the WPI.
All medicines under the NLEM are under price regulation.
As per the Drugs (Prices) Control Order 2013,

scheduled drugs, about 15% of the pharma market, are allowed an increase by the government as per the WPI
while the rest 85% are allowed an automatic increase of 10% every year.
About NPPA:
The NPPA was set up in 1997 to fix/revise prices of controlled bulk drugs and formulations and to enforce price and availability of the medicines in the country, under the Drugs (Prices Control) Order, 1995-2013.
Its mandate is to implement and enforce the provisions of the Drugs (Prices Control) Order in accordance with the powers delegated to it, to deal with all legal matters arising out of the decisions of the NPPA and to monitor the availability of drugs, identify shortages and to take remedial steps.
The ceiling price fixed/revised by the NPPA is notified in the Gazette of India (Extraordinary) from time to time.
Functions of NPPA:
To implement and enforce the provisions of the Drugs Price Control Order (DPCO), 1995/2013 in accordance with the powers delegated to it.
To undertake and/or sponsor relevant studies in respect of pricing of drugs/formulations.
To monitor the availability of drugs, identify shortages, if any, and to take remedial steps.
To collect/maintain data on production, exports and imports, market share of individual companies, the profitability of companies etc. for bulk drugs and formulations.
To deal with all legal matters arising out of the decisions of the Authority
To render advice to the Central Government on changes/revisions in the drug policy.
To render assistance to the Central Government in parliamentary matters relating to drug pricing.
Read More: https://optimizeias.com/national-pharmaceutical-pricing-authority-nppa/
Subject: Science & Tech.
Context- Recombination of two virus variants seen since 2020. In the case of SARS-CoV-2 virus, such recombination has been seen right after the Alpha variant emerged.
Concept-
Mutation:
A mutation means a change in the genetic sequence of the virus.
In the case of SARS-CoV-2, which is an Ribonucleic acid (RNA) virus, a mutation means a change in the sequence in which its molecules are arranged.

RNA is an important biological macromolecule that is present in all biological cells, Principally involved in the synthesis of proteins, carrying the messenger instructions from Deoxyribonucleic Acid (DNA), which is an organic chemical that contains genetic information and instructions for protein synthesis. It is found in most cells of every organism.

A mutation in an RNA virus often happens when the virus makes a mistake while it is making copies of itself.
Mutations are a natural phenomenon when viruses replicate.
Generally, RNA viruses have a higher rate of mutations compared with DNA viruses.
However, unlike other RNA viruses, coronaviruses have fewer mutations. This is because coronaviruses have a genetic "proofreading mechanism" that corrects some of the errors made during replication.
Recombinant Viruses:
Changes to the virus through natural collection of mutations involves small changes in the genome. But like in the case of influenza viruses, when a person is simultaneously infected with two different SARS-CoV-2 variants, genetic material from one variant can get mixed with the other. This is called recombination.
Recombinant viruses are those that are generated to incorporate modification(s) introduced into a specific gene/locus (or multiple loci) of the viral genome.
A recombinant virus may occur naturally or be produced by recombining pieces of DNA using recombinant DNA technology.
Currently, various types of recombinant viruses including adenovirus, adeno-associated virus, lentivirus and retrovirus have been utilized in the development of vaccines and gene delivery vectors and various diseases therapy.
Acting as vectors, recombinant viruses are able to efficiently deliver and promote high levels of transgene expression in a wide range of host cell.
Cancer therapy based on recombinant viruses is currently being extensively investigated and shows great promise in the preclinical and clinical study.
Features of Recombinant Virus:
High transfection efficiency
A wide range of host cells
High level of gene expression
High packaging capacity for gene delivery
4. Principle Of Reasonable Accommodation
Subject: Polity
Context- The Karnataka High Court rejected an argument in support of permitting Muslim girls wearing head-scarves that was based on the principle of 'reasonable accommodation'.
Concept-
What is Reasonable accommodation:
'Reasonable accommodation' is a principle that promotes equality, enables the grant of positive rights and prevents discrimination based on disability, health condition or personal belief.
Its use is primarily in the disability rights sector.
Article 2 of the UN Convention on the Rights of People with Disabilities (UNCRPD) defines reasonable accommodation as "necessary and appropriate modification and adjustments not imposing a disproportionate or undue burden, where needed in a particular case, to ensure to persons with disabilities the enjoyment or exercise on an equal basis with others of all human rights and fundamental freedoms".
The International Labour Organization (ILO), in its recommendation on HIV/AIDS and the world of work, defines it as "any modification or adjustment to a job or to the workplace that is reasonably practicable and enables a person living with HIV or AIDS to have access to, or participate or advance in, employment".
How does the principle work?
The general principle is that reasonable accommodation should be provided, unless some undue hardship is caused by such accommodation.
In 2016, the ILO came out with a practical guide on promoting diversity and inclusion through workplace adjustments.
Four categories of workers were chosen for the guide:

workers with disabilities,
workers living with HIV and AIDS,
pregnant workers and those with family responsibilities, and
workers who hold a particular religion or belief.

These categories of workers come across different kinds of barriers at work.
These may result in either loss of employment or lack of access to employment.
The provision of reasonable accommodation plays a major role in addressing these barriers and thus contributes to greater workplace equality, diversity and inclusion.
What is the legal position on this in India?
In India, the Rights of People with Disabilities Act, 2016, defines 'reasonable accommodation' as "necessary and appropriate modification and adjustments, without imposing a disproportionate or undue burden in a particular case, to ensure to persons with disabilities the enjoyment or exercise of rights equally with others".
The definition of 'discrimination' in Section 2(h) includes 'denial of reasonable accommodation'.
In Section 3, which deals with equality and non-discrimination, sub- section (5) says: "The appropriate Government shall take necessary steps to ensure reasonable accommodation for persons with disabilities."