Daily Prelims Notes 20 October 2020
October 20, 2020

Posted by:

admin1

Category:

DPN

Table Of Contents
Subject: Economy
Context: The Centre is working on a plan to restrict the number of fertiliser bags that individual farmers can buy during any cropping season.
Concept:
Farmers buy fertilisers at MRPs (maximum retail price) below their normal supply-and-demand-based market rates or what it costs to produce/import them.
The difference between the retail price and production cost/domestic price is given as subsidy to manufacturers.
Present regime of fertilizer subsidy – Partial DBT (Since April 2018)
The subsidy goes to fertiliser companies, although its ultimate beneficiary is the farmer who pays MRPs less than the market-determined rates.
Manufacturers of fertilizers (urea) receive 100% of subsidy after fertiliser is delivered to the farmer, and the latter's identity viz. Aadhaar is captured on the point of sale (PoS) machine at the dealer's shop.
Therefore, the subsidy continues to be routed through manufacturers even though the sale of fertilizer is being verified using Aadhar ecosystem
The manufacturers sell urea at the maximum retail price (MRP) controlled by the Centre, which is kept at a low level. They also get subsidy reimbursement on unit-specific basis under the new pricing scheme (NPS).
The MRPs of non-urea fertilisers are decontrolled or fixed by the companies. The Centre, however, pays a flat per-tonne subsidy on these nutrients to ensure they are priced at "reasonable levels (based on Nutrient based Subsidy scheme)
Recent proposal:
At present, the Centre is following a "no denial" policy. Anybody, non-farmers included, can purchase any quantity of fertilisers through the PoS machines. It leads to bulk purchase of urea that is used for non agri purposes.
Hence , government is considering to put a cap on the maximum amount of fertilisers anybody can buy during kharif/rabi seasons.
Subject: Polity
Context: Over the last one week, residents of Assam and Mizoram have clashed twice over territory, injuring at least eight people and torching a few huts and small shops
Concept:
It spotlights the long-standing inter-state boundary issues in the Northeast, particularly between Assam and the states that were carved out of it.
According to an agreement between governments of Assam and Mizoram some years ago, status quo should be maintained in no man's land in the border area. However , people violates it which leads to dispute.
Mizoram believes the boundary should be demarcated on the basis of the 1875 notification, which is derived from the Bengal Eastern Frontier Regulation (BEFR) Act, 1873.
While Assam follows 1933 demarcation that demarcates a boundary between Lushai Hills (Assam) and Manipur and that was the point of conflict.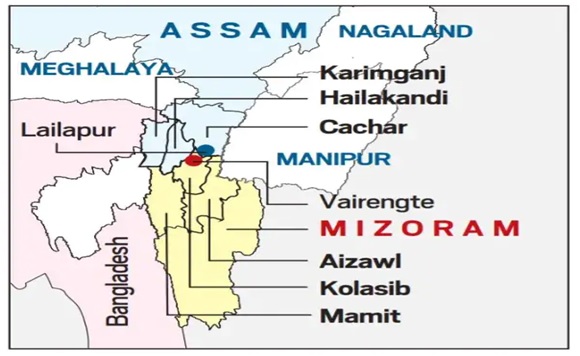 Source: Indian Express
3. ASTEROIDS
Subject: Geography
Context: Prominent astrophysicist has said that Asteroid 2018VP1, a refrigerator-sized space-rock that is on a collision course with Earth.
Concept:
Asteroid 2018VP1:
Asteroid 2018VP1 has a diameter of about 2 metres, around the size of a small automobile.
Only 1 in 240 chance that 2018VP1 would impact the Earth. It would likely burn up into a fireball after entering the Earth's atmosphere before reaching the ground.
According to NASA, such an event happens about once every year.
Asteroids
Asteroids are also known as minor planets.
They are rocky remnants left over from the early formation of our solar system about 4.6 billion years ago.
Most asteroids are irregularly shaped, though a few are nearly spherical and are known to have a small companion moon (some have two moons).
Classification of Asteroids:
Main Asteroid Belt: The majority of known asteroids orbit within the asteroid belt between Mars and Jupiter.
Trojans: These asteroids share an orbit with a larger planet, but do not collide with it because they gather around two special places in the orbit (called the L4 and L5 Lagrangian points). There, the gravitational pull from the sun and the planet are balanced.
Lagrange Points are positions in space where the gravitational forces of a two body system like the Sun and the Earth produce enhanced regions of attraction and repulsion. These can be used by spacecraft to reduce fuel consumption needed to remain in position.
Near-Earth Asteroids: These objects have orbits that pass close by that of Earth. Asteroids that actually cross Earth's orbital path are known as Earth-crossers.
Cut off size:
As per NASA's Near-Earth Object Observations Programme, asteroids that are 140 metres or larger (bigger than a small football stadium) are of "the greatest concern" due to the level of devastation their impact is capable of causing.
No asteroid larger than 140 metres has a "significant" chance of hitting the Earth for the next 100 years.
Deflecting Asteroids: Important steps taken so far.
Double Asteroid Redirection Test (DART): The construction of DART began in 2018, which is scheduled to launch in 2021.
             Aim is to slam into the smaller asteroid of the Didymos system at around 6 km per second in 2022.
Hera: It is scheduled to launch in 2024, will arrive at the Didymos system in 2027.
          Aim is to measure the impact crater produced by the DART collision and study the change in the asteroid's orbital trajectory.
4. DISTRICT DEVELOPMENT COUNCIL
Subject: Polity
Context: The Centre amended the Jammu and Kashmir Panchayati Raj Act, 1989, to facilitate the setting up of District Development Councils (DDC).
Concept:
The District Development Councils (DDCs) are set to become a new unit of governance in Jammu and Kashmir.This structure will include a DDC and a District Planning Committee (DPC).
This system effectively replaces the District Planning and Development Boards in all districts, and will prepare and approve district plans and capital expenditure.
Their key feature, however, is that the DDCs will have elected representatives from each district.
The term of the DDC will be five years, and the electoral process will allow for reservations for Scheduled Castes, Scheduled Tribes and women. The council will hold minimum four meetings a year.
J&K administration in a statement said that the move to have an elected third tier of the Panchayati Raj institution marks the implementation of the entire 73rd Amendment Act in J&K.
DDCs is expected to become representative bodies for development at the grassroots in the 20 districts of the UT.
5. SVAMITVA
Subject: Govt Schemes
Context: The SVAMITVA scheme was launched by PM on the occasion of National Panchayati Raj Day and the distribution of property cards began later.
Concept:
SVAMITVA (Survey of Villages and Mapping with Improvised Technology in Village Areas) scheme is a collaborative effort of the Ministry of Panchayati Raj, State Panchayati Raj Departments, State Revenue Departments and Survey of India.
Aim: To provide an integrated property validation solution for rural India.
It is a scheme for mapping the land parcels in rural inhabited areas using drone technology and Continuously Operating Reference Station (CORS).
The mapping will be done across the country in a phase-wise manner over a period of four years – from 2020 to 2024.
Benefits:
The scheme will help in streamlining planning and revenue collection in rural areas and ensuring clarity on property rights.
The scheme will enable creation of better-quality Gram Panchayat Development Plans (GPDPs), using the maps created under this programme.
The Gram Panchayats are constitutionally mandated for preparation of Gram Panchayat Development Plans (GPDP) for economic development and social justice.
The GPDP is based on a participatory process in convergence with schemes of all related Central Ministries/Line Departments related to 29 subjects listed in the Eleventh Schedule of the Constitution.
Subject: International Relations
Context: Ministry of Defence announced that Australia will join the Malabar 2020 naval exercise.
Concept:
It is an annual exercise between the navies of India, Japan, and the U.S. held alternately in the Indian and Pacific Oceans.
It began in 1992 as a bilateral exercise between India and the U.S.
Then it got permanently expanded into a trilateral format with the inclusion of Japan in 2015.
With the addition of Australia, it has become a Quadilateral naval exercise between India, USA, Japan and Australia.
India and Japan defence forces organize a series of bilateral exercises namely, JIMEX, SHINYUU Maitri, and Dharma Guardian.
Whereas India and USA conduct Joint Military Exercises namely, Yudha Abhyas.
Other exercises between India and Australia are Pitch Black and AUSINDEX.
QUAD:
Quad is the informal strategic dialogue between India, the USA, Japan and Australia with a shared objective to ensure and support a free, open and prosperous" Indo-Pacific region.
Subject: National Organisation
Context: Enforcement directorate questioned former J&K CM regarding misappropriation of funds.
Concept:
It is a Multi Disciplinary Organization mandated with the task of enforcing the provisions of two special fiscal laws – Foreign Exchange Management Act, 1999 (FEMA) and Prevention of Money Laundering Act, 2002 (PMLA).
In the year 1957, this Unit was renamed as 'Enforcement Directorate'. The administrative control of the Directorate was transferred from Department of Economic Affairs to Department of Revenue in 1960.
For a short period of 04 years (1973 – 1977), the Directorate also remained under the administrative jurisdiction of Department of Personnel & Administrative Reforms.
Powers:
FEMA, a Civil Law having quasi judicial powers, for investigating suspected contraventions of the Exchange Control Laws and Regulations with the powers to impose penalties on those adjudged guilty.
PMLA, a Criminal Law, whereby the Officers are empowered to conduct enquiries to locate, provisionally attach/confiscate assets derived from acts of Schedules Offences besides arresting and prosecuting the Money Launderers.
Composition:
Besides directly recruiting personnel, the Directorate also draws officers from different Investigating Agencies, viz., Customs & Central Excise, Income Tax, Police, etc. on deputation.
Other functions:
Processing cases of fugitive/s from India under Fugitive Economic Offenders Act, 2018.
Sponsor cases of preventive detention under Conservation of Foreign Exchange and Prevention of Smuggling Activities Act, 1974(COFEPOSA) in regard to contraventions of FEMA.
Special courts:
For the trial of an offence punishable under section 4 of PMLA, the Central Government (in consultation with the Chief Justice of the High Court), designates one or more Sessions Court as Special Court(s). The court is also called "PMLA Court".
Any appeal against any order passed by PMLA court can directly be filed in the High Court for that jurisdiction