Daily Prelims Notes 21 April 2022
April 21, 2022

Posted by:

admin1

Category:

DPN

Daily Prelims Notes
21 April 2022
Table Of Contents
1. Integrated Command and Control Centers (ICCCs)
Subject: Science & Tech
Context- The Union Housing and Urban Affairs Minister has announced that 80 Integrated Command and Control Centres (ICCCs), an integral component of the Smart Cities Mission, have already been set up.
Concept-
What is the Smart Cities Mission?
The Smart Cities Mission aims at developing 100 cities, which were shortlisted, into self-sustainable urban settlements.
The mission was launched on June 25, 2015 and was projected as one aimed at transforming the process of urban development in the country.
Among its strategic components is 'area-based development', which includes

city improvement (retrofitting),
city renewal (redevelopment) and
city extension (greenfield development), plus
a pan-city initiative in which 'smart solutions' are applied covering larger parts of the city.
Focus areas:
Key focus areas of the scheme include the construction of walkways, pedestrian crossings, cycling tracks, efficient waste-management systems, integrated traffic management and assessment.
The scheme also assesses various indices to track urban development such as the Ease of Living Index, Municipal Performance Index, City GDP framework, Climate-Smart Cities assessment framework, etc.
What is an Integrated Command and Control Centre?
The Smart Cities Mission includes setting up ICCCs for each such city as a vital step.
These ICCCs are designed to enable authorities to monitor the status of various amenities in real time.
Initially aimed at controlling and monitoring water and power supply, sanitation, traffic movement, integrated building management, city connectivity and Internet infrastructure, these centres have since evolved to monitor various other parameters.
The ICCCs are now also linked to the CCTNS (Crime and Criminal Tracking Networks and Systems) network under the Ministry of Home Affairs.
The ICCC acts of a smart city acts as a "nerve centre" for operations management. It processes a complex and large pool of data sets at an aggregated level.
It is the nodal point of availability of all online data and information relating to smart services included in a smart city, such as like LED street lighting, CCTV surveillance cameras, air quality sensors, etc.
How did the ICCCs help in management of Covid-19?
During the pandemic, they also served as war-rooms for Covid-19 management.
During the peak of the first wave, when countries were struggling to figure out ways of combating the virus, the government used the ICCCs as war-rooms for managing the outbreak, with real-time surveillance and monitoring of districts across the country.
Converted into war-rooms, the smart cities' ICCCs used the central data dashboard and provided information about the status of Covid-positive cases in various administrative zones of these cities, officials aware of the exercise said.
The war-rooms were also used for tracking people under quarantine and suspected Covid-19 cases.
What is the current status of the Smarts Cities Mission?
According to current Ministry data, the SCM has so far covered over 140 public-private partnerships), 340 'smart roads', 78 'vibrant public places', 118 'smart water' projects and over 63 solar projects.
Subject: Science & Tech
Context- The sixth and last of the French Scorpene-class submarines, INS Vagsheer, was launched into water at the Mazagon Docks in Mumbai.
Concept-
INS Vagsheer will be commissioned into the Indian Navy's Western Command after 12 to 18 months when sea trials end.
It will be based with Western Naval Command, mostly in Mumbai.
The six submarines were being built under Project-75 by the Mazagon Docks under technology transfer from the Naval Group as part of a $3.75-billion deal signed in October 2005:

INS Kalvari was commissioned in December 2017;
INS Khanderi in September 2019;
INS Vagir in November 2020;
INS Karanj in March 2021; and
INS Vela in November 2021.

P 75 is one of two lines of submarines, the other being P75I, as part of a plan approved in 1999 for indigenous submarine construction with technology taken from overseas firms.
About 'Vagsheer'
Vagsheer is named after the sand fish, a deep sea predator of the Indian Ocean.
The first submarine Vagsheer, from Russia, was commissioned into the Indian Navy on December 26, 1974, and was decommissioned on April 30, 1997.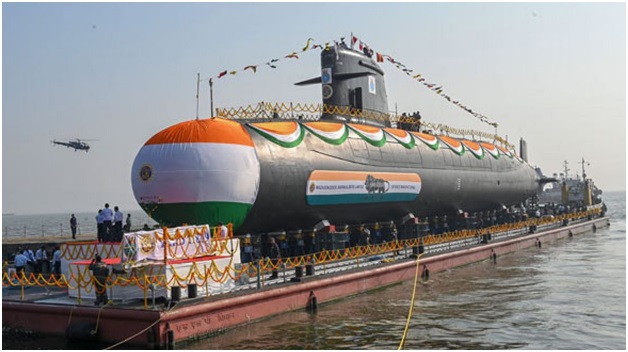 Specifications:
Vagsheer can take up to eight officers and 35 men.
It is 67.5 metres long and 12.3 metres high, with a beam measuring 6.2 metresVagsheer can reach top speed of 20 knots when submerged and a top speed of 11 knots when it surfaces
It has four MTU 12V 396 SE84 diesel engines, 360 battery cells for power, and a silent Permanently Magnetised Propulsion Motor.
The hull, fin and hydroplanes are designed for minimum underwater resistance and all equipment inside the pressure hull is mounted on shock-absorbing cradles for enhanced stealth.
Features:
Vagsheer is a diesel attack submarine, designed to perform sea denial as well as access denial warfare against the adversary.
It can do offensive operations across the spectrum of naval warfare including anti-surface warfare, anti-submarine warfare, intelligence gathering, mine laying and area surveillance.
It is enabled with a C303 anti-torpedo counter measure system.
It can carry up to 18 torpedoes or Exocet anti-ship missiles, or 30 mines in place of torpedoes.
Its superior stealth features include advanced acoustic absorption techniques, low radiated noise levels, hydro-dynamically optimised shape.
It has the ability to launch a crippling attack using precision guided weapons, underwater or on surface.
3. ISRO develops Space Bricks from Martian Soil
Subject: Science & Tech
Context- Researchers from the Indian Space Research Organisation (ISRO) and the Indian Institute of Science (IISc) have developed a way to make bricks from Martian soil with the help of bacteria and urea.
Concept-
ISRO and IISc have collaborated to develop a novel scalable technique of manufacturing space bricks using Martian Simulant Soil (MSS).
The team first made the slurry by mixing Martian soil with guar gum, a bacterium called Sporosarcinapasteurii, urea and nickel chloride (NiCl2).
This slurry can be poured into moulds of any desired shape, and over a few days the bacteria convert the urea into crystals of calcium carbonate.
These crystals, along with biopolymers secreted by the microbes act as cement holding the soil particles together.
This method ensures that the bricks are less porous, which was a problem with other methods used to make Martian bricks.
The bacteria seep deep into the pore spaces, using their own proteins to bind the particles together, decreasing porosity and leading to stronger bricks.
Significance:
In the past, the team had made bricks out of lunar soil using a similar method.
These 'space bricks' can be used to construct building-like structures on Mars that could facilitate human settlement on the red planet.
Subject: Economy
Context- The Department of Consumer Affairs is in the process of bringing in revised e-commerce rules.
The e-commerce rules were first notified in July, 2020 and later amended in May, 2021. A fresh revision is expected soon.
Concept-
About Draft Consumer Protection (E-Commerce) Rules, 2021:
Key Features:
Definition of E-Commerce Entities: The Draft Rules expand the definition of an e-commerce entity to include two new categories—

Entities engaged by an e-commerce entity for the fulfilment of orders, and
Related parties (as defined under the Companies Act, 2013) of an e-commerce entity. None of an e-commerce entity's related parties can be enlisted as a seller for sale to consumers directly. This "broad definition" of 'related party' can potentially include all entities such as those involved in logistics, any joint ventures, etc.

Clause of country of origin: E-commerce entities offering imported goods/ services to 'incorporate a filter mechanism at a pre-purchase stage to identify goods based on country of origin. Every time, they have to offer local alternatives to ensure a fair opportunity to domestic goods
Fallback Liability: In case of non-delivery of goods or services by a seller on a marketplace platform, which causes loss to the consumer, the marketplace will be subject to a fallback liability.
Abuse of Dominant position in a market: An e-commerce entity is not allowed to abuse its dominant position in any market.
Requirement to appoint certain personnel: All e-commerce entities are required to appoint:

Grievance Officer to address consumer grievances,
Nodal person for coordination with law enforcement agencies,
Chief Compliance Officer for ensuring compliance with the Consumer Protection Act and Rules.

Flash Sale: The Draft Rules prohibit specific/ back to back flash sales — defined as "sale organized by an e-commerce entity at significantly reduced prices, high discounts or any other such promotions".
Misleading Advertisements: An e-commerce entity should not allow misleading advertisements on its platform.
Criticism of the Draft Rules:
Infringing on other Ministries' Mandate: The perception of "overreach" by the Consumer Affairs Department — venturing into areas of other departments such as the Department for Promotion of Industry and Internal Trade (DPIIT) and the Ministry of Electronics & Information Technology (MeitY)
Contradictory to Information Technology Act, 2000: It takes away the immunity granted specifically to marketplaces under the IT Act.

Similarly, the Ministry of Corporate Affairs feels that rules related to the abuse of competitive position are unnecessary since there is already a robust Competition Commission that oversees such issues.

Restrains Commercial Activities: The proposal also refrains related parties from commercial activities on platforms.

The definition of related party certainly needs some more clarity, otherwise it will be difficult not only for foreign players like Amazon and Flipkart, but even homegrown companies like Tata and Reliance to have their various brands sell on their super-apps
For instance, Starbucks, an official partner of Tatas cannot sell coffee on Tata super- app.

Ban on Flash Sales: Even offline retailers conduct flash sales during festivals or to clear out inventory.

Also, consumers benefit immensely from these flash sales via reduced prices and greater choice.
Subject: Environment
Context- An ultimatum by Raj Thackeray, president of the Maharashtra Navnirman Sena (MNS), that repercussions would follow if speakers on mosques were not removed by May 3, has created political turmoil in the state.
Concept-
The Maharashtra government is relying on provisions of The Noise Pollution (Regulation and Control) Rules, 2000 to negotiate the controversy over the use of loudspeakers by mosques.
As per the Central Pollution Control Board's mandate for noise pollution, 'noise' is defined as unwanted sound. Sound, which pleases the listener, is music and that which causes pain and annoyance is noise.
Section 2 (a) of the Air (Prevention and Control of Pollution) Act, 1981 includes noise in the definition of 'air pollutant'.
Noise pollution and its sources are regulated under The Noise Pollution (Regulation and Control) Rules, 2000 under The Environment (Protection) Act, 1986.
What is the threshold for acceptable level of noise?
Noise pollution Rules have defined the acceptable level of noise in different zones for both daytime and nighttime.
In industrial areas, the permissible limit is 75 decibels (unit of sound; tenth of a 'bell', symbol dB) for daytime, and 70 dB for night.
Daytime is defined as the period from 6 am to 10 pm, and night is 10 pm to 6 am of the following day.
6. PLI Scheme For Drones And Drone Components
Subject: Science & Tech
Context- The Ministry of Civil Aviation (MoCA) has released the first provisional list of 14 beneficiaries under the Production-Linked Incentive (PLI) Scheme for drone and drone components. These include five drone manufacturers and nine drone component manufacturers.
Concept-
The ministry invited applications from eligible manufacturers on 10th March 2022 and the last date for submission was 31st March 2022.
The eligibility criteria for the PLI scheme for drones and drone components includes an annual sales turnover of INR 2 crore for drone companies and INR 50 lacs for drone components manufacturers; and value addition of over 40% of sales turnover.
PLI Scheme for Drones:
The PLI scheme for drones and drone components was notified on 30th September 2021.
Under the scheme, a total incentive of INR 120 crore is spread over three financial year which is nearly double the combined turnover of all domestic drone manufacturers in FY 2020-21.
The PLI rate is 20% of the value addition which is one of the highest among other PLI scheme.
A unique feature of drone PLI scheme is that the manufacturers who fail to meet the value addition threshold in 2021-22 will be allowed to claim the lost incentive in the subsequent year if they make up the shortfall in 2022-23.
About Drones:
It is a layman terminology for Unmanned Aircraft (UA).
Originally developed for the military and aerospace industries, drones have found their way into the mainstream because of the enhanced levels of safety and efficiency they bring.
Remotely piloted aircraft have been divided into five categories based on their weight (existing rules)-

Nano: Less than or equal to 250 grams.
Micro: From 250 grams to 2kg.
Small: From 2 kg to 25kg.
Medium: From 25kg to 150kg.
Large: Greater than 150kg.
Draft Drone Rules, 2021
Abolish the need for various approvals, including certificate of conformance, certificate of maintenance, import clearance, acceptance of existing drones, operator permit, authorisation of R&D organisation and student remote pilot licence.
Digital Sky Platform: The government will be developing a digital sky platform that will have an interactive airspace map dividing the country into green, yellow, and red zones.
It will provide a secure and a scalable platform that supports drone technology frameworks, such as NPNT (no permission, no take-off), designed to enable flight permission digitally and manage unmanned aircraft operations and traffic efficiently.
Reduced Airport Perimeter: The draft rules reduced the airport perimeter from 45 km to 12 km.
Drone Corridor: The Ministry will also facilitate development of drone corridors for cargo deliveries and a drone promotion council will be set up to facilitate a business-friendly regulatory regime.
Safety Features: The draft rule also provides for safety features such as real-time tracking beacon, and geo-fencing, which are expected to be notified in future and a six-month lead time will be provided for compliance.
Increased Coverage of Drones: The coverage has been increased from 300 kg to 500 kg and will cover drone taxis, while the Issuance of Certificate of Airworthiness has been delegated to Quality Council of India and certification entities authorized by it.
Subject: Environment
Context- India's first pure green hydrogen plant commissioned in Jorhat.
Concept-
Oil India Limited (OIL) has taken the first significant step towards Green Hydrogen Economy in India with the commissioning of India's First 99.999% pure Green Hydrogen pilot plant, with an installed capacity of 10 kg per day at its Jorhat Pump Station in Assam today.
The plant produces Green Hydrogen from the electricity generated by the existing 500kW Solar plant using a 100 kW Anion Exchange Membrane (AEM) Electrolyser array.
The use of AEM technology is being used for the first time in India.
This plant is expected to increase its production of green hydrogen from 10 kg per day to 30 kg per day in future.
The company has initiated a detailed study in collaboration with IIT Guwahati on blending of Green Hydrogen with Natural Gas and its effect on the existing infrastructure of OIL.
Hydrogen:
Hydrogen is one of the most abundant elements on earth for a cleaner alternative fuel option.
Type of hydrogen depend up on the process of its formation:
Green Hydrogen:

Green hydrogen is produced by electrolysis of water using renewable energy (like Solar, Wind) and has a lower carbon footprint.
Electricity splits water into hydrogen and oxygen.
By Products : Water, Water Vapor.
Green hydrogen can drive India's transition to clean energy, combat climate change.
India has a favourable geographic location and abundance of sunlight and wind for the production of green hydrogen.
Current Status Worldwide:

Less than 1% of hydrogen produced is green hydrogen.
Manufacturing and deployment of electrolysers will have to increase at an unprecedented rate by 2050 from the current capacity of 0.3 gigawatts to almost 5,000 gigawatts.
Brown hydrogen:

Brown hydrogen is produced using coal where the emissions are released to the air.
Grey Hydrogen:

Grey hydrogen is produced from natural gas where the associated emissions are released to the air.
Blue Hydrogen:

Blue hydrogen is produced from natural gas, where the emissions are captured using carbon capture and storage.
Subject: Economy
Why in the news?
Finance Minister Nirmala Sitharaman has reiterated her Budget announcement on setting up 75 digital banking units in 75 districts of the country this year.
Earlier, the Reserve Bank of India announced the guidelines for DBUs, following the report of a working group of the Indian Banks Association.
What?
A digital banking unit is a specialised fixed point business unit or hub housing certain minimum digital infrastructure for delivering digital banking products and services as well as servicing existing financial products and services digitally in self-service mode at any time.
By whom?
Commercial banks (other than regional rural banks, payment banks and local area banks) with past digital banking experience are permitted to open DBUs in tier 1 to tier 6 centres, unless otherwise specifically restricted, without having the need to take permission from the RBI in each case.
Why?
DBU must offer certain minimum digital banking products and services– both liabilities and assets side of the balance sheet of the digital banking segment.
Digitally value-added services to conventional products.

savings bank accounts under various schemes,
current accounts, fixed deposits
recurring deposit accounts,
digital kit for customers, mobile banking,
internet banking,
debit cards, credit cards, and mass transit system cards,
digital kit for merchants,
UPI QR code, BHIM Aadhaar and point of sale (PoS).
making applications for and onboarding of customers for identified retail, MSME or schematic loans. This may also include end-to-end digital processing of such loans, starting from online application to disbursal and identified government sponsored schemes that are covered under the national portal.
How different from Neo-banks?
Fintechs operating as neobanks offer digital banking services but they do so in partnership with non-banking financial companies (NBFCs). Examples- Jupiter, Fi Money, Niyo, Razorpay X.
9. Wheat exporting prospects of India
Subject: Economy
Why in the news?
India's prospects for sustained wheat exports are limited. The surplus stocks are a fraction of the quantity exported annually by Russia and Ukraine.
Details:
Russia and Ukraine together accounted for nearly 30 percent of global wheat exports, nearly 60 million tons of wheat exported annually.
India has a limited prospect of sustained wheat exports given the present 1 per cent share of global wheat exports despite being the second-largest producer in the world.
Reasons?
Limited surplus– though India's wheat output has consistently exceeded its demand for the past five years, wheat inventory was just 23 million tons at the end of February. 
Rise of inflation-Exporting all the surplus stock would push up domestic wheat prices, potentially inviting restrictions on future exports, similar to the recent hikes in export tariffs palm oil in Indonesia.
Uncompetitive global price-profitable only if global prices are higher than the MSP.
Restriction under WTO –. Under WTO commitments, the government (read FCI) may not sell procured grain for commercial gains.
Export parity price (EPP) amplifies the lack of competitiveness. The price a producer can expect to receive is the FoBprice (the price when loaded onto
the ship) minus the cost of getting the produce from the farmor factory to the border or the port. If the latter is high, as it is in India, the EPP falls for the producer, which further constrains exports.
Role of non-price attributes like food safety, quality, and variety of wheat. A recent ICRIER study showed that Indian agricultural produce faces more rejections in key export markets compared to other developing countries.
Trade strategy– export encouragement but restrictive on import side
How does the government procure wheat?
The Centre procures wheat by paying the minimum support price (MSP) announced for the crop 

The Food Corporation of India (FCI) directly or through state government agencies procure wheat from the purchase centres established across the states

States do it under two systems— the centralised one, also called non-decentralised procurement system (non-DCP) and the decentralised one, also called DCP.

Decentralised system– the state government or its agencies procure, store and distribute wheat against the Centre's allocation for targeted public distribution system and other weaker sections etc with the state, and that the excess stocks procured by the state and its agencies are handed over to the FCI for the central pool. The expenditure incurred by the state government on the procurement, storage and distribution of stocks under the decentralised system are reimbursed by the Centre.
Centralized system-The wheat procured by the state agencies is handed over to the FCI for storage or for transportation to the consuming states. The FCI, which is the central nodal agency for wheat procurement, pays the cost of procured wheat to the state agencies.
Centre also reimburses the arthiyas' commission, administrative charges, mandi labour charges, transportation charges, custody and maintenance charges, interest charges, the gunny bag cost and statutory taxes.  The cost of excess stocks handed over to the FCI is reimbursed to the state government or agencies as per the Centre's policies.
10. Marginal Cost of Funds-based Lending Rates (MCLR)
Subject: Economy
Why in the news?
State Bank of India (SBI), India's largest commercial bank, raised the marginal cost of funds-based lending rates (MCLR) for the first time in three years, signaling that the soft rates regime that has prevailed since 2019 may be over.
Concept:
MCLR,was instituted by the RBI with effect from April 1, 2016
It is the lowest interest rate that a bank or lender can offer.
It is applicable to fresh corporate loans and floating rate loans taken before October 2019
Impact:
As a result of the increase in MCLR, borrowers who have taken home, vehicle, and personal loans will find their equated monthly instalments (EMIs) rising in the coming months.
MCLR-linked loans had the largest share (53.1%) of the loan portfolio of banks as of December 2021.The rise in MCLR will cause resetting such loans at higher rates, due to the rise in WALR(weighted average lending rate) on outstanding rupee loans more than the policy repo rate cuts during the EBLR period.
Note: MCLR is one of the internal benchmark lending rate
External Benchmark Lending Rate-
To ensure complete transparency and standardization, RBI mandated the banks to adopt a uniform external benchmark within a loan category, effective 1st October, 2019. Unlike MCLR which was internal system for each bank, RBI has offered banks the options to choose from 4 external benchmarking mechanisms:
The RBI repo rate
The 91-day T-bill yield
The 182-day T-bill yield
Anny other benchmark market interest rate as developed by the Financial Benchmarks India Pvt. Ltd.
When the RBI hikes the repo rate, EBLR will go up and vice-versa. The share of EBLR loans in total advances was 39.2% in December 2021, according to RBI.