Daily Prelims Notes 21 January 2022
January 21, 2022

Posted by:

admin1

Category:

DPN

Daily Prelims Notes
21 January 2022
Table Of Contents
1. Global treaty to cut plastic production needed
Subject – Environment
Context – Global treaty to cut plastic production needed urgently: EIA report ahead of UN summit
Concept –
A new global plastics treaty that takes into account the entire lifecycle of plastics needs to be developed urgently, a new report highlighted.
The fifth session of the UNEA is taking place in two parts. UNEA 5.1 was held online from February 22-23, 2021. The substantive matters that required in-depth negotiations were deferred to UNEA 5.2 scheduled to be held from February 28-March 2, 2022.
The rise in plastic pollution spilling into the environment is a planetary emergency.
To know about Plastic Pollution, please refer October 2021 DPN.
UNEA
The United Nations Environment Assembly is the world's highest-level decision-making body on the environment. It addresses the critical environmental challenges facing the world today. Understanding these challenges and preserving and rehabilitating our environment is at the heart of the 2030 Agenda for Sustainable Development.
The Environment Assembly meets biennially to set priorities for global environmental policies and develop international environmental law. Through its resolutions and calls to action, the Assembly provides leadership and catalyses intergovernmental action on the environment.
History of the United Nations Environment Assembly
The United Nations Environment Assembly was created in June 2012, when world leaders called for UN Environment to be strengthened and upgraded during the United Nations Conference on Sustainable Development, also referred to as RIO+20. The Environment Assembly embodies a new era in which the environment is at the centre of the international community's focus and is given the same level of prominence as issues such as peace, poverty, health and security. The establishment of the Environment Assembly was the culmination of decades of international efforts, initiated at the UN Conference on the Human Environment in Stockholm in 1972 and aimed at creating a coherent system of international environmental governance.
1st Session of UNEA: 2014
2nd Session of UNEA: 2016
3rd Session of UNEA: 2017
4th Session of UNEA: 2019
5th Session of UNEA: Session 5.1 in 2021 and 5.2 in 2022
2. Supreme Court upholds 27% OBC quota in NEET
Subject – Polity
Context – 'Reservation not at odds with merit': Supreme Court upholds 27% OBC quota in NEET
Concept –
Underlining that "reservation is not at odds with merit but furthers its distributive consequences", the Supreme Court said Thursday that "merit cannot be reduced to narrow definitions of performance in an open competitive examination" and "high scores in an examination are not a proxy for merit".

It said merit "should be socially contextualized and reconceptualized as an instrument that advances social goods like equality that we as a society value".

The Bench upheld the Constitutional validity of reservation for Other Backward Classes (OBCs) in the All India Quota for National Eligibility cum Entrance Test (NEET) for undergraduate and postgraduate medical admissions.
Explaining how the jurisprudence of reservation had come to recognise substantive equality and not just formal equality, the bench said "Articles 15 (4) and 15 (5) are not an exception to Article 15 (1), which itself sets out the principle of substantive equality (including the recognition of existing inequalities).

Thus, Articles 15 (4) and 15 (5) become a restatement of a particular facet of the rule of substantive equality that has been set out in Article 15 (1)".

Article 15 (4) of the Constitution enables the State to make reservation for SCs and STs while Article 15 (5) empowers it to make reservation in educational institutions. Article 15 (1) says the State shall not discriminate against any citizen on grounds only of religion, race, caste, sex, place of birth or any of them.
Substantive Equality
Substantive equality is a fundamental aspect of human rights law that is concerned with equitable outcomes and equal opportunities for disadvantaged and marginalized people and groups in society.
Substantive equality recognizes that the law must take elements such as discrimination, marginalization, and unequal distribution into account in order to achieve equal results for basic human rights, opportunities, and access to goods and services.
Substantive equality is primarily achieved by implementing special measures in order to assist or advance the lives of disadvantaged individuals. Such measures are aimed at ensuring that they are given the same opportunities as everyone else.
Subject – Economy
Context – Oil prices are at their highest levels since 2014 — Brent crude hit $88.3 per barrel on Thursday, up 27% since December 1, when it was trading at $69.5.
Concept –
Why is crude rising?
The spike has been driven primarily by fears of supply side disruptions.

The attack by Yemen's Houthis on fuel trucks in Abu Dhabi,
The tensions between Russia, the world's second-largest oil producer, and Ukraine have raised concerns.
The outage on an Iraq-Turkey pipeline heightened worries.
Further, the key oil producing countries have kept supply on a gradually increasing schedule in spite of the sharp increase in global crude prices.
How will it impact the Indian economy?
The rise in crude prices poses in flationary, fiscal, and external sector risks.
Crude oil-related products have a direct share of over 9% in the WPI basket and, according to are port, a 10% increase in crude would lead to an increase of around 0.9% in WPI inflation.
India imports more than 80% of its oil requirement, but the share of oil imports in its total imports is around 25%. Rising oil prices will impact the current account deficit—the difference between the values of goods and services imported and exported.
The rise in crude oil prices is also expected to increase the subsidy on LPG and kerosene, pushing up the subsidy bill.
How do high oil prices impact consumers?
High crude oil prices contributed to the increase in petrol and diesel prices that hit record highs across the country in 2021.
Pump prices fell in November as the central government cut excise on petrol and diesel by Rs 5 and Rs 10 per litre respectively, and most states followed by cutting Value Added Tax.
What can be the impact on investor sentiment and markets?
Investor sentiment has taken a beating over the last few days in line with rising crude prices. Foreign portfolio investors who had invested have turned net sellers over the last seven trading sessions, pulling out a net of Rs12, 825 crore from Indian equities, leading to a fall of nearly 3% in the Sensex.
Even domestic institutional investors have turned cautious, and invested a net of only Rs 239 crore over the last four trading sessions.
The rupee has fallen nearly 1% against the dollar over the last week, and was trading at 74.45 on Thursday.
Fund managers say markets are likely to remain volatile in the near term, and investors should not react to daily news flows in regard to their investments.
Brent and WTI
Brent crude oil originates from oil fields in the North Sea between the Shetland Islands and Norway, while West Texas Intermediate (WTI) is sourced from US oil fields, primarily in Texas, Louisiana, and North Dakota.
WTI with lower sulphur content (0.24%) than Brent (0.37%) is considered "sweeter".
Both oils are relatively light, but Brent has a slightly higher API gravity, making WTI the lighter of the two.
American Petroleum Institute (API) gravity is an indicator of the density of crude oil or refined products.
Brent crude price is the international benchmark price used by the OPEC while WTI crude price is a benchmark for US oil prices.
Since India imports primarily from OPEC countries, Brent is the benchmark for oil prices in India.
Cost of shipping for Brent crude is typically lower, since it is produced near the sea and it can be put on ships immediately. Shipping of WTI is priced higher since it is produced in landlocked areas like Cushing, Oklahoma where the storage facilities are limited.
4. Employees Provident Fund Organization (EPFO)
Subject – Economy
Context – EPFO adds 13.95 lakh subscribers in November 2021
Concept –
To know about EPFO, please refer November 2021 DPN.
5. Variable Rate Repo auction under LAF
Subject – Economy
Context – RBI holds variable repo auction as GST outflow tightens liquidity
Concept –
Call money market is a market for uncollateralised lending and borrowing of funds. This market is predominantly overnight and is open for participation only to scheduled commercial banks and the primary dealers.
Reserve Bank has been rebalancing the surplus liquidity in the system by shifting it out of the fixed rate overnight reverse repo window into the variable rate reverse repo (VRRR) auctions of longer maturity.
Operational Guidelines:
1) The auction will be conducted on CBS (e-Kuber) platform.
2) The minimum bid amount for the auction would be Rupees one crore and multiples thereof. The allotment would be in multiples of Rupees one crore.
3) Banks would be required to place their bids in percentage terms up to two decimal places. Banks can place multiple bids.
4) Successful bids will get accepted at their respective bid rates.
5) Bids at or below the repo rate will be rejected.
6) Once the bidding time is over, all the bids would be arranged in descending order of the rates quoted and the cut-off rate would be arrived at the rate corresponding to the notified amount of the auction. Successful bidders would be those who have placed their bids at or above the cut-off rate. All bids lower than the cut-off rate would be rejected.
7) There will be provision of pro-rata allotment should there be more than one successful bid at the cut-off rate.
8) RBI will, however, reserve the right to (i) inject marginally higher amount than the notified amount due to rounding effects and (ii) inject less than the notified amount without assigning any reasons there for.
9) The reversal of the above auction would take place at the 'start of day' on the date of reversal.
10) The eligible collateral and the applicable haircuts will remain the same as for LAF.
11) All other terms and conditions as applicable to LAF operations will also be made applicable to the above auction mutatis mutandis. These conditions will, however, be subject to review on a periodic basis.
Liquidity Adjustment Facility (LAF):
It is a tool used in monetary policy by the RBI that allows banks to borrow money through repurchase agreements (repos) or for banks to make loans to the RBI through reverse repo agreements.
Repo and Reverse Repo Rate:
Repo rate is the rate at which the central bank of a country (Reserve Bank of India in case of India) lends money to commercial banks in the event of any shortfall of funds. Here, the central bank purchases the security.
Reverse repo rate is the rate at which the RBI borrows money from commercial banks within the country.
To know about Variable Reverse Repo Rate (VRRR), please refer December 2021 DPN.
6. IAS officers and central posting
Subject – Governance
Context – The Centre has proposed to amend the rules for central deputation of IAS officers.
Concept –
The Centre has proposed amendments to the IAS (Cadre) Rules in order to exercise greater control in central deputation of IAS officials, which has often been at the centre of tussles between the Centre and the states.
What is current rule on deputation?
Central deputation in the Indian Administrative Service is covered under Rule-6 (1) of the IAS (Cadre) Rules-1954, inserted in May 1969.
It states: "A cadre officer may, with the concurrence of the State Governments concerned and the Central Government, be deputed for service under the Central Government or another State Government or under a company, association or body of individuals, whether incorporated or not, which is wholly or substantially owned or controlled by the Central Government or by another State Government. Provided that in case of any disagreement, the matter shall be decided by the Central Government and the State Government or State Governments concerned shall give effect to the decision of the Central Government."
As on January 1, 2021, out of around 5,200 IAS officers in the country, 458 were on central deputation.
What are the proposed amendments?
Four amendments are proposed to Rule 6.
One of the major changes proposed is if the State government delays posting a State cadre officer to the Centre and does not give effect to the Central government's decision within the specified time, "the officer shall stand relieved from cadre from the date as may be specified by the Central government."

Presently, officers have to get a no-objection clearance from the State government for Central deputation.

The other change proposed is the Centre will decide the actual number of officers to be deputed to the Central government in consultation with the State and the latter should make eligible the names of such officers.

According to existing norms, States have to depute the All India Services (AIS) officers, including the Indian Police Service (IPS) officers, to the Central government offices and at any point it cannot be more than 40% of the total cadre strength.

The third proposed amendment says that in case of any disagreement between the Centre and the State, the matter shall be decided by the Central government and the State shall give effect to the decision of the Centre "within a specified time."
The fourth change proposed is that in specific situation where services of cadre officers are required by the Central government in "public interest" the State shall give effect to its decisions within a specified time.
The DoPT is the cadre controlling authority of IAS officers. Similar letters have been sent for deputation of Indian Police Service and Indian Forest Service Officers (IFoS) after approval from the Ministry of Home Affairs (MHA) and the Environment Ministry respectively.
In 2020, the DoPT, to ensure that more officers come to the Centre, changed norms and made it mandatory for IAS officers from the 2007 batch onwards to mandatorily serve for two years in Central deputation within first 16 years of their service if they wanted to be empanelled for a joint secretary rank in the future.
How are officers sent on central deputation today, and how could the amendments affect it?
The Centre asks every year for an "offer list" of officers of the All India Services (IAS, IPS and Indian Forest Service) willing to go on central deputation, from which it selects officers.
While Rule 6(1) says that in case of disagreement, the state shall give effect to the decision of the Centre, this has not been possible in several cases of conflict.

Even the proposed amendment leaves the state with an escape route by stating that the number of officers to be sent on deputation shall be decided by the central government "in consultation with the State Government concerned".

And while the Centre mandates the state governments to provide a list of officers, the officer too must be willing, with Rule 6(2) stating: "no cadre officer shall be deputed to any organisation or body of the type referred to in item (ii),
except with his consent".

Item (ii) covers certain kinds of organisations.
Before any officer of the AIS is called for deputation to the Centre, his or her concurrence is required. The Establishment Officer in the DoPT invites nominations from the State governments. Once the nomination is received, their eligibility is scrutinised by a panel and then an offer list is prepared, usually with the State government on board.
Subject – Agriculture
Context – Farm exports to touch a record $50 b in FY22: Govt
Concept –
The Agriculture Export Policy is framed with a focus on agriculture export-oriented production, export promotion, better farmer realization and synchronization within policies and programmes of Government of India.
Vision: Harness export potential of Indian agriculture, through suitable policy instruments, to make India global power in agriculture and raise farmer's income.
Objectives

To double agricultural exports from present ~US$ 30+ Billion to ~US$ 60+ Billion by 2022 and reach US$ 100 Billion in the next few years thereafter, with a stable trade policy regime.
To diversify our export basket, destinations and boost high value and value added agricultural exports including focus on perishables.
To promote novel, indigenous, organic, ethnic, traditional and non-traditional Agri products exports.
To provide an institutional mechanism for pursuing market access, tackling barriers and deal with sanitary and phytosanitary issues.
To strive to double India's share in world agri exports by integrating with global value chain at the earliest.
Enable farmers to get benefit of export opportunities in overseas market.
To know about Agricultural and Processed Food Products Export Development Authority (APEDA), please refer January 2022 DPN.
8. Environmental Impact Assessments
Subject – Environment
Context – Centre to rank states on faster green nods, fewer details sought
Concept –
EIA is the management tool for identifying environmental, social and economic impacts of a project before decision-making. Thus, it seeks to ensure optimal use of natural resources within the context of sustainable development.
EIA and INDIA:
EIA started in India in 1978-79 in case of river valley projects. But now it has expanded to include industries, mining sector, thermal power plants etc. Under the Environment Protection Act (EPA), 1986 it has been made mandatory for 29 categories of project involving investment of Rs 50 crore and above.
Strategic Environment Assessment (SEA): It is the process of predicting and evaluating the impact of a strategic action at each level (policy, plan, programmes) on the environment and using it in decision making for development approach and sectoral reforms. It differs from EIA in following regards:
EIA
SEA

Takes place at the end of decision-making cycle and is basically a reactive approach in the sense it accounts for mitigation and compensation at this stage.
Considers specific impacts on environment and alternatives to address this.
In this plan, programmes are designed and then according to that environmental impact is considered.

It is at the start of the decision-making cycle itself and considered a pro-active approach.
Focus is on sustainable development and hence, considers different alternatives.
Environmental considerations are implicit in the plans, programmes. Thus, offers a high level of environmental protection.
Multi-level approach with a continuation of policy at different stages.
What are the Steps involved in the EIA?
Screening: It seeks to determine if a project needs a full EIA or partial EIA based on investment, location or type of development.
Scoping: Identify potential impacts based on legislative, international standards to identify alternative options (or even not going ahead with project) to compensate for adverse impact on biodiversity and determines terms of reference for EIA.
Baseline data collection: on site existing environmental status is collected.
Impact prediction: All aspects of possible impact on environment (air, water, soil, biodiversity etc), socio-economic status of the people in region.
Reporting the EIA report with mitigation measures, compensations for probable loss.
Public hearing: As per the EPA, 1986 public hearing is mandatory and any one likely to be impacted by the project must be given opportunity to give an oral/written answer to the state Pollution Control Board.
Environment Management Plan (EMP) and Decision making: Based on all the above factors in earlier stages an EMP has to be prepared. Then, project proponents and the impact assessment authority make decision on future course of project based on EIA report and EMP.
Monitoring, compliance, enforcing and environmental auditing of EIA and EMP terms both during implementation and in operation phase.
How does EIA help?
Prevents project approval and implementation without oversight i.e. precautionary principle would have prevented fire at Oil India Limited in Assam this year if process was followed before environment clearance.
Sustainable development by taking adverse consequences in account. Ex- POSCO didn't get clearance in Niyamgiri hills as 12 village council denied clearance to it
Compares different alternatives with decision on the best of economic and environ mental goals.
Promotes innovation and technology to best suit the EIA norms and addressing challenges.
What is the EIA cycle proposed in EIA notification, 2006?
It talks of 4-stages of EIA to be followed in accordance with the norms. These are:
Screening
Scoping
Public hearing
Appraisal
It also talks of category of projects: Category A and Category B (B1 and B2 projects). In this category A and category B1 projects need mandatory EIA and B2 category does need EIA.
Category A projects are appraised at the national level by the Impact Assessment Agency and the Expert Appraisal Committee (EAC).
Category B projects are appraised at the state level with B1 needing EIA and B2 does not need it. State Level Environment Impact Assessment Authority (SEIAA) and the state level EAC are provided for clearance of the category B projects.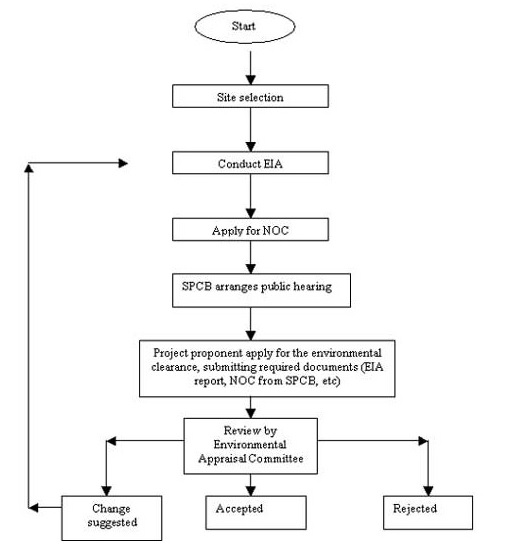 Draft EIA amendments and why it has become controversial?
Features and Argument for bringing in draft EIA, 2020:
Ramp up availability/production of bulk drugs: COVID-19 demand and disruption of global supply chain the government thought to bring certain sectors under B2 category (no EIA required). Ex- projects or activities in respect of bulk drugs and intermediates, manufactured for addressing various ailments
Decentralization of approval process: Recategorization will lead to clearance from state level itself thereby fastening the process.
Expeditious disposal of the proposals within given time-line and reduced scrutiny through single window online clearance
Revive project by putting an end to policy paralysis: It allows for post-facto clearances.
Controversial features:
Post-facto clearances: It will legalize operations (ongoing and closed projects) without EIA and in violation category through fines. This will weaken the sanction against violations weakening the environmental fight. Earlier courts have cracked down on such violating industries.
Ex- Environment ministry itself claimed that the LG polymer gas leak in Vishakha patnam this year was due to violation of EIA norms (Post expansion of capability it applied for approval)
Regressive and non-transparent: It allows for projects to be declared by the government as strategic. Once notified strategic no information about project will be in public domain and no public consultation. Ex- All inland waterways and national highways are excluded from public consultation and these are one of the major causes of deforestation and displacement of people.
Disempowerment of people: Violations can only be represented by the government representatives and project proponents not citizen, public consultation initially only for 20 days (norm is 30 days), drafts only in English and Hindi and technical jargons in drafts is criticised by experts as the disempowerment of people by depriving them say in EIA.
Recategorization as B1, B2 projects: This is dilution of the environmental norms as many projects will not be assessed by the appraisal committee now.
Increased validity of the environment clearances (mining projects to 50 years from 30 years currently and river valley projects to 15 years from 10 years currently) will risk environmental, social and health consequences
Federalism concerns: B2 project not to be brought before State Expert Appraisal Committee (SEAC) is said to weaken its role in implementing innovative/cost-efficient technologies or processes to prevent the degradation of the environment.
Protecting polluting sectors in case of modernisation and expansion: Exemption from EIA and public consultation for construction projects expansion up to 1,50,000 Sq. metres.
The draft EIA has created concerns among civil society, environmental experts, people (protest in Kerala) as well as UN special Rapporteurs criticized it against the violation of environmental laws.
Subject – Science and Tech
Context – 'China satellite in close encounter with Russian debris'
Concept –
Space junk is any piece of machinery or debris left by humans in space—principally in Earth orbit.
These include dead satellites, fragments of rocket bodies and spacecraft etc.
Currently, an estimated 20,000 objects—including satellites and space debris—are crowding low-Earth orbit.
What causes space junk?
Unoperational / Expired / Exploded satellites, rocket parts or spacecrafts
Anti-satellite tests that incapacitates or destroys satellites for strategic or tactical purposes (like Mission Shakti conducted by DRDO, China's 2007 ASAT test,etc.)
Rare collision between two spacecrafts
Mega-constellations of satellites planned by companies such as SpaceX 's Starlink prpject
Kessler syndrome
This is an idea proposed by NASA scientist Donald Kessler in 1978.
The Kessler syndrome is a scenario in which the density of objects in Low Earth Orbit (LEO) is high enough that collisions between objects could cause a cascade that increases the likelihood of further collisions.
ISRO's Efforts
'Project NETRA' – It is an early warning system in space to detect debris and other hazards to Indian satellites.
Only the US, Russia and Europe have similar facilities in place to track space objects and share collision warnings.
10. OBC reservation in local bodies
Subject – Polity
Context – No 27% OBC quota in local body elections without triple test: SC
Concept –
Apex court's latest order in Rahul Ramesh Wagh v. State of Maharashtra &Ors. makes it mandatory that the principles laid down by the Supreme Court for providing reservation to OBCs in local bodies shall be scrupulously followed across the country.
The present political quandary harks back to the five-judge Constitution Bench decision in Krishnamurthy (Dr.) v. Union of India (2010) wherein the Supreme Court had interpreted Article 243D(6) and Article 243T(6), which permit reservation by enactment of law for backward classes in panchayat and municipal bodies respectively, to hold that barriers to political participation are not the same as that of the barriers that limit access to education and employment.
Though reservation to local bodies is permissible, the top court declared that the same is subject to empirical finding of backwardness in relation to local bodies as fulfilled through the three tests as follows:

"1) To set up a dedicated Commission to conduct contemporaneous rigorous empirical inquiry into the nature and implications of the backwardness qua local bodies, within the State;
2) To specify the proportion of reservation required to be provisioned local body-wise in light of recommendations of the Commission, so as not to fall foul of over breadth;
3) And in any case such reservation shall not exceed aggregate of 50% of the total seats reserved in favour of SCs/STs/OBCs taken together."
The 50% ceiling specifically relied on the ratio of the historic Indra Sawhney judgment (1992).
Vikas Krishnarao Gawali v. State of Maharashtra &Ors. (2021)
The 2010 judgment was not acted upon and the constitutionality of the enacted reservation was challenged. This resulted in the 2021 judgment of a three-judge Bench of the Supreme Court.
In the above case, the Supreme Court read down the provision of the Maharashtra Zilla Parishads and Panchayat Samitis Act, 1961, which mandated for 27% reservation to OBCs in local bodies.
The court observed that the reservation for OBCs was just a "statutory dispensation to be provided by the State legislations" and is different from the "constitutional" provisions which mandate reservation to the Scheduled Castes and Tribes (SC/ST).
While insisting on the triple test, the court observed that the reservation in favour of OBCs in the concerned local bodies can be notified to the extent that it does not exceed 50% of the total seats reserved in favour of SCs/STs/OBCs taken together.
The Supreme Court quashed notifications issued by the Maharashtra Election Commission, which provided more than 50% reservation to OBCs and SC/STs in some local bodies.