Daily Prelims Notes 22 March 2022
March 22, 2022

Posted by:

OptimizeIAS Team

Category:

DPN

Daily Prelims Notes
22 March 2022
Table Of Contents
Subject: Science and Tech
Section: Space
What are solar storms?
Just as the sun keeps sending us light and heat, it also throws out a lot of other material in all directions, including towards Earth. In fact, there is a constant stream of charged particles — electrons and protons — that escape from the sun's atmosphere (corona) and spread across space. This stream is called 'solar wind'.
Sometimes, a bubble of gas gets burped out of the sun. Imagine it like a bubble escaping from a bucket of soap water. This bubble, typically containing billions of tonnes of matter, ploughs through the solar wind and travels in a random direction at a speed of several million kilometres per hour. Such a bubble that has cut loose from the sun's corona is called 'coronal mass ejection' (CME) or 'solar storm'.
Why do they happen?
The sun is spinning fast and this spin creates complex swirls and eddies. Sometimes matter gets engulfed in loops of the magnetic field, which gets ejected violently.
Earth's Magnetic Field:
Earth is protected from the solar wind by our magnetic field- magnetosphere, which deflects the particles away.
The magnetic field, on the sun-facing side of Earth, extends to about 65,000 km, well within the range of Earth's satellites. (Actually, the magnetic field on the day side gets compressed to 65,000 km by the solar winds; on the night side, the magnetosphere is much bigger.)
Impact of solar storms:
Occasionally, a large solar storm might cut loose and hurl towards Earth. Some satellites could be lost.As for Earth-based systems, such as power grids and telecom networks, even if a big CME hits, only countries in the upper and lower latitudes are in danger of getting affected. Being near the equator, India is relatively safe.

2. Study finds Climate variability may explain annual spike in ozone-destroying gas
Subject: Environment
Section: Climate change
Context: Forest fires fueled by the El Niño Southern Oscillation (ENSO) phenomenon might be responsible for the short-term spikes in methyl bromide, a known destroyer of the ozone layer
El Niño–Southern Oscillation:
El Niño–Southern Oscillation(ENSO) is an irregular periodic variation in winds and sea surface temperatures over the tropical eastern Pacific Ocean, affecting the climate of much of the tropics and subtropics.
The warming phase of the sea temperature is known as El Niño and the cooling phase as La Niña.
Southern Oscillation, in oceanography and climatology, is a coherent inter-annual fluctuation of atmospheric pressure over the tropical Indo-Pacific region.
The Southern Oscillationis the accompanying atmospheric component, coupled with the sea temperature change: El Niño is accompanied by high air surface pressure in the tropical western Pacific and La Niña with low air surface pressure there.
El Nino and Southern Oscillation coincide most of the times hence their combination is called ENSO – El Nino Southern Oscillation.
Methyl Bromide:
Methyl bromide is an odourless, colourless gas that has both natural and industrial sources.
It naturally enters the atmosphere from oceans and forest fires. Human activities can release the gas too. About 50-95 per cent of the substance eventually makes it back into the atmosphere, according to the United States Environment Protection Agency.
It is used to control a wide variety of pests in agriculture and shipping, including fungi, weeds, insects, nematodes (or roundworms), and rodents.
And can be used as quarantine fumigant at ports.
Methyl bromide is also an ozone-depleting substance.

India has signed and ratified the Montreal Protocol, and is committed to phasing out methyl bromide and other ozone-depleting substances (ODS) by 2015.
Ozone:
Ozone occurs in two layers of the atmosphere.
The layer closest to the Earth's surface is the troposphere. Here, ground level or "bad" ozone is an air pollutant that is harmful to breathe and it damages crops, trees and other vegetation.
The stratosphere or "good" ozone layer extends upward from about 6 to 30 miles and protects life on Earth from the sun's harmful ultraviolet (UV) rays.

"Good" ozone is gradually being destroyed by man-made chemicals referred to as ozone-depleting substances (ODS), including chlorofluorocarbons (CFCs), hydrochlorofluorocarbons (HCFCs), halons, methyl bromide, carbon tetrachloride, and methyl chloroform.
Montreal Protocol:
Montreal Protocol is an international treaty designed to protect the ozone layer by phasing out the production of numerous substances that are responsible for ozone depletion.
It was agreed on 16 September 1987, and entered into force on 1 January 1989.
Since then, it has undergone nine revisions, in 1990 (London), 1991 (Nairobi), 1992 (Copenhagen), 1993 (Bangkok), 1995 (Vienna), 1997 (Montreal), 1998 (Australia), 1999 (Beijing) and 2016 (Kigali)
As a result of the international agreement, the ozone hole in Antarctica is slowly recovering. Climate projections indicate that the ozone layer will return to 1980 levels between 2050 and 2070.
Subject : economy
Section: Inflation
Context:
Inflation has become a problem in India once again, well before it emerged globally and in the advanced countries as a major concern. In India, inflation rates of 6 per cent and above were evident even during the pandemic collapse, when much of the rest of the world suffered deflation
This was largely due to cost push pressures resulting from
The Central government's continuous increases in fuel taxes, which effectively increased the costs of producing and transporting goods and services.
Ukraine war has pushed global prices of fuel and other commodities (including food crops like wheat) northwards.
Supply chain issues are driving inflation up in most parts of the world.
India is no exception to this, with the past few months showing dramatic rises in the Wholesale Price Index (WPI) which has been showing double-digit inflation for several months now.
What is Deflation?
Disinflation is a decline in the rate of inflation. The inflation rate is declining over time, but it remains positive. Disinflation should not be confused with deflation, which is fall in price level. Disinflation accompanied by higher economic growth, is a favourable position for economy.
Deflation occurs when asset and consumer prices fall over time. t is the opposite of the often-encountered inflation.
A reduction in money supply or credit availability is the reason for deflation in most cases. Reduced investment spending by government or individuals may also lead to this situation.
Impact:
Deflation leads to a problem of increased unemployment due to slack in demand.
Is deflation similar to disinflation?
Deflation is different from disinflation as the latter implies decrease in the level of inflation whereas on the other hand deflation implies negative inflation.
4. Divergence between CPI and WPI
Subject: economy
Section: Inflation
Context:
One striking feature of the Indian scenario is the difference between inflation as measured by the WPI and that evident in the Consumer Price Index (CPI)
WPI inflation during the current financial year, in contrast to the trends observed in CPI-C inflation, has shown an increasing trend, and remained high. Between June 2019 and February 2021, wholesale inflation was lower than retail inflation, while between March 2021 and December 2021, wholesale inflation remained above the retail inflation.
While on the one hand, low food inflation pulled down CPI, on the other hand high energy and input prices pulled up WPI based inflation rate
The annual increase in the WPI was more than 13 per cent; the CPI increased at less than half that rate
Divergence between CPI and WPI
Cause of divergence between CPI and WPI
Base Effect:
A part of the high inflation in WPI being witnessed currently could be because of a low base in the previous year. Consequent to the impact of the COVID-19 pandemic, production activity remained muted in 2020-21 and global crude oil prices reached record lows due to lack of demand. Therefore, the WPI based inflation rate touched a low of 1.3 per cent in 2020-21. With economic activity picking up in 2021-22 and edging up of global crude oil prices, the low base of 2020-21 led to WPI inflation reaching a peak of 14.2 per cent in November 2021 and 12.5 per cent during April-December 2021 (as against 0.04 per cent during April-December 2020-21).
Difference in the weight of various items

To begin with, the WPI excludes services altogether, covering only produced goods.
Within goods, the CPI gives a much higher weight to food articles, which account for nearly 46 per cent of the basket, compared to only 15 per cent in the WPI. (In fact, the CPI for rural areas gives as much as 54 per cent weightage to food and beverages, while in urban areas it is 36 per cent.)
Weights of items in CPI-C are based on the consumption pattern of consumers and households, in case of WPI series, weights of the item basket are derived by calculating the net traded value to the domestic production by adding net imports to domestic production
While in CPI, food and beverages have the highest weight (45.9), in WPI, the manufactured group has the highest weight (64.2)-food inflation witnessed a decline in 2021 and was 4.0 per cent in December 2021, food articles have a weight of only 24.4 in the WPI (Food articles in primary group plus those in manufactured group). WPI is thus less responsive to changes in food inflation.
The weight of the fuel group is much lower in CPI (6.8) as compared to WPI (13.2). Fuel in CPI is also partially reflected under miscellaneous group under 'transport and communication'-with reopening up of the economies worldwide, unanticipated increase in energy prices and emergence of industrial input cost pressure and high freight costs led to a sharp spike in WPI inflation in 2021.
In November 2021, a reduction in central excise duty was announced for diesel and petrol. While this cut in central excise duties and subsequent reduction in VAT by majority of the states had a dampening effect on retail prices of diesel and petrol, wholesale prices continued to reign high resulting in the widening of the divergence
The CPI basket consists of services like housing, education, medical care, recreation etc. which are not part of WPI basket.
The manufactured sector not only uses crude oil but also several other imported items as inputs such as iron ore, aluminum, other metals and cotton. The intermediate and inputs items of WPI, not part of CPI, play a role in its divergence from CPI.(Domestic inflation as measured through WPI of related items have been highly correlated with growth in the international prices of these commodities. The inflation in domestic aluminum and copper prices is positively and highly correlated with international prices).
India is a major producer, consumer, and exporter of cotton. Therefore, the prices of domestic cotton and international prices are closely linked leading to a high correlation (0.9) between WPI inflation in cotton yarn and international inflation in raw cotton.
Similarly, the movement in prices of non-tradable items included in the CPI basket widens the gap between WPI and CPI movements. The relative price trends of tradable vis a vis non-tradable is an important explanatory factor for divergence in the two indices in the short term.
The high inflation rate reported in the manufactured Group in the WPI is therefore significantly attributable to "imported inflation" resulting from high prices of imported inputs. High freight costs and longer delivery times further exacerbated the price pressure on imported inputs.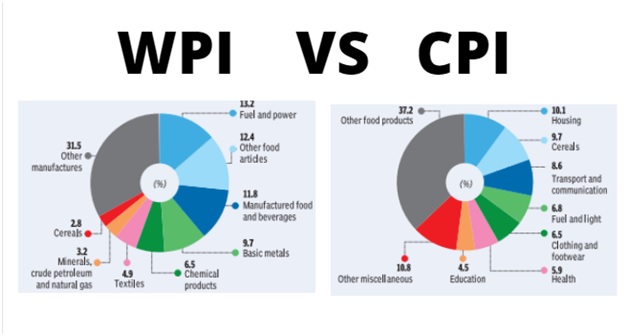 Low Demand: Another reason for divergence is the lagging demand pick up. While production has gradually picked up in 2021-22 to reach the pre-pandemic levels, consumption demand is yet to normalise fully.
Subject: Environment
Section: Sustainable development
Context: The 'green' burial trend gripping the US
WHAT IS GREEN BURIAL?
Green (or natural) burial emphasizes simplicity and environmental sustainability. The body is neither cremated nor prepared with chemicals such as embalming fluids.
It is simply placed in a biodegradable coffin or shroud and interred without a concrete burial vault.
The grave site is allowed to return to nature. The goal is complete decomposition of the body and its natural return to the soil. Only then can a burial truly be "ashes to ashes, dust to dust," a phrase so often used when we bury our dead.
WHY CHOOSE GREEN BURIAL?
Most burials before the mid-19th century were conducted this way, as are many Jewish and Muslim burials today. Green burials are enjoying a resurgence in popularity, for a number of reasons:
The idea of wrapping the body in a shroud or placing it in a plain, unadorned coffin appeals to those who prefer their burial arrangement to be simple, natural and unpretentious.
Lower cost. Because green burials do not involve embalming, fancy caskets, or concrete vaults, they can be a very cost-effective alternative to conventional burials, lowering the cost by thousands of dollars. If the family supplies their own shroud or coffin, the cost can be further reduced.
Conserving natural resources. Each year US cemeteries bury over 30 million board feet of hardwood and 90,000 tons of steel in caskets, 17,000 tons of steel and copper in vaults, and 1.6 million tons of reinforced concrete in vaults. With green burial, fewer resources are used.
Eliminating hazardous chemicals. For some, forgoing the embalming process is the main attraction, since embalming fluid contains formaldehyde, a respiratory irritant and known carcinogen. In the US about 5.3 million gallons of embalming fluid are used every year, and funeral home workers are exposed to it routinely.
Preserving natural areas. Love of nature and a desire for "eternal rest" in a forever-wild meadow or forest are frequently-cited reasons for choosing green burial. The burial sites restore or preserve a natural landscape populated by native trees, shrubs and wildflowers; the sites offer food and refuge to birds and other wildlife. The most conservation-intensive green cemeteries do not use fertilizer, pesticides, or herbicides. A green cemetery can be an important component in the acquisition and conservation of native habitats.
6. Ladakh's plan to save its wolves
Subject: Environment
Section: Biodiversity
Context: Over the past couple of years, village communities in Ladakh have been building Stupas next to traditional wolf traps, committing to stop killing wolves.
Concept:
Shangdong are traditional trapping pits with inverted funnel-shaped stone walls, usually built near villages or herder camps. Typically, a live domestic animal is placed in the pit to attract the wolves. Once the wolves jump into the pit, the walls prevent them from escaping. The trapped wolves are usually stoned to death.
Nature Conservation Foundation (NCF) provided support to neutralisation of the Shandong while preserving their structure, and assisted the communities to build Stupas.
About Wolves:
Out of 32 sub-species of wolves that are recognised, two are believed to inhabit the Indian subcontinent: the Tibetan Wolf, whose range extends from trans-Himalaya into Tibet and China, and the Indian wolf that ranges over peninsular India (Gujarat, Rajasthan, Haryana, Uttar Pradesh, Madhya Pradesh, Maharashtra, Karnataka and Andhra Pradesh)
Indian wolf, which we know numbers around 3,000, while Tibetan wolf is estimated of around 500
Both sub-species are critically endangered
Placed under Schedule I animal in the Wildlife (Protection) Act, 1972.
There are no conservation projects launched by the Government for wolves.
7. Small saving instruments and monetary policy transmission
Subject: Economy
Section: Monetary policy and banking
Context:
The Reserve Bank of India (RBI) has sought a further reduction in interest rates on small saving instruments (SSIs) for the first quarter of fiscal 2022-23.
Meanwhile, as per the RBI, with credit and deposit offtake picking up, some commercial banks have raised interest rates on term deposits and further,
The extent of pass-through of policy rate reduction to the median term deposit rate (MTDR) increased.
the one-year median marginal cost of funds-based lending rate (MCLR) of banks softened cumulatively.
In response to the repo rate cut, the weighted average lending rates (WALRs) on fresh and outstanding rupee loans declined.
Concept:
SSIs include Public Provident Fund (PPF), Sukanya Samriddhi Account (SSA), Senior Citizen Savings Scheme (SCSS), National Savings Certificate (NSC) and Post Office deposits.
Interest rates on SSIs are administered by the government. These administered interest rates are linked to market yields on government securities (G-secs) with a lag and are fixed on a quarterly interval at a spread ranging from 0-100 basis points (bps) over and above G-sec yields of comparable maturities
Although interest rates on SSIs have been going down in line with the trend in the financial system, these instruments still offer higher rates than bank deposits making monetary policy transmission difficult.
EPF Organization's Central Board of Trustees (which includes representatives of workers, management and the Govt) has approved the EPF rate cut.
Following are the list of other savings instruments and its current rate which are also lower:
| | |
| --- | --- |
| SAVINGS INSTUMENTS | RATE |
| Sukanya Samriddhi Yojana | 7.6% |
| Senior Citizens' Savings Scheme | 7.4% |
| Public Provident Fund | 7.1% |
| SBI's (5 – 10-year fixed deposits) | 5.5% |
| SBI's (5 – 10-year fixed deposits for Senior Citizens) | 6.3% |
EPFO's call to keep at 8.1% has yet to come to the Finance Ministry for approval.
Transmission of Monetary Policy: The transmission of monetary policy describes how changes made by the Reserve Bank of India (RBI) to the policy rate flow through to economic activity (like lending) and inflation.
Internal Benchmark Lending Rate (IBLR): The Internal Benchmark Lending Rates are a set of reference lending rates which are calculated after considering factors like the bank's current financial overview, deposits and non-performing assets (NPAs) etc. BPLR, Base rate, MCLR are the examples of Internal Benchmark Lending Rate.

Benchmark Prime Lending Rate (BPLR)-BPLR was used as a benchmark rate by banks for lending till June 2010.Under it, bank loans were priced on the actual cost of funds. However, the BPLR was subverted, resulting in an opaque system. The bulk of wholesale credit (loans to corporate customers) was contracted at sub-BPL rates and it comprised nearly 70% of all bank credit. Under this system, banks were subsidising corporate loans by charging high interest rates from retail and small and medium enterprise customers.
Base Rate-Loans taken between June 2010 and April 2016 from banks were on base rate. During the period, base rate was the minimum interest rate at which commercial banks could lend to customers. Base rate is calculated on three parameters — the cost of funds, unallocated cost of resources and return on net worth. Hence, the rate depended on individual banks and they changed it whenever their cost of funds and other parameters changed.
Marginal Cost of Lending Rate (MCLR): It came into effect in April 2016. It is a benchmark lending rate for floating-rate loans. This is the minimum interest rate at which commercial banks can lend. This rate is based on four components—the marginal cost of funds, negative carry on account of cash reserve ratio, operating costs and tenor premium. MCLR is linked to the actual deposit rates. Hence, when deposit rates rise, it indicates the banks are likely to hike MCLR and lending rates are set to go up.
Issues Related to IBLR Linked Loans:
-The problem with the IBLR regime was that when RBI cut the repo and reverse repo rates, banks did not pass the full benefits to borrowers.
-In the IBLR Linked Loans, the interest rate has many variables including bank's spread, their current financial overview, deposits and non performing assets (NPAs) etc.
-Due to this, such internal benchmarks did little to facilitate any swift change in interest rates as per changes in RBI repo rate policy.
-The opacity in interest rate setting processes under the internal benchmark regime hinders transmission to lending rates.
External Benchmark Lending Rate–To ensure complete transparency and standardization, RBI mandated the banks to adopt a uniform external benchmark within a loan category, effective 1st October, 2019. Unlike MCLR which was internal system for each bank, RBI has offered banks the options to choose from 4 external benchmarking mechanisms:

The RBI repo rate
The 91-day T-bill yield
The 182-day T-bill yield
Anny other benchmark market interest rate as developed by the Financial Benchmarks India Pvt. Ltd.
What makes monetary policy transmission difficult?
As per theory, at lower interest rates, people are expected to borrow and spend more, the more the money circulates in the economy, the greater would be the economic activity. Much, however, depends on how effectively, with respect to speed and quantum, the transmission mechanism works.
However, there have been instances of incomplete pass-through and longer periods of transmission, and uneven transmission, particularly, lower during the easing phase and higher during the tightening phase. Some of the reasons behind the inflexibility of the interest rates which prevailed a decade ago still exist today.
All those measures that reduces liquidity of commercial banks or increases cost of getting liquidity in at a time when accomodative monetary policy is being undertaken to reduce cost and availability of funds with the commercial banks are the major cause of downward inflexibility in transmission
Rigidity in savings deposit interest rate: Around 58% of the total deposits are term deposits and 77% of the term deposits are for 1 year and above. Most of the term deposits have fixed interest rates which mean the transmission is effective only for fresh deposits. Besides, banks have no incentive to decrease the deposit rate with the decrease in repo rate due to high operating expenses of savings accounts and already stressed balance sheets.
Higher deposit rates which forces to keep the lending rate high in spite of reduction in policy rates as high dependency on bank deposits for lending.
Large number of shadow banking institutions which take away deposit share of commercial banks.-With an increased risk appetite, financial literacy, good performance of stock markets and well-structured products, households are diverting a part of their savings to risky assets like mutual funds. Risk-free instruments including public provident fund, national savings certificate, etc. also compete with bank deposits. Despite quarterly review of interest rates, movement in small savings rates has remained highly inflexible.
Higher business cost of banks and non-interest operating expenses
Inflation- which reduces real savings
Higher cost of acquiring and servicing customers
Procedural bottlenecks in recovery of dues by banks coupled with large borrowings by the government.
High NPAs-Increased cost of funds and liquidity crunch due to high NPAs impact bank's profitability, further impacting transmission
Solution?
Linking repo rate with deposit rate can address the issue and some banks are currently moving towards this system.
High dependency on bank deposits for lending has resulted in interest-rate stickiness. Banks also need to look at other sources to fund lending such as issuance of debentures/commercial papers and borrowings from the capital market.
Banks can move over to a variable interest rate structure on longer term deposits.
To strengthen monetary transmission, the government needs to pro-actively peg the small savings rate with the G-sec bond yields.
The asset resolution and bank recapitalisation are expected to strengthen bank balance sheets and improve banks' willingness to change their lending rates in tandem with the change in the policy rates.
Faster implementation of linking interest rates under external benchmarks at least once in three months from the earlier practice of resetting interest rates once in a year under MCLR will greatly help in transmission of the RBI's monetary policy.
8. Ukraine war and food crisis
Subject: Economy
Section: Food security
Concept:
Food prices across the world were already rising fast amid supply chain disruptions and pandemic-related inflation. However, some prices—especially that of wheat—have shot through the roof because of the Ukraine crisis
A recently published report by the Food and Agriculture Organization (FAO) of the United Nations estimates food and feed prices could surge to up to 22 per cent above the already elevated levels due to the war.
Large grower countries—Australia, Argentina, India and the United States—could make up for a portion of the grain shortfalls from Ukraine and Russia. 
Why?
Ukraine and Russia account for nearly 30 percent of wheat, 17 percent of corn and over half of sunflower seed oil exports across the world.
The conflict-induced bottlenecks at Black Sea ports—where cargo vessels have been struck by Russian rockets—and other complications of the war have slammed Ukrainian exports.
The boycott of Russian ports by shipping companies and the knock-on effects of sanctions have also disrupted the flow of foods and feeds from Russia.
20 per cent to 30 percent of wheat, corn and sunflower seed crops will either not be planted or go unharvested during Ukraine's 2022-2023 season.
Russia is the world's largest fertilizer exporter, providing about 15 percent of the world supply.
Sanctions have also hit Russia's closest ally, Belarus, a leading producer of potash-based fertilizer, critical for many major crops, including soybeans and corn.
Impact?
Rise in procurement cost-The World Food Program's costs have already increased by $71 million a month, enough to cut daily rations for 3.8 million people.
The number of people on the edge of famine had jumped to 44 million from 27 million in 2019, according to the UN's World Food Programme.
Supply chain constraints and inflation-In February, grocery prices in the US were already up 8.6 per cent over a year prior, the largest increase in 40 years, according to government data.
 Humanitarian crisis and unrest-Countries affected by conflict, including Yemen, Syria, South Sudan and Ethiopia, are already facing severe hunger emergencies that experts fear could quickly worsen.
Rise in import bill and currency depreciation
Trade protectionism to guard food supplies-Indonesia has set new limits on palm oil exports to control prices; Hungary has banned all grain exports etc
Rising cost of production-Brazil, the world's largest producer of soybeans, purchases nearly half its potash fertilizer from Russia and Belarus. It now has just three months of stock left.
The price of natural gas aggravates the issue as fertiliser producers outside Russia and Belarus need gas to make nitrogen-based products like urea.
How has India impacted?
Ukraine and Russia account for a quarter of world's wheat exports, however closing of Black Sea trade route and economic sanctions on Russia would increase India's competitiveness in global exports for wheat.
The Ukraine crisis has also led to prices of vegetable oils and oilseeds skyrocketing. The benefits of it should flow to mustard growers in Rajasthan and UP, who are set to market their crop in the coming weeks. Mustard prices are ruling at Rs 6,500-plus per quintal, which is above the MSP of Rs 5,050.
It can act as an inducement for farmers to expand acreages under cotton, soyabean, groundnut, sesame and sunflower in the upcoming kharif planting season. That will serve the cause of crop diversification – especially weaning farmers away from paddy, if not sugarcane.
Status of agri-commodities:
Wheat- 

China, EU and India are the top three largest wheat producers, accounting for about more than 41% of the world's total wheat production.
Russia is the 4th largest producer and largest exporter of wheat in the world and Egypt is the largest importer of wheat.
China and India are major wheat producers, but are net importers and provide relatively small shares of global wheat exports.
Russia and Ukraine account for 14% of global wheat production and rank 4th and 7th, respectively.
Russia and Ukraine account for nearly 30 percent of the global wheat supply and the halt in the black sea trade route due to the Ukraine war has disrupted the supply of wheat leading to massive rise in price i.e. a rise of 60%
Wheat prices are likely to remain elevated as inputs have gone up sharply with prices of fertilizers, fuel, seeds, insecticides and pesticides surging.
In Asia, only India has the exportable stocks of wheat and prospect of exporting wheat above the government mandated minimum support price.
Corn-

The U.S. remains the dominant global producer (32%) and exporter (33%) for corn in the world. While Japan is the largest importer of corn.
Ukraine now ranks 4th, contributing over 15% of world corn exports. Notably, Ukraine has been the dominant supplier of corn to China. Russia ranks 6th with a 2.3% share of corn exports.
Corn production in India, Mexico, and South Africa exceeds that in Russia, but accounts for smaller world export shares.
Barley-

While the EU holds the dominant production share and is the leading region for world barley exports.
Russia and Ukraine account for about 19% of barley production and nearly 32% of barley exports.
Vegetable oil- Indonesia is the largest producer of vegetable oil followed by China, and India is the largest importer of vegetable oil in the world.

Ukraine and Russia are the leading producers and exporters of sunflower oil which comprises a 9% production share and nearly a 2% export share for the world vegetable oil market.
Nearly 60% of world sunflower oil production occurs in Ukraine and Russia, and the two countries account for over 75% of world exports.
India imports around 90 percent of its sunflower oil from the Ukraine-Russia region.
9. World Water Development Report 2022
Subject: Geography
Section: Oceanography
Context:
The 2022 edition of the United Nations World Water Development Report (UN WWDR 2022) entitled 'Groundwater: Making the invisible visible' was released on March 21, 2022. It describes the challenges and opportunities associated with the development, management and governance of groundwater across the world.
Facts: The report is produced annually by the UNESCO World Water Assessment Programme (WWAP) and released by UN-Water.
Important findings in the report:
India is the largest groundwater-user globally, at an estimated 251 cubic kilometres per year, followed by China and Pakistan.

India uses 89 per cent of the total groundwater abstracted per year for agriculture — also the highest in the world.

As many as eight of the 10 countries with the highest shares of global groundwater withdrawal volume are in Asia and two in North America.

These 10 countries account for 75 per cent of the total groundwater use. The other Asian countries in the list are Iran, Indonesia, Bangladesh, Saudi Arabia and Turkey.

It is estimated that about 11 per cent (or 25 km³ / year) global groundwater depletion is embedded in international crop trade that contributes to large-scale depletion of aquifers overlaid by productive land.
Wheat, maize, rice, sugarcane, cotton and fodder are the principal crops contributing to groundwater depletion. These crops are heavily traded, indicating highly unsustainable water footprints from intensive export.
Five countries account for about 70 per cent of the unsustainable water footprint: China, India, Iran, Pakistan and US
Present status of groundwater:
Further, as per groundwater assessment 2020 conducted jointly by Central Ground Water Board and State Governments, total annual groundwater extraction for all uses in the country is around 245 Billion Cubic Metre (BCM) which includes 218 BCM for agriculture use.
This Department has issued guidelines on 24 Sep 2020 with pan-India applicability for regulation and control of ground water extraction in the country. Water being a State subject, the guidelines advocate for a participatory approach for sustainable ground water management in agriculture sector including working towards crop rotation, diversification & other initiatives to reduce over-dependence on groundwater.
Atal Bhujal Yojana (Atal Jal) is being implemented in certain water stressed areas of the country, which includes activities like preparation of water security plan at Gram Panchayat level in participatory mode by involving communities to use available groundwater and surface water in an efficient manner.
Department of Agriculture & Farmers Welfare (DA & FW) is implementing Per Drop More Crop component of Pradhan MantriKrishiSinchayee Yojana (PMKSY) which is operational from 2015-16. The PMKSY – Per Drop More Crop mainly focuses on water use efficiency at farm level through micro irrigation (drip and sprinkler irrigation system) to reduce the extraction of groundwater.
The Annual Ground Water Extraction for all uses is 249 BCM, out of which, 221 BCM (89%) utilized for irrigation purposes.
Ground water levels in various parts of the Country are declining because of continuous withdrawal necessitated by increased demand of fresh water for various uses, vagaries of rainfall, increased population, industrialization & urbanization etc. Depleting water table in some areas may have some effect on irrigation activities, however, Government has initiated a number of measures for supply side and demand side management to improve the water table in water stressed areas.\
Water being a State subject, initiatives on sustainable ground water management is primarily States' responsibility. A number of States have done notable work in the field of water management/conservation.  Of these, mention can be made of 'Mukhyamantri Jal SwavlambanAbhiyan' in Rajasthan, 'JalyuktShibar' in Maharashtra, 'SujalamSufalamAbhiyan' in Gujarat, 'Mission Kakatiya' in Telangana, 'NeeruChettu' in Andhra Pradesh, 'Jal JeevanHariyali' in Bihar among others
Government of India has launched the Jal Shakti Abhiyan which is a time bound campaign with a mission mode approach intended to improve water availability including ground water conditions in the water stressed blocks. The five important water conservation interventions are- water conservation and rainwater harvesting, renovation of traditional and other water bodies/tanks, reuse, bore well recharge structures, watershed development and intensive afforestation.
Additional information:
Virtual Water
Virtual water is the volume of water used to make a product, and is the sum of the water use in the various steps of the production chain.
10. Australia returns 29 antiquities to India
Subject: History
Section: Art and culture
Context:
Earlier this year, it was reported that the government has been instrumental in bringing back some 200 stolen antiquities to India from across the world.
Since 2014, 228 cultural heritage objects have been retrieved from different countries while the majority of them (178) have come from the US.
Now, Australia has handed over as many as 29 antiquities to India.
Next major recoveries expected to reach Delhi are a quintessential idol of Buddha Avalokiteshwara Padamapani from Italy, the 10th century stone idol of Goat-headed Yogini from United Kingdom, and 500-year-old Hanuman idol, which was stolen from a Tamil Nadu temple, from the US.
Importance: This is seen as a boost to India's bid to get back the country's heritage from across the world.
About the antiquities returned: The Archaeological Survey of India (ASI) has received 29 antiquities including idols and paintings dating back to the 9th-10th century from Australia. The cache of articles received from Australia comprises sculptures and paintings made of sandstone, marble, bronze, brass and paper including stone sculpture.
Prominent among them are-
Arch of a Jain Shrine: It is a beautifully embellished frieze in marble. Two Jaina Tirthankara are seen standing on either sides of the panel. Possibly, the Jaina Tirthankar seated may be identified as Ajitanath, the second Tirthankara.
Shiva Bhairava: A fierce manifestation of Shiva, associated with annihilation. It is made of sandstone. In Trika system Bhairava represents Supreme Reality, synonymous to Para Brahman. In Hinduism, Bhairava is also called Dandapani.
Sambandar: It is a bronze statue of seventh-century child saint, Sambandar who devoted his life to composing hymns in praise of Lord Shiva.
Chandikesvara: It is a statue of 12th century Saint Chandikesvara which shows a humble devotion to the servitude of Shiva.
There are some paintings of Shiva-Parvati, Yaksha Bhairava, Kali Yantra, Varaha rescuing the Earth Goddess etc.
Additional information:
The Archaeological Survey of India (ASI) under the Ministry of Culture is the premier organization for archaeological researches and protection of the cultural heritage of the nation. For the maintenance of ancient monuments and archaeological sites and remains of national importance the entire country is divided into 24 circles.

Role of the ASI:
Maintenance of ancient monuments and archaeological sites and remains of national importance is the prime concern of the ASI.

It regulates all archaeological activities in the country as per the provisions of the

Ancient Monuments and Archaeological Sites and Remains Act, 1958.

It also regulates

Antiquities and Art Treasure Act, 1972.
Subject: History
Section: Medieval India
Context: Protests broke out in Telangana's Bodhan town last week over installation of a statue of Chhatrapati Shivaji at Ambedkar junction.
Concept:
Shivaji was born in Shivner near Junnar. He was the son of ShahjiBhonsle by his first wife Shahji was a descendant of the Yadava rulers of Devagiri from his mother's side and the Sisodias of Mewar on his father's side
On 6 June 1674, Shivaji was crowned at He assumed the title of "Chhatrapathi" (metaphor for "supreme king ")
The relentless campaigns affected Shivaji's health. He died in 1680 at the age of 53. At the time of his death, Shivaji's kingdom comprised the Western Ghats and the Konkan between Kalyan and Goa. The provinces in the south included western Karnataka extending from Belgaum to the bank of Tungabhadra.
Contemporaries: Tuka Ram was a contemporary of Maratha Shivaji and saints like Eknath and Ramdas was regarded by Shivaji as his guru. He had conflict with the Mughals (1670) at Aurangazeb reign.
Administration
Shivaji divided the kingdom into four provinces, each under a viceroy. The provinces were divided into a number of Pranths.
This council of eight ministers was known as Ashta Pradhan. Its functions were advisory. Mukhya Pradhan or Peshwa or prime minister, The Amatya or finance minister, The Walkia-Nawis or Mantri,Summant or Dabiror foreign secretary, Sachiv or ShuruNawis or home secretary,Pandit Rao or Danadhyaksha or Sadar and Muhtasib or ecclesiastical head, Nyayadhish or chief justice, Sari Naubat or commander-in-chief
Shivaji collected two taxes, Chauth and Sardeshmukhi, from the adjoining territories of his empire, the Mughal provinces and the territories of the Sultan of Bijapur. Chauth was one-fourth of the revenue of the district conquered by the Marthas. Sardeshmukhi was an additional 10% of the revenue which Shivaji collected by virtue of his position as Sardeshmukh.
The infantry was divided into regiments, brigades. The smallest unit with nine soldiers was headed by a Naik (corporal). Each unit with 25 horsemen was placed under one havildar (equivalent to the rank of a sergeant). Over five havildars were placed under one jamaladar and over ten jamaladars under one hazari. Sari Naubat was the supreme commander of cavalry.
The cavalry was divided into two classes: the bargirs (soldiers whose horses were given by the state) and the shiledars (mercenary horsemen who had to find their own horses). There were water-carriers and farriers too
12. SC panel report on repeal of farm laws
Subject: Polity
Section: Msc
Context: Repeal of farm laws was unfair to a silent majority of farmers who supported the reforms says the SC report.
Concept:
Background:
The farm laws were repealed by the Parliament on November 2021 after farmers from various parts of UP, Haryana and Punjab staged a protest on the Delhi outskirts over a year from 2020.
The SC in January 2021 stayed the farm laws and appointed the committee with four members to submit its report on the farm reform laws. However, a representative from Bharatiya Kisan Sangh withdrew following pressure from the agitating farmers.
Findings and Recommendations of the report:
Over 85% of Farmer Organizations (over 3.3 Cr growers) favoured the reforms said the three- member committee.
The committee recommended for setting up an Agriculture Marketing council (on the lines of GST Council) headed by the Union Agriculture minister.
It also called for revisiting the MSP policy and a cap on procurement of wheat and rice commensurate with the needs of the PDS.
The savings from this capping may be utilized to enhance prize stabilization fund for other commodities- nutri-cereals, pulses, oilseeds, and even onion and potatoes on open market principles.
It suggested an option to give freedom of choice to beneficiaries of PDS to choose cash transfers equivalent to MSP + 25% for every kg of grain equivalent or get it in kind (wheat or rice).
Moreover, a concrete road map for crop diversification from paddy to more sustainable high value crops in the Punjab- Haryana belt to be formulated with adequate budgetary resources from Union and respective State Governments.
It wanted the center to "substantially liberalize" the provisions of Essential Commodities Act.
Flexibility for States:
Develop modules to convert existing agricultural produce marketing committees to revenue-generating entities by making them hubs for agri-business with better marketing facilities.
With prior approval of the Centre, some flexibility is given to the States in the implementation and design of the laws
Alternative mechanism for dispute settlement via civil courts ("Farmers Courts" under the Commercial Courts Act, 2015 at the district level) or arbitration mechanism be provided to stakeholders by the state govt
Freeing from "constraining regulations" and take urgent steps towards strengthening agricultural infrastructure, enabling aggregation, assaying and quality sorting of agri-produce through cooperatives and FPOs and closer interaction between farmers and other stakeholders.
So, it has been said that if the report of the committee would have had published before repeal of the laws, farmers would have realized how their income would have had increased (5-25%).
Subject: Economy
Section: Unemployment
Context: The Ministry of Electronics and Information Technology (MeitY) is in talks with select government funded higher education institutions to develop training and education programmes for around 2.5 lakh junior engineers for plant and shop floor management and around 5,000-6,000 research scholars who have at least a PhD.
The programmes which will be NSQF (National Skills Qualifications Framework) compliant, and will be globally certifiable. Unlike in the past, these training programmes will be in part designed by the company which will so to say consume the trainees, and not some advisor who is unaware of the new changes
The NSQF is a nationally integrated education and competency based skill framework that will provide for multiple pathways, horizontal as well as vertical, both within vocational education and vocational training and among vocational education, vocational training, general education and technical education, thus linking one level of learning to another higher level. There are 10 levels in the framework, with the entry level being 1, and the highest level being 10. This will enable a person to acquire desired competency levels, transit to the job market and, at an opportune time, return for acquiring additional skills to further upgrade competencies.