Daily Prelims Notes 22 May 2022
May 22, 2022

Posted by:

OptimizeIAS Team

Category:

DPN

Daily Prelims Notes
22 May 2022
Table Of Contents
1. Raja Ram Mohan Roy: 250th birth anniversary
Subject: Modern History
Section: Personality
Content:
One of the most influential social and religious reformers of the 19th century, Ram Mohan Roy, born on May 22, 1772 in what was then Bengal Presidency's Radhanagar in Hooghly district.
Roy worked in the sphere of women's emancipation, modernizing education and seeking changes to religious orthodoxy.
He was one of the first Indians whose thought and practice were not circumscribed by the constraints of kin, caste and religion.
A polyglot, Roy knew Bengali and Persian, but also Arabic, Sanskrit, and later, English.
His exposure to the literature and culture of each of these languages bred in him a skepticism towards religious dogmas and social strictures.
In particular, he chafed at practices such as Sati, that compelled widows to be immolated on their husband's funeral pyre.
His education had whetted his appetite for philosophy and theology, and he spent considerable time studying the Vedas and the Upanishads, but also religious texts of Islam and Christianity.
He was particularly intrigued by the Unitarian faction of Christianity and was drawn by the precepts of monotheism that, he believed, lay at the core of all religious texts.
Tagore called him a 'Bharatpathik' by which he meant to say that Rammohan combined in his person the underlying spirit of Indic civilisation, its spirit of pluralism, tolerance and a cosmic respect for all forms of life
In 1814, he started the Atmiya Sabha (Society of Friends), to nurture philosophical discussions on the idea of monotheism in Vedanta and to campaign against idolatry, casteism, child marriage and other social ills.
The Atmiya Sabha would make way for the Brahmo Sabha in 1828, set up with Debendranath Tagore, Rabindranath Tagore's father.
He campaigned for the modernisation of education, in particular the introduction of a Western curriculum, and started several educational institutions in the city.
In 1817, he collaborated with Scottish philanthropist David Hare to set up the Hindu College (now, Presidency University).
He followed it up with the Anglo-Hindu School in 1822 and, in 1830, assisted Alexander Duff to set up the General Assembly's Institution, which later became the Scottish Church College.
It was his relentless advocacy alongside contemporaries such as Ishwar Chandra Vidyasagar that finally led to the abolition of Sati under the governor generalship of William Bentinck in 1829.
Roy argued for the property rights of women, and petitioned the British for freedom of the press (in 1829 and 1830)
Roy was given the title of Raja by the Mughal emperor Akbar II.
2. Indian Antarctic Programme (IAP)
Subject: Environment
Section: Climate Change
Context: India's scientific contribution in Antarctica is crucial for advancing knowledge on existing research on climate and geological history in the region, as well as its linkages with the Indian subcontinent.
Concept:
The Indian Antarctic Programme (IAP) is governed by the National Centre for Antarctic and Ocean Research (NCAOR), an autonomous organisation of the Ministry of Earth Sciences, Government of India, leading major scientific research spanning from biological sciences to glaciological, meteorological, and oceanographic research among other areas.
In 1983, India signed the Antarctic Treaty and established its first research base, Dakshin Gangotri, 2,500 kilometres far from the South Pole. As of today, the research stations Maitri (1988) and Bharati (2012) are fully operational.
Antarctic Treaty:
The Antarctic Treaty was signed between 12 countries in Washington on 1st December 1959 for making the Antarctic Continent a demilitarized zone to be preserved for scientific research only.
The twelve original signatories are Argentina, Australia, Belgium, Chile, France, Japan, New Zealand, Norway, South Africa, the Union of Soviet Socialist Republics, the UK and the US.
It entered into force in 1961and has since been acceded by many other nations.
Members – Currently it has 54 parties. India became a member of this treaty in 1983.
Headquarters – Buenos Aires, Argentina.
Major Provisions:
Promoting the freedom of scientific research.
Countries can use the continent only for peaceful purposes.
Prohibition of military activities, nuclear tests and the disposal of radioactive waste.
Neutralising territorial sovereignty, this means a limit was placed on making any new claim or enlargement of an existing claim.
It put a freeze on any disputes between claimants over their territories on the continent.
The Treaty applies to the area south of 60° South Latitude, including all ice shelves, but nothing in the Treaty "shall prejudice or in any way affect the rights, or the exercise of the rights, of any State under international law with regard to the high seas within that area".
The Protocol on Environmental Protection to the Antarctic Treaty was signed in Madrid on October 4, 1991 and entered into force in 1998. It designates Antarctica as a "natural reserve, devoted to peace and science" (Art. 2). Article 3 of the Environment Protocol sets forth basic principles applicable to human activities in Antarctica and Article 7 prohibits all activities relating to Antarctic mineral resources, except for scientific research.
Until 2048 the Protocol can only be modified by unanimous agreement of all Consultative Parties to the Antarctic Treaty. In addition, the prohibition on mineral resource activities cannot be removed unless a binding legal regime on Antarctic mineral resource activities is in force.
Any area, including any marine area, may be designated as an Antarctic Specially Protected Area to protect outstanding environmental, scientific, historic, aesthetic or wilderness values, any combination of those values, or ongoing or planned scientific research.
Any area, including any marine area, where activities are being conducted or may in the future be conducted, may be designated as an Antarctic Specially Managed Area to assist in the planning and co-ordination of activities, avoid possible conflicts, improve co-operation between Parties or minimize environmental impacts.
Requirements:
Antarctic Specially Protected Area
Antarctic Specially Managed Areas

areas kept inviolate from human interference

representative examples of major terrestrial, including glacial and aquatic, ecosystems and marine ecosystems;

areas with important or unusual assemblages of species, including major colonies of breeding native birds or mammals;

the type locality or only known habitat of any species;

areas of particular interest to on-going or planned scientific research;

examples of outstanding geological, glaciological or geomorphological features;

areas of outstanding aesthetic and wilderness value;

sites or monuments of recognized historic value

areas where activities pose risks of mutual interference or cumulative environmental impacts; and

sites or monuments of recognized historic value.
Entry into an Antarctic Specially Protected Area shall be prohibited except in accordance with a permit issued under Article 7. Whereas, Entry into an Antarctic Specially Managed Area shall not require a permit.
Subject: Environment
Section: Biodiversity
Context: "Building a shared future for all life" is the theme of International Day for Biological Diversity for 2022. The theme was chosen to continue developing momentum and support the post-2020 global biodiversity framework at the forthcoming UN Biodiversity Conference (COP15).
Concept:
According to the Global Assessment Report on Biodiversity and Ecosystem Services released in 2019 by the Intergovernmental Science-Policy Platform on Biodiversity and Ecosystem Services (IPBES), the main global drivers of biodiversity loss are climate change, invasive species, over-exploitation of natural resources, pollution and urbanisation.
Intergovernmental Science-Policy Platform on Biodiversity and Ecosystem (IPBES)
It is an intergovernmental organization established to improve the interface between science and policy on issues of biodiversity and ecosystem services.
The IPBES was established by the United Nations, but functions independently.
Formation: 2012.
Headquarters: Bonn, Germany.
Ecosystem Services
Provisioning Services:
Water, food, wood and other goods are some of the material benefits people obtain from ecosystems called ´provisioning services´
Supporting Services
Providing living spaces for plants or animals and maintaining a diversity of plants and animals, are 'supporting services' and the basis of all ecosystems and their services.
Regulating services
Maintaining the quality of air and soil, providing flood and disease control, or pollinating crops are some of the 'regulating services' provided by ecosystems. They are often invisible and therefore mostly taken for granted. When they are damaged, the resulting losses can be substantial and difficult to restore.
Cultural services
The non-material benefits people obtain from ecosystems are called 'cultural services'. They include aesthetic inspiration, cultural identity, sense of home, and spiritual experience related to the natural environment
Because of our collective excesses, the ecological carrying capacity of planet earth has largely been exceeded.
Carrying capacity can be defined as a species' average population size in a particular habitat. The species population size is limited by environmental factors like adequate food, shelter, water, and mates. If these needs are not met, the population will decrease until the resource rebounds.
One of the best mechanisms that has been created to redress this condition is the World Network of Biosphere Reserves, created in 1971 by MAP programme UNESCO.
MAB programme :
It is an intergovernmental scientific programme that aims to establish a scientific basis for enhancing the relationship between people and their environments. It combines the natural and social sciences with a view to improving human livelihoods and safeguarding natural and managed ecosystems, thus promoting innovative approaches to economic development that are socially and culturally appropriate and environmentally sustainable.
The World Network of Biosphere Reserves currently counts 727 sites in 131 countries all over the world, including 22 transboundary sites.
Biosphere Reserves:
Biosphere reserves are places where humans live in harmony with nature, and where there is an effective combination of sustainable development and nature conservation.
In South Asia, over 30 biosphere reserves have been established. The first one was the Hurulu Biosphere Reserve in Sri Lanka, which was designated in 1977. In India, the first biosphere reserve was designated by UNESCO in 2000 within the blue mountains of the Nilgiris (States of Tamil Nadu, Karnataka and Kerala). The network now counts 12 sites, with Panna, in the State of Madhya Pradesh, as the latest included in 2020.
All Biosphere Reserves have developed science-based management plans, where local solutions for sustainable human living and nature conservation are being tested and best practices applied.
All biosphere reserves are internationally recognised sites on land, at the coast, or in the oceans. Governments alone decide which areas to nominate. Before approval by UNESCO, the sites are externally examined. If approved, they will be managed based on an agreed plan, reinforced by routine checks to ensure credibility, but all remain under the sovereignty of their national government.
The priority countries: Bangladesh, Bhutan, and Nepal are on the priority list of UNESCO, because they do not yet have any biosphere reserves.
Biosphere Reserve:
Biosphere Reserve (BR) is a designation by UNESCO for representative parts of natural and cultural landscapes extending over large areas of terrestrial or coastal/marine ecosystems or a combination of both.
Biosphere Reserves tries to balance economic and social development and maintenance of associated cultural values along with the preservation of nature.
It has three-part structure:
Core areas: It is most protected area of a biosphere reserve and free from human interference. It may contain endemic plants and animals.
Buffer Zone: It is around the core areas and help in the protection of core areas. Some activities like restoration, limited tourism, fishing, grazing, research and educational activities etc. are allowed.
Transition zone: It is the zone of cooperation where human activities and conservation are done in harmony (Ex- settlements, croplands, managed forests and areas for intensive recreation and other economic uses etc. are done)

There is total 18 Biosphere reserves in India.
There is total 11 biosphere reserves of India which have been recognized internationally under Man and Biosphere Reserve program:
Nilgiri
Gulf of Mannar
Sunderban
Nanda Devi
Nokrek
Pachmarhi
Similipal
Achanakmar – Amarkantak
Great Nicobar
Agasthyamala
Khangchendzonga (Added in 2018)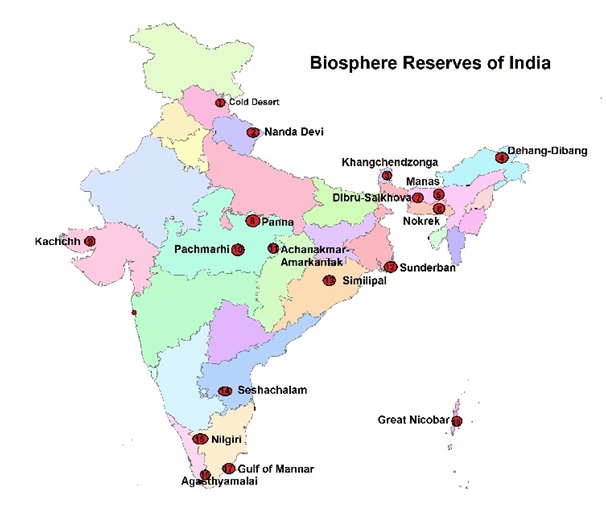 4. Cotton Export and Export price parity
Subject: Economy
Section: Agriculture
Context: Spiralling prices of cotton, resulting in demands by the textile and garment industries to ban exports of the fibre.
Details:
India is the world's second largest cotton producer (after China) and third largest exporter (after the US and Brazil).
High global prices have pushed up domestic prices closer to export parity levels, thus making exports attractive, while simultaneously making imports more expensive.
How much have cotton prices gone up?
Fall in domestic production-This has been largely due to the diminishing benefits from the genetically-modified Bt cotton, as it has become increasingly susceptible to pink bollworm and white-fly insect pest attacks, making it riskier for farmers to grow the crop. Besides, the government does not permit testing or commercialisation of next-generation transgenic breeding technologies.
Rise in the international prices of cotton-The Cotlook 'A' Index price – an average of representative quotes in the Far East destination markets – is currently ruling at 167 cents per pound, up from 92 cents a year ago.
Higher Consumption-Demand has significantly increased, as mills and other users were operating at sub-optimal levels in the past few years.
How justified is the demand for a ban on exports?
Not supported by  present export-import balance-India's cotton exports are actually projected at 40 lb this year, down from the 78 lb of 2020-21.Imports are likely to be higher, given the elimination of import duty on cotton.
Potential of automatic decline-domestic prices already rising to international parity levels, exports would slow down in the natural course.
No potential decline-as crops already sold.
Wrong single to market-as sowing season near.
Concept:
Export Parity Price (EPP) is defined as the price a producer receives or can expect to receive for his/her product/produce when exported, equal to the Freight on Board price minus the cost of getting the product from the farm or factory to the border or destination country. Where a country or a region in a country has a surplus of a product that is exported, the EPP is determined by considering the Import Parity Price or International Benchmark Price of the commodity and other trade factors. The EPP applies only to the quantity that is exported and not to the quantity that is sold domestically.
EPP represents the price which exporters would realize on export of a product. This includes FOB price + Advance License benefit or ALB for duty free import of crude oil pursuant to export of refined products.
The Import Parity Price (IPP) is the price of a product that is imported at the border, which includes international transport costs and tariffs. If a product is cheaper abroad, i.e. the domestic price is higher than the IPP, traders have a strong incentive to import the item.
A comparison of the time series of domestic wholesale prices of the main staple food, import parity prices and import quantities can give an indication whether traders are responsive to price changes.
Thus, Import Parity Price (IPP) – IPP represents the price that importers would pay in case of actual import of product at the respective Indian ports and includes the elements of Free on Board (FOB) price + Ocean Freight + Insurance + Custom Duties + Port Dues, etc.
EPP and IPP together define a range of the possible equilibrium prices for an equivalent domestically produced good.
Subject: Economy
Section: Monetary Policy
The Reserve Bank of India (RBI) on Friday said its board had approved the transfer of ₹30,307 crore as surplus to the Union government for the fiscal year 2021-22, while deciding to maintain the Contingency Risk Buffer at 5.50%.
Concept:
The RBI, established in 1935, operates according to the Reserve Bank of India Act of 1934. The act mandates that profits made by the central bank from its operations be sent to the Centre.
RBI transfers the surplus – that is, the excess of income over expenditure – to the government, in accordance with Section 47 (Allocation of Surplus Profits) of the Reserve Bank of India Act, 1934.
As the manager of its finances, every year the RBI also pays a dividend to the government to help with the finances from its surplus or profit.
A technical Committee of the RBI Board headed by Y H Malegam (2013), which reviewed the adequacy of reserves and surplus distribution policy, recommended a higher transfer to the government.
Mechanism of Surplus transfer:
The Surplus Distribution Policy of RBI that was finalized is in line with the recommendations of the Bimal Jalan committee.
The RBI has decided to set the CBR level at 5.5% of the balance sheet, while transferring the remaining excess reserves to the government.
If CBR is below the lower bound of requirement, risk provisioning will be made to the extent necessary and only the residual net income (if any) transferred to the Government.
Bimal Jalan committee that was formed by the RBI, in consultation with the Government, to review the extant Economic Capital Framework of the RBI:
The panel recommended a clear distinction between the two components of the economic capital of RBI i.e. Realized equity and Revaluation balances.

Revaluation reserves comprise of periodic marked-to-market unrealized/notional gains/losses in values of foreign currencies and gold, foreign securities and rupee securities, and a contingency fund.
Realized equity, which is a form of a contingency fund for meeting all risks/losses primarily built up from retained earnings. It is also called the Contingent Risk Buffer (CBR).

The Jalan committee has given a range of 5.5-6.5% of RBI's balance sheet for Contingent Risk Buffer.
RBI's Earning:
Returns earned on its foreign currency assets, which could be in the form of bonds and treasury bills of other central banks or top-rated securities, and deposits with other central banks.
Interest on its holdings of local rupee-denominated government bonds or securities, and while lending to banks for very short tenures, such as overnight.
Management commission on handling the borrowings of state governments and the central government.
RBI's Expenditure:
Printing of currency notes and on staff,
The commission it gives to banks for undertaking transactions on behalf of the government across the country, and to primary dealers, including banks, for underwriting some of these borrowings.
6. Pricing of petroleum and LPG
Subject: Economy
Section: Monetary Policy
Consumer Price Index (CPI) surged to an eight-year high of 7.79 per cent in April, while producers' inflation based on Wholesale Price Index (WPI) crossed all-time high in the latest series at over 15 per cent in April.
Recently Government took several steps to curb Inflation:
Reduction of the Central Excise Duty on petrol by ₹8 per litre and on diesel by ₹6 per litre. (the reduction has been done in the cess and not in the Basic Excise Duty).
Subsidy on cylinder-Ujjawla beneficiaries will get a subsidy of ₹200 per cylinder for consumption up to 12 cylinders a year.
Reduction of Customs duty on raw materials for plastic, iron and steel.
Pricing of petroleum:
Base price-India imports almost no petrol or diesel. It imports crude. But the price paid on fuel is based largely on import parity price, or the price you would pay if India were to be actually importing petrol or diesel
Oil refiners, who make these products (petrol and diesel) in India, are paid what is called a Refinery Gate Price (RGP) based on the Trade Parity Price (TPP) which is a weighted average of the Import Parity Price (IPP) and the Export Parity Price (EPP). IPP is the price importers would pay if they actually imported the product. So, it includes not just the cost of the fuel itself, but also freight charges, insurance, customs duty and port charges. EPP is what somebody actually exporting the product would get. IPP has an 80% weight and EPP only 20% in the TPP.
Implication-Indian refiners would get this benefit without incurring the duty itself. This partly explains why they have actually become more profitable at a time when their raw material (crude oil) is becoming more expensive.
The Centre charges excise duty on the base price –accounting for 26 per cent and 23 percent of the final price of petrol and diesel, respectively. There are four components of the Central Excise Duty on petrol and diesel.
Basic Excise Duty-Centre levies excise at specific rate , that is, Rs X a litre and States/Union Territories levy at ad valorem, that is, at a percentage of the total value.
Special Additional Excise Duty
Agriculture Infrastructure & Development Cess (AIDC)
Road and Infrastructure cess
Among these four components, money collected through the Basic Excise Duty is part of the Devolution Pool.
The dealer's commission-amounts to another 4 and 3 percent of the selling price of the two petroleum products.
The States levy value-added tax (VAT) -on the cost of petrol and diesel, including excise duty and dealer's commission.
Import Parity Price (IPP) – IPP represents the price that importers would pay in case of actual import of product at the respective Indian ports and includes the elements of Free on Board (FOB) price + Ocean Freight + Insurance + Custom Duties + Port Dues, etc.

Export Parity Price (EPP) – EPP represents the price which oil companies would realize on export of petroleum products. This includes FOB price + Advance License benefit or ALB for duty free import of crude oil pursuant to export of refined products. Consequent to abolition of Customs Duty of Crude oil effective 25.06.2011, the ALB is currently zero.

Trade Parity Price (TPP) – TPP consists of 80% of Import Parity Price and 20% of Export Parity Price.
Pricing of LPG:
The price of LPG is revised in India as per a formula known as import parity price (IPP). The common practice is to revise the price of LPG cylinders on a month-on-month basis.
The IPP is calculated as per Saudi Aramco's LPG price, the world's largest producer. The price includes costs like free on board (FOB) price, ocean freight, custom duties, port charges and insurance cost among other things. The price thus calculated in US dollars is then converted to Indian rupees.
To the international price, charges added domestically include inland freight costs, Oil companies' margins, bottling costs, marketing expenses, dealer commissions and the Goods and Services Tax (GST). The final price thus calculated gives the retail selling price for non-subsidised cooking gas cylinders for consumers across different states.
Many people in India avail subsidies offered by the central government on LPG cylinders. The subsidy amount is subject to change from one month to the next based on the international price of LPG and fluctuations in currency value.
Fluctuations:
An increase in international LPG prices or weakness in the rupee, or both, translates into higher LPG prices in India. 
The international price for LPG fluctuates in accordance with the price of its main raw material, crude oil.
The Refinery Gate Price (RGP) of kerosene sold in the public distribution system is based on IPP.
7. Interoperable cardless cash withdrawal
Subject: Economy
Section: Monetary Policy
The Reserve Bank of India has said all banks, ATM networks and white label ATM operators may provide the option of interoperable cardless cash withdrawal at their ATMs.
Details:
National Payments Corporation of India has been advised to facilitate Unified Payments Interface (UPI) integration with all banks and ATM networks.
While UPI would be used for customer authorisation in such transactions, settlement would be through the National Financial Switch (NFS) or ATM networks.
At present, the facility of card-less cash withdrawal through ATMs is limited only to a few banks.
Interoperable cardless cash withdrawal from ATM:
In the new approach, cash is still withdrawn from ATM machines; the change is — instead of physical debit cards, customers can use UPI-based QR code to withdraw cash. It involves QR code scanning at an ATM through UPI to withdraw cash from any ATM.
Types of ATMs:
White Label ATM – When ATMs are owned and operated by non-bank entities but they are not doing 'outsourcing-contract' from a particular bank.
Brown Label ATM – When banks outsourced the ATM operations to a third party.
Green Label ATM – ATM is provided for Agricultural Transaction.
Orange Label ATM – Provided for Share Transactions.
Yellow Label ATM – Set up for the purpose of E-commerce.
PINK label ATM – Such ATMs are monitored by guards who ensure that only women access these ATMs. The sole purpose of such ATMs is to mitigate the problem of women standing in long queues of ATMs.
Biometric ATM – ATMs which use security features like fingerprint scanner and eye scanner of the customer to access the bank details.
The National Financial Switch is the largest interconnected network of automated teller machines (ATMs) in India. This system was developed by Institute of Development and Research in Banking Technology (IDRBT), Hyderabad.
National Financial Switch (NFS) ATM network having 37 members and connecting about 50,000 ATMs was taken over by NPCI from Institute for Development and Research in Banking Technology (IDRBT) on December 14, 2009. 
Salient Features
NFS has introduced a sub-membership model which enables smaller, regional banks including RRBs and local co-operative banks to participate in the ATM network.
NFS has maintained high standards of application and network uptime of above 99.50% which has helped our member banks ensure enhanced customer experience.
The Dispute Management System (DMS), has benefitted members with high operational efficiency and ease of online transaction life cycle management (chargeback, representation, etc.) in the network apart from being compliant with local regulatory requirements.
NPCI has also tied up with International card schemes like Discover Financial Service (DFS), Japan Credit Bureau (JCB) and China UnionPay International (CUPI) which allows their cardholders to use ATMs connected to the NFS network.
The Fraud Risk Management (FRM) solution is offered as a value added service to monitor transactions (in real time) and to generate alerts or decline the transaction in the NFS network.
Subject: Economy
Section: External Economy
In view of difficulties being faced by exporters in getting payments from crisis-hit Sri Lanka, the RBI on Thursday allowed settlement of trade transactions in Indian rupee outside the Asian Clearing Union (ACU) mechanism.
Details:
In March, the government had guaranteed a term loan of $1 billion extended by State Bank of India to Sri Lanka for financing purchase of essential goods by the island nation from India.
Under the new arrangement, financing of export of eligible goods and services from India would be allowed subject to conditions and whose purchase may be agreed to be financed by SBI under the agreement.
Asian Clearing Union (ACU) mechanism:
The Asian Clearing Union (ACU) was established with its head-quarters at Tehran, Iran, on December 9, 1974 at the initiative of the United Nations Economic and Social Commission for Asia and Pacific (ESCAP), for promoting regional cooperation.
The main objective of the clearing union is to facilitate payments among member countries for eligible transactions on a multilateral basis, thereby economizing on the use of foreign exchange reserves and transfer costs, as well as promoting trade among the participating countries. Thus, it aims:
To facilitate transactional settlement, on a multilateral basis, for the international transactions involved
To ensure the effective the use of currencies used by the participants during the transactions,
To ensure the cooperation among the participants on a monetary basis
To facilitate currency exchange methods among the participants.
Members-The Central Banks and the Monetary Authorities of Bangladesh, Bhutan, India, Iran, Maldives, Myanmar, Nepal, Pakistan and Sri Lanka are currently the members of the ACU.
What is the unit of settlement of ACU transactions?
The Asian Monetary Units (AMUs) is the common unit of account of ACU and is denominated as 'ACU Dollar', 'ACU Euro' and 'ACU Yen', which is equivalent in value to one US Dollar, one Euro and one Japanese Yen respectively.
All instruments of payments under ACU have to be denominated in AMUs. Settlement of such instruments may be made by AD Category-I banks through the ACU Dollar Accounts, ACU Euro Accounts and ACU Yen Accounts, which should be distinct from the other US Dollar, Euro and Japanese Yen Accounts respectively maintained for non ACU transactions.
What are the transactions which are eligible to be settled through the ACU?
for export / import transactions between ACU member countries on deferred payment terms.
not declared ineligible as mentioned below.
What are the payments that are not eligible to be settled through the ACU?
Payments between Nepal and India and Bhutan and India, exception being made in the case of goods imported from India by an importer resident in Nepal who has been permitted by the Nepal Rastra Bank to make payments in foreign exchange. Such payments may be settled outside ACU mechanism; and
Payments that are not on account of export / import transactions between ACU members countries except to the extent mutually agreed upon between the Reserve Bank and the other participants; and
All eligible current account transactions including trade transactions with Iran should be settled in any permitted currency outside the ACU mechanism until further notice.
9. India's ethanol blending policy
Subject: Environment
Section: Pollution
Context: The Union Cabinet recently approved amendments to the National Policy on Biofuels, 2018, to advance the date by which fuel companies have to increase the percentage of ethanol in petrol to 20%, from 2030 to 2025.
The policy of introducing 20% ethanol is expected to take effect from April 1, 2023.
Content:
History of ethanol blending in India
Since 2001, India has tested the feasibility of ethanol-blended petrol whereby 5% ethanol blended petrol was supplied to retail outlets.
In 2002, India launched the Ethanol Blended Petrol (EBP) Programme and began selling 5% ethanol blended petrol in nine States and four Union Territories that was extended to twenty States and four UTs in 2006.
Until 2013-14, however, the percentage of blending never crossed 1.5%.
In 2015, the Ministry of Road Transport and Highways notified that E5 [blending 5% ethanol with 95% gasoline] petrol and the rubber and plastic components used in gasoline vehicles produced since 2008 be compatible with the E10 fuel.
In 2019, the Ministry notified the E10 fuel [blending 10% ethanol with 90% gasoline].
The rubber and plastic components used in petrol vehicles are currently compatible with E10 fuel.
Standards for E20, E85 and even E100 fuel have already been laid. This includes standards for ethanol blended diesel.
Since 2020, India has been announcing its intent to achieve 10% blending by the end of 2022 and 20% blending by 2030.
The Centre has also targeted 5% blending of biodiesel with diesel by 2030.
Effect on Indian Reserves
India's net import of petroleum was 185 million tons at a cost of $55 billion in 2020-21.
Most of the petroleum is used by vehicles and therefore a successful 20% ethanol blending programme could save the country $4 billion per annum, or about ₹30,000 crore.
India's current ethanol production capacity consists of 426 crore litres from molasses-based distilleries, and 258 crore litres from grain-based distilleries.
This is expected to increase to 760 crore litres and 740 crore litres respectively and would suffice to produce 1016 crore litres of ethanol required for EBP and 334 crore litres for other uses.
Effect on engines
When using E20, there is an estimated loss of 6-7% fuel efficiency for four wheelers which are originally designed for E0 and calibrated for E10, 3-4% for two wheelers designed for E0 and calibrated for E10 and 1-2% for four wheelers designed for E10 and calibrated for E20.
Environmental costs of ethanol blending
Because ethanol burns more completely than petrol, it avoids emissions such as carbon monoxide.
However, tests conducted in India have shown that there is no reduction in nitrous oxides, one of the major environmental pollutants.
For India, sugarcane is the cheapest source of ethanol.
On average, a ton of sugarcane can produce 100 kg of sugar and 70 litres of ethanol but that would mean 1,600 to 2,000 litres of water to produce 1 kg of sugar, implying that a litre of ethanol from sugar requires about 2,860 litres of water.
10. Biological Diversity (Amendment) Bill 2021
Subject: Environment
Section: Biodiversity
Context:
Rajya Sabha MP and senior Congress leader Jairam Ramesh has criticised the provisions of the Biological Diversity (Amendment) Bill, 2021 that is currently being reviewed by a Joint Parliamentary Committee (JPC).
Content:
Amendments in the Bill
The Biological Diversity Act, 2002 was framed to give effect to the United Nations Convention on Biological Diversity (CBD), 1992, that strives for sustainable, fair and equitable sharing of benefits arising out of the utilization of biological resources and associated traditional knowledge.
To do this, it formulates a three-tier structure consisting of a National Biodiversity Authority (NBA) at the national level, State Biodiversity Boards (SBBs) at the State level and Biodiversity Management Committees (BMCs) at local body levels.
The primary responsibility of the BMCs is to document local biodiversity and associated knowledge in the form of a People's Biodiversity Register.
The Role Of State Biodiversity Board:
The functions of the State Biodiversity Board is to –
Advise the State Government, subject to any guidelines issued by the Central Government, on matters relating to the conservation of biodiversity, sustainable use of its components and equitable sharing of the benefits arising out of the utilization of biological resources;
Regulate by granting of approvals or otherwise requests for commercial utilization or bio survey and bio utilization of any biological resource by Indians;
Perform such other functions as may be necessary to carry out the provisions of this Act or as may be prescribed by the State Government.
The key mandate of the Biodiversity Management Committees will be to ensure conservation, utilization and equitable sharing of benefits from the biodiversity. The Biodiversity Management Committees shall facilitate preparation of people's Biodiversity Registers at District, Block and Village Panchayat/ Municipality/ Municipal Corporation levels by the respective Biodiversity Management Committees using the process and the format set by the Board.
The amended Bill was drafted in response to complaints by traditional Indian medicine practitioners, the seed sector, and industry and researchers that the Act imposed a heavy "compliance burden" and made it hard to conduct collaborative research and investments and simplify patent application processes.
The text of the Bill also says that it proposes to "widen the scope of levying access and benefit sharing with local communities and for further conservation of biological resources."
The Bill seeks to exempt registered AYUSH medical practitioners and people accessing codified traditional knowledge, among others, from giving prior intimation to State biodiversity boards for accessing biological resources for certain purposes.
Cause of worry
The modifications will exempt AYUSH manufacturing companies from needing approvals from the NBA and thus will go against one of the core provisions of the Act.
The provision of requiring companies to seek the approval of the NBA only at the time of commercialisation, and not when applying for a patent, was of concern.
The Bill also decriminalized violations, such as bio-piracy and made them civil offenses,
There is a lack of data available on the money received from companies and traders for access and benefit-sharing from use of traditional knowledge and resources
11. Project WARDEC – India's upcoming AI-powered wargame centre
Subject: Science & Technology
Section: IT
Context: 'Development of simulation-based training centre in India that will use artificial intelligence to design virtual reality wargames – 'WARDEC'.'
Content: 
WARDEC is a first-of-its-kind simulation-based training centre in India that will use artificial intelligence to design virtual reality wargames in the project.
Artificial Intelligence combined with geospatial analysis can aid in the extraction of useful information from linked devices like radars and autonomous identification systems.
Virtual reality – A computer-generated simulation of a 3D image that enables the person to interact with a digital environment.
VR can also be used more passively, to help treat Post-traumatic stress disorder (PTSD), or provide 'boot camp' experience to new recruits, helping them adapt quickly, and with less anxiety, to military life. Medics can view field surgery and front-line triage, helping them understand and empathise with injured patients.
The Army Training Command on May 13 signed a memorandum of understanding (MoU) with Gandhinagar-based Rashtriya Raksha University (RRU) to develop a 'Wargame Research and Development Centre' in New Delhi.
The RRU, an institute under the Ministry of Home Affairs (MHA), specialises in national security and policing. Located in Gandhinagar's Lavad village, it is an "institute of national importance" – a status granted to it by an Act of Parliament.
The Wargame Research and Development Centre will be used by the Army to train its soldiers and test their strategies through "metaverse-enabled gameplay". The wargame models will be designed to prepare for wars as well as counter-terror and counter-insurgency operations.
Metaverse is a blockchain-based virtual reality platform. It's a 3D open world and digital assets are at its center. Digital assets are the core of the Metaverse ecosystem.
The metaverse platform will allow developers to build anything from VR to AR. It's a collision between the digital and physical worlds.
Gaming metaverse: It refers to shared, persistent digital space for meetings, games and socializing. People there are represented as avatars, usually cartoon-like 3D figures, and roam virtual spaces.
The enemy can ambush you from 361 directions, where 360 sides are around the soldier, and one is above in case there is an airdrop. So, wargame simulation helps the Army think of all possible scenarios.
Slope of terrain, weather, time, air pressure, enemy surveillance reach, reach of artillery, the position of troops, soldier's health and enemy's reaction capabilities are all taken into account by the use of AI
12. Researchers share draft genome sequences of monkeypox virus
Subject: Science & Technology
Section: Disease
Context: 'The draft genome indicates that the virus circulating outside Africa belongs to the West African clade'
Content: Monkeypox is a rare zoonotic disease that is caused by the monkeypox virus, belonging to the Orthopoxvirus genus, which also includes the variola virus (causes smallpox).
Although the natural reservoir of monkeypox remains unknown, rodents and non-human primates may harbor the virus and infect people. It was firstly identified in 1958 when two outbreaks of a pox-like disease occurred in monkeys kept for research purposes and in 1970 in humans in the Democratic Republic of the Congo.
Monkeypox is now endemic in some Central and West African countries, being rarely reported outside Africa. The virus is transmitted from one person to another by close contact with lesions, body fluids, respiratory droplets and contaminated materials
Monkeypox virus (MPV) also known as the Moneypox virus, is a double-stranded DNA, zoonotic virus and a species of the genus Orthopoxvirus in the family Poxviridae. It is one of the human orthopoxviruses that includes variola (VARV), cowpox (CPX), and vaccinia (VACV) viruses.
Draft genome assembly: The genome assembly is just a preliminary result, and more work would need to be done to generate a more complete and accurate version of the genome.
The researchers from Belgium — the Institute of Tropical Medicine, Antwerp, and the University of Antwerp, Antwerp were able to reconstruct 98.9% of the genome.
Phylogenetic analysis is the study of the evolutionary development of a species or a group of organisms or a particular characteristic of an organism.
The researchers have found that the virus now spreading outside Africa belongs to the West African clade.
The phylogenetic analysis of the draft genome indicates that the 2022 virus belongs to the West African clade and is most closely related to viruses associated with the exportation of monkeypox virus from Nigeria to several countries in 2018 and 2019, namely the United Kingdom, Israel and Singapore.
Transmissibility is determined by the infectivity of the pathogen, the contagiousness of the infected individual, the susceptibility of the exposed individual, the contact patterns between the infected individual and the exposed individual, and the environmental stress exerted on the pathogen during transmission.
Monkeypox has been detected in people who have not come in contact with those with monkeypox infection, which suggests that the virus might be spreading silently.
As per the WHO, on May 20, the geographically dispersed nature of the cases across Europe and beyond suggests that transmission may have been ongoing for some time.
If monkeypox can indeed spread asymptomatically then it would make it harder to track the virus.