Daily Prelims Notes 22 October 2022
October 22, 2022

Posted by:

OptimizeIAS Team

Category:

DPN

Daily Prelims Notes
22 October 2022
Table Of Contents
1. Great Indian Bustards now migrating to Pakistan
Subject : Environment
Context:
The recent sighting of three Great Indian Bustards (GIBs) deep in Pakistan's Cholistan desert has given rise to speculation that the endangered birds might have flown across the international border from India's Desert National Park (DNP).
Great Indian Bustards (GIBs): 
The Great Indian Bustard is one of the heaviest flying birds in the world.
Scientific Name: Ardeotisnigriceps
Habitat: Dry grasslands and scrublands on the Indian subcontinent; its largest populations are found in the Indian state of Rajasthan.
GIBs are critically endangered because of lack of protection and rampant hunting.
Distribution:
India, effectively the only home of the bustards, now harbours less than 150 individuals in five States.
Today, its population is confined mostly to Rajasthan and Gujarat. Small populations also occur in Maharashtra, Karnataka and Andhra Pradesh.
It is the State bird of Rajasthan.
Protection Status
Critically Endangered on the IUCN Red List
In Appendix I of CITES,
In Schedule I of the Indian Wildlife (Protection) Act, 1972.
Breeding:
The sewan grass (Lasiurus scindicus) is the grass on which the GIBs use to lay eggs
Around 80 per cent of the GIB's habitat is outside the Desert National Park.
Great Indian Bustards in Pakistan
A Great Indian Bustard spotted in Pakistan's Cholistan reserve.
Though it was not claimed that the GIBs had arrived from India, environmental activists in Jaisalmer district say the birds might have migrated due to their shrinking habitat.
As Rajasthan shares the international border with Pakistan's Sindh and Punjab provinces, it is suspect- ed that the GIBs might have flown across to the neighbouring country's desert amid fears that they could become easy prey for the poachers there.
DESERT NATIONAL PARK (DNP) 
Rajasthan's Desert National Park (DNP), where the GIB's last remnant wild population is found, forming a part of the mighty Thar desert.
It was declared as a National Park in 1981 to protect the habitat of the Great Indian Bustard.
The Thar desert's eastern boundary is characterised by the Aravalli hills, while the western boundary is defined by the fertile Indus plains.
The Great Rann of Kutch forms a sharp border in the south, while the riparian sub-Himalayan plains form the northern limit.
The Desert National Park (DNP) spans a total area of 3162 km2, with 1900 km2 in Jaisalmer and the remaining 1262 km2 in Rajasthan's Barmer district.
The majority of the Thar's arid region's vegetation is classified as thorn forest. Local communities, especially the 'Bishnois,' revere and protect Khejri Prosopis cineraria, which is commonly found.
Conservation project for Great Indian Bustards: 
The GIB is considered India's most critically endangered bird and is protected under the Wildlife Protection Act.
Its population of about 150 in Rajasthan accounts for 95% of its total world population.
The captive breeding of GIBs was taken up in the Desert National Park (DNP) through a project executed by the Dehradun- based Wildlife Institute of India in 2019.
As many as 24 GIB chicks are being reared in DNP by a team supported by the International Fund for Houbara Conservation of United Arab Emirates.
Subject :International Relations
Context:
The German Chancellor says Russia is using 'scorched-earth tactics'.
What are scorched earth tactics?
Scorched earth tactics form part of a military strategy which seeks to destroy anything that could be of use to the enemy, including energy supplies, bridges, provision stores, agricultural fields, road and railway links, etc.
The destruction could be carried out by the enemy, or by the retreating army of a country which does not want invaders to use its resources.
Harming civilians as part of this strategy has been banned under the 1977 Geneva Convention.
According to the Oxford Reference, the term was first used in English in 1937 in a report of the Sino-Japanese conflict.
The strategy seeks to deplete the enemy's resources to sustain warfare, and also break their morale by inflicting heavy hardships on combatants and non-combatants alike.
Over the past week, Russia has rained missiles on Ukraine's cities, destroying civilian infrastructure, including power and water supply lines. As winter approaches, lack of electricity is likely to cause serious suffering.
Experts have commented that the tactic is being used by Russia as on the actual battlefield, its military is experiencing setbacks.
Some past instances of scorched earth tactics:
Scorched earth policy has been part of warfare since ancient times, with the nomad Scythians using the tactics in their war against the Persian Achaemenid Empire led by King Darius the Great (who ruled 522 BCE to 486 BCE).
The nomadic herders Scythians would hide in the steppes after destroying food supplies and poisoning wells.
A notable example of the use of this tactic came during the American civil war in 1864, when Union General William Tecumseh Sherman and his soldiers burnt everything in sight as they marched through Confederate areas.
Russia itself has used scorched-earth tactics before, including in the World Wars. In 1915, the Imperial Russian Army, when retreating from the Imperial German Army, destroyed anything that could serve the invaders for more than 600 miles, including crops, railway lines, and dwellings.
During the Second World War, in 1941, the Russian army again destroyed telegraph networks and electrical and industrial resources when invaded by Germany.
In Indian history:
In India, the armies of Maratha leader Chhatrapati Shivaji were known for their scorched earth tactics.
Some historians have said that while the Maratha leaders looted and burnt enemy towns, they were under orders to not harm civilians or desecrate religious sites.
Financial Action Task Force (FATF) 
Why in the news?
Pakistan is off the 'grey list' of the Financial Action Task Force (FATF) after four years,
Details:
Grey-listing negatively impacts the relationship of the concerned countries with international funders including banks and financial institutions that take note of FATF rankings, as well as existing and potential overseas investors in those countries.
Impact?
Pakistan is no longer subject to FATF's increased monitoring process;
No longer need to work with APG (Asia/Pacific Group on Money Laundering)
No further need to improve its AML/CFT system
Concept:
The Financial Action Task Force (FATF) is commonly referred to as the world's "terrorism financing watchdog".
It is  an inter-governmental body that set standards and promote effective implementation of legal, regulatory and operational measures for combating money laundering, terrorist financing and other related threats to the integrity of the international financial system.

"AML/CFT" is FATF jargon for "Anti-Money Laundering/Combating the Financing of Terrorism".

It was established at the G7 Summit of 1989 in Paris to address loopholes in the global financial system

In the aftermath of the 9/11 terror attack on the U.S., FATF also added terror financing as a main focus area
Later broadened to include restricting the funding of weapons of mass destruction.

The FATF currently has 39 members.
The decision-making body of the FATF, known as its plenary, meets thrice a year
Functions:

It sets standards or recommendations for countries to achieve in order to plug the holes in their financial systems and make them less vulnerable to illegal financial activities
It conducts regular peer-reviewed evaluations called Mutual Evaluations (ME) of countries to check their performance on standards prescribed by it
The reviews are carried out by FATF and FATF-Style Regional Bodies (FSRBs), which then release Mutual Evaluation Reports (MERs).
For the countries that don't perform well on certain standards, time-bound action plans are drawn up

What are FATF's 'grey' and 'black' lists?

While the words 'grey' and 'black' list do not exist in the official FATF lexicon, they designate countries that need to work on complying with FATF directives and those who are non-compliant, respectively
Grey lists:

It includes countries that have, in the assessment of the FATF, failed to prevent international money laundering and terrorist financing, and are, therefore, on a global watchlist for bad behaviour.
The grey countries are designated as jurisdictions under increased monitoring.
These countries have to comply with certain conditions laid down by the FATF, failing which they run the risk of being "black listed" by the watchdog. Their compliance is periodically reviewed by the FATF.
Currently, 23 countries are on the grey list–Among these countries are the Philippines, Syria, Yemen, the United Arab Emirates, Uganda, Morocco, Jamaica, Cambodia, Burkina Faso, and South Sudan, and the tax havens of Barbados, Cayman Islands, and Panama.

Black lists:
It means countries designated as high-risk jurisdictions subject to call for action. In the most serious cases, members are told to apply counter-measures such as sanctions on the listed countries.
Currently, North Korea and Iran are on the black list

What is the impact of the countries that are in the FATF lists?

It makes it hard for countries to get aid from organisations like the International Monetary Fund (IMF), Asian Development Bank (ADB), and the European Union.
It may also affect capital inflows, foreign direct investments, and portfolio flows
Subject : Science and Technology 
Context:
To provide credit to rural consumers, the government is planning to leverage the Regional Rural Banks (RRBs).
Details:
The proposed mandate will require RRBs to go beyond their mainstay of agricultural loans to extending credit for education, housing and even small businesses in rural India.
It  will be part of the Enhanced Access & Service Excellence (EASE) reforms being undertaken by the Centre.

Under the EASE program, RRBs will be guided towards becoming more competitive and business friendly, digitising operations and connecting RRBs with each other.

Providing RRBs a new mandate may serve two purposes: 

It will help them expand their business by leveraging their huge rural network and local understanding,
It will enhance credit access to rural consumers for purposes such as education, housing and micro businesses.
Concept:
The RRBs were established as per the recommendations of the Narasimham Committee to cater to the rural credit needs of the farming and other rural communities.
The Prathama Grameen Bank was the first bank to be established on 02nd October 1975.
The Syndicate Bank became the first commercial bank to sponsor the Prathama Grameen Bank RRB
Regional Rural Banks were established under the provisions of an Ordinance passed on 26 September 1975 and the Regional Rural Banks Act, 1976  to provide sufficient banking and credit facilities for agriculture and other rural sectors.
It  has a market share of 40 percent of the total banking business.
Each RRB in the country has a PSB as its sponsor bank that owns 40 per cent in it – another 25 per cent is owned by the state government, 20 per cent by the government of India and the rest is with the RRB.   .
Regional Rural Banks (RRBs) are government owned scheduled commercial banks of India that operate at regional level in different states of India.
The area of operation is limited to the area notified by the government of India covering, and it covers one or more districts in the State.

They have been created with a view of serving primarily the rural areas of India with basic banking and financial services.
RRBs may have branches set up for urban operations and their area of operation may include urban areas too.

RRBs perform various functions in following heads:

Providing banking facilities to rural and semi –urban areas.
Carrying out government operations like disbursement of wages of MGNREGA workers, distribution of pension etc.
Providing Para-Banking facilities like locker facilities, debit and credit cards, mobile banking, internet banking, UPI etc.
Enhanced Access & Service Excellence (EASE) reforms:
It was launched in January 2018 jointly by the government and PSBs.
It was commissioned through Indian Banks' Association and authored by Boston Consulting Group.
EASE aims to foster new-age reforms in Public Sector Banks (PSBs) to improve profitability, asset quality, customer service and digital capabilities.
The EASE programme sets a common reforms agenda for public-sector banks every year.
It stresses on data analytics, automation, and digitization.

EASE 1.0 report showed significant improvement in PSB performance in resolution of Non-Performing Assets (NPAs) transparently.
EASE 2.0 introduced new reform Action Points across six themes – Responsible Banking; Customer Responsiveness; Credit Off-take, PSBs as UdyamiMitra (SIDBI portal for credit management of MSMEs); Financial Inclusion & Digitalisation; Governance and Human Resource (HR).
Ease 3.0 seeks to enhance ease of banking in all customer experiences, using technology – Dial-a-loan and PSBloansin59 minutes.com. Partnerships with FinTechs and E-commerce companies, Tech-enabled agriculture lending.
EASE 4.0 commits PSBs to tech-enabled, simplified and collaborative banking to further the agenda of customer-centric digital transformation.
EASE 5.0 focus on driving an enhanced digital experience along with data-driven, integrated, and inclusive banking across all banks.
4. What explains Delhi's love affair with palm trees?
Subject :Environment
Context-
Underneath the Lajpat Nagar flyover in South Delhi is a group of newly planted palm trees that are far away from what would have been their natural home – California in the United States.
The species, Washingtoniafilifera, with fan-shaped leaves and a stout trunk, commonly called the 'California fan palm', is the newest addition to the city's greenscape.
The palm trees under the flyover will soon be joined by the Chinese fan palm or Livistona chinensis, a small tree that is native to subtropical parts of China and Japan.
On Lodhi Road, the Chinese fan palm and foxtail palm (native to Australia) are among the species that are being planted.
California fan palm
Scientifically known as Washingtoniafilifera, the desert fan palm, California fan palm, or California palm, is a flowering plant in the palm family Arecaceae, native to the far southwestern United States and Baja California, Mexico.
Growing 15–20 m (49–66 ft) tall by 3–6 m (10–20 ft) broad, it is an evergreen monocot with a tree-like growth habit.
It has a sturdy, columnar trunk and waxy, fan-shaped (palmate) leaves.
Frond of the problem
Palm trees serve a purely ornamental purpose and are only for beautification.
These are usually planted along with other trees that have more of a role to play — like those that give shade.
These palms (California and date) survive in Delhi, but they need proper maintenance.
Experts say the palms don't serve much of an ecological purpose in Delhi.
The purpose of urban plantations is that they should have an ecological function and serve as a filter for air pollutants.
The Washingtonia palm neither adds to the beauty of the landscape nor does it provide an effective filter for air pollutants.
Delhi already has an existing issue with the vilayatikikar or the Prosopis juliflora, a non-native,invasive species planted in Delhi by the British.
Thevilayatikikar, a tree native to Mexico, has taken over much of Delhi's Ridge, suppressing the growth of other, native plants.
juliflora has been included in the Global Invasive SpeciesDatabase (GISD 2010). It has been listed as a noxious weed in all Australian states and in Hawaii.
Description of Vilayatikikar or Prosopis juliflora-
Prosopis julifloratree is native to Mexico.
It is a thorny shrub 3-5 m or tree growing up to 15 m in height.
It has a thick rough grey-green bark that becomes scaly with age.
The plants are often multi-stemmed and furnished with abundant large and very sharp thorns measuring up to 5 cm.
The tree is deeply rooted.
The stems are shaped in a "mild zigzag" way with one or two stout thorns at each turn of the stem.
Leaves are (bipinnatetwice-compound ) with mostly two, sometimes more pairs of pinnae, 6-8 cm long, 12-25 pairs of oblong leaflets per pinna, 6-16 mm long, 1.5-3.2 mm wide.
The flowers are fragrant golden-yellow,dense spikes about 5-10 cm long.
The fruit of P. juliflora is a cylindrical or slightly irregularly curved green pod which turns yellow upon ripening.
It is 10-20 cm long, sweet to taste and contains 10-20 hard oval or elliptic seeds (2.5-7 mm long) that are difficult to extract.
Its roots are able to grow to a great depth in search of water: in 1960, they were discovered at a depth of 53 meters (175 feet) at an open-pit mine near Tucson, Arizona putting them among the deepest known roots.
This plant reproduces through seed.
Uses-
Various Prosopis species have beneficial qualities which include erosion control, shade, fuelwood, building materials, and pods for animal and human consumption in arid and semi-arid regions.
Environmental concern-
The fact that there are clear economic uses for this species but severe negative consequences of P. juliflora invasion makes this a conflict of interest species.
Concern over the tree is it does not let any other tree or shrubs survive around it.
These trees can dry up underground aquifers through their deep-root system, going as far as 20 metres or more in search of water, significantly higher than around 5 metres that native shrubs and trees go.
The tree's canopy is such that it does not let sunlight reach the ground, which also hinders growth of other species.
Some of Delhi's palm trees-
| | | |
| --- | --- | --- |
| Common name | Scientific name | Native to |
| California fan palm | Washingtoniafilifera | California |
| Chinese fan palm | Livistona chinensis | Parts of China, Japan |
| Wild date palm/khajur | Phoenix sylvestris |  India, Sri Lanka |
| Royal Palm | Roystonea regia | Parts of Cuba |
5. Regulations of GM foods in India
Subject :Science and Technology
Context:
In India, all GMOs including GE plants are regulated by the Ministry of Environment, Forest and Climate Change (MoEFCC) as per rules notified under the Environment (Protection) Act, 1986.
All activities related to GMOs and products are regulated as per "Rules for the Manufacture/Use/Import/Export and Storage of Hazardous Microorganisms, Genetically Engineered Organisms or Cells, 1989" (commonly referred to as Rules, 1989) under the provisions of the Environment (Protection) Act, 1986.
Guidelines and protocols are in place for safety assessment of GM foods.
GM foods are also subjected to regulations by the Food Safety and Standards Authority of India (FSSAI) under the Food Safety and Standards Act, 2006.
MoEFCC being the nodal ministry for biosafety regulations has implemented the Phase II Capacity Building Project on Biosafety with support from Global Environment Facility (GEF) through the United Nations Environment Program (UNEP), to strengthen the biosafety management in India.
'Enhancing Public Awareness' is one of the key thrust areas of the project and is essential for
better understanding of the biosafety regulatory framework.
Six competent authorities, their composition and roles have been notified under the Rules, 1989.
The function of these six competent authorities is given in Table 1.
Table 1: Competent Authorities as per Rules, 1989
Statutory committee
Function
Housed at
rDNA Advisory

Committee (RDAC)

Review developments in biotechnology and recommend

appropriate safety regulations for recombinant DNA research,

use and applications

Department of Biotechnology,

Ministry of Science and

Technology

Institutional Biosafety

Committee (IBSC)

Responsible for ensuring adherence to safety guidelines for

experimentation at designated location

All organizations engaged in

activities involving GMOs

Review Committee on

Genetic Manipulation

(RCGM)

Review all ongoing rDNA projects and approve experiments

falling in risk category III and above; also responsible for

bringing out manuals of guidelines for conduct of GMO

research and use

Department of Biotechnology,

Ministry of Science and

Technology

Genetic Engineering

Appraisal Committee

(GEAC)

Authorized to review, monitor and approve all activities

including import, export, transport, manufacture, use or sale of

GMOs and products thereof from environment angle

Ministry of Environment, Forest

and Climate Change

State Biotechnology

Coordination

committee (SBCC)

Monitoring and supervision at state level
Concerned State Governments
District Level

Committee (DLC)

Supervision and compliance at district level
Concerned State Governments
Status of GM crops in India-
India has approved commercial cultivation of only one GM crop, Bt cotton.
No GM food crop has ever been approved for commercial cultivation in the country.
However, confined field trials have been allowed for at least 20 GM crops.
That includes varieties of GM rice which would have improved resistance to insects and diseases, as well as hybrid seed production and nutritional enhancements such as golden rice.
6. How to assess disasters: 8 Indian states adopt global standards
Subject : Environment
Context-
An international framework for assessing losses and damages in the aftermath of a disaster is now being used to evaluate the financial and social cost of local disasters in eight states in India.
The framework helps get recovery and reconstruction efforts right following a disaster.
Post-Disaster Needs Assessment (PDNA) is being done simultaneously in Assam, Himachal Pradesh, Gujarat, Karnataka, Jharkhand, Maharashtra, Odisha and Meghalaya.
What is a PDNA?
The PDNA tool was developed by the UN Development Group, the World Bank and the European Union.
The aim was to develop and use common assessment and recovery planning approaches in post-crisis settings.
The main goal is to assess the full extent of a disaster's impact, define the needs for recovery, and, in so doing, serve as the basis for designing a recovery strategy and guide donors' funding.
Objective: A PDNA looks ahead to restoring damaged infrastructure, houses, livelihoods, services, governance and social systems, and includes an emphasis on reducing future disaster risks and building resilience.
This includes a calculation of the disaster's impact on Gross Domestic Product, the balance of payment and fiscal budget.
Secondly, how this affects the flow of revenue to multiple sectors is evaluated.
For example, the number of farmers' income affected per damaged acre of land and the livelihoods lost.
Overall, a quantitative assessment is additionally done on the social and environmental impact of the disaster.
The Indian PDNA manual of 2019 says that this is not a replacement for the current Relief Memorandum used by states.
PDNA adds a recovery and resilience component to disaster management.
Earlier efforts-
This is not the first time PDNA has been conducted in India.
It was first adopted during the Kerala floods of 2018 and again during the cyclone in Odisha in 2019, both unprecedented disasters.
However, until now, the assessment was only limited to massive disasters that required international funding from the World Bank, the Asian Development Bank and the United Nations, as state capacities were compromised due to the scale of the disasters.
15th Finance Commission provision-
The 15th finance commission report of 2021, for the first time, made a provision for recovery and reconstruction in the national disaster management budget, which is at the core of the PDNA.
The states did not receive international funding to do the current ongoing PDNAs, as they are expected to take the money from the budget.
The State Disaster Risk Management Fund bifurcated the total amount Rs 1,60,153 crore between State Disaster Relief Funds and State Disaster Mitigation Funds.
The former gets 80 per cent (Rs 121,182 crore) and the latter gets (32,030 crore).
There are three more allocations under the SDRF: Response and relief (40 per cent), recovery and reconstruction (30 per cent) and preparedness and capacity-building (10 per cent).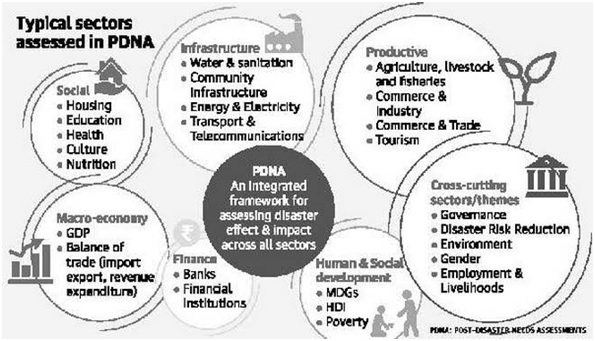 State Disaster Management Authorities' reaction to PDNAs-
As it aims to encourage building back better, sometimes it can have too much idealism.
PDNA may not make a difference in funding as the government will only follow the norms of assistance when dispersing funds.
After calculating the damage as per the norms of assistance, we are asking for Rs 4,416 crore in our memorandum.
But in reality, the cost of losses and damages could be Rs 15,000 crore.
Global scenario-
Globally, of the 55 PDNAs conducted worldwide since 2008, only two droughts — one in Malawi and the other Marshall Islands in 2016 — were of slow-onset disasters.
PDNA makes more sense for states that are flood and cyclone prone
When it comes to drought, the agriculture department, water and irrigation department must work out strategies for mitigation.
7. Researchers study microbial interactions in International Space Station
Subject : Science and Technology
Context-
Researchers at Indian Institute of Technology Madras (IIT Madras) and NASA Jet Propulsion Laboratory (JPL) have studied the interactions between microbes in the International Space Station (ISS).
The present study was motivated by the earlier observations of the dominance of Klebsiella pneumoniae on the surfaces of the ISS.

Klebsiella pneumoniae is a gram-negative, encapsulated, non-motile bacterium found in the environment and has been associated with pneumonia in patient populations with alcohol use disorder or diabetes mellitus.
The bacterium typically colonizes human mucosal surfaces of the oropharynx and gastrointestinal (GI) tract.
Once the bacterium enters the body, it can display high degrees of virulence and antibiotic resistance.
This pathogen has been known to cause pneumonia and other nosocomial infections.

Nosocomial infections-

Also referred to as healthcare-associated infections (HAI), are infections acquired during the process of receiving health care that was not present during the time of admission.
They may occur in different areas of healthcare delivery, such as in hospitals, long-term care facilities, and ambulatory settings, and may also appear after discharge.
HAIs also include occupational infections that may affect
Aim of the study-
The study will help devise strategies for the disinfection of space stations to minimise any potential impact of microbes on the health of astronauts.
The researchers were trying to understand how this bacteria affects the growth of other microbes in the vicinity and the possible implications it could have.
Research findings-
The study found that Klebsiella pneumoniae is beneficial to various other microbes also present on the ISS, especially the bacteria from the Pantoea genus.
However, its presence was hampering the growth of Aspergillus fungus.
This bacterial family includes members like E coli, Salmonella, etc, which are also present in the human gut.
The microbial strains found in this study pose no threat to the space station astronauts, and this study provides evidence on why it's important to monitor the microbiome of the ISS.
8. Climate change could trigger viral spill overs, new pandemics: study
Subject: Environment
Context-
According to new research, an effect of climate change may be seen in an increased risk of a "viral spillover" in some regions, which could trigger new pandemics in coming years.
Climate change could shift the species range of certain viral vectors and reservoirs northward, and the High Arctic zone could become a fertile ground for emerging pandemics.
Viral spill over-
Viruses may infect a new host from a reservoir host (in which it usually resides) by being able to transmit sustainably in a novel host, a process known as viral spillover.
Study of an Arctic lake-
A study from the sediments and soil samples of Lake Hazen in Canada (  the largest High Arctic lake by volume in the world, and the region's largest freshwater ecosystem) found that the chances of a virus moving to a new host increases with runoff from glacier melt.
As temperatures increase, the melting of glaciers increases as well, and there is a greater possibility for previously ice trapped viruses and bacteria to find new hosts.
Disease potential
As long as viruses and their 'bridge vectors' — which act as hosts and lead to their spread— are not simultaneously present in the environment, the likelihood of dramatic events probably remains low.
However climate change leads to shifts in species ranges and distributions, new associations can emerge, bringing in vectors that can mediate viral spillovers.
9. A crisis is brewing in the coffee industry
Subject : Geography
Context: Coffee cultivation is becoming an increasingly loss-making proposition in India
Concept:
Geographical Conditions
Coffee plant requires hot and humid climate with temperatures ranging between 15°C and 28 °C and rainfall from 150 to 250 cm.
Frost, snowfall, high temperature above 30°C and strong sun shine is not good for coffee crop and is generally grown under shady trees.
Dry weather is necessary at the time of ripening of the berries.
Stagnant water is harmful and the crop is grown on hill slopes at elevations from 600 to 1,600 metres above sea level.
Well drained, loams containing good deal of humus and minerals like iron and calcium are ideal for coffee cultivation.
Geographical Distribution
In India, coffee is cultivated in about 4.54 lakh hectares by 3.66 lakh coffee farmers of which 98% are small farmers.
The cultivation is mainly done in the Southern States of India:

Karnataka – 54%
Kerala – 19%
Tamil Nadu – 8%

It is also grown in non-traditional areas like Andhra Pradesh and Odisha (17.2%) and North East States (1.8%).
India is the only country in the world where the entire coffee cultivation is grown under shade, hand-picked and sun dried.
India produces some of the best coffee in the world, grown by tribal farmers in the Western and Eastern Ghats,which are the two major biodiversity hotspots in the world.
Indian coffee is highly valued in the world market and is sold as premium coffee in Europe.
India ranks 6th among the world's 80 coffee producing countries, with some of the finest robusta and some top-notch arabica cultivated.
Nearly 70% of India's coffee is exported, largely to European and Asian markets.
Coffee in India is traditionally grown in the rainforests of the Western Ghats in South India, covering Chikmagalur, Kodagu (Coorg), Wayanad, the Shevaroy Hills and the Nilgiris.
Challenges in coffee industry:
Increasing labour cost
Low productivity
Climate change
Lack of branding
Facts: Top 3 coffee producing countries are Brazil, Vietnam and Colombia