Daily Prelims Notes 23 November 2021
November 23, 2021

Posted by:

OptimizeIAS Team

Category:

DPN

Daily Prelims Notes
23 November 2021
Table Of Contents
1. Panchayat (Extension of the Scheduled Areas) Act 1996
Subject – Polity
Context – The Chhattisgarh government has formulated draft rules under PESA Act, 1996, terming it the Chhattisgarh Panchayat Provisions (Extension of the Scheduled) Rules, 2021.
Concept –
The Panchayat (Extension of the Scheduled Areas) Act, 1996 or PESA, was enacted by the Centre to ensure self-governance through gram sabhas (village assemblies) for people living in scheduled areas.
This particular act extends the provisions of Part IX to the Scheduled Areas of the country. PESA brought powers further down to the Gram Sabha level.
It legally recognises the right of tribal communities, residents of the scheduled areas, to govern themselves through their own systems of self-government, and also acknowledges their traditional rights over natural resources.
In pursuance of this objective, PESA empowers gram sabhas to play a key role in approving development plans and controlling all social sectors.

This includes the processes and personnel who implement policies, exercising control over minor (non-timber) forest resources, minor water bodies and minor minerals, managing local markets, preventing land alienation and regulating intoxicants among other things.

State governments were required to amend their respective Panchayat Raj Acts without making any law that would be inconsistent with the mandate of PESA.
Six states have formed the PESA laws, and Chhattisgarh would become the seventh state if the rules are enacted.
Why are rules under PESA important? What topics will be covered?
PESA rules enable the residents of scheduled areas to strengthen their village-level bodies by transferring power from the government to the gram sabha, a body of all the registered voters of the village.
The powers of gram sabhas include maintenance of cultural identity and tradition, control over schemes affecting the tribals, and control over natural resources within the area of a village.
The PESA Act thus enables gram sabhas to maintain a safety net over their rights and surroundings against external or internal conflicts. Without proper rules, its implementation is not possible as it is an exercise in decentralising the power from institutionalised structures, back to the village residents.
The laws, once formed, will give gram sabhas the power to take decisions not only over their customs and traditionally managed resources, but also on the minerals being excavated from their areas.
The rules state that the gram sabha will have to be kept informed by any and all agencies working in their village, and that the gram sabha has the power to approve or stop the work being done within the village limits.
The rules also give power to the gram sabhas over management of resources over jal, jangal, zameen (water, forest and land), the three major demands of tribals; minor forest produce; mines and minerals; markets; and human resources.
The gram sabha would have the powers to monitor and prohibit the manufacturing, transport, sale and consumption of intoxicants within their village limits.
It also has a duty to maintain peace and resolve conflicts arising in the village, while protecting tribal customs and traditions, and encouraging customs like ghotul.
It has further provided that the Gram Sabha or Panchayats at appropriate level shall have the following powers:
To be consulted on matters of land acquisition and resettlement.
Grant prospecting license for mining lease for minor minerals and concessions for such activities.
Planning and management of minor water bodies.
The power to enforce prohibition or to regulate or restrict the sale and consumption of any intoxicant.
The ownership of minor forest produces.
The power to prevent alienation of land and to restore any unlawfully alienated land of a scheduled tribe.
The power to manage village markets.
The power to exercise control over money lending to scheduled tribes.
While giving such wide-ranging powers to Gram Sabhas or Panchayats, PESA has further given an added responsibility to States that they may endow Panchayats with powers and authority as may be necessary to enable them to function as institutions of self-government.
2. National Adaptation Fund for Climate Change
Subject – Environment
Context – COP-26 and climate change
Concept –
The National Adaptation Fund for Climate Change (NAFCC) is a Central Sector Scheme which was set up in the year 2015-16.
The overall aim of NAFCC is to support concrete adaptation activities which mitigate the adverse effects of climate change.
The activities under this scheme are implemented in a project mode.
The projects related to adaptation in sectors such as agriculture, animal husbandry, water, forestry, tourism etc. are eligible for funding under NAFCC.
National Bank for Agriculture and Rural Development (NABARD) is the National Implementing Entity (NIE).
Implementation
The States/UTs are required to prepare the project proposal in consultation with NIE i.e. NABARD.
The project proposals are required to be approved by the State Steering Committee on Climate Change to be eligible for consideration under NAFCC.
It is the discretion of the State Government to engage any organization to assist in project preparation, as per their requirement.
Subject – Geography
Context – Despite public resistance, the Koraput district administration in Odisha organised a public hearing on Monday (November 22) on environmental issues regarding the mining lease granted to Hindalco Industries Ltd.
Concept –
Bauxite is a sedimentary rock with relatively high aluminium content.
It is the world's main source of aluminium and gallium.

Bauxite is primarily used to produce alumina through the Bayer process.

It is an oxide of aluminium. It is not a specific mineral but a rock consisting mainly of hydrated aluminium oxides.
Bauxite appears dull in luster and is reddish-brown, white, or tan in color.
Australia is the largest producer of bauxite, followed by China.
Bauxite reserves in India
Orissa is the largest producer, which produces about 50% of the total bauxite production of the country.

The main bauxite belt is in Kalahandi, Koraput, and Baragarh districts. This is the largest bauxite-bearing region of the country
Bauxite distribution around the world–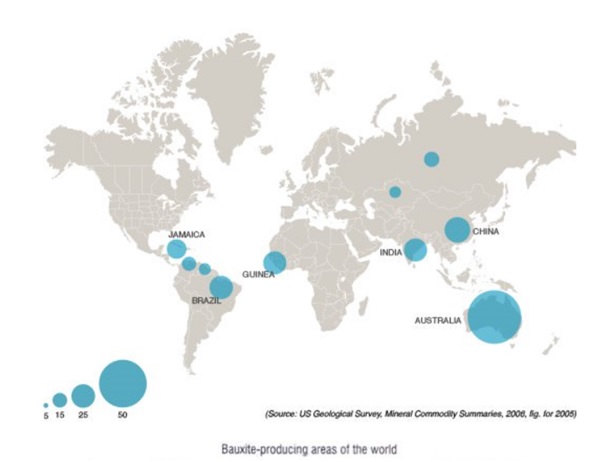 4. Relative Strength Index (RSI)
Subject – Economy
Context – Market falls steepest in 7 months
Concept –
The relative strength index (RSI) is a momentum indicator used in technical analysis that measures the magnitude of recent price changes to evaluate overbought or oversold conditions in the price of a stock or other asset.
The RSI is displayed as an oscillator (a line graph that moves between two extremes) and can have a reading from 0 to 100.

An asset is usually considered overbought when the RSI is above 70% and oversold when it is below 30%.
Put Call Ratio
Put/Call ratio (PCR) is a popular derivative indicator, specifically designed to help traders gauge the overall sentiment (mood) of the market.
A "put" or put option is a right to sell an asset at a predetermined price.
A "call" or call option is a right to buy an asset at a predetermined price.
If traders are buying more puts than calls, it signals a rise in bearish sentiment. If they are buying more calls than puts, it suggests that they see a bull market ahead.
5. Inflation in Developed World
Subject – Economy
Context – For many decades now inflation has remained very low in evolved economies.
Concept –
For many decades now inflation has remained very low in evolved economies. In the 2010- 20 decade, it remained lower than 2 per cent.
In fact, if media reports are to be believed a third of the people who live in the developed world today have not seen average inflation exceed 5 per cent in their life time.
Such being the case, governments and central banks have taken inflation for granted, cut interest rates to almost zero and borrowed heavily to fuel economic growth (rich world's public debt is 125 per cent of their GDP and still no one is alarmed).
Post-pandemic, inflation has started to rise and that is bringing memories of the 1970s when price rise was a major challenge.
How are the central banks in these economies reacting?
The US' Federal Reserve (Fed) is maintaining that this inflation is 'transitory' and caused by supply-chain bottlenecks created by Covid. It expects prices to come down next year once supplies improve.

It has announced that it will reduce its bond purchases that ensured a loose monetary policy.

European Central Bank (ECB) too has taken a similar stand.
Both have ruled out any immediate increase in interest rates to tame inflation as that could smother the fledgling economic recovery post-Covid.
How will high inflation in developed countries impact emerging markets?
Persistent high inflation will force them to increase interest rates and such a move may impact emerging markets including India.
Foreign portfolio investors pumped in as much as $37 billion into India in FY21 alone in search of better returns. Increase in interest rates in the US or Europe will cause some of them to shift to those markets. This could trigger a sell-off in the markets (remember the taper tantrum of 2013!).
Taking advantage of low (or near zero) interest rates Indian companies have borrowed as much as $130 billion in the last five years. These borrowings could turn costly and future external commercial borrowings could become unattractive.
If the dollar outflow is heavy and inflow drops, rupee could come under pressure. A weakened rupee (along with high fuel prices) could fuel domestic inflation and smother economic growth.
6. El Salvador's 'Bitcoin City'
Subject – IR
Context – El Salvador, the only country to recognise Bitcoin as a legal tender, is planning to build an entire city based on the largest crypto currency Bitcoin, President Nayib Bukele announced to a gathering of Bitcoin enthusiasts on Saturday at Bitcoin Week in El Salvador.
Concept –
El Salvador, the only country to recognise Bitcoin as a legal tender, is planning to build an entire city based on the largest cryptocurrency Bitcoin.
El Salvador's "Bitcoin City" would be funded with the issuance of a $1 billion Bitcoin Bond. The city will be located along the Gulf of Fonseca near a volcano.
What is Bitcoin city? How will Salvadorans benefit?
Bitcoin city, as planned by the El Salvador president, will be laid out in a circle (like a coin) and in the city center will be a plaza that will be host to a huge Bitcoin symbol, according to a report by Reuters.
The city will be built near the Conchagua volcano to take advantage of the country's geothermal energy— to power both the city and cryptocurrency mining —an energy consuming process of solving complex mathematical calculations day and night to verify and add crypto coins to the Blockchain network.
It is worth noting that El Salvador is already running a pilot Bitcoin mining venture at another geothermal power plant beside the Tecapa volcano.
According to Bukele, the residents of Bitcoin city won't have to pay any income, property, capital gains or even payroll taxes. The city would be built with attracting foreign investment in mind.
7. Economic and Operational cost of FCI
Subject – Agriculture
Context – In a move probably aimed at reducing handling costs at the initial stage of the rice procurement process, the Centre has asked Punjab to explore the possibility of auctioning paddy in some districts where there is a surplus.
Concept –
Food Corporation of India (FCI) is a Public Sector Undertaking, under the Department of Food & Public Distribution, Ministry of Consumer Affairs, Food and Public Distribution.
FCI is a statutory body set up in 1965 under the Food Corporations Act 1964. It was established against the backdrop of major shortage of grains, especially wheat.
It has primary duty to undertake purchase, store, and move/transport, distribute and sell food grains and other foodstuffs.
Economic Cost to FCI
Economic Cost is the total cost to FCI.
It consists of Acquisition Cost and Distribution Cost.
Acquisition cost consists of Minimum Support Price (MSP) plus procurement incidental cost.

Procurement incidentals are expenses incurred during procurement till the food grains reach the first point of godown.
The elements are state taxes, commission to arathias or societies, bagging materials, mandi labour, transportation from mandi to depot etc.
Methodology followed for Calculation of Economic Cost are based on the GoI circular to apportion the operational cost of FCI into Buffer Carrying cost and Distribution cost.

Distribution cost becomes the part of the Economic cost whereas the Buffer carrying cost becomes the part of Buffer subsidy.
Operational Cost to FCI
Operational Cost of FCI is categorized under the following elements:-
Transportation Cost/Freight
Handling Charges
Storage Losses
Interest cost
Operational Losses
Administration Charges
Food Subsidy –
Food subsidy has three elements.
Consumer subsidy. the difference between Economic cost and Central Issue Price (CIP) under different schemes of GoI multiplied by quantity of food grains issued under different schemes.
Second part is Buffer Carrying Cost. a part of the operation cost apportioned to buffer stock based on excess stock held over and above operation stock (four months sale).
Third part includes subsidy on coarse grains, regularization of operation losses of Food Corporation of India and other non-plan allocation to State Govts.
Subject – Economy
Context – Now selling counterfeit cookers, helmets, or gas cylinders offence
Concept –
The Centre announced launch of a nation-wide campaign to prevent sale of spurious and counterfeit goods that violate Quality Control Orders as its violation is a cognisable offence under relevant sections of the BIS Act.
Selling of such sub-standard helmets, pressure cookers, and cooking gas cylinders can be dangerous, hazardous and risk causing harm to consumers.
Hence, the Central Consumer Protection Authority (CCPA) under the Department of Consumer Affairs, Ministry of Consumer Affairs, Food and Public Distribution announced that violation of compulsory standards has been categorized as a cognisable offence u/s 29 (4) of the BIS Act.
Under Section 2(47) of the Act, unfair trade practice includes promoting the sale, use or supply of any goods which adopts any unfair method or unfair or deceptive practice by falsely representing that the goods are of a particular standard, quality, quantity, grade, composition, style, or model.
Taking suo moto cognizance of unfair trade practice involving sale of such goods to the consumers, the CCPA decided to initiate a country-wide campaign to prevent sale of such spurious and counterfeit goods.
Bureau of Indian standards (BIS) Act 2016
The Bureau of Indian standards (BIS) Act 2016 establishes the Bureau of Indian Standards (BIS) as the National Standards Body of India.
BIS Act allows multiple types of simplified conformity assessment schemes including self-declaration of conformity.
BIS act provides enabling provisions for making hallmarking of precious metal articles mandatory.
The Act enables the Central Government to appoint any authority/agency, in addition to the BIS, to verify the conformity of products and services with the established standard and issue certificate of conformity.
There is a provision for repair or recall, of the products (bearing Standard Mark) that do not conform to the relevant Indian Standard.
Subject – Defence and Security
Context – President gives away Gallantry awards
Concept –
Gallantry Awards have been instituted by the Government of India to honour the acts of bravery and sacrifice of the officers/personnel of the Armed Forces, other lawfully constituted Forces and civilians.
These gallantry awards are announced twice in a year – first on the occasion of the Republic Day and then on the occasion of the Independence Day.
Types of Gallantry awards
Gallantry Awards are classified into two Categories
Gallantry in the Face of Enemy
Gallantry Other than in the Face of Enemy
First Category of Gallantry Awards Comprises of the following Awards
ParamVir Chakra (PVC)
Mahavir Chakra (MVC)
Vir Chakra
Second Category of Gallantry Awards Comprises of the following Awards
Ashok Chakra
Kirti Chakra
Shaurya Chakra
Post-independence, first three gallantry awards namely the ParamVir Chakra, the MahaVir Chakra and the Vir Chakra were instituted by the Government of India on 26th January, 1950 which were deemed to have effect from the 15th August, 1947.
Thereafter, other three gallantry awards i.e. the Ashoka Chakra Class-I, the Ashoka Chakra Class-II and the Ashoka Chakra Class-III were instituted by the Government of India on 4th January, 1952, which were deemed to have effect from the 15th August, 1947. These awards were renamed as the Ashoka Chakra, the Kirti Chakra and the Shaurya Chakra respectively in January, 1967.
Order of precedence of these awards is the ParamVir Chakra, the Ashoka Chakra, the Mahavir Chakra, the Kirti Chakra, the Vir Chakra and the Shaurya Chakra
10. Global State of Democracy Report 2021
Subject – Governance
Context – Authoritarianism is on the rise, says report
Concept –
Released by: International Institute for Democracy and Electoral Assistance
Key findings of the report –
The number of countries moving towards authoritarianism in 2020 was higher than that of countries going towards democracy.
Democratically elected Governments are increasingly adopting authoritarian tactics.
Brazil and India were highlighted as "some of the most worrying examples of backsliding".
India remained in the category of a mid-level performing democracy.
The pandemic has thus had a particularly damaging effect on non-democratic countries.

In non-democratic regimes, the trend was deepening. The year 2020 was the worst on record, in terms of the number of countries affected by deepening autocratisation.
Subject – Economy
Context – Domestic workers' survey kicks of
Concept –
The first All- India Survey on Domestic Workers was flagged off by Labour and Employment Minister Bhupender Yadav.
The survey, being carried out by the Labour Bureau, was aimed at estimating the number of domestic workers at the national and State levels, those engaged in informal employment, and migrant and non-migrant workers; the proportion of domestic workers who stay at their employers' homes and those who do not; the wages of such workers; and other socio-economic factors.
The survey would also include details of the number of households with "live-in and live-out" domestic workers and the average number of workers engaged by various kinds of households.
The questionnaire would include details about the size of the household, religion, social group, monthly consumption expenditure and the nature of the dwelling unit.

Information about the domestic workers, including their age, social group, migrant status, duration of work and type of remuneration, would be collected as well.

The impact of COVID-19 on wages would be a part of the survey in the States and Union Territories.
Context:
The Coalition for Epidemic Preparedness Innovations (CEPI) has today launched a call for proposals to invite funding applications for innovative platform technologies that can be used to develop vaccines and other immunoprophylactics to rapidly respond to future outbreaks of emerging infectious diseases and unknown pathogens, known as "Disease X".
Disease X
Historical Background:
To stop outbreaks from turning into a public health emergencies, the WHO in May 2015 was asked to create an "R&D Blueprint for Action to Prevent Epidemics". This move was considered as it was expected to reduce the time lag between the identification of viral infections and the approval of vaccines/treatments.
A group of global experts — the "R&D Blueprint Scientific Advisory Group" — was then formed by the WHO to draft a shortlist of less than ten "blueprint priority diseases".
It was in February 2018 that Disease X was added to the shortlist as a placeholder as a representation for a "knowable unknown" pathogen — that has the potential to cause a future epidemic.
What is Disease X?
Disease X is a placeholder name that was adopted by the World Health Organization (WHO) in February 2018 on their shortlist of blueprint priority diseases to represent a hypothetical, unknown pathogen that could cause a future epidemic. The WHO adopted the placeholder name to ensure that their planning was sufficiently flexible to adapt to an unknown pathogen (e.g. broader vaccines and manufacturing facilities).
Disease X is the mysterious name given to the very serious threat that unknown viruses pose to human health. Disease X is on a short list of pathogens deemed a top priority for research by the World Health Organization, alongside known killers like SARS and Ebola.
Disease X is definitely not a new disease but a potential disease that is yet to be discovered. Disease X is a placeholder name adopted by the World Health Organization (WHO) in February 2018.
It is not a newly discovered threat, but a hypothetical disease, which could emerge in the future and cause an outbreak/epidemic/pandemic.
The organization mentions "Disease X" on a shortlist of pathogens considered to be a "blueprint priority diseases" for research. "X" in Disease X stands for unexpected.
Disease X represents the knowledge that a serious international pandemic could be caused by a pathogen currently unknown to cause human disease. It was first included in the WHO's list of priority pathogens in 2018. COVID-19 represents the first occurrence of Disease X since its designation was established, emerging much sooner than anticipated.
Need for Disease X?
When there was an Ebola outbreak in 2004 in South Africa, nobody knew about the existence of such a virus and hence everybody was unprepared for it. It emerged as an alien disease that had come to world and killed several people.
Including "Disease X" in its priority list has helped the WHO — and countries the world over — acknowledge and make whatever plans they can for diseases emerging from unidentified sources.
When CEPI was established in 2017 it classified Disease X as a serious risk to global health security, for which the world needed to prepare.
The CEPI's priority diseases include Lassa fever, Middle East Respiratory Syndrome (MERS), Nipah, Ebola, Rift Valley fever and Chikungunya. CEPI also invested in platform technologies that can be used for rapid vaccine development against unknown pathogens (Disease X).
Besides this Disease X, other viruses — some of them now-well-known deadly viruses — on WHO's current priority list are:
Covid-19
Crimean-Congo haemorrhagic fever
Ebola virus disease and Marburg virus disease
Lassa fever
Middle East respiratory syndrome coronavirus (MERS-CoV)
Severe Acute Respiratory Syndrome (SARS)
Nipah and henipaviral diseases
Rift Valley fever
Zika
13. Kerala adoption row: DNA test
Context:
A lady complained against her parents, saying the newborn was forcibly taken and given for adoption and with the connivance of some officials. The baby was brought back from his foster parents in Andhra Pradesh on Sunday as directed by the Child Welfare Committee. It also ordered a DNA test in five days.
What is DNA paternity test?
Deoxyribonucleic acid, or DNA, is the genetic material you inherit from your mother and father. Paternity refers to fatherhood. A DNA paternity test uses DNA, usually taken from a cheek swab, to determine whether a man is the child's biological father.
How accurate is DNA paternity test?
DNA paternity tests are extremely accurate. A test can show with 99.9% accuracy if a man isn't a person's biological father.
Why do people need paternity test?
Establishing paternity can be important for several reasons. It can help:
Gain legal rights to child support, child custody, Social Security benefits and inheritance.
Identify links to genetic conditions that can affect your long-term health.
How DNA test is performed?
There are two equally accurate ways to test for paternity:
Blood tests: The potential father and child give blood samples at a medical office. The facility sends the samples to a lab for analysis.
Cheek swabs: The potential father and child swab the inside of their cheeks for buccal (cheek) cells. You mail the cotton swab applicators to a designated lab. If swabbing takes place in a medical setting, the office sends the samples to a lab.
How is paternity confirmed?
The lab runs a series of tests called DNA sequencing. These tests look for genetic matches between the potential father and child. A match confirms paternity.