Daily Prelims Notes 25 November 2022
November 25, 2022

Posted by:

OptimizeIAS Team

Category:

DPN

Daily Prelims Notes
25 November 2022
Table Of Contents
1. The process of transfer of judges
Subject: Polity
Context:
The Supreme Court Collegium, headed by Chief Justice of India DY Chandrachud, recommended the transfer of seven judges of High Courts.
What does the Constitution say on the transfer of judges:
Article 222 of the Constitution provides for the transfer of High Court judges, including the Chief Justice.
It says the President, after consultation with the Chief Justice of India, may transfer a judge from one High Court to any other High Court.
It also provides for a compensatory allowance to the transferred judge.
This means that the executive could transfer a judge, but only after consulting the Chief Justice of India.
From time to time, there have been proposals that one-third of the composition of every High Court should have judges from other States
What is the current procedure for transfers:
As one of the points made by the Second Judges Case was that the opinion of the Chief Justice of India ought to mean the views of a plurality of judges, the concept of a Collegium of Judges came into being.
In the collegium era, the proposal for transferring a High Court judge, including a Chief Justice, should be initiated by the Chief Justice of India, whose opinion in this regard is determinative.
The consent of the judge is not required. 
All transfers are to be made in public interest, i.e for promoting better administration of justice throughout the country.
For transferring a judge other than the Chief Justice, the Chief Justice of India should take the views of the Chief Justice of the court concerned, as well as the Chief Justice of the court to which the transfer is taking place.
The Chief Justice of India should also take into account the views of one or more Supreme Court judges who are in a position to offer their views in the process of deciding whether a proposed transfer should take place.
In the case of transfer of a Chief Justice, only the views of one or more knowledgeable Supreme Court judges need to be taken into account.
The views should all be expressed in writing, and they should be considered by the Chief Justice of India and four senior-most judges of the Supreme Court, which means, the full Collegium of five.
The recommendation is sent to the Union Law Minister who should submit the relevant papers to the Prime Minister. The Prime Minister then advises the President on approving the transfer.
What is the Supreme Court's view on the issue:
In Union of India vs. SankalchandHimatlalSheth (1977):
The Supreme Court rejected the idea that High Court judges can be transferred only with their consent.It reasoned that the transfer of power can be exercised only in public interest.
It held that the President is under an obligation to consult the CJI, which meant that all relevant facts must be placed before the CJI.
It ruled CJI had the right and duty to elicit and ascertain further facts from the judge concerned or others.
InP. Gupta vs. President of India, 1981 (First Judges Case):-
It considered the validity of the transfer Judges as well as a circular from the Law Ministry.The Ministry had put that additional judge in all High Courts may be asked for their consent to be appointed as permanent judges in any other High Court, and to name three preferences.The Minister's reasoning was that such transfers would promote national integration and help avoid parochial tendencies bred by caste, kinship and other local links and affiliations.
The majority ruled that consultation with the CJIdid not mean 'concurrence' with respect to appointments.
In SCARA Vs Union of India, 1993 (Second Judges Case) :-
In effect, it emphasized the primacy of the executive in the matter of appointments and transfers. However, this position was overruled in the 'Second Judges Case' (1993).
The opinion of the CJI, formed after taking into account the views of senior-most judges, was to have primacy. Since then, appointments are being made by the Collegium.
2. Status of Institute of Eminence
Subject: Polity
Context:
JNU has applied for Institute of Eminence status,
What is Institute of Eminence Scheme:
The Institute of Eminence Scheme was launched for Higher Education Institutions in India in 2017 by UGC.
It aims to identify 10 Public and 10 Private Institutions to be declared as Institute of Eminence (IoE), which will be granted more autonomy, both administratively and academically, and will enjoy better opportunities at the global level.
What are the categories of eligible Institutions:
Three categories of Institutions are identified to be selected as the Institute of Eminence.
Existing Government Educational Institutions – They will receive additional funding up to ₹ 1000 Crore.
Existing Private Higher Educational Institutions – There will be no financial support, but these institutions will be entitled to more autonomy as a special category deemed university.
Greenfield Category Institutes – They would get a 3 year period to establish and operationalise the Institutions. The Empowered Expert Committee will decide about IoE status of the Institution after that period.
What will be the benefit for such institutions:
It will ensure complete autonomy to the selected institutions and facilitate them to grow more rapidly
They will get more opportunity to scale up their operations with more skills and quality improvement so that they become World Class Institutions in the field of education
To achieve the top world ranking, these Institutions shall be provided with
Greater autonomy to admit foreign students up to 30% of admitted students
To recruit foreign faculty up to 25% of faculty strength;
To offer online courses up to 20% of its programmes
To enter into academic collaboration with top 500 in the world ranking Institutions without permission of UGC
Free to fix and charge fees from foreign students without restriction
The flexibility of course structure in terms of number of credit hours and years to take a degree
Complete flexibility in fixing of curriculum and syllabus
Subject: Polity
Context:
Speaking during the 400th birth anniversary of LachitBarphukan, the famed Ahom general and an icon of Assamese nationalism, the Union Home Minister emphasised the importance of rewriting India's history to remove distortions.
Who was  LachitBorphukan:
LachitBarphukan (1622 – 1672) was a commander andBorphukaneone of the 5 patramantris in the Ahom Kingdom.
He is well known for his leadership in the 1671 Battle of Saraighat, which ended a prolonged attempt by Mughal forces to take over the Ahom kingdom, earning him the title 'Assam's Shivaji'.
LachitBarphukan's victory is honoured with a gold medal given every year to the best cadet graduating from the National Defence Academy (NDA).
More about Ahom Kingdom:
The Ahom dynasty (1228–1826) ruled the Ahom kingdom in present-day Assam, India for nearly 598 years.
The dynasty was established by Sukaphaa, a Shan prince of Mong Mao who came to Assam after crossing the Patkai Mountains.
The rule of this dynasty ended with the Burmese invasion of Assam and the subsequent annexation by the British East India Company following the Treaty of Yandabo in 1826.
In external medieval chronicles the kings of this dynasty were called Asam Raja, whereas the subjects of the kingdom called them Chaopha, or Swargadeo
More about Battle of Saraighat (1671):
The battle of Sarai Ghat was one of the most significant warfares in medieval India.
The Battle of Saraighat was a naval battle fought in 1671 between the Mughal Empire led by the Kachwaha king and Raja Ram Singh I, and the Ahom Kingdom led by LachitBorphukan on the Brahmaputra river at Saraighat, Guwahati, Assam.
Although weaker, the Ahom Army defeated the Mughal Army by brilliant uses of the terrain, clever diplomatic negotiations to buy time, guerrilla tactics, psychological warfare, military intelligence and by exploiting the sole weakness of the Mughal forces.
The Battle of Saraighat was the last battle in the last major attempt by the Mughals to extend their empire into Assam.
Though the Mughals managed to regain Guwahati briefly later after a Borphukan deserted it, the Ahoms wrested control in the Battle of Itakhuli in 1682 and maintained it till the end of their rule.
4. Civil Aviation Ministry notifies draft Aircraft Security Rules 2022
Subject: Polity
Context:
The Ministry of Civil Aviation has notified the draft Aircraft Security Rules, 2022.
What was the need for change:
The new rules will supersede the Aircraft Security Rules, 2011 after Parliament passed the Aircraft Amendment Act, 2020 in September 2020, giving statutory powers to the Bureau of Civil Aviation Security (BCAS).
The primary responsibilities of BCAS include laying down standards and measures with respect to the security of civil flights at international and domestic airports in India.
The amendment in Parliament was required after the United Nations aviation watchdog, International Civil Aviation Organisation (ICAO),raised questions about the regulator's functioning without statutory powers.
The Directorate General of Civil Aviation is the regulatory body in the field of Civil Aviation, primarily dealing with safety issues. It is responsible for the regulation of air transport.
Some key provisions in the draft bill.
The BCAS can impose a fine of RS50 lakh to RS1 crore depending on the size of the company on airports and airlines if they fail to prepare and implement a security program, or if they commence operations without seeking a security clearance.
Large airports can also face a penalty of Rs1 crore if they fail to plan the design and layout of the airport in accordance with the National Civil Aviation Security Programme.
Individuals will also face penalties ranging from ₹1 lakh to ₹25 lakh depending on the nature of offence.
The draft rules now authorize airports to engage private security agentsinstead of CISF personnel at "non-core areas" and assign security duties as per the recommendation of the National Civil Aviation Policy, 2016.
5. Russia nuclear icebreaker and militarisation of the Arctic
Subject: International relations
Context:
Recently , President Vladimir Putin touted Russia's Arctic power at a flag-raising ceremony and dock launch for two nuclear-powered icebreakers that will ensure year-round navigation in the Western Arctic.
About the new nuclear-powered icebreakers:
Yakutia: It is 3-metre long with a displacement of up to 33,540 tonnes. It can smash through the ice of up to three metres. It will enter service in 2024.
Rossiya: It is a super-powerful nuclear 209-metre icebreaker. It has a displacement of up to 71,380 tonnes which would be completed by 2027. It will be able to break through ice four metres thick.
Two other icebreakers in the same series, the Arktika and the Sibir, are already in service. Another icebreaker, Chukotka, is scheduled for
These are part of Russia's large-scale, systematic work to re-equip and replenish the domestic icebreaker fleet, to strengthen Russia's status as a great Arctic power.
Where does India stand with respect to the Arctic:
India's engagement with the Arctic dates back to 1920 with the signing of the Svalbard Treaty in Paris.
India is one of the very few countries to set up a permanent station in the Arctic for the purposes of scientific research.
It launched its first scientific expedition to the Arctic in the first week of August, 2007.
Subsequently, India has been sending scientific teams every summer and winter to carry out studies in the Arctic.
Indian studies are primarily focused in the fields of glaciology, hydrochemistry, microbiology, and atmospheric sciences.
The Himadri research station, located in Ny Alesund, Svalbard in Norway, was started in July 2008.
In 2014, India deployed IndArc, a multisensory observatory in Kongsfjorden.
In 2016, India's northernmost atmospheric laboratory was established at Gruvebadet.
It was established to study clouds, precipitation, long-range pollutants, and other background atmospheric parameters.
India has been an observer in the Arctic Council since 2013. Its membership as an observer was renewed in 2019 for another five years.
What is Arctic Council:
The Arctic Council is the leading intergovernmental forum promoting cooperation on common ArcticEstablished by the eight Arctic Statese the countries whose territories fall in the Arctic region through the Ottawa Declaration of 1996.
Member Nations of the Council – Canada, Kingdom of Denmark, Finland, Iceland, Norway, Russian Federation, Sweden and the United States.
What is India's Arctic Policy:
In March 2022, the Indian government unveiled an Arctic policy.
It envisages India's engagement in the Arctic region for climate research, environmental monitoring, maritime cooperation and energy security.
The National Centre for Polar and Ocean Research under the Ministry of Earth Sciences will serve as the nodal agency in implementing the Arctic Policy.
6. Bihar to bring Ganga water to parched town by taping flood water
Subject: Geography
Context:
The Ganga water supply scheme at Rajgir will be inaugurated on November 27 while the one in Gaya and Bodh Gaya will be inaugurated on November 28
More about the project:
The Ganga water supply scheme at Rajgir, Gaya and Bodh Gaya was under the ambitious Ganga Jal Apoorti Yojana or the Ganga water supply scheme (GWSS) under the state's Jal-Jeevan-Hariyali initiative.
This was the country's first-of-its-kind GangajalAapurti Yojana in which the floodwater received in the four monsoon months was stored in huge reservoirs.
The stored water will then be processed and made safe for human consumption before being supplied to the homes of people.
This will be the second major water project in the region after inaugurating India's longest rubber dam 'Gayaji Dam'.
7. International Day for the Elimination of Violence against Women
Subject :International Relations
Context:
The International Day for the Elimination of Violence Against Women will mark the launch of the UNiTE campaign (Nov 25- Dec 10) an initiative of 16 days of activism concluding on the day that commemorates the International Human Rights Day (10 December).
More about  International Day for the Elimination of Violence against Women
The theme for International Day for the Elimination of Violence against Women 2022 is 'UNITE! Activism to end violence against women and girls.'
This day is commemorated in memory of Mirabal sisters who were three political activists from the Dominican Republic. They were brutally assassinated during the Rafael Trujillo dictatorship (1930-1961) in 1960
History of International Day for the Elimination of Violence against Women:
Women Rights Activists have been observing 25 November as a day against gender based violence since 1981.
The Convention on the Elimination of All Forms of Discrimination Against Women (CEDAW) was established by The United Nations General Assembly in 1979.
"Declaration on the Elimination of Violence against Women" was adopted by passing the Resolution 48/104 on 20th December 1993.
International Day for the Elimination of Violence against Women was instituted by United Nations General Assembly (UNGA) in December 1999.
8. France adopts bill to add abortion rights to its constitution
Subject: International Relations
Context:
Lawmakers of the lower house of parliament in France adopted a bill to inculcate abortion rights to the country's constitution.
More about the issue:
Lawmakers in France's lower house of parliament on Thursday adopted a bill to enshrine abortion rights in the country's constitution, the first step in a lengthy and uncertain legislative battle
To be added into the constitution, any measure must be first approved by majorities in the National Assembly and the upper house, the Senate, and then in a nationwide referendum.
Abortion in France was decriminalized under a key 1975 law, but there is nothing in the constitution that would guarantee abortion rights
What are the abortion law in India:
Abortions in India are regulated by the Medical Termination of Pregnancy (MTP) Act, 1971.
Under the law section 3 of the MTP Act 1971, the doctor can perform an abortion in the following conditions:
If the pregnancy would be harmful to the life of the patient or affects her physical or mental health. The doctor will need to consider the circumstances of the patient to figure out if the pregnancy will harm her mental health, on a case to case basis.
If there is a good chance that the child would suffer from physical or mental abnormalities which would leave him or her seriously handicapped.
If pregnancy occurred as a result of a failure of contraception only applicable to married women.
If pregnancy is a result of sexual assault or rape.
Termination of Pregnancy:
If the pregnancy has not exceeded 12 weeks, only one doctor is needed to sign-off.
If the pregnancy has exceeded 12 weeks and is below 24 weeks, two doctors are needed.
The gestation period does not matter if a doctor feels that an immediate abortion must be conducted to save the life of the patient.
The doctor who determines if it is necessary to perform an abortion and performs it needs to be a 'registered medical practitioner' under the law.
In January 2020, the Union Cabinet approved amendments to the MTP Act, allowing women to seek abortions as part of the reproductive right and gender justice.
The amendment raised the upper limit of MTP from 20 weeks to 24 weeks for women including rape survivors, victims of incest, differently-abled women and minors.
9. UNHRC deplores protest crackdown in Iran
Subject: International relations
Context:
India abstained on a resolution adopted by the United Nations Human Rights Council (UNHRC) to set up a fact-finding mission into alleged human rights violations in Iran committed on protesters in the country by state authorities.
More about the resolution:
The resolution was sponsored by Germany and the Netherlands
The Resolution was for setting up a fact-finding mission into alleged human rights violations in Iran committed on protesters in the country by state authorities.
The resolution in the UNHRC was passed, with 25 votes in favour, seven against and 16 abstentions, at a special session of the 47-member human rights body.
More about UNHRC:
The Human Rights Council is an inter-governmental body within the United Nations system responsible for strengthening the promotion and protection of human rights around the globe and for addressing situations of human rights violations and making recommendations on them.
The Council is made up of 47 United Nations Member States which are elected by the UN General Assembly. The Human Rights Council replaced the former United Nations Commission on Human Rights.
The Council was created by the United Nations General Assembly on 15 March 2006 by resolution 60/251. Its first session took place from 19 to 30 June 2006.
India gets re-elected to the UNHRC for 2022-24 for a 6th term from the Asia Pacific region along with  Kazakhstan, Malaysia,Qatar and the United Arab Emirates.
The Office of the High Commissioner for Human Rights (OHCHR) serves as the Secretariat of the Human Rights Council.
OHCHR is headquartered in Geneva, Switzerland
Subject: Polity
Context:
Nirav Modi seeks permission to appeal extradition in UK court.
What is Extradition:
Extradition is the process by which one state, upon the request of another, affects the return of a person for trial for a crime punishable by the laws of the requesting state and committed outside the state of refuge.
The Supreme Court defined extradition as the delivery on the part of one State to another of those whom it is desired to deal with for crimes of which they have been accused or convicted and are justifiable in the Courts of the other State.
Extraditable persons include those charged with a crime but not yet tried, those tried and convicted who have escaped custody, and those convicted in absentia.
When Extradition can be initiated:
An Extradition request for an accused can be initiated in the case of under-investigation, under-trial and convicted criminals.
In cases under investigation, abundant precautions have to be exercised by the law enforcement agency to ensure that it is in possession of prima facie evidence to sustain the allegation before the Courts of Law in the Foreign State.
What is Extradition Procedure in India:
Information about the fugitive criminals wanted in foreign countries is received from the country or through Interpol.
The Interpol wing of the CBI then passes the information to the concerned police departments.
The information is also passed on to the immigration authorities.
Then, action can be taken under the Indian Extradition Act, 1962.
What are the Extradition Laws in India:
In India, the extradition of a fugitive criminal is governed under the Indian Extradition Act, 1962.
This is for both extraditing persons to India and from India to foreign countries.
Section 2(d) of The Indian Extradition Act 1962 defines an 'Extradition Treaty' as a Treaty, Agreement or Arrangement made by India with a Foreign State, relating to the extradition of fugitive criminals which extends to and is binding on, India.
Extradition treaties are traditionally bilateral in character.
Generally, there are five principles which are followed under the treaty:

The extradition applies only to such offences which are mentioned in the treaty.
It applies the principle of dual criminality which means that the offence sought to be an offence in the national laws of requesting as well as requested country.
The requested country must be satisfied that there is a prima facie case made against the offender.
The extradition should be made only for the offence for which extradition was requested.
The accused must be provided with a fair trial.

The Indian Extradition Act, 1962 was substantially modified in 1993 by Act 66 of 1993.
Who is the nodal authority for Extradition in India;
The Consular, Passport & Visa(CPV) Division, of the Ministry of External Affairs, administers the Extradition Act and it processes incoming and outgoing Extradition Requests.
Subject :Economy
The IVCA expert committee asked the government to allow perpetual capital vehicles in order to unlock capital flows from long-term investors.
Concept:
Perpetual fund 
It is also referred to as an endowment fund
It  consists of a sum of money gifted to a charity by a donor who wishes to provide it with a never-ending source of revenue.
The fund is usually named in memory of loved ones or after the donors themselves.
By using only the interest income and never reducing the capital portion of the fund, a charity is assured that a certain amount of support will come its way year after year.
A perpetual capital vehicle
It is a type of investment where capital available or permanent capital is managed for an unlimited period of time.
Under it the funds do not come with the drawdowns, capital calls, exit deadlines and other traditional features of the PE-VC funds that have a fixed fund cycle or life.
Permanent Capital Structures Examples

Real estate investment trusts
Master limited partnerships
Companies that operate, own or finance income-producing real estate and are modeled after mutual funds
Limited partnerships traded publicly on an exchange
Yield cos (companies structured in a way that their operating assets product long term contracts produce steady cash flow)
Public assets management companies
Interval fund ( a type of closed-end fund not trading on the secondary market)
Variable funds such as life insurance and annuities.
Closed-end funds (a mutual fund type)
Subject :Economy
Context:
Sahyadri Farmer Producer Company (FPC) has got the license to set up India's first private agricultural mandi (market) at Dindori, in Nashik district.
Details:
It will be a 100-acre dedicated market space integrated with world-class infrastructure, services from banking to storage, processing, and packaging under one roof, options for offline and online trading, field trade, and ownership of farmers.
Private markets will trigger competition
Concept:
Agriculture produce marketing:
Regulated marketing initiated through Agricultural Produce Marketing Regulation (APMR) Act.
This act was passed by various state governments after independence in the 1950s and 60s.

Agricultural Produce Market Committee (APMC) is a system operating under the State Government since agricultural marketing is a State subject.
 While intra-state trades fall under the jurisdiction of state governments, inter-state trading comes under Central or Federal Government (including intra-state trading in a few commodities like raw jute, cotton, etc.

Under the APMC Act, the states can establish agricultural markets, popularly known as mandis.

The sale of agricultural commodities can occur only in the mandis through auction.
The sales process in mandis is regulated through commission agents (CAs) –arhatiyas, who mediate between the farmers and traders.
The arhatiyas are often a moneylender, supplying seeds, fertilisers and pesticides to farmers on credit. They, then, are forced to sell through him and settle their dues in perpetuity.
Also, mandi fees range from 0.5% to 5% on the value of the sale, while varying across states and commodities.

Agricultural Produce Market Committee (APMC) is a statutory market committee constituted by a State Government in respect of trade in certain notified agricultural or horticultural or livestock products, under the Agricultural Produce Market Committee Act issued by that state government.
APMCs are intended to be responsible for:

ensuring transparency in pricing system and transactions taking place in market area;
providing market-led extension services to farmers;
ensuring payment for agricultural produce sold by farmers on the same day;
promoting agricultural processing including activities for value addition in agricultural produce;
Publicizing data on arrivals and rates of agricultural produce brought into the market area for sale; and
Setup and promote public private partnership in the management of agricultural markets
ensure farmers are safeguarded from exploitation by large retailers, as well as ensuring the farm to retail price spread does not reach excessively high levels.
APMC is also responsible for the regulation of agricultural trading practices.

The National Agriculture Market (NAM) is a pan-India electronic trading portal, which links the existing Agricultural Produce Market Committee (APMC) mandis across the country to form a unified national market for agricultural commodities.
History:
It was in 1886 when India established its first regulated market, Karanja.
In 1887, under the Hyderabad Residency Order, the British government passed their first legislation, the Berar Cotton and Grain Market Act, which empowered British residents to declare any place in the assigned district a market for sale and purchase of agricultural produce and constitute a committee to supervise the regulated markets.
The first farm produce to attract the attention of the government was raw cotton– due to the concern of British rulers to make available the supplies of pure cotton at reasonable prices to the textile mills of Manchester (UK).
The concept of a mandi system was first introduced in 1928, where the Royal Commission on Agriculture wanted regulated markets.
The Punjab Agricultural Produce Markets Act, which sets up APMC in Punjab was initiated in 1939.
In pursuance, the Government of India prepared a Model Bill in 1938 and circulated it to all states; however, it was not until India's independence in 1947 that any progress was really made.
In the 1960s, when India was a newly independent country, many Indian citizens were starving due to food shortages.
The Indian Government decided to go back to the 1928 report and developed a nationwide food marketing system to ensure fair prices, which differs from state to state.
Under this mandi system farmers take their produce to wholesale markets called APMC Mandis to sell their produce to traders through open auctions with transparent pricing.
Thus, organised agricultural marketing came into existence through regulated markets- otherwise referred to as mandis.
Subject : Economy
Context:
ILO's recent policy brief titled 'Skills development and lifelong learning in India- challenges for trade unions' expresses concern over high informal employment in India.
Details:
For workers aged 65 and older, the proportion in informal employment is in excess of 96 per cent, the highest among age groups.
In general, the rates of informal employment tend to be higher among youths (aged 15–24) than for other age groups, except those older than 65 years.
Since 2010, the proportion of informal employment among male youths has remained at more than 90 per cent.
There has been a sharpest fall in informal employment for female youths led to the overall decline in for all youth workers.
India has one of the lowest labour force participation rates in the world and the lack of formal employment opportunities.
Discouragement of people from entering the workforce because of a perceived lack of opportunities will lead to a vicious cycle.
Out of nine in ten workers in India are employed in the informal economy-such workers are often invisible to the system and are at increased risk of exploitation.
While unemployment rates have remained relatively stable, India suffers from chronic youth unemployment– the youth unemployment rate increased to 25 per cent.
The hardest hit by unemployment are youths with advanced educational qualifications highlights the crisis with job creation in the Indian economy
Nearly one-third of youths in India are not in employment, education or training (NEET).
The gender difference among youth NEET is also one of the widest in the world.
The increase in employment under the two  plans (9th and 10th five year Plan) had been due to growth in informal employment.
Informal Sector:
NSSO defines the informal sector enterprises comprising all unincorporated proprietary and partnership enterprises.
'Informal economy' represents enterprises that are not registered, where employers do not provide social security to employees.
Example-It includes farmers, agricultural labourers, owners of small enterprises and people working in those enterprises and also the self-employed who do not have any hired workers.
The informal sector can, therefore, be considered as a subset of the unorganised sector.

National Accounts Statistics (NAS) defines the 'unorganised sector' in addition to the unincorporated proprietary or partnership enterprises, including enterprises run by cooperative societies, trust, private and limited companies.
The Government has taken a number of measures to formalise the informal sector:
Pradhan Mantri RojgarProtsahan Yojana (PMRPY):-

Its objective is to incentivise employers for creation of new employment and also aimed to bring informal workers to the formal workforce.
Under the scheme, Government of India is paying Employer's full contribution i.e. 12% towards Employees' Provident Fund (EPF) and Employees' Pension Scheme (EPS) both (as admissible from time to time) for a period of three years to the new employees through Employees' Provident Fund Organisation (EPFO).
The terminal date for registration of beneficiary through establishment was 31 st March 2019.

Aatmanirbhar Bharat RozgarYojana (ABRY):-

It aims to incentivize employers for creation of new employment along with social security benefits and restoration of loss of employment during COVID-19 pandemic.
This scheme is being implemented through the Employees' Provident Fund Organisation (EPFO).
Under ABRY, Government of India will credit for a period of two years, both the employees' share (12% of wages) and employers' share (12% of wages) of contribution payable or only the employees' share, depending on employment strength of the EPFO registered establishments.

The Unorganised Workers' Social Security Act, 2008 mandates the government to formulate suitable welfare schemes for unorganised workers on matters relating to: (i) life and disability cover, (ii) health and maternity benefits, (iii) old age protection and (iv) any other benefit as may be determined by the Central Government.
The Life and disability cover is provided through Pradhan Mantri Jeevan Jyoti Bima Yojana (PMJJBY) and Pradhan Mantri SurkshaBima Yojana (PMSBY). 
The health and maternity benefits are provided through Ayushman Bharat- Pradhan Mantri Jan Arogya Yojana (AB-PMJAY) which is a universal health scheme.
For old age protection to unorganised sector workers including traders, shopkeepers and self- employed persons, the Government has launched two flagship schemes namely Pradhan Mantri Shram Yogi Maan-DhanYojana (PM-SYM) and National Pension Scheme for Traders, Shopkeeper and Self-Employed Persons (NPS- Traders).
Skill India Mission aims to empower the Indian youth through skill development.

Under the Skill India Mission, the Ministry of Skill Development and Entrepreneurship (MSDE) is implementing its flagship scheme Pradhan Mantra Kaushal Vikas Yojana (PMKVY). PMKVY has two components namely

Short-Term Training (STT) and
Recognition of Prior Learning (RPL)

Apart from these schemes following are also available to the unorganised workers depending upon their eligibility criteria. 

Atal Pension Yojana,
Public Distribution System under National Food Security Act,
Mahatma Gandhi National Rural Employment Guarantee Act,
DeenDayal Upadhyay Gramin Kaushal Yojana,
Pradhan Mantri Awas Yojana,
National Social Assistance Programme,
Gareeb Kalyan Rojgar Yojana,
Mahatma Gandhi BunkarBima Yojana,
DeenDayal Upadhyay Antyodaya Yojana,
PMSVA Nidhi
14. CITES COP19: Two Indian turtles facing high risk of extinction added to list of threatened species
Subject :Environment
Context:
Recent development-
In a step forward towards conservation, two Indian turtle species — the red-crowned roofed turtles (Batagurkachuga) and Leith's soft-shell turtle (Nilssonialeithii) — have made it to the Appendix I (moved from Appendix ll) of the Convention on International Trade in Endangered Species (CITES), ongoing in Panama City.
Earlier in 2019 during the 18th CITES plenary meeting in Geneva, Indian star tortoises were added to Appendix I.
Red-crowned roofed turtle (Batagurkachuga)
Females can grow to a shell length of 56 cm (22 in) and weigh 25 kilograms (55 lb), but males are considerably smaller.
Native to India, Nepal and Bangladesh and known to be widely found in the Ganga and Brahmaputra river basins.
At present in India, the National Chambal River Gharial Sanctuary is the only geographic area where the species is found in substantial numbers.
The male turtle is beautiful and is in high demand in the domestic and international markets.
IUCN Red list- Critically endangered
Leith's soft-shell turtle (Nilssonialeithii)-
Leith's soft-shell turtle is endemic to India.
They inhabit rivers and reservoirs mainly in southern peninsular India, in states like Odisha, Madhya Pradesh, Karnataka, Andhra Pradesh, Kerala, Maharashtra and Tamil Nadu.
Its presence is substantial in the Cauvery, Tungabhadra, Ghataprabha, Bhavani, Godavari and Moyar drainages. 
Although some of these species are found in protected areas, their habitat is under threat.
IUCN Red list- Critically endangered
Major threats for these turtles–
Increasing loss of habitat due to pollution and unchecked urbanisation.
Water extraction and irrigation, leading to irregular flow of upstream dams and reservoirs.
Sand mining and agriculture activities along the Ganga are significantly affecting the sandbars, which are safe nesting areas for the species.
Drowning due to illegal fishing nets, poaching and illegal trade.
There are four species under the genus nilsonia and they are extensively sought in international illegal trade for their high demand in traditional Chinese medicine and soup delicacy.
What is CITES?
CITES was conceptualised in 1963 at a meeting of the (IUCN) International Union For Conservation Of Nature.
It came into force in 1975 and consists of 183 member countries to date that abide by CITES regulations by implementing legislation within their own borders to enforce those regulations.
Located in Geneva, Switzerland, the CITES is administered by the United Nations under its UNEP (United Nations Environment Programme) Wing.
The Convention of Parties to CITES is the supreme decision-making body of the Convention and comprises all its Parties.
India hosted CoP (3rd) in 1981.
Although CITES is legally binding on the Parties, it does not take the place of national laws.
Rather, it provides a framework to be respected by each Party, which has to adopt its own domestic legislation to ensure that CITES is implemented at the national level.
CITES Classification or CITES Appendix
CITES classifies plants and animals into three categories, based on how threatened they are.
Roughly 5,600 species of animals and 30,000 species of plants are protected by CITES against over-exploitation through international trade.
Appendix
Description
Example of species
Appendix l

Species that are in danger of extinction
Commercial trade is prohibited.
Permits are required for import and export.
Trade permitted just for research only if the origin country ensures the trade won't harm the species' chance of survival.

Asiatic lions and tigers (tiger skin trade).
Sea turtles, gorillas, lady slippers orchids (most species), Elephants etc.
Total of 931 species on the list.

Appendix ll

Species that aren't facing imminent extinction but need monitoring so that any trade doesn't become a threat.
Trade permits obtained legally and only if the origin country ensures that its harvesting and trade won't harm the species' chance of survival. 

American Alligators (Alligator skin trade)
Paddlefish, Mahogany, corals, etc.
Total 34,419 species on the list.

Appendix lll

Species that are protected in at least one country.
Regulations for these species vary, but typically the country that requested the listing can issue export permits, and export from other countries requires a certificate of origin.

Honeybadger (medicinal or bushmeat purpose)
Walruses, Map turtles, certain beetles, etc.
Total 147  species on the list.
15. Millets in the mainstream | How Odisha's Kutia Kondh tribe rediscovered a palate for the 'poor man's food'
Subject :Agriculture
Context
In news-
Centre is looking to replicate the "Model of the survival and promotion of millet crop" of  Kutia Kondh tribals of Kandhamal district in Odisha.
Why millet lost its presence-
Padday and other grain's inclusion in the public distribution system replaced millet.
Millet became a subsistence crop, and tribals started growing is to consume only and not to sell.
Tribals, especially from the younger generation, perceived millet as the poor man's food.
It was not easy to harvest the crop. The de-husking of millet involved strenuous labour.
Since there was no market available for the crop, people did not produce more than what they required for their own consumption.
Revival model-
Volunteers identified the Burlang Yatra as the occasion around which they could strategise the revival of millets.
TheBurlang Yatra is a traditional annual festival of the Kutia Kondh tribe where the community, especially the women, worship and exchange seeds through a celebratory mode of songs and dances at the village level.
NIRMAN (an NGO), in collaboration with Millet Network of India (MINI), a forum founded for promotion of millet, started celebrating the Burlang Yatra on a large scale in order to increase awareness about millets.
The exchange of millet seeds was taken up more vigorously.
In a few years, millets staged a comeback to our crop field.
Through this little-known movement, the tribals also managed to revive pulses, oilseed and tubers which are regarded as companion crops.
Two species of the mint family, supposed to belong to the Himalayan belt, have also been identified as traditional crops cultivated by tribals of Kandhamal district.
Odisha government initiative-
In 2017, the Odisha government launched Millet Mission in 2017.
In 2022, almost two lakh farmers in 19 districts are involved in millet cultivation.
About 3.23 lakh quintals of millets have been procured.
The Odisha government has also started celebrating MandiaDibas (Millet Day) on November 10 to popularise the crop.
About Millet 
It is a common term to categorise small-seeded grasses that are often termed Nutri-cereals or dryland-cereals and includes sorghum, pearl millet, ragi, small millet, foxtail millet, proso millet, barnyard millet and Kodo millet, among others.
They are also hardier and drought-resistant crops.
Millets can grow in poor soil conditions with less water, fertiliser and pesticides.
They can withstand higher temperatures, making them the perfect choice as 'climate-smart cereals.
Distribution –
India, Nigeria and China are the largest producers of millets in the world, accounting for more than 55% of the global production.
 For many years, India was a major producer of millets.
However, in recent years, millet production has increased dramatically in Africa.
In India,pearl millet is the fourth-most widely cultivated food crop after rice, wheat and maize.
Millets are available almost across India.
Benefits –
Millets can also help in tackling health challenges such as obesity, diabetes and lifestyle problems as they are gluten-free, have a low glycemic index and are high in dietary fibre and antioxidants.
Millets are Nutri-cereals that are highly nutritious and known to have high nutrient content which includes protein, essential fatty acids, dietary fibre, B-Vitamins and minerals such as calcium, iron, zinc, potassium and magnesium.
It can provide nutritional security and protect against nutritional deficiency, especially among children and women.
It will also be critical for climate change measures in drylands and important for smallholder and marginal farmers.
Concerns /Challenges
The awareness of the benefits of millets is still low and this is the reason for the lesser number of players working on value-added millet products in India.
The main reasons behind the decline are low remuneration, lack of input subsidies and price incentives, subsidised supply of fine cereals through the public distribution system (PDS) and change in consumer preferences and lower demand
The lower demand also means limited supply and higher prices.
In the absence of proper market linkages for forest and agricultural produce, millet consumption is restricted to rural haats, bazaars, tourist spots and festivals.
Government Efforts to Promote Millets Production 
Millets are being promoted through technology dissemination, quality seeds through millet seed hubs, awareness generation, minimum support price and inclusion in PDS.
Efforts are now being done to include the nutrient-rich smaller millets in the mid-day meal schemes in government and government-aided schools in Karnataka and Telangana.
Millet awareness is catching up fast in the urban centres such as Kolkata, Mumbai and Delhi among others.
The Union Agriculture Ministry, in April 2018, declared millets as "Nutri-Cereals", considering their "high nutritive value" and also "anti-diabetic properties".
 2018 was observed as the 'National Year of Millets" and The UN General Assembly adopted an India-sponsored resolution to mark 2023 as the "International Year of Millets".
The Government of India's Millet Mission comes under the National Food Security Mission (NFSM), launched in October 2007.
The Centre's Millet Mission will focus on developing farm-gate processing and empowering farmers through collectives while focusing on value-addition and aggregation of the produce.
16. Road to COP15 Montreal: Cameroon hopes to benefit from its rich biodiversity
Subject :Environment
Context-
Cameroon hopes to draw maximum benefits from biological resources it have preserved for years as the world prepares to convene at the 15th Conference of the Parties (COP15) to the Convention on Biological Diversity (CBD) in Montreal, Canada, from December 7-19, 2022.
About Nagoya Protocol-
The Nagoya Protocol on Access to Genetic Resources and the Fair and Equitable Sharing of Benefits Arising from their Utilization (ABS) is a supplementary agreement to the UN Convention on Biological Diversity (CBD).
It provides a transparent legal framework for the effective implementation of one of the three objectives of the CBD: the fair and equitable sharing of benefits arising out of the utilization of genetic resources.
The Nagoya Protocol on ABS was adopted on 29 October 2010 in Nagoya, Japan and entered into force on 12 October 2014, 90 days after the deposit of the fiftieth instrument of ratification.
It is supplementary to the United Nations Convention on Biological Diversity (UNCBD).
Coverage-
The Nagoya Protocol applies to genetic resources that are covered by the CBD, and to the benefits arising from their utilization.
The Nagoya Protocol also covers traditional knowledge (TK) associated with genetic resources that are covered by the CBD and the benefits arising from its utilization.
Importance-
The Nagoya Protocol will create greater legal certainty and transparency for both providers and users of genetic resources by:
Establishing more predictable conditions for access to genetic resources.
Helping to ensure benefit-sharing when genetic resources leave the country providing the genetic resources
By helping to ensure benefit-sharing, the Nagoya Protocol creates incentives to conserve and sustainably use genetic resources, and therefore enhances the contribution of biodiversity to development and human well-being.
India Signatory to Protocol-
India signed the Nagoya Protocol in 2011 and ratified it in October 2012.
The ratification by India was done at the 11th Conference of Parties (COP) to the CBD, which was conducted in Hyderabad.
Cameron and Access and Benefit Sharing (ABS)-
Cameroon plans to use biodiversity for development and in 2012, came up with a National Strategy on ABS.

The Strategy provided a national vision to develop an ABS legal framework by 2020 to guide the implementation of the Nagoya Protocol in such a way that it benefits the local and indigenous communities.
The benefits coming from the use of those genetic resources would enhance the living conditions of local people and generate income for the state in terms of taxes.

Law No 2021-014 — governing access to genetic resources, their derivatives, traditional knowledge and benefit-sharing — was enacted in July 2021. With this, Cameroon became the second African country to come up with such a legal instrument.
These measures established the terms and conditions governing access to genetic resources, their derivatives and associated traditional knowledge in Cameroon.
Echinops giganteus.
Echinops giganteus is a plant that is used worldwide in the cosmetics and food industries.
It is native to Nigeria, Ethiopia and Tanzania.
The plant is grown mostly in the wild, but there are now efforts at planting it, given the likely financial rewards.
The plant species was inventoried, studied and this eventually led to the company signing an agreement with the government of Cameroon in 2015 to exploit a limited quantity to test the viability of this product.
Hence, for the first time, the wild plant began to be planted in efforts not only to promote it but also as part of the ABS process and restore the ecology of the Mt Bamboutous, where it is mostly grown.
The project encouraged many women to engage in bee farming.
Mondiawhitei-
It is a perennial herbaceous/woody climber belonging to the family Apocynaceae, and as with most members of this family, has milky latex.
Two species of Mondia are recognised, the other being Mondiaecornuta.
Known in some localities as 'gondolosi', in Kenya it is known as 'mukombero', the rootstock is often collected for medicinal use.
It occurs at elevations of 1000 – 1500 m in moist to wet forests, and even in swampy grassland, across Sub-Saharan Africa;
it is recorded from Guinea, Nigeria, Cameroon, the Sudan, Uganda, Kenya, Tanzania, Zimbabwe, Malawi, Mozambique, South Africa, Eswatini, and Angola.
In Kenya its roots are heavily collected, and this often kills the plant.
In 2014, the same company found interest in Mondiawhiteifor its medicinal quality which is endemic to Africa.
This plant, which is endangered, is traditionally used to treat various ailments such as anorexia, stress, bilharzia and sexual dysfunction, as well as for general aches and pains.
The plant is also used as a food flavouring agent due to its vanilla-like odour.
It tastes like a mixture of liquorice and ginger.
Over exploitation is now threatening its very existence and part of the EruDef effort is to get locals to cultivate it.
About Cameroon-
Camroon is a country in west-central Africa.
It is bordered by Nigeria to the west and north; Chad to the northeast; the Central African Republic to the east; and Equatorial Guinea, Gabon and the Republic of the Congo to the south.
Its coastline lies on the Bight of Biafra, part of the Gulf of Guinea and the Atlantic Ocean.
Due to its strategic position at the crossroads between West Africa and Central Africa, it has been categorized as being in both camps.
17. COP19: CITES relaxes restrictions on export of Indian shisham products
Subject :Environment
Context:
In news-
The Convention on International Trade in Endangered Species (CITES)relaxed restrictions on the export of furniture and handicrafts made of North Indian rosewood or shisham (Dalbergia sissoo) from India November 21, 2022.
Earlier, India had sent a proposal for delisting the species to CITES ahead of COP18 held in Sri Lanka.
Shesham-
India has two species of Dalbergia, of which D. latifolia (Indian rosewood) is classified 'vulnerable', while D. sissoo or North Indian rosewood is widely grown.
Dalbergia sissoo is native to the foothills of the Himalayas ranging from Afghanistan in the west to Bihar, India, in the east. It also occurs naturally in Iran.
Common uses of shesham-
Timber
Fuel wood
Traditional medicine (The tree's seed oil and powdered wood are used in the treatment of skin ailments. Dalbergia sissoo may also have efficacy in the treatment of stomach and blood conditions.)
Tooth brushes
Pesticide (An ethanolic extract of the fruits of D. sissoo exhibited molluscicidal effects against eggs of the freshwater snail Biomphalariapfeifferi.)
Construction
Restrictions on shisham export-
The restrictions on export of all shisham products were imposed when CITES added the species to Appendix II of the Convention in 2017.
This dealt a long-term blow to the country's furniture and handicrafts industry.
At present, every consignment of handicrafts and furniture weighing above 10 kilograms requires a CITES permit.
Due to this restriction, exports of furniture and handicrafts made of shisham from India fell to Rs 500-600 crore per year after the listing, from an estimated Rs 1,000 crore per annum before the listing. 
India's demand at CITES-
India wanted D. sissoo or North Indian rosewood to be removed from the CITES Appendix II.
But it was opposed by 55 nations, including countries of the European Union, Canada and Argentina.
What are the relaxed norms for shesham export-
The delisting of the species from Appendix II on India's behest could not happen due to a lack of technology for distinguishing different species of Dalbergia in the finished goods.
Considering India's proposal, the parties and the CITES Secretariatagreed to allow Indian artisans to ship any number of items made of North Indian rosewood, each weighing under 10 kg, without the CITES permit in a single consignment.
It was also agreed upon that only the net weight of timber in the handicraft or furniture will be considered, and all other items like metal, glass or resin will be ignored.
18. CITES COP19 urges parties to remove references to pangolins from 'official pharmacopoeia'
Subject :Environment
Context:
In news-
The 19th Conference of Parties (COP19) to the Convention on International Trade in Endangered Species of Wild Fauna and Flora (CITES) urged countries November 22, 2022, to remove references to parts and derivatives of pangolins "from the official pharmacopoeia" to help save the species.

Pharmacopoeia is an official publication containing a list of medicinal drugs with their effects and directions for their use.
COP19 suggested countries to replace these references with acceptable substitute products that do not threaten the existence of another wild species.
About the pangolin-
Pangolins are scaly anteater mammals and they have large, protective keratin scales covering their skin. They are the only known mammals with this feature.
It uses these scales as armour to defend itself against predators by rolling into a ball when threatened.
Diet:
Insectivore- Pangolins are nocturnal, and their diet consists of mainly ants and termites, which they capture using their long tongues.
Types:
Out of the eight species of pangolin, the Indian Pangolin (Manis crassicaudata) and the Chinese Pangolin (Manis pentadactyla) are found in India.
Difference:
Indian Pangolin is a large anteater covered by 11-13 rows of scales on the back.
A terminal scale is also present on the lower side of the tail of the Indian Pangolin, which is absent in the Chinese Pangolin.
Habitat:
Indian Pangolin:

It is widely distributed in India, except the arid region, high Himalayas and the North-East.
The species is also found in Bangladesh, Pakistan, Nepal and Sri Lanka.

Chinese Pangolin:

It is found in the Himalayan foothills in Eastern Nepal, Bhutan, Northern India, North-East Bangladesh and through Southern China.
Threats to Pangolins in India:
Hunting and poaching for local consumptive use (e.g. as a protein source and traditional medicine) and international trade for its meat and scales in East and South East Asian countries, particularly China and Vietnam.
They are believed to be the world's most trafficked mammal.
Conservation Status:
Wildlife Protection Act, 1972: Schedule I
IUCN Red List: Endangered

Chinese Pangolin is 'critically endangered'

CITES: Appendix I
Nandankanan Zoological Park
It is 15 kms from Odisha's capital, Bhubaneswar. It was inaugurated in 1960.
First zoo in the country to become a member of the World Association of Zoos & Aquariums (WAZA).
WAZA is the global alliance of regional associations, national federations, zoos and aquariums, dedicated to the care and conservation of animals and their habitats around the world.
It is recognized as a leading zoo for the breeding of the Indian pangolin and white tiger.
Leopards, mouse deer, lions, rats and vultures are also bred here.
It was the world's first captive crocodile breeding centre, where gharials were bred in captivity in 1980.
The State Botanical Garden of Nandankanan is one of the pioneering plant conservation and nature education centres of Odisha.
Subject :Environment
Context:
In news-
Red-rumped agouti are being traded even more than the listed species in various conventions.
Red-rumped agouti
The red-rumped agouti (Dasyprocta leporina), also known as the golden-rumped agouti, orange-rumped agouti or Brazilian agouti, is a species of agouti from the family Dasyproctidae.
Distribution
It is native to northeastern South America, where found in Venezuela, Guyana, Suriname, French Guiana, northeastern Brazil, Trinidad and Tobago and Saint Lucia in the Caribbean.
It has also been introduced to the U.S. Virgin Islands, Grenada, and Dominica.
Habitat
It is found in a wide range of forests, including rainforest and secondary forest.
Diet
Food mostly consists of seeds, pulp, leaves, roots and fruits.
They also feed on insect larvae when plant resources are low.
They are known to feed on and disperse Astrocaryumaculeatissimum seeds, as well as Hymenaeacourbaril seeds.
Other unlisted species which are found to be traded more than those of listed species–
Linnaeus's two-toed sloth (Choloepus diductylus)
The Caribou (Rangifer tarandus)
Asian or Chinese water dragon (Physignathuscocincinus)
Russian tortoise (Testudo Horsfieldii)
20. Indian team in Argentina to scout for lithium deals
Subject :Geography
Context:
India has sent a team of three geologists to Argentina "to assess potential lithium deposits" and possible acquisition opportunities in the Latin American nation.
The team consists of-
The team comprisingone geologist each from Mineral Exploration Corporation Ltd (MECL), KABIL (KhanijBidesh India Ltd) and the Geological Survey of India (GSI) has been sent to the Argentinian province of Catamarca.
Based on their feasibility report, another team would be sent to the province for carrying out possible commercial negotiations.
Feasibility study would cover aspects-

determination of lithium resource,
deciding on whether mining would be commercially viable or not.
to find out if the resources are worth investing or not at all.
Properties of Lithium:
It is a chemical element with the symbol Li.
It is a soft, silvery-white metal.
Under standard conditions, it is the lightest metal and the lightest solid element.
It is highly reactive and flammable, and must be stored in mineral oil.
It is an alkali metal and a rare metal.
The alkali metals consist of the chemical elements lithium, sodium, potassium, rubidium, caesium, and francium.
Together with hydrogen they constitute group 1, which lies in the s-block of the periodic table.
Rare Metals (RM) include Niobium (Nb), Tantalum (Ta), Lithium (Li), Beryllium (Be), Cesium (Cs) etc. and Rare Earths (RE) include Lanthanum (La) to Lutetium (Lu) besides Scandium (Sc) and Yttrium (Y).
These metals are strategic in nature with wide application in the nuclear and other high tech industries such as electronics, telecommunication, information technology, space, defense etc.
Uses:
Lithium metal is used to make useful alloys.
For example, with lead to make 'white metal' bearings for motor engines, with aluminium to make aircraft parts, and with magnesium to make armour plates.
In Thermonuclear reactions.
To make electrochemical cells. Lithium is an important component in Electric Vehicles, Laptops etc.
Countries with Largest Reserves:
Chile> Australia> Argentina
'Lithium triangle' countries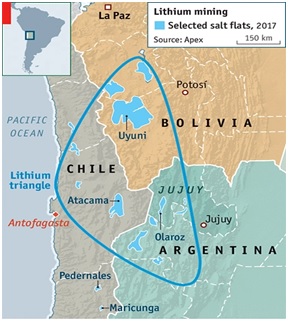 Lithium in India:
Researchers at the Atomic Minerals Directorate (under India's Atomic Energy Commission) have estimated lithium reserves of 14,100 tonnes in a small patch of land surveyed in Southern Karnataka's Mandya district recently.
Also to be India's first ever Lithium deposit site found.
Other Potential Sites in India:
The major mica belts in Rajasthan, Bihar, and Andhra Pradesh.
Pegmatite (igneous rocks) belts in Odisha and Chhattisgarh.
Brines of Sambhar and Pachpadra in Rajasthan, and Rann of Kachchh in Gujarat.
Lithium Production in Stars:
Scientists from the Indian Institute of Astrophysics (IIA) have provided evidence for the first time that Lithium (Li) production is common among low mass Sun-like stars during their Helium (He) core burning phase.
Lithium demand-
While Australia is among the top six producers on the mineral globally. The other five are Bolivia, Argentina, Chile, the USA and China.
Demand – globally as well as in India — is being driven by a shift towards electric vehicles (EVs).
Globally, consumption is expected to rise from 500,000 tonnes in 2021 to 3-4 million tonnes as per various trade reports.
Boom in Argentina
Lithium is found in cedemine rock formation and in brine form which is called salar in Argentina, Bolivia and Chile.
The other alternative is liquid form.
Last year, Argentina and Chile produced about 30 per cent of the world's lithium.
The three nations, considered as the 'lithium trinity', together account for over 50 per cent of the world's resource.
In South America, lithium is typically extracted from the salt flats by pumping brine into ponds and processing the lithium salts that crystallise once the water has evaporated.
It requires time and investment to set up, but thereafter production is cheaper than the hard-rock mining practiced in Australia.
Subject :Environment
Regenerative agriculture is a system of farming principles and practices that seeks to rehabilitate and enhance the entire ecosystem of the farm by placing a heavy premium on soil health with attention also paid to water management, fertilizer use, and more.
It is a method of farming that improves the resources it uses, rather than destroying or depleting them.
Benefits:
Regenerative agriculture practices increase soil biodiversity and organic matter, leading to more resilient soils that can better withstand climate change impacts like flooding and drought.
Healthy soils lead to strong yields and nutrient-rich crops.
It also diminishes erosion and runoff, leading to improved water quality on and off the farm.
Importantly, regenerative agriculture practices also help fight the climate crisis by pulling carbon from the atmosphere and sequestering it in the ground.
Subject :Environment
Organic farming is an agricultural system that uses organic fertilizers such as green manure, compost manure, bone meal, etc., and gives emphasis on the techniques such as companion planting and crop rotation.
This system of agriculture production combines biodiversity with healthy practices that lead to preserving natural resources. Organic farming is expected to become INR 75000 crore market by 2025. 
Characteristics-
Protecting the fertility of soils by providing organic matter levels, boosting soil biological activity, and careful mechanical intervention.
Providing nutrients to the crop indirectly by using relatively insoluble organic sources.
disease, weed, and pest control depend majorly on the natural predators, crop rotations, organic manuring, diversity, limited thermal, resistant varieties, and chemical, and biological intervention.
Conservation of natural habitats and wildlife, and giving careful attention to the impact of the farming system on the environment.
Meeting nitrogen self-sufficiency by using biological nitrogen fixation, legumes, and also effective recycling of the organic materials.
Components-
Selection of variety
Manage soil health
Water management
Maintain genetic diversity
Weed management
Pest and disease management
Livestock management
Nutrient management
Types of Organic Farming
Integrated organic farming includes the combination of nutrients management and pest management to achieve ecological demands and requirements.
Pure organic farming is avoiding all the unnatural chemicals. In this process, all fertilizers and pesticides are obtained from only natural sources such as blood meal and bone meal.
Subject :Environment
Biodynamic agriculture is a form of alternative agriculture based on pseudo-scientific and esoteric concepts initially developed in 1924 by Rudolf Steiner (1861–1925).
It was the first of the organic farming movements.
It treats soil fertility, plant growth, and livestock care as ecologically interrelated tasks, emphasizing spiritual and mystical perspectives.
It emphasizes the use of manures and composts and excludes the use of synthetic (artificial) fertilizers, pesticides and herbicides on soil and plants.
Methods unique to the biodynamic approach include its treatment of animals, crops, and soil as a single system, an emphasis from its beginnings on local production and distribution systems, its use of traditional and development of new local breeds and varieties.
Some methods use an astrological sowing and planting calendar.
Biodynamic agriculture uses various herbal and mineral additives for compost additives and field sprays.
No difference in beneficial outcomes has been scientifically established between certified biodynamic agricultural techniques and similar organic and integrated farming practices. Biodynamic agriculture is a pseudoscience as it lacks scientific evidence for its efficacy because of its reliance upon esoteric knowledge and mystical beliefs.
As of 2020, biodynamic techniques were used on 251,842 hectares in 55 countries, led by Germany, Australia and France.[10] Germany accounts for 41.8% of the global total;[11] the remainder average 1,750 ha per country.
Biodynamic methods of cultivating grapevines have been taken up by several notable vineyards.
There are certification agencies for biodynamic products, most of which are members of the international biodynamics standards group Demeter International.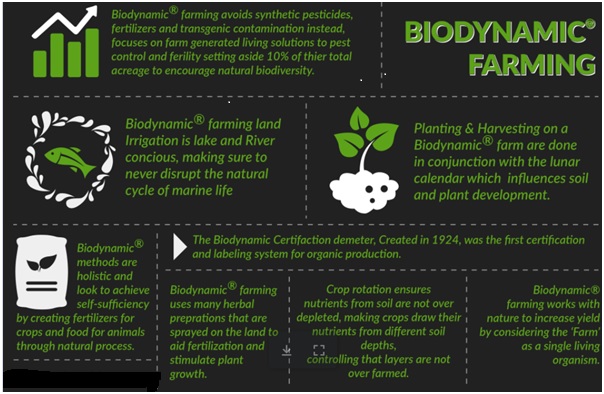 24. Agroecology or Agroecological farming-
Subject :Environment
Agroecology is the study of ecological processes applied to agricultural production systems.

Application of ecological principles to agroecosystems can help in developing novel management approaches and techniques in agriculture systems.
The field of agroecology is not associated with any one particular method of farming, whether it be organic, integrated, or conventional, intensive or extensive. However, it has much more in common with organic and integrated farming.

Agroecology is not against the use of technology in agriculture but assesses how, when, and if technology can be used in conjunction with natural, social and human assets.

It recognizes that there is no universal formula or recipe for the success and maximum well-being of an agroecosystem and is context- or site-specific.

Agroecology is not defined by certain management practices, instead, it studies questions related to the four system properties of agroecosystems:
productivity,
stability,
sustainability and
equitability
Agroecologists see all four properties as interconnected and integral to the success of an agroecosystem and study them through an interdisciplinary lens,

using natural sciences to understand elements of agroecosystems as well as
using social sciences to understand the effects of farming practices on rural communities, economic constraints to developing new production methods, or cultural factors determining farming practices.

Agroecologists do not limit themselves to the study of agroecosystems at any one scale: gene- organism- population- community- ecosystem- landscape- biome, field- farm- community- region- state- country- continent- global.
Benefits of Agroecology-
It provides a robust set of solutions to the environmental and economic pressures facing agriculture today.
The current industrial food system has gone off the rails, increasingly dependent on health-harming pesticides and other chemical inputs that degrade soil, threaten pollinator populations and pollute water.
By shifting farming policies and practices to embrace agroecology, we can create a food system to sustain this and future generations — one rooted in productivity, resilience, equity and sustainability.
Agroecological farming can double food production within ten years without harming the environment.
Agroecology recognizes the multifunctional dimensions of agriculture – which not only produces food, jobs and economic well-being but also creates cultural, social and environmental benefits.
Agroecology also protects and provides ecosystem services like pollination, natural pest control, nutrient and water cycling and erosion control.
Agroecological farming has been shown to-
Increase ecological resilience, especially with respect to volatile weather conditions;
Improve health and nutrition through more diverse, nutritious and fresh diets and reduced incidence of pesticide poisonings and pesticide-related diseases;
Conserve biodiversity and natural resources such as soil organic matter, water, crop genetic diversity and natural enemies of pests;
Improve economic stability with more diverse sources of income, the spread of labour needs and production over time, and reduced vulnerability to commodity price swings; and
Mitigate effects of climate change through reduced reliance on fossil fuels and fossil fuel-based agricultural inputs, increased carbon sequestration and water capture in soil.
Subject :Environment
It can be defined as a "chemical- free farming and livestock based ". Soundly grounded in agro-ecology, it is a diversified farming system that integrates crops, trees and livestock, allowing the optimum use of functional biodiversity.
It holds the promise of enhancing farmers' income while delivering many other benefits, such as restoration of soil fertility and environmental health, and mitigating and/or reducing greenhouse gas emissions.
This farming approach was introduced by Masanobu Fukuoka, a Japanese farmer and philosopher, in his 1975 book The One-Straw Revolution.
It builds on natural or ecological processes that exist in or around farms. Internationally, Natural Farming is considered a form of regenerative agriculture—a prominent strategy to save the planet.
It has the potential to manage land practices and sequester carbon from the atmosphere in soils and plants, where it is actually useful instead of being detrimental.
In India, Natural farming is promoted as Bhartiya Prakritik Krishi Paddhati Programme (BPKP) under Paramparagat Krishi Vikas Yojana (PKVY).
BPKP is aimed at promoting traditional indigenous practices which reduce externally purchased inputs.
Natural Farming, as the name suggests, is the art, practice and, increasingly, the science of working with nature to achieve much more with less.
Difference between Organic farming and natural farming-
| | |
| --- | --- |
| Organic Farming | Natural Farming |
| In organic farming, organic fertilizers and manures like compost, vermicompost, cow dung manure, etc. are used and added to farmlands from external sources. | In natural farming, neither chemical nor organic fertilizers are added to the soil. In fact, no external fertilizers are added to soil or given to plants whatsoever. |
| Organic farming still requires basic agro practices like plowing, tilting, mixing of manures, weeding, etc. to be performed. | In natural farming, decomposition of organic matter by microbes and earthworms is encouraged right on the soil surface itself, which gradually adds nutrition in the soil, over the period. |
| Organic farming is still expensive due to the requirement of bulk manures, and it has an ecological impact on surrounding environments; whereas, natural agriculture is an extremely low-cost farming method, completely molding with local biodiversity. | In natural farming there is no plowing, no tilting of soil and no fertilizers, and no weeding is done just the way it would be in natural ecosystems. |