Daily Prelims Notes 26 August 2022
August 26, 2022

Posted by:

OptimizeIAS Team

Category:

DPN

Daily Prelims Notes
26 August 2022
Table Of Contents
1. India poised to become next global SaaS capital, says EY-CII study
Subject : Science and Technology
Section: Computer
Concept –
SaaS is a way of delivering software applications over the internet when a customer requires them.
Earlier, companies would have to install software in their clients' localised hardware for them to use their applications. So, this required customers to pay for use of the software upfront, and also for the hardware on which the software would run.
SaaS, which started as a concept during the dotcom boom, began to flourish as a business model after the financial crisis of 2007 as companies looked to save costs.
At a personal level, the Microsoft Office 365 suite of products is a good example of SaaS. Instead of purchasing multiple one-time licences at a hefty cost, users can opt for a more affordable monthly subscription of the entire suite based on requirements. Users can also make do with basic hardware, while saving data on the cloud.
One can view SaaS as a subset of cloud computing. Cloud or cloud computing is a broader concept that involves not just delivering software over the internet, but also providing computing and data storage services from a different location (owned or third party).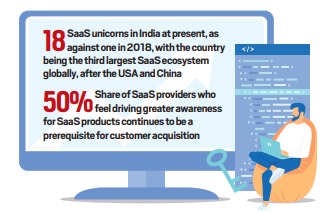 Some of the most famous examples of SaaS are:
Amazon Web Services (AWS) – It is a subsidiary of Amazon. It provides around 150 services and has more than a million subscribers. AWS is even used by streaming companies like Netflix, defence organizations like the US Navy, and the world's most famous space organisation NASA.
Dropbox – Files stored in Dropbox can be accessed from any device, from any location at any time.
Google Apps – Google drive enables employees to access files from any location from any device.
Salesforce – It is a Customer Relationship Management (CRM) tool, enabling employees of organizations to access the required information from any device at any location.
SAP Cloud Platform – Launched by SAP in 2012
Microsoft Azure – Launched by Microsoft in 2010.
Why is it important?
The biggest advantage that SaaS enables is innovation. The advantage behind this method of delivery is that data can be accessed with an internet connection, web browser in any device at any location. In this type of model, vendors host and maintain servers and databases. The main difference between SaaS Delivery and On-premise model is that SaaS deployments won't require extensive hardware and the payment type is through a subscription model, no need to pay the entire cost upfront.
It has basically converted fixed costs of companies into variable costs. When capital is scarce, the SaaS model frees up capital for more high priority requirements.
The payment model for SaaS is typically a per seat, per month charge based on usage. This ensures more efficient allocation of capital, especially for early-stage companies.
This also implies that the threat for established companies is higher today. If they are not alert, it's just a matter of time before SaaS-using start-up will outwit them.
2. Jharkhand in turmoil: What does the law say on holding an office of profit?
Subject : Polity
Section: Parliament
Context: Jharkhand is in a state of turmoil after reports suggested that Chief Minister Hemant Soren may be sacked by the Election Commission of India (ECI) in the office-for-profit case.
The ECI has reportedly sent its recommendations to Governor Ramesh Bais on the allegations against Soren.
Concept:
What is an 'office of profit'?
An office of profit is a position that brings any financial gain, advantage, or benefit to the officeholder.
In the Jharkhand case, the mining lease had the capacity to bring financial gain to Soren.
The office of profit law simply seeks to enforce a basic feature of the Constitution-The principle of separation of power between the legislature and the executive.
Constitutional provisions on 'Office of Profit'?
The law does not clearly define what constitutes an office of profit but the definition has evolved over the years with interpretations made in various court judgments.
Under Article 102 (1) and Article 191 (1) of the Constitution, an MP or an MLA (or an MLC) is barred from holding any office of profit under the central or state government.
The articles clarify that "a person shall not be deemed to hold an office of profit under the government of India or the government of any state by reason only that he is a minister".
Parliament has also enacted the Parliament (Prevention of Disqualification) Act, 1959, which has been amended several times to expand the exempted list.
Also, the state legislature can declare that a particular office of profit will not disqualify its holder from its membership
A foreigner holding any office of profit or trust under the state cannot accept any title from any foreign state without the consent of the president.
No citizen or foreigner holding any office of profit or trust under the State is to accept any present, emolument or office from or under any foreign State without the consent of the president.
Presidential Candidate should not hold any office of profit under the Union government or any state government or any local authority or any other public authority. A sitting President or Vice-President of the Union, the Governor of any state and a minister of the Union or any state is not deemed to hold any office of profit and hence qualified as a presidential candidate.
Vice-Presidential candidate should not hold any office of profit under the Union government or any state government or any local authority or any other public authority
CONDITIONS OF GOVERNOR'S OFFICE– He should not hold any other office of profit.
Factors which are considered in this determination of Office of Profit based on Supreme Court judgments:
Whether the government is the appointing authority
Whether the government has the power to terminate the appointment
Whether the government determines the remuneration
What is the source of remuneration
Power that comes with the position
Related Judgments of the Supreme Court
CM will be disqualified under Section 9A of the Representation of Peoples' Act, 1951 in view of three judgments of the apex court.
Under that section, a contract has to be made for the supply of goods or the execution of any work undertaken by the government.
Under the RoPA 1951,He must not be a director or managing agent nor hold an office of profit in a corporation in which the government has at least 25 per cent share
A constitution bench of the Supreme Court in 1964 in the case of CVK Rao vs DentuBhaskara Rao has held that a mining lease does not amount to a contract of supply of goods.
In 2001, a three-judge bench of the apex court in the case of Kartar Singh Bhadana vs Hari Singh Nalwa & others also made it clear that a mining lease does not amount to execution of a work undertaken by the government.
Even if the CM is disqualified by any authority, he can challenge it in the high court and in that case and as per a Supreme Court order, the adjudication has to be completed within four months.
Under Article 164 (4), one person can be a minister for six months without being a member.
The Supreme Court in its seminal decision in the Jaya Bachchan v. Union of India case developed the doctrine of 'potential effect of an office' to ascertain the nature of office, If the "pecuniary gain" is "receivable" in connection with the office then it becomes an office of profit, irrespective of whether such pecuniary gain is actually received or not.
3. Memorial for quake victims in China's Sichuan inspires Veer Balak Smarak and Smriti Van in Kutch
Subject : Geography
Section: Geomorphology
On the morning of January 26, 2001, schoolchildren from 18 government primary schools of Anjar town in Kutch district were marching with tricolours to celebrate the 52nd Republic Day when buildings came crashing down on them as an earthquake measuring 6.9 on the Richter scale struck. As many as 185 children and 22 teachers died.
On Sunday, Prime Minister Narendra Modi will inaugurate a memorial dedicated to them that is a project inspired by the memorial at Sichuan in China after the 2008 earthquake in which thousands were killed, including 1,000 students and teachers of Beichuan Middle School.
The Veer Balak Smarak, set up on the lines of the Relic Site of the school in Beichuan, has a memorial and a museum.
The memorial section at Anjar has a wall with names and sketches of the victims, inspired from Beichuan, and a giant "prakashpunj" (bulb) that will be visible in the whole town.
PM Modi will also inaugurate in Kutch the Smriti Van in Bhuj — a memorial to the 12,932 people killed in the epicentre of the earthquake in Kutch district, also inspired from Sichuan.
Earthquake in India
India is one of the highly earthquake affected countries because of the presence of technically active young fold mountains – Himalaya.
India has been divided into four seismic zones (II, III, IV, and V) based on scientific inputs relating to seismicity, earthquakes occurred in the past and tectonic setup of the region.
Measurement of Earthquakes
The earthquake events are scaled either according to the magnitude or intensity of the shock. The magnitude scale is known as the Richter scale. The magnitude relates to the energy released during the quake. The magnitude is expressed in absolute numbers, 0-10.
The intensity scale is named after Mercalli, an Italian seismologist. The intensity scale takes into account the visible damage caused by the event. The range of intensity scale is from 1-12.
Seismic Waves (Earthquake Waves)
Earthquake waves are basically of two types — body waves and surface waves.
Body waves are generated due to the release of energy at the focus and move in all directions travelling through the body of the earth. Hence, the name body waves.
There are two types of body waves. They are called P and S-waves.
P-waves move faster and are the first to arrive at the surface. These are also called 'primary waves'. The P-waves are similar to sound waves. They travel through gaseous, liquid and solid materials.
S-waves arrive at the surface with some time lag. These are called secondary waves. An important fact about S-waves is that they can travel only through solid materials.
The body waves interact with the surface rocks and generate a new set of waves called surface waves. These waves move along the surface.
The body waves interact with the surface rocks and generate a new set of waves called surface waves. These waves move along the surface.
The surface waves are the last to report on seismographs. These waves are more destructive. They cause displacement of rocks, and hence, the collapse.
Thus, the characteristics of the seismic waves are quite important. It has helped scientists to understand the structure of the interior of the earth.
4. For First Time- India Votes Against Russia in UNSC During Procedural Vote on Ukraine
Subject : International relations
Section: International organisation
Context:
India for the first time on Wednesday voted against Russia during a procedural vote at the United Nations Security Council on Ukraine, as the 15-member powerful UN body invited Ukrainian President Volodymyr Zelenskyy to address a meeting through a video conference.
India currently is a non-permanent member of the UNSC for a two-year term, which ends in December.
As the meeting began, the Russian ambassador to the United Nations Vassily A. Nebenzia requested a procedural vote concerning the Ukrainian President's participation in the meeting by video conference.
Following statements by him and Ferit Hoxha of Albania, the Council extended an invitation to Zelensky to participate in the meeting via video conference by a vote of 13 in favour to one against. Russia voted against such an invitation, while China abstained.
Zelensky alleged that Russia has placed the world on the brink of nuclear catastrophe by turning the Zaporizhzhia nuclear power plant into a war zone. The plant has six reactors only one exploded at Chernobyl and the International Atomic Energy Agency (IAEA) must take permanent control of the situation as soon as possible, he said.
Zaporizhzhia , UNSC and IAEA already covered
5. Go to Red Fort and relive the Mughal era through augmented reality
Subject : History
Section: Art and Culture
Context:
Four years after the Dalmia Bharat Group bagged the maintenance contract for the historic Red Fort in Delhi, becoming one of the first corporate partners in the government's 'adopt a monument' scheme, it unveiled an interactive visitor centre showcasing the heritage of the Mughal-era fort in an immersive way.
"Adopt a Heritage: ApniDharohar, ApniPehchaan"
It is a collaborative effort by the Ministry of Tourism, Ministry of Culture and Archaeological Survey of India (ASI), State/UTs Governments.
The aim is to develop tourism amenities at heritage/ natural/ tourist sites spread across India for making them tourist friendly, in a planned and phased manner.
The sites/monuments are selected on the basis of tourist footfall and visibility and can be adopted by private and public sector companies and individuals — known as Monument Mitras — for an initial period of five years.
The Monument Mitras are selected by the 'oversight and vision committee,' co-chaired by the Tourism Secretary and the Culture Secretary, on the basis of the bidder's 'vision' for development of all amenities at the heritage site.
There is no financial bid involved.
The corporate sector is expected to use Corporate Social Responsibility (CSR) funds for the upkeep of the site.
Mughal Architecture:
This is a building style that flourished in northern and central India under the patronage of the Mughal emperors from the mid-16th to the late 17th century.
The Mughal period marked a striking revival of Islamic architecture in northern India. Under the patronage of the Mughal emperors, Persian, Indian, and various provincial styles were fused to produce works of unusual quality and refinement.
It became so widespread especially in north India that these can be seen further in the colonial architecture of Indo-Saracenic style.
 Important Features:
Mixed Architecture: It was a blend of Indian, Persian, and Turkish architectural style.
Diversity: Different types of buildings, such as majestic gates (entrances), forts, mausoleums, palaces, mosques, sarais, etc.
Building material: Mostly, red sandstone and white marble were used.
Speciality: Specific features such as pietra-dura works, foreshortening method,the Charbagh style of the mausoleums, pronounced bulbous domes,slender turrets at the corners, broad gateways, beautiful calligraphy, arabesque, and geometric patterns on pillars and walls, and palace halls supported on pillars.

The arches, chhatri, and various styles of domes became hugely popular in the Indo-Islamic architecture and were further developed under the Mughals.

Akbar popularised the term "Tudor arch" (four centered arch).
Some Examples:
Agra Fort

It is a fortification in Agra.
It was one of the earliest structures to be built during Akbar's rule.
The majority of the constructions inside the fort, however, were built during Shah Jahan's reign. The following are some of the notable structures in the area:

Moti Masjid by Shah Jahan.
Diwan-i-aam (Hall of Public Audience) and Diwan-i-khas (Hall of Private Audience) by Shah Jahan.
The Jahangiri Mahal.
Sheesh Mahal (Turkish Bath).
The construction of a new capital city by Akbar at Fatehpur Sikri is one of the highlights of Indo-Islamic architecture.
The structures here exhibit a unique combination of Hindu and Persian architecture, and have been described as a "frozen moment in history."
BulandDarwaza, a 40-meter red sandstone edifice erected in 1576 AD to celebrate Akbar's victory over Gujarat, is one of the city's most notable structures. It is the world's tallest doorway.
The Tomb of Salim Chishti was erected in 1581 AD. It contains lovely white marbleJaali craftsmanship, arabesque designs on the walls, as well as inscriptions of Quranic texts.
BulandDarwaza and Jama Masjid are also part of the imperial complex. In 1606 AD, Jahangir decorated it more.
The Panch Mahal is a five-storey edifice built of columns that is based on the Persian badgir idea (wind-catcher).
The interiors of Jodha Bai's Palace, also known as Mariam-uz-Zamani's Palace (Mary of the Age), are decorated with Hindu bell and floral themes.
IbadatKhana: This is where Akbar would meet with religious authorities to address issues.
Pachisi Court, where Akbar is claimed to have played chess in the courtyard.
The HiranMinar was named after Akbar's favourite elephant, Hiran. It also acted as a traveler's lighthouse. It is a one-of-a-kind design, with tusk-like spikes on the external wall.
In Vrindavan, Akbar also constructed a Govind Dev shrine.

Taj Mahal:

Built by Shah Jahan between 1632 and 1653, in memory of his wife Mumtaz Mahal.
UNESCO recognized the Taj Mahal as a World Heritage Site in 1983. It is located in Agra.
Taj Mahal has several distinctive features:

The jaali work in Taj Mahal is lace-like and incredibly exquisite;
The marble carvings were low relief.
Itmad-ud-daulah's tomb

During Jahangir's reign, his wife Noor Jahan also conducted some large construction projects, one of which being the Tomb of Itmad-ud-daulah (Noor Jahan's father).
During this time, white marble began to replace the previously utilised red sandstone as the primary construction material.
Itmad-ud-daulah's tomb was the first Mughal structure composed entirely of white marble.
It also has some of the best masterpieces in pietra dura.
Red Fort:

Built by Shah Jahan in 1618 when he decided to move the capital from Agra to Delhi. It was the residence of Mughal rulers.
UNESCO designated it as the World Heritage Site in 2007.

Jama Masjid:

Built by Shah Jahan in Delhi. The construction was completed in 1656.

Badshahi Mosque:

Built during the reign of Aurangazeb. At the time of completion in 1673, it was the largest mosque in the world. It is located in Lahore, capital of the Pakistani province of Punjab.

Bibi-ka-Maqbara

Aurangzeb, on the other hand, commissioned the construction of Bibi-ka-Maqbara in honor of his wife, Begum Rabia-ud-Daurani. It is located in Aurangabad and is said to be a poor copy of the Taj Mahal.
6. Gangetic river dolphins in Assam decline in the wake of anthropogenic pressures
Subject :Environment
Section: Biodiversity
Assam's Brahmaputra and the tributaries Kulsi and Subansiri are strongholds of the endangered Gangetic river dolphin. However, local communities and researchers note decline in populations.
Dolphins in the Kulsi river are affected by relentless mechanised sand mining on the banks.
The construction of dams in several regions in Assam and Arunachal Pradesh cut through dolphin habitats and limit the access to prey.
Dolphins are more or less extinct in the Barak river system, with a handful found in tributaries such as Kushiyara and Soorma.
Gangetic river dolphin
It was recognised as the National Aquatic Animal in 2009, by the Government of India.
They live in the Ganges-Brahmaputra-Meghna and Karnaphuli-Sangu river systems of Nepal, India, and Bangladesh.
The Ganges river dolphin can only live in freshwater and is essentially blind.
Nearly 80% of total Gangetic river dolphin found in the Indian subcontinent.
It is a reliable indicator of the health of the entire river ecosystem.
Conservation Status
Indian Wildlife (Protection), Act 1972: Schedule I.
International Union for the Conservation of Nature (IUCN): Endangered.
Convention on International Trade in Endangered Species (CITES): Appendix I (most endangered).
Convention on Migratory Species (CMS): Appendix II (migratory species that need conservation and management or would significantly benefit from international co-operation).
Government initiative:
Project Dolphin: The Prime Minister announced the government's plan to launch a Project Dolphin in his Independence Day Speech 2020. It is on the lines of Project Tiger, which has helped increase the tiger population.
Dolphin Sanctuary: Vikramshila Ganges Dolphin Sanctuary has been established in Bihar.
National Ganga River Dolphin Day: The National Mission for Clean Ganga celebrates 5th October as National Ganga River Dolphin Day.
Ranganadi River
The Ranganadi River (also known as Paniyor River) is a sub-tributary of the Brahmaputra River in the Indian state of Assam.
The river originates from Nilam, Marta and Tapo mountain ranges of Himalayan foothills of Arunachal Pradesh.
The Ranganadi river then enters Assam at Johing of Lakhimpur district and flows 60 km through Lakhimpur district before its confluence with the Subansiri River at Pokoniaghat of Lakhimpur district.
7. Convertible vs Non Convertible Debentures
Subject :Economy
Context: On 23 August, Adani Group companies said they had acquired the stake in NDTV indirectly by buying VCPL, which owned convertible debentures (warrants that provide for the conversion of debt to equity) in RRPR, that in turn owns 29.18% of NDTV
Convertible vs Non Convertible Debentures:
Convertible debentures are debentures that can be converted into equity of the company and have a low rate of interest. The value of maturity of convertible debentures is dependent on the stock price of the company at that time, which means a high stock price will give higher returns while a low stock price will give low returns.
Non-convertible debentures cannot be converted into equity shares of the company and offer a high rate of interest. The value of non-convertible debentures is fixed and hence they will receive fixed returns on maturity.
8. Competitiveness Roadmap for India@100
Subject : Economy
Context: The Competitiveness Roadmap release event takes place at Indira Gandhi National Center for the Arts (IGNCA), Janpath, New Delhi
Concept:
The Competitiveness Roadmap for India@100 is based on the framework developed by Professor Michael E. Porter.
India@100 is a roadmap for our country's journey towards its centennial year, identifying the steps required to realize the vast potential and huge ambitions that you have outlined for our nation.
The roadmap stands to inform and guide the way for India to become a higher-income country by 2047. It proposes policy goals, principles and approaches to further drive India's economy in the direction of sustainability and resilience, embedded in social progress and shared prosperity.
The roadmap presents an integrated agenda of prioritised initiatives based on a thorough examination of India's present economic state and competitive advantages.
Building on the many reforms your government has enacted over recent years, it addresses both what actions India needs to prioritize now and how it needs to organize itself to deliver these actions effectively.
The document also asserts that the competitiveness approach should serve as the cornerstone of India's economic and social policy to drive India's growth further and sustain it over the long term.
9. Battery Waste Management Rules 2022
Subject :Environment
Section : Pollution
Context: Ministry of Environment, Forest and Climate Change, Government of India published the Battery Waste Management Rules, 2022 on 24thAugust, 2022 to ensure environmentally sound management of waste batteries.
Concept:
To promote Circular Economy in full earnest, the New rules will replace Batteries (Management and Handling) Rules, 2001.
Battery Waste Management Rules, 2022
The rules cover all types of batteries, viz. Electric Vehicle batteries, portable batteries, automotive batteries and industrial batteries.
The rules function based on the concept of Extended Producer Responsibility (EPR) where the producers (including importers) of batteries are responsible for collection and recycling/refurbishment of waste batteries and use of recovered materials from wastes into new batteries.
EPR mandates that all waste batteries to be collected and sent for recycling/refurbishment, and its prohibits disposal in landfills and incineration.
To meet the EPR obligations, producers may engage themselves or authorise any other entity for collection, recycling or refurbishment of waste batteries.
The rules will enable setting up a mechanism and centralized online portal for exchange of EPR certificates between producers and recyclers / refurbishers to fulfil the obligations of producers.
The rules promote setting up of new industries and entrepreneurship in collection and recycling / refurbishment of waste batteries.
Mandating the minimum percentage of recovery of materials from waste batteries under the rules will bring new technologies and investment in recycling and refurbishment industry and create new business opportunities.
Prescribing the use of certain amount of recycled materials in making of new batteries will reduce the dependency on new raw materials and save natural resources.
Online registration & reporting, auditing, and committee for monitoring the implementation of rules and to take measures required for removal of difficulties are salient features of rules for ensuring effective implementation and compliance.
On the principle of Polluter Pays Principle, environmental compensation will be imposed for non-fulfilment of Extended Producer Responsibility targets, responsibilities and obligations set out in the rules. The funds collected under environmental compensation shall be utilised in collection and refurbishing or recycling of uncollected and non-recycled waste batteries.
10. Smart India Hackathon (SIH)
Subject : Government Schemes
Context: Smart India Hackathon Finale 2022
Concept:
Smart India Hackathon (SIH) was started in the year 2017. SIH is a nationwide initiative to provide students a platform to solve the pressing problems of society, organizations, and government.
It aims to inculcate the culture of product innovation, problem-solving and out-of-the-box thinking among students.
The growing popularity of SIH can be gauged from the fact that the number of teams registered for SIH has seen a four-fold growth from around 7500 in the first edition to about 29,600 in the ongoing fifth edition.
This year, Smart India Hackathon – Junior has also been introduced as a pilot for school students to build a culture of innovation and develop problem-solving attitude at the school level.
Subject :Geography
Section: Climatology
Context:
The Australian Bureau of Meteorology has declared a fresh La Nina alert in the tropical Pacific, which means there is a 70 per cent chance (about triple the normal likelihood) of another La Niña forming later this year. This is even as an existing long-drawn La Nina, thought to be firing up a concurrent Indian monsoon, had approached closure but has shown signs of revival during the last month or two.
According to experts La Nina, which is touted by researchers variously as the second or third-longest in history.
It is likely driving this year's monsoon to a fourth successful one on the trot.
Concept :
About La Nina :
It means the large-scale cooling of ocean surface temperatures in the central and eastern equatorial Pacific Ocean, together with changes in the tropical atmospheric circulation, namely winds, pressure and rainfall.
It has the opposite impacts on weather and climate as El Niño, which is the warm phase of the El Niño Southern Oscillation (ENSO).
Weather  Changes due to La Nina :
The Horn of Africa and central Asia will see below average rainfall due to La Niña.
East Africa is forecast to see drier-than-usual conditions, which together with the existing impacts of the desert locust invasion, may add to regional food insecurity.
It could also lead to increased rainfall in southern Africa.
It could also affect the South West Indian Ocean Tropical Cyclone season, reducing the intensity.
Southeast Asia, some Pacific Islands and the northern region of South America are expected to receive above-average rainfall.
In India, La Niña means the country will receive more rainfall than normal, leading to floods.