Daily Prelims Notes 27 August 2022
August 27, 2022

Posted by:

OptimizeIAS Team

Category:

DPN

Daily Prelims Notes
27 August 2022
Table Of Contents
1. Centre identifies 75 tribal districts for focused TB interventions
Subject :Government Schemes
Section: Health
Aashwasan Campaign
The campaign to detect TB cases across 174 tribal districts started this January under the Aashwasan Campaign, under which door-to-door screening was done in over 68,000 villages. Official data showed that 3,82,811 people were identified for presumptive TB after a verbal screening of over 1.03 crore people in these villages.
The Aashwasan Campaign was undertaken by the Tribal Affairs and Health Ministries and supported by USAID (United States Agency for International Development) as a technical partner and Piramal Swasthya as the implementing partner.
Steps Taken by India:
India has committed to eliminating TB in the country by 2025.

Five years ahead of the global deadline of 2030.

National Strategy Plan for TB Elimination 2017-2025:

The requirements for moving towards TB elimination in India have been arranged in four strategic areas of Detect, Treat, Prevent & Build.
There is also across all four areas, an overarching theme of the Private Sector. Another overarching theme is that of Key Populations.

TB Harega Desh Jeetega Campaign, Nikshay Poshan Yojana, etc.
Global Efforts:
The End TB Strategy of WHO.
World Tuberculosis (TB) Day is observed on 24th March to raise public awareness about the devastating health, social and economic consequences of TB.
Nikshay Poshan Yojana (NPY)
The NPY was launched in 2018 by the Ministry of Health and Family Welfare.
It aims to support every Tuberculosis (TB) Patient by providing a Direct Benefit Transfer (DBT) of Rs 500 per month for nutritional needs.
The Saksham Project
It is a project of the Tata Institute of Social Sciences (TISS) that has been providing psycho-social counselling to DR-TB patients.
Tuberculosis
Tuberculosis is caused by bacteria (Mycobacterium tuberculosis) that most often affect the lungs.
Transmission: TB is spread from person to person through the air. When people with lung TB cough, sneeze or spit, they propel the TB germs into the air.
Symptoms: Cough with sputum and blood at times, chest pains, weakness, weight loss, fever and night sweats.
Treatment: TB is treatable and curable disease. It is treated with a standard 6 month course of 4 antimicrobial drugs that are provided with information, supervision and support to the patient by a health worker or trained volunteer.
Multidrug-resistant TB (MDR-TB) is a form of TB caused by bacteria that do not respond to isoniazid and rifampicin, the 2 most powerful, first-line anti-TB drugs. MDR-TB is treatable and curable by using second-line drugs.
Extensively drug resistant TB (XDR TB) is a rare type of MDR TB that is resistant to isoniazid and rifampin, plus any fluoroquinolone and at least one of three injectable second-line drugs (i.e., amikacin, kanamycin, or capreomycin).
Subject : Government Schemes
Section: Health
Context:The National Cancer Grid (NCG) has established the Koita Centre for Digital Oncology (KCDO) to promote use of digital technologies and tools to improve cancer care across India.
Concept:
The National Cancer Grid (NCG) is an initiative of the Government of India through the Department of Atomic Energy and its grant-in-aid institution, the Tata Memorial Centre, to create a network of cancer centres, research institutes, patient groups and charitable institutions across India with the objective of developing uniform standards of patient care for prevention, diagnosis, and treatment of cancer; providing specialized training and education in oncology and facilitating collaborative basic, translational and clinical research in cancer.
NCG today has over 270 hospitals in its network across India.
The National Cancer Grid (NCG) has established the Koita Centre for Digital Oncology (KCDO) to promote use of digital technologies and tools to improve cancer care across India. The Centre has been set up with the contributions received from the Koita Foundation, which will support it for five years.
3. The 38th Meeting of Ministerial level Joint Rivers Commission
Subject : Polity
Section:Federalism
Context: The 38th Meeting of the Ministerial level Joint Rivers Commission of India and Bangladesh was held in New Delhi on 25th August, 2022. The Indian delegation was led by Shri Gajendra Singh Shekhawat, Union Minister for Jal Shakti.
Concept:
The Joint Rivers Commission of India and Bangladesh was constituted in the year 1972 as a bilateral mechanism to address issues of mutual interest on common / border / transboundary rivers.
India and Bangladesh share 54 rivers, of which 7 rivers have been identified earlier for developing framework of water sharing agreements on priority.
During the meeting, it has been agreed to widen this area of ongoing cooperation by including 8 more rivers for data exchange.
One of the important areas of cooperation, where India has been assisting Bangladesh, is sharing of real time flood data.
 Both sides finalized the text of MoU on Interim Water Sharing ofKushiyara river.
Both sides also welcomed finalization of the design and location of water intake point on the Feni River to meet the drinking water needs of Sabroom town in Tripura as per the October 2019 India -Bangladesh MoU on this subject.
Subject: Science and Technology
Section: Intellectual Property rights
Context:
The first editions of India GI Fair, Khilona-India Toys & Games Fair, Maa Shishu and STEM Confex being held concurrently from 26th to 28th August 2022 at India Expo Centre & Mart
Concept:
What is a Geographical Indication?
It is an indication
It originates from a definite geographical territory.
It is used to identify agricultural, natural or manufactured goods
It is an insignia on products having a unique geographical origin and evolution over centuries with regard to its special quality or reputed attributes.
It is a mark of authenticity and ensures that registered authorized users or at least those residing inside the geographic territory are allowed to use the popular product names.
GI tag in India is governed by Geographical Indications of Goods (Registration & Protection) Act, 1999. It is issued by the Geographical Indications Registry (Chennai).
What is the benefit of registration of geographical indications?
It confers legal protection to Geographical Indications in India
Prevents unauthorised use of a Registered Geographical Indication by others.
It promotes economic prosperity of producers of goods produced in a geographical territory.
What Indications are not registrable?
For registrability, the indications must fall within the scope of section 2(1)e of GI Act, 1999. Being so, it has to also satisfy the provisions of section 9, which prohibits registration of a Geographical Indication.
the use of which would be likely to deceive or cause confusion; or
the use of which would be contrary to any law for the time being in force; or
which comprises or contains scandalous or obscene matter; or
which comprises or contains any matter likely to hurt the time being in force; religious susceptibilities of any class or section of the citizens of India; or
which would otherwise be dismantled to protection in a court; or
which are determined to be generic names or indications of goods and are, therefore, not or ceased to be protected in their country of origin or which have fallen into disuse in that country; or
which although literally true as to the territory region or locality in which the goods originate, but falsely represent to the persons that the goods originate in another territory, region or locality as the case may be.
How long the registration of Geographical Indication is valid?
The registration of a geographical indication is valid for a period of 10 years
It can be renewed from time to time for further period of 10 years each.
Subject :Environment
Section: Sustainable development
Context: Metal Sector Needs to be at Forefront of Circular Economy Model: Says Shri Jyotiraditya M. Scindia
Concept:
What is a circular economy?
It is an economic system aimed at eliminating waste; and the continual use of resources.
It includes 3 R's (Reduce, Reuse and Recycle), Refurbishment, Recover, and Repairing of materials.
Consumables in the circular economy are largely made of biological ingredients that are non-toxic and possibly even beneficial, and can safely be returned to the biosphere, either directly or in a cascade of consecutive uses.
It is an alternative to a traditional linear economy. This linear economy is modeled on the take-make-waste industrial model (make, use, dispose).
Circular economy aims to design out waste.
Sustainable Development Goal 12 → responsible consumption and production→ requires changing the linear production model and shifting towards circular economy.
The circular economy has the potential to increase productivity and create jobs, whilst reducing carbon emissions and preserving valuable raw materials.
Example:  The 'For Days' model

US clothing firm For Days was inspired by the volume of clothing hoarded in consumer wardrobes. 'For Days' encourages customers to send their old clothes in the post. It doesn't matter whether they were made by For Days in the first place, and people receive money-off vouchers for new items in return.
Circular Economy in India:
The Ministry of Electronics and Information Technology (MeitY) has formulated a policy paper on "Circular Economy in Electronics and Electrical Sector" to deal with e-waste.
The patent certificate is issued recently to KVIC's Kumarappa National Handmade Paper Institute (KNHPI) by the Controller of Patent for The plastic-mixed handmade paper developed under Project REPLAN (REducingPLAstic from Nature).
6. Pradhanmantri Bhartiya Janurvarak Pariyojna
Subject: Government schemes
Section: Health
Context:
The Ministry of Chemicals and Fertilisers announced to implement One Nation One Fertiliser by introducing a "Single Brand for Fertilisers and Logo" under the fertiliser subsidy scheme named "Pradhanmantri Bhartiya Janurvarak Pariyojna" (PMBJP).
Concept:
Under the scheme companies are allowed to display their name, brand, logo and other relevant product information only on one-third space of their bags. 
On the remaining two-thirds space, the "Bharat" brand and Pradhanmantri Bharatiya Jan Urvarak Pariyojana logo will have to be shown.

The single brand name for UREA, Di-Ammonium Phosphate DAP, Muriate of potash (MOP) and Nitrogen Phosphorus Potassium NPK etc. would be BHARAT UREA, BHARAT DAP, BHARAT MOP and BHARAT NPK etc. respectively for all Fertiliser Companies, State Trading Entities (STEs) and Fertiliser Marketing Entities (FMEs).

This scheme applies to both public & private sector companies.
It will bring about uniformity in fertiliser brands across the country
Why?
Awareness of the financial burden on the government to make cheaper ferlisers available to farmers.
Bring down the cost of subsidy.
Reduce the diversion of urea to non agricultural uses.
Fertiliser sector:
The maximum retail price of urea is currently fixed by the government, which compensates companies for the higher cost of manufacturing or imports incurred by them.
The MRPs of non-urea fertilisers are decontrolled.

 But companies cannot avail of subsidy if they sell at MRPs higher than that informally indicated by the government.

The government also decides where they can sell  through the Fertiliser (Movement) Control Order, 1973.

Under this, the department of fertilisers draws an agreed monthly supply plan on all subsidised fertilisers in consultation with manufacturers and importers.
This supply plan is issued before the 25th of each month for the following month, with the department also regularly monitoring movement to ensure fertiliser availability as per requirement, including remote areas.
7. India trend of growth data oriented
Subject :Economy
Section: National income
Context:
Explained Books: An economic history of independent India's book review
Details:
Trends in India's growth rate:
| | | |
| --- | --- | --- |
| Period | Target growth rate | Actual growth rate |
| British Raj (1900-01 to 1946-7) | – | 0.9% |
| First five year plan-1951 to 1956 | 2.1% | 3.6% |
| Second Plan-1956 to 1961 | 4.5% | 4.2% |
| Third Plan-1961 to 1966 | 5.6% | 2.4% |
| Fourth Plan- 1969 to 1974 | 5.7% | 3.3% |
| Fifth Plan-1974 to 1978 | 4.4% | 4.8% |
| Sixth Plan-1980 to 1985 | 5.2% | 5.7% |
| Seventh Plan- 1985 to 1990 |  5% | 6.0% |
| Eighth Plan-1992 to 1997 | 5.6% | 6.8% |
| Ninth Plan-1997 to 2002 | 6.5% | 5.6% |
| Tenth Plan-2002 to 2007 | 8% | 7.6% |
| Eleventh Plan-2007 to 2012 | 9% | 8% |
| Twelfth Plan -2012 to 2017 | 8% | 7% |
Concept:
India's Planning Strategy- an overview:
In the context of development planning, strategy refers to a basic long term policy to realise certain objectives.
Harrod Domar Growth Model:
Drafted by economist K.N. Raj, the first five year plan was based on the Harrod–Domar model, which suggested that growth was dependent on two things.
First, a high level of savings since higher savings enabled greater investment and
Second, a low capital-output ratio that ensured efficient investment and a higher growth rate.
The Five-Year Plans were focused on making India self-sufficient, enabled industrial growth and ensured that development went beyond the urban areas and reached the interior parts of the country.
The plan had a target of 2.1 per cent GDP growth for the fiscal year, however, it ended up recording a growth rate of 3.6 per cent that year.
The first five-year plan based on the Harrod Domar model suggested that production required capital and that capital can be accumulated through investment; the faster one accumulates, the higher the growth rate will be.
Mahalanobis Growth Strategy :
While the First Five-Year Plan focused on agriculture and energy, the Second Five-Year Plan focused on the development of the public sector and rapid industrialisation. Drafted by statistician P.C. Mahalanobis, the Second Plan was also called the Mahalanobis Plan.
Mahalanobis strategy of development as it articulated by Jawahar Lal Nehru's vision and P.C. Mahalanobis was its chief architect. It focused on the following :
Rapid Industrialisation-  developing basic industries and industries which make machines to make the machines needed for further development.
Import substitution. Protective barriers against foreign competition to enable Indian companies to develop domestically produced alternatives for imported goods and to reduce India's reliance on foreign capital.
Mixed economy with a strong bias towards public sector-A sizable public sector active in vital areas of the economy including atomic energy and rail transport. A vibrant small-scale sector driving consumer goods production for dispersed and equitable growth and producing entrepreneurs.
An alternative model of development was developed by Vakil and Brahmananda. Professors Vakil and Brahmananda adapted and modified classical theory of growth of income and employment in the context of today's developing countries characterised by disguised unemployment. In sharp contrast to Mahalanobis model which emphasised the role of fixed capital Vakil and Brahmananda laid stress on wage goods or what they called liquid capital in determining the growth of employment and income.
In conformity with their emphasis on wage goods or liquid capital in their model they propounded a strategy of development which accorded the highest priority to wage goods industries, especially agriculture in allocation of investment re­sources.
The Seventh plan marks a departure from earlier plan strategies and spelt out a new long-term strategy.
It reversed the role of the public sector and induced privatisation of industrial activity.
It gave highest priority to increasing agricultural production through adoption of new technology.
Liberalisation of the external sector with the aim of increasing efficiency in the manufacturing sector.
The administrative procedures were changed from regulatory to facilitatory procedures. The strategy was a variant of what is now known as "Agricultural Development led Growth" Strategy or the " Wage Good model" earlier advocated by Vakil and Brahmananda .
The national income of India registered 5.5% per annum growth rate during the 1980s. However, the strategy which enabled the country to step up the rate of economic growth during the 1980s pushed the economy towards the economic crisis of 1990-91. Causes:
Heavy public expenditure leading to large scale fiscal deficit
Higher inflation
Balance Of Payments crisis-Gulf Crisis increased crude oil price and import bills
The New Development Strategy:
The launching of economic reforms by the government in 1991 is driven by the Rao-Man Mohan model -Mr. Narasimha Rao, the Prime Minister 1991 and Finance Minister Dr. Man Mohan Singh. Its essence is contained in the New Industrial • Policy 1991 and extends beyond it too. The Model has the following contents
Dismantle, selectively controls and permits in order to permit private sector to invest liberally- Liberalisation
Open up the economy and create competition for PSEs- for better productivity and profitability-Privatisation
External sector liberalization in order to integrate the Indian economy with the global economy to benefit from the resource inflows and competition-Globalization ie the "export led growth strategy"
Reorient the role of the State in economic management. State should re focus on social and infrastructural development, primarily-Indicative planning
Inclusive and sustainable development:
Eleventh Five Year Plan for the first time focused on Inclusive growth. It was prepared by C. Rangarajan. Its main theme was "rapid and more inclusive growth".
The Twelfth Plan relies on an extensive range of government programmes, which cover a wide variety of sectors, to help achieve inclusive and sustainable growth. These include health, education, drinking water and sanitation, provision of critical infrastructure in rural and urban areas, programmes of livelihood support for the weaker sections and disadvantaged sections of our population. The broad vision of the plan is to achieve a 'Faster, Sustainable, and More Inclusive Growth'. 
8. China pledges support to Sri Lanka at UNHRC session
Subject: International relations
Section: International organization
Context:
Weeks ahead of the UN Human Rights Council session in Geneva, where a resolution on Sri Lanka is expected to be tabled, China has said it would "continue to support" Sri Lanka in international fora, while slamming countries "far or near" for "bullying" the island nation.
Ambassador Zhenhong Qi also highlighted the "successful" docking of Chinese military vessel Yuan Wang 5 at Sri Lanka's southern Hambantota Port after China and Sri Lanka "altogether resisted the rude and unreasonable interference from third parties".
UN Human Rights Council
The Human Rights Council is an inter-governmental body within the United Nations system responsible for strengthening the promotion and protection of human rights around the world.
Formation:
The Council was created by the United Nations General Assembly in 2006. It replaced the former United Nations Commission on Human Rights.
The Office of the High Commissioner for Human Rights (OHCHR) serves as the Secretariat of the Human Rights Council.
OHCHR is headquartered in Geneva, Switzerland.
Members:
It is made up of 47 United Nations Member States which are elected by the UN General Assembly (UNGA).

The UNGA takes into account the candidate States' contribution to the promotion and protection of human rights, as well as their voluntary pledges and commitments in this regard.

The Council's Membership is based on equitable geographical distribution. Seats are distributed as follows:

African States: 13 seats
Asia-Pacific States: 13 seats
Latin American and Caribbean States: 8 seats
Western European and other States: 7 seats
Eastern European States: 6 seats

Members of the Council serve for a period of three years and are not eligible for immediate re-election after serving two consecutive terms.
Procedures and Mechanisms:
Universal Periodic Review: UPRserves to assess the human rights situations in all United Nations Member States.
Advisory Committee: It serves as the Council's "think tank" providing it with expertise and advice on thematic human rights issues.
Complaint Procedure: It allows individuals and organizations to bring human rights violations to the attention of the Council.
UN Special Procedures: These are made up of special rapporteurs, special representatives, independent experts and working groups that monitor, examine, advise and publicly report on thematic issues or human rights situations in specific countries.
India and UNHCR
In 2020, India's National Human Rights Commission submitted its mid-term report to the Council as a part of the third round of the Universal Periodic Review (UPR) process.
India was elected to the Council for a period of three years beginning 1st January 2019.
9. Explained: Chhattisgarh's forest 'by mistake'
Subject : Environment
Section : Biodiversity
The Union Ministry of Environment, Forest and Climate Change has objected to the transfer of thousands of hectares of land without following due process by Chhattisgarh from its Forest to the Revenue Department for setting up industries and for building road, rail, and other infrastructure.
Forests in law
Broadly, state Forest Departments have jurisdiction over two types of forests notified under the Indian Forest (IF) Act, 1927:

Reserve Forests (RF), where no rights are allowed unless specified; and
Protected Forests (PF), where no rights are barred unless specified.
Certain forests, such as village or nagarpalika forests, are managed by state Revenue Departments.

The FC Act, 1980, applies to all kinds of forests, whether under the control of the Forest or the Revenue Department, and it requires statutory clearance before forests can be used for any non-forest purpose such as industry, mining, or construction.
T.N. Godavarman Thirumulkpad vs the Union of India judgment
In the judgement, the Supreme Court interpreted that the word "forest" must be understood according to its "dictionary meaning".
This description covers all statutorily recognised forests, whether designated as reserved, protected or otherwise.
According to India State of Forest Report, 2019(a biennial publication of Forest Survey of India (FSI)), tree and forest cover together made up 24.56% (8,07,276 sq km) of India's area.
The country is pursuing a long-term goal of having 33 percent of its land under forest cover.
Constitutional Provisions:
Forests are included in the Concurrent List in the (Seventh Schedule) of the Constitution of India.
Through the 42nd Amendment Act, 1976 Forests and Protection of Wild Animals and Birds were transferred from State to Concurrent List.
Article 51 A (g) of the Constitution states that it shall be the fundamental duty of every citizen to protect and improve the natural environment including forests and Wildlife.
Article 48 A in the Directive Principles of State policy, mandates that the State shall endeavor to protect and improve the environment and to safeguard the forests and wildlife of the country.
Chhattisgarh case
The recorded forest area in Chhattisgarh covers 44.21% of its geography.
Largest forest cover in India: Madhya Pradesh > Arunachal Pradesh > Chhattisgarh > Odisha > Maharashtra (India State of Forest Report (ISFR) 2021)
Therefore, in May 2021, the state Revenue Department sought a field survey to identify non-forest land — parcels smaller than 10 hectares with less than 200 trees per hectare — "that had been included by mistake" in "Orange Areas" under the Forest Department.
Orange, a grey area
Under the zamindari system, villagers used local malguzari (livelihood concessions) forests for firewood, grazing, etc. When zamindari was abolished in 1951, malguzari forests came under the Revenue Department.
In 1958, the government of undivided Madhya Pradesh notified all these areas as PFs under the Forest Department.
Madhya Pradesh amended the IF Act, 1927, in 1965 — when forests figured in the State List — to allow denotification of PFs. The areas yet to be surveyed — undemarcated PFs — were marked in orange on the map.
Since 2003, a case has been pending in the Supreme Court on rationalising these orange areas that have remained a bone of contention between the two Departments.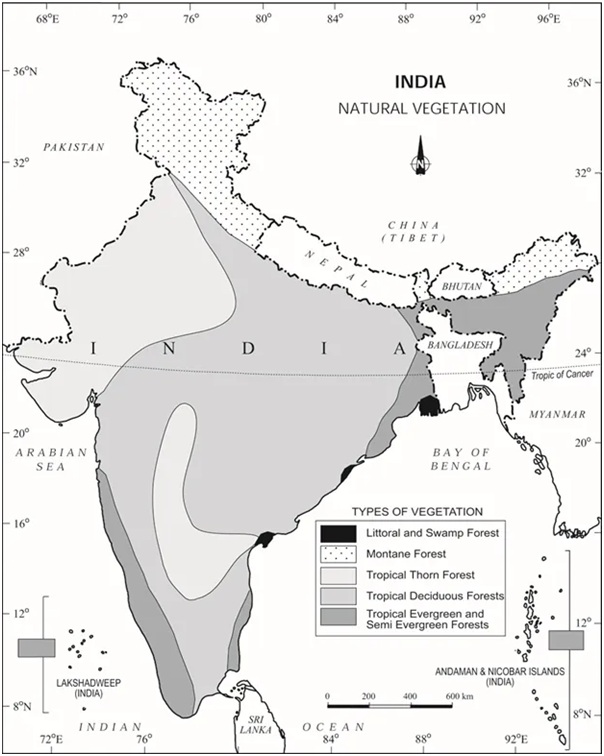 10. To achieve net-zero emissions target by 2070 India needs $10-tn investment from now: report
Subject : Environment
Section: Climate change
According to the 'Getting India to Net Zero' report, the investment required will be $13.5 trillion if the target is to be met by 2050.
The report also says achieving net-zero by 2070 would boost annual GDP by up to 4.7% by 2036 and create as many as 15 million new jobs by 2047.
The report was released by Rudd, also the president of Asia Society Policy Institute,, former UN Secretary-General and Global Green Growth Institute President & Chair Ban Ki-moon, International Finance Corporation's Head and Director of Climate Business, Vivek Pathak and former Indian foreign secretary Shyam Saran.
International Finance Corporation (IFC)
The International Finance Corporation (IFC) is an international financial institution that offers investment, advisory, and asset management services to encourage private sector development in developing countries.
IFC is the largest global development institution focused exclusively on the private sector in developing countries. The Bank Group has set two goals for the world to achieve by 2030: end extreme poverty and promote shared prosperity in every country.
It is a member of the World Bank Group and is headquartered in Washington, D.C., United States.
It was established in 1956 as the private sector arm of the World Bank Group to advance economic development by investing in strictly for-profit and commercial projects that purport to reduce poverty and promote development.
The IFC is owned and governed by its member countries, but has its own executive leadership and staff that conduct its normal business operations.
It is a corporation whose shareholders are member governments that provide paid-in capital and which have the right to vote on its matters.
11. US urges India to join coalition seeking price cap on Russia oil
Subject: International relations
Section: International organization
Context:
US deputy treasury secretary Wally Adeyemo on Friday said Washington wants India to join the coalition that is seeking to impose a price cap on Russian oil. The restriction is aimed at squeezing revenue streams for Moscow and softening the global energy prices.
To rein in Russia's revenue from sale of oil being used to fund its over six-month-old aggression into Ukraine, a group of seven (G7) richest economies, including the US, aims to have a price-capping mechanism on Russian oil exports in place by December, when European Union sanctions banning seaborne imports of Russian crude come into force
Group of Seven (G7)
It is an intergovernmental organisation that was formed in 1975.
The bloc meets annually to discuss issues of common interest like global economic governance, international security and energy policy.
The G7 countries are the UK, Canada, France, Germany, Italy, Japan and the US.
All the G7 countries and India are a part of G20.
The G7 does not have a formal charter or a secretariat. The presidency, which rotates among member countries each year, is in charge of setting the agenda. Sherpas, ministers and envoys hammer out policy initiatives before the summit.
As of 2022, G7 countries make up 10% of the world's population, 31% of global GDP, and 21% of global carbon dioxide emissions, according to the Summit website. China and India, the two most populous countries with among the largest GDP figures in the world, are not part of the grouping.
    Oil Reserves by Country
Venezuela
Saudi Arabia
Canada
Iran
Iraq
Kuwait
United Arab Emirates
Russia
Libya
Nigeria
Oil Production by Country
United States
Saudi Arabia
Russia
China
Canada
Iraq
Iran
United Arab
Brazil
Kuwait