Daily Prelims Notes 27 March 2022
March 27, 2022

Posted by:

OptimizeIAS Team

Category:

DPN

Daily Prelims Notes
27 March 2022
Table Of Contents
1. How mitochondria adapted to living within cells
Subject: Science and Tech
Section: Basic science
Context: An organism that has been around from 2 billion years ago has given biologists from Centre for Cellular and Molecular Biology, Hyderabad (CCMB), a clue as to how mitochondria became an inseparable part of animal and plant cells
Findings:
Today, mitochondria are well known to be integral parts of the eukaryotic cell. They are dubbed the power houses of the cell, because they help in generating energy in the form of ATP within the cell, powering it. But they were not always part of the animal and plant cells.
Once, about two billion years ago, a prokaryotic organism (without a nucleus) called archaea captured a bacterial cell. The bacterial cell learnt to live within the archaea as an endosymbiont.
In the late 19th century, observed that organelles like chloroplast [and later mitochondria] undergo division inside eukaryotic cells that resembles bacterial division, which led them to suspect that these organelles might have arisen from bacterial endosymbionts
By studying an organism known as jakobid, which has been around since before animals and fungi branched off from plants and algae in the process of evolution, the researchers have identified two adjustments that had to take place to facilitate the integration of the two organisms.
These adjustments were made in the process of optimisation when the two organisms merged together, evidently for compatibility. The researchers show that these changes, in a protein (DTD) and a tRNA (carrying an amino acid glycine for protein synthesis) are crucial for the successful emergence of mitochondria.
Mitochondria
Mitochondria are known as the powerhouse of the cell.
The energy required for various chemical activities needed for life is released by mitochondria in the form of ATP (Adenosine Triphosphate) molecules.
ATP is known as the energy currency of the cell.
The body uses energy stored in ATP for making new chemical compounds and for mechanical work.
Mitochondria have two membrane coverings instead of just one.
The outer membrane is very porous while the inner membrane is deeply folded. These folds create a large surface area for ATP-generating chemical reactions.
Mitochondria are strange organelles in the sense that they have their own DNA and ribosomes. Therefore, mitochondria are able to make some of their own proteins.
Prokaryotic Cells vs. Eukaryotic Cells
Organisms whose cells lack a nuclear membrane, are called prokaryotes
Organisms with cells having a nuclear membrane are called eukaryotes.
Prokaryotic cells also lack most of the other cytoplasmic organelles present in eukaryotic cells.
Many of the functions of such organelles are also performed by poorly organised parts of the cytoplasm.
The chlorophyll in photosynthetic prokaryotic bacteria is associated with membranous vesicles (bag like structures) but not with plastids as in eukaryotic cells.
Prokaryotes therefore has defined nuclear region, the membrane-bound cell organelles are absent.
Eukaryotic Cells have nuclear membrane as well as membrane-enclosed organelles.
Jakobid
Jakobids are an order of free-living, heterotrophic, flagellar eukaryotes in the supergroup Excavata. They are small (less than 15 μm), and can be found in aerobic and anaerobic environments.
2. T cell immune responses seen a year after infection
Subject: Science and Tech
Section: Basic science
Context: Omicron variant was found to cause only mild disease in fully vaccinated people and in those with previous infection.
Findings of new study from Wuhan: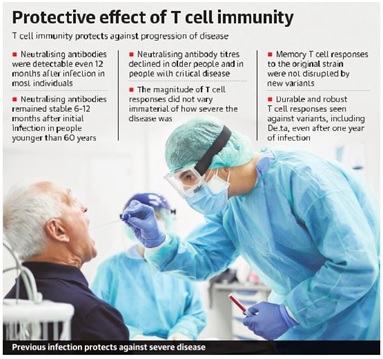 About T Cells
 Cells also called T lymphocyte, type of leukocyte (white blood cell) that is an essential part of the immune system.
T cells are one of two primary types of lymphocytes—B cells being the second type—that determine the specificity of the immune response to antigens (foreign substances) in the body.
T cells originate in the bone marrow and mature in the thymus.
In the thymus, T cells multiply and differentiate into helper, regulatory, or cytotoxic T cells or become memory T cells.
They are then sent to peripheral tissues or circulate in the blood or lymphatic system.
Once stimulated by the appropriate antigen, helper T cells secrete chemical messengers called cytokines, which stimulate the differentiation of B cells into plasma cells (antibody-producing cells).
T cells role in controlling immunity
Regulatory T cells act to control immune reactions, hence their name.
Cytotoxic T cells, which are activated by various cytokines, bind to and kill infected cells and cancer cells.
Because the body contains millions of T and B cells, many of which carry unique receptors, it can respond to virtually any antigen.
3. Diclofenac was not the last threat for India's vultures
Subject: Environment
Section: Biodiversity
Context: On March 14, the Bombay Natural History Society (BNHS), India's oldest biodiversity conservation group, wrote a letter urging Ministry of Environment, Forest and Climate Change (MoEF&CC) to ban the use of three veterinary drugs known to kill vultures in the country.
Concept:
The letter warns that the rampant use of the three non-steroidal anti-inflammatory drugs (NSAIDS) threatens to undo the Centre's two decades of work to arrest the dwindling vulture population in the wild.
Surprisingly, the three drugs—aeclofenac, ketoprofen and nimesulide—were introduced as alternatives to diclofenac, the NSAID that India banned in 2006 for animal use because it caused widespread vulture deaths.
Diclofenac
Diclofenac is a common anti-inflammatory drug administered to livestock and is used to treat the symptoms of inflammation, fevers and/or pain associated with disease or wounds.
In simple words, Diclofenac is a pain reliever. People use it to treat mild to moderate pain and the symptoms of osteoarthritis and rheumatoid arthritis.
Diclofenac leads to renal failure in vultures damaging their excretory system (direct inhibition of uric acid secretion in vultures).
Gyps species were the most affected by diclofenac.
Challenges in eradication
Diclofenac for veterinary use was banned in 2005 but it was continued to be made for humans.
They are effective against seasonal flu. We also use them as painkillers. There are 20-30 cows that undergo treatment at a point of time
Need not have a prescription to get your hands on diclofenac or any other NSAIDS
Many district in the country, has limited trained veterinarians and a high number of quack doctors who prescribe drug overdoses
Vultures In India
https://optimizeias.com/vultures-in-india/
Action Plan for Vulture Conservation for 2020-2025
https://optimizeias.com/action-plan-for-vulture-conservation-for-2020-2025/
Subject: Polity
Section: Rights
Context: The Union government is yet to file its counter affidavit in the SC in a petition which has raised the politically sensitive prayer to identify minorities at the state level as laid down in the 2002 TMA Pai case and grant minority status to Hindus in states where their numbers are lesser.
Background:
1993 Government notification issued under Section 2(c) of the National Minorities Commission (NCM) Act declared Muslims, Christians, Sikhs, Buddhists and Parsis as 'minority'. Jains were also added to the list in 2014.
A petition was moved by an advocate Ashwini Upadhyay in the SC in 2017 which said Hindus, though they are minority in six states (Punjab, Mizoram, Nagaland, Meghalaya, Manipur, Arunachal Pradesh) and two UTs (J & K, Lakshadweep), as per 2011 Census were not added in the list.
The SC asked him to approach the NCM which took the stand that it "does not have the jurisdiction to deal with the prayer…"and that under Section 2(c) of the NCM Act, only the centre can declare a community as a 'minority'.
The petitioner contended that minority status should be on the basis of state wise population and decision must be made at the state level and not at the national level because this is not letting the Hindus to avail welfare schemes meant for minorities in these states.
However, the Supreme Court ruled that languages are restricted state wise but religion is beyond all borders, especially political borders. Thus, religion needs to be considered on a pan-India basis and not state-wise.
The case was again moved in 2019 by the advocate but the new CJI assumed the office. So, the matter is due for listening to once more on March 28 2022.
Concept:
Currently, the linguistic minorities are identified on a state-wise basis thus determined by the state government whereas religious minorities are determined by the Central Government.
A linguistic minority is a group of people whose mother tongue is different from that of the majority in the state or part of a state.
To know about protection of minorities, refer: https://optimizeias.com/protection-of-minorities/ and https://optimizeias.com/national-commission-for-minorities-act-1992/
Subject: Modern History
Section: Freedom struggle
Context: Author Pramod Kapoor brings out in his meticulously researched history of the short-lived Royal Indian Navy (RIN) mutiny, that Admiral John Henry Godfrey, who headed the RIN, was the inspiration for spy thriller writer Ian Fleming's character 'M', the boss of his swashbuckling hero James Bond.
Concept:
Important Personalities of RIN (1946)
John Henry Godfrey– Director of Naval Intelligence in 1939 appointed Fleming as his assistant and treated him as his son. He was made the scapegoat by his naval bosses in London and replaced the day after the mutiny ended.
Rishi Dev Puri– played a key role in fomenting the mutiny. He along with BC Dutt to create some embarrassment painted the words "Jai Hind" and "Quit India" on the HMIS Talwar platform where the new Commander-in-Chief was going to address the gathering. BC Dutt was arrested due to seditious literature found in his locker and Puri was discharged from the navy three weeks before the actual event. Incidentally, Puri, who once earned a living as a professional piano player in London, was the younger brother of Vidya Vikas Purie, who, along with his children, founded the India Today media empire.
RIN Mutiny:
The ratings of the RIN battleship HMIS "Talwar", docked at Bombay, went on strike on 18 February 1946 over the issues of bad food and adverse living conditions.
Other demands of mutineers include:
release of soldiers who had fought in the Azad Hind Fauj or the Indian National Army
wanted the trial of these soldiers to be stopped, and demanded that they be acquitted
asked for the withdrawal of Indian troops from Indonesia and Egypt
refused to fight against people elsewhere in the world who were fighting for freedom
The ratings went all-out to urge the people of Bombay to rise in support of their revolt – the greatest in the naval history – spreading to 78 ships and 22 units all along the Indian coastline.
In response to their call, several processions were taken out in Bombay, Karachi, Calcutta and other places in the subsequent days.
Aruna Asaf Ali, Minoo Masani and Jayaprakash Narayan involved with the ratings.
Hundreds of Indian citizens were killed and thousands were injured in the British military and police firing on the demonstrators.
Sardar Patel managed to make the ratings surrender on 24 February 1946. However, they declared if their demands are not conceded they will go on strike again.
Subject: Modern History
Section: Freedom struggle
Context: The AAP government in Punjab orders its offices to put up photos of its mascot Bhagat Singh and his hero Kartar Singh Sarabha.
Concept:
Kartar Singh Sarabha:
He was born in a highly educated family. He was brought up by his grandfather Badan Singh Grewal due to his parents' early demise.
One of his teachers included the famous nationalist Beni Madhab Das, who inspired Subhas Chandra Bose.
In 1912, when he reached Berkeley, he came into contact with Lala Hardayal, an acclaimed Sanskrit scholar, Sohan Singh Bhakna, a farmer, and Pandurang Sadashiv Khankhoje, an agricultural scientist who formed the Pacific Coast Hindustan Association in 1913.It was a precursor to the Ghadar Party, that was formed on July 15, 1913, with the express aim of over throwing the British government in India.
The party set up a printing press in San Francisco, and brought out its first issue of The Ghadar in Urdu on November 1, 1913, followed by the Punjabi edition on December 13.
Sarabha left his studies and became Ghadr Party's youngest founding member.
He was one of the most active fundraisers in the organisation, holding meetings in the rural areas where the farmers donated generously.
Bhagat Singh's father Kishan Singh had given Sarabha Rs.1,000 for his movement.
He worked shoulder to shoulder with the much older Ghadri "babas", who began to call him 'BalaJarnail (Boy general)'.
With World War-I breaking out in July 1914, the Ghadris decided to return to India including Sarabha.
He was often accompanied by fellow Ghadar party member Vishnu Ganesh Pingle.
By 1915, the Britishbegan to arrest Ghadar party members and Sarabha was also arrested and put on a trial what came to be called the Lahore conspiracy case which resulted in the execution of 24 Ghadris.
The British Police said that he had two books, one was Indian Sociologist published by Shyamji Krishna Varma, who had set up "India House" in London, and the second, Speeches from the Dock, featuring Irish freedom fighters who were executed.
He was hanged to death in Lahore in 1915 (hardly 19 years old).
Bhagat Singh often says that "Sarabha was his ustad."
To know about Bhagat Singh, refer: https://optimizeias.com/bhagat-singh-3/
To know about Ghadr movement, refer: https://optimizeias.com/azadi-ka-amrit-mahotsav-series-2/