Daily Prelims Notes 27 May 2023
May 27, 2023

Posted by:

OptimizeIAS Team

Category:

DPN

Daily Prelims Notes
27 May 2023
Table Of Contents
1. Govt moots policy interventions for women empowerment
Subject: Economy
Section:
Government has asked Ministries and States to lay out different plans for gender parity and restoring dignity of women.
Conceived by the NITI Aayog in consultation with the government and other experts, this is part of an overall women empowerment initiative the Centre desires to achieve through:
sectoral policy interventions
gender sensitization
effective criminal investigation and justice system.
| | |
| --- | --- |
| Ministry | Initiative mooted |
| Ministry of Women and Child Development and MHA | 'One Nation, One Helpline' through integration of all helplines for women with a single emergency response number '112' and link them with 'One Stop Centres' and 'District Child Protection Units' as a solution to violence against women. |
| Ministry of social justice | To oversee the steps States and UTs take to increase child marriage prohibition |
| Education Ministry | To to come up with gender sensitive curriculum for children on upholding dignity and respecting rights of women |
| Minister of Social Justice and Empowerment | Operationalisation of "hubs for empowerment of women" at State, UT and district levels, opening women hostels in industrial and economic zones, raising women self help groups (SHGs) as brands and unicorns. |
| Private sector | Gender Equality Index based ranking of top 500 companies and entities to disclose compliances under the Maternity Benefit Act, the Sexual Harassment of Women (prevention), Prohibition and Redressal) at Workplace Act, 2013 and Code on Industrial Relation |
| Banks | Every bank will have to own up 100 districts and recognise at least one woman SHG and reward the best of the lot for financial discipline |
| Ministry of Industries and Commerce | will have to pitch for coordination, requesting all States and UTs to select 30 to 40 companies and MSMEs and women SHGs and tie them up for handholding and promoting entrepreneurship. |
| Ministry of Home Affairs | Special recruitment drive for women as forest guards is also on the cards and the Aayog has planned efforts to increase their numbers as drivers, bus conductors, tourist police and guides |
| | End to End monitoring of crime against women through interoperable criminal justice system (ICJS) which is part of Supreme Court's ecommittee for seamless transfer of data and information among courts, police, jails and forensic laboratories |
2. Floating point operations system(FLOPs) and Supercomputers
Subject : Science and Technology
Section:
Context
India will unveil its 18 new supercomputers for weather forecasting institutes later this year. The new supercomputer is expected to improve weather forecasts at the block level, help weather scientists give higher resolution ranges of the forecast, predict cyclones with more accuracy and better lead time, and provide ocean states forecasts, including marine quality forecasts.
The new will improve forecasts from 12 km resolution to 6 km resolution.
What are FLOPs?
FLOPs is a metric used for measurement of computational performance -processing power and efficiency, especially in the field of high performance computing (HPC) and Artificial intelligence (AI). Floating point operations are a certain kind of mathematical calculation using real numbers and fractional parts. FLOPS are not only a metric for computational performance but Memory bandwidth ,latency are also crucial factors. Nevertheless, FLOPs act as a baseline to judge performance where calculations dominate.
Current Supercomputers of  India and world
Currently ,the World' fastest supercomputer in terms of Petaflops is Hewlett Packered's Enterprise frontier ,or OCLF-5,with the peak performance of 1685.65 petaflops.
In India NCMRWF(National centre for medium range weather forecasting) houses 'Mihir', a 2.8 petaflops supercomputer and 'Pratyush' 4.0 petaflops supercomputer at Indian Institute of Tropical Meteorology(IITM) at Pune. Out of 18 new supercomputers 10 will be installed at NCMRWF at Noida and 8 at IITM ,Pune.
3. Challenges of climbing Mt Everest
Subject :Economy
Section: Capital market
Context
The recent death of Australian man Jason Kennison after reaching the summit of Mount Everest highlights how dangerous mountain climbing can be.2023 year will be one of busiest and deadly seasons so far with 11 confirmed deaths.
What makes Mount Everest so deadly
According to the Himalayan database more than 310 people have lost their lives on Mount Everest since 1922.The dangers faced by climbers pushing for the summit of Mount Everest are vast. These include the risk of avalanche ,falling rocks/ice ,dangers crossing the Khumbu icefall ,hypothermia from exposure to extreme cold, falls, severe fatigue and exhaustion and illness associated with low oxygen like
Acute mountain sickness
High-altitude pulmonary oedema
High-altitude cerebral oedema.
At base camp of Everest the oxygen is 50% to that of mean sea level and at summit it falls to 30%.Of all the deaths 35% died due to fall ,22% due  exhaustion,18 percent due to altitude sickness and 13% due to exposure. Almost 84% of deaths among non-sherpas occurred during descent after successfully climbing the summit of Mt Everest
4. RBI net seller of US dollar
Subject :Economy
Section: External Sector
Context:
In FY 2023, the Reserve Bank of India(RBI) became a net seller of the US  dollar after remaining a net purchaser for three consecutive years. It sold $ 25.52 billion on a net basis in the spot foreign exchange market.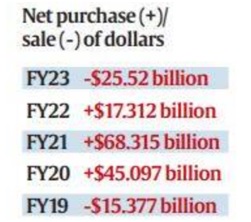 Why did the  RBI became net seller of dollars
The RBI's decision to sell the greenback was to prop up the rupee, which depreciated by almost Rs 6,or 8 percent, to 82 level against the dollar as on March 31,2023,from 76 as on April 1,2022.During the previous fiscal, higher import bills due to surge in oil prices after Ukraine war leading to surging US dollar demand to buy crude oil, global inflation leading to raising of interest rates by US federal reserve ,leading investors to invest in US economy further draining foreign exchange reserve towards US economy. More than 37000 crores of foreign portfolio investments have been pulled out in equity markets and 9000 crores in debt market.
Income of RBI by selling US dollars
RBI generated huge profits from sale of US dollars, so much so that it transferred 87,000 crores this fiscal to the central government, a 188% jump from 30,500 crores in fiscal year 2021-22.
5. Shrinking of lakes worldwide
Subject: Geography
Section: Places in news
Context:
More than 50 percent of the world's largest lakes and reservoirs have shrunk over the past three decades, also more than half of the reservoirs  located in peninsular India have witnessed substantial water storage decline. Moreover among the affected among natural lakes in India is Tso Moriri.
Causes
57 percent of the net decline in the water quantity in natural lakes is due to unsustainable consumption of water like in Aral sea, and also due to increasing and potential evapotranspiration(PET)-loss of water due to both evaporation and transpiration-with the latter two indicating the role of climate change(ex. Lake Kara Bugaz).Besides this two-thirds of all reservoirs have experienced significant declines due to sedimentation.
The Aral sea dried up.
Consequences
Two billion people, a quarter of the global population, depend on lakes for freshwater will be severely affected. Hydropower generation will be affected. The reduced size of these lakes not only results in environmental degradation but also disrupts the water and carbon cycle by rising water temperature which now starts emission of Carbon dioxide. The lakes encroached upon in India, especially in urban areas leads to incidence of Urban flooding as no lake is there to act as flood buffer(Ex Bangalore).
How to conserve
Lakes should be managed in integrated manner. Steps like restrictions on water consumption and climate mitigation to bring down global temperatures are some of the ways to conserve them. This will also help in reducing sedimentation in reservoirs as the rate of sedimentation is linked to climate change- it increases when there is extreme precipitation, as well as land disturbance such as wildfires, landslides, deforestation.
Subject :Science and Technology
Section: Space technology
Context :
The Indian Space Research Organisation is collaborating with the Raman Research Institutes, Bengaluru ,to build the X-ray polarimeter satellite(XPoSAT), which is scheduled to be launched later this year.
What is XPoSAT mission
According to ISRO,"XPoSAT will study various dynamics of bright astronomical X-ray sources in extreme conditions". It has been billed as India's first, and only the world's second polarimetry mission after that of NASA'S imaging X-ray Polarimetry Explorer(IXPE) that was launched in 2021.
How it works
Various celestial bodies like neutron star, Black Holes emit X-ray as low as 0.3 nm, certain wavelengths in its spectrum are polarised light(which vibrate in one plane).The  field of Polarimetry helps us by measuring the angle of rotation of the plane of polarised light. Since these are very complex to study by normal space observatory, X-ray Polarimeter is used.
Payloads
The spacecraft will carry two scientific payloads in a low earth orbit. The primary payload POLIX (Polarimeter Instrument in X-rays) will measure the polarimetry parameters (degree and angle of polarisation. POLIX is expected to observe about 40 bright astronomical sources of different categories during the planned lifetime of XPoSat mission of about 5 years. This is the first payload in the medium X-ray energy band dedicated for polarimetry measurements.
The secondary payload XSPECT(X-ray Spectroscopy and timing) will give spectroscopic information of how light is emitted and absorbed by objects in space. It would observe several types of sources, such as X-ray pulsars, black hole binaries, low -magnetic field ,neutron star etc
7. Salt caverns as strategic petroleum reserves in India
Subject :Geography
Section: Economic Geography
Context
India is exploring the idea of developing salt caverns in Rajasthan as strategic petroleum reserves and public sector consultancy Engineers India Limited(EIL) has been tasked with studying its prospects and feasibility.
Existing strategic petroleum reserves
India has three strategic petroleum reserves at Mangalore, Padur and Visakhapatnam, but all of these are made up of excavated rock caverns. Over the past decade a strategic oil reserve was to be built at Bikaner, Rajasthan but the program never took off. With a salt cavern based strategic oil reserve being deliberated, Rajasthan has once again come into picture. Presently, India does not have technology to excavate salt caverns and we are tying with Germany on this.
Salt cavern
"There are formations in geology which have salt inside. The salt has to be taken out and the caverns have to be prepared for storage of crude. Most of US strategic oil reserves are in salt caverns. Unlike rock caverns, which are developed through excavation, salt caverns are developed by pumping water into geographical formation with large salt deposits to dissolve the salt. Then the salt cavern is created by draining out the salt dissolved in water. Developing salt caverns is said to be easier, faster, less labour- intensive, and cheaper than building a rock cavern.
Why the need
India's strategic petroleum reserve has a cumulative capacity of 5.33 million tonnes of crude and can meet only 9.5 days of the country's oil demand and hence more storage caverns are needed.
About Strategic oil reserves –
Strategic petroleum reserves are huge stockpiles of crude oil to deal with any crude oil-related crisis like the risk of supply disruption from natural disasters, war or other calamities.
According to the agreement on an International Energy Programme (I.E.P.), each International Energy Agency (IEA) country has an obligation to hold emergency oil stocks equivalent to at least 90 days of net oil imports.
In case of a severe oil supply disruption, IEA members may decide to release these stocks to the market as part of a collective action.
India's strategic crude oil storages are currently located at Visakhapatnam (Andhra Pradesh), Mangaluru (Karnataka), and Padur (Karnataka).
The government has also given approval for setting up of two additional facilities at Chandikhol (Odisha) and Padur (Karnataka).
The concept of dedicated strategic reserves was first mooted in 1973 in the US, after the OPEC oil crisis.
Underground storage is, by far the most economic method of storing petroleum products because the underground facility rules out the requirement of large swathes of land, ensures less evaporation and, since the caverns are built much below the sea level, it is easy to discharge crude into them from ships.
The construction of the Strategic Crude Oil Storage facilities in India is being managed by Indian Strategic Petroleum Reserves Limited (ISPRL).

ISPRL is a wholly owned subsidiary of Oil Industry Development Board (OIDB) under the Ministry of Petroleum & Natural Gas.

After the new facilities get functional a total of 22 days (10+12) of oil consumption will be made available.
With the strategic facilities Indian refiners also maintain crude oil storage (industrial stock) of 65 days.
Thus, approximately a total of 87 days (22 by strategic reserves + 65 by Indian refiners) of oil consumption will be made available in India after completion of Phase II of the SPR programme. This will be very close to the 90 days mandate by the IEA.
8. SEBI to bring regulations for financial influencers (Finfluencers)
Subject :Economy
Section: Capital market
In News: SEBI has asked finfluencer P R Sundar to deposit 6 crore as disgorgement for selling investor courses without SEBI approval, and has been banned for a year from the securities market.
Key Elements that regulation should address:
An unambiguous definition of financial advice: In the absence of a holistic definition of financial advice, it has been difficult to regulate activities of finfluencers. There is also a need to differentiate between opinion and advice. At present SEBI provides following two Regulations regarding financial advice:

An advice relating to investing whether written, verbal or through any other means of communication for the benefit of the client, has been termed as 'investment advice' under Regulation 2(1)(l) of the SEBI (Investment Advisers) Regulations 2013. But the regulation explicitly exempts advice given through social media by finfluencers.
Another category of advice is covered under SEBI (Research Analysts) Regulations 2014 (SEBI Research Analyst Regulations) through research report under Regulation 2(1)(w). Unfortunately, financial advice from a finfluencer will be excluded from its ambit, as a research report can be provided only by a certified research analyst by SEBI which requires a post graduate degree from National Institute of Securities Markets under Regulation 7(1)(iii). Hence, no Indian legislation or guidelines provide a concise definition of 'financial advice' that is applicable over the information provided by finfluencers.

Mandatory disclosures:

SEBI requires registered research analysts and financial advisors to disclose their financial interest and any form of compensation received from the company whose financial products and services are being advertised. Finfluencers too need to be mandated to disclose such arrangements.
Additionally Finfluencers should disclose whether they hold a particular security on which they are making a recommendation.

Unsolicited Advice: Social media allows anyone to give their opinion on a subject. But just having a large following does not give one the right to give misleading advice. Hence unsolicited advice needs to be curbed.