Daily Prelims Notes 28 November 2021
November 29, 2021

Posted by:

OptimizeIAS Team

Category:

DPN

Daily Prelims Notes
28 November 2021
Table Of Contents
Context: A new study has identified hydrogen sulphide emitted from the polluted Yamuna as more corrosive than sulphur dioxide that comes from industrial pollution that has been largely blamed for the decay in the Taj's marble.
Reasons for deterioration of Taj Mahal:
For over three decades, sulphur dioxide has been considered to be the main pollutant behind the decay in the white marbles of Taj Mahal.
In 2016, the report of the Archaeological Survey of India cited the formation of phosphorous in the Yamuna as a threat to the Taj Mahal. The phosphorous facilitated the breeding of the genus Goeldichironomus, in Yamuna water and blamed the insect excreta for the green and brownish patches on the Taj marbles.
However, a recent study highlights one more reason-

It identifies Hydrogen Sulphide released from polluted Yamuna water for deterioration of Taj Mahal
Hydrogen Sulphide had a more corrosive impact than sulphur dioxide (SO2) released by industrial pollution in Agra city.
About the study-
A corrosion deformation study was conducted on metals – samples of carbon steel, zinc and copper left exposed at the Taj Mahal premises.

The corrosion products on the metals were analysed using

Raman spectroscopy

and X-ray diffraction and oxides and sulphides were found to be the main constituents. 

The finding of this study leads to the conclusion that the

fading of white marbles of the Taj Mahal may be due to the corrosive effect of hydrogen sulphide

emitted from the polluted Yamuna River.
Steps taken for protection of Taj Mahal-
The focus of Taj-protection initiatives has mostly been on the

Industrial units, resulting in a series of measures since the 1980s to curb Agra's industrial pollution, including the relocation and closure of some polluting industrial units.
Vehicular pollution: For three decades, sulphur dioxide has been considered to be the main pollutant behind the decay in the glorious white marbles.

MC Mehta vs Union of India: The environmentalist MC Mehta drew attention of the SC to the yellowing and blackening of the Taj marbles in several places, suspected to have been a result of 'acid rains' caused by sulphur dioxide emissions.
While this study to identify the principal corrosion agent was conducted on exposed metals in Taj premises over four years, the authors recommended similar experimentation on marbles for a 10-year-period for a definitive understanding.
2. What is the effect of plastic on ecosystems?
Butterfly effect describes how small changes can have non-linear impacts on complex systems – often compared to a butterfly flapping its wings and causing a typhoon. Microplastics have a similar result in ecosystems.
Impact of microplastics:
Impact on soil, agriculture: Soil can be contaminated with microplastics through sources like composting, sewage waste, agricultural run-off, and mulching. This leads to poor reproductive success, retarded nutrient absorption and growth, increased antibiotic resistance, behavioral changes, and neurotoxicity. This will in turn have consequences on agriculture productivity or what is known as the green economy.
Impact on keystone species: They play a crucial role in an ecosystem. Eg. polar bear, Asiatic elephant. They interact with microplastics and its chemical toxins
Increased Bioaccumulation- It is the toxic build-up of chemicals as they travel up the food chain. It can have far-reaching implications across the biosphere. Thus, Terrestrial ecosystems are intrinsically linked to aquatic systems, as water, sediments and organisms move from one to the other, as do the contaminants.
Impacts on bioindicators are organisms that are susceptible to small, adverse changes, and are used to study the environmental health. Eg: aquatic plants, various plankton and crustacean species, zebrafish etc. Deformed larvae, reduced mobility due to neurotoxicity, impaired immunity, and increased death rates etc. are some of the adverse impacts of microplastics.
Marine snowfall: When plankton die or are consumed, they cause particles of carbon to sink from the surface to the deep ocean in a process known as marine snowfall. Some of this carbon is consumed by sea organisms along the way, some gets chemically broken down, but most of it reaches the deep ocean where it settles for hundreds or thousands of years.
Plastisphere– Plankton interact with plastics in other ways too. Along with other microorganisms, they inhabit plastic surfaces, creating a plastisphere – an ecosystem of discarded waste in open waters. It is a mini-ecosystem in itself, with primary producers, grazers, predators, parasites, symbionts, and nutrient recyclers. Plastispheres may increase productivity in the otherwise unproductive ocean ecosystem, yet they serve as islands for harmful invasive microbes to travel across wide ranges, emitting greenhouse gases and ferrying antibiotic resistance genes along the way.
Marine food chain
Microalgae or phytoplankton, are unicellular, photosynthetic organisms that occur as individuals, in chains, or clusters through aquatic ecosystems. They are the invisible heroes of many aquatic and marine ecosystems, as they provide food for a variety of species.

Phytoplankton are eaten by

zooplanktons.

Zooplanktons are consumed by molluscs, small crustaceans like shrimp and krill, sardines, herrings, manta rays, and even baleen and blue whales.
3. Covaxin elicits immune memory to virus
Context: A small study conducted on 71 individuals who received two doses of Covaxin found that the vaccine generates antibodies and easily detectable memory B cell and T cell responses in many recipients.
According to the study by National Institute of Immunology the immunological memory to the virus and the variants after full vaccination seemed to last up to six months in many individuals.
Even though antibodies may decline with time, the memory compartment will be marshalled quickly in case of a future infection to limit virus multiplication and disease.
This shows that immune system can respond swiftly and provide protection in case of a breakthrough infection.
The study shows that the quantity of memory T cells is comparable to that of natural infection, and the composition of memory subsets is indicative of a long-term durability of vaccine-induced T cell responses.
Immunity
The immune system is a network of intricately connected cells to protect the body from internal and external threats. It is broadly classified into two sub-types: innate (or natural) and adaptive (or acquired). The key differences between the two are the specificity and agility of the responses generated towards a perceived threat.
Because of the intricate nature of the immune system, the innate system also provides cues in the forms of chemical signals (cytokines) or degraded products of infectious organisms (antigens) to activate the adaptive immune system, using a process known as "antigen presentation". Without these cues, the adaptive immune system cannot be activated.
The adaptive immune system has evolved to provide a more versatile and highly target-specific defence with an ability to distinguish very subtle differences in the make-up of infectious agents. But the adaptive immune system is slow and can take several days before two key cell types – B cells and T cells – are brought into play.
T cells are further grouped into two sub-types, CD4+ and CD8+ cells. CD4+ are helper T cells that help the activity of other immune cells by releasing cytokines. The cytokines prime the maturation of B cells, which become plasma cells and produce antibodies to neutralise the pathogen. CD8+ cytotoxic T cells, on the other hand, directly kill infected cells.
Once the adaptive immune system has vanquished the invader, a pool of long-lived memory T and B cells are made. These memory lymphocytes remain dormant until the next time they encounter the same pathogen. This time, though, they produce a much faster and stronger immune reaction. Memory is the key feature of the adaptive immune system, enabling long-term protection.
T cells and B cells in COVID-19
Since most people have not been exposed to the novel coronavirus, it can safely be assumed that uninfected people have no memory T and B cells and therefore no protection from a COVID-19 infection. Technically speaking, as with any other infection, COVID-19 should generate an immune response, priming the proliferation of anti-COVID T and B cells.

Context: India witnesses around 5 lakh road accidents and 1.5 lakh deaths from them every year. As per several government assessments and independent studies, a large number of deaths occur because the victims did not get medical help within the golden hour.
Objective of the scheme:
It has been announced by the Road Transport and Highways Ministry so that taking a road crash victim to hospital is not just hassle-free but there is also the incentive of a reward and recognition.
Historically, Indians are reluctant in taking victims to hospital because of associated legal processes and investigations that follow. To address that, the Centre inserted Section 134A in the Motor Vehicles (Amendment) Act, 2019, which deals with "Protection of Good Samaritans". It says that a Good Samaritan will not be liable for-

any civil or criminal action for any injury to or death of the victim of an accident involving a motor vehicle, where such injury or death resulted from the Good Samaritan's negligence in acting or failing to act while rendering emergency medical or non-medical care or assistance etc.
About the scheme:
The scheme entitles any person, who helps save a life by taking a road crash victim to the hospital, to a reward of Rs 5,000 per accident.
Any individual who has saved the life of a victim of a fatal accident involving a motor vehicle by administering immediate assistance and rushing to hospital within the golden hour of the accident to provide medical treatment would be eligible for the award.
An individual Good Samaritan can be awarded maximum five times in a year.
Further, the "Good Samaritan" is free to not disclose their name to the hospital or law enforcement authorities; they can also choose not to take part in any legal process involving the accident.
5. Prime Minister's Council on Climate Change
Context: India announced ambitious goals for mitigating climate change at the recently concluded 26th Conference of Parties (CoP26) to the United Nations Framework Convention on Climate Change.
Concept:
Prime Minister's Council on Climate Change
A committee chaired by the Prime Minister called Prime Minister's Council on Climate Change will coordinate national action for assessment, adaptation and mitigation of climate change.
The composition of the Prime Minister's Council on Climate Change is as follows.
Chairperson:  Prime Minister
Members: External Affairs Minister, Finance Minister, Minister of Environment and Forests, Minister of Agriculture, Minister of Water Resources, Minister of Science and Technology, Minister of New and Renewable Energy, Deputy Chairman, Planning Commission, National Security Advisor, Foreign Secretary, Secretary, M/O Environment and Forests, Principal Secretary to PM  and other experts.
Committee's tasks:
Evolve a coordinated response to issues relating to climate change at the national level.
Provide oversight for formulation of action plans in the area of assessment, adaptation and mitigation of climate change.
The committee would be serviced by the Prime Minister's Office, which may obtain assistance as required from any Ministry/ Department/Agency of Government. Specifically, the Ministry of Environment and Forests will assist PMO in facilitating the work of this Committee.
The first council was able to formulate the National Action Plan on Climate Change (NAPCC), a month before the 'Group of Eight' countries summit that was held in July 2008.
It was mainly shaped by a three-member group from within the council — the principal scientific advisor, former secretary to the then Union Ministry of Environment and Forests and the director-general of TERI.
Apex Committee for the Implementation of the Paris Agreement
AIPA is chaired by the secretary of the Union Ministry of Environment, Forests and Climate Change (MoEFCC), with the additional secretary as the vice chairperson and has a total of 17 members.
The objective of this committee was to coordinate work for meeting India's nationally determined contribution targets. .
The purpose of AIPA is to generate a coordinated response on climate change matters that ensures India is on track towards meeting its obligations under the Paris Agreement including its Nationally Determined Contributions (NDC).
Senior officials from fourteen ministries will serve as Members to AIPA who will oversee the progress in implementation of India's NDC
Other key functions of AIPA:
To operate as a National Authority to regulate carbon markets in India under Article 6 of the Paris Agreement,
To formulate guidelines for consideration of projects or activities under Article 6 of the Paris Agreement,
To issue guidelines on carbon pricing, market mechanism, and other similar instruments that have a bearing on climate change and NDCs.
6. Global Nutrition Report 2021
Context: As many as 12 million people died prematurely in 2018 due to risks linked to consumption of imbalanced and unhealthy diet, according to the Global Nutrition Report, 2021 (GNR) released November 23, 2021.
Concept:
Global Nutrition Report, 2021
The World Health Organisation publishes the Global Nutrition Report
It is published once in a year. The first Global Nutrition Report published in 2014.
Global Nutrition Report Vision is "A world free from malnutrition in all its forms".
The GNR 2021 arrived at these conclusions based on an analysis of the estimates of food intake from the Global Dietary Database, weight measurements from the NCD Risk Factor Collaboration, diet-disease relationships from the epidemiological literature, and mortality and population estimates from the Global Burden of Disease project.
The report tracks global nutrition targets on maternal, infant and young child nutrition and on diet-related Non-Communicable Diseases adopted by member states of the WHO as well as governments' delivery against their commitments
Recent findings
The increase of premature deaths due to poor diets was the highest in Africa (22 per cent), Latin America and the Caribbean (8 per cent). In Asia, the preventable deaths increased by 7 per cent, followed by Oceania (4 per cent) and Europe (2 per cent).
Of the 12 million premature deaths attributed to dietary risks, 5.9 million avoidable deaths among adults were due to coronary heart disease > 2.9 million people (22 per cent) died due to cancers > 2.4 people (19 per cent) died prematurely due to strokes.
None of the 190 countries assessed by the GNR, 2021, the rate of overweight and obesity continues to rise in the world and no country including India, is on-track to reduce obesity, according to the global nutrition target.
India specific findings
India has made no progress on anaemia and childhood wasting.
Over half of Indian women in the age group 15-49 years are anaemic. There has been a rise in anaemic6 per cent in 2016 to 53 per cent in 2020 were found to be anaemic.
The country is also among 105 countries that are 'on course' to meet the target for 'childhood overweight' and among 53 countries 'on course' to meet the target for 'exclusive breast feeding'.
India does not have adequate data on prevalence of 'low birth weight'
Context: The district administration of Sambalpur in Odisha recently turned to women self-help groups for an unlikely assignment — nursing care and assistance for leprosy patients.
Concept:
Odisha declared itself leprosy-free in 2006-07, with cases dropping below 10,000 and the prevalence rate below 1%.
However, re-emergence of the disease, with cases crossing the 10,000-mark annually in the past few years, has sent the health and civil administration into a tizzy.
Leprosy cases increasing in Odisha
Leprosy is also known as Hansen's disease. Leprosy is one of the oldest diseases in recorded history, afflicting humanity since time immemorial. A written account of Leprosy date as far back as 600 B.C.
Cause: Leprosy is a chronic, progressive bacterial infection. It is caused by a bacterium called Mycobacterium Leprae, which is an acid-fast rod-shaped bacillus.
Infections: Skin, Peripheral nerves, Upper respiratory tract and Lining of the nose.
Transmission: It mainly transmits by breathing airborne droplets from the affected individuals. It can be contacted at any age.
Symptoms: Red patches on the skin, skin lesion, and numbness in arms, hands, and legs, ulcers on the soles of feet, muscle Weakness and excessive weight loss. It usually takes about 3-5 years for symptoms to appear after coming into contact with Leprosy causing bacteria.
Treatment: Leprosy is curable with the combination of drugs known as Multi-Drug Therapy (MDT).
National Leprosy Eradication Programme (NLEP)
The National Leprosy Eradication Programme is a centrally sponsored Health Scheme under the National Health Mission of the Ministry of Health and Family Welfare, Govt. of India.
The Programme is headed by the Deputy Director of Health Services (Leprosy ) under the administrative control of the Directorate General Health Services, Govt. of India.
Leprosy-free India" is the vision of the NLEP.
Objectives
To reduce Prevalence rate less than 1/10,000 population at sub national and district level.
To reduce Grade II disability % < 1 among new cases at National level, the cases < 1 case per million population at National level
Zero disabilities among new Child cases.
Zero stigma and discrimination against persons affected by leprosy.
Initiatives
Active Case Detection and Regular Surveillance (ACD&RS) guidelines rolled out.
Convergence of NLEP with Rashtriya Kishore Swasthya Karyakaram (RKSK) for counselling the children of teen age group (13-19 yrs) about leprosy at Adolescent Friendly Clinics
Sparsh Leprosy Awareness Campaigns
Introduction of NIKUSTH – A real time leprosy reporting software across India.
Context: The Black-and-orange Flycatcher (BOF) and the Nilgiri Flycatcher (NIF), two species endemic to the Western Ghats, could suffer a loss of 31 per cent and 46 per cent of their range respectively by 2050 due to climate change, according to a study published in Current Science.
Concept:
What is Endemism?
Endemism is the condition of being endemic, or restricted in geographical distribution to an area or region.
Endemism is an ecological classification in that it describes the range or distribution of a species, or group of species.
Difference between Endemic and Indigenous
Endemism is not to be confused with indigenous, a term which refers to the origins of a species. Indigenous refers to where a group originated. A species can be both endemic and indigenous to an area.
However, some species thrive and exceed the bounds of their original indigenous location. This means that the species is no longer endemic, but is still indigenous to the original area.
An endemic species is a species which is restricted geographically to a particular area.
Types of endemism
Paleoendemism: Endemism in a species can arise through a species going extinct in other regions.
Neoendemism: A new species are always endemic to the region in which they first appear.
Endemism and species survival
It is not always the case that an endemic species is vulnerable to extinction, as many globally distributed species are also considered threatened or endangered.
Endemism sometimes protects species from being exploited globally, simply because of the fact that the species only exists in a small area.
This can even make the species easier to protect, because the land can be placed under a conservation easement to restrict the construction and human impact on the land.
Examples: Asiatic Lion in Gir Forest, Lion-tailed Macaque in Western Ghats of India, Nilgiri Tahr, Malabar large spotted civet, Nilgiri Blue Robin, Jerdon's Corser, Nilgai, Nicobar megapode, Black-and-orange Flycatcher (BOF) and the Nilgiri Flycatcher (NIF), two species endemic to the Western Ghats are some of the species of animals endemic to India
9. One out of every two Bihar households is multi-dimensionally poor (51.9 per cent) according to India's first multi-dimensional poverty index released by NITI Aayog.
Context: NITI Aayog has released MPI
Concept:
Under the Cabinet Secretary's Global Indices for Reforms and Growth (GIRG) initiative, the country's performance is being monitored across 29 global indices including Human Development Index (HDI), Global Hunger Index (GHI), Global Competitiveness Index (GCI), Human Capital Index (HCI), Global Innovation Index (GII), among others.
This exercise is aimed at leveraging the monitoring mechanism of important social, economic, and other internationally recognised indices, enabling the utilisation of these indices as tools for bringing about reforms to improve outcomes and correspondingly reflect them in India's performance in these indices globally.
Under this initiative, NITI Aayog is the nodal Ministry for the Multidimensional Poverty Index (MPI). According to Global MPI 2021, India's rank is 66 out of 109 countries. The National MPI Project is aimed at deconstructing the Global MPI and creating a globally aligned and yet customised India MPI for drawing up comprehensive Reform Action Plans with the larger goal of improving India's position in the Global MPI rankings.
As the nodal Ministry for MPI, NITI Aayog is also responsible for engaging with the publishing agencies of the index; ranking States and Union Territories based on their performance and has also constituted an inter-ministerial MPI Coordination Committee (MPICC) to consult twelve Line Ministries mapped to each National MPI indicator.
National MPI (based on National Family Health Survey-4, data period- 2015-16): Dimensions, Indicators and Findings
India's national MPI captures multiple and simultaneous deprivations faced by households across the three macro dimensions of health, education and living standards. The National MPI dimensions, indicators and weights are given below: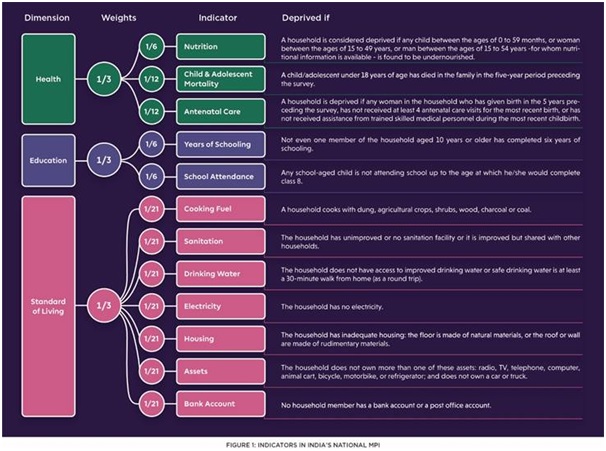 Sustainable Development Goal 1 aims to end poverty in all its forms everywhere. The global Multidimensional Poverty Index (MPI) measures acute multidimensional poverty across more than 100 developing countries.
It does so by measuring each person's deprivations across 10 indicators in three equally weighted dimensions: health, education and standard of living.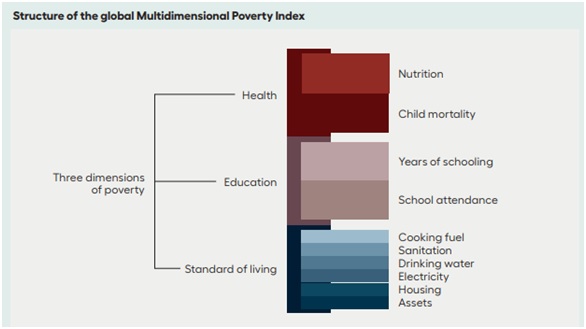 Launched in 2010 by the Oxford Poverty and Human Development Initiative at the University of Oxford and the Human Development Report Office of the United Nations Development Programme, the global MPI is updated annually to incorporate newly released surveys and share fresh analyses.
In the global MPI, people are counted as multidimensionally poor if they are deprived in one-third or more of 10 indicators (see figure), where each indicator is equally weighted within its dimension, so the health and education indicators are weighted 1/6 each, and the standard of living indicators are weighted 1/18 each.
The MPI is the product of the incidence of multidimensional poverty (proportion of multidimensionally poor people) and the intensity of multidimensional poverty (average share of weighted deprivations, or average deprivation score, 1 among multidimensionally poor people) and is therefore sensitive to changes in both components. The MPI ranges from 0 to 1, and higher values imply higher multidimensional poverty.
Report uses methodology developed by Oxford Poverty and Human Development Initiative and UNDP
The Multidimensional Poverty Index has been used by the United Nations Development Programme in its flagship Human Development Report since 2010. It is the most widely employed non-monetary poverty index in the world