Daily Prelims Notes 29 November 2021
November 29, 2021

Posted by:

OptimizeIAS Team

Category:

DPN

Daily Prelims Notes 
29 November 2021
Table Of Contents
Subject: Science and tech
Context:
With an eye on reports from across the world about Omicron, the new Covid "variant of concern", the Central Government Sunday issued revised guidelines for international travelers arriving from Europe, including the UK, and 11 other "at risk" countries, mandating testing on arrival, home quarantine for seven days on a negative result, and a retest on the eighth day.
Concept:
The B.1.1.529 variant (Omicron) was first reported to WHO from South Africa on 24 November 2021 and the WHO's Technical Advisory Group on SARS-CoV-2 Virus Evolution (TAG-VE) on 26th November 2021 has classified it as Variant of Concern (VoC) in view of large number mutations noted in the variant, some of which may make this mutation more transmissible and have immune escape behavior.
For more update, click https://optimizeias.com/new-variant-b-1-1-529/ .
Subject: Economy
Context:
The ministry of Corporate Affairs (MCA) has published a draft framework for cross border insolvency proceedings based on the UNCITRAL (United Nations Commission on International Trade Law) model under the Insolvency and Bankruptcy Code.
Concept:
Cross border insolvency proceedings are relevant for the resolution of distressed companies with assets and liabilities across multiple jurisdictions. A framework for cross border insolvency Proceedings allows for the location of such a company's foreign assets, the identification of creditors and their claims and establishing payment
towards claims as well as a process for coordination between court in different countries.
While foreign creditors can make claims against a domestic company, the IBC currently doesnot allow for automatic recognition of any insolvency proceedings in other countries. In the case of Jet Airways, when one of the company's
aircraft was grounded in Amsterdam over non-payment of dues to a European cargo firm, the National Company Law Tribunal had declined to "take on record" any orders of a foreign court regarding domestic insolvency proceedings in the absence of enabling provision in the IBC.
The National Company Law Appellate Tribunal, however, permitted the recognition of Dutch proceedings as "non-main insolvency proceedings" recognising India as the Centre Of Main Interests(COMI) for the company.
However, current provisions under the IBC do not allow Indian courts to address the issue of foreign assets of a company being subjected to parallel insolvency proceedings in other jurisdictions.
The UNCITRAL model is the most widely accepted legal framework to deal with cross- border insolvency
It has been adopted by 49 countries, including the UK, the US, South Africa, South Korea and Singapore.
UNCITRAL:
The United Nations Commission on International Trade Law is the core legal body of the United Nations system in the field of international trade law.
UNCITRAL was established in 1966 with a recognition that international trade cooperation among States is an important factor in the promotion of friendly relations and, consequently, in the maintenance of peace and security.
Through its several model laws, conventions, legislative guides and robust debates in working groups, UNCITRAL has provided a valuable platform for countries to compare, examine, debate and adopt principles of international commercial and trade law appropriate to their circumstances.
Since its inception, India is only one of eight countries that has been a member of UNCITRAL.
UNCITRAL Model Law- The model law deals with four major principles of cross-border insolvency:
Direct access to foreign insolvency professionals and foreign creditors to participate in or commence domestic insolvency proceedings against a defaulting debtor.
Recognition of foreign proceedings & provision of remedies.
Cooperation between domestic and foreign courts & domestic and foreign insolvency practitioners.
Coordination between two or more concurrent insolvency proceedings in different countries. The main proceeding is determined by the concept of centre of main interest (COMI).
3. Connected and circular lending
Subject: Economy
Context:
The Reserve Bank of India (RBI) has kept in limbo the proposal of its Internal Working Group (IWG) for granting banking licence to big corporate houses amid fears over connected lending and self-dealing if they are allowed in the banking space.
Concept:
Connected lending:
Connected lending involves the controlling owner of a bank giving loans to himself or hisrelated parties and group companies at favourable terms and conditions.
Business groups need financing, and they can get it easily with no questions asked if they have an in-house bank.
In short, companies can use the bank as a "private pool of readily available funds". Big business groups already account for a major chunk of non-performing assets (NPAs) in the banking system even without becoming promoters of a bank.
While the main argument in favour of allowing corporate presence in banking is that they can bring in capital, business experience and managerial competence, there are apprehensions that it was not easy for supervisors to prevent or detect self-dealing or connected lending as banks could hide connected party or related party lending behind complex company structures and subsidiaries or through lending to suppliers of promoters and their group companies.
These loans can subsequently become bad assets of the bank. Moreover, highly indebted and politically connected business houses will have the greatest incentive and ability to push for licenses.
Circular lending:
Another risk associated with banks owned by industry groups is circular lending, with corporate bank X funding projects of an industry group, which owns corporate bank Y, and corporate bank Y funding projects of an industry group owning bank Z, and finally, corporate bank Z funding projects of industry group owning bank X, which is hard to track on a real-time basis.
Subject: Mapping
Context:
Dozens of demonstrators have assembled outside Downing Street to protest over the deaths of 27 people who perished while trying to cross the English Channel.
Concept:
The English Channel, is an arm of the Atlantic Ocean that separates Southern England from northern France and links to the southern part of the North Sea by the Strait of Dover at its northeastern end. It is the busiest shipping area in the world.
The Channel was a key factor in Britain becoming a naval superpower and has been utilised by Britain as a natural defence mechanism through which they halted many would-be invasions, such as the Napoleonic Wars and those of Adolf Hitler in World War II.
The population around the English Channel is predominantly located on the English coast and the major languages spoken in this region are French and English.
Subject: Social issues
Concept:
Social justice is justice in terms of the distribution of wealth, opportunities, and privileges within a society.
In Western as well as in older Asian cultures, the concept of social justice has often referred to the process of ensuring that individuals fulfill their societal roles and receive what was their due from society.
In the current movements for social justice, the emphasis has been on the breaking of barriers for social mobility, the creation of safety nets and economic justice.
Social justice assigns rights and duties in the institutions of society, which enables people to receive the basic benefits and burdens of cooperation.
The relevant institutions often include taxation, social insurance, public health, public school, public services, labor law and regulation of markets, to ensure fair distribution of wealth, and equal opportunity.
Subject: Science and Tech
Context:
The Minister of Commerce and Industry, Piyush Goyal, recently highlighted that India is poised to become one of the largest digital markets in the world on the back of an unprecedented 87 per cent fintech adoption rate as against the global average of 64 per cent. He added that the JAM (Jan Dhan-Aadhaar-Mobile) trinity, besides Direct Benefit Transfers (DBT), have brought timely delivery of financial benefits and services, especially in the post-pandemic era.
Concept:
India Stack is a set of APIs that allows governments, businesses, startups and developers to utilise an unique digital Infrastructure to solve India's hard problems towards presence-less, paperless, and cashless service delivery.
The Open API team at iSPIRT has been a pro-bono partner in the development, evolution, and evangelisation of these APIs and systems.
The four distinct technology layers provided are
Presenceless layer : Where a universal biometric digital identity allows people to participate in any service from anywhere in the country.
Paperless layer : Where digital records move with an individual's digital identity, eliminating the need for massive amount of paper collection and storage.
Cashless layer : Where a single interface to all the country's bank accounts and wallets to democratize payments.
Consent layer : Which allows data to move freely and securely to democratize the market for data.
APIs included in India Stack:
The following APIs are considered to be a core part of the India Stack.
Aadhaar Authentication
Aadhaar e-KYC
eSign
Digital Locker
Unified Payment Interface (UPI)
Digital User Consent – still work in progress.
The following APIs are also considered to be societal platforms built on similar principles like India Stack:
GSTN – The Goods and Services Tax Network
BBPS – The Bharat Bill Payment System
ETC – Electronic Toll Collection (known under the brand FASTag)
Utility
Citizens : Brings millions of Indians into the formal economy by reducing friction.
Software ecosystem : Fosters innovation to build products for financial Inclusion, healthcare & educational services at scale.
Government : Brings a paradigm shift in the way government services are delivered in a transparent, accountable and leakage free model.
Subject: Science and Tech
Concept:
HeLa is an immortal cell line used in scientific research. It is the oldest and most commonly used human cell line.
The line is named after and derived from cervical cancer cells taken on February 8, 1951, from Henrietta Lacks, a 31-year-old African-American mother of five, who died of cancer on October 4, 1951.
The cell line was found to be remarkably durable and prolific, which allows it to be used extensively in scientific study.
The cells from Lacks's cancerous cervical tumor were taken without her knowledge or consent, which was common practice at the time.
Cell biologist George Otto Gey found that they could be kept alive, and developed a cell line. Previously, cells cultured from other human cells would only survive for a few days. Cells from Lacks's tumor behaved differently.
HeLa cells are used by scientists to develop a cancer research method that tests whether a cell line is cancerous or not. This method proves so reliable that scientists use it to this day. HeLa cells are taken aboard some of the very first capsules used to explore outer space.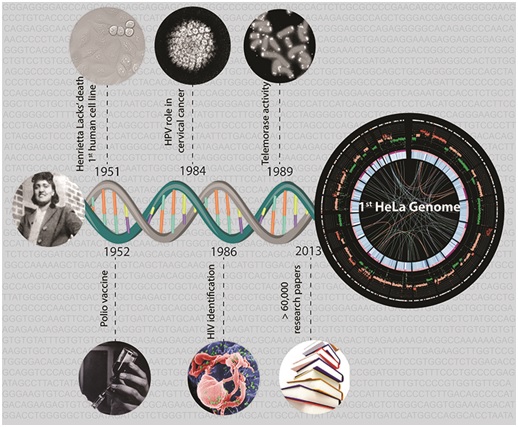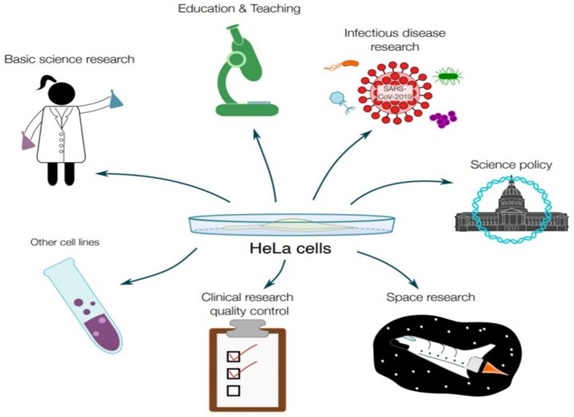 Uses of HeLa cells:
Over the past several decades, this cell line has contributed to many medical breakthroughs, from research on the effects of zero gravity in outer space and the development of polio and COVID-19 vaccines, to the study of leukemia, the AIDS virus and cancer worldwide.
Although many other cell lines are in use today, HeLa cells have supported advances in most fields of medical research in the years since HeLa cells were isolated.
Subject: Indian Polity
Context:
The Winter Session of Parliament is scheduled to be held between November 29, 2021 and December 23, 2021. There will be a total of 19 sittings.
Currently, 29 Bills are pending in Parliament. Of these, five Bills are listed for consideration, and passing during the session and five are listed for withdrawal.  26 Bills are listed for introduction, consideration, and passing.
Concept:
Sessions of Parliament:
The summoning of Parliament is specified in Article 85 of the Constitution.
The power to convene a session of Parliament rests with the Government. The decision is taken by the Cabinet Committee on Parliamentary Affairs which is formalised by the President, in whose name MPs are summoned to meet for a session.
India does not have a fixed parliamentary calendar. By convention (i.e. not provided by the Constitution), Parliament meets for three sessions in a year.
The longest, Budget Session (1st session), starts towards the end of January, and concludes by the end of April or first week of May. The session has a recess so that Parliamentary Committees can discuss the budgetary proposals.
The second session is the three-week Monsoon Session, which usually begins in July and finishes in August.
Winter Session (3rd session), is held from November to December.
Summoning of Parliament:
Summoning is the process of calling all members of the Parliament to meet. The President summons each House of the Parliament from time to time. The gap between two sessions of the Parliament cannot exceed 6 months, which means the Parliament meets at least two times in one year.
Adjournment:
Adjournment terminates the sitting of the House which meets again at the time appointed for the next sitting. The postponement may be for a specified time such as hours, days or weeks. If the meeting is terminated without any definite time/ date fixed for the next meeting, it is called Adjournment sine die.
Prorogation:
Prorogation is the end of a session. A prorogation puts an end to a session. The time between the Prorogation and reassembly is called Recess. Prorogation is the end of session and not the dissolution of the house (in case of Lok Sabha, as Rajya Sabha does not dissolve).
Quorum:
Quorum refers to the minimum number of the members required to be present for conducting a meeting of the house. The Constitution has fixed one-tenth strength as quorum for both Lok Sabha and Rajya Sabha. Thus, to conduct a sitting of Lok Sabha, there should be at least 55 members present while to conduct a sitting of Rajya Sabha, there should be at least 25 members present.
Legislative Motion:
Closure Motion: It is a motion moved by a member to cut short the debate on a matter before the House.
Privilege Motion: It is concerned with the breach of parliamentary privileges by a minister.
It is moved by a member when he feels that a minister has committed a breach of privilege of the House.
Calling Attention Motion: It is introduced in the Parliament by a member to call the attention of a minister to a matter of urgent public importance, and to seek an authoritative statement from him on that matter.
No-Confidence Motion: Article 75 of the Constitution says that the council of ministers shall be collectively responsible to the Lok Sabha.
The Lok Sabha can remove the ministry from office by passing a no-confidence motion.