Daily Prelims Notes 3 January 2022
January 3, 2022

Posted by:

admin1

Category:

DPN

Daily Prelims Notes
3 January 2022
Table Of Contents
1. Common Property Resources (CPR)
Subject – Governance
Context – Increasing population density can also lead to better community management of common property resources, if community property rights are adequately defined
Concept –
Areas like rivers, forests, village ponds, water bodies, parking lots and train compartments are referred to as Common Property Resources (CPR) or Common Pool Resources in academic and governance domain.
Common represents all natural resources used for human welfare, which are not necessarily owned by an individual or a group of individuals.
Such resources are owned by state and state extends the 'use right' to the defined communities touse it to meet their needs.
Therefore, in Common pool Resources the group may or may not have a collective claim, ownership or custodianship but may have access or 'use rights' to the resource.
Two important examples of CPRs in India are Panchayat lands in villages and water or canal irrigation owned by the village communities.
In the present era it is utmost important that we sustainably manage CPR so that our generation as well as future generations can avail of them.
The value of a common pool resource can be reduced through overuse because the supply of the resource is not unlimited, and using more than can be replenished can result in scarcity.

Overuse of a common pool resource can lead to the tragedy of the commons
2. Domestic support in agriculture: The boxes
Subject – Economy
Context – India appeals against WTO dispute panel ruling on sugar export subsidies at appellate body
Concept –
In WTO terminology, subsidies in general are identified by "boxes" which are given the colours of traffic lights: green (permitted), amber (slow down — i.e. need to be reduced), red (forbidden).
The Agriculture Agreement has no red box, although domestic support exceeding the reduction commitment levels in the amber box is prohibited; and there is a blue box for subsidies that are tied to programmes that limit production.
There are also exemptions for developing countries (sometimes called an "S&D box" or "development box", including provisions in Article 6.2 of the Agreement).
Amber box
Nearly all domestic support measures considered to distort production and trade (with some exceptions) fall into the amber box, which is defined in Article 6 of the Agriculture Agreement as all domestic supports except those in the blue and green boxes.
These include measures to support prices, or subsidies directly related to production quantities.
These supports are subject to limits. "De minimis" minimal supports for both product-specific and non-product-specific support are allowed, defined as a share of the value of agricultural production.

This threshold is generally 5% of the value of agricultural production for developed countries, 10% for most developing countries — although some WTO members agreed to a different level when they negotiated to join the WTO.
Furthermore, 32 WTO members with larger subsidies than the de minimis levels at the beginning of the post-Uruguay Round reform period committed to reducing these support levels.

The reduction commitments are expressed in terms of a "Total Aggregate Measurement of Support" (Total AMS) which includes all supports for specified products together with supports that are not for specific products, in one single figure. In the Agriculture Agreement, AMS is defined in Article 1 and Annexes 3 and 4.
Blue box
This is the "amber box with conditions" — conditions designed to reduce distortion.
Any support that would normally be in the amber box, is placed in the blue box if the support also requires farmers to limit production (details set out in Paragraph 5 of Article 6 of the Agriculture Agreement).
At present there are no limits on spending on blue box subsidies.
Green box
The green box is defined in Annex 2 of the Agriculture Agreement.
In order to qualify, green box subsidies must not distort trade, or at most cause minimal distortion.
They have to be government-funded (not by charging consumers higher prices) and must not involve price support.
They tend to be programmes that are not targeted at particular products, and include direct income supports for farmers that are not related to (are "decoupled" from) current production levels or prices.
They also include environmental protection and regional development programmes.
"Green box" subsidies are therefore allowed without limits, provided they comply with the policy-specific criteria set out in Annex 2.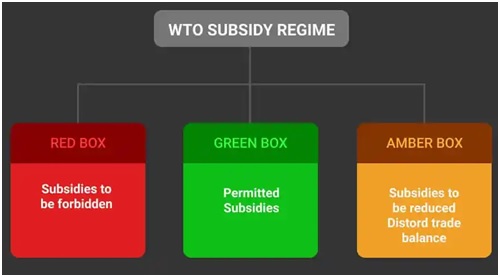 Development Box
Article 6.2 of the Agriculture Agreement allows developing countries additional flexibilities in providing domestic support.
The type of support that fits into the developmental category are measures of assistance, whether direct or indirect, designed to encourage agricultural and rural development and that are an integral part of the development programmes of developing countries.
They include investment subsidies which are generally available to agriculture in developing country members, agricultural input subsidies generally available to low-income or resource-poor producers in developing country members, and domestic support to producers in developing country members to encourage diversification from growing illicit narcotic crops.
De minimis
The World Trade Organisation (WTO) defines de minimis as the "minimal amounts of domestic support that are allowed even though they distort trade — up to 5% of the value of production for developed countries, 10% for developing".
Agreement on Subsidies and Countervailing Measures (SCM)
The WTO Agreement on Subsidies and Countervailing Measures disciplines the use of subsidies, and it regulates the actions countries can take to counter the effects of subsidies.
Under the agreement, a country can use the WTO's dispute-settlement procedure to seek the withdrawal of the subsidy or the removal of its adverse effects. Or the country can launch its own investigation and ultimately charge extra duty ("countervailing duty") on subsidized imports that are found to be hurting domestic producers.
All countries that become members of the WTO will automatically be subject to the Subsidies Agreement.
3. RBI's Financial Stability Report
Subject – Economy
Context –Last week, the Reserve Bank of India (RBI) released its latest Financial Stability Report (FSR).
Concept –
It details the current status of different financial institutions such as all the different types of banks and non-banking lending institutions.
It also maps the state of credit growth and the rate at which borrowers are defaulting on paying back loans.
As part of the FSR, which is published twice each year, the RBI also conducts a Systemic Risk Survey (SRS), wherein it asks experts and market participants to assess the financial system on five different types of risks — global, financial, macroeconomic, institutional and general.
Subject – IR
Context – Sri Lanka's Energy Minister announced that the Indian Oil Subsidiary Lanka IOC would be given 49% stake in the joint development of the Trincomalee Oil Tank farm, with Ceylon Petroleum Corporation keeping 51%.
Concept –
Sri Lanka's Energy Minister announced that the Indian Oil Subsidiary Lanka IOC would be given 49% stake in the joint development of the Trincomalee Oil Tank farm, with Ceylon Petroleum Corporation keeping 51%.
If it goes according to plan, India and Sri Lanka would have finally achieved the implementation of an agreement —  contained in an exchange of letters between then Prime Minister Rajiv Gandhi and Sri Lankan President J R Jayewarndene as part of the annexure to the India-Sri Lanka Accord of July 29, 1987 — that the tank farm would be developed jointly.
The agreement remained dormant for nearly 15 years at first, prevented by the civil war. In 2002, a Norway-brokered ceasefire halted the war.
Initially reluctant about investing too much in Trinco, India began pushing for the project only after China swung Hambantota in 2010.
The pre-WWII era oil storage facility has a capacity of nearly 1 million tonnes, which far outstrips the demand in Sri Lanka. Located inland from China Bay, the facility was meant to be serviced by the natural harbour at Trincomalee.

Trincomalee is the nearest port to Chennai.
Subject – History
Context – Birth Anniversary on 3 January 1831
Concept –
Savitribai Phule (3 January 1831 – 10 March 1897) was an Indian social reformer, educationalist, and poet from Maharashtra.
She is regarded as the first female teacher of India. Along with her husband, JyotiraoPhule, she played an important and vital role in improving women's rights in India.
She is regarded as the mother of Indian feminism.
Savitribai and her husband founded one of the first Indian girls' school in Pune, at Bhidewada in 1848.

It was the country's first school for women started by Indians.

She worked to abolish the discrimination and unfair treatment of people based on caste and gender.
In the 1850s, the Phule couple initiated two educational trusts—the Native Female School, Pune and The Society for Promoting the Education of Mahars, Mangs and Etceteras—which came to have many schools under them.
She published Kavya Phule in 1854 and Bavan Kashi SubodhRatnakar in 1892. In her poem, Go, Get Education, she urges the oppressed communities to get an education and break free from the chains of oppression.
In 1852, Savitribai started the MahilaSeva Mandal to raise awareness about women's rights.
She simultaneously campaigned against child marriage, while supporting widow remarriage.
Subject – IR
Context – China's new law on land borders, passed on October 23, came into effect on January 1.
Concept –
The Standing Committee of China's National People's Congress passed the law for the "protection and exploitation of the country's land border areas".
It mandates the state to take measures "to strengthen border defence, support economic and social development as well as opening-up in border areas, improve public services and infrastructure in such areas, encourage and support people's life and work there, and promote coordination between border defence and social, economic development in border areas".

This means that it is encouraging the development of villages for civilians in the border areas.

However, the law also asks the state to follow the principles of "equality, mutual trust, and friendly consultation, handle land border related-affairs with neighbouring countries through negotiations to properly resolve disputes and longstanding border issues".
The law lays down four conditions under which the state can impose emergency measures, including border shutdown.
Impact on India –
China and India share a disputed 3,488-km boundary, the third longest among China's 22,457-km land boundaries with 14 countries, after the borders with Mongolia and Russia.
Besides India, Bhutan (477 km) is the only other country with which China has a disputed land border.
7. Natural Gas and Nuclear Energy Projects as 'Green' Investments
Subject – IR
Context – EU drafts plan to label gas and nuclear investments as green
Concept –
The European Union has drawn up plans to label some natural gas and nuclear energy projects as "green" investments after a year-long battle between governments over which investments are truly climate-friendly.
The European Commission is expected to propose rules in January deciding whether gas and nuclear projects will be included in the EU "sustainable finance taxonomy".
This is a list of economic activities and the environmental criteria they must meet to be labelled as green investments.
By restricting the "green" label to truly climate-friendly projects, the system aims to make those investments more attractive to private capital, and stop "greenwashing", where companies or investors overstate their eco-friendly credentials.
A draft of the Commission's proposal, would label nuclear power plant investments as green if the project has a plan, funds and a site to safely dispose of radioactive waste. To be deemed green, new nuclear plants must receive construction permits before 2045.
Investments in natural gas power plants would also be deemed green if they produce emissions below 270g of CO2 equivalent per kilowatt hour (kWh), replace a more polluting fossil fuel plant, receive a construction permit by Dec. 31 2030 and plan to switch to low-carbon gases by the end of 2035.
Gas and nuclear power generation would be labelled green on the grounds that they are "transitional" activities – defined as those that are not fully sustainable, but which have emissions below industry average and do not lock in polluting assets.
Natural gas emits roughly half the CO2 emissions of coal when burned in power plants, but gas infrastructure is also associated with leaks of methane, a potent planet-warming gas.
Subject – Defence and Security
Context – If in the physical world, 2022 has started off with a major Omicron scare, the cyber world stares at a year where phishing, ransomware and malware attacks will get more sophisticated
Concept –
Attacks-as-a-Service, Malware-as-a-Service and Fraud-as-a-Service, are all terms used to better qualify the complex evolution of cybercrime offer.

All these terms are commonly used for providing of illegal activities by cyber criminals.
Types of Cyber Attacks
Malware, short for malicious software refers to any kind of software that is designed to cause damage to a single computer, server, or computer network. Ransomware, Spy ware, Worms, viruses, and Trojans are all varieties of malware.
Phishing: It is the method of trying to gather personal information using deceptive e-mails and websites.
Denial of Service attacks: A Denial-of-Service (DoS) attack is an attack meant to shut down a machine or network, making it inaccessible to its intended users. DoS attacks accomplish this by flooding the target with traffic, or sending it information that triggers a crash.
Man-in-the-middle (MitM) attacks, also known as eavesdropping attacks, occur when attackers insert themselves into a two-party transaction. Once the attackers interrupt the traffic, they can filter and steal data.
9. IPOs: The different types of investors
Subject – Economy
Context – IPO party set to continue into the New Year: mop-up may hit $26 billion
Concept –
Under Securities and Exchange Board of India (SEBI) guidelines, there are four types of investors who can bid for shares during the IPO process. These are –
Qualified institutional investors (QIIs): Commercial banks, public financial institutions, mutual fund houses and Foreign Portfolio Investors that are registered with SEBI fall in this category.
Underwriters try to sell large chunks of IPO shares to them at a lucrative price before the start of the IPO. Selling shares to QIIs go a long way in helping underwriters meet the targeted capital.
SEBI mandates that institutional investors sign a lock–up contract for at least 90 days to ensure minimal volatility during the IPO process.
QIIs are especially important for a company launching an IPO. That's because underwriters offer IPO shares to them before the price discovery in the share market takes place. If QIIs buy more shares, there would be lesser number of shares available to the general public. This would result in higher share prices. This scenario is ideal for a company because they want to raise as much as capital as possible.
However, SEBI has laid down rules to ensure companies do not distort the IPO valuations. That's the reason the regulatory body does not allow companies to allocate more than 50% shares to QIIs.
Anchor investors: Any QII, who makes an application of over Rs 10 crore, is an anchor investor. Such investors typically bring in other investors as well. Up to 60% of the shares meant for qualified institutional investors can be sold to anchor investors.
Retail investors: Any QII, who makes an application of over Rs 10 crore, is an anchor investor. Such investors typically bring in other investors as well. Up to 60% of the shares meant for qualified institutional investors can be sold to anchor investors.

The minimum allocation under the retail quota is 35%.
SEBI has decreed that if the issue is oversubscribed, subject to availability, all retail investors be allotted at least one lot of shares.
If the one-lot-to-each-investor is not possible, a lottery system is used to allocate IPO shares to the public.

High net-worth individuals (HNIs)/Non-institutional investors (NII): Individuals looking to invest more than Rs 2 lakh are categorized as HNIs.

Similarly, institutions that want to subscribe for more than Rs 2 lakh are called non-institutional investors. The difference between a QII and an NII is that the latter does not have to register with SEBI.
The allotment of shares to HNIs/NIIs is on a proportionate basis, i.e., if one applies for 10,000 shares and the issue is oversubscribed 10 times, they would be allotted 1,000 shares (10,000/10).
This means they are always allotted shares, regardless of whether the issue is oversubscribed or not.
Typically, 1-2% of shares are earmarked for the employees as a way of awarding them for the risk they took in associating with a new company.
10. Two plant species discovered in Kerala
Subject – Environment
Context – Two plant species discovered in Kerala
Concept –
Researchers have reported two new plant species from the biodiversity-rich Western Ghats regions in Thiruvananthapuram and Wayanad districts of Kerala. They have been christened Fimbristylissunilii and Neanotisprabhuii.
Fimbristylissunilii
Collected from the grasslands of Ponmudi hills, Thiruvananthapuram, Fimbristylissunilii has been named after plant taxonomist C.N. Sunil, retired professor and research guide of Botany, SNM College.
A perennial plant of the Cyperaceae family, it stands 20-59 cm tall and was collected from an elevation of 1,100 metres.
Fimbristylissunilii has been provisionally assessed as data deficient (DD) under the IUCN Red List categories.
Neanotisprabhuii
Neanotisprabhuii is a prostrate perennial herb named after K.M. Prabhukumar, Senior Scientist at CSIRNBRI, Lucknow, in recognition of his research on flowering plants of the Western Ghats.
Discovered in the Chembra Peak grasslands of Wayanad, it hails from the family Rubiaceae and grows on high-altitude grasslands.
Neanotisprabhuii grows up to 70 cm in length and is many-flowered with the petals pale pink in colour.
11. Pradhan Mantri Matru Vandana Yojana
Subject – Government Schemes
Context – Five years since its introduction, there is vast scope for improvement in the Pradhan MantriMatruVandanaYojana
Concept –
Pradhan MantriMatruVandanaYojana (PMMVY) is a maternity benefit programme being implemented in all districts of the country with effect from 1st January, 2017.
It is a centrally sponsored scheme being executed by the Ministry of Women and Child Development.
Direct Benefit Transfer Scheme: Cash benefits are provided to pregnant women in their bank account directly to meet enhanced nutritional needs and partially compensate for wage loss.
Target Beneficiaries:
All Pregnant Women and Lactating Mothers (PW&LM), excluding those who are in regular employment with the Central Government or the State Governments or PSUs or those who are in receipt of similar benefits under any law for the time being in force.
All eligible Pregnant Women and Lactating Mothers who have their pregnancy on or after 1st January 2017 for the first child in the family.
Benefits under the Scheme:
Beneficiaries receive a cash benefit of Rs. 5,000 in three installments on fulfilling the following conditions:
Early registration of pregnancy
Ante-natal check-up
Registration of the birth of the child and completion of first cycle of vaccination for the first living child of the family.
The eligible beneficiaries also receive cash incentive under Janani Suraksha Yojana (JSY). Thus, on an average, a woman gets Rs. 6,000.
Distinctive Feature: Implementation of the scheme is closely monitored by the central and state governments through the Pradhan MantriMatruVandanaYojana – Common Application Software (PMMVY-CAS).
PMMVY-CAS is a web based software application that enables tracking the status of each beneficiary under the scheme, resulting in expedited, accountable and better grievance redressal.
Note –
Odisha's MAMATA Scheme has been offering conditional cash transfer of ₹5,000 as maternity benefit for up to two live births for more than a decade.
The predecessor scheme to PMMVY, the Indira Gandhi Matritva Sahyog Yojana was applicable for two live births.
Subject – Defence and Security
Context – Navy gears up to hold its largest multilateral exercise 'Milan' at the end of February
Concept –
It is a biennial, multilateral naval exercise which started in 1995.
Formerly, held at Port Blair and now is shifted to Visakhapatnam
The Navy has held 10 editions of the Milan exercise, with the theme of "synergy across the seas" to enhance professional interactions between friendly foreign navies and learn best practices from each other, since 1995.
The area of cooperation of the exercise includes capacity building, marine domain awareness, training, hydrography, technical assistance, and operational exercises.
13. Kaziranga National Park and Tiger Reserve
Subject – Environment
Context – Kaziranga elevated road plan awaits nod
Concept –
To know about the national park, please refer October 2021 DPN.
14. Maharaja Paramhans Ji temple
Subject – IR
Context – Pilgrims pray at rebuilt Pak. temple
Concept –
Over 200 Hindu pilgrims from India, the U.S. and the Middle East prayed at the 100-year-old renovated Maharaja Paramhans Ji temple in Pakistan amidst tight security, a year after the temple was demolished by a mob belonging to a radical Islamist party.
The temple and samadhi of Paramhans Ji in Karak district's Teri village of Khyber Pakhtunkhwa underwent extensive repair last year after it was demolished by an angry mob in 2020, an incident that was condemned globally.
Maharaja Paramhans Ji
Shri Paramhans Swami Advaitanand Ji Maharaj, also known as Shri ParamhansDayalMaharaj Ji (born Shri Ram Yaad), son of Shri Tulsi Das Ji Pathak, was born in Chhapra City at Saran district, Bihar, India.
Shri ParamhansDayalMaharaj Ji is also known as the "First Spiritual Master" of the Shri ParamhansAdvait Mat.
He initiated the "Second Master", Shri Swami Swarupanand Ji Maharaj in the early 1900s.
He was born on the day of Rama Navami and was therefore named as "Ram Yaad ".
His father was a famous scholar PanditTulsi Pathak.
Shri ParamahansDyal Ji travelled from place to place and carried the message of Sahaj Yoga, Bhakti and service unto humanity to one and all.
The ashrams (temples) founded by Shri ParamahansDyal Ji were called KrishanaDwaras.
Shri ParamahansDayal Ji attained Nirvana on 10 July 1919 after transferring succession of the seat to Swami Swarupanandji. A Sacred Samadhi Shrine was built at that place in Teri, KP and Pakistan.