Daily Prelims Notes 3 September 2021
September 3, 2021

Posted by:

admin1

Category:

DPN

Daily Prelims Notes
3 September 2021
Table Of Contents
Subject – IR
Context – Earlier this week, Taliban spokesman ZabiullahMujahid told a Pashto channel in Pakistan that Afghans oppose the fence erected by Pakistan along the Durand Line.
Concept –
The Durand Line is the 2,670-kilometre international land border between Afghanistan and Pakistan in South Asia.
The Durand Line is a legacy of the 19th century Great Game between the Russian and British empires in which Afghanistan was used as a buffer by the British against a feared Russian expansionism to its east.
The agreement demarcating what became known as the Durand Line was signed on November 12, 1893 between the British civil servant Sir Henry Mortimer Durand and Amir Abdur Rahman, then the Afghan ruler.
Abdur Rahman became king in 1880, two years after the end of the Second Afghan War in which the British took control of several areas that were part of the Afghan kingdom. He was essentially a British puppet. His agreement with Durand demarcated the limits of his and British India's "spheres of influence" on the Afghan "frontier" with India.
The seven-clause agreement recognised a 2,670-km line which, according to Rajiv Dogra, author of Durand's Curse: A Line Across the Pathan Heart, Durand drew on the spot on a small map of Afghanistan during his negotiations with the Amir. The line stretches from the border with China to Afghanistan's border with Iran.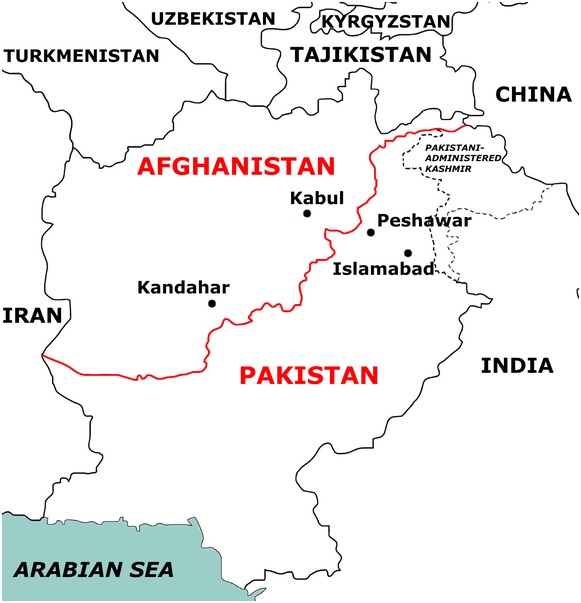 In reality, the line cut through Pashtun tribal areas, leaving villages, families, and land divided between the two "spheres of influence". It has been described as a "line of hatred", arbitrary, illogical, cruel and a trickery on the Pashtuns. Some historians believe it was a ploy to divide the Pashtuns so that the British could keep control over them easily. It also put on the British side the strategic Khyber Pass.
Cross-border tensions
With independence in 1947, Pakistan inherited the Durand Line, and with it also the Pashtun rejection of the line, and Afghanistan's refusal to recognise it. Afghanistan was the only country to vote against Pakistan joining the United Nations in 1947.
'Pashtunistan' — an independent country of the Pashtuns — was a demand made by Khan Abdul Ghaffar Khan at the time of Partition, although he later resigned himself to the reality of Partition. The proximity of the 'Frontier Gandhi' to India was a point of tension between the two countries almost immediately. The fear of Indian support to Pashtun nationalism haunts Pakistan to date, and is embedded in its Afghan policy.
Subject – Art and Culture
Context – Former Uttarakhand chief minister Harish Rawat has apologised for comparing Punjab Congress chief Navjot Sidhu and his four advisers to the PanjPiare.
Concept –
'PanjPiare' is not just a group of five baptised people but a concept and tradition founded by 10th Sikh Guru Gobind Singh.
Guru Gobind Singh established the institution of PanjPiare while founding the Khalsa on the day of Baisakhi in 1699. Addressing a large gathering, he asked for five heads for sacrifice. Five men responded to his call and the Guru baptised them and called them PanjPiare.
Since then, every group of five baptised Sikhs is called PanjPiare and accorded the respect enjoyed by the first five Sikhs.
Apart from defining the religious and social protocol for the Khalsa by dictating it to the PanjPiare, Guru Gobind Singh himself got baptised from them at the same stage to tell the Sikhs that PanjPiaras have higher authority and decision making power than anyone in the community.
The PanjPiare are also seen as a manifestation of the Guru himself.
Any baptised Sikh can become a PanjPiare. The unanimous decision taken by PanjPiare has to be followed by everyone in the community.
Subject – Environment
Context – MP wants Rajiv Gandhi's name dropped from Nagarahole park.
Concept –
Nagarhole National Park is a national park located in Kodagu district and Mysore district in Karnataka, India.
It is also known as 'Rajiv Gandhi National Park.'
This Park was declared the 37th Tiger Reserves of India in 1999.
It is part of the Nilgiri Biosphere Reserve.
The Western Ghats Nilgiri Sub-Cluster of 6,000 km2 (2,300 sq mi), including all of Nagarhole National Park, is under consideration by the UNESCO World Heritage Committee for selection as a World Heritage Site.
The Nagarahole River flows through the park, which joins the Kabini River which also is a boundary between Nagarahole and BandipurNational Park.
The vegetation consists mainly of moist deciduous forests with predominating trees of teak and rosewood.
Subject – Art and Culture
Context – Mysore Silk and other GI products get special covers.
Concept –
A geographical indication (GI) is a sign used on products that have a specific geographical origin and possess qualities or a reputation that are due to that origin.
In order to function as a GI, a sign must identify a product as originating in a given place.
In addition, the qualities, characteristics or reputation of the product should be essentially due to the place of origin.
Since the qualities depend on the geographical place of production, there is a clear link between the product and its original place of production.
The tag ensures that none other than those registered as authorised users are allowed to use the product name.
In News – To create awareness and promote Geographical Indication (GI) tag products of Karnataka, Department of Posts, Karnataka Postal Circle, released special covers on such products.
The products that are showcased in special covers are: Mysore Silk, Coorg Arabica Coffee, Chikkamagaluru Arabica Coffee, Bababudangiris Coffee, Devanahalli Pomelo, Bangalore Blue Grapes, Bangalore Rose Onion, Mysore Sandal Soap, Kolhapuri Chappal, and Mysore Agarbathi.
Recent GI Products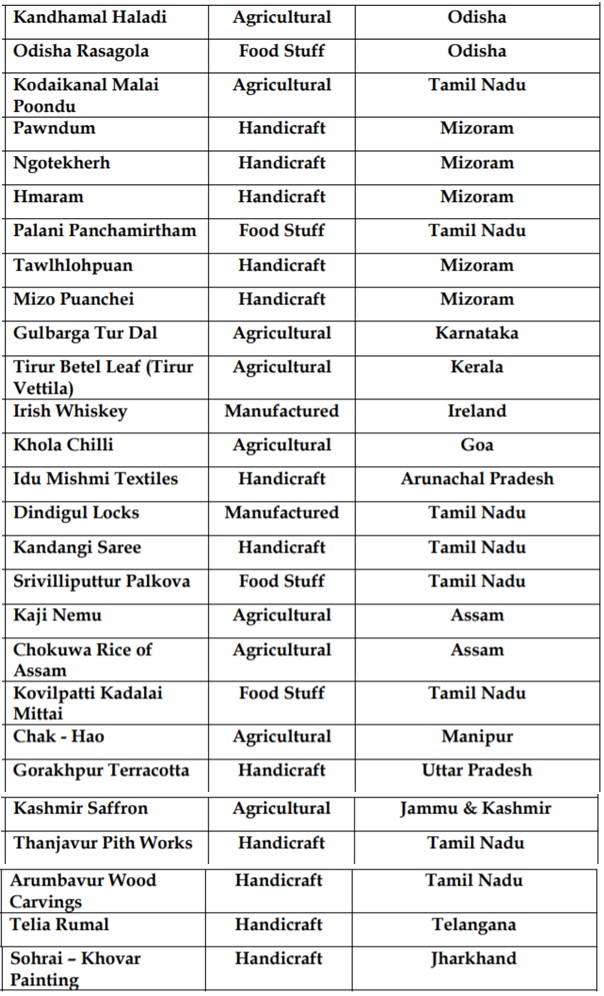 5. Article 93 of the Constitution
Subject – Polity
Context – With the Delhi High Court asking the Union government on Wednesday to explain its stand on a petition that said keeping the post of Deputy Speaker of the Lok Sabha vacant is a violation of Article 93 of the Constitution, the issue is once again in the spotlight.
Concept –
Article 93 of the Constitution pertains to Speaker and Deputy Speaker of the House of the People.
The House of the People shall, as soon as may be, choose two members of the House to be respectively Speaker and Deputy Speaker thereof and, so often as the office of Speaker or Deputy Speaker becomes vacant, the House shall choose another member to be Speaker or Deputy Speaker, as the case may be.
For more information on Deputy Speaker, please click on the below link –
Subject – Science and Tech
Context – Granules India Limited has received licence from Defence Research & Development Organisation (DRDO) to manufacture and market of 2-Deoxy-D-Glucose (2-DG)
Concept –
Developed by DRDO, 2-DG has been granted permission by Drug Controller General of India (DCGI) for emergency use of this drug as adjunct therapy in moderate to severe Covid patients.
The drug accumulates in virus-infected cells, and prevents the growth of the virus by stopping viral synthesis and energy production. Its selective accumulation in virally-infected cells makes this drug unique.
2-DG halts the spread of COVID-19 inside the body cells.
This drug reduces a patient's average recovery time by two-and-a-half days and oxygen demand by up to 40 per cent.
According to the government, 2-DG being a generic molecule and an analogue of glucose, it can be easily produced and made available in large quantities.
The drug is available in powder form in a sachet, and can be taken orally after dissolving in water.
Subject – Science and Tech
Context – Biological E gets nod for Phase II/III trials on kids
Concept –
Hyderabad-based Biological E has received the nod to move ahead with its clinical trials for children's vaccine.
The company has the Drugs Controller General of India's (DCGI) permission to conduct Phase II / III trials of its vaccine candidate on children in the age group of 5 to 18 years.
The development comes even as ZydusCadila's needle-free Plasmid DNA vaccine received emergency approvals recently for use in adults and children.
Others in the fray running trials on Covid-19 vaccines inchildren or adolescents, as the case may be, include Bharat Biotech, Serum Institute (on the Novavax vaccine) and, more recently, Johnson and Johnson.
For more information on clinical trials, please refer to this – Clinical Trials.
Subject – History
Context – The Bihar government on Thursday took serious note of the removal of chapters on veteran socialist leaders Jayaprakash Narayan and Ram Manohar Lohia from the Post Graduate political science syllabus of the JP University at Chhapra in Saran district.
Concept –
Jayaprakash Narayan (11 October 1902 – 8 October 1979), popularly referred to as JP or LokNayak (Hindi for "People's leader"), was an Indian independence activist, theorist, socialist and political leader.
He is also known as the "Hero of Quit India Movement" and he is remembered for leading the mid-1970s opposition against Prime Minister Indira Gandhi, for whose overthrow he had called for a "total revolution".
His biography, Jayaprakash, was written by his nationalist friend and the writer of Hindi literature, RambrikshBenipuri.
In 1999, he was posthumously awarded the Bharat Ratna, India's highest civilian award, in recognition of his social service. Other awards include the Magsaysay award for Public Service in 1965.
Influenced by Marxist ideas in the USA and Gandhian ideology.
In 1929, he joined the Indian National Congress.
He played a key role in the formation of the Congress Socialist Party (1934), a left-wing group within the Congress Party.
Post-Independence Role:
In 1948, he left the Congress Party and initiated an anti-Congress Campaign.
In 1952, he formed the Praja Socialist Party (PSP).
In 1954, he devoted his life exclusively to the Bhoodan Yajna Movement, of Vinoba Bhave, which demanded land redistribution to the landless.
In 1959 he argued for a "reconstruction of Indian polity" by means of a four-tier hierarchy of village, district, state, and union councils (Chaukhamba Raj).
Total Revolution: Against Indira Gandhi Regime as she was found guilty of violating electoral laws by the Allahabad High Court. He advocated a program of social transformation which he termed 'SampoornaKranti' (total revolution) in 1974 against corruption in public life.
Subject – History
Context – The Bihar government on Thursday took serious note of the removal of chapters on veteran socialist leaders Jayaprakash Narayan and Ram Manohar Lohia from the Post Graduate political science syllabus of the JP University at Chhapra in Saran district.
Concept –
Ram Manohar Lohia (23 March 1910 – 12 October 1967) was an activist in the Indian independence movement and a socialist political leader.
During the last phase of British rule in India, he worked with the Congress Radio which was broadcast secretly from various places in Bombay until 1942.
In 1934, Lohia became actively involved in the Congress Socialist Party (CSP), a left-wing group within the Indian National Congress; he served on the CSP executive committee and edited its weekly journal.
He opposed the Indian participation on the side of Great Britain in World War II and was arrested for anti-British remarks in 1939 and 1940.
Lohia along with other CSP leaders mobilized support for the Quit India movement(a campaign initiated by Mohandas K. Gandhi to urge the withdrawal of British authorities from India) in 1942. He was jailed again in 1944–46 for such resistance activities.
Lohia and other CSP members left the Congress in 1948.
He became a member of the Praja Socialist Party upon its formation in 1952 and served as general secretary for a brief period, but conflicts within the party led to his resignation in 1955.
Later that year Lohia established a new Socialist Party, for which he became chairman as well as the editor of its journal,
He advocated for various socio-political reforms in his capacity as party leader, including the abolition of the caste system, the adoption of Hindi as India's national language, and stronger protection of civil liberties.
Some of his works include: 'Marx, Gandhi and Socialism', 'Guilty Men of India's Partition', etc.
10. One Rank One Pension (OROP)
Subject – Government Schemes
Context – Mr. RajnathSingh also credited the Prime Minister with resolving the decade old One Rank, One Pension (OROP) issue that the previous Congress administration had refused to resolve during their tenure.
Concept –
OROP means the payment of the same pension to military officers for the same rank for the same length of service, irrespective of the date of retirement.
Before OROP, ex-servicemen used to get pensions as per the Pay Commission's recommendations of the time when they had retired.
The implementation of the scheme was based on recommendation of the Koshiyari committee, a 10 member all-party parliamentary panel formed under the chairmanship of Bhagat Singh Koshiyari.
Armed Forces Personnel who had retired till 30th june 2014 are covered under it.
Subject – Security
Context – Preparation for DefExpo 2022 reviewed.
Concept –
The 12th edition of the biennial DefExpo, which is India's flagship event showcasing the land, naval, air as well as homeland security systems, will be held in Gandhinagar, Gujarat between March 10 and 13, 2022.
The DefExpo 2022 will be a hybrid business event, with the exhibition planned at the helipad exhibition centre, and seminars at Mahatma Mandir convention and exhibition centre.
A live demonstration of weapons and defence platforms is also being planned at the Sabarmati river front in Ahmedabad. The aim is to build upon the vision to achieve self-reliance in defence and reach the $5bn defence exports target by 2024.
Subject – Environment
Context – Indian biologist wins global award for turtle conservation
Concept –
Indian biologist Shailendra Singh has been awarded the Behler Turtle Conservation Award for bringing three critically endangered turtle conservation species back from the brink of extinction –red-crowned roofed turtle (Batagurkachuga), northern river terrapin (Batagurbaska), and black softshell turtle (Nilssonianigricans).
The award has been bestowed by several global bodies involved in turtle conservation such as Turtle Survival Alliance, IUCN/SSC Tortoise and Freshwater Turtle Specialist Group, Turtle Conservancy, and the Turtle Conservation Fund.
Turtle Survival Alliance
The Turtle Survival Alliance (TSA) was formed in 2001 as an International Union for Conservation of Nature (IUCN) partnership for sustainable captive management of freshwater turtles and tortoises, and initially designated a Task Force of the IUCN Tortoise and Freshwater Turtle Specialist Group.
The TSA arose in response to the rampant and unsustainable harvest of Asian turtle populations to supply Chinese markets, a situation known as the Asian Turtle Crisis.
13. United Nations Children's Fund (UNICEF)
Subject – IR
Context – North Korea rejects Chinese vaccines: UNICEF
Concept –
UNICEF is a special program of the United Nations (UN)devoted to aiding national efforts to improve the health, nutrition, education, and general welfare of children.
UNICEF was created in 1946as International Children's Emergency Fund (ICEF) by UN relief Rehabilitation Administration to help children affected by World War II.
UNICEF became a permanent part of the United Nations in 1953.
The name was shortened to United Nations Children Fund but it is still referred to as UNICEF.
It is mandated by the United Nations General Assembly to advocate for the protection of children's rights, to help meet their basic needs and to expand their opportunities to reach their full potential.
UNICEF is guided by the Convention on the Rights of the Child, 1989.
It strives to establish children's rights as enduring ethical principles and international standards of behaviour towards children.
Awarded the Nobel Prize for Peace in 1965 for "promotion of brotherhood among the nations".
Headquarters: New York City
It works in over 190 countries and territories with 7 regional offices.
UNICEF is governed by an Executive Board consisting of 36 members that are elected to terms of three years by the United Nations' Economic and Social Council.
Subject – Government Schemes and Programs
Context – Fewer LPG beneficiaries cut Q1 petroleum subsidy to 9% of BE. Govt brings down the subsidy outgo to ₹1,230 crore.
Concept –
'Give it Up' scheme encourages well-to-do households to voluntarily give up their liquefied petroleum gas (LPG) subsidy so that it could be targeted to the poor who remain reliant on polluting cooking fuels such as wood, dung, crop residues and coal.
The money surrendered under this movement will be utilized for poor to get LPG connection in rural as well as in urban areas who are still using firewood for cooking.
Domestic LPG is heavily subsidized by the Government of India and every cylinder that we use in our kitchen carries a substantial subsidy. This translates to a huge annual subsidy burden on the Government, draining precious resources which otherwise could have been used in developmental activities. Accordingly, the Government has launched the '#GiveItUp' campaign which is aimed at motivating LPG users who can afford to pay the market price for LPG to voluntarily surrender their LPG subsidy.