Daily Prelims Notes 30 July 2021
July 30, 2021

Posted by:

admin1

Category:

DPN

Daily Prelims Notes
30 July 2021
Table Of Contents
1. Why cloudbursts could become more frequent
Subject: Geography
In news:  On July 28, at least seven people were killed, 17 injured and over 35 missing after a cloudburst hit a remote village of Jammu and Kashmir. Recently, cloudbursts have been reported from several places in J&K, Union Territory of Ladakh, Uttarakhand and Himachal Pradesh. A 2017 study of cloudbursts in the Indian Himalayas noted that most of the events occurred in the months of July and August.
What is a cloudburst?
Cloudbursts are short-duration, intense rainfall events over a small area.
According to the India Meteorological Department (IMD), it is a weather phenomenon with unexpected precipitation exceeding 100mm/h over a geographical region of approximately 20-30 square km.
The cloudburst is a localised weather phenomena which leads to flash floods/ landslides, house collapse, dislocation of traffic and human casualties on a large scale.
Meteorological factors behind the cloudburst:
Generally cloudbursts are associated with thunderstorms.
A study published last year studied the meteorological factors behind the cloudburst over the Kedarnath region. They analysed atmospheric pressure, atmospheric temperature, rainfall, cloud water content, cloud fraction, cloud particle radius, cloud mixing ratio, total cloud cover, wind speed, wind direction, and relative humidity during the cloudburst, before as well as after the cloudburst.
During the cloudburst, the relative humidity and cloud cover was at the maximum level with low temperature and slow winds.
Examples of cloudburst:
2010 Ladakh Floods: A major cloudburst and heavy rainfall triggered mudslides, flash floods and debris flow in Jammu and Kashmir's Ladakh. 71 towns and villages in Leh were affected in the region and at least 255 people died.
2013 Uttarakhand Floods: The multi-day cloudburst in the hill state of Uttarakhand triggered flash floods and massive landslides.
Climate Change and cloudbursts:
Several studies have shown that climate change will increase the frequency and intensity of cloudbursts in many cities across the globe.
The World Meteorological Organization noted that there is about a 40% chance of the annual average global temperature temporarily reaching 1.5°C above the pre-industrial level in at least one of the next five years.
There is a 90% likelihood of at least one year between 2021 and 2025 becoming the warmest on record and dislodge 2016 from the top rank.
As temperatures increase the atmosphere can hold more and more moisture and this moisture comes down as a short very intense rainfall for a short duration probably half an hour or one hour resulting in flash floods in the mountainous areas and urban floods in the cities.
Areas Prone to cloudburst:
A Cloudburst usually occurs in high-altitude areas due to the formation of a low-pressure area on the top of a mountain.
They occur most often in desert and mountainous regions, and in interior regions of continental landmasses. 
The topographical conditions like steep hills favour the formation of these clouds in the mountainous regions.
The Chota Nagpur plateau spread across north Odisha, West Bengal and Jharkhand is the world's most vulnerable spot for formation of severest thunderstorms.
Cloudburst can occur not only in the monsoon seasons but also during March to May which is known for severe convective weather activities.
Prediction:
The large-scale features, which are conducive for occurrence of severe thunderstorms associated with cloudburst, are predictable two to three days in advance.
However, the specific location and time of cloudburst can be predicted in NOWCAST mode only, i.e. a few hours in advance, when the genesis of a thunderstorm has already commenced.
To detect these sudden developments, a Doppler Weather Radar (DWR), a powerful tool for time and location specific prediction of cloudburst, can be deployed a few hours in advance. Coupled with satellite imagery this can prove to be useful inputs for extrapolation of cloudbursts anywhere in India.
Subject: Arts and Culture
In news: The National Gallery of Australia announced Thursday it will return 14 works of art from its Asian art collection to the Indian government. Worth a combined $3 million, the works include six bronze or stone sculptures, a brass processional standard, a painted scroll and six photographs. They were acquired by the museum between 1989 and 2009, and some date back to the Chola dynasty.
The National Gallery of Australia (NGA) announced that it would return 14 works of art from its Asian art collection to India.
The works being returned are:
dancing child-saint Sambandar of 12th century belonging to Chola dynasty,
Processional standard [alam], from Hyderabad,
Arch for a Jain shrine (11th-12th century), seated Jina, 1163 from Mount Abu region, Rajasthan,
The divine couple Lakshmi and Vishnu [Lakshmi Narayana] (11-12th century), and
DurgaMahisasuramardini, from Gujarat
Sambandar
Sambandar, also referred to as ThirugnanaSambandar was a Saiva poet-saint of Tamil Nadu who lived sometime in the 7th century CE. He was a contemporary of Appar, another Saiva poet-saint.
He was a child prodigy who lived just 16 years. According to the Tamil Shaiva tradition, he composed an oeuvre of 16,000 hymns in complex meters, of which 383 (384) hymns with 4,181 stanzas have survived.
These narrate an intense loving devotion (bhakti) to the Hindu god Shiva.
The surviving compositions of Sambandar are preserved in the first three volumes of the Tirumurai, and provide a part of the philosophical foundation of Shaiva Siddhanta.
Imperial Cholas: 
After Sangam, the Chola became feudatories of Uraiyur . These later Cholas are termed as 'Imperial Cholas' because they exercised control over Sri Lanka and Malay Peninsula.
Muttaraiyar family in Kaveri delta, were subordinate to the Pallava kings of Kanchipuram. Vijayalaya Chola belonging to Uraiyur captured the kaveri delta from Mutharaiyar in mid 9th century. Vijayalaya built Thanjavur town with a temple for Goddess Nishumbhsudini'(Goddess Durga).
Parantaka I built temples, provided golden roof on Vimana of Nataraja temple at Chidambaram. The Uttiramerur inscription describing village administration under Cholas belongs to his reign.
After 30 years of Parantaka I, Rajaraja I usurped the throne for the duration of 985 AD to 1014 AD.
Rajaraja I

He defeated Chera and Pandya rulers, extending his empire upto river Tungabhadra.
He led a naval expedition against Maldives and captured it.
He was a follower of Shaivism, hence built Rajarajeshwara temple popularly known as Brihadeshwara temple at Thanjavur in 1010 AD.
This temple is part of UNESCO World Heritage Site in India under  "Great living Chola Temples".
He also patronized a Buddhist monastery at Nagapattinam.

Rajendra I: succeeded his father in 1014-1044 AD.

He defeated the ceylonese king Mahinda V and conquered the whole Sri Lanka including the northern and Southern parts.
He also defeated Jayasimha II of western Chalukyas and marked Tungabhadra as the boundary between Cholas and Chalukyas.
Rajendra I crossed the Ganges and conquered many on his way to strengthen the Chola empire.
To commemorate this feat, he constructed and founded Gangaikondacholapuram.
He also summoned the excavation of a large irrigation tank at Cholagangam.
The Chola Empire achieved its peak under Rajendra I.
Rajendra I was a Shivite and gave huge endowments to Lord Nataraja temple at Chidambaram. He was tolerant to Vaishnavism and Buddhism.
Chola Administration:
Chola were known for their administration
Their empire divided into 6 mandalams or provinces administered by governor
Mandalam further divided into velanadu ,velanadu further divided into nadus and nadu into taniyars .
Ur was a type of assembly of common village
All member of village could became the member of Ur
Local government was there (concept of panchayati raj taken from here)
Chola Art and Architecture :
The Dravidian style of architecture reached its zenith during the Chola empire.
The Chola period is also remarkable for its sculptures and bronzes
The main feature of Chola style of Architecture is a building of five to seven storeys in a typical style known as "Vimana" above the chief pillared hall with flat roof was placed in front of the sanctum known as "mandap".
The Brihadeshwara temple/ Rajrajeshwara Temple at Tanjore is a classic example of Dravidian style of architecture under the Chola empire. Gangai-kondanCholapuram temple is another such example.
Chola Bronzes:
Chola period bronzes were created using the lost wax technique.  It is known in artistic terms as "Cire Perdue".
Nataraja is the most popular image in Chola Bronzes. This is the dancing Shiva, the presiding deity of the Chola dynasty.
After Nataraja, the next most popular image is Somaskanda where Shiva is depicted sitting with his consort Uma and his son Skanda dancing between them on a platform.
KalyanasundaraMurti: 9th century; marriage is represented by 2 separate statuettes; Shiva and Parvati's marriage or panigrahana.
Ardhanarishwar with half Shiva and half Shakti is another popular image
Parvati is also carved in her various avatars like Maheshwari, Durga, Kali, etc. Her most popular avatar remains Mahishasurmardini – the one who slays the demon Mahisha.
Great patron of Chola bronze work: widowed queenSembiyanMaha Devi (10th century).
Chola frescoes:
In 1931, Chola frescoes were discovered within the circumambulatory corridor of the Brihadisvara Temple, by S.K. Govindasamy, a professor at Annamalai University.
These are the first Chola paintings discovered. The passage of the corridor is dark and the walls on either side are covered with two layers of paintings from floor to ceiling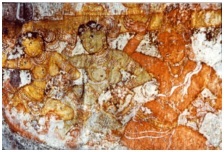 3. Sexual Harassment at Workplace (Prevention-Prohibition and Redressal) Act (the SH Act) 2013
Subject: Polity
Context: A total of 391 complaints have been filed by employees of Central government Ministries about sexual harassment at workplace, the government told in Parliament.
Concept:
The Vishaka guidelines were replaced by the Sexual Harassment of women at the workplace (prevention, prohibition and redressal) Act, 2013.The new act passed in 2013 broadens the definition of aggrieved women to involve women of all ages, in order to suit the modern-day conditions. It also broadens the scope of the term workplace which was earlier limited only to the traditional office set-up.
The Government of India (GoI) has enacted the Protection of Women from Sexual Harassment at Workplace (Prevention, Prohibition and Redressal) Act (the SH Act), 2013 with the objective to create a safe and secure workplace for women free from sexual harassment.
This Act is unique in its broad coverage which includes all women irrespective of their work status, whether working in organised orunorganised, public or private sectors, regardless of hierarchy.
The domestic workers are also included within its ambit.
It defines "sexual harassment at the workplace" in a comprehensive manner, to cover circumstances of implied or explicit promise or threat to a woman's employment prospects or creation of hostile work environment or humiliating treatment, which can affect her health or safety.
Features
The Act covers concepts of 'quid pro quo harassment' and 'hostile work environment' as forms of sexual harassment if it occurs in connection with any act or behaviour of sexual harassment.
The definition of "aggrieved woman", who will get protection under the Act is extremely wide to cover all women, irrespective of her age or employment status, whether in the organised or unorganised sectors, public or private and covers clients, customers and domestic workers as well.
An employer has been defined as any person who is responsible for management, supervision, and control of the workplace and includes persons who formulate and administer policies of such an organisation under Section 2(g).
Even non-traditional workplaces which involve telecommuting get covered under this law.
Internal Complaints Committee: Every employer is required to constitute an Internal Complaints Committee at each office or branch with 10 or more employees.The District Officer is required to constitute a Local Complaints Committee at each district, and if required at the block level.The Complaints Committees have the powers of civil courts for gathering evidence.
The Complaints Committees are required to provide for conciliation before initiating an inquiry if requested by the complainant. The Committee is required to complete the inquiry within a time period of 90 days. On completion of the inquiry, the report will be sent to the employer or the District Officer, as the case may be, they are mandated to take action on the report within 60 days
Penalties have been prescribed for employers. Non-compliance with the provisions of the Act shall be punishable with a fine of up to ₹ 50,000.Repeated violations may lead to higher penalties and cancellation of licence or deregistration to conduct business.
The government can order an officer to inspect the workplace and records related to sexual harassment in any organisation.
While the "workplace" in the Vishakha Guidelines is confined to the traditional office set-up where there is a clear employer-employee relationship, the Act goes much further to include:

organisations, department, office, branch unit etc. in the public and private sector,
organized and unorganized,
hospitals,
nursing homes,
educational institutions,
sports institutes, stadiums, sports complex and
any place visited by the employee during the course of employment including transportation.
SHe-Box
This Sexual Harassment electronic Box (SHe-Box) is an effort of GoI to provide a single window access to every woman, irrespective of her work status, whether working in organised or unorganised, private or public sector, to facilitate the registration of complaint related to sexual harassment.
Any woman facing sexual harassment at workplace can register their complaint through this portal.
Once a complaint is submitted to the 'SHe-Box', it will be directly sent to the concerned authority having jurisdiction to take action into the matter.
4. Urban Co-operative Banks (UBBs)
Subject: Economy
Context: The Reserve Bank of India (RBI) has cancelled the licence of The Madgaum Urban Co-operative Bank Limited, Margao, Goa.
Concept:
Cooperative banks are financial entities established on a co-operative basis and belonging to their members. This means that the customers of a co-operative bank are also its owners. These banks provide a wide range of regular banking and financial services.
Structure:
Broadly, co-operative banks in India are divided into two categories – urban and rural.
Rural cooperative credit institutions could either be short-term or long-term in nature.
Further, short-term cooperative credit institutions are further sub-divided into State Co-operative Banks, District Central Co-operative Banks, and Primary Agricultural Credit Societies.
Meanwhile, the long-term institutions are either State Cooperative Agriculture or Rural Development Banks (SCARDBs) or Primary Cooperative Agriculture and Rural Development Banks (PCARDBs).
On the other hand, Urban Co-operative Banks (UBBs)are either scheduled or non-scheduled. Scheduled and non-scheduled UCBs are again of two kinds- multi-state and those operating in single state.
Important sections of Banking Regulation Act regulating Urban Co-operative Banks (UBBs) 
Under the provisions of Section 11 of the Banking Regulation Act, 1949 (As Applicable to Cooperative Societies), no primary (urban) cooperative bank can commence or carry on banking businessif the real or exchangeable value of its paid-up capital and reserves is less than Rs. one lakh.
Section 22 in BANKING REGULATION ACT,1949. (1) Save as hereinafter provided, no company shall carry on banking business in India unless it holds a licence issued in that behalf by the Reserve Bank and any such licence may be issued subject to such conditions as the Reserve Bank may think fit to impose
In 1965, the Act was amended to include cooperative banks under its purview by adding the Section 56. Cooperative banks, which operate only in one state, are formed and run by the state government. But, RBI controls the licensing and regulates the business operations. The Banking Act was a supplement to the previous acts related to banking.
Current Regulation:
In India, co-operative banks are registered under the States Cooperative Societies Act. They also come under the regulatory ambit of the Reserve Bank of India (RBI)under two laws, namely, the Banking Regulations Act, 1949, and the Banking Laws (Co-operative Societies) Act, 1955.
They were brought under the RBI's watch in 1966, a move which brought the problem of dual regulation along with it.
5. Crowing Out of Investment Vs Crowing Out of Investment
Subject: Economy
Context: Concerns about high government borrowings crowding out the private sector's fundraising efforts were misplaced and not based on evidence, Chief Economic Advisor Krishnamurthy Subramanian asserted on Thursday reacting to comments made by a member of the Securities and Exchange Board of India (SEBI)
Concept:
Crowing Out of Investment
This refers to a phenomenon where increased borrowing by the government to meet its spending needs causes a decrease in the quantity of funds that is available to meet the investment needs of the private sector.
Factors which make crowding out more likely
Expansionary fiscal policy means an increase in the budget deficit. This will lead to increase in government borrowing. A larger budget deficit will increase demand for financial capital. The supply of funds in financial markets is the sum of private saving, government saving, and net investment by foreigners into domestic financial markets. If private saving and net foreign investment remain the same, then less financial capital will be available for private investment in physical capital. When government borrowing soaks up available financial capital and leaves less for private investment in physical capital (i.e. increased budget deficit means a reduction in government saving), the result is crowding out.
Higher government borrowing increases the interest rates. Increased interest rates lead to a reduction in private investment spending.
Crowing in of Investment
Crowding in occurs when higher government spending leads to an increase in private sector investment.
The crowding in effects occurs because higher government spending leads to an increase in economic growth and therefore encourages firms to invest because there are now more profitable investment opportunities.
Crowding in may prove to be a temporary effect.
Factors which make crowding in more likely
Recession. If the economy is in recession, there are unused private sector savings. Therefore, if the government borrows from the private sector, then it doesn't reduce private sector investment because there is still sufficient levels of savings.
Induced saving. If expansionary fiscal policy leads to a significant increase in economic growth, then this will lead to higher incomes and higher level of savings. This growth and higher savings will increase private sector investment, at least in the short-term.
High multiplier effect. If there is a high multiplier effect of increased spending, there will be more crowding in. The size of the multiplier effect depends on marginal propensity to consume (MPC)
Deflation/liquidity trap. If there is deflation (fall in prices) and interest rates are at the zero bound rate, then higher government borrowing is unlikely to have any effect on pushing up interest rates. In a situation of deflation, real interest rates (nominal rates -inflation) may be quite high. Therefore, if government spending reduces deflation, it may actually help to reduce real interest rates and therefore increase private sector investment
6. K-shaped recovery Vs V-shaped recovery
Subject: Economy
Context: Economic Adviser (CEA) Krishnamurthy Subramanian acknowledged on Thursday that some parts of the economy may be witnessing a K-shaped recovery, as smaller firms and urban poor had been hit harder by the pandemic, but stressed that India's overall economic rebound remains V-shaped.
Concept:
K-shaped recovery
Z-shaped recovery: It is the most-optimistic scenario in which the economy quickly rises after an economic crash.
A K-shaped recovery occurs when an economy recuperates unevenly, and there's a separate trajectory for two segments of the society.
While the financial markets recover and grow, the real economy, or the flow of goods and services, gets worse.
It makes up more than for lost ground before settling back to the normal trend-line, thus forming a Z-shaped chart.
In this economic disruption lasts for a small period wherein more than people's incomes, it is their ability to spend is restricted.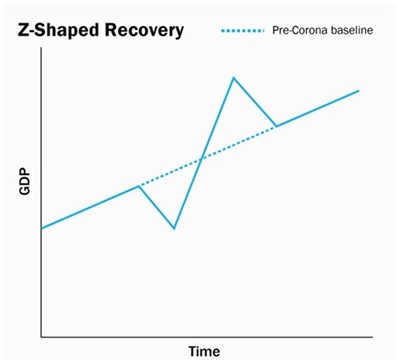 V-shaped recovery
V-shaped recovery: It is the next-best scenario after Z-shaped recovery in which the economy quickly recoups lost ground and gets back to the normal growth trend-line.
In this, incomes and jobs are not permanently lost, and the economic growth recovers sharply and returns to the path it was following before the disruption.
V-shaped recovery is characterized by a sharp economic decline followed by a quick and sustained recovery. This type of recession tends to be considered a best-case scenario.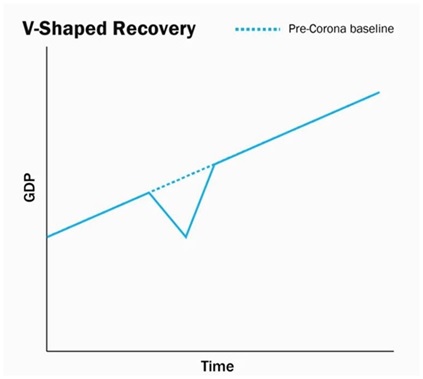 Context:
India is likely to launch its third mission to the moon, Chandrayaan-3, in the third quarter of 2022.
Concept:
About Chandrayaan 3 Mission:
The Chandrayaan-3 mission has been planned as only a lander-rover mission to demonstrate India's capability of soft landing on a celestial body.
It will communicate with Earth via the existing orbiterfrom Chandrayaan-2 whose lifespan has been estimated to be seven years.
The mission was announced just a few months after the Vikram lander aboard Chandrayaan-2 mission crash-landed on the lunar surface just 2.1 km from its goal in September 2019.
The realisation of Chandrayaan-3 involves various processes, including finalisation of configuration, subsystem realisation (manufacturing), integration, spacecraft-level detailed testing and a number of special tests to evaluate the systems performance on Earth.
Chandrayaan program:
Chandrayaan-1 was the first Indian lunar probe under the Chandrayaan program.
It was launched by the Indian Space Research Organisation in October 2008, and operated until August 2009.
The mission included a lunar orbiter and an impactor. 
India launched the spacecraft using a PSLV-XL rocket.
India was the fourth country to place its flag insignia on the Moon.
The location of impact was named Jawahar Point.
Goals:

High-resolution mineralogical and chemical imaging of the permanently shadowed north- and south-polar regions
Searching for surface or subsurface lunar water-ice, especially at the lunar poles

Due to technical issues Chandrayaan-1 stopped communicating in August 2009 and ISRO officially declared that the mission was over. Chandrayaan-1 operated for 312 days as opposed to the intended two years, but the mission achieved most of its scientific objectives.
Findings:

The recent images sent by Chandrayaan-1 suggest that the moon may be rusting along the poles. Data sent indicates the presence of hematite at the lunar poles.
Chandrayan-2:
Chandrayaan-2 is India's first lander mission.
It consists of an Orbiter, Lander and Rover, all equipped with scientific instruments to study the moon.
Chandrayaan-2 was planned to make a landing at a site where no earlier mission had gone, i.e near the South pole of the moon.
However, a part of the mission failed as the Vikram lander crash-landed on the lunar surface. 
A successful landing would have made India the fourth country in the world to do so after the US, the erstwhile USSR and China, and the first country to have landed so close to the lunar South Pole.