Daily Prelims Notes 30 November 2021
November 30, 2021

Posted by:

OptimizeIAS Team

Category:

DPN

Daily Prelims Notes
30 November 2021
Table Of Contents
1. Africa's Great green wall initiative
Topic: Environment
Context:
Africa's Great Green Wall (GGW) programme to combat desertification in the Sahel region is an important contribution towards combating climate change, Food and Agriculture Organization of the United Nations (FAO) said in a study.
The study showed that for every dollar invested into land restoration yields across the African continent from Senegal in the west to Djibouti in the east, investors can expect an average return of $1.20, with outcomes ranging between $1.10 and $4.40.
Concept:
The Great Green Wall for Sahel and Sahara Initiative recently received 14 billion USD funds at the recent One Planet Summit for Biodiversity. The funding is to be used to restore degraded land, strengthen resilience, create green jobs and protect biodiversity. Among the financiers, the World Bank has committed 5 billion USD, African Development Bank committed 6.5 billion USD and Government of France committed 14 billion USD.
The Great Green Wall (GGW) Project to address desertification, land degradation and climate change in the Sahel region of Africa has hit a new low due to funds crunch.
The Great Green Wall project is conceived by 11 countries located along the southern border of the Sahara and their international partners, is aimed at limiting the desertification of the Sahel zone.
Led by the African Union, the initiative aims to transform the lives of millions of people by creating a mosaic of green and productive landscapes across North Africa.
The initial idea of the GGW was to develop a line of trees from east to the west bordering the Saharan Desert.
Its vision has evolved into that of a mosaic of interventions addressing the challenges facing the people in the Sahel and the Sahara.
The African initiative is still only 15% complete.
Once fully completed, the Wall will be the largest living structure on the planet – an 8,000 km natural wonder of the world stretching across the entire width of the continent.
African countries during the UNCCCD COP14 sought global support in terms of finance to make the Wall a reality in the continent's Sahel region by 2030.
Sahel is a semiarid region of western and north-central Africa extending from Senegal eastward to Sudan.
It forms a transitional zone between the arid Sahara (desert) to the north and the belt of humid savannas to the south.
Need for such project:
The project is a response to the combined effect of natural resources degradation and drought in rural areas.
It is a partnership that supports communities working towards sustainable management and use of forests, rangelands and other natural resources.
It seeks to help communities mitigate and adapt to climate change, as well as improve food security.
The GGW offers multiple (environmental, social and economic) benefits on an epic scale, touching on 15 of the 17 United Nations-mandated Sustainable Development Goals.
The project aims to restore 100 million hectares of degraded land by 2030; only four million hectares had been restored between 2007 and 2019.
By 2030, the GGW aims to sequester 250 million tonnes of carbon, restore 100 million hectares of currently degraded land and create 10 million jobs for the world's poorest people.
2. Genome sequencing in India:
Topic: Science and tech
Context: Omicron threat: India's COVID-19 genome sequencing a measly 0.2%
Concept:
Genome: It is an organism's complete set of DNA, including all of its genes.
Each genome contains all of the information needed to build and maintain that organism. In humans, a copy of the entire genome—more than 3 billion DNA base pairs—is contained in all cells that have a nucleus.
Genome sequencing:
It is figuring out the order of DNA nucleotides, or bases, in a genome—the order of As, Cs, Gs, and Ts that make up an organism's DNA. The human genome is made up of over 3 billion of these genetic letters.
Sequencing the genome doesn't immediately lay open the genetic information of an entire species. Even with a rough draft of the human genome sequence in hand, much work remains to be done. Scientists still have to translate those strings of letters into an understanding of how the genome works.
Methodology:
Genomes will be sequenced based on a blood sample.
Every person whose genomes are sequenced will be given a report. The participants would be told if they carry gene variants that make them less responsive to certain classes of medicines.
For instance, having a certain gene makes some people less responsive to clopidogrel, a key drug that prevents strokes and heart attack.
The sequencing to be done at the CSIR-Institute of Genomics and Integrative Biology (IGIB) and the Centre for Cellular and Molecular Biology (CCMB).
Applications:
Determining genetic traits and gene-disease link: Ever since the human genome was first sequenced in 2003, it opened a fresh perspective on the link between disease and the unique genetic make-up of each individual.
Nearly 10,000 diseases — including cystic fibrosis, thalassemia — are known to be the result of a single gene malfunctioning.
While genes may render some insensitive to certain drugs, genome sequencing has shown that cancer too can be understood from the viewpoint of genetics, rather than being seen as a disease of certain organs.
Mapping population diversity: Participants of genome-sample collections represent diversity of the country's population.
It will help us to compare causes of diseases across other countries. For instance, in developed countries diarrhoeal infections are rarer than in India. It will help understanding of role of genes in this and can track health changes over long periods.
Topic: economy
Context:
The government has no plan to recognise Bitcoin as a currency in the country, Finance Minister Nirmala Sitharaman informed the Lok Sabha on Monday.
Concept:
RBI Act 1934:
The Reserve Bank of India was established on April 1, 1935 in accordance with the provisions of the Reserve Bank of India Act, 1934.
The Central Office of the Reserve Bank was initially established in Calcutta but was permanently moved to Mumbai in 1937. The Central Office is where the Governor sits and where policies are formulated.
Though originally privately owned, since nationalization in 1949, the Reserve Bank is fully owned by the Government of India.
Main Functions:
Monetary Authority:
It implements and monitors the monetary policy and ensures price stability while keeping in mind the objective of growth.
An amendment to RBI Act, 1934, was made in May 2016, providing the statutory basis for the implementation of the flexible inflation targeting framework.
Section 45ZB of the amended RBI Act, 1934, also provides for an empowered six-member Monetary Policy Committee (MPC) to be constituted by the Central Government by notification in the Official Gazette
Manager of Foreign Exchange:
Manages the Foreign Exchange reserves of India.
It facilitates external trade and payment and promotes orderly development and maintenance of foreign exchange market in India.
It also maintains external value of rupee.
Issuer of Currency:
Issues and exchanges or destroys currency and coins not fit for circulation.
Objective: to give the public adequate quantity of supplies of currency notes and coins and in good quality.
Legal Tender is a coin or a banknote that is legally tenderable for discharge of debt or obligation.
The coins issued by Government of India under Section 6 of The Coinage Act, 2011, shall be legal tender in payment or on account provided that a coin has not been defaced and has not lost weight so as to be less than such weight as may be prescribed in its case.
Bank notes in India:
As per Section 26 of Reserve Bank of India Act, 1934, the Bank is liable to pay the value of banknote. This is payable on demand by RBI, being the issuer.
Banknotes in India are currently being issued in the denomination of ₹10, ₹20, ₹50, ₹100 ₹200, ₹500, and ₹2000. These notes are called banknotes as they are issued by the Reserve Bank of India. The printing of notes in the denominations of ₹2 and ₹5 has been discontinued and these denominations have been coinised as the cost of printing and servicing these banknotes was not commensurate with their life.
However, such banknotes issued earlier can still be found in circulation and these banknotes continue to be legal tender. ₹1 notes are issued by the Government of India from time to time and such notes including those issued in the past also continue to be legal tender for transactions.
Digital Currency:
It is a payment method which exists only in electronic form and is not tangible.
It can be transferred between entities or users with the help of technology like computers, smartphones and the internet.
Although it is similar to physical currencies, digital money allows borderless transfer of ownership as well as instantaneous transactions.
Digital currency is also known as digital money and cybercash.
E.g. Cryptocurrency
The Reserve Bank of India (RBI) is working on a phased implementation strategy for its own digital currency and is in the process of launching it in wholesale and retail segments in the near future.
A high-level inter-ministerial committee set up by the Finance Ministry had recommended Central Bank Digital Currency (CBDC) with changes in the legal framework including the RBI Act, which currently empowers the RBI to regulate issuance of bank notes.
Topic: Governance
Context:
NFHS-5 has good news on population growth rates and sex ratios.
Concept:
The National Family Health Survey (NFHS) is a large-scale, multi-round survey conducted in a representative sample of households throughout India.
The key results from the second phase of the latest NFHS (NFHS-5, 2019-21) have been released which comes out as a mixed verdict, containing both cheer and alarm in abundant measure.
Findings of the Survey:
There are many pluses in the report card of NFHS-5.
Improvements have been witnessed in several dimensions such as educational attainment, institutional deliveries, vaccinations, infant mortality etc.
Irrespective of the pace, the progress shall be appreciated especially given the abysmal state of India's health infrastructure which has been tragically apparent since the COVID-19 pandemic hit.
Decline in TFR, a Major Positive: The Total Fertility Rate (TFR) has been falling over time and has now reached (at 2.0) just below the replacement rate of 2.1.
This is true across all States of India which means that the total population has stabilised.
Difference in Sex Ratio at Birth and at Adulthood: For the first time in India, between 2019-21, there were 1,020 adult women per 1,000 men.
However, the data shall not undermine the fact that India still has a sex ratio at birth (SRB) more skewed towards boys than the natural SRB (which is 952 girls per 1000 boys).
Uttar Pradesh, Haryana, Punjab, Rajasthan, Bihar, Delhi, Jharkhand, Andhra Pradesh, Tamil Nadu, Odisha, Maharashtra are the major states with low SRB.
Poor Performance in Dealing with Anaemia: The incidence of anaemia in under-5 children (from 58.6 to 67%), women (53.1 to 57%) and men (22.7 to 25%) has worsened in all States of India (20%-40% incidence is considered moderate).
Barring Kerala (at 39.4%), all States are in the "severe" category.
Performance of Malnutrition Indicators: The three indicators of malnutrition, stunting (low height-for-age), wasting (low weight-for-height) and underweight (low weight-for-age), show an overall improvement.
However, this overall improvement creates an anomaly as in Phase 1 of the NFHS-5, several States revealed a worsening in one or more of these indicators, whereas in Phase 2, none of the States showed a worsening.
It might be possible that the covid-19 affected the survey in Phase 2, leading to undercounting of incidences.
Additionally, an increase is witnessed in the proportion of overweight children, women and men which also reflects malnutrition leading to serious health consequences in the form of non-communicable diseases (NCDs).
Non-Inclusion of Micronutrients: In addition to anthropometric measures, lack of adequate nutrition is also measured by micronutrient deficiencies, i.e. lack of vitamins and minerals that are essential for body functions such as producing enzymes, hormones and other substances needed for growth and development.
The NFHS does not have data on micronutrients.
Topic: Indian Polity
Context:
12 Opposition MPs have been suspended for the rest of the Winter Session for disruptions in Rajya Sabha during the Monsoon Session.
Concept:
Suspension of MP's:
Rule 255 of the General Rules of Procedure of the Rajya Sabha:
Under Rule 255 ('Withdrawal of member') of the General Rules of Procedure of the Rajya Sabha, "The Chairman may direct any member whose conduct is in his opinion grossly disorderly to withdraw immediately from the Council and any member so ordered to withdraw shall do so forthwith and shall absent himself during the remainder of the day's meeting."
How is suspension under Rule 255 different from Suspension under Rule 256?
Rule 256 provides for 'Suspension of Member'; whereas Rule 255 provides for lesser punishment.
Under Rule 256, "the Chairman may, if he deems it necessary, suspend a member from the service of the Council for a period not exceeding the remainder of the Session.
Differences in powers of Speaker and Chairman of Rajya Sabha:
Like the Speaker in Lok Sabha, the Chairman of Rajya Sabha is empowered under Rule Number 255 of its Rule Book to "direct any Member whose conduct is in his opinion grossly disorderly to withdraw immediately" from the House.
Unlike the Speaker, however, the Rajya Sabha Chairman does not have the power to suspend a Member.
Differences in powers of Speaker and Chairman of Rajya Sabha:
Like the Speaker in Lok Sabha, the Chairman of Rajya Sabha is empowered under Rule Number 255 of its Rule Book to "direct any Member whose conduct is in his opinion grossly disorderly to withdraw immediately" from the House.
Unlike the Speaker, however, the Rajya Sabha Chairman does not have the power to suspend a member.
 Procedure to be followed for suspension of Rajya Sabha MPs:
The Chairman may "name a member who disregards the authority of the Chair or abuses the rules of the Council by persistently and wilfully obstructing" business.
In such a situation, the House may adopt a motion suspending the Member from the service of the House for a period not exceeding the remainder of the session.
The House may, however, by another motion, terminate the suspension.
In 2001, the Lok Sabha rule was amended to give the Speaker one additional power.
A new rule, 374A, empowers the Speaker to automatically suspend an MP for a maximum of five days for disrupting the business of the House.
How often have disruptions led to suspension of MPs?
The first instance occurred in 1963.
A few Lok Sabha MPs first interrupted President Sarvapalli Radhakrishnan and then walked out while he was delivering the joint address to both Houses.
Lok Sabha ended in reprimanding these MPs. In 1989, 63 MPs were suspended from Lok Sabha on the discussion of the Thakar Commission report.
More recently in 2010, 7 MPs were suspended from Rajya Sabha for snatching the women's reservation bill from the minister. Since then, MPs have raised slogans, used pepper spray in the House and displayed placards.
6. Business Advisory Committee
Topic: Indian polity
Concept:
The Business Advisory Committee of Lok Sabha consists of 15 members including the Speaker who is the ex-officio Chairperson. The members are nominated by the Speaker.
In practice, a new Committee after being nominated by the Speaker is constituted and assumes office in the first week of June every year.
The Committee generally meets at the beginning of each Session and thereafter as and when necessary.
The function of the Committee is to recommend the time that should be allotted for the discussion of such government legislative and other business as the Speaker, in consultation with the Leader of the House, may direct to be referred to the Committee.
The Committee, on its own initiative, may also recommend to the Government to bring forward particular subjects for discussion in the House and recommend allocation of time for such discussions.
The decisions reached by the Committee are always unanimous in character and representative of the collective view of the House.
The Business Advisory Committee was constituted for the first time on the 14th July, 1952.
Topic: Economics
Context:
The Soybean Processors Association of India (SOPA) has opposed the polutry industry's
demand to extend the deadline for import of genetically modified (GM) soyameal to March 31.
Concept:
GM Crops:
A GM or transgenic crop is a plant that has a novel combination of genetic material obtained through the use of modern biotechnology.
For example, a GM crop can contain a gene(s) that has been artificially inserted instead of the plant acquiring it through pollination.
Conventional plant breeding involves crossing of species of the same genus to provide the offspring with the desired traits of both parents.
Genus is a class of items such as a group of animals or plants with similar traits, qualities or features.
Cross breeding can take a long time to achieve desired results and frequently, characteristics of interest do not exist in any related species.
Bt cotton is the only GM crop that is allowed in India. It has alien genes from the soil bacterium Bacillus thuringiensis (Bt) that allows the crop to develop a protein toxic to the common pest pink bollworm.
Herbicide Tolerant Bt (Ht Bt) cotton, on the other hand is derived with the insertion of an additional gene, from another soil bacterium, which allows the plant to resist the common herbicide glyphosate.
In Bt brinjal, a gene allows the plant to resist attacks of fruit and shoot borers.
In DMH-11 mustard, genetic modification allows cross-pollination in a crop that self-pollinates in nature.
Status of GM Soyseeds in India:
India allows the import of GM soybean and canola oil.
Import of GM soya bean seeds has not been approved in India.
The main fear is that import of GM soya bean will affect the Indian soya bean industry by contaminating non-GM varieties.
Approval Process for GM crops in India:
In India, the Genetic Engineering Appraisal Committee (GEAC) is the apex body that allows for commercial release of GM crops.
Use of the unapproved GM variant can attract a jail term of 5 years and fine of Rs. 1 lakh under the Environment Protection Act, 1986.
Food Safety and Standards Authority of India (FSSAI) is the authorised body to regulate the imported crops in India.
Topic: Economics
Context:
Marthandam Beekeepers' Co-operative Society Ltd. In Kanniyakumari district has filed an application seeking geographical indication (GI) tag for Marthandam honey. The honey produced in Marthandam has been certified as AGMARK 'A' grade by the Government of India.
Concept:
GI tag: 
It is an insignia on products having a unique geographical origin and evolution over centuries with regard to its special quality or reputed attributes.
It is a mark of authenticity and ensures that registered authorized users or at least those residing inside the geographic territory are allowed to use the popular product names.
GI tag in India is governed by Geographical Indications of Goods (Registration & Protection) Act, 1999. It is issued by the Geographical Indications Registry (Chennai).
A GI tag can be filed in international fora only when one has GI laws in their country.
GI is a tag on products that have a specific geographical origin and possess certain qualities due to that origin and are safeguarded by legalities such as by the World Intellectual Property Organisation.
Topic: Indian polity
Context:
Months ahead of Assembly elections in their states, Uttar Pradesh Chief Minister Yogi Adityanath and his Uttarakhand counterpart Pushkar Singh Dhami recently reached an agreement on the division of assets and liabilities, a subject the two states have discussed and debated ever since Uttarakhand was carved out of UP 21 years ago.
Concept:
Indian constitution empowers the Union government to create new states out of existing states or two merge one state with other. This process is called reorganisation of the states.
The basis of reorganisation could be linguistic, religious, ethnic or administrative.
Article 3 provides the following procedure:
Presidential reference is sent to State Assembly.
After presidential reference, a resolution is tabled and passed in Assembly.
Assembly has to pass a Bill creating the new State/States.
A separate Bill has to be ratified by Parliament.
Topic: Science and tech
Context:
The World Health Organization has classified a new variant of the novel coronavirus, which belongs to a lineage named B.1.1.529, as a 'variant of concern', and named is Omicron. This variant was first identified by scientists in South Africa, but has spread to nearly a dozed countries including Australia, Italy, Germany, the Netherlands, Britain, Hong Kong, Botswana and Belgium.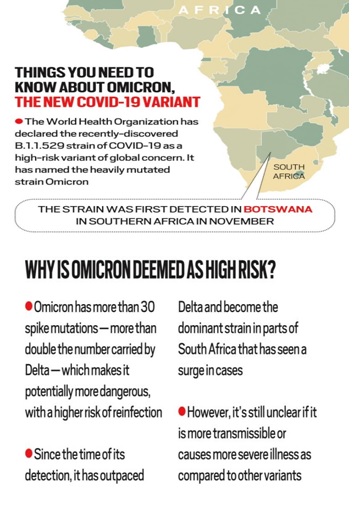 Can an RT-PCR test detect infection with Omicron variant of Covid-19?
RT-PCR tests can only confirm whether the person has an infection or not. They are not designed to determine which particular variant has infected the person. For that, a genome sequencing study has to be done.
Not all infected samples are sent for genome sequencing, because it is a slow, complicated and costly process. Normally, only a very small subset of all positive samples — about 2 to 5 per cent — is sent for gene analysis.
RT-PCR tests look for the presence of some specific identifiers in the genetic material (not the entire gene sequence) of the virus in the human body. Usually, two or more identifiers are searched to increase the probability of finding a match. If one of the identifiers has mutated, the other one can still return a positive result.
The problem is that Omicron is not the only variant that has mutations in the spike protein. A few others, notably the Alpha variant, also have mutations in this region, and therefore could show similar behaviour in RT-PCR tests.
Topic: Indian polity
Context:
Barbados has become the world's newest republic.
Concept:
Comparison between Republic and Monarchy:
| | | |
| --- | --- | --- |
| | Republic | Monarchy |
| Definition | It is a form of government in which the people or their elected representatives possess the supreme power. | It is a form of governance reigned by a king, queen or an emperor. |
| Age | One of the most common type of modern day government | One of the oldest forms of government |
| Office | The government is elected by the people. | The crown is passed from one generation to another. |
| Law | The government makes the law for the people. | The king makes law in absolute monarchy. In a constitutional monarchy, the government has the power to make the law. |
| Rule | The elected representatives of the people rule. | It is the family of monarchs who rule. |
| Examples | China, East Timor, India, Indonesia, Iraq, Isreal, Laos, Nepal, Pakistan, Republic of Korea, Singapore, Taiwan, Turkey, Estonia, Finland, First Hellenic Republic, Ireland, Lithuania, Malta, Northern Cyprus, Portugal, Republic of Kosovo, Egypt, Ethiopia, Mauritius, South Sudan, Sudan and Zimbabwe | Bahrain, Bhutan, Brunei, Cambodia, Japan, Jordan, Kuwait, Malaysia, Oman, Qatar, Saudi Arabia, Thailand, United Arab Emirates, Belgium, Belize, Denmark, Liechtenstein, Luxemborg, Monaco, Netherlands, Norway, Spain, Sweden, United Kingdom and Vatican City |
Topic: Science and Tech
Concept:
Recently, the Union Cabinet has approved the creation of the Indian National Space Promotion and Authorization Centre (IN-SPACe) to provide a level playing field for private companies to use Indian space infrastructure.
This is part of reforms aimed at giving a boost to private sector participation in the entire range of space activities.
IN-SPACe: It will act as a single-point interface between Indian Space Research Organisation (ISRO), and everyone who wants to participate in space-related activities, or use India's space resources.
It will also hand-hold, promote and guide the private industries in space activities through encouraging policies and a friendly regulatory environment.
Indian National Space Promotion Board: It would be set up to strengthen the Department of Space and for the promotion of the private space entrepreneurs or non-government space entrepreneurs,
Role of ISRO: The overall idea is to let ISRO concentrate on essential activities like research and development, planetary exploration, and strategic use of space, while freeing itself from ancillary or routine work which could easily be done by private industry.
Demand Driven Model: By the support of New Space India Limited (NSIL), It would endeavour to reorient space activities from a 'supply driven' model to a 'demand driven' one, thereby ensuring optimum utilisation of the nation's space assets.
The main objective of NSIL is to scale up industry participation in Indian space programmes in comparison to IN-SPACe which gives emphasis on the participation of the private sector.
New Space India Limited:
NSIL is a Central Public Sector Enterprise of the Government of India.
It was established in 2019 under the administrative control of the Department of Space.
Headquarters: Bengaluru
NSIL is the commercial arm of Indian Space Research Organisation (ISRO) with the primary responsibility of enabling Indian industries to take up high technology space related activities and is also responsible for promotion and commercial exploitation of the products and services emanating from the space industry.
NSIL is incorporated to carry forward the industry production of space systems and the ISRO's efforts in realising Polar Satellite Launch Vehicles (PSLV) from industry.
NSIL differs from ISRO's existing commercial arm Antrix Corporation:
Antrix will handle ISRO's commercial deals for satellites and launch vehicles with foreign customers.
NSIL will deal with capacity building of local industry for space manufacturing.
Global Rules and demands related to Space:
Almost every country agrees that space must not be used for wars and has spoken against weaponisation of space. There are international treaties governing the use of space, that mandate that outer space, and celestial bodies like the Moon, must only be exploited for peaceful purposes.
Outer Space Treaty of 1967:
India is a party to the Outer Space Treaty. The treaty prohibits countries from placing into orbit around the Earth "any objects carrying nuclear weapons or any other kinds of weapons of mass destruction".
It also prohibits the stationing of such weapons on celestial bodies, like the moon, or in outer space. The moon and other celestial bodies shall be used by all state parties to the treaty exclusively for peaceful purposes.
There are four more multilateral treaties that deal with specific concepts agreed to in the Outer Space Treaty:
The Rescue Agreement of 1968
The Space Liability Convention of 1972
The Registration Convention of 1976
The Moon Treaty of 1979
The United Nations Committee on the Peaceful Uses of Outer Space (COPUOS) oversees these treaties and other questions of space jurisdiction. None of these, however, prohibits the kind of test that India carried out recently.
The international community has been debating for the need to introduce transparency and confidence-building measures in outer space activities (TCBMS). In this regard, European Union has also prepared a draft code of conduct (CoC). However, major powers are yet to agree on the idea of establishing a CoC conduct.
Another important idea that has been put on the table jointly by Russia and China is the Prevention of the Placement of Weapons in Outer Space (PPWT) instead of only Weapon of Mass Destruction which is resisted by US and the EU.
Topic: Environment
Context:
Molai Kathoni, a forest created by Padma Shri recipient Jadav Payeng on the Majuli river island is a successful example of mixed-tree species plantation.
Mixed-tree plantations can arrest flood and erosion impacts if engineering, bio-engineering and nature-based solutions approaches are combined.
Concept:
Nature based solutions:
Nature-based Solutions (NbS) are defined by IUCN as "actions to protect, sustainably manage, and restore natural or modified ecosystems, that address societal challenges effectively and adaptively, simultaneously providing human well-being and biodiversity benefits".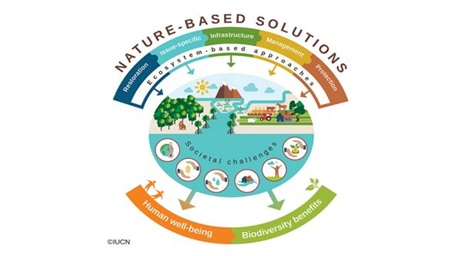 Nature-based Solutions:
Embrace nature conservation norms (and principles);
can be implemented alone or in an integrated manner with other solutions to societal challenges (e.g. technological and engineering solutions);
are determined by site-specific natural and cultural contexts that include traditional, local and scientific knowledge;
produce societal benefits in a fair and equitable way, in a manner that promotes transparency and broad participation;
maintain biological and cultural diversity and the ability of ecosystems to evolve over time;
are applied at a landscape scale;
recognise and address the trade-offs between the production of a few immediate economic benefits for development, and future options for the production of the full range of ecosystems services; and
are an integral part of the overall design of policies, and measures or actions, to address a specific challenge.
Category of NbS Approaches
Examples
Ecosystem restoration approaches

Ecological restoration

Ecological Engineering

Forest landscape restoration

Issue-specific ecosystem-related approaches

Ecosystem-based adaptation

Ecosystem-based mitigation

Climate adaptation services

Ecosystem-based disaster risk reduction

Infrastructure-related approaches

Natural infrastructure

Green infrastructure

Ecosystem-based management approaches

Integrated coastal zone management

Integrated water resources management

Ecosystem protection approaches

Area-based conservation approaches, including protected area management
Sendai Framework for Disaster Reduction 2015-30:
It was adopted at the Third United Nations World Conference on Disaster Risk Reduction, held from March 14 to 18, 2015 in Sendai, Miyagi, Japan.
The present Framework applies to the risk of small-scale and large-scale, frequent and infrequent, sudden and slow-onset disasters caused by natural or man-made hazards, as well as related environmental, technological and biological hazards and risks.
It aims to guide the multi hazard management of disaster risk in development at all levels as well as within and across all sectors.
It is the successor instrument to the Hyogo Framework for Action (HFA) 2005-2015: Building the Resilience of Nations and Communities to Disasters.
Expected Role of Stakeholders:
Women and their participation is critical for effectively managing disaster risk and designing, resourcing and implementing gender-sensitive disaster risk reduction policies, plans and programmes.
Children and youth are agents of change and should be given the space and modalities to contribute to disaster risk reduction.
Older persons have years of knowledge, skills and wisdom, which are invaluable assets to reduce disaster risk, and they should be included in the design of policies, plans and mechanisms, including for early warning.
Indigenous peoples, through their experience and traditional knowledge, provide an important contribution to the development and implementation of plans and mechanisms, including for early warning.
Academia, scientific and research entities and networks need to focus on the disaster risk factors and scenarios.
Business, professional associations and private sector financial institutions as well as philanthropic foundations need to integrate disaster risk management into business models and practices through disaster-risk-informed investments.
Media need to take an active and inclusive role at the local, national, regional and global levels in contributing to the raising of public awareness and understanding and disseminate accurate and non-sensitive disaster risk, hazard and disaster information, including on small-scale disasters.
Expected Role of International Organizations:
The United Nations and other international and regional organizations, engaged in disaster risk reduction are expected to enhance the coordination of their strategies in this regard.
The entities of the United Nations system through the UN Plan of Action on Disaster Risk Reduction for Resilience, UN Development Assistance Frameworks and country programmes need to promote the optimum use of resources and to support developing countries, at their request, in the implementation of the present Framework.
The United Nations Office for Disaster Risk Reduction is expected to support the implementation, follow-up and review of the present Framework.
International financial institutions, such as the World Bank and regional development banks are expected to consider the priorities of the present Framework for providing financial support and loans for integrated disaster risk reduction to developing countries.
The United Nations Global Compact, as the main United Nations initiative for engagement with the private sector and business, needs to further engage with and promote the critical importance of disaster risk reduction for sustainable development and resilience.
The Inter-Parliamentary Union and other relevant regional bodies and mechanisms for parliamentarians, as appropriate, to continue supporting and advocating disaster risk reduction and the strengthening of national legal frameworks.
The United Cities and Local Government organization and other relevant bodies of local governments to continue supporting cooperation and mutual learning among local governments for disaster risk reduction and the implementation of the present Framework.
Topic: Economics
Context: RBI supersedes the board of Anil Ambani's Reliance Capital
Concept:
RBI on NBFC regulation:
Recently, the Reserve Bank of India (RBI) has proposed a tighter regulatory framework for Non-Banking Financial Companies (NBFCs) by creating a four-tier structure with a progressive increase in intensity of regulation.
It has also proposed classification of Non-Performing Assets (NPAs) of base layer NBFCs from 180 days to 90 days overdue.
Earlier in 2020 the RBI announced a host of measures to provide liquidity support to NBFCs.
Non-Banking Financial Company (NBFC):
About:
A Non-Banking Financial Company (NBFC) is a company registered under the Companies Act, 1956 engaged in the business of loans and advances, acquisition of shares/stocks/bonds/debentures/securities issued by Government or local authority or other marketable securities of a like nature, leasing, hire-purchase, insurance business, chit business but does not include any institution whose principal business is that of agriculture activity, industrial activity, purchase or sale of any goods (other than securities) or providing any services and sale/purchase/construction of immovable property.
A non-banking institution which is a company and has principal business of receiving deposits under any scheme or arrangement in one lump sum or in installments by way of contributions or in any other manner, is also a non-banking financial company (Residuary non-banking company).
Features of NBFCs:
NBFC cannot accept demand deposits.
NBFCs do not form part of the payment and settlement system and cannot issue cheques drawn on itself.
Deposit insurance facility of Deposit Insurance and Credit Guarantee Corporation is not available to depositors of NBFCs.
Difference between NBFC and bank: