Daily Prelims Notes 4 January 2022
January 4, 2022

Posted by:

admin1

Category:

DPN

Daily Prelims Notes
4 January 2022
Table Of Contents
1. Importance of migratory birds in an era of climate change
Subject – Environment
Context – As many as 1,349 species of birds have been recorded as of 2019, of which 78 are endemic to the country and 212 species are globally threatened
Concept –
Migratory birds are seasonal guests with positive impacts. Birds from 29 countries fly to India every year. The country witnesses incoming of large flocks during September-October signifying the beginning of migration.
As many as 1,349 species of birds have been recorded as of 2019, of which 78 are endemic to the country and 212 species are globally threatened, according to the Government of India.
Impediments for migratory birds
Migratory birds require nesting places and sufficient food for successful broods. Accelerated habitat loss during the last decade, including decreased area under water bodies, wetlands, natural grasslands and forests have proved to be major impediments for them.
Overexploitation, unsustainable use of natural resource, population explosion along with increased weather variabilities and climate change has resulted in loss of biodiversity.
These factors have also adversely impacted the entire life cycle and survival of migratory birds.
Central Asian Flyway
Migratory bird species are known to be indicators for the flyway region, as they use different biomes and habitats and face different pressures along the migration route.
The Central Asian Flyway covers 30 countries, including India, at the tail end with huge landmass and habitat variations, especially the wetlands.

The Central Asian Flyway (CAF), Central Asian-Indian Flyway, or Central Asian-South Asian Flyway is a flyway covering a large continental area of Eurasia between the Arctic Ocean and the Indian Ocean and the associated island chains.

As daylight shrinks and food supply dwindles at the breeding sites, the birds take the cue and start migrating towards wintering sites in the South. The return journey begins in March or April.
Migration is also an adaptation mechanism to help birds overcome weather adversities and unavailability of food in colder regions. The importance of bird migrations on the health of the ecosystems is well-established.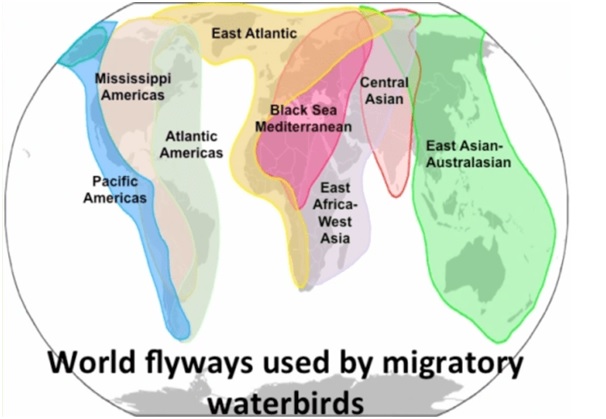 Important Sites of migratory birds –
Pallikaranai in Chennai attracts a large number of flamingoes, ducks and waders.
Pulicat Lake on the Tamil Nadu-Andhra border hosts flamingoes;
Ducks and waders can be seen in Chilika lagoon in Odisha.
Other notable sites to see migratory birds are the Keoladeo National Park in Bharatpur in Rajasthan and Khijadia Bird Sanctuary in Jamnagar in Gujarat.
Some examples of migratory birds are –
Spotted flycatcher
Rufous-tailed scrub robin
European roller
They migrate through a large part of western India and over winter in Africa.
Amur Falcons pass through India in December.
Siberian Cranes come to India in winter.
Importance of migratory birds
Such birds raising broods end up acting as pest control agents by devouring insects and other organisms that harm the environment and crops.
Locust attack is one such disaster that stems from that absence of birds.
Migratory birds help in dispersal of seeds, leading to maintenance of biodiversity along their routes.
Ducks can transport fish eggs in their guts to new water bodies.
The droppings of birds, also known as guano, are rich in nitrogen and act as organic fertilizers.
Egg shells can add calcium and other minerals.
Migratory birds form both prey and predator bases in ecosystems seasonally and can, therefore, have an ecological impact.
Prevalence of migratory birds helps analyse the state of environment in an area.
Convention on the Conservation of Migratory Species of Wild Animals
The Convention on the Conservation of Migratory Species of Wild Animals, also known as the Convention on Migratory Species (CMS) or the Bonn Convention, is an international agreement that aims to conserve migratory species throughout their ranges.
The Agreement was signed under the auspices of the United Nations Environment Programme and is concerned with conservation of wildlife and habitats on a global scale.
Signed in 1979 in Bonn, West Germany, the Convention entered into force in 1983. As of September 2020, there are 131 Member States to the Convention.
The depositary is the Government of the Federal Republic of Germany.
The CMS is the only global, and United Nations-based, intergovernmental organization established exclusively for the conservation and management of terrestrial, aquatic and avian migratory species.
Under this convention, migratory species threatened with extinction are listed on Appendix I and Parties strive towards strictly protecting these animals, conserving or restoring the places where they live, mitigating obstacles to migration and controlling other factors that might endanger them.
Migratory species that need conservation and management or would significantly benefit from international co-operation are listed in Appendix II of the Convention.
India and CMS
India hosted the 13th Conference of Parties (COP) of the Convention on the Conservation of Migratory Species of Wild Animals (CMS) in February, 2020 at Gandhinagar in Gujarat.
The theme of CMS COP-13 is 'Migratory species connect the planet and we welcome them home'.
The mascot for CMS COP-13 is 'Gibi – The Great Indian Bustard'.

It is a critically endangered species (according to the IUCN) and has been accorded the highest protection status (listed in Schedule I) under the Wildlife Protection Act, 1972.

India has signed a non legally binding Memorandum of Understanding (MoU) with CMS on the conservation and management of Siberian Cranes (1998), Marine Turtles (2007), Dugongs (2008) and Raptors (2016).
2. Rebate of State and Central Taxes and Levies (RoSCTL)
Subject – Economy
Context – At $37.29 billion, December export shit the highest ever in a month
Concept –
Announced on 7th March, 2019, RoSCTL was offered for embedded state and central duties and taxes that are not refunded through Goods and Services Tax (GST). It was available only for garments and made ups. It was introduced by the Ministry of Textiles.
Garment exporters will continue to get a rebate on Central and State taxes on their outward shipments as the government on Wednesday approved extension of RoSCTL scheme till March 2024.
The sectors covered under this scheme (apparel/garments and made-ups) would not get benefits under the Remission of Duties and Taxes on Exported Products (RoDTEP) scheme.
However, textiles products which are not covered under the RoSCTL would be eligible to avail the benefits, if any, under RoDTEP along with other products as finalised by the Department of Commerce.
The scheme will be implemented by the Department of Revenue with end-to-end digitisation for issuance of transferrable Duty Credit Scrip, which will be maintained in an electronic ledger in the customs system.
Under this scheme, exporters are issued a Duty Credit Scrip for the value of embedded taxes and levies contained in the exported product. Exporters can use this scrip to pay basic customs duty for the import of equipment, machinery or any other input.
These scrips are tradeable. So, if the exporter does not need this for his personal use, he can transfer the same to any other importer.
RoDTEP Scheme
The government on 13th March, 2020 approved RoDTEP, a scheme for exporters to reimburse taxes and duties paid by them such as value added tax, coal cess, mandi tax, electricity duties and fuel used for transportation, which are not getting exempted or refunded under any other existing mechanism.
RoDTEP replaces the Merchandise Export from India Scheme (MEIS) that was found to violate the World Trade Organization Rules.
To know more about RoDTEP, please refer August 2021 DPN.
Interest equalisation scheme (IES)
Interest equalisation scheme (IES) or also known as interest subvention.
This scheme is typically used to encourage exporters – particularly from the SME sector.
Since the cost of capital can vary across countries, WTO allows a high interest country to provide some level of help to the exporters who would be competing with their counterparts from low interest countries.
In simple terms, this can be called an export subsidy.
3. Small Value Digital Payments in Offline Mode
Subject – Economy
Context – RBI unveils framework to enable small value digital payments in offline mode
Concept –
The Reserve Bank of India (RBI) issued a framework to enable small value digital payments in offline mode using any channel or instrument such as cards, wallets and mobile devices.
An offline digital payment means a transaction which does not require internet or telecom connectivity.
Under this new framework, which is applicable with immediate effect, offline payments can be made in face-to-face (proximity) mode only.
Payment instruments will be enabled for offline transactions by Authorised Payment System Operators and Participants (Banks and Non-banks) based on explicit consent of the customer.
Offline transactions using cards will be allowed without a requirement to switch on the contactless transaction channel.
Such transactions will not require an Additional Factor of Authentication (AFA). Since the transactions are offline, alerts (SMS and / or email) will be received by the customer after a time lag.
The upper limit of an offline payment transaction will be ₹200. The total limit for offline transactions on a payment instrument will be ₹2,000 at any point in time.
Replenishment of used limit will be allowed only in online mode with AFA.
Customers will enjoy protection under the provisions of circulars limiting customer liability issued by RBI (as amended from time to time).
Further, they also have recourse to the Reserve Bank – Integrated Ombudsman Scheme for grievance redress.
The acquirer will incur all liabilities arising out of technical or transaction security issues at merchant's end.
Additional Factor of Authentication (AFA)
Two-step multi-factor authentication or additional factor authentication (AFA) increases the security of a digital account by using two different pieces of information.
For most online transactions, a One-Time Password (OTP) is generated and sent to your registered cell phone number, which you must enter to complete the transaction.
4. Carbon Capture and Global Warming
Subject – Environment
Context – Human activities often result in emissions of carbon dioxide which leads to global warming.
Concept –
The emitted carbon dioxide can be 'captured', so that the gas doesn't rise up in the atmosphere and cause (further) global warming. 'Carbon capture' refers to the techniques used to gather carbon dioxide emissions and put them away so that they don't cause harm.

For example, it is possible to collect the fumes coming out of the chimneys of coal-fired power plants and 'box' them up.
Working of carbon capture –
There are essentially two ways of approaching carbon capture and storage, or CCS. One, technology-based solutions and, two, nature-based solutions
Technology solutions entail putting up machinery to capture fumes (such as from factories, large engines, etc) and removing carbon dioxide from them.

The next step is, of course, to figure out a way of disposing of the carbon dioxide.
The most basic way to do this is to bury the gas underground— in pores of sedimentary rock formations, or in dead oilfields, that is, in sands that once held oil or gas, or in underground coal seams. This works if you don't have to transport the carbon dioxide over large distances to the burial ground.
The captured carbon dioxide could be injected into living oil and gas wells so as to push out the hydrocarbons.
Scientists have also suggested that the carbon dioxide could also be injected into gas hydrates (frozen gas-water mixture), whereupon the carbon dioxide will push out the gas in the hydrate and take its place.

Nature-based solutions do not 'capture' carbon dioxide but offset the emissions by sucking up the gas from the atmosphere.

Nature-based solutions essentially involve growing trees.
Mangroves are said to have an enormous potential to suck up carbon dioxide and are, therefore, in the limelight today
Is carbon capture happening on the ground? If so, where?
The earliest CCS projects are believed to be Sleipner and Snovhit projects in Norway, which have captured and sequestered about 24 million tonnes of carbon dioxide in their 23 years of operations.
In 2014, the Boundary Dam project in Canada was built to capture and bury around six million tonnes of carbon dioxide a year, but the project has been experiencing some problems.
According to the Global CCS Institute as of 2018, there were 43 large-scale facilities — 18 in commercial operation, five under construction and 20 in various stages of development.
Impediments –
CCS is costly. Typically, if you want to do CCS in a thermal power project, the process would take away between 6 per cent and 10 per cent of the power generation for itself.
Then, there are capital and maintenance costs. Until now, there was no great urgency to do CCS projects.
Subject – Governance
Context – Children born today might be the next development challenge for the world
Concept –
| | |
| --- | --- |
| Report | Released by – |
| World Inequality Report 2022 | World Inequality Lab |
| Human Capital Index (HCI) | World Bank |
Subject – Economy
Context – growth rate of real GDP is contaminated by the "double deflation problem".
Concept –
In the double deflation method, real value added is measured as the difference between real gross output and real intermediate inputs.
Double deflation is the technique used to estimate real value added of an industry.
Double deflation is the conceptually preferred method of computing real value added because it requires fewer assumptions about the relationships among gross output and intermediate inputs.
7. The shelf life of Covid-19 vaccines
Subject – Science and Tech
Context – More than 40 lakh teenagers in the 15-18 age group received their first dose of Covid-19 vaccines on Monday as India began its drive to vaccinate the younger population groups. Some concerns were raised about 'expired' Covaxin being administered to this younger group
Concept –
Shelf life of vaccines is extended by the national regulator, Central Drugs Standard Control Organisation, or CDSCO, based on a comprehensive analysis and examination of stability study data furnished by the vaccine manufacturers.
Vaccines are complex mixtures of proteins, carbohydrates, lipids, inactivated virus, or adjuvants —which are substances that are intended to enhance immune response and subsequent clinical efficacy of the vaccine. These together contribute to overall vaccine efficacy and safety.
Like other medicinal products, vaccines come with a date of expiry and shelf life determined by the manufacturer and approved by regulatory authorities. The constituents of a vaccine can go bad over time because of slow chemical reactions and lose efficacy.
According to the World Health Organization (WHO), stability is the ability of a vaccine to retain its chemical, physical, microbiological and biological properties within specified limits throughout its shelf life.

A series of tests are designed to obtain information on the stability of a vaccine in order to define its shelf life and utilisation period under specified packaging and storage conditions.
And depending on the nature of the antigen and other components, and the manufacturing process, stability parameters are selected on a case-by-case basis, the WHO guidelines state.
How is shelf life calculated?
Shelf life is calculated by storing the product at different temperatures for various lengths of time and then testing its effectiveness.
By storing the particular product at various temperatures, and then periodically checking if there is any degradation of the product, an expiry date is arrived at.
The duration over which the product is stable and effective in the specified conditions is considered its shelf life.
According to the WHO guidelines, the shelf life of a vaccine is the period of time during which the vaccine, if stored correctly, is expected to comply with the specification, as determined by stability studies on a number of batches of the product. The shelf life is used to establish the expiry date of each batch.
For vaccines, it is done by injecting into small animals (typically mice) to assess if the ability to make antibodies goes down with storage time and temperature.
An expiry date means that roughly beyond that, the vaccine won't raise immunity as well as earlier. It may still work but sub-optimally.
The WHO had said that any extension in the shelf life will only apply to vaccines not yet labelled and distributed. Hence the expired or near-to-expire doses in distribution for use will not be affected by any future decision of shelf life extension.
Covaxinand Covishield extension –
CDSCO had in February last year extended the shelf life of Covishield from nine months to 12 months, after a similar process.
CDSCO on October 25, 2021 approved the extension of the shelf life of covaxin from 9 to 12 months from the date of manufacture.
Subject – Defence and security
Context – The open-source software repository service GitHub is in the news after it was used to create and share an offensively named app that sexually harassed Muslim women in India.
Concept –
GitHub is the world's largest open-source developer community platform where users upload their projects and code for others to view, edit, and tweak.
The idea of GitHub is this: any developer can upload whatever software code or app code or software idea they have on the platform, and have others collaborate with them to help improve it, find errors, and fix problems.
Any public project can be viewed by others on the platform.
Most of the features of the platform are free for users. Organisations can use paid accounts to upload their software and projects for collaboration.
The platform uses the software Git, which was created in 2005 by Linus Trovalds, the developer of the open-source operating system Linux, to track changes in a set of files and for coordination in software development.
Subject – Economy
Context – MSMEs: Engines of growth for new India
Concept –
Worldwide, MSMEs have been accepted as the engine of economic growth and for promoting equitable development.
They constitute over 90% of total enterprises in most of the economies and are credited with generating the highest rates of employment growth.
In July 2020, the Union Cabinet decided to change the criterion to "annual turnover", which was more in line with the imposition of GST.
According to the new definition, limit of micro unit was increased to Rs. 1 crore of investment and Rs 5 crore of turnover and limit of small unit was increased to Rs. 10 crore of investment and Rs 50 crore of turnover. Similarly, the limit of a medium unit was increased to 50 crore of investment and Rs. 250 crore of turnover. 
It may be noted that this revision was done after 14 years since the MSME Development Act came into existence in 2006.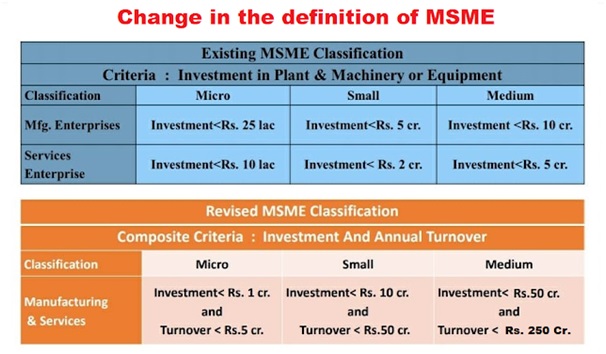 Importance of MSMEs
contribute around 30 per cent to India's GDP,
employ about 11 crore people,
constitute nearly 40 per cent of total exports, and
more than half of them are located in rural India,
the government is keen to rev up this sector to achieve inclusive growth thereby attaining self-reliance (Atmanirbhar Bharat).
Schemes to promote MSME
Special Credit Linked Capital Subsidy Scheme for the MSMEs

The scheme will help in meeting the technology-related requirements of enterprises in the services sector.
It has a provision of 25% capital subsidy for procurement of plant and machinery and service equipment through institutional credit to the Scheduled Caste – Scheduled Tribe MSMEs without any sector-specific restrictions on technology up-gradation.

UdyamiMitraPortal : launched by SIDBI to improve accessibility of credit and handholding services to MSMEs.
MSME Sambandh : To monitor the implementation of the public procurement from MSMEs by Central Public Sector Enterprises.
MSME Samadhaan -MSME Delayed Payment Portal –– will empower Micro and Small entrepreneurs across the country to directly register their cases relating to delayed payments by Central Ministries/Departments/CPSEs/State Governments.
Digital MSME Scheme : It involves usage of Cloud Computing where MSMEs use the internet to access common as well as tailor-made IT infrastructure
Prime Minister Employment Generation Programme : It is a credit linked subsidy program under Ministry of MSME.
Revamped Scheme of Fund for Regeneration Of Traditional Industries (SFURTI) : organizes traditional industries and artisans into clusters and make them competitive by enhancing their marketability & equipping them with improved skills.
A Scheme for Promoting Innovation, Rural Industry & Entrepreneurship (ASPIRE) : creates new jobs & reduce unemployment, promotes entrepreneurship culture, facilitates innovative business solution etc.
National Manufacturing Competitiveness Programme (NMCP) : to develop global competitiveness among Indian MSMEs by improving their processes, designs, technology and market access.
Micro & Small Enterprises Cluster Development Programme (MSE-CDP) – adopts cluster development approach for enhancing the productivity and competitiveness as well as capacity building of MSEs.
10. Apple hits $3 trillion market value
Subject – Science and Tech
Context – Apple becomes first company to hit $3 trillion market value
Concept –
Apple, the computer company that started in a California garage in 1976, is now worth $3 trillion.
It became the first publicly traded company to ever reach the figure on Monday, when its stock briefly eclipsed $182.86 a share before closing at $182.01.
In August 2018, Apple became the first American company ever to be worth $1 trillion, an achievement that took 42 years.
11. India's falling jobless rate
Subject – Economy
Context – Jobless rate touches '4-mth high'
Concept –
India's unemployment rate touched a four-month high of 7.9 per cent in December, data from the Centre for Monitoring Indian Economy (CMIE) showed.
What are the risks to employment?
Urban unemployment rate on a weekly level had spiked to a double-digit rate to around 10.09 per cent in mid-December.
Urban employment is a proxy for better paying jobs and a decline in these numbers reflects impact on better-paying organised sector's jobs.
With Covid-19 cases on the rise amid the threat posed by the Omicron variant and many states imposing fresh curbs, economic activity and consumption levels have been affected. This could adversely affect economic recovery further going ahead.
To know about Unemployment, please refer September 2021 DPN.
Subject – Science and Tech
Context – To expedite 5G auction, DoT to meet MoD, ISRO, other officials
Concept –
Spectrum refers to the invisible radio frequencies that wireless signals travel over. The frequencies we use for wireless are only a portion of what is called the electromagnetic spectrum.
Devices such as cellphones, radio, wifi, etc. require signals to connect with one another. These signals are carried on airwaves. These airwaves must be sent at designated frequencies to avoid any kind of interference. Such airwaves are called the spectrum.
The various frequencies are subdivided into bands.
Frequency is the number of repetitions of the wave that one can see in a period.
If a wave repeats slowly, it is low frequency.

If the wave repeats more, then it is called high frequency.
Hertz(Hz) is the unit of Frequency.

Range of various devices:

Radio – 100-200 Megahertz (Mhz)
Telecom – 800 Mhz – 2300 Mhz
Wifi – Earlier it was 2.4 Ghz and now enhanced to 5 Ghz.
What is a spectrum auction?
The Union government owns all the publicly available assets within the geographical boundaries of the country. This includes the airwaves also. So the government has the right to sell the airwaves.
The selling of airwaves as a band for a certain period is known as Spectrum Auctions. The central government through the DoT(Department of Telecom) auctions these airwaves from time to time.
The government performs spectrum auctions after dividing the entire country into telecom circles. Presently India is divided into 22 telecom circles.
All these spectrums are sold for a certain period of time, after which their validity lapses, which is generally set at 20 years.
With the expansion in the number of cellphones, wireline telephone and internet users, the need to provide more space for the signals arise from time to time.
Telecom companies are willing to set up the required infrastructure to use the waves once they auctioned the particular spectrum.
History of spectrum auctions
The first spectrum auction in India was conducted for a 900MHz band, in 1994.
After the 2001 auction, the government switched to an administrative allocation model. Under this, the government would select the companies best suited for developing India's telecom infrastructure.
However, this didn't yield a positive result, and the spectrum was licensed at far lower rates than what was raised by auction.
Post 2G spectrum case, the government again switched to the spectrum auction method.
Radio frequencies are often grouped in ranges called bands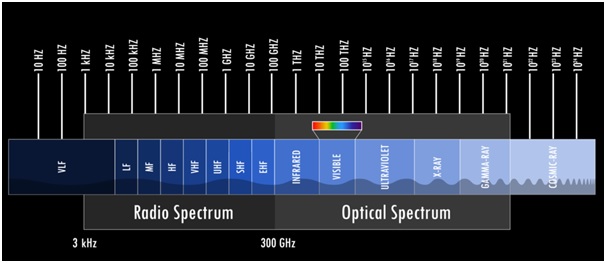 International Telecommunication Union (ITU):
It is an agency of the United Nations (UN) whose purpose is to coordinate telecommunication operations and services throughout the world.
Originally founded in 1865, as the International Telegraph Union, the ITU is the oldest existing international organization.
Headquarters are in Geneva, Switzerland.
The ITU consists of three sectors:

Radiocommunication (ITU-R) — ensures optimal, fair and rational use of the radio frequency (RF) spectrum.
Telecommunication Standardization (ITU-T) — formulates recommendations for standardizing telecommunication operations worldwide.
Telecommunication Development (ITU-D) — assists countries in developing and maintaining internal communication operations.
Membership:
There are 193 Member States of the ITU, including all UN member states except the Republic of Palau, plus the Vatican City.
Membership of ITU is open to only UN members, which may join the Union as Member States, as well as to private organizations like carriers, equipment manufacturers, funding bodies, research and development organizations and international and regional telecommunication organizations, which may join ITU as non-voting Sector Members.
India and the ITU:
India has been an active member of the ITU since 1869 and has been a regular member of the ITU Council since 1952. In November 2018, India was elected as a Member of the ITU Council for another 4-year term (2019-2022).
To know about 5G please refer August 2021 DPN and November 2021 DPN.
13. IRDAI bats for 'reasonable' remuneration to insurance CEOs
Subject – Economy
Context – IRDAI bats for 'reasonable' remuneration to insurance CEOs, to limit variable pay
Concept –
The Insurance Regulatory and Development Authority of India (IRDAI) has batted for 'reasonable' remuneration to insurance CEOs, to limit variable pay.
This has been proposed in draft the guidelines on remuneration of managing directors, chief executive officers and other directors on the board.
To know about IRDAI, please refer September 2021 DPN.
Subject – Geography / IR
Context – China constructing bridge on Pangong Lake in Ladakh
Concept –
China is constructing a bridge in eastern Ladakh connecting the north and south banks of Pangong Tso (lake), which will significantly bring down the time for the People's Liberation Army (PLA) to move troops and equipment between the two sectors.
On the north bank, there is a PLA garrison at Kurnak fort and on the south bank at Moldo, and the distance between the two is around 200 km. The new bridge between the closest points on two banks, which is around 500 m, will bring down the movement time between the two sectors from around 12 hours to three or four hours.

The construction had been going on for some time and it would reduce the overall distance by 140¬150 km.

The bridge is located around 25 km ahead of the Line of Actual Control (LAC).
Earlier, the PLA had to take a roundabout crossing the Rudok county. But now the bridge would provide a direct axis.
The bridge is in China's territory and the Indian Army would have to now factor this in its operational plans.
The north bank, which has much higher differences in perception of the LAC than the south bank, was the initial site of the clashes in early May 2020, while tensions on the south bank flared up later in August.
The Indian Army got tactical advantage over the PLA on the south bank in August-end by occupying several peaks lying vacant since 1962, gaining a dominating view of the Moldo area.
On the north bank too, the Indian troops set up posts facing PLA positions on the ridge-lines of Finger 4.
About Pangong Tso Lake
It is an endorheic lake spanning eastern Ladakh and West Tibet.
Approximately 50% of the length of the overall lake lies within Tibet China, 40% in Ladakh India and the rest is disputed and is a de-facto buffer zone between India and China.
The lake is 5 km (3.1 mi) wide at its broadest point.
India holds one-third of the 135-km-long boomerang-shaped lake located at an altitude of over 14,000 feet.
The lake, a glacial melt, has mountain spurs of the Chang Chenmo range jutting down, referred to as
During winter the lake freezes completely, despite being saline water.

The lake's water, while crystal clear, is brackish, making it undrinkable.

It has a land-locked basin separated from the Indus River basin by a small elevated ridge, but is believed to have been part of the latter in prehistoric times.
It is 134 km (83 mi) long and divided into five sublakes, called Pangong Tso, Tso Nyak, Rum Tso (twin lakes) and Nyak Tso.
The Karakoram Mountain range, which crosses Tajikistan, Afghanistan, Pakistan, China and India, with heights of over 6,000 metres including K2, the world's second highest peak, ends at the north bank of Pangong Tso.
Its southern bank too has high broken mountains sloping towards Spangur Lake in the south.
Fingers in the lake
The barren mountains on the lake's northern bank, called the Chang Chenmo, jut forward in major spurs, which the Army calls "fingers".
India claims that the LAC is coterminous with Finger 8, but it physically controls area only up to Finger 4.
Chinese border posts are at Finger 8, while it believes that the LAC passes through Finger 2.
Who controls Pangong Tso?
Nearly two-thirds of the lake is controlled by China, with just about 45 km under Indian control.
The LAC, running north-south, cuts the western part of the lake, aligned east-west.
15. Treaty on Non-proliferation of Nuclear Weapons (NPT)
Subject – IR
Context – World powers vow to stop spread of nuclear weapons
Concept –
The NPT is a multilateral treaty aimed at limiting the spread of nuclear weapons including three elements: (1) non-proliferation, (2) disarmament, and (3) peaceful use of nuclear energy.
These elements constitute a "grand bargain" between the five nuclear weapon states and the non-nuclear weapon states.
The treaty was signed in 1968 and entered into force in 1970. Presently, it has 190 member states.
It is the only binding commitment in a multilateral treaty to the goal of disarmament by the nuclear-weapon States.
Year 2020 marked the 50thanniversary of the entry-into-force of the Treaty on the Non-Proliferation of Nuclear Weapons (NPT), a legal instrument treated as the cornerstone of the global nuclear non-proliferation regime.
Four UN member states have never accepted the NPT, three of which possess or are thought to possess nuclear weapons: India, Israel, and Pakistan.
Key provisions:
The Treaty defines nuclear weapon states (NWS) as those that had manufactured and detonated a nuclear explosive device prior to 1 January 1967. All the other states are therefore considered non-nuclear weapon states (NNWS).
The five nuclear weapon states are China, France, Russia, the United Kingdom, and the United States.
The Treaty does not affect the right of state parties to develop, produce, and use nuclear energy for peaceful purposes.
Role of States:
Nuclear weapon states are not to transfer to any recipient whatsoever nuclear weapons and not to assist, encourage, or induce any NNWS to manufacture or otherwise acquire them.
Non-nuclear weapons states are not to receive nuclear weapons from any transferor, and are not to manufacture or acquire them.
NNWS must accept the International Atomic Energy Agency (IAEA)safeguards on all nuclear materials on their territories or under their control.
India's Stand on NPT
India is one of the only five countries that either did not sign the NPT or signed but withdrew, thus becoming part of a list that includes Pakistan, Israel, North Korea, and South Sudan.
India always considered the NPT as discriminatory and had refused to sign it.
India has opposed the international treaties aimed at non-proliferation since they were selectively applicable to the non-nuclear powers and legitimised the monopoly of the five nuclear weapons powers.
Error on 3rd January 2022
Anchor Investors –
Anchor investor is a concept launched by Securities Exchange Board of India (SEBI) in 2009. Anchor investors are institutional investors who are invited to subscribe the shares before the Initial Public Offers (IPOs) open so that it jazzes up the popularity of the issue.
As the name denotes, the anchor investors are required to take up the share at a fixed price to make other investors confident and improve the demand of the share.
This process also helps to improve the investment opportunity for retail investors with the company. Each anchor investor needs to invest a minimum of Rs 10 crore in the issue.