Daily Prelims Notes 5 June 2020
June 6, 2020

Posted by:

admin

Category:

DPN

Table Of Contents
1. Periodic Labour Force Survey PLFS
Subject: Economy
Context:
The country's job situation registered an improvement during 2018-19 with unemployment rate declining to 5.8 per cent, down from 6.1 per cent in the previous financial year, according to government data.
The labour force participation rate (LFPR) during 2018-19 rose to 37.5 per cent as compared to 36.9 per cent a year ago, said the Periodic Labour Force Survey (PLFS)
Concept:
National Statistical Office (NSO) launched Periodic Labour Force Survey (PLFS) on April 2017. The objective of PLFS is primarily twofold:
To estimate the key employment and unemployment indicators (viz. Worker Population Ratio, Labour Force Participation Rate, Unemployment Rate) in the short time interval of three months for the urban areas only in the Current Weekly Status (CWS)
to estimate employment and unemployment indicators in both usual status (ps+ss) and CWS in both rural and urban areas annually.
Definitions:
Labour Force Participation Rate (LFPR):LFPR is defined as the percentage of persons in labour force (i.e. working or seeking or available for work) in the population.
Worker Population Ratio (WPR):WPR is defined as the percentage of employed persons in the population.
Unemployment Rate (UR):UR is defined as the percentage of persons unemployed among the persons in the labour force.
2. Bad Loans
Subject: Economy
Context:
Bad loans of Indian banks are expected to rise to 11.3-11.6% this fiscal and Rs 45,000-82,500 crore capital might be required to overcome the rising asset quality pressures, according to ICRA Ratings
Concept:
A non-performing asset (NPA) is a banking industry term for a 'bad loan' – i.e. one that has not been repaid within the stipulated time, or where the scheduled payments are in arrears.
A bank's assets are the loans and advances it extends to customers. If these clients, including companies, do not repay either interest or part of principal or both, the loan turns into a bad loan.
3. GAVI
Subject: IR
Context:
India pledged $15-million as India's contribution to the vaccines alliance GAVI at the Global Vaccine Summit hosted by the UK.
Concept:
The virtual Global Vaccine Summit hosted by UK Prime Minister in which over 50 ​countries – business leaders, UN agencies, civil society, government ministers, Heads of State and country leaders participated aimed at raising USD 7.4 million to immunize a further 300 million children in the world's poorest countries by 2025.
India is the World's foremost producer of vaccines and that it is fortunate to contribute to the immunization of about 60 percent of the World's children.
Indian prime minister also pointed to the government's Mission Indradhanush, which aims to ensure full vaccination of children and pregnant women, as a sign of the importance attached to immunization within the country.
GAVI
Global Alliance for Vaccines and Immunization is a public-private global health partnership committed to increasing access to immunization in poor countries
It is a global Vaccine Alliance with the goal of creating equal access to new and underused vaccines for children living in the world's poorest countries.
It does this by bringing together all the stakeholders – donor governments, developing countries, World Bank, UNICEF, WHO, Bill & Melinda Gates Foundation, international finance and development organizations, and pharmaceutical industry – in one decision making body
Gavi was launched in 2000. It is based in Geneva, Switzerland
India started receiving support for its immunization programme from GAVI in 2002. Apart from that, India is the largest supplier of vaccines to GAVI
GAVI'S IMPACT
More children survive. The increase in immunisation has helped halve childhood mortality by preventing approximately 13 million deaths and dramatically driven down the incidence of deadly and debilitating infectious diseases.
Nation building thrives. As children become healthier, they, their families, communities and countries are more able to be economically prosperous and socially stable.
Global health security improves. In the face of global challenges, such as climate change, urbanisation, human migration, fragility and conflict, Gavi has helped countries broaden vaccine coverage and improve their health systems. This makes them less susceptible and better able to prevent disease outbreaks that pose a threat to people in these countries, protecting millions of others around the world.
4. National Immunization Programme
Subject: Science and tech
Context:
In virtual Global Vaccine Summit, Prime minister highlighted India's immunization programme
Concept:
Immunization is the process whereby a person is made immune or resistant to an infectious disease, typically by the administration of a vaccine.
Vaccines are substances that stimulate the body's own immune system to protect the person against subsequent infection or disease.
Universal Immunization Programme
Immunization Programme in India was introduced in 1978 as 'Expanded Programme of Immunization' (EPI) by the Ministry of Health and Family Welfare, Government of India.
In 1985, the programme was modified as 'Universal Immunization Programme' (UIP) to be implemented in phased manner to cover all districts in the country by 1989-90 with the one of largest health programme in the world.
Ministry of Health and Family Welfare provides several vaccines to infants, children and pregnant women through the Universal Immunisation Programme.
Through UIP, Government of India is providing vaccination free of cost against vaccine preventable diseases include diphtheria, pertussis, tetanus, polio, measles, severe form of childhood tuberculosis, hepatitis B, meningitis and pneumonia (Hemophilus influenza type B infections), Japanese encephalitis (JE) in JE endemic districts with introduction of newer vaccines  such as rotavirus vaccine, IPV, adult JE vaccine, pneumococcal conjugate vaccine (PCV)  and measles-rubella (MR) vaccine in UIP/national immunization programme.
Mission Indradhanush
Mission Indradhanush was launched in 2014 to strengthen and re-energize the programme and achieve full immunization coverage for all children and pregnant women at a rapid pace.
Intensified Mission Indradhanush
To further intensify the immunization programme  Intensified Mission Indradhanush (IMI) was launched on 2017. Through this programme, Government of India aims to reach each and every child up to two years of age and all those pregnant women who have been left uncovered under the routine immunisation programme/UIP.
The focus of special drive was to improve immunisation coverage in select districts and cities to ensure full immunisation to more than 90% by December 2018.
5. State of India's Environment
Subject: Environment
Context:
Centre for science and environment has released state of environment 2020 report
Findings
The report outlines the status on progress of sustainable development goals(SDGs), state of forests, groundwater development, wasteland and live stocks.
It has been observed in the report that the country facing challenges in achieving 9 of the total 17 SDGs which is pushing down its global ranking on preparedness. The report also focused on environmental crimes in the country and global economic risks
India had one in five of all internal displacements caused by disasters across the world in 2019, mostly caused by floods, cyclones and drought
It notes that there were 747 more tigers in 2018 than in 2014. However, the net area meant for tiger conservation shrunk by 179 sq.km.
Forest cover has shrunk in 38% of districts, while five out of 21 river basins are now in a state of absolute water scarcity
Nineteen extreme weather events in 2019 claimed 1,357 lives, with heavy rain and floods accounting for 63 per cent of these deaths
There was a 69 per cent increase in the number of heat wave days between 2013 and 2019 as well, the report said. Over 5,300 people died from heat waves in the past seven years, the report pointed out.
Cold waves increased by 69 per cent within a year, between 2017 and 2018, with the latter year reported to have an extremely cold winter, with the most casualties (279) in the past seven years.
The Union government decreased its expenditure on natural disasters, even as the impact suffered by people from them increased, according to the report.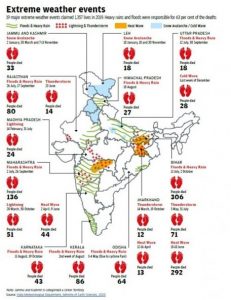 6. TULIP
Subject: Schemes
Context:
Minister of Human Resource Development, Minister of Housing & Urban Affairs, and All India Council for Technical Education (AICTE) have jointly launched an online portal for `The Urban Learning Internship Program (TULIP)' 
Concept:
TULIP is a program for providing fresh graduates experiential learning opportunities in the urban sector.
TULIP has been conceived pursuant to the Budget 2020-21 under the theme 'Aspirational India'.
This program will help reap the benefits of India's demographic dividend as it is poised to have the largest working-age population in the world in the coming years. India has a substantial pool of technical graduates for whom exposure to real world project implementation and planning is essential for professional development.
TULIP would help enhance the value-to-market of India's graduates and help create a potential talent pool in diverse fields like urban planning, transport engineering, environment, municipal finance etc.
Thus TULIP- "The Urban Learning Internship Program" would help fulfill twin goals of providing interns with hands-on learning experience as well as infusing fresh energy and ideas in the functioning of India's ULBs and Smart Cities.
This launch is also an important stepping stone for fulfillment of MHRD and AICTE's goal of 1 crore successful internships by the year 2025.
Subject: Environment
Context:
Chennai-based environmental group seeks more norms for disposal of COVID-19 medical waste in Tamil Nadu
It has demanded that the government set up at least one Common Bio-medical Waste Treatment and Disposal Facility per district immediately
Concept:
Bio Medical Waste Management Rules, (BMWM), 2016 defines Bio Medical Waste as any Waste generated during the diagnosis, treatment or immunization of human being and animals, in research activities or in production or testing of Biological.
Bio Medical Waste is categorized into four categories Yellow, Red, Blue and White and needs special consideration during its handling, storage, transportation treatment and disposal specific to its color code.
BMWM Rules 2016 specify the statutory responsibility of waste management of Waste generator, Occupier of Health care establishment, Common Facility operator, SPCB and stake holder departments responsible for BMW management at both Central and state government, in accordance with the provisions of BMW Rules and Guidelines issued by CPCB & SPCB.
8. World Environment Day : Celebrating Biodiversity
Subject: Environment
Context:
June 5 is celebrated as World Environment Day every year.
The theme for World Environment Day 2020 is biodiversity
Concept:
The first major conference on environmental issues was held in the year 1972 from June 5-16 in Stockholm (Sweden).
Later that year, on December 15, the General Assembly adopted a resolution designating June 5 as World Environment Day.
In 1974, the first World Environment Day was celebrated.
Since then, World Environment Day is celebrated every year on June 5, engaging governments, businesses, celebrities and citizens to focus their efforts on a pressing environmental issue.
Biodiversity
Biodiversity describes the variety of life on Earth, including the 8 million plant and animal species on the planet, the ecosystems that house them, and the genetic diversity among them.
Biodiversity is a complex, interdependent web, in which each member plays an important role, drawing and contributing in ways that may not even be visible to the eye.
Biodiversity is the foundation that supports all life on land and below water.
It affects every aspect of human health, providing clean air and water, nutritious foods, scientific understanding and medicine sources, natural disease resistance, and climate change mitigation.
Changing or removing one element of this web affects the entire life system and can produce negative consequences. Without nature, life on earth would not be possible.
9. CRAR and Bank Capitalization
Subject: Economy
Context:
Despite a large part of the Atmanirbhar Bharat package relying on aggressive lending by banks, the government does not see an immediate need for equity infusion in the public sector banks (PSBs), as their capital to risk weighted asset ratio (CRAR) is expected to stay above the regulatory requirements
Concept:
CRAR
Capital Adequacy Ratio (CAR) is the ratio of a bank's capital in relation to its risk weighted assetsand current liabilities.
It is decided by central banks and bank regulators to prevent commercial banks from taking excess leverage and becoming insolvent in the process.
The Basel III norms stipulated a capital to risk weighted assets of 8%.
However, as per RBI norms, Indian scheduled commercial banks are required to maintain a CAR of 9% while Indian public sector banks are emphasized to maintain a CAR of 12%.
Recapitalization
Bank recapitalization, means infusing more capital in state-run banks so that they meet the capital adequacy norms.
The government, using different instruments, infuses capital into banks facing shortage of capital.
In compliance with RBI guidelines which are based on Basel norms requiring banks to maintain certain amount of capital reserves, the government, which is also the biggest shareholder, infuses capital in banks by either buying new shares or by issuing bonds.
As the state-run banks were struggling to deal with burgeoning NPAs, the government from time-to-time kept on announcing recapitalization to keep the banks afloat.
10. Blue Water Navy
Subject: Environment
Context:
Environment Protection and Green Initiatives have always been a key focus area of the Indian Navy. So the Indian Navy has embarked on reducing its environmental footprint
Concept:
'Indian Navy Environment Conservation Roadmap' (INECR) has been the guiding document and key enabler for progressively achieving the vision of the Indian Navy to add a Green Footprint to its Blue Water operations.