Daily Prelims Notes 5 November 2021
November 6, 2021

Posted by:

OptimizeIAS Team

Category:

DPN

Daily Prelims Notes
5 November 2021
Table Of Contents
Subject – Environment
Context – Roadkill and extinction risk for leopards in North India
Concept –
The Indian leopard (Pantherapardusfusca) is a leopard subspecies widely distributed on the Indian subcontinent.
It is one of the big cats occurring on the Indian subcontinent, apart from the Asiatic lion, Bengal tiger, snow leopard and clouded leopard.
It is listed as Vulnerable on the IUCN Red List.
Convention on International Trade in Endangered Species of Wild Fauna and Flora (CITES): Appendix I
Wildlife Protection Act 1972: Schedule 1
Habitat – India, Nepal, Bhutan and parts of Pakistan.
2. US Federal Blacklist – Entity List
Subject – IR
Context – Israeli spyware company NSO Group, the maker of phone-hacking tool Pegasus, has been added to a federal blacklist
Concept –
Israeli spyware company NSO Group, the maker of phone-hacking tool Pegasus, has been added to a federal blacklist by the US Department of Commerce, thereby restricting it from accessing America-made technologies.
The Israeli companies were added to the list "based on evidence that these entities developed and supplied spyware to foreign governments that used these tools to maliciously target government officials, journalists, businesspeople, activists, academics, and embassy workers".
Being added to the Entity List means the companies will not be able to access American hardware and software.
Does this decision mean anything for India?
An official from the Indian Ministry of Electronics and Information Technology said that though addition of companies to the list does not outright bar any non-US company or country from doing business with such companies, most "avoid" doing business for the "fear of sanctions".
Last month, the Supreme Court of India appointed a committee presided by Justice (Retd.) R V Raveendran to inquire into the Pegasus revelations.
3. Facial Recognition Technology
Subject – Science and Tech
Context – Facebook is phasing out its 'facial recognition tool'
Concept –
Facial recognition technology as the name suggests can identify a person by capturing his face from a photo or video.
The technology can work in real-time as well and relies on advanced machine learning algorithms powered by deep neural networks to identify faces and map them to an existing data base.
Subject – Governance
Context – The Madras High Court on Monday quashed the 10.5 per cent special internal reservation provided by the Tamil Nadu government to Vanniyars, a most backward caste (MBC).
Concept –
The Madras High Court on Monday quashed the 10.5 per cent special internal reservation provided by the Tamil Nadu government to Vanniyars, a most backward caste (MBC).
Even as backward communities such as Thevars and Gounders are largely seen as Tamil Nadu's socially and politically powerful communities, Vanniyars were one of the largest and most consolidated backward communities that had a consistency in retaining political representation from 1940s and 1950s.
Why the special quota decision was detrimental to state's social justice values?
The current reservation breakup of TN comprises 69 per cent – which includes 30 per cent for BCs (including Christians and Muslims), 20 per cent for MBCs, 18 per cent for SCs and 1 per cent for the ST community.
When the state's two powerful political parties decided to go against this unique social justice system by favouring one community alone with 10.5 percent reservation within the MBC quota of 20%, there were 115 communities in MBC category who were left to share the remaining 9.5% reservation.
If 10.5 per cent reservation is given to the Vanniyar caste all over the state, it would prevent the other MBCs in getting admissions in the educational institutions and posts in the government employments.
Subject – Science and Tech
Context – Cybersecurity Awareness Must Extend Beyond the "Month"
Concept –
Each October, IT professionals throughout the industry observe Cybersecurity Awareness Month.
It has been reported that ransomware attacks are up as much as 148% due to the increase in remote work.

Organizations around the world are held hostage by this plague, with an average paid ransom figure that doubled from 2019 to 2020, and highest paid ransom figures of $10 million.

Despite these growing threats and incidents, the general state of cybersecurity continues to lack. Poor practices and insufficient awareness bear key culpability.
6. Shankaracharya Samadhi in Kedarnath
Subject – Art and Culture
Context – PM Modi inaugurates rebuilt Shankaracharya samadhi in Kedarnath
Concept –
Lying slightly behind the Kedarnath Temple is the grave of Adi guru Shankaracharya, the saint who is said to have established the four sacred dhams in India that are an important pilgrimage for Hindus.
The famous Hindu philosopher had attained nirvana (enlightenment) at a young age of 32. It is said that Shakaracharya merged with the land itself.
Legend has it that Shankaracharya came to Kedarnath in the 8th century and built the Kedarnath shrine and established one of his four mathas.
A hot water spring believed to have been created by Shankaracharya is visited by his disciples to get relief from the extreme climatic conditions in the area.
About AdiShankaracharya
He was an Indian philosopher and theologian whose works had a strong impact on the doctrine of Advaita Vedanta.

The doctrine says that there is no difference between the Atman and the Brahman. The individual soul is not different from Brahman. Hence, its name Advaita meaning non-duality.

Born in Kaladi, Kerala in 788 CE
He founded four mathas ("monasteries"), which are believed to have helped in the historical development, revival and propagation of Advaita Vedanta.
His commentaries on the Prasthanatrayi Vedic canon (Brahma Sutras, Principal Upanishads and Bhagavad Gita) argue for the unity of Ātman and Nirguna Brahman "brahman without attributes," defending the liberating knowledge of the Self and the Upanishads as an independent means of knowledge against the ritually-oriented Mīmāṃsā school of Hinduism.
He was responsible for reviving Hinduism in India to a great extent when Buddhism was gaining popularity.
Major Works –

Brahmasutrabhasya (Bhashya or commentary on the Brahma Sutra).
BhajagovindaStotra
Nirvana Shatakam.

He criticised the Mimamsa School of philosophy and explained a major point of deviance between Hinduism and Buddhism. While Buddhism asserts that there is 'no Soul, no Self'; Hinduism, according to AdiShankara, says that 'Atman (Soul, Self) exists'.
He was a devotee of Shiva.
AdiShankara is also believed to be the organiser of the Dashanami monastic order and unified the Shanmata tradition of worship.
7. All India Judicial Service (AIJS)
Subject – Polity
Context – The central government is preparing to give a fresh push to the establishment of an All India Judicial Service (AIJS) on the lines of the central civil services.
Concept –
The AIJS is a reform push to centralise the recruitment of judges at the level of additional district judges and district judges for all states.
In the same way that the Union Public Service Commission conducts a central recruitment process and assigns successful candidates to cadres, judges of the lower judiciary are proposed to be recruited centrally and assigned to states.
How are district judges currently recruited?
Articles 233 and 234 of the Constitution of India deal with the appointment of district judges, and place it in the domain of the states.
The selection process is conducted by the State Public Service Commissions and the concerned High Court, since High Courts exercise jurisdiction over the subordinate judiciary in the state. Panels of High Court judges interview candidates after the exam and select them for appointment.
All judges of the lower judiciary up to the level of district judge are selected through the Provincial Civil Services (Judicial) exam. PCS(J) is commonly referred to as the judicial services exam.
Why has the AIJS been proposed?
The idea of a centralised judicial service was first mooted in the Law Commission's 1958 'Report on Reforms on Judicial Administration'.
The idea was to ensure an efficient subordinate judiciary, to address structural issues such as varying pay and remuneration across states, to fill vacancies faster, and to ensure standard training across states.
The idea was proposed again in the Law Commission Report of 1978, which discussed delays and arrears of cases in the lower courts.
In 2006, the Parliamentary Standing Committee on Personnel, Public Grievances, Law and Justice in its 15th Report backed the idea of a pan-Indian judicial service, and also prepared a draft Bill.
What is the judiciary's view on the AIJS?
In 1992, the Supreme Court in All India Judges' Assn. (1) v. Union of India directed the Centre to set up an AIJS. In a 1993 review of the judgment, however, the court left the Centre at liberty to take the initiative on the issue.
In 2017, the Supreme Court took suomotu cognizance of the issue of appointment of district judges, and mooted a "Central Selection Mechanism".
Subject – Environment
Context – Phasing out Methane discussed during COP26.
Concept –
| | | |
| --- | --- | --- |
| Gas | Lifespan | Warming Potential |
| Carbon dioxide | 150-200 years | 1 |
| Methane | 12-15 years | 28 times CO2 |
| Nitrous Oxide | 120 years | 265 times CO2 |
| Fluorinated gases | 3.2-10,000 years | 151-23,900 times CO2 |
Subject – Environment
Context – COP26 in Glasgow
Concept –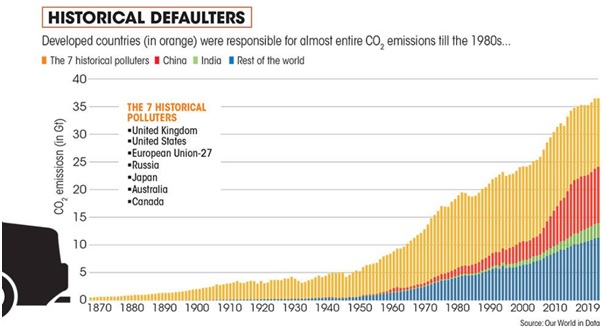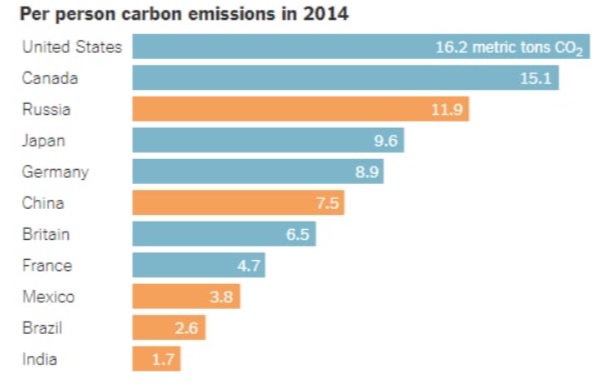 Subject – Environment
Context – Race to "net zero" has become a rallying point for leaders and civil society
Concept –
Net zero is not part of the Paris Agreement, an international treaty on climate change, adopted in 2015.
It emerged as a concept in IPCC's 2018 special report "Global Warming of 1.5°C" (sr1.5), which said global emissions need to be 45 per cent lower than the 2010 levels in 2030 to keep the temperature rise to 1.5°C above the pre-industrial level.

The world must also become a net zero carbon emitter by 2050, the report said.
To stay under 2°C, it has to be net zero between 2070 and 2085.

This means carbon dioxide (CO2) emissions must be negated by an equivalent amount of CO2 absorbed or removed by various means.
To keep emissions "net-net" –

countries can either plant trees and restore ecosystems in their territories for sequestering CO2, or
increase the carbon offset programme of the world so that trees planted in the homes and habitats of poor countries are accounted in the carbon balance sheet of the rich paying countries
The other option is to artificially sequester CO2 from the atmosphere and bury it permanently in the ground using carbon removal technologies.

Of the 192 countries who have signed the UN Framework Convention on Climate Change, 65 have announced national net-zero targets
By 2021, Bhutan and Suriname are the only two countries that have achieved net zero—meaning, they sequester more carbon in their forests than they emit.
Uruguay has set an ambitious net-zero target for 2030, and the rest of the countries have said that they will get there by 2050. China has set a target of 2060.
The planet's emissions are too much for its forests to sequester and carbon removal technologies are too expensive to be used at scale. There really is no substitute to reducing emissions.
Carbon removal technologies
Carbon Capture and Storage (CCS) – it captures waste CO2 from large sources such as factories or fossil fuel power plants and stores it underground.

CCS will also not have much impact when used in natural gas power plants as its share in the electricity mix, as IPCC indicates, will be be limited to 8 per cent by 2050.

Direct Air Capture and Storage (DACS)– sucks CO2 directly from the air.

Among the various carbon removal technologies, DACS is the only one that can remove carbon at climate-significant scales.
If it is run on renewable energy, it could deliver negative emissions.
However, it consumes large amounts of electricity, making the technology expensive

Bioenergy with Carbon Capture and Storage (BECCS) – captures CO2 from biomass-based power plants.

BECCS threatens food security by promoting diversion of land for biofuel production.
IPCC states, if the world needs to be net zero by 2050,developed countries should have already turned net zero or do so latest by 2030.
11. Nature's based solutions for Net-Zero
Subject – Environment
Context – world has jumped on the net-zero bandwagon
Concept –
In climate change negotiations, Reducing Emissions from Deforestation and Forest Degradation (REDD) and its addition on conservation of forests stocks (REDD+) was originally the framework to implement nature-based solutions.
At the 2013 UN climate change conference (COP19), the Warsaw Framework for REDD+ was adopted.
In 2015, Paris Agreement recognised this and included it in Article 5; parties reiterated their commitment to implement REDD+.
Now with net zero, the call to use forests as "sinks" is growing.
In May 2021, the Group of Seven countries (Canada, France, Germany, Italy, Japan, UK and US) pledged the goal of "conserving or protecting at least 30 per cent of global land and at least 30 per cent of the global ocean by 2030".
World Economic Forum published in collaboration with McKinsey and Company a report, "Nature and Net Zero".

According to this, nature-based solutions provide a "potential of [removing] close to 7 GtCO2 per year, sufficient to deliver around one-third of the 2050 target [to cut emissions by 50 per cent over 2010 levels]" and this cost is lower than technological solutions.
The bulk of this will come from "avoided emissions, deforestation, peatland restoration, reforestation and cover crops".

Currently, land—forests, grasslands and other biomes—absorb about 30 per cent of CO2 emissions from human activity.
Subject – Environment
Context – Given the frequency and severity of extreme weather events, the world needs to adapt to climate change
Concept –
Article 7 of the Paris Agreement establishes a Global Goal on Adaptation of "enhancing adaptive capacity, strengthening resilience and reducing vulnerability to climate change".

The core components of the goal are interconnected and overlapping.
Their progress will be assessed every five years under the Paris Agreement's Article 14, Global Stocktake.

Under the Global Goal on Adaptation, countries have to develop National Adaptation Plans (NAPS), which would identify activities that need support. These are then recorded in a public registry by the UN Framework Convention on Climate Change (UNFCCC).
The fact is there is no clear definition of what the world means by "adaptation" and perhaps there can never be.
The Adaptation Gap Report 2020, released by the United Nations Environment Programme (unep) earlier this year, states that the adaptation finance gap is not closing—not by a long shot.
The Adaptation Fund, which was set up 2001, to fund projects in developing countries was financed with a share of the proceeds from the Clean Development Mechanism (CDM), established under the Kyoto Protocol.

With CDM now dormant and defunct, the fund, though little, continues to be in operation under the Paris Agreement. It's a game of shells.
Subject – Environment
Context – The developed world hopes to invest in emissions reduction in Global South via markets for carbon credits
Concept –
Market is the way the developed world hopes it will be able to invest in emission reduction in the countries of Global South and get credits in its carbon balance sheet.
The Paris Agreement includes "market mechanism" as the tool to make this happen.
The Kyoto Protocol, the first accord under the UN Framework Convention on Climate Change that came into force 2005, had established Clean Development Mechanism (CDM) for this carbon purchase.
The Paris Agreement includes provision for two types of market instruments—Internationally Transferred Mitigation Outcomes (ITMO) under Article 6.2 and Sustainable Development Mechanism (SDM) under Article 6.4.
Internationally Transferred Mitigation Outcomes (ITMO)
Under ITMO, the aim is to establish bilateral or mini-multilateral markets—similar to the EU Emissions Trading System.
It is also about securing overall mitigation in global emissions.
Internationally transferred mitigation outcomes (ITMOs) use a carbon dioxide equivalent [CO2e] metric for a new set of market provisions or other greenhouse gas (GHG) mitigation outcomes that are defined under Article 6 of the Paris Agreement.
Under Article 6.2, ITMOs differ from previous offset schemes, as they count toward countries' Nationally Determined Contributions (NDCs), support overall mitigation in global emissions (for Article 6.4) and involve more substantial government participation than under the Clean Development Mechanism of the Kyoto Protocol. Although the Paris Agreement rulebook is not fully finalized, enough has been agreed for some countries to begin engaging and planning for ITMO transactions.
What is in Article 6.2 of the Paris Agreement?
Article 6 of the Paris Agreement makes provisions for voluntary international cooperation between parties to achieve NDC targets. Sub-section 6.2 calls for transparency and the avoidance of double counting when two parties engage in the international transfer of emission reductions known in the Agreement as Mitigation Outcomes. This sub-section implies that two parties can enter into an agreement whereby one party reduces carbon emissions and transfers those reductions to the other party which counts it towards its NDC targets. It is assumed that the receiving party will provide financial compensation to the transferring party.
How does Article 6.2 help a country achieve its NDC commitment?
Transferred mitigation outcomes contribute to the NDC targets of the party that purchases the ITMO. The selling party must make a corresponding adjustment which means that it has to "un-count" these mitigation outcomes from the emission reductions that contribute to its NDC targets
Sustainable Development Mechanism (SDM)
Under SDM, the aim was to create a new international carbon market for the trade of emissions cuts, created by the public or private sector anywhere in the world, shaped on the previous CDM.
Preventing double-counting is harder under the Paris Agreement than under the Kyoto Protocol. This is because, unlike Kyoto Protocol, all countries have taken on national targets (NDCS) under the Paris Agreement.
Article 6 of the Paris Agreement established the Sustainable Development Mechanism (SDM) as a new carbon market instrument for the period after 2020. Its purpose is inter alia to replace the existing mechanisms under the Kyoto Protocol, the CDM and JI with a more effective climate tool. The chapeau of Article 6 sets out the overall purpose of the article including the SDM, namely that its provisions are established to promote: i) higher ambition ii) sustainable development and iii) environmental integrity.
The SDM will function in a radically changed world, where all Parties have commitments to contribute to the common objectives of limiting global warming to 1.5 degrees, de-carbonization by the second half of this century, and the Sustainable Development Goals laid out in the UN 2030 Agenda.
Notably, under the Paris Agreement, all Parties can host SDM projects on a voluntary basis. When elaborating the rules, modalities and procedures for this new mechanism, the experience with existing mechanisms, especially the CDM are of utmost importance. The Paris Agreement specifically invites Parties to build on the experience gained so far from the Kyoto mechanisms. However, the SDM should not be a copy-paste exercise from the CDM. Rather, the SDM should be a new instrument that draws lessons from both the successes and mistakes of the CDM.