Daily Prelims Notes 5 September 2021
September 5, 2021

Posted by:

admin1

Category:

DPN

Daily Prelims Notes
5 September 2021
Table Of Contents
1. ECI declares by polls ends Bengal suspense
Subject: Polity
What is a by poll?
Elections which are conducted only in a particular constituency or few particular constituencies because of
1) Sudden death of the MLA/MP.
2) Resignation to his post
3) Disqualified for any serious reason
4) If persons wins from two constituency in one election
5) If MLA MP is defected under Anti defection law
In any of the above scenarios, the election commission of India identifies the seat as vacant and notifies for the election. This election is called the bye-election.
Why by polls in this case?
Elections were countermanded in the Shamshergunj and Jangipur Assembly constituencies where candidates succumbed to Covid (elections to the West Bengal Assembly were held on to 292 of the 294 seats). And in Khardaha, the Trinamool Congress (TMC) candidate, Kajal Sinha, died of Covid
Why by poll in West Bengal is important? 
The bypolls are crucial to Ms Banerjee continuing as the Chief Minister. She has lost Nandigram Assembly polls to BJP Suvendu Adhikari with a narrow margin of 1956 votes. Ms Banerjee has to get elected to the State Assembly by the first week of November, within six months of being elected as the Chief Minister.
Do you know?
Article 164(4) of the Constitution allows a non-legislator to occupy a post in the council of ministers, including the office of the chief minister, only for six months. If he doesn't do so, the Constitution says he "ceases to be a minister".
2. High Court asks Centre State to clarify on eco-sensitive zone around MTR
Context: The Madras High Court has decided to delve deep into the ramifications of a gazette notification issued by the Union Ministry of Environment and Forests (MoEF) on December 13, 2019 declaring an area of 438.904 sq.km,
around the boundary of Mudumalai Tiger Reserve (MTR), as Mudumalai Tiger Reserve Eco-sensitive Zone.
Background:
Considering the rich diversity of flora and fauna in MTR and the existence of rare, endangered, threatened and endemic species, the MoEF had decided to declare 438.904 sq.km. (Consisting of 25.657 sq.km in Gudalur forest division, 409.825 sq.km. in Nilgiris North forest division and 3.422 sq.km. in core area) around the reserve as Eco sensitive zone
Mudumalai Tiger Reserve comprising the entire area of Mudumalai Wildlife Sanctuary and National Park lies between Latitude 11.50000 and 11.65000 N Longitude 76.45000 and 76.71670 E in the Nilgiris District, of Tamil Nadu and extends over an area of 321.00 square kilometers. This is one of the protected areas brought under Project Tiger during 2007. Presently, the entire area (321.00 sq km) of Tiger Reserve has been declared as Core/Critical Tiger Habitat notified vide No:145, Environment & Forest (FR-5) Department, dated: 28.12.2007 as per section 38-V of the Wildlife (Protection) Act, 1972. The reserve has 321.00 square kilometres as Core or Critical tiger habitat 367.586 square kilometres as Buffer area. The total area of reserve along with the buffer area is 688.586 square kilometres.
Do you know?
Mudumalai National Park and Wildlife Sanctuary, also a declared tiger reserve, lies in the northwestern side of the Nilgiri Hills in Nilgiri District, about 150 kilometres (93 mi) north-west of Coimbatore in Tamil Nadu, India.
It shares boundaries with the states of Karnataka and Kerala.
It is part of the Nilgiri Biosphere Reserve. It is one of the premiere tiger reserves in India alongside Nagarhole National Park, Bandipur National Park and Wayanad Wildlife Sanctuary.
The protected area is home to several endangered and vulnerable species including Indian elephant, Bengal tiger, gaur and Indian leopard. There are at least 266 species of birds in the sanctuary, including critically endangered Indian white-rumped vulture and long-billed vulture.
The Western Ghats Nilgiri Sub-Cluster of 6,000 square kilometres (2,300 sq mi), including all of Mudumalai National Park, is under consideration by the UNESCO World Heritage Committee for selection as a World Heritage Site
Subject: History
Context: The Prime Minister, Shri Narendra Modi has remembered freedom fighter V. O. Chidambaram Pillai on his Jayanti.
Who was Chidambaram Pillai?
Popularly known by his initials, O.C. also known as Kappalottiya Tamizhanor "The Tamil Helmsman", was an Indian freedom fighter and leader of the Indian National Congress.
VOC entered politics in 1905 following the partition of Bengal. Towards the end of 1905, VOC visited Madras and was drawn closer to the Swadeshi Movement initiated by Bal Gangadhar Tilak and Lala Lajpat Rai. VOC was drawn towards Ramakrishna Mission and came into contact with SubramaniaBharati and the Mandayam family.
In response to the British India Steam Navigation Company's trade monopoly, Chidambaram started an Indian-owned shipping company. He registered the Swadeshi Shipping Company in October 1906.
Chidambaram Pillai established many institutions like Yuvanesh Prachar Sabha, Dharmasanga Nesavu Salai, National Godown, Madras Agro-Industrial Society ltd and Desabimana Sangam.
Even prior to Gandhiji's Champaran Satyagraha, VOC took up the cause of the working class in Tamil Nadu, and thus he is a forerunner to Gandhiji in this respect.
In 1920, Chidambaram withdrew from the Indian National Congress, citing ideological differences with Mahatma Gandhi. He focused his efforts on establishing labor unions in Madras and writing.
He rejoined the Congress party in 1927 and presided over the third political conference held at Salem.
By 1935, he had written commentary on the first book of the Tirukkural (Book of Virtue) and was published under a different title.
4. Dr Sarvepalli Radhakrishnan
Subject: History
Context: The Prime Minister, Shri Narendra Modi has greeted the teaching fraternity on the occasion of Teachers' Day. The Prime Minister has also paid tributes to former President Dr. Sarvepalli Radhakrishnan on his Jayanti.
Concept:
Sarvepalli Radhakrishnan, 5 September 1888 – 17 April 1975, was an Indian academic, professor, philosopher, and politician. who served as the first Vice President of India (1952–1962) and the second President of India (1962–1967).
He was against State institutions imparting denominational religious instruction as it was against the secular vision of the Indian State, in the Constituent assembly
He was awarded the Bharat Ratna, India's highest civilian award, in 1954.He received a knighthood in 1931 and honorary membership of the British Royal Order of Merit in 1963.He was elected chairman of UNESCO's executive board in 1948.
He was one of the founders of Helpage India, a renowned NGO for elderly underprivileged in India.
He had also formed the Krishnarpan Charity Trust along with Ghanshyam Das Birla and some other social workers in the pre-independence era.
He was the first Indian to hold a chair at the University of Oxford – the Spalding Professor of Eastern Religion and Ethics (1936-1952). In 1930, he was appointed Haskell lecturer in Comparative Religion at the University of Chicago.
His book, 'The Philosophy of Rabindranath Tagore' attracted global attention to Indian philosophy.
He defended Hinduism against "uninformed Western criticism" and played a major role in the formation of contemporary Hindu identity.
His other works include Indian Philosophy, (1923-27), The Philosophy of the Upanishads (1924), An Idealist View of Life (1932), Eastern Religions and Western Thought (1939), and East and West: Some Reflections (1955).
5. Karbi-Anglong Peace Agreement
Context: In the presence of Union Home Minister, Shri Amit Shah, a historic Karbi Anglong Agreement to end the decades old crisis ensuring Assam's territorial integrity was signed in New Delhi today.
Concept:
This accord is significant because insurgency by Karbi group has a long history in Assam which is marked by killings, ethnic violence, abductions and taxations since 1980s.
Karbi is a major ethnic community in Assam. About 200 Karbi terrorists will be present while signing of the agreement. These 200 Karbi terrorists are part of 1,040 terrorists who surrendered before the Assam government in February 2021.
The insurgent groups which signed the peace accord include Karbi Longri North Cachar Hills Liberation Front, People's Democratic Council of Karbi Longri, United People's Liberation Army and Karbi People's Liberation Tigers factions.
The State government would consider favourably the proposal to notify Karbi as the official language of KAAC. Under the agreement, the hill tribes would be entitled to reservation.
Key points of the Karbi-Anglong Peace Agreement
Under this historic agreement, 5 militant organizations laid down arms and more than 1000 of their armed cadres have given up violence and joined the mainstream of society in February 2021.
A special development package of Rs. 1000 crore will be allocated over five years by the Central Government and the Assam Government to take up special projects for the development of Karbi areas.
This agreement will transfer as much autonomy as possible in exercising their rights to the Karbi Anglong Autonomous Council, without affecting the territorial and administrative integrity of Assam.
This agreement will ensure the protection of the culture, identity, language, etc. of the Karbi people and all-round development of the region.
In this agreement the Karbi armed groups have agreed to renounce violence and to engage in a peaceful democratic process established by the law of the land.
The Government of Assam will set up a Karbi Welfare Council to focus on the development of the Karbi people living outside the Karbi Anglong Autonomous Council area.
The Consolidated Fund of the State will be amended to meet the resources of the Karbi Anglong Autonomous Council.
Overall, the present agreement proposes to give more legislative, executive, administrative and financial powers to the Karbi Anglong Autonomous Council.
Subject: Defence
Context: The 28th edition of Singapore-India Maritime Bilateral Exercise (SIMBEX) was conducted from 02 to 04 Sep 21.
Concept:
It was initiated in 1994, SIMBEX is the Indian Navy's longest uninterrupted bilateral maritime exercise with any foreign navy. Sustaining the continuity of this significant engagement despite the challenges of the ongoing pandemic further underscores the strength of bilateral defence ties between both countries.
Despite these constraints during the planning stages, both navies could achieve seamless and safe execution of several challenging evolutions including live weapon firing and advanced naval warfare serials, including anti-submarine, anti-air and anti-surface warfare drills.
SIMBEX was planned without any physical interactions as an 'at-sea only' exercise hosted by the RSN in the southern fringes of the South China Sea.
India-Singapore Defence relations remain a very significant aspect of the overall bilateral relationship and cover a very wide spectrum of collaboration from conventional military-to-military exchanges to HADR and cyber security.
Subject: Environment
Context: Endangered vulture population still under threat
Concept:
Vultures are nature's most efficient scavengers, halting all the bacteria and fungus from spreading from dead animal carcasses in the environment.
The seven species in Africa and eight species in India are threatened with extinction. India has lost 99 per cent population of the three species: White-backed Vulture, Long-billed Vulture and Slender-billed Vulture.
The Red-headed and the Egyptian Vulture populations have also crashed by 91 per cent and 80 per cent respectively.
Reasons for Decline
This catastrophic decline has been attributed to the use of diclofenac, a non-steroidal anti-inflammatory drug (NSAID) in veterinary practice during the 1990s.
Vultures are exposed to diclofenac when they feed on the carcass of an animal that has been treated with diclofenac, 72 hours before its death. Other NSAIDs like aceclofenac, ketoprofen, nimesulide, etc are harmful to vultures and still available for veterinary use in India.
The drug is extremely toxic to vultures and impacts their kidneys and they die of visceral gout.
The vulnerability is not only from retaliatory poisoning, electrocution or starvation. Thus, the government and other stakeholders need to ensure that the environment is free from drugs that are toxic to vultures.
Note:
It is known that the drug affected only the three Gyps species of vultures.
It was assumed that Cinerous vultures and Red-headed vultures were less affected because of their feeding behaviours. Cinerous and Red-headed vultures feed on tough meat like tendons and hide with less residue of any drug
Subject: Environment
Context: Odisha's Bhitarkanika National Park, the second-largest mangrove forest in India, IS under severe threat due to planned diversion of freshwater from the Brahmani river basin.
Concept:
Bhitarkanka National Park
Bhitarkanika is a unique habitat of Mangrove Forests crisscrossed with numerous creeks and mud flats located in Kendra Para district of Orissa.
It is a Ramsar Site under Ramsar Convention on wetlands.
Bhitarkanika located in the estuary of Brahmani, Baitarani, and Dharma & Mahanadi River systems.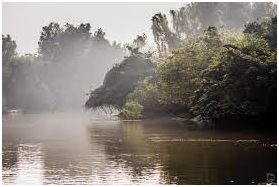 Bhitarkanika National Park is a prime habitat of leopard cat, fishing cat, jungle cat, hyena, wild boar, spotted deer, sambar, porcupine, dolphin, salt water crocodile including partially white crocodile, python, king cobra, water monitor lizards, terrapin, marine turtle, kingfisher, wood pecker, hornbill, bar headed geese, pintail, white bellied sea eagle, tern, sea gull, waders and a large variety of resident and migratory birds.
Nutrients from Bhitarkanika are flushed out to the Gahirmatha Marine Sanctuary, which attracts the world's largest population of Olive Ridley sea turtles for congregation and nesting. Nearly half a million turtles arrive here every winter.
What is the issue?
The Talcher-Angul coal mines, steel and power-generating units as well as the Kalinga Nagar steel and power hub in Jajpur district were drawing enormous quantities of freshwater from the Brahmani river.
According to activists the state government had ignored the need to conserve it for posterity despite it being a noted Ramsar Convention wetland
Damage to Bhitarkanika
According to activists no mangrove ecosystem could survive without freshwater.
Freshwater mixed with seawater near the lower end of the Brahmani and Kharasrota rivers to produce brackish water ideal for mangroves.
Brackish water was also high in nutrients for a variety of life forms like crustaceans, fish, aquatic flora and water birds.
Bhitarkanika had seven species of kingfishers due to the salinity gradient of its water who would abandon the area if the water turned completely saline. Mangroves that grew in brackish water, were very sensitive to changes in salinity.
Saline ingress will cause commercially important species like freshwater shrimp, mullets, mud crabs and bhetki to disappear, leading to a decline in the incomes of thousands of fishermen in Kendrapara district.
There shall be a quantum jump in human-crocodile conflict since the estuarine crocodiles of the park shall leave the core sanctuary area and migrate upstream once salinity increases. They might move up the river to Dhenkanal district. Many local people are likely to be attacked by the saltwater crocodiles while bathing in the Brahmani and Kharasrota rivers.
Without the mangroves, the Gahirmatha Marine Sanctuary will become a marine desert and lose its richness and diversity of marine life.
Source: DownToEarth
Context: 902 species are officially extinct according to the latest Red List brought out by the International Union for Conservation of Nature (IUCN) at the World Conservation Congress in Marseille.
The Red List also shows that 30 per cent of the species (38,543) that it assessed (138,374) face the threat of extinction. 902 species are officially extinct according to the latest Red List brought out by the International Union for Conservation of Nature (IUCN) at the World Conservation Congress in Marseille
Atlantic bluefin tuna
The Atlantic bluefin tuna (Thunnus thynnus) moved from endangered to least concern while the Southern bluefin tuna (Thunnus maccoyii) moved from critically endangered to endangered.
The albacore (Thunnus alalunga) and yellowfin tunas (Thunnus albacares) both moved from near threatened to least concern.
Atlantic Bluefin tuna, which originated in the Mediterranean, had increased by at least 22 per cent over the last four decades.
Its smaller native western Atlantic population, which spawned in the Gulf of Mexico, had declined by more than half. The yellowfin tuna meanwhile continued to be overfished in the Indian Ocean.
The Pacific Bluefin tuna (Thunnus orientalis) moved from vulnerable to near threatened due to the availability of newer stock assessment data and models.
Other tuna species like the bigeye tuna (Thunnus obesus) remain vulnerable while the skipjack tuna (Katsuwonus pelamis) remains least concern.
Shark and ray species
The update Red List also showed that 37 per cent of the world's shark and ray species were threatened with extinction.
It added that all of the threatened shark and ray species were overfished, with 31 per cent further affected by loss and degradation of habitat and 10 per cent affected by climate change.
Komodo dragon
The world's largest living lizard, the Komodo dragon (Varanus komodoensis), has been moved from vulnerable to endangered.
The species is endemic to Indonesia and occurs only in the World Heritage-listed Komodo National Park and neighbouring Flores.
Rising global temperature and subsequent sea levels are expected to reduce the Komodo dragon's suitable habitat by at least 30 per cent in the next 45 years.
In addition, Komodo dragons living outside protected areas in Flores are threatened by significant habitat loss due to ongoing human activities
What is a redlist?
Established in 1964, the International Union for Conservation of Nature's Red List of Threatened Species has evolved to become the world's most comprehensive information source on the global extinction risk status of animal, fungus and plant species.
The IUCN Red List is a critical indicator of the health of the world's biodiversity. The IUCN Red List is used by government agencies, wildlife departments, conservation-related non-governmental organisations (NGOs), According to the list, biodiversity is declining. Currently, there are more than 138,300 species on The IUCN Red List, with more than 38,500 species threatened with extinction, including 41% of amphibians, 37% of sharks and rays, 34% of conifers, 33% of reef building corals, 26% of mammals and 14% of birds.
10. IFAD on India cropping pattern
Subject: Economy
Context: International Fund for Agricultural Development (IFAD) has pointed out that crops like Jowar (Sorghum) and millets (Bajra and Ragi), have often been sidelined in India in favour of monocrop cultures like wheat and rice
Concept:
Millets
The government has renamed jowar, bajra, ragi and other millets as "Nutri Cereals", dispensing with the nomenclature "coarse cereals".
Millets comprising Sorghum (Jowar), Pearl Millet (Bajra), Finger Millet (Ragi/Mandua), Minor Millets — Foxtail Millet (Kangani/Kakun), Proso Millet (Cheena), Kodo Millet (Kodo), Barnyard Millet (Sawa/Sanwa/ Jhangora), Little Millet (Kutki) and two Pseudo Millets (Blackwheat (Kuttu) and Ameranthus (Chaulai) which have high nutritive value are reffered as "Nutri Cereals"
Millets hold great potential in contributing substantially to food and nutritional security of the country and thus they are not only a powerhouse of nutrients, but also are climate resilient crops and possess unique nutritional characteristics.
To popularize the consumption of these nutritious cereals, the government has already decided to include millets in the Public Distribution System (PDS) with the objective of improving nutritional security of the country.
Millets can be cultivated in dry regions. They are suited for Dryland agriculture (DLA) such as Ragi, Sorghum
Major Millets producing States: Karnataka, Rajasthan, Maharashtra, Madhya Pradesh, Uttar Pradesh.
International Fund for Agricultural Development (IFAD).
IFAD is an international financial institution and specialized United Nations agency based in Rome, the UN's food and agriculture hub. Since 1978, we have provided US$23.2 billion in grants and low-interest loans to projects that have reached an estimated 518 million people.
The International Union for the Conservation of Nature (IUCN) World Conservation Congress will be held in France's second-largest city on its Mediterranean coast. The event is organised every four years and is one of the biggest of its kind for biodiversity.
IFAD's investments in nature-based solutions aimed to promote a healthy biosphere, increasing productivity and improving food security, nutrition and resilience to climate change.
11. Intergovernmental Panel on Climate Change (IPCC) report on Mumbai
Subject: Environment
Context: Mumbai is set to experience the highest increase in total annual rainfall among Indian metropolitan cities in the 21st century, the recently released Intergovernmental Panel on Climate Change (IPCC) report warned.
Concept:
The city is likely to suffer from high mean temperature and sea-level rise towards the end of the century. Mumbai's total rainfall rise is the highest in the country, followed by Delhi with about 50 per cent among metro cities.
If recent 1995-2014 benchmark is considered, the total rainfall is likely to increase 45 per cent in Mumbai in 2081-2100 under the worst possible emission scenario. This indicates that nearly three-fourth of the total rise in 200 years leading to 2100 will occur only in the last 85 years.
The analysis showed that under the worst possible emission scenario, Mumbai may have 4.6°C rise in mean temperature rise during end of current century compared to pre-industrial period
Reasons for Vulnerability of Mumbai
The high warming rate in Arabian Sea caters to extremely high rainfall bouts in Mumbai region, Western Ghats as well as the entire central India.
Urbanisation has led to the development of urban heat island effect in Mumbai that often plays a duet and catapult huge amount of rainfall,
The urban heat island and related weather factors often lead to huge regional variability in rainfall pattern over Mumbai.
Subject: Science and Technology
Context:   Nipah has surfaced in Kerala again for the third time, after a gap of one year
Concept:
Nipah virus infection in humans causes a range of clinical presentations, from asymptomatic infection (subclinical) to acute respiratory infection and fatal encephalitis.
The case fatality rate is estimated at 40% to 75%. This rate can vary by outbreak depending on local capabilities for epidemiological surveillance and clinical management.
Nipah virus can be transmitted to humans from animals (such as bats or pigs), or contaminated foods and can also be transmitted directly from human-to-human.
Fruit bats of the Pteropodidae family are the natural host of Nipah virus.
There is no treatment or vaccine available for either people or animals. The primary treatment for humans is supportive care.
The 2018 annual review of the WHO R&D Blueprint list of priority diseases indicates that there is an urgent need for accelerated research and development for the Nipah virus.
Transmission of Nipah Virus
The Nipah virus can spread to people from:
Direct contact with infected animals, such as bats or pigs, or their body fluids (such as blood, urine or saliva);
Consuming food products that have been contaminated by body fluids of infected animals (such as palm sap or fruit contaminated by an infected bat); and
Close contact with a person infected with NiV or their body fluids (including nasal or respiratory droplets, urine, or blood)
Diagnosis of Nipah Virus
The laboratory testing can be conducted using real time polymerase chain reaction (RT-PCR) from throat and nasal swabs, cerebrospinal fluid, urine, and blood.
The testing for antibodies is conducted using an enzyme-linked immunosorbent assay (ELISA).
13. Department of Telecommunications (DoT) guidelines to telecom companies
Context : The Department of Telecommunications (DoT) has asked telecom companies and other telecom licence holders to prepare proof of concept and ensure their systems are ready before allowing them to launch self 'know your customer' (KYC) process
The DoT has said that in its communication to the licensees for the self KYC process to be approved, all telecom service providers' must provide customers an option to log in with a separate one-time-password being generated for each log in.
Apart from this, the telecom service provider have to ensure that the alternate number provided by the customer is an Indian number.
The DoT has also said that only documents that have been electronically issued and verified by the respective authority on DigiLocker can be used for the self KYC process. Documents uploaded by the customer on DigiLocker will not be used for the process.
Digi Locker
DigiLocker is a flagship initiative of Ministry of Electronics & IT (MeitY) under Digital India programme. DigiLocker aims at 'Digital Empowerment' of citizen by providing access to authentic digital documents to citizen's digital document wallet.
The issued documents in DigiLocker system are deemed to be at par with original physical documents as per Rule 9A of the Information Technology (Preservation and Retention of Information by Intermediaries providing Digital Locker facilities) Rules, 2016 notified on February 8, 2017 vide G.S.R. 711(E).
Benefits to Citizens
Important Documents Anytime, Anywhere!
Authentic Documents, Legally at Par with Originals.
Digital Document Exchange with the consent of the citizen.
Faster service Delivery- Government Benefits, Employment, Financial Inclusion, Education, Health.
Benefits to Agencies
Reduced Administrative Overhead: Aimed at the concept of paperless governance. It reduces the administrative overhead by minimizing the use of paper and curtailing the verification process.
Digital Transformation: Provides trusted issued documents. Issued Documents available via DigiLocker are fetched in real-time directly from the issuing agency.
Secure Document Gateway: Acts as a secure document exchange platform like payment gateway between trusted issuer and trusted Requester/Verifier with the consent of the citizen.
Real Time Verification: Provides a verification module enabling government agencies to verify data directly from issuers after obtaining user consent.