Daily Prelims Notes 7 November 2021
November 7, 2021

Posted by:

OptimizeIAS Team

Category:

DPN

Daily Prelims Notes
7 November 2021
Table Of Contents
Subject – Environment
Context – A Kashmir spring is protected by a local festival
Concept –
Panzath Nag in south Kashmir's Anantnag district supplies water for a trout fish hatchery and drinking and irrigation to a number of villages downstream.

Derived from 'Paanch Hath' — Kashmiri numeral for five hundred — the spring is said to have been once a source to as many smaller ones.

Hundreds of men and children from the villages go fishing in the spring once a year as part of their tradition on Rohan Posh, a local festival.

Rohan Posh (flowering the souls) is the traditional annual fruit blossom festival specific to the region.

The collective activity rids the spring of silt and weeds and restores its water level for the rest of the year.
The spring has a mythological relevance; the cleaning tradition has been in existence since time immemorial.
The proliferation of weeds in Kashmir valley is a major challenge, having led to the deterioration of water bodies, especially the world-famous Dal Lake in the capital city of Srinagar, leading to biodiversity loss and pollution.
Panzath spring has a mythological relevance, finding a mention in Nilamata Purana and Rajatarangini, the legendary chronicle of Kashmir by Kalhana, the 12th-century contested Kashmiri historian.

He calls it Naga of Pancahasta, a 'pure' spot where the river Vitasta — popularly known as Jhelum — was "brought to light a second time" by sage Kashyapa's prayer after it had disappeared from fear of "defilement by the touch of sinful men."
2. World Resources Institute (WRI) Report
Subject – Environment
Context – There has been a decline in climate finance during COVID-19: WRI report
Concept –
Climate finance being allotted by various developing countries for action on climate change has shown a decrease before and during the novel coronavirus disease (COVID-19), a recent study done by global research non-profit organisation World Resources Institute (WRI) has shown.
The study found that countries were forced to cut funding for many climate-related sectors to free up money for addressing pandemic-related expenditures and revenue losses.
The study found that in several countries, budget cuts have targeted climate mitigation, rather than adaptation actions, while fossil fuel spending has increased.
Between 2019 and 2020, the official development assistance (ODA) for projects with climate as a principal objective or a significant focus decreased by 4 percentage and 8 percentage points respectively.
Climate finance is money paid by wealthy countries (which are responsible for most of the historic emissions) to developing countries to help them pay for emissions reduction measures and adaptation.

Climate finance should be in addition to standard development aid.
Subject – Environment
Context – G20's coal declaration is cosmetic and too little, too late
Concept –
The G20 announcement to not invest in new coal across borders is a direct effort to climate-legitimise Chinese President Xi Jinping's exact-similar announcement in September this year.
This may have miniscule effects on emissions considering that the world has to bridge a huge gap of 20 gigatonnes (Gt) of carbon dioxide (CO2) emissions per year to limit global warming to 1.5 degrees Celsius.
G20 countries are responsible for over 75 per cent of global greenhouse gas emissions. CO2 emissions from the energy sector, primarily coal, are responsible for 78 per cent of greenhouse gases.
Among the 20 countries, China, the leader in global coal consumption, accounted for 53 per cent of the world's coal power in 2020.

China consumed over half of all coal consumed around the world during the last decade and thus reduced the available carbon space for the future.

India, another major coal consumer, has 37 GW of new coal power plants under development and those of another 23 GW in the pipeline.
Development Finance Institutions (DFI)
Development Finance Institutions (DFI) had started a slow transition towards renewable energy a decade ago. Post the novel coronavirus disease (COVID-19) pandemic, DFIs have already channelising most of their investments into clean / green energy.
This is especially true for DFIs based out of middle-income countries like the Brazilian Development Bank, Asian and African Development Bank, China Development Bank, Exim Bank of China, etc.
A third of all available development finance is provided by DFIs that support renewable energy and low-carbon energy development through financial or technical assistance.
As of today, there are three DFIs that have not committed to ending coal financing: the Development Bank of Latin America, the Islamic Development Bank and the New Development Bank.
Dates when each Development Finance Institution committed to clean energy –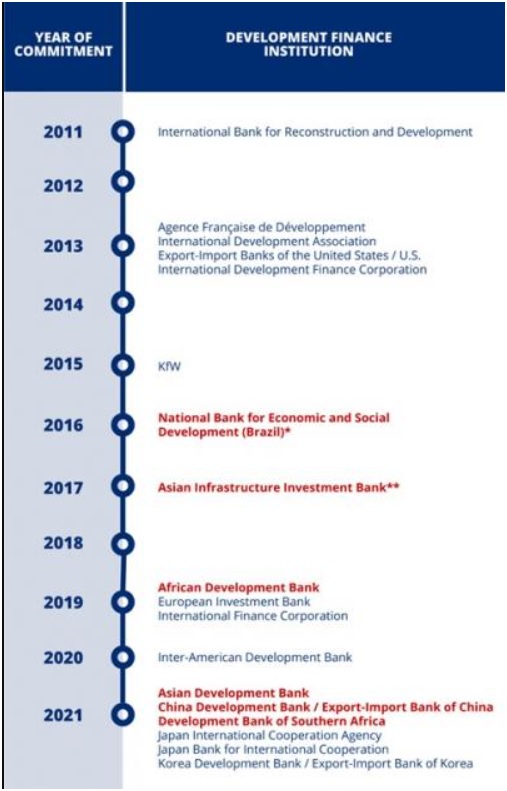 4. Indigenous Food System in Meghalaya
Subject – Environment
Context – An indigenous community in Meghalaya offers lessons in climate resilience
Concept –
The UN's Food and Agricultural Organisation (FAO) report on Indigenous People's Food Systems co-published by FAO and the Alliance of Bioversity International, and CIAT includes the profiles of eight Indigenous Peoples food systems from around the world, including Uttarakhand and Meghalaya in India.
In Nongtraw (Meghalaya), a village solely inhabited by the Khasi, diverse traditional food systems supported by jhum (shifting cultivation), home gardens, forest and water bodies, shying away from synthetic chemicals in food production.
It is based on community-led landscape management practices, regulated by local governance.
Nongtraw lies along the mid-slope of a deep gorge in the Cherrapunji region, a highly dissected plateau along the southern margins of the Meghalaya Plateau.
Factors such as the emergence of cash crop production (broom grass), the impact of India's public distribution system on the local subsistence system and over-reliance on market-based products are weakening the food system's resilience.

Much like the Khasis in Nongtraw, the Sauria Paharias of Jharkhand, a particularly vulnerable tribal group (PVTG), who practice Kurwa farming (a form of shifting agriculture in forests, along with farming in agricultural lands) have switched to growing rice in place of drought-resistant millets due to agricultural interventions which mainly focused on yields.

Research priorities on indigenous food systems should include systematic documentation of a wide variety of indigenous foods known to the indigenous communities, their contribution to food security and dietary diversity.
Subject – Environment
Context – Green lending: World's biggest banks' latest initiative at COP26 is a step backwards
Concept –
Over 450 of the world's banks have committed to a new initiative at the COP26 UN Climate Change Conference which is designed to decarbonise their investments.
Overseen by former Bank of England supremo Mark Carney, the banks and other financial institutions signing up to Gfanz (the Glasgow Financial Alliance for Net Zero) are pledging to report annually on the carbon emissions linked to the projects they lend to.
They are also aiming to provide trillions of dollars in green finance, while committing to net zero emissions across the board by 2050.
Major signatories to the initiative, which was originally unveiled in April, include Citi, Morgan Stanley and Bank of America.
In 2019, the UN General Assembly exuberantly launched its principles of responsible banking (PRBs) with similar goals in mind.

The banks that signed up agreed, among other things, to "work with their clients to encourage sustainable practices" and to "align their business strategy" to the UN sustainable development goals and the Paris climate agreement.
So far, many of the biggest banks in the world have not signed the PRBs, even though the principles have been the gold standard until now for committing to decarbonising lending.
Well over 200 international banks have signed the principles of responsible banking in the past two years, but, many of the biggest banks are not among them.
Of the top ten banks (by market capitalisation), only Citi, Commercial Bank of China (ICBC), Bank of China and Agricultural Bank of China are signatories.
Being a signatory to the PRBs is a limited commitment. Signatories have four years to comply with the principles. Even then, everything is voluntary and non-binding, so signatories are not penalised or even named and shamed for failing to live up to the principles.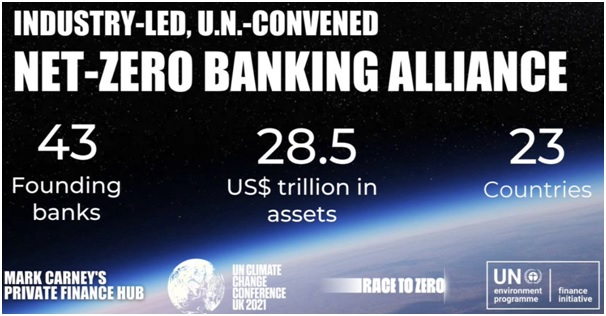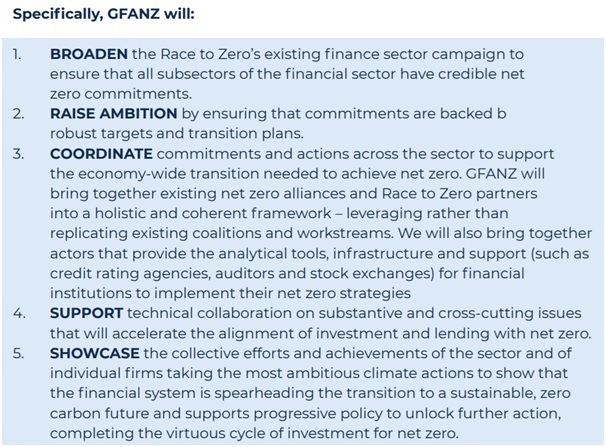 6. The Haryana State Employment of Local Candidates Act 2020
Subject – Polity
Context – Haryana notifies Act: 75% job quota for locals in private sector comes into force from January 15
Concept –
The law effectively interferes with their constitutional rights to carry on their trade freely –
Article 14 provides for equality before law irrespective of place of birth.
Article 15 guards against discrimination based on place of birth.
Article 16 guarantees no birthplace-based discrimination in public employment.
Article 19 ensures that citizens can move freely throughout the territory of India.
Subject – Economy
Context – India moves to patent the over century-old logos of Darjeeling's 'Toy Train'
Concept –
More than two decades after the Darjeeling Himalayan Railway (DHR) was designated a UNESCO World Heritage Site, India has finally registered the logos of the iconic 'Toy Train' internationally as its intellectual property.
The use of these logos anywhere in the world will now require written permission from India and the payment of a fee.
The DHR, which started operations in 1880, more than 140 years ago, has two logos, both of which have been patented.

One has "DHR" in bold black, intertwined letters;
the other is a circular seal with a picture of mountains, forests and a river, with "Darjeeling Himalayan Railway" in white lettering on a green background around it.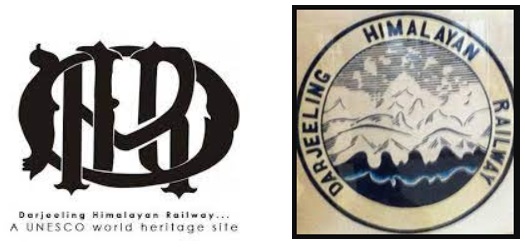 Both logos are over a century old, and popular in world heritage circuits. They are used randomly on merchandise and communications materials by various commercial organisations in Europe, the UK and the US; even the West Bengal government has used it in communications and on merchandise in the past.
The Railway Ministry in Delhi and the Darjeeling Himalayan Railway office in Kurseong, West Bengal, initiated the process of registering the logo with the Controller General of Patents, Designs and Trademarks under the Union Ministry of Commerce and Industry in August.
The claim was then sent to the World Intellectual Property Organisation (WIPO), a specialised agency of the United Nations based in Geneva, Switzerland, in accordance with the procedure laid down in WIPO's Vienna Classification (VCL).

There is a six-month window to register any counter-claims, following which the Indian government's claim will receive international approval.

Sources said there are plans to patent the logos of India are other mountain railways as well, such as the Mettupalayam-Udagamandalam Nilgiri Mountain Railway, the Kalka-Shimla Railway, and the Matheran Hill Railway.
DHR and the Mountain Railways of India (DHR, Nilgiri, and Kalka-Shimla) have been selected by the United Nations Postal Administration among six global UNESCO sites to be made part of its World Heritage Stamp series.

The stamp features a steam locomotive at Ghum station, the highest point on the DHR route, commanding a panoramic view of the Darjeeling Himalayas.
To know about different types of Intellectual Property Rights, please refer July 2021 DPN.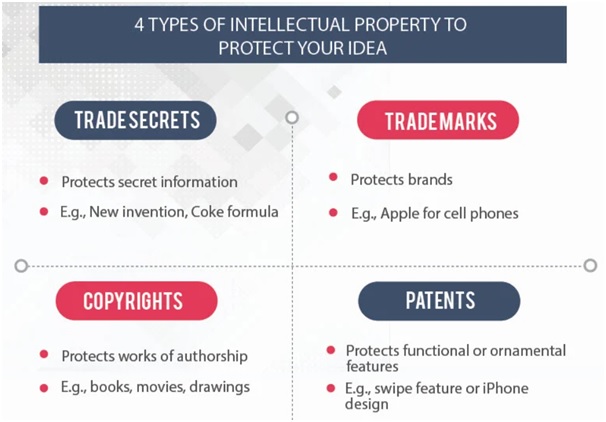 Subject – Geography
Context – Arunachal Pradesh river turns black, thousands of fish die; locals blame China: Report
Concept –
The Kameng River (previously named Bharali River, now called Kameng in Arunachal Pradesh and Jiabharali (Jia Bharali) in Assam) in the eastern Himalayan mountains, originates in Tawang district from the glacial lake below snow-capped Gori Chen mountain.
It is on the India-Tibet border and flows through Bhalukpong circle of West Kameng District, Arunachal Pradesh and Sonitpur District of Assam, India.
It becomes a braided river in its lower reaches and is one of the major tributaries of the Brahmaputra River, joining it at Tezpur, just east of the Kolia Bhomora Setu bridge.
The Kameng forms the boundary between East Kamemg District and West Kameng Districts and is also the boundary between the Sessa and Eaglenest sanctuaries to its west and the Pakke tiger reserve to the east.
The Dafla Hills are east and the Aka Hills (home of Aka tribe) are west of the Kameng River.
Kameng is not a transboundary river.
Tributaries: Tippi, Tenga, Bichom and Dirang Chu.
Subject – Economy
Context – I-T freezes assets over `53 cr of Maharashtra-based co-op bank
Concept –
Co-operative banks are financial entities established on a co-operative basis and belonging to their members. This means that the customers of a co-operative bank are also its owners. These banks provide a wide range of regular banking and financial services.
Structure:
Broadly, co-operative banks in India are divided into two categories – urban and rural.
Rural cooperative credit institutions could either be short-term or long-term in nature.
Further, short-term cooperative credit institutions are further sub-divided into State Co-operative Banks, District Central Co-operative Banks, and Primary Agricultural Credit Societies.
Meanwhile, the long-term institutions are either State Cooperative Agriculture or Rural Development Banks (SCARDBs) or Primary Cooperative Agriculture and Rural Development Banks (PCARDBs).
On the other hand, Urban Co-operative Banks (UBBs) are either scheduled or non-scheduled. Scheduled and non-scheduled UCBs are again of two kinds- multi-state and those operating in single state.
Current Regulation:
In India, co-operative banks are registered under the States Cooperative Societies Act. They also come under the regulatory ambit of the Reserve Bank of India (RBI) under two laws, namely, the Banking Regulations Act, 1949, and the Banking Laws (Co-operative Societies) Act, 1955.
They were brought under the RBI's watch in 1966, a move which brought the problem of dual regulation along with it.
To know about Urban Co-operative Banks, please refer August 2021 DPN.
Subject – Economy
Context – Tesla to open Canada battery gear factory in Markham, Ontario -mayor
Concept –
Giga factory is a term that we can first trace back to it being used by Elon Musk's Tesla, for the then-upcoming lithium-ion battery manufacturing facility in Nevada.
'Giga' which represents a 'billion'.
However, in common parlance, a Gigafactory has come to represent a battery-production facility that's simply gigantic in scale and brings multiple companies and components together to scale up lithium-ion battery production at an unprecedented level.
Gigafactories aren't just about making lithium-ion battery cells. While that may be their primary function, they are end-to-end renewable energy solution providers.

Gigafactories are also designed to be the main hubs for renewable energy storage.
Where are gigafactories coming up?
Most countries are engaging in an arms race to become hubs for manufacturing the most efficient and sustainable lithium-ion batteries.
If countries are to meet their target of banning all fossil-fuel powered vehicles by 2030, they need to establish an infrastructural foundation that will sustain their individual car industries for the foreseeable future.
India
With Reliance Industries (RIL) announcing plans to build four gigafactories to manufacture solar panels, electric batteries, green hydrogen and hydrogen fuel cells, India appears to be on the fast track to delivering its target of 450 gigawatts of energy. For this RIL has committed a sum of Rs60,000 crore.
State governments too are keen on developing gigafactories, with Maharashtra recently having outlined plans to build at least one gigafactory in a bid to be the biggest producer of EVs and EV components in the country.
Subject – Polity
Context – Delhi holding an NSA meet on Afghanistan
Concept –
The National Security Advisoris the senior official on the National Security Council of India, and the chief adviser to the Prime Minister of India on national security policy and international affairs.
Ajit Doval is the current NSA, and has the same rank as a Union Cabinet Minister.
The post has high vested powers, so the NSA is a highly prominent and powerful office in the Government of India.
All NSAs appointed since the inception of the post in 1998 belong to the either Indian Foreign Service or to the Indian Police Service, and serve at the discretion of the Prime Minister of India.
Role –
The National Security Advisor (NSA) is tasked with regularly advising the Prime Minister of India on all matters relating to internal and external threats and opportunities to India, and oversees strategic and sensitive issues on behalf of the Prime Minister.
The NSA of India also serves as the Prime Minister's Special Interlocutor with China as well as the envoy to Pakistan and Israel on security affairs.
The NSA receives all intelligence (RAW, IB, NTRO, MI, DIA, NIA) reports and co-ordinates them to present before the Prime Minister.
NSA is assisted by the Deputy National Security Advisors (Deputy NSAs).
The policy group is the main mechanism for inter-ministerial coordination and integration of inputs in forming national security policies.

The group members include the NITI Aayog vice chairman, the cabinet secretary, the three military chiefs, the Reserve Bank of India governor, the foreign secretary, home secretary, finance secretary and the defense secretary.
National Security Council
The National Security Council (NSC) of India is an executive government agency tasked with advising the Prime Minister's Office on matters of national security and strategic interest.
It was established by the former Prime Minister of India Atal Bihari Vajpayee on 19 November 1998, with Brajesh Mishra as the first National Security Advisor.
Prior to the formation of the NSC, these activities were overseen by the Principal Secretary to the preceding Prime Minister.
Members –
Besides the National Security Advisor (NSA), the Deputy National Security Advisors, the Ministers of Defence, External Affairs, Home, Finance of the Government of India, and the Vice Chairman of the NITI Aayog are members of the National Security Council.
PM can chair the meeting of NSC (for eg – PM chaired the meeting of NSC Post Pulwama to discuss heightened tension with Pakistan).
Other members may be invited to attend its monthly meetings, as and when it is required.
Organisational structure
The NSC is the apex body of the three-tiered structure of the national security management system in India.
The three tiers are the Strategic Policy Group, the National Security Advisory Board and a secretariat from the Joint Intelligence Committee.

Subject – Geography
Context – 'China strengthening connectivity in Chumbi'
Concept –
Chumbi Valley is also called Dromo, Tromo or Chomo.
It is a valley in the Himalayas that projects southwards from the Tibetan plateau, intervening between Sikkim and Bhutan.
It is coextensive with the administrative unit Yadong County in the Tibet region of China.
The Chumbi Valley is connected to Sikkim to the southwest via the mountain passes of Nathu La and Jelep La.
The valley is at an altitude of 3,000 m (9,800 ft), and being on the south side of the Himalayas, enjoys a wetter and more temperate climate than most of Tibet.
The valley supports some vegetation in the form of the Eastern Himalayan broadleaf forests and transitions to the Eastern Himalayan alpine shrub and meadows in the north.
The plant Pedicularis chumbica is named after the valley.
Chumbi Valley is a 100-km protrusion of Chinese territory located between Bhutan in the east and Sikkim in the west.
History –
The 1904 Younghusband Expedition of British India passed through the Chumbi Vally on its way to Lhasa.
At the end of the expedition, the British took control of the Chumbi Valley in lieu of a war indemnity.
China agreed to pay the indemnity owed by the Tibetans in three installments and the Chumbi Valley was transferred back to Tibet on 8 February 1908.
13. Aurorae in high-latitude countries
Subject – Science and Tech
Context – The Sun lights up aurorae in high-latitude countries
Concept –
A solar flare that occurred on the Sun triggered a magnetic storm which scientistshad predicted will arrive at the Earth in the early hours of November 4, and they said that the magnitude of this storm would be such as to trigger spectacular displays of aurora (the coloured bands of light seen in the North and South poles) in the high-latitude and polar regions.
These observations are taken at Lagrange Point L1.
Sunspots seed storms
The solar magnetic cycle that works in the deep interior of the Sun creates regions that rise to the surface and appear like dark spots. These are the sunspots. Solar flares are highly energetic phenomena that happen inside the sunspots.
In a solar flare, the energy stored in the Sun's magnetic structures is converted into light and heat energy.
This causes the emission of high energy x-ray radiation and highly accelerated charged particles to leave the Sun's surface.
Sometimes solar flares also cause hot plasma to be ejected from the Sun, causing a solar storm, and this is called Coronal Mass Ejection (CME). Coronal Mass Ejections can harbour energies exceeding that of a billion atomic bombs.
The energy, radiation and high-energy particles emitted by the flares can affect Earth-bound objects and life on Earth – it can affect the electronics within satellites and affect astronauts.
Very powerful Earth-directed coronal mass ejections can cause failure of power grids and affect oil pipelines and deep-sea cables. They can also cause spectacular aurorae in the high-latitude and polar countries.
The last time a major blackout due to a coronal mass ejection was recorded was in 1989 – a powerful geomagnetic storm that took down the North American power grid, plunging large parts of Canada into darkness and triggering spectacular aurorae beyond the polar regions.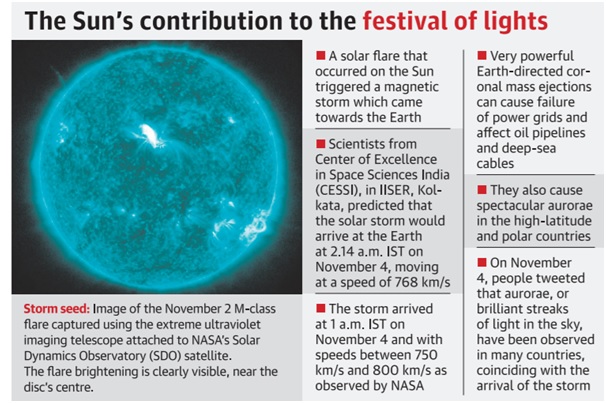 Lagrange Point 1
Lagrange Points, named after Italian-French mathematician Josephy-Louis Lagrange, are positions in space where the gravitational forces of a two-body system (like the Sun and the Earth) produce enhanced regions of attraction and repulsion.
The L1 point is about 1.5 million km from Earth, or about 1/100th of the way to the Sun.
L1 refers to Lagrangian/Lagrange Point 1, one of 5 points in the orbital plane of the Earth-Sun system.
These can be used by spacecraft to reduce fuel consumption needed to remain in position.
A Satellite placed in the halo orbit around the Lagrangian point 1 (L1) has the major advantage of continuously viewing the Sun without any occultation/ eclipses.
The L1 point is home to the Solar and Heliospheric Observatory Satellite (SOHO), an international collaboration project of National Aeronautics and Space Administration (NASA) and the European Space Agency (ESA).
Auroras
An Aurora is a display of light in the sky predominantly seen in the high latitude regions (Arctic and Antarctic). It is also known as a Polar light.
They commonly occur at high northern and southern latitudes, less frequent at mid-latitudes, and seldom seen near the equator.
While usually a milky greenish color, auroras can also show red, blue, violet, pink, and white. These colors appear in a variety of continuously changing shapes.
Auroras are not just something that happens on Earth. If a planet has an atmosphere and magnetic field, they probably have auroras.