Daily Prelims Notes 7 October 2021
October 7, 2021

Posted by:

admin1

Category:

DPN

Daily Prelims Notes
7 October 2021
Table Of Contents
1. Azadi ka Amrit Mahotsav Series – Women Unsung Heroes
Oruganti Mahalakshmamma (Andhra Pradesh)
Her first steps into the history of freedom struggle began when she actively started leading campaigns against the high revenue collections by the colonial authorities.

Her efforts led to a major drop in the revenue collection, thereby, posing the authorities a severe challenge.

Her husband and family, known for their patriotic zeal and charitable activities, were support pillars to her. This resulted in her active involvement in the Salt Satyagraha and Swaraj Movement.
Her works were not limited to the periphery of political struggle but were also social struggles and empowered the vulnerable section of society.
She vigorously publicized the cause of Home Rule and was instrumental in founding the Congress Women's Wingin Nellore (1921).
Tileswari Barua (Assam)
September 20 is observed in the Dhekiajuli town in Sonitpur district of Assam as Martyrs' Day, as it is the same day in which Tileswari Barua, who was shot at the age of 12 by the British, during the Quit India Movement, when she and some freedom fighters tried to unfurl the Tricolour atop a police station.
Tileswari went along with a mrityu vahini — a kind of suicide squad — as it marched towards the police station in Dhekiajuli. Fifteen people were killed in the shooting that day.
Chandraprabha Saikiani (Assam)
Chandraprabha Saikiani established the All Assam Pradeshik Mahila Samiti in the year 1926. She was a zealous supporter of women's and girls' education.
In 1918, during the Assam session of the Asom/Axom Chhatra (Assam Students) Sanmilan, she ardently spoke about the ill effects of opium consumption and demanded for its ban.
She was against caste discrimination and attacked it with the help of the teachings of Srimanta Sankardev (a 15th-16th century social revolutionary).
Chandraprabha Saikiani also demanded for the entry of women at religious places and rituals.
She became a part of the Non-Cooperation Movement and participated with enthusiasm in the Indian freedom struggle.
In the state of Assam, she was the second woman novelist. She shed light on the position of women in Assamese society by describing her own life in her novel Pririvitha.
For seven years, she was the editor of Abhijaytri (mouthpiece of All Assam Pradeshik Mahila Samiti).
Tara Rani Srivastava (Bihar)
Tara Rani Srivastava was a freedom fighter and part of Mahatma Gandhi's Quit India Movement.
On 12th August 1942, called upon by Mahatma Gandhi, she and her husband Phulendu Babu organized a march to raise the Indian National Flag in front of the Siwan police station, an act that would be seen as "a major defiance.
Despite her husband getting shot, she hoisted the flag.
Royal Indian Navy Mutiny, 1946
The ratings of the RIN battleship HMIS "Talwar", docked at Bombay, went on strike on 18 February 1946 over the issues of bad food and adverse living conditions.
The ratings went all-out to urge the people of Bombay to rise in support of their revolt – the greatest in the naval history – spreading to 78 ships and 22 units all along the Indian coastline.
In response to their call, several processions were taken out in Bombay, Karachi, Calcutta and other places in the subsequent days.
Hundreds of Indian citizens were killed and thousands were injured in the British military and police firing on the demonstrators.
Sardar Patel managed to make the ratings surrender on 24 February 1946. However, they declared if their demands are not conceded they will go on strike again.
Subject – Geography
Context – India's thermal power plants are facing a severe coal shortage, with coal stocks having come down to an average of four days of fuel across an increasing number of thermal stations.
Concept –

Reasons for Shortage –
Impact of the Shortage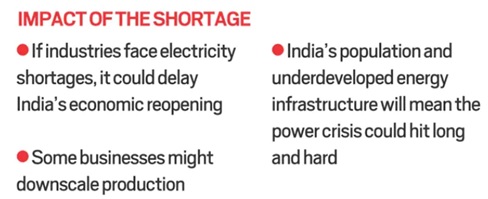 Way Ahead –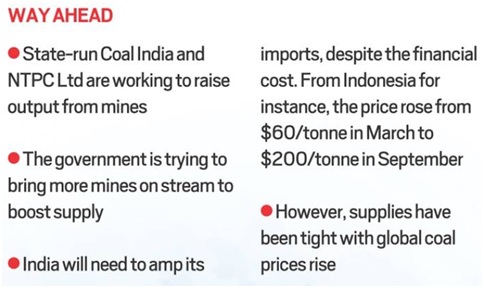 To know more about Coal Shortage Choking Thermal Power Plants, please click here.
Subject – Science and Tech
Context – Mosquirix – the first malaria vaccine to get the WHO's backing
Concept –
RTS,S/ASO1 (RTS.S), trade name Mosquirix, which was endorsed by the World Health Organisation (WHO) on Wednesday (October 6), is the first and, to date only, vaccine shown to have the capability of significantly reducing malaria, and life-threatening severe malaria, in tests on young African children.
The vaccine acts against P. falciparum, the most deadly malaria parasite globally, and the most prevalent in Africa. Among children who received 4 doses in largescale clinical trials, the vaccine was able to prevent approximately 4 in 10 cases of malaria over a 4-year period.
This is the first malaria vaccine that has completed the clinical development process, and received a positive scientific opinion from the European Medicines Agency (EMA).
It is also the first malaria vaccine to be introduced by three national ministries of health through their childhood immunization programmes — more than 800,000 children in Ghana, Kenya, and Malawi have been vaccinated, and are benefiting from the added protection provided by the vaccine as part of a pilot programme.
The global burden of malaria
Malaria is a life-threatening disease caused by parasites that are transmitted to people through the bites of infected female Anopheles mosquitoes. It is preventable and curable.
Still, in 2019, there were an estimated 229 million cases of malaria worldwide, and the estimated number of malaria deaths that year stood at 409,000.
Children aged under 5 years are the most vulnerable group affected by malaria; in 2019, they accounted for 67% (274,000) of all malaria deaths worldwide.
Malaria is most endemic in Africa, with Nigeria, Congo, Tanzania, Mozambique, Niger and Burkina Faso together accounting for over half the yearly deaths.
In 2019, India had an estimated 5.6 million cases of malaria compared to about 20 million cases in 2020, according to WHO.
Countries that have eliminated malaria
Countries that have achieved at least 3 consecutive years of zero indigenous cases of malaria are eligible to apply for the WHO certification of malaria elimination.
Over the last two decades, 11 countries have been certified by the WHO Director-General as malaria-free: United Arab Emirates (2007), Morocco (2010), Turkmenistan (2010), Armenia (2011), Sri Lanka (2016), Kyrgyzstan (2016), Paraguay (2018), Uzbekistan (2018), Algeria (2019), Argentina (2019), and El Salvador (2021).
Reasons for lack of vaccine for so many years –
The difficulty in developing effective malaria vaccines stems largely from the complexity of the malaria-causing parasites' life cycle, which includes mosquitoes, human liver, and human blood stages, and subsequent antigenic variations of the parasite.

These parasites are also able to hide inside human cells to avoid being recognised by the immune system, creating further challenges.

Another challenge faced in malaria vaccine development is that the common human malaria-causing parasite, P. falciparum, is not a rodent pathogen.
Because malaria disproportionately affects LMIC (low- and middle-income countries) lacking the robust health infrastructure, the vaccine manufacturers have little incentive for malaria vaccines and continued targeting vaccines for industrialized world markets
Mosquirix itself is the result of more than 30 years of research and development, and yet has only modest efficacy.
To know more about Malaria, please click here.
To know about Antimalarial Drug Resistance, please click here.
To know about the efforts to end malaria, please click here.
Subject – IR
Context – U.S. expresses unease over S­400 deal
Concept –
To know about S-400, please click here.
To know about CAATSA, please click here.
Subject – Geography
Context – Telangana withdraws Krishna plea in SC
Concept –
To know about Krishna River, please click here.
Subject – Environment
Context – Kerala govt. abandoned endosulfan victims: UDF
Concept –
Endosulfan is an off-patent organochlorine insecticide and acaricide that is being phased out globally.
It became a highly controversial agrichemical due to its acute toxicity, potential for bioaccumulation, and role as an endocrine disruptor.
Because of its threats to human health and the environment, a global ban on the manufacture and use of endosulfan was negotiated under the Stockholm Convention in April 2011.

The ban has taken effect in mid-2012, with certain uses exempted for five additional years.
More than 80 countries, including the European Union, Australia, New Zealand, several West African nations, the United States, Brazil, and Canada had already banned it or announced phase-outs by the time the Stockholm Convention ban was agreed upon.
It is still used extensively in India, China despite laws banning it, and few other countries.

It is produced by Makhteshim Agan and several manufacturers in India and China.
In India, a 2011 Supreme Court order has banned its production and sale until further notice.
Uses
Endosulfan has been used in agriculture around the world to control insect pests including whiteflies, aphids, leafhoppers, Colorado potato beetles and cabbage worms.
Due to its unique mode of action, it is useful in resistance management; however, as it is not specific, it can negatively impact populations of beneficial insects.
It is, however, considered to be moderately toxic to honey bees, and it is less toxic to bees than organophosphate insecticides.
Hazardous Effects of Endosulfan
It is highly toxic & has a large potential for bioaccumulation (substance does not leave the body).
It has hazardous effects on human genetic & endocrine systems.
Endocrine disruptor: enhances the effect of estrogens causing reproductive & developmental damage in both animals & humans.

Delayed reproductive development
Late sexual maturity
Autism

Neurotoxic: endosulfan destroys the integrity of the nerve cells.
Endosulfan in India –
India was one of the biggest producers & consumers of endosulfan.
After the toxicity of the pesticide came into limelight in 2001 in Kasargod District, Kerala banned it.
In 2011, SC banned the production, distribution & use of endosulfan in India.
SC also directed the Kerala government to pay Rs 500 crores as compensation to over 5,000 victims.
Globally, the use of endosulfan is banned under the Stockholm Convention on Persistent Organic Pollutants.

Endosulfan is listed under both Rotterdam Convention on the Prior Informed Consent and the Stockholm Convention on Persistent Organic Pollutants.

Under pressure from pesticide firms, India sought remission on the ban for 10 years.
India had agreed to phase out the use of endosulfan by 2017.
Subject – Environment
Context – 'Using scientific techniques, local expertise to track T23'
Concept –
Mudumalai National Park is a national park in the Nilgiri Mountains in Tamil Nadu, south India, covering 321 km2 (124 sq mi).
It is located in the Nilgiri District and shares boundaries with the states of Karnataka and Kerala.
It is part of the Nilgiri Biosphere Reserve and was a declared tiger reserve in 2007.

It is a part of Nilgiri Biosphere Reserve (1st Biosphere Reserve in India) along with Wayanad Wildlife Sanctuary (Kerala) in the West, Bandipur National Park (Karnataka) in the North, Mukurthi National Park and Silent Valley in the South.

The protected area harbours several endangered and vulnerable species including Bengal tiger, Indian elephant, Gaur and Indian leopard.
Mudumalai National Park harbours 266 bird species, including Indian white-rumped vulture and long-billed vulture.
It is bordered in the north by Bandipur National Park, in the east by Sigur Reserve Forest and in the west by Wayanad Wildlife Sanctuary. In the south, it is bordered by Singara Reserve Forest.
The Moyar River and its tributaries drain this area, and several artificial waterholes provide drinking water for wildlife during dry seasons.

The river Moyar, which flows along the Tamil Nadu-Karnataka border, divides the two states. The Park is bisected by the Mysore-Ooty highway, which follows the direction of the Moyar River, which divides Mudumalai and Bandipur.

Flagship Species: Tiger and Asian Elephant.
The Reserve has tall grasses, commonly referred to as 'Elephant Grass'.
Tropical Evergreen Forest, Moist Mixed Deciduous Forest, Moist Teak Forest, Dry Teak Forest, Secondary Grasslands, Shrubs, and Swamps are among the habitats found here.
8. Noble Prize in Chemistry 2021
Subject – Science and Tech
Context – "Simple ideas are often the most difficult to imagine," the Nobel Prize committee said while honouring Benjamin List and David MacMillan with this year's Chemistry Nobel.
Concept –
The simple idea that List and MacMillan came up with, working independently, was to look for new catalysts, the substances used to accelerate chemical reactions, when most believed they were stuck with an existing, somewhat inefficient, set.
The new catalysts, derived from naturally-occurring chemicals, were greener and cheaper, and ensured that the end product of the chemical reaction was of a specific variety — and did not need to go through a purification process to yield the desired type of compound.
Catalysts
When two or more compounds react to form new compounds, the process is often aided by other chemicals that do not change themselves, but help speed up the reaction.
These catalysts have been known at least since the middle of the 19th century, and are used in virtually every chemical process these days.
Till around 2000, only two kinds of chemicals were known to act as effective catalysts:

metals, mainly heavier metals;
enzymes, naturally-occurring heavy molecules that facilitate all life-supporting biochemical processes.

Both these sets of catalysts had limitations.

Heavier metals are expensive, difficult to mine, and toxic to humans and the environment.

Despite the best processes, traces remained in the end product; this posed problems in situations where compounds of very high purity were required, like in the manufacture of medicines.
Also, metals required an environment free of water and oxygen, which was difficult to ensure on an industrial scale.

Enzymes on the other hand, work best when water is used as a medium for the chemical reaction. But that is not an environment suitable for all kinds of chemical reactions.
Organo-catalysis
List and MacMillan, both 53, started experimenting with simple organic compounds.

Organic compounds are mostly naturally-occurring substances, built around a framework of carbon atoms and usually containing hydrogen, oxygen, nitrogen, sulphur, or phosphorus.
Life-supporting chemicals like proteins, which are long chains of amino acids (carbon compounds containing nitrogen and oxygen) are organic.
Enzymes are also proteins, and therefore, organic compounds.

List and MacMillan were aware of earlier research from the 1970s, in which an amino acid called proline was used as a catalyst in some specific reactions. But its role was not fully explored. They started working with individual amino acids in enzymes — and struck gold.
Asymmetric catalysis
The individual amino acids had an added advantage: they ensured only one variety of the end product was yielded in the reaction.
Substances can have exactly the same chemical composition and molecular formula; yet differ widely in their properties. They are known as isomers.

One type of isomers are those that differ in the way individual atoms are oriented in three-dimensional space.
Two molecules could be exactly the same, except that they are mirror images of each other, like our hands.
For simplicity, scientists often refer to these molecules as left-handed or right-handed. This simple difference can sometimes have enormous consequences, because it allows the molecules to bind in different locations when they interact with other molecules.

The end product in a chemical reaction is usually a mixture of left-handed and right-handed molecules. The normal chemical reactions carried out in laboratories are not selective in this regard. But nature is.

Because the mirror images can have very different properties, natural processes are extremely selective, and precise. They produce either a left-handed or a right-handed molecule.

List and MacMillan discovered that by using a natural compound like an amino acid as a catalyst, they were obtaining only one specific mirror image of the end-product. This was later named asymmetric catalysis.
9. WHO's stark message on air quality
Subject – Environment
Context – In updating its already strict air quality guidelines (AQGs), the WHO last month sent out a stark message: that the impact of poor air quality on public health is at least twice as bad as previously estimated.
Concept –
India has 37 of the world's 50 most polluted cities, despite its air quality standards being more lax.

For instance, its standards for PM2.5 and PM10 are 60 and 100 µg/m3 respectively (over 24 hours), while the WHO's new standards are 15 and 45 µg/m3 (over 24 hours).

The Global Burden of Disease estimates that India lost 1.67 million lives in 2019 directly as a result of breathing polluted air, or because of pre-existing conditions exacerbated by air pollution.

Uttar Pradesh had the biggest share at 3.4 lakh, Maharashtra had 1.3 lakh, and Rajasthan 1.1 lakh.

The average life expectancy in Delhi is 6.4 years lower than the national average of 69.4, and the number is starting to fall for even coastal cities like Mumbai and Chennai.
India's predicament
The problem is, our economic growth is built on fossil fuels. Coal, oil, and natural gas account for roughly 75% of our power generation and >97% of road transport, but they come at the cost of heavy CO, SO2, NO2, ozone, and particulate matter emissions.
The health impacts of PM2.5 exposure now include lung cancer, cerebrovascular disease, ischaemic heart disease and acute lower respiratory illness, besides exacerbating ailments like depression.
Exposure to ozone has been linked to chronic obstructive pulmonary disease (COPD).
To know about WHO global air quality norms, please click here.
10. India's newest Tiger Reserve No. 4 in Chhattisgarh
Subject – Environment
Context – National Tiger Conservation Authority (NTCA) approved the Chhattisgarh government's proposal to declare the combined areas of the Guru Ghasidas National Park and Tamor Pingla Wildlife Sanctuary as a Tiger Reserve.
Concept –
National Tiger Conservation Authority (NTCA) approved the Chhattisgarh government's proposal to declare the combined areas of the Guru Ghasidas National Park and Tamor Pingla Wildlife Sanctuary as a Tiger Reserve.
The new Reserve is located in the northern part of the state, bordering Madhya Pradesh and Jharkhand. This will be the fourth Tiger Reserve in Chhattisgarh, after the Udanti-Sitanadi, Achanakmar, and Indravati Reserves.
Tiger Conservation Plan: The State Government shall, on the recommendation of the Tiger Conservation Authority, notify an area as a tiger reserve.
The Tamor Pingla Wildlife Sanctuary was identified as part of the Sarguja Jashpur Elephant Reserve in 2011. The Guru Ghasidas National Park used to be part of the Sanjay National Park in undivided Madhya Pradesh. Both were identified as reserve forests, and had been in line to be notified as Tiger Reserve since 2011.
Guru Ghasidas National Park was the last known habitat of the Asiatic cheetah in the country. Originally part of the Sanjay Dubri National Park, Guru Ghasidas Park was created as a separate entity in Chhattisgarh's Sarguja region after the formation of the state in 2001.
Wildlife experts and activists in the state believe that turning Guru Ghasidas into a Tiger Reserve is important because it connects Jharkhand and Madhya Pradesh and provides a corridor for tigers to move between the Bandhavgarh and Palamau Tiger Reserves.
Bhoramdeo, on the other hand, connects the Indravati Tiger Reserve in Chhattisgarh with the Kanha Tiger Reserve in Madhya Pradesh and, experts say, the decision to create a Tiger Reserve at Guru Ghasidas National Park should not affect attempts to notify Bhoramdeo as a Tiger Reserve too.
Tiger Reserves in India –
Subject – Environment
Context – Union Minister of State for Environment, Forest and Climate Change Ashwini Kumar Choubey proposing to change the name of Corbett National Park to Ramganga National Park
Concept –
Jim Corbett's name has lent itself to India's oldest and most celebrated national parks and to the cottage industry that has grown around it.
But the Park was not always called Corbett.
Set up in 1936 as India's — and Asia's — first national park, it was called Hailey National Park after Sir Macolm Hailey, the governor of the United Province. It was renamed Ramganga National Park, named after the river that flows through it, shortly after Independence and was rechristened yet again as Corbett National Park in 1956.
Located in the Himalayan foothills near the tourist hill station of Nainital, Corbett National Park is spread over 520 sq km and is part of the Corbett Tiger Reserve which is over 1,288 sq km.
The national park along with the neighbouring 301-sq km-Sonanadi Wildlife Sanctuary together make the critical tiger habitat of the Corbett Tiger Reserve.
The place from where Project Tiger was launched in 1973, with its tiger population at 163, it boasts of a single largest tiger population in a tiger reserve and one of the highest tiger densities in the country.
Subject – Economy
Context – Centre allows 100% FDI in telecom via automatic route
Concept –
The government notified its decision to permit 100 per cent foreign direct investment (FDI) under the automatic route in the telecom services sector subject to certain conditions.
Till now, only 49 per cent of FDI was allowed through the automatic route and anything beyond that had to come via the government route.
Telcos, including infrastructure providers, will be covered under the new FDI regime.
The 100 per cent FDI was part of the telecom reforms package approved by the Cabinet on September 15.

Other reliefs included a four-year moratorium on AGR (Average Gross Revenue) dues, and an option for the government to convert dues into equity post the moratorium period.

The Department for Promotion of Industry and Internal Trade (DPIIT), in a statement, said foreign investment in telecom services will be subject to the condition of Press Note 3 of 2020

According to Press Note 3 of 2020, an entity of a country, which shares a land border with India or where the beneficial owner of an investment into India is situated in or is a citizen of any such country, can invest only under the government route.
13. Foreign Exchange Management (Non-debt Instruments) Rules 2019
Subject – Economy
Context – BPCL sale: Centre allows 100% foreign investment
Concept –
The Finance Ministry has added a new provision to the Foreign Exchange Management (Non-debt Instruments) Rules, 2019 to facilitate strategic disinvestment of Bharat Petroleum Corporation Limited (BPCL).
Foreign investment up to 100 per cent under the automatic route is allowed in case an 'in-principle' approval for strategic disinvestment of a PSU has been granted by the government
This new provision is in addition to the existing one that prescribes FDI up to 49 per cent in petroleum refining PSUs, without any disinvestment or dilution of domestic equity.

The FDI cap of 49 per cent in oil refineries was proving to be a hitch in the government's attempts to sell its near 53 per cent stake in BPCL, which is the country's second-largest refiner.

The planned stake-sale is part of the government's effort to raise ₹1.75-lakh crore from disinvestment of public sector companies and financial institutions in 2021-22.
To know about Foreign Exchange Management (Non-debt Instruments) (Second Amendment) Rules 2021, please click here.
To know about Strategic Disinvestments, please click here.
14. India's migrant construction workers
Subject – Economy
Context – The novel coronavirus disease (COVID-19) pandemic had widespread and devastating consequences to communities and enterprises in India and across the globe. However, the situation was particularly grim for the 453.6 million internal migrants in India, evidenced by the unprecedented 'reverse migration' witnessed during the pandemic.
Concept –
Construction, which was one of the worst-hit sectors during the pandemic, is also one of the key sectors in which India's migrant workforce find employment. The NSSO (2016-17) puts the number of construction workers in the country at over 74 million.
Interstate migrant workers make 35.4 per cent of all the construction workers in the country's urban areas, according to the 2001 Census. Of all the interstate migrants in India who move out of the farm sector, construction absorbs around 9.8 per cent, making it the second most preferred sector for migrant workers after retail.
The Jan Sahas Survey conducted at the beginning of the lockdown (March 27-29, 2020), found that 54 per cent of construction workers support three to five people, while 32 per cent support more than five people.
Legal safeguards
The Building and Other Construction Workers (Regulation of Employment and Conditions of Service) Act and the Building and Other Construction Workers Welfare Cess Act were constituted in 1996, to address the issues faced by the construction workers.
These legislatures mandated the institution of a Construction Workers Welfare Board (CWWB) — a tripartite entity with equal representation from workers, employers and the government.

The CWWB is required to register all construction workers in the state and promote the welfare of registered construction workers through various schemes, measures or facilities.

Indicative welfare benefits are listed out in Section 22 of the Act and include medical assistance, maternity benefits, accident cover, pension, educational assistance for children of workers, assistance to family members in case of death, group insurance, loans, funeral assistance and marriage assistance for children of workers.
For the purpose of raising capital for providing the welfare benefits under state CWWBs, collection of a cess at the rate of 1 per cent of the total cost of construction is mandated by the said legislations.
Subject – Defence and Security
Context – NCC's first airstrip in country getting ready in Idukki
Concept –
This is the NCC's only airstrip in the country, and is being constructed by the Public Works Department (PWD).
The airstrip will be used to provide training for NCC Air Wing cadets in flying small aircraft, and there will be facilities for their accommodation.
The NCC will provide training to 1,000 cadets at the facility in a year. The NCC's two-seater Virus SW-80 aircraft will be the first one to land on the airstrip, according to officials.
16. UP tops list of states emitting fine particulate matter
Subject – Environment
Context – U.P. tops list of States emitting fine particulate matter: study
Concept –
Uttar Pradesh is the largest emitter of PM2.5, the class of particulate matter considered most harmful to health, according to an analysis by the Council on Energy, Environment and Water (CEEW).
The council, a research body, looked at five of the most reliable data sources — international and national — that have tracked and measured the quantum and sources of air pollution in India.
The high emissions from U.P. were largely due to a significant share of PM2.5 emissions from solid-fuel use in households and, by virtue of being India's most populous State, it had a higher proportion of households relying on this form of fuel.
The five data sources used are: Emissions Database for Global Atmospheric Research (EDGAR), maintained by the European Commission's Joint Research Centre; Evaluating the Climate and Air Quality Impacts of Short-lived Pollutants (ECLIPSE), maintained by the International Institute for Applied Systems Analysis (IIASA); Regional Emission Inventory in Asia (REAS), maintained by the National Institute for Environmental Studies, Japan (NIES); Speciated Multi-polluter Generator (SMoG), maintained by the Indian Institute of Technology (IIT Bombay); and spatially resolved pollution emission inventory for India, maintained by The Energy and Resources Institute (TERI).
There are differences in the periods over which these sources track the emissions as well as the pollutants, but most track the important ones: PM2.5, PM10, NOx (nitrous oxides), SO2 (sulphur dioxide), CO (carbon monoxide), NH3 (ammonia), and NMVOC (non-methane volatile organic compounds).
Subject – Economy
Context – Cabinet clears ₹4,445­cr. textile parks
Concept –
The Union Cabinet approved the setting up of seven Mega Integrated Textile Region and Apparel (PM MITRA) Parks at an outlay of ₹4,445 crore. The mega parks scheme will include brownfield and greenfield projects, spread over five years.
The parks would be developed by a Special Purpose Vehicle (SPV) owned by the Central and State governments and would get two kinds of support. Development Capital Support, aimed at helping develop infrastructure, would fund 30% of the project cost with a cap of ₹500 crore for greenfield projects and ₹200 crore for brownfield projects. A separate Competitiveness Incentive Support would be limited to ₹300 crore per park.
States offering the cheapest land (contiguous and encumbrance-free land of minimum 1,000 acres) and facilities such as adequate electricity and water would be selected through a transparent challenge route.
The SPV would select a Master Developer to set up and maintain the park for a specified period. Of the park's area, 50% would be earmarked for manufacturing activity, 20% for utilities, and 10% set aside for commercial development.

A master developer will be selected on objective criteria developed by the State and Central government and will not only develop the industrial park, but also maintain it during the concession period.

Industries in the parks would comprise four categories — units investing ₹300 crore or more, units investing ₹100-300 crore, investors of less than ₹100 crore and tenant units.
These parks will be developed by a special purpose vehicle owned by State governments and Central government in a public-private partnership.