Daily Prelims Notes 9 July 2022
July 9, 2022

Posted by:

OptimizeIAS Team

Category:

DPN

Daily Prelims Notes
9 July 2022
Table Of Contents
1. Leadership development programme for PSU banks (PSBs)
Subject :Economy
Section : Banking
Context:
The Financial Services Institutions Bureau (FSIB), the body formed by the government to select the CEOs and Directors of public sector banks, insurance companies and financial institutions, will select top officials of banks via a grooming process under a leadership development programme.
About the leadership development programme:
It is proposed by the Financial Services Institutions Bureau (FSIB) to the Indian Banks' Association (IBA)
IBA will appoint an institution or firm to design and deliver a leadership development programme for PSU banks (PSBs).
The programme's objective is to develop a future generation of leaders who are digitally savvy, strategic thinkers with capability to build highly collaborative teams and create a customer centric organisation that thrives in a very dynamic competitive environment.
The programme will accelerate leadership development in PSBs in India and support the top management of PSBs through their professional development journey
The programme aims to train business leaders of the PSBs who should be ready to assume top management and board level positions in PSBs and to drive long-term sustainable business in a competitive market place.
The programme will up-skill around 75 participants in the senior management like Chief General Managers, General Managers and Deputy General Managers every year
The training programme for senior officers of PSU banks will be delivered through three modes — online as e-learning modules, online through live webinars, meetings and through in-person mode.
The programme fee per participant quoted by the firm/ institution will be fixed for three years and should include everything else (including expenses on usage of trademarks, patents, licenses, all associated fees of usage of facilities and other conveniences as required for the programme, boarding and lodging, overseas stay if any).
About the Financial Services Institutions Bureau (FSIB)
The Cabinet Appointments Committee (ACC) has passed a government resolution to establish the Financial Services Institutions Bureau (FSIB) in place of the Banks Board Bureau (BBB).
The new framework was proposed by the Department of Financial Service, Ministry of Finance.
The Financial Services Institutions Bureau will select the chiefs of public sector banks and insurance companies.
It will select top officials of banks via a grooming process under a leadership development programme.
The FSIB will have the clear mandate to issue guidelines and select general managers and directors of state-run non-life insurers, general insurers and Financial Institutions.
FSIB will be the single entity for making recommendations for appointments of WTD (Whole-time Director) and NEC (Non-executive Chairman) in Public Sector Banks, India Private Limited company and Financial Institutions.
The Department of Financial Services shall first carry out necessary modifications in the Nationalised Banks (Management and Miscellaneous Provisions) Scheme of 1970/1980 (as amended).
Subject :Economy
Section :Agriculture
Context:
The data on all-India Daily Weighted Average Prices of Major Edible Oils, available on the Department of Consumer Affairs' website, shows that the prices of five edible oils – mustard oil, vanaspati, soya oil, sunflower oil and palm oil – have declined by 2-8 per cent in the past one month but they are still 3-21 per cent higher than their last year's levels.
With consumers yet to get respite from the higher edible oil prices, the Centre has asked the edible oil companies to reduce their MRP by Rs 15 per kg as the edible oil prices in the international market are witnessing a downfall.
Concept:
Primary sources of Edible oil (Soybean, Rapeseed & Mustard, Groundnut, Sunflower, Safflower & Niger) and secondary sources of Edible Oil (Oil palm, Coconut, Rice Bran, Cotton seeds & Tree Borne Oilseeds).
India depends on imports to meet its domestic edible oil demand. In 2019-20, the country imported about 13.35 million tonnes of edible oils or about 56% of the demand.
This mainly comprised palm (7 million tonnes), soyabean (3.5 millon tonnes) and sunflower (2.5 million tonnes).
The major sources of these imports are:

 Argentina and Brazil for soybean oil;
Indonesia and Malaysia palm oil; and
Ukraine and Argentina again for sunflower oil.
Price Monitoring Division (PMD) in the Department of Consumer Affairs

It is responsible for monitoring prices of selected essential commodities.
It monitors the retail and wholesale prices, and spot and future prices of selected essential commodities on a daily basis.
The DoCA collects daily price data of 22 essential food commodities including six edible oils — palm, groundnut, mustard, vanaspati, soya and sunflower — from 179 centres across the country. The department also collects daily prices of pulses, sugar, rice, wheat, tea, salt, milk and vegetables such as tomato, onion and potato.
In the event of shortage of any specific essential commodity and to keep price of the item under control, Price Monitoring Division also implements commodity-specific market intervention schemes to give temporary relief to the consumers.
Generally, prices are reported for the Fair Average Quality of the item for a given centre.
3. The Export Inspection Council (EIC) and wheat flour export
Subject :Economy
Section :External Sector
Context:
The Directorate General of Foreign Trade and the Food Ministry are planning to rope in quality inspection agencies like the Export Inspection Council (EIC) to carry out the testing  for wheat flour (atta) exports to assist the Inter­Ministerial Committee (IMC) on wheat approve consignments as per the amended export policy.
Details:
The chosen agency will send its lab testing report to the IMC based on which it will give its export recommendation,"
Concept:
The Export Inspection Council (EIC):
It is the official export –certification body of India- an autonomous body under ministry of commerce and industry.
It ensures quality and safety of products exported from India. 
EIC was set up by the Government of India under Section 3 of the Export (Quality Control and Inspection) Act, 1963 to ensure sound development of export trade of India through quality control and inspection and matters connected therewith.
The role of EIC is to ensure that products notified under the Export (Quality Control and Inspection) Act 1963 are meeting the requirements of the importing countries in respect of their quality and safety.
The Export Inspection Council is located at Delhi and is headed by a Chairman.
The Executive Head of the Council is the Director of Inspection & Quality Control who is responsible for day to day functioning of the Council.
The assurance to quality and safety is provided through:

a consignment wise inspection or
a quality assurance / food safety management based certification through its field organization.

EIC provides mandatory certification for various Food items namely fish & fishery products, dairy product, honey, egg products, meat and meat products, poultry meat products, animal casing, Gelatine, Ossein and crushed bones and feed additive and pre-mixtures while other food and non-food products are certified on voluntary basis.
EIC is the only organization in India having global acceptance.
Export Policy on Wheat flour:
Government has imposed restrictions on outbound shipments of wheat flour or atta, maida and semolina, a move aimed at containing price rise.
Exporters of these commodities now need approval of the inter-ministerial committee on export of wheat for the shipments from July 12.
Thus, export policy of wheat flour (atta) remains free but export shall be subject to recommendation of the inter-ministerial committee on export of wheat.
The new approval framework will be applicable for wheat flour (atta), maida, semolina (rava/ sirgi), wholemeal atta and resultant atta.
The necessary modalities with regard to quality of wheat flour will be notified separately.
In May, India banned wheat exports in a bid to check high prices.
4. In a first- Markfed begins tobacco export to US
Subject :Geography
Section Economic Geography
Context:
Perhaps for the first time for a Government agency, the Andhra Pradesh Markfed has exported tobacco to the US, opening a new opportunity for farmers
Location of Tobacco Industry
Cultivation of tobacco is done all over the country, although the commercial cultivation of tobacco is concentrated in the States of Andhra Pradesh, Telangana, Karnataka, Gujarat, Maharashtra, Bihar, Tamil Nadu and West Bengal.
Andhra Pradesh ranks first in terms of Tobacco Production.
Climatic Factors
50-100cm annual rainfall and 15-20oC temperature during growth period is ideal.
Tobacco cannot sustain in rainfall more than 100cm.
It is grown in warm climates with rich, well-drained soil.
Too dry weather is not suitable as leaves break into small pieces.
Subject: Geography
Section: Natural Disasters
Context: At least 8 dead in cloudburst at Amarnath Cave in Kashmir.
Concept:
The cloudburst is a localised weather phenomena representing highly concentrated rainfall over a small area lasting for few hours. This leads to flash floods/ landslides, house collapse, dislocation of traffic and human casualties on large scale.
Meteorologists say the rain from a cloudburst is usually of the shower type with a fall rate equal to or greater than 100 mm (4.94 inches) per hour or with size droplets 4-6 millimetres at a speed of 10 metres per second.
The primary reason behind this is rising temperatures which, in turn, have led to an increase in precipitation across the Himalayas.
How does it form?
Generally, cloudbursts are associated with thunderstorms. The air currents rushing upwards in a rainstorm hold up a large amount of water.
If these currents suddenly cease, the entire amount of water descends on to a small area with catastrophic force all of a sudden and causes mass destruction.
This is due to a rapid condensation of the clouds.
Prone areas
They occur most often in desert and mountainous regions, and in interior regions of continental landmasses.
The topographical conditions like steep hills favour the formation of these clouds in the mountainous regions. And also, the devastations, as water flowing down the steep slopes bring debris, boulders and uprooted trees with great velocity damaging any structure that comes in their way.
The Chhota Nagpur plateau spread across north Odisha, West Bengal and Jharkhand is the world's most vulnerable spot for formation of severest thunderstorms.
Cloudburst can occur not only in the monsoon seasons but also during March to May which is known for severe convective weather activities.
Prediction
The large-scale features, which are conducive for occurrence of severe thunderstorms associated with cloudburst, are predictable two to three days in advance.
However, the specific location and time of cloud burst can be predicted in NOWCAST mode only, i.e., a few hours in advance, when the genesis of thunderstorm has already commenced.
To detect these sudden developments, a Doppler Weather Radar (DWR), a powerful tool for time and location specific prediction of cloudburst, can be deployed a few hours in advance. Coupled with satellite imagery this can prove to be useful inputs for extrapolation of cloudbursts anywhere in India.
Subject: Geography
Section: Geographical Features
Context: The flash flood caused by the cloudburst took the death toll to 8 at the Amarnath Cave Shrine near Pahalgam in south Kashmir.
Concept:
Amarnath Cave Shrine
The annual Amarnath Yatra to the cave shrine of Lord Shiva high up in the Himalayas is among the country's most revered pilgrimages.
It is situated 3,888 metres above sea level and is located in South Kashmir, J & K.
Shrine Formation:
Stalagmite and Stalactite
The Shiva Lingam is a Stalagmite
A stalagmite is a cave formation or speleothem that rises from the floor of a cave.
It is formed due to the freezing of water drops that fall from the roof of the cave onto the floor resulting in an upward vertical growth of ice.
There are different types of stalagmites – Limestone, Lava, Ice, Concrete.
Here, the stalagmites considered as the lingam, a physical manifestation of Shiva, is the ice stalagmite(either seasonal or permanent in nature), commonly referred to as iciclesand form a solid-dome-shape.
Stalagmites are typically composed of calcium carbonate, but may consist of lava, mud, peat, pitch, sand, sinter, and amberat (crystallized urine of pack rats).
Most stalagmites have rounded or flattened tips.
The corresponding formation hanging down from the ceiling of a cave is a Stalactite. It is produced by precipitation of minerals from water dripping through the cave ceiling.
Most stalactites have pointed tips.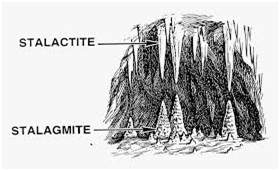 Subject: Environment 
Section: Conservation
Context: The global assessment stressed that the sustainable use of wild species needed constant negotiation, adaptive management and sustainable use in order to meet the needs of billions.
Content:
The report stated that about 50,000 wild species globally can meet the needs of billions of people.But, more than 20% (over 10,000 species) are used for human food, making the sustainable use of wild species critical for achieving food security and improving nutrition, in rural and urban areas worldwide.
The report identified Fisheries as a major source of food from wild species, with a total annual harvest of 90 million tons.
However, Over exploitation is seen as the main threat to wild species in marine ecosystems and the second greatest threat to those in terrestrial and freshwater ecosystems. E.g., 34 per cent of marine wild fish stocks are overfished and 66 per cent are fished within biologically sustainable levels.
It noted that indigenous people and local communities used local knowledge, practices and spirituality for the sustainable use of wild species. This in turn ensured the healthy populations of wild species. E.g., Wild rice– cultural keystone species for many indigenous peoples in the Great Lakes region of North America.
But, Loss of opportunity to engage in sustainable use of wild species represents an existential threat to indigenous communities.
It also noted the drivers such as landscape and seascape changes, climate change, pollution and invasive alien species impact the abundance and distribution of wild species, and can increase stress and challenges among the human communities who use them.
Further, the assessment shortlisted five categories of practices used for wild species — fishing, gathering, logging, terrestrial animal harvesting which includes hunting and non-extractive practices such as observing (E.g., nature-based tourism).
Unintentional by catch of threatened and/or protected marine species, Trade in wild plants, algae and fungi for food, medicine, hygiene, energy, and ornamental use, Destructive logging practices and illegal logging, Large-bodied mammals for subsistence and commercial hunting and unsustainable impacts of the tourism industry can threaten the survival of species and shifts in distribution of species across multiple trophic levels and ecosystem functions.
The report also presented concerns of effective regulations without which the unsustainable use and trade would increase, leading to population collapse. It also cited illegal use and illegal trade in wild species which is estimated to be about $199 billion (Rs 150,000,000 lakh).
It further found that characteristics like integration of diverse value systems, Tenure arrangements that foster secure rights over land and resource use and trade, equitable distribution of costs and benefits, changes in cultural norms and social values, Education, communication and public awareness and effective institutions and governance systems would facilitate the sustainable use of wild species in future.
Intergovernmental Science-Policy Platform on Biodiversity and Ecosystem (IPBES)
It is an intergovernmental organization established to improve the interface between science and policy on issues of biodiversity and ecosystem services.
It is often described as the "IPCC for biodiversity".
It was established by the United Nations, but functions independently.
Formation: 2012.
Headquarters: Bonn, Germany.
Assessments: On specific themes (e.g. "Pollinators, Pollination and Food Production"); methodological issues (e.g. "Scenarios and Modelling); and at both the regional and global levels (e.g. "Global Assessment of Biodiversity and Ecosystem Services").
8. National Cyber Crime portal
Subject: Security Issues
Section: Cyber Security
Context: Cloned websites, malicious links being used to lure unsuspecting victims.
Content:
Many job-seekers in the city get duped by fake job rackets. Nearly 30% of all the complaints have been lodged with the National Cyber Crime Reporting Portal pertain to employment-related frauds.
National Cyber Crime Portal
It is an initiative of Ministry of Home Affairs, Government of India under National Mission for the safety of women to facilitate victims/complainants to report cybercrime complaints online.
This portal caters to complaints pertaining to cyber-crimes only with special focus on cyber-crimes against women and children.
It caters all types of cyber-crime complaints including complaints pertaining to online Child Pornography (CP), Child Sexual Abuse Material (CSAM) or sexually explicit content such as Rape/Gang Rape (CP/RGR) content and other cyber-crimes such as mobile crimes, online and social media crimes, online financial frauds, ransomware, hacking, cryptocurrency crimes and online cyber trafficking.
The portal also provides an option of reporting an anonymous complaint for reporting online Child Pornography (CP) or sexually explicit content such as Rape/Gang Rape (RGR) content.
Complaints reported on this portal are dealt by law enforcement agencies/ police based of respective States/ UTs on the information available in the complaints.
9. Man seeks NOC to export embryos
Subject: Polity
Section: Acts and Policies
Context: A married man has moved the Delhi High Court seeking to expedite the process of obtaining a no-objection certificate (NOC) for exporting embryos to a surrogate mother abroad.
Concept:
Export of embryos from India has been allowed by the Government of India as per June 12, 2020 notification issued by the Directorate General of Foreign Trade, Ministry of Commerce and Industry.
As per the notification, for the purpose of export of embryos from India, the necessary prerequisite is an NOC issued by the ICMR.
However, on January 25, 2022, the Assisted Reproductive Technology (Regulation) Act, 2021 was brought into force in the country.
Section 229 of the Assisted Reproductive Technology (Regulation) Act prohibited the transfer or use of gametes, zygotes and embryos, directly or indirectly to any party within or outside India except in the case of transfer of own gametes and embryos for personal use with the permission of NARTSB (National Assisted Reproductive Technology and Surrogacy Board).
Assisted Reproductive Technology (Regulation) Act, 2021
Key features:
The Act seeks to regulate and supervise the Assisted Reproductive Technology (ART) clinics and the banks, prevention of misuse, safe and ethical practice of ART services for addressing the issues of reproductive health where ART is required for becoming a parent or for freezing gametes, embryos, embryonic tissues for further use due to infertility, disease or social or medical concerns and for regulation and supervision of R & D and for matters connected therewith or incidental thereto.
Every ART clinic and bank must be registered under the National Registry of Banks and Clinics of India which will act as a central database for all facilities providing ART services in India, with state governments appointing relevant authorities in their respective states to facilitate the registration process.
The Registration must be renewed every five years and may be cancelled or suspended if an entity contravenes the provisions of the Act.
The National Assisted Reproductive Technology and Surrogacy Board to be constituted under the National Board for the purposes of this Act.
The Central Government may, within a period of ninety days may establish a Registry to be called the National Assisted Reproductive Technology and Surrogacy Registry.
The Act enumerates the procedure of registration of Assisted Technology Clinics and Banks, which includes provisions for grant of registration, renewal, suspension or cancellation. The National Board, the National Registry and the State Board shall have the power to, — (i) inspect, any premises relating to assisted reproductive technology; or (ii) call for any document or material, in exercise of their powers and discharge of their functions.
Offences and Penalties
The clinic, or bank or agent thereof, shall not/cause to issue, publish, distribute, communicate any advertisement in any manner, regarding facilities of sex selective assisted reproductive technology.
Contravention of provisions shall be punishable with imprisonment for a term of five years, extendable to ten years or with fine which shall not be less than ten lakh rupees but may extend to twenty-five lakh rupees or with both.
Under the Act, any registered medical practitioner or any person shall not exploit, sell, transfer, import human embryos or gametes.
10. Which is the 'real' Shiv Sena? Answer lies with the Constitution and Supreme Court
Subject :Polity
Section :Elections
Most recently, the Shiv Sena has been split between the Uddhav Thackeray and the Eknath Shinde factions.
In anticipation of future challenges as to who has control over the party, including its symbols and name, a letter has been sent to the Election Commission from the Sena National Executive, confirming that Uddhav Thackeray continues to be the party president (Paksha Pramujkh).
Why symbols are important for political parties
The symbol of a party is one of extreme relevance to political survival. For many Indian voters who do not read, the symbol is their association with the party when they exercise their franchise.
Hence, the importance given to the symbol of the party.
What is the legal and constitutional framework to deal with issues when a party splinters and rival factions assert themselves as the recognised political party.
Article 324 of the Constitution provides that the superintendence, direction and control of elections is vested in the Election Commission (henceforth Commission)
Such elections would include those to Parliament, state legislatures, and for the offices of President and Vice-President.
Pursuant to the Conduct of Election Rules, 1961, Rule 5 specifies that the Commission shall specify the symbols that may be chosen by candidates at elections in parliamentary or assembly constituencies and the restrictions to which their choice will be subject.
The Election Symbols (Reservation and Allotment) Order 1968 provides for the choice and allotment of symbols in Parliamentary and Assembly constituencies and for recognition of political parties and matters connected.
Finally, Paragraph 15 of this Order specifies that the Commission has the power to recognise as the party, from amongst splinter groups or rival sections, "after taking into account all available facts and circumstances of the case" and "after hearing representatives".
The classic case on this is Sadiq Ali v the Election Commission of India (1972).
Here, the Supreme Court was confronted with the case of the Indian National Congress which had split into two factions. The Indian National Congress (J) was led by Jagjivan Ram and the Indian National Congress (O) functioned under C Subramanium.
Both groups claimed leadership of the same party and its symbol "Two Bullocks with Yoke on".
They filed amongst other documentation letters from each purported president of the party, party constitutions, and statements from party members.
This included statements of allegiance from members of Parliament and members of the state legislatures
Eventually, the Commission ruled in favour of Congress (J) being the recognised political party.
The judge relied on the figures presented to the Commission and found that a substantial majority of the members of the Congress in both its legislative wing as well as the organisational wing supported the Congress (J).
Further, the court did not seek ascertainment of the wishes of all the primary members of the party.
the apex court accepted that the views of the All India Congress Committee (AICC) and delegates to it would reflect the opinions of the primary members of the party.
11. Govt revives poetry banned during British rule
Subject :History
Section: Freedom struggle
A section of the Amrit Mahotsav website, called Swatantra Swar, showcases some of these poems written before 1947, in languages such as Bengali, Gujarati, Hindi, Kannada, Marathi, Odia, Punjabi, Sindhi, Tamil, Telugu and Urdu.
Some of the popular poems showcased
"Rashtriya Pataka" from the book "Azaadi ki Bansuri"
Telugu poem "Bharatha Matha Geetham" by Vaddadhi Seetharaamanjaneyulu and Pudipeddhi Kashi ViswanathaSashtri
"Daridra Nian" by Odia poet Gangadhar Mishra
Gujarati poem "Kasumbi No Rang" from the book Sindhudo by poet Jhaverchand Meghani.
What is Azadi Ka Amrit Mahotsav
Azadi Ka Amrit Mahotsav is an initiative of the Government of India to celebrate and commemorate 75 years of independence and the glorious history of it's people, culture and achievements.
In addition, Azadi ka Amrit Mahotsav refers to an epitome of all that is progressive about India's political, socio-cultural, and economic identity.
This Azadi ka Amrit Mahotsav officially began on 12th March 2021, which initiated a 75-week countdown to India's 75th Independence anniversary and will complete after a year on 15th August 2023.
The Ministry of Culture, the nodal ministry for the 75-week-long Amrit Mahosav celebrations
12. An FIR was lodged against Kerala CPI(M) MLA SajiCheriyan on Thursday, in connection with his recent controversial remarks against the Constitution
Subject :Polity
Section : Constitution
The case was registered under Section 2 of the Prevention of Insults to the National Honour Act
The provision under the Act carries a maximum punishment of three years imprisonment or fine or both.
What is the Prevention of Insults to National Honour Act, 1971
It is an Act of the Parliament of India which prohibits the desecration of or insult to the country's national symbols, including the national flag, national emblem, national anthem, the constitution, and map of India including contempt of Indian constitution.
Explanation 1 – Comments expressing disapprobation or criticism of the Constitution or of the Indian National Flag or of any measures of the Government with a view to obtain an amendment of the Constitution of India or an alteration of the Indian National Flag by lawful means do not constitute an offence under this section.
Explanation 2 – The expression, "Indian National Flag" includes any picture, painting, drawing or photograph, or other visible representation of the Indian National Flag, or of any part or parts thereof, made of any substance or represented on any substance or digital picture
Explanation 3 – The expression "Dishonour Indian Map" means if anywhere map represented with respective manner,Tapping Map on Road or any public place.
Relevant Constitution article
Article 51 'A' contained in Part IV A i.e. Fundamental Duties asks:To abide by the constitution and respect its ideals and institutions, the National Flag and the National Anthem in clause (a).
The Union government has allowed manufacture and import of machine-made polyester national flags by amending the 2002 Flag Code of India.
The rules earlier permitted only flags made by "hand-spun and woven wool or cotton or silk khadi bunting" while the import of machine-made flags was banned in 2019.
Why the changes adopted?
For a flag to be hoisted at a height, its material needs to be tough and wind-resistant.
In the past, one of the country's tallest tricolours, near the India-Pakistan border at Attari, was not hoisted for several months due to damage caused to the flag by high velocity wind.
The knitted polyester outdoor flags are easily available on e-commerce websites while the government has cautioned against use of plastic national flags.
Significance of the Code
The move provides relief for damages caused to mammoth flags which are not lowered at the sunset and are adequately illuminated during the night.
In 2009, the MHA granted permission for the national flag to fly day and night on public and private institutions and buildings.
A member of the public, a private organization or an educational institution may hoist or display the National Flag on all days and occasions, ceremonial or otherwise consistent with the dignity and honour of the National Flag.
To inspire respect for the flag, the code suggests that the "National Flag may be hoisted in educational institutions – schools, colleges, sports camps, scout camps.
History
The Indian flag was adopted in its present form during a meeting of the Constituent Assembly held on July 22, 1947.
The first national flag, which consisted of three horizontal stripes of red, yellow and green, is said to have been hoisted on August 7, 1906, at the Parsee Bagan Square, near Lower Circular Road, in Calcutta.
Later, in 1921, freedom fighter PingaliVenkayya met Mahatma Gandhi and proposed a basic design of the flag, consisting of two red and green bands.
After undergoing several changes, the Tricolour was adopted as our national flag at a Congress Committee meeting in Karachi in 1931.
Flag Code of 2002
In 2002, the Flag Code of India came into effect which allowed the unrestricted display of the Tricolour as long as the honour and dignity of the flag were being respected.
The flag code did not replace the pre-existing rules governing the correct display of the flag; it was, however, an effort to bring together all the previous laws, conventions and practices.
13. A plan that is much more than just planting trees
Subject :Environment
Section :Conservation
The focus now is on 'forest landscape restoration', to regain ecological functionality and improve human welfare
What is forest landscape restoration
the process of regaining ecological functionality and improving human welfare across deforested or degraded forest landscapes
The span 2021-2030 is the UN Decade on Ecosystem Restoration, emphasising efforts to restore degraded terrestrial ecosystems including forests.
In 2011, the Bonn Challenge was launched with a global goal to restore 150 million hectares of degraded and deforested landscapes by 2020 and 350 million hectares by 2030.
India joined the Bonn Challenge in 2015, pledging to restore 26 million hectares of degraded and deforested land by 2030.
Schemes launched to achieve the objectives
The National Afforestation Programme

The Scheme will be operated by the National Afforestation and Eco-Development Board, Ministry of Environment and Forests as a 100% Centrally Sponsored Scheme.
The overall objective of the scheme is ecological restoration of degraded forests and to develop the forest resources with peoples' participation, with focus on improvement in livelihoods of the forest-fringe communities, especially the poor.

The National Mission for a Green India (Green India Mission)

GIM, launched in February 2014, is aimed at protecting, restoring and enhancing India's diminishing forest cover and responding to climate change by a combination of adaptation and mitigation measures.
GIM is one of the eight missions launched under the National Action Plan on Climate Change (NAPCC).

The Nagar Van scheme

The ministry of environment, forest and climate change (MoEFCC) has launched 'Nagar Van' (city forest) scheme. The scheme emphasises on urban forestry.
Under the scheme, around 200 urban forests are to be developed all over the country in the next five years

The Forest Fire Prevention and Management Scheme

The Forest Fire Prevention and Management Scheme (FPM) is the only centrally funded program specifically dedicated to assist the states in dealing with forest fires.
Funds allocated under the FPM are according to a center-state cost-sharing formula, with a 90:10 ratio of central to state funding in the Northeast and Western Himalayan regions and a 60:40 ratio for all other states.
It also provides the states to have the flexibility to direct a portion of the National Afforestation Programme (NAP) and Mission for Green India (GIM) funding toward forest fire work.

Green Skill Development Programme

GSDP is a recent initiative under the ENVIS scheme for skilling the youth in the country.
It is an initiative for skill development in the environment and forest region by the Ministry of Environment, Forests & Climate Change (MoEF&CC) to develop India's youth into employable and/or self-employment, making use of the widespread network and experience of ENVIS Hubs/RPs.