Daily Prelims Notes 9 May 2022
May 9, 2022

Posted by:

OptimizeIAS Team

Category:

DPN

Daily Prelims Notes
9 May 2022
Table Of Contents
Subject: Environment
Section: International bodies
Context: UNEP celebrates 50 years of solving the world's environmental challenges.
As the leading global environmental authority, UNEP administers, or provides secretariat functions for, 15 multilateral environmental agreements (MEAs).
United Nations Environment Programme (UNEP)
In 1972, the UNGA passed what is formally known as UN-Resolution 2997.It would be the last step in the establishment of the United Nations Environment Programme (UNEP) – an organisation conceived to spearhead a global effort to minimise humanity's footprint on the planet.
UNEP is an agency of the United Nations.
Headquarters: Nairobi, Kenya.
Governing Body: UNEA (formed in 2012) – meets once in two years.
It has overall responsibility for environmental problems among United Nations agencies.
Addressing climate change or combating desertification, are overseen by other UN organisations, like the UNFCCC and the United Nations Convention to Combat Desertification.
Major Functions: It hosts various Conventions like

Minamata Convention,
UNCBD,
CITES,
Basel Convention,
Stockholm Convention,
Rotterdam Convention,
Montreal Protocol,
Vienna Convention,
CMS, Carpathian,
Bamako,
Tehran Convention.

Main activities: are related to Climate Change, Disasters and Conflicts, Ecosystem management, Environmental Governance, Chemicals and waste, Resource Efficiency.
UNEP's activities cover a wide range of issues regarding the atmosphere, marine and terrestrial ecosystems, environmental governance and green economy.
It is also a member of the United Nations Development Group.
Important Treaties signed under UNEP:

IPCC, (The World Meteorological Organisation and UN Environment established the Intergovernmental Panel on Climate Change (IPCC) in 1988.)
Conservation of Migratory Species (CMS),
UN Environment is also one of several Implementing Agencies for the Global Environment Facility (GEF) and the Multilateral Fund for the Implementation of the Montreal Protocol.

In 2021, member states approved UNEP's new Medium-Term Strategy (MTS) for 2022- 25 that outlines UNEP's contribution to the '2030 Agenda for Sustainable Development' and the Programme for Work 2022-23.
Multilateral Organisation Performance Assessment Network (MOPAN) was initiated in 2021 by Belgium, Netherlands and Switzerland and comprises 21 countries that assess the performance (2016-20)of the major multilateral organisations they fund.
Important Initiatives undertaken by UNEP so far:
Regional Seas Programme, 1974
Clean up the world Campaign, 1993
TUNZA, 2003
Billion Tree Campaign, 2006
Faith for Earth Initiative, 2008
World Environment Day (June 5th)
Earth Hour
Not all animals migrate by choice campaign, 2019
Reports of UNEP:
Emission Gap Report
Adaptation Gap Report
Frontiers
Global Environment Outlook
Invest in a Healthy Planet
UNEP administers, or provides secretariat functions for, multilateral environmental agreements (MEAs) and other entities as follows:
Global MEAs:

Convention on Biological Diversity (CBD)
Convention on International Trade in Endangered Species of Wild Fauna and Flora (CITES)
Convention on the Conservation of Migratory Species of Wild Animals (CMS)
Basel Convention on the Control of Transboundary Movements of Hazardous Wastes and their Disposal
Rotterdam Convention on the Prior Informed Consent Procedure for Certain Hazardous Chemicals and Pesticides in International Trade
Stockholm Convention on Persistent Organic Pollutants
Minamata Convention on Mercury
Vienna Convention for the Protection of the Ozone Layer
Bamako Convention on the Ban of the Import into Africa and the Control of Transboundary Movement and Management of Hazardous Wastes within Africa
Framework Convention on the Protection and Sustainable Development of the Carpathians (Carpathian Convention)

Regional Seas Conventions and Action Plans

Convention for Cooperation in the Protection, Management and Development of the Marine and Coastal Environment of the Atlantic Coast of the West, Central and Southern African Region (Abidjan Convention)
Convention for the Protection of the Marine Environment and the Coastal Region of the Mediterranean (Barcelona Convention)
Convention for the Protection and Development of the Marine Environment of the Wider Caribbean Region (Cartagena Convention)
Convention for the Protection, Management and Development of the Marine and Coastal Environment of the Western Indian Ocean (Nairobi Convention)
Framework Convention for the Protection of the Marine Environment of the Caspian Sea (Tehran Convention)
Coordinating Body on the Seas of East Asia (COBSEA)
Northwest Pacific Action Plan (NOWPAP)

Other entities

Intergovernmental Science-Policy Platform on Biodiversity and Ecosystem Services (IPBES)
Intergovernmental Panel on Climate Change (IPCC) – hosted jointly by UNEP and the World Meteorological Organisation (WMO)
United Nations Scientific Committee on the Effects of Atomic Radiation (UNSCEAR)
United Nations Environment Assembly (UNEA)
The UNEP's governing body is called the United Nations Environment Assembly, which is said to be the world's highest decision making body on the environment.

It meets once in two years to establish priorities for international environmental policies and develop international environmental law.
Formed in 2012, it is headed by a Bureau and its President.
The Bureau comprises ten environment ministers of various countries who all hold two-year terms, based on geographical rotation.
Currently, it has 193 member states (all UN member countries).
2. Value of MPs' vote for President poll to go down
Subject: Polity
Section: Executive
Context: The value of the vote of an MP in the presidential polls to be held in July is likely to go down to 700 from 708 due to the absence of a Legislative Assembly in Jammu and Kashmir
President Election:
Accordint to Article 52 of the Constitution of India there shall always be a President of India, holding the highest elective office in the country.
The President holds office for a period of five years from the date on which s/he enters upon her/his office. Accordingly, an election is held before the expiration of the term of the incumbent President.
The President of India is elected by indirect election.
He is elected by an electoral college in accordance with the system of proportional representation by means of a single transferable vote and secret ballot.
The electoral college consists of:

The elected member of both the Houses of Parliament.
The elected member of the Legislative Assemblies of the States.
The elected members of the Legislative assembly of Delhi, Puducherry and Jammu and Kashmir.

The electoral college excludes:
The nominated member of both the Houses of Parliament.
The nominated members of the Legislative Assemblies of the States.
The nominated members of the Legislative assembly of Delhi, Puducherry and Jammu and Kashmir.
All the members of state legislative councils.
Value of Vote

A vote cast by each MP or MLA is not calculated as one vote.
Value of Vote of an MP is Total value of vote of all MLAs of all states divided by Total Value of elected MPs
Therefore,value of each vote by an MP of the Rajya Sabha and the Lok Sabha is
The value of each MLA's vote is determined by dividing the population of the State by the number of MLAs in its legislative Assembly, and the quotient achieved is further divided by 1000.
Therefore, the vote value of each MLA differs from State to State based on a calculation that factors in its population vis-a-vis the number of members in its legislative Assembly.
3. Excavation at Rakhigarhi site
Subject: History
Section: Art and Culture
Context: The latest round of excavations at the 5,000-years-old Harappan site of Rakhigarhi in Haryana's Hisar district have revealed newer insights
Archeological Findings:
Excavations at the site of Rakhigarhi in Haryana's Hisar district have revealed structure of some houses, lanes and drainage system, and what could possibly be a jewellery-making unit
Digging has also revealed pieces of copper and gold jewellery, terracotta toys, besides thousands of earthen pots and seals.
At Mound 1, a huge quantity of debris/ waste of semi-precious stones such as agate and carnelian have been found, along with evidence of street planning with a general width of 2.6m.
At Mound 3, a burnt-brick wall has been traced, conveying the possibility of a walled settlement. The noteworthy antiquity found at both the mounds include steatite seals, terracotta unbaked sealing with relief of elephants and Harappan script.
At mound number 7, skeletons of two women were found believed to be nearly 5,000 years old. Pots and other artefacts were also found buried next to them in a pit, part of the funerary rituals back in the Harappan Civilisation era.
About Rakhigarhi:
Rakhigarhior Rakhi Garhi is a village and an archaeological site belonging to the Indus Valley Civilisation in Hisar District of the northern Indian state of Haryana, situated about 150 km northwest of Delhi.
It was part of the mature phase of the Indus Valley Civilisation, dating to 2600-1900 BCE.
It was among the largest settlements of the ancient civilisation, though most of it remains unexavated. The site is located in the Ghaggar-Hakra River plain,some 27 km from the seasonal Ghaggar river.
Budget (2020-21) has proposed to develop Rakhigarhi as an iconic site.
The he site was excavated by Amarendra Nathof ASI.
Dholavira
https://optimizeias.com/dholavira/
Subject: Environment
Section: Acts and Policies
Context: A latest report by a parliamentary standing committee that analysed the amendments proposed to India's Wildlife Protection Act 1972 by the union government has said that human-animal conflict is a complex issue and needs legislative backing.
Concept:
In India, every year hundreds of people and animals die due to human-animal conflict.
So, Parliament's standing committee on science and technology, environment, forests and climate change recommended that state governments constitute human-animal conflict management advisory committees for planning, monitoring and mitigation of such cases.
It further asked the union environment ministry to consider inserting a section for the constitution of a human-animal conflict management advisory committee with the Chief Wildlife Warden of the state as its chairperson, and an officer of the state police department (not below the rank of an Inspector General in charge of Law & Order) as its vice-chairperson.
It suggested the inclusion of two eminent wildlife ecologists with specific expertise in human-wildlife conflict solutions, a wildlife veterinarian with specific expertise in chemical immobilisation and translocation of conflict-prone species, a representative of a non-governmental organisation with experience in mitigation of human-wildlife conflict and a sociologist with experience in mitigation of human-animal conflict as its members.
Further, an adaptive action plan covering all aspects including equipment, trained personnel, advice on quantum of compensation to affected people, site-specific plans including the creation of viable wildlife corridors to ensure long-term resolution of conflict, Standard Operating Procedures including prescription of scientific capture, translocation and population management techniques based on best practices to be finalized by the advisory committees.
WPA, 1972:
It provides the legal framework for the protection of various species of wild animals and plants, management of their habitat and the regulation and control of trade in wild animals, plants and their parts and products.
Major objectives of the 2021 amendment Bill are about ensuring international trade in wildlife is legal, sustainable and traceable by implementing CITES, protection of native Indian gene pool, improved management of protected areas, improved care for seized and surrendered wild animal, ensuring deterrence by enhancing fines, rationalisation of Schedules to the existing Act and establishing a Standing Committee of State Board for Wildlife.
So, a Parliamentary committee recommended that mandating at least one-third of members of the standing committee of the state and national boards of wildlife as non-official members. Also, it"strongly" recommended the deletion of clause 27 in the proposed Bill which implies that the prohibition on the transfer of animals by any means won't apply to live elephants.
To know more about WPA and CITES, refer: https://optimizeias.com/wildlife-protection-amendment-act-2021/ and CITES – Optimize IAS
5. Convention on International Trade in Endangered Species of Wild Fauna and Flora (CITES)
Subject: Environment
Topic: International Convention
Concept:
The Convention on International Trade in Endangered Species of Wild Fauna and Flora (CITES) is an international agreement to which States and regional economic integration organizations adhere voluntarily.
It provides public, private and non-governmental organisations with the knowledge and tools that enable human progress, economic development and nature conservation to take place together.
Aim: Ensure that international trade in specimens of wild animals and plants does not threaten their survival.
The CITES Secretariat is administered by UNEP (The United Nations Environment Programme) and is located at Geneva, Switzerland.
It plays a coordinating, advisory and servicing role in the working of the Convention (CITES).
The Conference of the Parties to CITES, is the supreme decision-making body of the Convention and comprises all its Parties.
Although CITES is legally binding on the Parties, it does not take the place of national laws.
Rather, it provides a framework to be respected by each Party, which has to adopt its own domestic legislation to ensure that CITES is implemented at the national level.
Functions
The CITES works by subjecting international trade in specimens of selected species to certain controls.
All import, export, re-export and introduction from the sea of species covered by the Convention has to be authorized through a licensing system.
Each Party to the Convention must designate one or more Management Authorities in charge of administering that licensing system and one or more Scientific Authorities to advise them on the effects of trade on the status of the species.
Appendices I, II and III to the Convention are lists of species afforded different levels or types of protection from over-exploitation.
Appendix I
It lists species that are the most endangered among CITES-listed animals and plants.
Examples include gorillas, sea turtles, most lady slipper orchids, and giant pandas. Currently 931 species are listed.
They are threatened with extinction and CITES prohibits international trade in specimens of these species except when the purpose of the import is not commercial, for instance for scientific research.
In these exceptional cases, trade may take place provided it is authorized by the granting of both an import permit and an export permit (or re-export certificate).
Appendix II
It lists species that are not necessarily now threatened with extinction but that may become so unless trade is closely controlled.
It also includes so-called "look-alike species", i.e. species whose specimens in trade look like those of species listed for conservation reasons.
International trade in specimens of Appendix-II species may be authorized by the granting of an export permit or re-export certificate.
No import permit is necessary for these species under CITES (although a permit is needed in some countries that have taken stricter measures than CITES requires).
Permits or certificates should only be granted if the relevant authorities are satisfied that certain conditions are met, above all that trade will not be detrimental to the survival of the species in the wild.
Appendix III
It is a list of species included at the request of a Party that already regulates trade in the species and that needs the cooperation of other countries to prevent unsustainable or illegal exploitation.
International trade in specimens of species listed in this Appendix is allowed only on presentation of the appropriate permits or certificates.
Species may be added to or removed from Appendix I and II, or moved between them, only by the Conference of the Parties.
However, species may be added to or removed from Appendix III at any time and by any Party unilaterally.
Subject: Economy
Section: Monetary policy
Card Payment:
The electronic payments industry is dominated by four companies. Visa, Mastercard, American Express, and Discover are responsible for handling the majority of the world's card payments.Visa and Mastercard are the two largest payment processing networks in the world. However they do not issue cards directly to the public, as Discover and American Express do, but rather through member financial institutions.
Other Methods of payments:
RuPay is an Indigenously developed Payment System – RuPay supports the issuance of debit, credit and prepaid cards by banks in India and thereby supporting the growth of retail electronic payments in India. All RuPay Cards will now have the functionality of NCMC which can enable low value contactless payments (like transit, toll, parking, retail) using Offline technology.
Immediate Payment Service (IMPS)
IMPS provides robust & real time fund transfer which offers an instant, 24X7, inter bank electronic fund transfer service that could be accessed on multiple channels like Mobile, Internet, ATM, SMS. IMPS is an emphatic service which allows transferring of funds instantly within banks across India which is not only safe but also economical. Currently on IMPS, 647 members are live which includes banks & PPIs. This facility is provided by NPCI through its existing NFS switch.
National Automated Clearing House (NACH)
It is an offline web based system for bulk push and pull transactions. NACH provides an electronic mandate platform to register mandates facilitating paperless collection processes for the corporates and banks. It provides for both account based and Aadhaar based transactions.
Aadhaar Payment Bridge (APB) System
It is helping the Government and Government agencies in making the Direct Benefit Transfers for various Central as well as State sponsored schemes.
Ahaar enabled payment system AePS
AePS is a bank led model which allows online interoperable financial inclusion transaction at PoS (MicroATM) through the Business correspondent of any bank using the Aadhaar authentication. AePS allows you to do six types of transactions.The only inputs required for a customer to do a transaction under this scenario are:-
Bank Name
Aadhaar Number
Fingerprint captured during enrollment.
National Financial Switch (NFS)
Itis the largest network of shared Automated Teller Machines (ATMs) in India facilitating interoperable cash withdrawal, card to card funds transfer and interoperable cash deposit transactions among other value added services in the country.
Unified Payments Interface (UPI)
It is a system that powers multiple bank accounts into a single mobile application (of any participating bank), merging several banking features, seamless fund routing & merchant payments into one hood. It also caters to the "Peer to Peer" collect request which can be scheduled and paid as per requirement and convenience.
Bharat Interface for Money (BHIM) 
It is an app that lets you make simple, easy and quick payment transactions using Unified Payments Interface (UPI). You can make instant bank-to-bank payments and Pay and collect money using just a Mobile number or Virtual Payment Address (UPI ID).
Bharat Bill Payment System
It is a Reserve Bank of India (RBI) conceptualized system driven by National Payments Corporation of India (NPCI). It is a one-stop ecosystem for payment of all bills providing an interoperable and accessible "Anytime Anywhere" Bill payment service to all customers across India with certainty, reliability and safety of transactions.
National Electronic Toll Collection (NETC) program
It provides an electronic payment facility to customers to make the payments at national, state and city toll plazas by identifying the vehicle uniquely through a FASTag. FASTag are Radio-Frequency Identification (RFID) stickers which are affixed on the vehicle windshield and enable the driver to make toll payments electronically while the vehicle is in motion without stopping at the Toll plazas by saving Fuel and Time.
Body Responsible:
National Payments Corporation of India (NPCI), an umbrella organisation for operating retail payments and settlement systems in India, is an initiative of Reserve Bank of India (RBI) and Indian Banks' Association (IBA) under the provisions of the Payment and Settlement Systems Act, 2007, for creating a robust Payment & Settlement Infrastructure in India.
It has been incorporated as a "Not for Profit" Company under the provisions of Section 25 of Companies Act 1956 (now Section 8 of Companies Act 2013), with an intention to provide infrastructure to the entire Banking system in India for physical as well as electronic payment and settlement systems. The Company is focused on bringing innovations in the retail payment systems through the use of technology for achieving greater efficiency in operations and widening the reach of payment systems.
New Umbrella Entity:
The umbrella entity shall be a Company incorporated in India under the Companies Act, 2013 and may be a 'for-profit' or a Section 8 Company as may be decided by it. It shall be authorized by Reserve Bank of India (RBI) under Section 4 of the PSS Act, 2007. It shall be governed by the provisions of the PSS Act and other relevant statutes and directives, prudential regulations and other guidelines / instructions.
Eligible entities:
All entities eligible to apply as promoter / promoter group of the umbrella entity shall be owned and controlled by resident Indian citizens' [as defined in the rules / regulations framed under the Foreign Exchange Management Act, 1999 (FEMA), as amended from time to time] with 3 years' experience in the payments ecosystem as Payment System Operator (PSO) / Payment Service Provider (PSP) / Technology Service Provider (TSP)2. The shareholding pattern shall be diversified. Any entity holding more than 25% of the paid-up capital of the umbrella entity shall be deemed to be a Promoter.
The umbrella entity shall have a minimum paid-up capital of ₹500 crore. No single Promoter / Promoter Group shall have more than 40% investment in the capital of the umbrella entity.
Functions:
The scope of activities of the umbrella entity shall be as follows:
Set-up, manage and operate new payment system(s) in the retail space comprising of but not limited to ATMs, White Label PoS; Aadhaar based payments and remittance services; newer payment methods, standards and technologies; monitor related issues in the country and internationally; take care of developmental objectives like enhancement of awareness about the payment systems.
Operate clearing and settlement systems for participating banks and non-banks; identify and manage relevant risks such as settlement, credit, liquidity and operational and preserve the integrity of the system(s); monitor retail payment system developments and related issues in the country and internationally to avoid shocks, frauds and contagions that may adversely affect the system(s) and / or the economy in general.
Fulfill its policy objectives and ensure that principles of fairness, equity and competitive neutrality are applied in determining participation in the system; frame necessary rules and the related processes to ensure that the system is safe and sound, and that payments are exchanged efficiently.
Carry on any other business as suitable to further strengthen the retail payments ecosystem in the country. It is expected that the umbrella entity shall offer innovative payment systems to include hitherto excluded cross-sections of the society and which enhance access, customer convenience and safety and the same shall be distinct yet interoperable.
It is also expected to interact and be interoperable, to the extent possible, with the systems operated by NPCI.
The umbrella entity may be permitted to participate in Reserve Bank's payment and settlement systems, including having a current account with Reserve Bank, if required.
Some technologies behind digital payment 
Unstructured Supplementary Service Data (USSD), is a communications protocol used by GSM cellular telephones to communicate with the mobile network operator's computers. USSD can be used for WAP browsing, prepaid callback service, mobile-money services, location-based content services, menu-based information services, and as part of configuring the phone on the network.
Sim Overlay-The technology behind SIM overlay expands the functionalities of a phone's SIM card, allowing payments and other services even without data plans.
NFC is the best option for offline payments. You will need a device to read the card when tapped and then relay it to the system of record or the issuer to receive a debit confirmation. It is something like how a metro rail card works.
UPI can sometimes be used for offline digital payments, it does require an additional factor of authentication like pin code. Thus, it would need some modification to comply with new rules.
Contactless cards that use radio-frequency identification (RFID) for making secure payments. Contactless payment technology in credit cards such as MasterCard's PayPass and Visa's payWave uses RFID, and allows cardholders to wave their cards in front of contactless payment terminals to complete transactions.
7. INFLATION in the USA and INDIA
Subject: Economy
Section: Monetary policy
Context:
Last week, within hours of each other, central banks in India and the US raised interest rates and signaled a tighter monetary policy in a bid to contain rising inflation. However the move is expected to hurt the Indian economy far more than the US economy.
Cause of divergence Divergence:
Divergence in growth
The US economy is roughly ten times the size of the Indian economy and in terms of per capita income it is more than 30 times than that of Indian economy
India's economic growth had been steadily losing its growth momentum since October 2016.Contrast to this the US was enjoying the longest expansion (over 10 years) in its economic history.
India has barely managed to get back to the same level of GDP that it had before the Covid pandemic, the US is one of those rare cases, where the recovery has been so sharp that the economy has barely lost a step. 
Divergence in inflation:
In India, inflation was much higher than the RBI's target (4%) long before the Covid-induced nationwide lockdowns were announced in March-end. Contrast this with the US inflation, which stayed well within the US Fed's target of 2% right up to the first couple of months in 2021.
In the US, inflation has now hit a four-decade high while in India the situation is still not as alarming.
The US Inflation is due to the demand pull and growth recovery while India facing cost push inflation amidst deficit demand
Dependence on import-India's much greater vulnerability because the country is dependent on imports for 80% of its total fuel needs.
Status of employment
In India, unemployment had been the highest in the past almost 45 to 50 years even before the pandemic. Contrast this with the situation in the US-the unemployment rate in the US is at a five-decade low wages are rising due to demand>supply of labour leading to wage price spiral
Impact of rising interest rate:
Typically, a tighter monetary policy (that is, higher interest rates and reduced money supply) dampens overall demand and reduces inflation. However, containing inflation comes at the cost of reduced economic growth and higher unemployment.
India-

Less impact of reducing inflation as cost push nature of price rise
Further aggravate unemployment causing stagflation

USA

Reduce wage price spiral by reducing demand of labour and wages
Reduce inflation as inflation is demand pull type
The wage-price spiral is a macroeconomic theory used to explain the cause-and-effect relationship between rising wages and rising prices, or inflation.

The wage-price spiral suggests that rising wages increase disposable income raising the demand for goods and causing prices to rise. Rising prices increase demand for higher wages, which leads to higher production costs and further upward pressure on prices creating a conceptual spiral.

Causes of inflation

1.Demand Pull Inflation-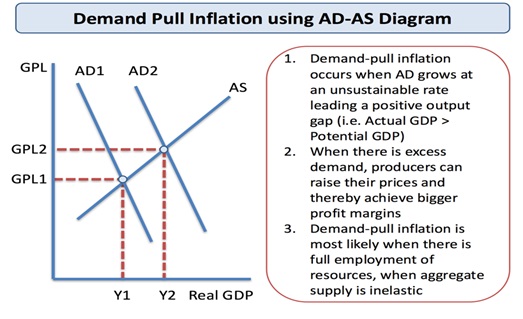 Where, AD- aggregate demand GPL-general price level and Real GDP- aggregate supply
Factors leading demand pull inflation-
Increase in public expenditure, increase in money supply, increase in demand for consumer goods and capital goods.
2.Cost Push Inflation-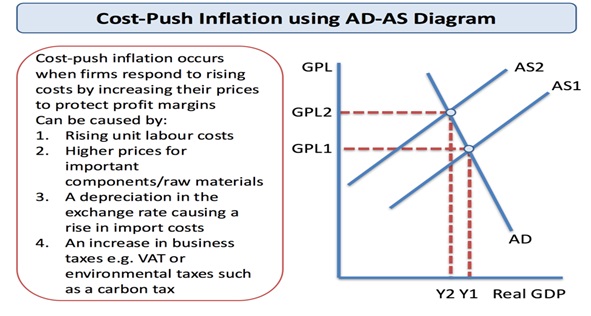 Various causes of cost push inflation in India-erratic agriculture growth, hoarding of essential commodities, inadequate industrial production, administered prices, recent supply chain disruption due to covid19 and rise in crude oil pricesetc..
Subject: Economy
Section: External sector
Foreign exchange reserves declined by $2.69 billion to $597.72 billion during the week ended April 29.With this fall,forex reserves have declined $44.73 billion from $642.45 billion recorded on September 3, 2021, according to the RBI data
Causes:
Decline for foreign currency asset-The foreign currency assets also include the effect of appreciation or depreciation of non-US units like the euro, pound and yen held in the reserves.
Movements in the FCA occur mainly on account of purchase and sale foreign exchange by the RBI,income arising out of the deployment the foreign exchange reserves, external aid receipts of the Central Government and

changes on account of revaluation of the assets
Capital outflows– due to outflows Foreign Portfolio Investment on account of Fed tight monetary policy.
Imported inflation and currency depreciation- The demand for dollars also remained high as the Russia-Ukraine War led to a spike in oil and commodity prices apart from depreciation of other currencies.
Appreciation of the US Dollar
Rise in gold prices
RBI measure to stabilise currency depreciation- by selling forex
Foreign exchange reserves are assets held on reserve by a central bank in foreign currencies, which can include bonds, treasury bills and other government securities.

It needs to be noted that most foreign exchange reserves are held in US dollars.

India's Forex Reserve include:
Foreign Currency Assets
Gold reserves
Special Drawing Rights
Reserve position with the International Monetary Fund (IMF).
Foreign Currency Assets
FCAs are assets that are valued based on a currency other than the country's own currency.
FCA is the largest component of the forex reserve. It is expressed in dollar terms.
The FCAs include the effect of appreciation or depreciation of non-US units like the euro, pound and yen held in the foreign exchange reserves.
9. World's largest tropical wetland Pantanal
Subject: Environment
Section: Pollution
Context: 
Brazilian scientists warn that the Pantanal is at risk of collapse.
Once a model for sustainable land use, scientists alert world to "the tragedy of the commons" afflicting one of Earth's most biodiverse ecosystems
About Pantanal:
It is the world's largest freshwater tropical wetland, located in South America
The Pantanal spans over 179,000 sq km in Brazil, Paraguay and Bolivia and boasts.
It is one of Earth's most biodiverse ecosystems and  one of the highest concentrations of flora and fauna in South America.
Amazon rainforest located to its north
The headwaters of the region's two major river systems, the Cuiabá and the Paraguay rivers, are located here,
Some of the Pantanal's most lively inhabitants include jaguars, giant anteaters, piranha, howler and capuchin monkeys, and green anacondas—the world's largest snakes
unlike the Amazon, where the thick jungle obscures the view, the Pantanal is such an open environment
Part of the pantanal is UNESCO World Heritage site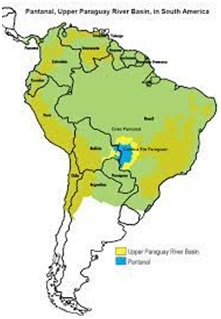 What happened now?
Twenty years ago, there was a warning that individual and local interests were detrimental to the collective interests of the conservation of the Pantanal, comparing the situation to the "tragedy of commons" or the "tyranny of small decisions."
Two decades later, the forecast has become a reality.
What is Tragedy of Commons: 
Tragedy of the Commons is an economic and environmental science problem where individuals have access to a shared resource and act in their own interest, at the expense of other individuals. This can result in overconsumption, underinvestment, and depletion of resources.
First posited in 1968 by American ecologist Garret Hardin
What is Tyranny of small decisions: 
The tyranny of small decisions is a phenomenon in which a number of decisions, individually small and insignificant in size and time perspective, cumulatively result in a larger and significant outcome which is neither optimal nor desired.
Introduced by Alfred E. Kahn and he described the problem as a common issue in market economics which can lead to market failure.
Why Patanal is in brink of collapse:
As per a recent scientific study – over the past two decades the locally-made legal land-use decisions and proposals to open up the wetland to more intensive uses that collectively threaten the long-term survival of the Pantanal.
The future of sustainable cattle ranching, fishing, ecotourism, traditional communities, biodiversity, and ecosystem services is under threat
Approval of an increasing number of hydroelectric plants in the river basins may cause significant changes in the hydrology and nutrient intake in the ecosystems.
The construction of Barranco Vermelho port on the Paraguay river in the State of Mato Grosso in jan 2022 may pose a substantial threat to the hydrology of Pantanal
Climate change on a global scale, deforestation in the Amazon rainforest and severe drought and massive fires are other major threats
"The Pantanal is an ecosystem where the extension and duration of the seasonal floods are vital to maintaining biodiversity, traditional cattle ranching and resources used by local communities. The convergence of threats that may lead to the disappearance of the Pantanal as we know it today.
10. Magic bacteria that turns agri waste into industrial enzymes
Subject :Science
Section : India's achievement
Context: 'The use of non-food lignocellulosic biomass to produce industrially important enzymes and second-generation cellulosic ethanol as an alternative fuel.'
Concept: Generally, wood lignocellulosic biomass often refers to hardwood and softwood, whereas non-wood lignocellulosic biomass is denoted as agricultural residues, native plants and non-wood plant fibres such as sugarcane bagasse, switchgrass and cotton fibre.
Lignocellulolytic enzymes are biocatalysts involved in the breakdown of lignin and cellulosic materials into their components for further hydrolysis into useful products. Sometimes referred to as lignocellulases, they include hydrolytic enzymes that degrade recalcitrant lignocellulose, a component of plant biomass.
Why lignocellulosic biomass is important?
Lignocellulosic biomass is the most economical and highly renewable natural resource in the world. The development of renewable energy converted from lignocellulosic biomass as an alternative for fossil fuel is ultimately essential for the survival of the human race.
How does lignocellulosic biomass make ethanol?
The conventional process includes two main steps. First, lignocellulose must be pretreated in order to remove lignin and enhance the penetration of hydrolysis agents without chemically destruction of cellulose and hemicellulose. Second, the pretreated material is converted to bioethanol by hydrolysis and fermentation.
How is cellulosic biomass ethanol made?
Converting cellulosic biomass to biofuels such as ethanol essentially involves breaking down the plant cell wall network structure and releasing the simple sugars that are subsequently fermented by bacteria or yeast to ethanol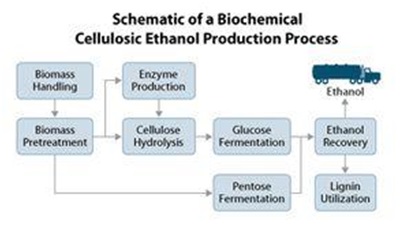 How is ethanol created from biomass?
The common method for converting biomass into ethanol is called fermentation. During fermentation, microorganisms (e.g., bacteria and yeast) metabolize plant sugars and produce ethanol.
Simultaneous saccharification and fermentation (SSF) is a process that combines enzymatic hydrolysis with fermentation to obtain value-added products in a single step. This process is based on the use of an enzymatic complex to hydrolyze cellulose and obtain sugars.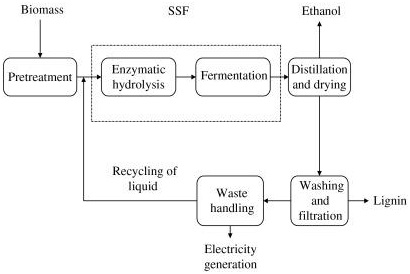 To evaluate the saccharification and fermentation capacity of a previously isolated organism to hydrolyse low-cost lignocellulosic wastes such as wheat bran, sago waste, and rice bran without pre-treatment.
The bacteria used was Bacillus sp PM06, which they had isolated from sugar cane waste. When this isolate was grown in the presence of lignocellulosic biomass, starch and cellulose were broken down to yield alpha-amylase and cellulase enzymes. Ethanol and acetic acid were also produced, which are useful in various industries.
11. Digital vaccines' can be a game-changer
Subject: Science
Section: Computers
Context: 'Simulation techniques imitate the operation of real-world processes
Concept: 
Virtual Reality: Virtual Reality (VR) is a computer-generated environment with scenes and objects that appear to be real, making the user feel they are immersed in their surroundings. This environment is perceived through a device known as a Virtual Reality headset or helmet.
A Digital Avatar is an AI-powered human-like virtual assistant that enables intelligent interactions with customers. 3D avatars can be used for different purposes and they create a sense of trust by making communication with the customers direct and easy.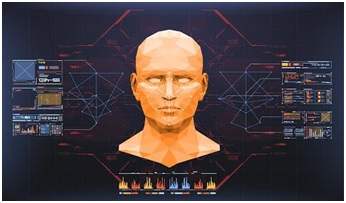 Concept of face scanning. Accurate facial recognition biometric technology and artificial intelligence concept. Face detection HUD interface
A simulation imitates the operation of real-world processes or systems with the use of models. The model represents the key behaviours and characteristics of the selected process or system while the simulation represents how the model evolves under different conditions over time.
Simulations are usually computer-based, using a software-generated model to provide support for the decisions of managers and engineers as well as for training purposes.
Simulation techniques aid understanding and experimentation, as the models are both visual and interactive.
Simulation systems include discrete event simulation, process simulation and dynamic simulation. Businesses may use all of these systems across different levels of the organisation.
Why is Simulation Used?
To evaluate the effect of process changes, new procedures and capital investment in equipment. Engineers can use simulation to assess the performance of an existing system or predict the performance of a planned system, comparing alternative solutions and designs.
This 'neuro-cognitive training' the child avoids unhealthy food even in real life. In other words, the child has been given a 'digital vaccine'.
Neurocognitive function is influenced by a number of systemic biological processes that are susceptible to dietary intervention.
For example, cardiovascular dysfunction and concomitant inflammatory and oxidative stress processes can negatively affect cognitive function, especially during aging. Indeed, these represent significant risk factors for disorders such as mild cognitive impairment and Alzheimer's disease.
An emerging science called 'digital therapeutics' aims to deliver medical care through smartphones, tablets, and similar devices.
12. Contribution  of Indian Scientists
Subject :Science
Section : India's achievement
Context: Indian Innovation, Not Jugaad; 100 Ideas That Transformed India – the combination of Indian revolutions.
Concept: The Green Revolution was the emergence of new varieties of crops, specifically wheat and rice varietals, that we're able to double if not triple the production of those crops in two countries.
The green revolution in India
Mainly led by agricultural scientist M. S. Swaminathan in India, this period was part of the larger Green Revolution endeavor initiated by Norman E Borlaug, which leveraged agricultural research and technology to increase agricultural productivity in the developing world.
Green revolution – a period of technological innovation (1950-1970) that has allowed for increased crop yields. Norman Borlaug is considered a key figure in developing new wheat varieties that had improved yields and lacked the problems of old varieties.
White revolution
The primary aim of the white revolution was to make India a self-dependent country in milk production. This movement helped to increase the productivity of milk in the country which was then sold at competitive market prices.
Dr Tribhuvan Das Patel launched the white revolution in Anand, Gujarat, in 1970. In the city of Anand, the 'Anand Milk Union Limited (AMUL) was founded. Dr Varghese Kurian was a pioneer in promoting the Amul cooperative society. The concept quickly spread across India, making India the world's "biggest milk producer."
White revolution in India
Padma Vibhushan Dr VergheseKurien, 'Father of White Revolution in India', left for his heavenly abode on 9th September 2012 at the age of 90. Dr Kurien was born at Kozhikode in Kerala on 26th November 1921 and completed a Bachelor's degree in Mechanical Engineering in 1943 from Madras University.
Red Revolution is the agricultural reform that led to the boost in the production of tomatoes and meat in India. Vishal Tewari is regarded as the father of the Red Revolution in the country. This major boost in the farming and poultry sector took place in the 1980s
Silver Revolution is related to Egg Production. It refers to the period in which the egg production rises considerably. It was done with the help of medical science and a diet rich in protein for the hens. It was like green and the white revolution in India. It was started in 1969-1978.
This revolution focuses on meeting the demand for coffee from the developed nations by growing socially responsible and environment-friendly coffee
The revolution launched in 1986- 1987 to increase the production of edible oil, especially mustard and sesame seeds to achieve self-reliance is known as the Yellow Revolution. Sam Pitroda is Known as the father of the Yellow Revolution in India.
The Blue Revolution refers to the significant growth and intensification of global aquaculture production -domestication and farming of fish, shellfish, and aquatic plants- from the middle of the 20th century to present, particularly in underdeveloped countries.
Subject :Science
Section : India's achievement
Context: New book on Indian innovations that transformed India released
Oral Rehydration Therapy, which savesmillions of infants from the clutches ofdeath every year, not just in India, butacross the globe, is a treatment fordiarrhoea that was developed as an easy to-use treatment procedure by an Indiandoctor, Dilip Mahalanabis, who wasworking to prevent and treat dehydrationamong refugees of the Bangladeshwar in 1971.Based on the treatment methods adoptedby Dr Mahalanabis, WHOlaunched in 1978 the global diarrhoealdisease control programme, with ORS asthe main strategy.
Oral rehydration therapy (ORT) is a type of fluid replacement used to prevent and treat dehydration, especially due to diarrhea. It involves drinking water with modest amounts of sugar and salts, specifically sodium and potassium.