EFFECTS OF GLOBALIZATION ON INDIAN SOCIETY
October 19, 2020

Posted by:

admin1

Category:

MMN

EFFECTS OF GLOBALIZATION ON INDIAN SOCIETY
WHAT IS GLOBALIZATION?
Globalization refers to the process of integrating governments, cultures, and financial markets through international trade into a single world market.
It is an ever increasing interconnectedness of these aspects between nations, regions, communities and even isolated/remote areas.
EFFECTS OF GLOBALIZATION ON WOMEN
Behavioural changes
Access to global media and televisions led to increased awareness on the status of women.
Better recognition of basic rights of women like liberty and equality in social, cultural and economic spheres.
Manipulated positivization of beauty and manipulated consciousness of colours led to feminized commoditization. (For eg. Boom in cosmetic industry)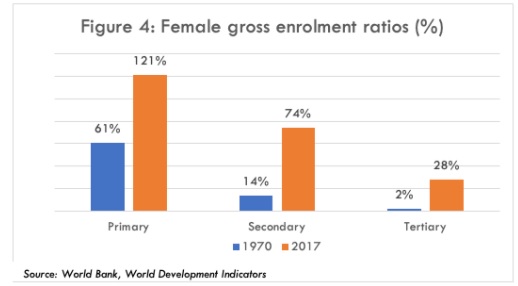 Women and Education
Increased access to education and rise in women literacy rate.
Decline in child marriage.
Rise in private educational institutions and inequalities in the quality of education
Minimal improvement in tertiary education compared to primary and secondary
Women health indicators
Rise in access to healthcare driven by vaccination, institutional deliveries.
Education combined with policy initiatives led to decline in total fertility rate, maternal mortality rate and infant mortality rate.
Women and technology
Rise in consumerism of household appliances and direct effect on women empowerment.( Less time in household chores means more opportunities for women)
Rise of technology related entrepreneurship (eg. Networking, e-commerce)
Lifestyle changes exposed women to non communicable diseases like diabetes, cancer
Women in socio-political system:
Gradual increase in the participation of women in leadership and decision making roles. Diverse positions were opened up for women. For example, Panchayat Raj Institution has about 49% of women representation.
However, women are underrepresented in many crucial roles. For example,
Central Council of Ministers – 12%
Members of Parliament in 16th Lok Sabha – 12%
HC Judges and SC Judges – 8%
Police – 9%
Feminization of labour force:
Rise in labour force participation rate of women in the initial years.
Women benefitted from the financial independence and more women entered the public space.
Unfortunately 90 percent of the women ended up in informal sector, which means they were deprived of social security mechanisms like pension, maternity benefits, childcare systems.
Increased household income confined women to private space post reforms, resulting in defeminisation of labour force.
Rural Women:
Diversification of employment in rural areas from agricultural to non agricultural sectors.
However, domination of women as agricultural labourers and outmigration of men led to feminization of agriculture. This in turn contributed to ruralisation of poverty and feminization of poverty.
Urban Women
Better quality education and boom in IT sector, led to their formal employment.
On the other hand majority of urban women were employed in low skilled areas, leading to decline in their bargaining power.
DALIT WOMEN
Considerable increase in the literacy rate of Dalit women is witnessed. Contrarily, UNICEF reported 51% of Dalit children dropout of elementary schools.
Decline in caste based occupations in rural india and rise in class based occupations in urban india.
Dilution of caste extremism and concentration of class discrimination due to widening inequality. Unfortunately Dalit women are highly poor.
Ministry of Labour – 85% of manual scavengers are dalit women.
TRIBAL WOMEN
Increased access to healthcare and institutional delivery mechanisms, education.
Increased import of goods led to the decline of their specialized indigenous artefacts and produce.
Development induced displacement ruined status of tribal women in most cases leading to tribal trafficking and exploitation.
TRANSGENDERS
Colonization and western influence marginalized and exploited the third gender.
Though more number of global institutions started recognizing them, they are the most vulnerable section in India succumbed to human trafficking and prone to sexually transmitted diseases.
CONCLUSION
Globalization though brought positive social changes on the development of women, inherent patriarchal mindset and ascending crimes against women pose a narrow bottleneck on the empowerment of women in Indian society.
EFFECTS ON CULTURE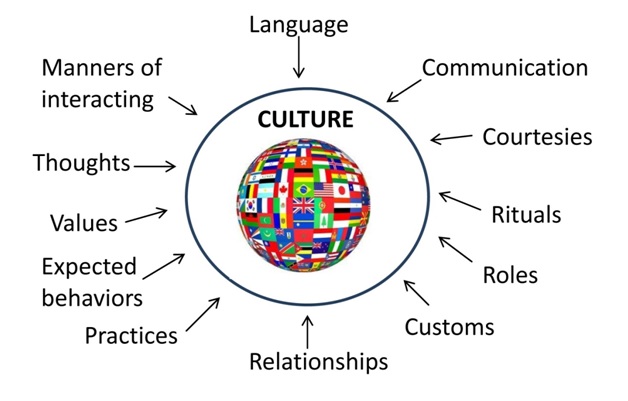 Linguistic culture :
Influence of transnational corporations dominated English language over regional languages and minority languages. For eg: Families in urban areas often use English language in their day to day communication
However, it has led Indians to excel in the services sector of the country
Caste System:
Relaxed norms of socializing, intermingling, intercaste marriages.
Expansion of economic opportunities and breakdown of traditional division of labour led to social mobility.
But, caste system shows resilience in terms of exploitation of the vulnerable caste groups.
Lack of skills among the lower caste people has pushed in informalization of workforce,
Religious System:
Increased prosperity have influenced the materialistic aspects of religion.
Spread of religious ideas through migration. For eg – the rise of spiritual affiliation in western countries
Clash of civilizations, wherein religious consciousness is on rise due to negative influence of other religious aspects.
Also, globalization led to the questioning of exploitative traditions like Deva-Dasi, Triple Talaq.
Food Culture:
New cuisines like Chinese food and Italian cuisine are dominating the chain of restaurants.
Lifestyle changes due to consumption of junk foods like pizza, burger, etc
Franchise food culture like McDonald, KFC has homogenized the eating habits across world.
Clothing Culture:
Traditional dresses has become a symbol of ceremony while western clothing patterns dominate everyday life.
The rise in denim culture can be seen across regions, gender and demography,
Family and Marriage:
Decline in joint family pattern, dominance of nuclear families. Modern thoughts like live in culture has also been recognised by the Supreme Court in the famous Kanniammal case.
Familial celebrations have been added by the Mother's Day, Father's Day, Daughter's Day etc.
The concept of dual income family wherein women also earns, has changed the role performance of men and women.
Increased in concept of love marriages.
Web based marriage alliance system has become a common phenomenon.
The pandemic has seen the rise of live streaming of marriages and even virtual marriage due to technological influence.
Homogenization of culture :
The process of rising global interconnectedness and interdependence has led to standardization and uniformization of culture across the world.
Change in family structure and Rise in retirement homes and community culture.
Homogenization in food and clothing (discussed above)
Homogenization in teaching methods like smart classrooms, virtual learning apps.
Homogenization of English Language For Eg: 196 Indian languages are in danger of extinction, according to UNESCO's Atlas of the World's Languages in Danger of Disappearing (UNESCO 2009).
Homogenization of Yoga across world is a contribution from Indian land.
Homogenization in values and rights like democracy, scientific temper, rationality, human rights, child rights, banking culture.
Glocalization of culture:
Globalization + Localization = Glocalization.
glocalization campaigns involve culturally friendly media and ad campaigns to encourage the acceptance of foreign products among a local audience.
Examples: Indian version of Amazon, Yahoo etc
The translation of bestselling books into local languages.
The dubbing of movies in local languages For eg, The Lion King ha been dubbed in regional languages like hindi, tamil, etc
Indian version of global cuisine for eg, adding spices and masalas to noodles, pastas,etc.
Glocalized saree draping is a rising fashion theme. i.e, multiple ways of wearing sarees.
Phonetics of English language is often based on the speech sounds of local languages.
Revival of Culture
Demand for handmade arts and crafts in global market.
Spread of Yoga
The emphasis of traditional medicines like Ayurveda, Siddha etc
EFFECTS OF GLOBALIZATION
TRIBALS
A tribe is a social division in a traditional society consisting of families linked by social, economic, religious, or blood ties, with a common culture and dialect.
Positive effects:
Promoting Tribal work and products. For example, Orissa tribal culture became very popular, because of dance, handicrafts such as, wooden product stone product and some other hand made product sale in the global market.
Opportunities of education
Economic diversity for the betterment of their livelihoods
Negative effects :
Displacement of Tribals : About 55 per cent of the country's tribal population now resides outside their traditional habitats. Development induces displacements like irrigation developments are the major causes. For eg: The Narmada Bacho Andolan.
Land Alienation of Tribals
Problems of Indebtedness: lack of resources for engaging in gainful activity has led to indebtedness for tribal communities. This led to tribal pauperization.
Endangering of Intellectual Property Rights especially in their traditional knowledge of medicines.
Extinction of Primitive tribal culture
The rapid technological advancement and unrivalled economic and political strength of world capitalism, and the rising power of neo-colonialism have created favourable conditions for the evasion and extraction of natural resources from the ecologically fragile territories of tribal people. For eg, Bhopal gas tragedy.
Globalisation is hastening the process of destruction of local production and local markets. Gone were the days of Shikai, Rita, Pulse powders (Sunni Pindi), neem twigs and Kumkum. Today they are replaced by shampoos, tiklis, tooth brush and tooth paste
ENVIRONMENT
Resources

Depletion of environmental resources like fossil fuels.
Contamination of natural resources like soil, water and air. For eg, commercialized agriculture lead to loss of soil fertility in northwestern India.

Biological Diversity

Organized Crime and global chains led to poaching and hunting of key biodiversity species.
Invasive Species has become threat to the extinction of native species through shipping routes and other means

Crop Diversity

Monocropping and monoculture has affected not only the environment but also the agriculture as such.
Agriculture has become the vagaries of climate change.

Climate Change

Increased production and encouragement of large scale trading has rised the use of fossil fuels.
Tremendous rise in green house gases and ozone depletion.
Uncertainity in not only climate but also weather conditions.
However Globalization has also positively impacted on environment through,
Increased and integrated environmental consciousness across the world. For Example, social media campaigns to support against the Amazon forest fires
Global initiatives like UNFCCC, conventions on biodiversity, migratory species leads to better control environmental outrages.
EDUCATION
India is a rapidly changing country in which inclusive, high-quality education is of utmost importance for its future prosperity. The country is currently in a youth bulge phase. It has the largest youth population in the world—a veritable army of 600 million young people under the age of 25
Pros:
introduction of computer-mediated learning has revolutionized the teaching and learning process
possible to interact more effectively across cultural boundaries. Sharing information and collaborating with others has proven to be a revolution in education.
Skills for global Economy: The quest among students to learn new skills like coding, designing, etc makes them to participate in global employment scenario.
Changes in curriculum : Wider elements and wider perspectives of study enriches the knowledge of students.
Quest for international ranking of institutions repeatedly enforces quality enrichment in the education.
Cons:
Globalization poses challenges like faculty shortage, infrastructural constraints in India.
Marketization of education has led to inequality and compensation of quality of education especially in the higher education sector
Homogenization of western education in India, induced by international rankings like PISA
Brain drain ,is serious issue which hampers India's development.
Value erosion is a concern.
Mushrooming of private online content creators in education is often misleading. For example, the learn to code campaign.
DEGLOBALIZATION/REVERSE GLOBALIZATION
What?
The process of reducing interdependence and integration between nations around the world.
Characterized by decline in economic trade and investment between countries.
This decline reflects that economies become less integrated with the rest of the world economies
Why?
Protectionism and unilateral withdrawal from international organizations and agreements. For eg, trade wars between US and China.
Changing geopolitical quations. For example, US withdrawal from JCPOA were criticized by other members.
Rise of national consciousness and unemployment in western countries led to stricter immigration policies. For eg, the policies in Saudi Arabia against immigrant workers.
Crisis and inflow of refugees affecting national resources.
Developed countries bearing the cost of emerging countries Eg: BREXIT
The fear of spread of pandemic especially the COVID -19
Impact
Restriction of labour movements. India would be affected because it enjoys the benefit of remittance in global economy. For eg, Kerala's Remittance economy has been shaken during lockdown.
Foreign investments might get affected. The technology transfers would take a back seat.
Shrink in labour force participation rate affects the standard of living
Political instability and uncertainity would become a new issue since affecting the basic income of people would rise consciousness and lead to antagonistic tendencies.
Leads to Lack of cooperation and coordination among countries and regions.
Conclusion
The dynamics in global scenario suggests multilateralism and cooperation as the means to encounter the uncertainity and challenges. Deglobalization with protectionist attitude not only affects the economy but also social and psychological behaviour of various communities.
To access Mains Master Notes of every topic in a scientific and systematic manner.