Energy Efficiency
December 20, 2021

Posted by:

OptimizeIAS Team

Category:

DPN Topics

Energy Efficiency
Subject – Economy
Context – The human development index of countries like Japan and Germany is similar to the US but their energy consumption is significantly lower
Concept –
The world's energy usage is projected to double in a few decades. "Net Zero by 2050", a report by the International Energy Agency (IEA) released in May 2021, states that per capita electricity consumption will rise.
In India, Passenger and freight transport in the railways is much less compared to road transport.
China has the highest network of high-speed trains.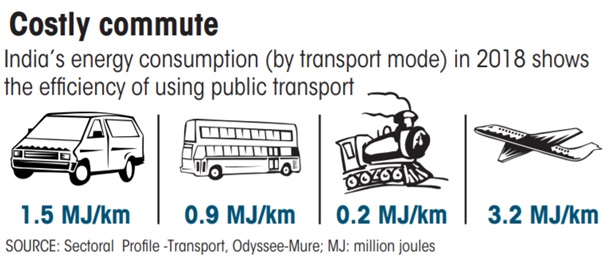 Another important point for India is its dependence on energy imports. In 2040, oil imports are likely to account for 90 per cent of consumption, as per "India Energy Outlook 2021" and "World Energy Outlook" published by IEA, while gas import will account for 50 per cent to 70 per cent of India's energy import.
Measures to reduce energy consumption and achieve energy efficiency
Public transport in place of private transport
Limits to conspicuous consumption
Non vegetarian diets have a huge energy, water and land footprint.
Recycling can help in achieving material efficiency.
Electric vehicles rely on materials like lithium and cobalt, which can be recycled.
Goal 12 in the UN's 17 Sustainable Development Goals is "Responsible Consumption and Production.
Energy and Human Wellbeing is a report published by UNDP.