Engineering tomatoes to produce vitamin D
May 24, 2022

Posted by:

admin1

Category:

DPN Topics

Engineering tomatoes to produce vitamin D
Subject: Science & Technology
Section: Biotechnology
Context: 'A novel way to genetically modifying tomato plants to have fruits rich in a precursor to vitamin D'
Content: FlavrSavr (also known as CGN-89564-2; pronounced "flavor saver"), a genetically modified tomato, was the first commercially grown genetically engineered food to be granted a license for human consumption.
The tomato has the distinction of being the very first widespread genetically modified food available in the United States. Starting in 1994, the FlavrSavr tomato was bred with a deactivated gene that kept the plant from producing polygalacturonase, an enzyme that's the starting point for rot.
Genetically modifying tomato (Solanum lycopersicum) plants:
The fruit contains a significant amount of provitamin D3 which is a precursor from which humans can make vitamin D. Provitamin D3 has the chemical name 7-dehydrocholesterol, or 7-DHC for short.
Humans can synthesise Vitamin D from 7-DHC when they are exposed to ultraviolet B (UVB) light.
Vitamin D is needed for a process known as calcium homeostasis which is the maintenance of a constant concentration of calcium ions in the body.
This is needed for, among other things, bone development and strength, and its deficiency is a cause of conditions such as rickets and osteoporosis.
The diseases associated with vitamin D deficiency are
Heart disease and high blood pressure.
Diabetes
Infections and immune system disorders.
Falls in older people.
Some types of cancer, such as colon, prostate, and breast cancers.
Multiple sclerosis.
Mutant tomatoes: A recently discovered pathway in tomato plants to produce cholesterol and a substance called steroidal glycoalkaloid (SGA for short) using the CRISPR-Cas9 gene editing tool. A few cells divide incorrectly and make an extra fruit locule.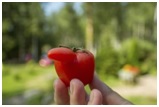 This inhibits the conversion of 7-DHC to cholesterol and instead the former accumulates in the leaves, green and ripe fruits.
In untreated tomato plants, 7-DHC is present in leaves and to a lower extent in green fruit, but not in ripe fruit — which is the most consumed of the lot.
In their modified plants, the suppression of the activity of a particular gene, "led to substantial increases of 7-DHC levels in leaves and green fruit," while levels of 7-DHC were lower in ripe fruits of the mutant, they remained high enough that if converted to Vitamin D3 by shining UVB light, the amount in one tomato would be equivalent to that in two eggs or 28 grams of tuna, both of which are recommended sources of vitamin D.
In the mutants, a reduction in their leaves of a substance called alpha-tomatine may even be beneficial because of alpha-tomatine's reported toxicant or antinutritional activity.
Alpha-tomatine is believed to have a role in the plant's resistance to viral, fungal, insect, and herbivoral attacks. Thereby it is important in safeguarding the plant and its self-preservation, and the reduction of alpha-tomatine in the mutants may not necessarily be a good thing.
Surprisingly, the cholesterol levels in both fruit and leaves of the mutants were higher than that of the wild-type. This was despite having blocked the conversion of 7-DHC to cholesterol.
Small RNAs are short (approximately 18 to 30 nucleotides), non-coding RNA molecules that can regulate gene expression in both the cytoplasm and the nucleus via post-transcriptional gene silencing (PTGS), chromatin-dependent gene silencing (CDGS) or RNA activation (RNAa).
Role of Small RNAs
In cellular processes such as cell differentiation, growth/proliferation, migration, apoptosis/death, metabolism, and defense.
In the post-transcriptional regulation of gene expression.

Though RNAi was initially discovered in nematodes and plants,
RNA-mediated regulation is widely found in eukaryotic organisms, and
Similar small RNA-guided regulatory pathways appear to be operative in
Epigenetics is the study of how your behaviors and environment can cause changes in the way your genes work.
Environmental influences, such as a person's diet and exposure to pollutants, can impact the epigenome.
Epigenetic modifications can be maintained from cell to cell as cells divide and, in some cases, can be inherited through the generations.
A common type of epigenetic modification is called DNA methylation.