European Union executive recommends suspending in funds for Hungary
September 20, 2022

Posted by:

OptimizeIAS Team

Category:

DPN Topics

European Union executive recommends suspending in funds for Hungary
Subject : International Relations
Context:
The European Union executive recommended suspending some 7.5 billion euros in funding for Hungary over corruption, the first such case under a new sanction meant to better protect the rule of law.
European Union:
It is a political and economic union of 27 member states that are located primarily in Europe.
Timeline of European Union's History: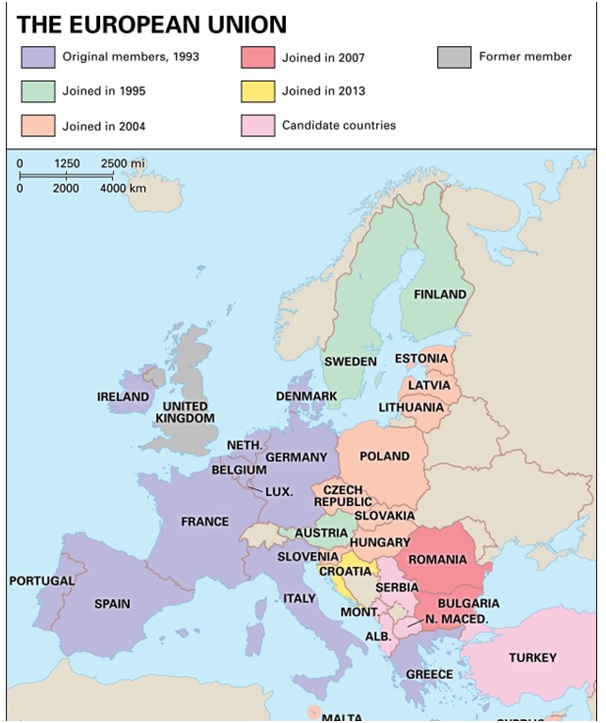 1952– European Coal and Steel Community (ECSC) was founded under Treaty of Paris (1951).
1957– European Atomic Energy Community (EAEC or Euratom), an international organisation established by the Euratom Treaty (1957).
1957- European Economic Community (EEC) was created by the Treaty of Rome (1957).
1965– Merger Treaty (1965, Brussels) in which an agreement was reached to merge the three communities (ECSC, EAEC, and EEC) under a single set of institutions, creating the European Communities (ECs).
1985– Schengen Agreement (1985) paved the way for the creation of open borders without passport controls between most member states. It came into effect in 1995.
1992– The Maastricht Treaty-1992 (also called the Treaty on European Union) by which European Communities (ECSC, EAEC, and EEC) incorporated as European Union. European citizenship was created, allowing citizens to reside in and move freely between Member States.
Organs of European Union:
European Council: It is a collective body that defines the European Union's overall political direction and priorities.
European Parliament: It is the only parliamentary institution of the European Union (EU) that is directly elected by EU citizens aged 18 years or older.
Council of the European Union: It is part of the essentially bicameral EU legislature (the other legislative body being the European Parliament) and represents the executive governments (Minister) of the EU's member states.
European Commission (EC): It is an executive body of the European Union, responsible for proposing legislation, implementing decisions, upholding the EU treaties and managing the day-to-day business of the EU.
European Court of Auditors (ECA): It investigates the proper management of finances within both the EU entities and EU funding provided to its member states.
The Court of Justice of the European Union (CJEU): It interprets EU law to make sure it is applied in the same way in all EU countries, and settles legal disputes between national governments and EU institutions.
The European Central Bank (ECB): It is the central bank for the euro and administers monetary policy within the Eurozone, which comprises 19 member states of the European Union.
Brexit:
The treaty of Lisbon contains a clause under Article 50, providing for a member to leave the European Union. The United Kingdom withdrew from the European Union on 31 January 2020.