Feluda kit and CRISPR Cas9
June 24, 2020

Posted by:

admin1

Category:

DPN Topics

Subject: Science and tech
Context:
COVID-19 testing kits Feluda developed by labs of the Department of Science and Technology (DST) and the Council of Scientific and Industrial Research (CSIR) are yet to make it to the market. But change in rules by the ICMR that now requires additional data and not just results from laboratory-controlled conditions from research labs will stall its release.
Concept:
On May 5, the CSIR-Institute of Genomics and Integrative Biology (IGIB) announced collaboration with Tata Sons Ltd to develop a paper-based test, called FELUDA that could detect the presence of the virus.
The FELUDA kit uses a CRISPR-cas9 gene editing system to detect the coronavirus,
Unlike the conventional RT PCR test that requires a specialized machine, FELUDA (FNCas-9 Editor Linked Uniform Detection Assay), was relatively more adaptable and could be used in conventional pathology labs that didn't have a PCR machine.
CRISPR-cas9 gene
CRISPR technology is a simple yet powerful tool for editing genomes.
It allows researchers to easily alter DNA sequences and modify gene function. Its many potential applications include correcting genetic defects, treating and preventing the spread of diseases and improving crops. However, its promise also raises ethical concerns.
CRISPRs are specialized stretches of DNA.
The protein Cas9 is an enzyme that acts like a pair of molecular scissors, capable of cutting strands of DNA.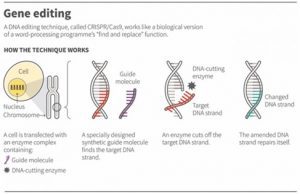 CRISPR technology was adapted from the natural defense mechanisms of bacteria and archaea. These organisms use CRISPR-derived RNA and various Cas proteins, including Cas9, to foil attacks by viruses and other foreign bodies. They do so primarily by chopping up and destroying the DNA of a foreign invader.
When these components are transferred into other, more complex, organisms, it allows for the manipulation of genes, or "editing."