General Studies – 1
Mental health
According to the National Mental Health Survey 2015-16, close to 150 million Indians were in need of mental healthcare support
Not only does India lack in resources (one psychiatrist for 1 lakh patients) and budgetary allocations, society has not yet developed a vocabulary that allows an articulation of this distress.
Health
For decades, policy experts have pointed to the need for raising public expenditure on health from 1% of the gross domestic product (GDP), to 2% or 3%, but to no avail. In contrast, countries like China have been spending around 2% of the GDP on health since almost two decades ago. And there are countries like the United States (US), which spend around 8% of the GDP on healthcare. The low government spending on health in India ensures that almost 70% of health spending is out-of-pocket spending by individuals, one of the highest in the world.
While the per capita health expenditure in Bihar was `617 in 2018–19, it was `2,048 in Kerala and `6,207 in Goa. Consequently, while Kerala, Goa and Karnataka have three to four hospital beds per 1,000 people it is lower than one in Bihar, Odisha, Assam, Jharkhand and Madhya Pradesh. Similarly, while Kerala has more than five doctors, nurses and midwives per 1,000 people, the number is lower than one in Bihar and Jharkhand.
Thus, it is no surprise that an index of effective coverage of universal health services in 204 countries for 1990–2019 showed that India's effective coverage of universal health services was only 47, as compared to 51 in Bhutan, 54 in Bangladesh, 65 in Brazil, 70 in China and Iran, 73 in Cuba, 82 in the US, 86 in Germany, 91 in France and 96 in Japan.
Reverse migration and MGNFREGA demand
General Studies – 2
GST collections at all time-high
GROSS Goods and Services Tax (GST) collections touched a record high of Rs 1.41 lakh crore in April, surpassing the previous high of Rs 1.23 lakh crore in March. The April collections, which account for sales in March, mark the seventh month where the monthly GST collections have crossed the Rs 1-lakh-crore mark. GST revenue had dipped to an all-time low of Rs 32,172 crore in April 2020.
This has happened as the nature of the pandemic has pushed the smaller, unorganised sector players across several sectors out of business. Their share of business has moved to the bigger, organised sector players.
Rise in External commercial borrowing
India Inc's external commercial borrowings jumped by over 24 per cent to $9.23 billion in March this year, RBI data showed.
Indian firms had raised $7.44 billion from the foreign market in the same period a year ago.
General Studies – 3
Unemployment
The second wave of Covid-19 and the resultant localised lockdowns have impacted over 75 lakh jobs, taking the unemployment rate to a four-month high of 8 per cent, the Centre for Monitoring Indian Economy (CMIE).
The national unemployment rate touched 7.97% as per the centre's proprietary data, with urban areas witnessing higher stress at 9.78% and rural joblessness at 7.13%.
Climate Change impact on glaciers
The Leeds study had found that the world has lost a whopping 28 trillion tonnes of ice between 1994 and 2017—for perspective, that is over 1.2 trillion tonnes of ice lost per year over a little more than two decades, while the ice-loss figure was 800 billion tonnes till then.
A new study says the global ice-cover lost a whopping 300 billion tonnes of ice per year from 2015 to 2019, a 30% increase in the rate of melting compared with the 2010-2014 period.
Representation of minorities and women in state legislature
The newly Assam Assembly has 31 Muslims out of 126 MLAs and just 6 women.
Solar Power and capacity in India
India's domestic module and cell manufacturing capacities of 10 GW and 3 GW, respectively, fall far short of its annual requirements of 25 GW.
domestically-produced modules were 33% more expensive than their Chinese counterparts on average
Criminalization of politics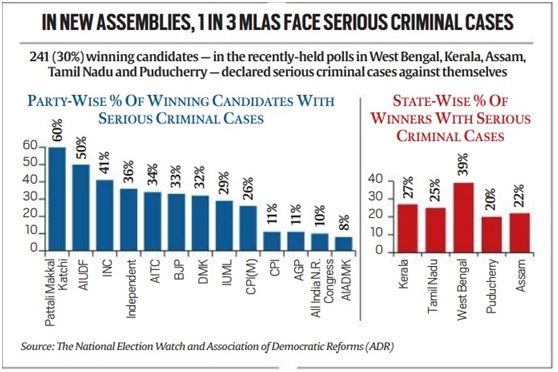 Informal sector
The informal sector accounts for about 50% of GVA and a major share in the export basket.
The informal sector employs more than 80% of India's workforce. The informal sector accounts for about 50% of GVA and a major share in the export basket.
Climate change
A multi-country study involving 84 scientists has found that if nations meet their goals of today, melting of just land-ice due to the resultant rise in temperature will raise oceanic levels by 25 centimeters by 2100.
If Paris deal signatories try and keep warming down to 1.5-2oC, the estimated rise in sea-levels falls to 13 cm.
Current pledges on emission reduction and changing energy use will lead to more than 3°C of warming by 2100.
While the sea-level has risen around 23 cms since 1880, its rise since the 1990s now accounts for a third of the historic total, reports Bloomberg