Gini coefficient
October 30, 2021

Posted by:

OptimizeIAS Team

Category:

DPN Topics

Gini coefficient
Subject – Economy
Context – Although SARS in 2003, H1N1 in 2009, MERS in 2012, Ebola in 2014, and Zika in 2016 were much smaller in scale than the ongoing pandemic, they led to increases in the Gini coefficient.
Concept –
The Gini index, or Gini coefficient, is a measure of the distribution of income across a population developed by the Italian statistician Corrado Gini in 1912.
It is often used as a gauge of economic inequality, measuring income distribution or, less commonly, wealth distribution among a population.
The coefficient ranges from 0 (or 0%) to 1 (or 100%), with 0 representing perfect equality and 1 representing perfect inequality.
Values over 1 are theoretically possible due to negative income or wealth.
A higher Gini index indicates greater inequality, with high-income individuals receiving much larger percentages of the total income of the population.
Global inequality as measured by the Gini index increased over the 19th and 20th centuries, but has declined in more recent years.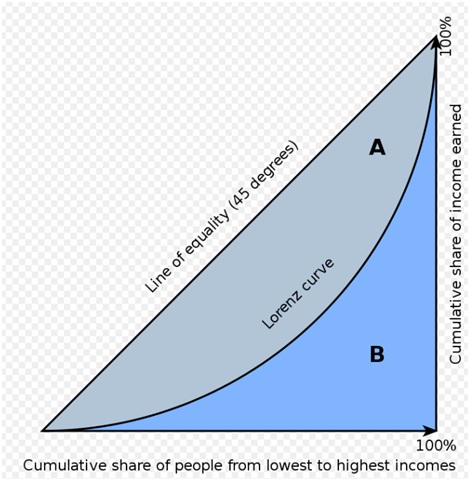 The difference between this hypothetical line and the actual line produced of people's incomes is the Gini ratio.
Limitation – The Gini coefficient is a relative measure.