Global attention on moratorium on deep-sea mining
June 30, 2022

Posted by:

OptimizeIAS Team

Category:

DPN Topics

Global attention on moratorium on deep-sea mining
Subject : Geography
Section: Economic Geography
Context: As the UN Ocean Conference gets underway and the global attention turns towards the ocean, political resistance to the emerging deep-sea mining industry gains traction
What is Dee sea mining?
It is the extraction of valuable metals and minerals by stripping away wide swaths of the deep ocean floor using robotic cutting machines.
What will be mined?
Nickel, copper, cobalt, manganese, zinc, gold and other rare-earth metals and minerals, much of which are used in electronics
Natural hydrothermal geysers on the deep ocean floor regularly vent rich concentrations of metals and minerals from the earth's core, forming valuable seams on the ocean floor that can yield up to 10 times the precious metals as in comparable land-based mining
Polymetallic nodules
Polymetallic nodules (also known as manganese nodules) are potato-shaped, largely porous nodules found in abundance carpeting the sea floor of world oceans in deep sea.
Composition: Besides manganese and iron, they contain nickel, copper, cobalt, lead, molybdenum, cadmium, vanadium, titanium, of which nickel, cobalt and copper are considered to be of economic and strategic importance.
Main environmental impact of Deep sea Mining:
Destruction of natural land forms and the wildlife they host, compaction of the sea floor
Creation of sediment plumes that disrupt aquatic life
Nearby impacts include noise, electromagnetic effects, disruption of the larval supply, contamination and fluid flow changes
Deep-water mining will alter the geochemical underpinnings of ocean life, cause the loss of important genetic resources,
The difficult of deep-sea mining operations also make accidents, pollution and contamination likely
United Nations Convention on the Law of the Sea (UNCLOS), 1982:
It also called the Law of the Sea Convention or the Law of the Sea Treaty
It is an international agreement that establishes the legal framework for marine and maritime activities
It divides marine areas into five main zones namely- Internal Waters, Territorial Sea, Contiguous Zone, Exclusive Economic Zone (EEZ) and the High Seas
UNCLOS does not deal with matters of territorial disputes or to resolve issues of sovereignty, as that field is governed by rules of customary international law on the acquisition and loss of territory
The United Nations Sustainable Development Goal 14 has a target regarding conservative and sustainable use of oceans and their resources in line with UNCLOS legal framework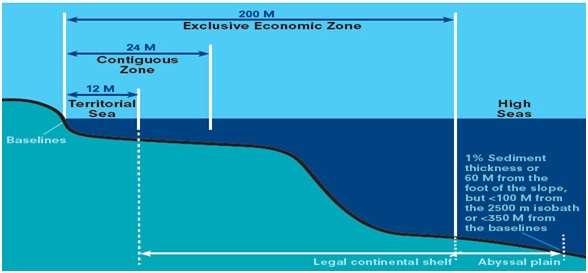 International Seabed Authority:
It is an autonomous international organization established under the 1982 United Nations Convention on the Law of the Sea (UNCLOS)
ISA  is the organization through which States Parties to UNCLOS organize and control all mineral-resources-related activities in the Area for the benefit of mankind as a whole
ISA which has its headquarters in Kingston, Jamaica, came into existence on 16 November 1994, upon the entry into force of UNCLOS
All States Parties to UNCLOS are ipso factomembers of ISA. As of 2020, ISA has 168 members, including 167 member States and the European Union
India is a member to the ISA