Golden Langur
June 22, 2020

Posted by:

admin1

Category:

DPN Topics

Subject: Environment
Context:
Golden Langurs are facing threat of electrocution from power supply lines.
Concept:
It is endemic to the semi-evergreen and mixed deciduous forests straddling India and Bhutan.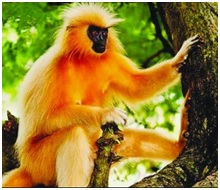 The golden langurs in Assam are hemmed in by three rivers Brahmaputra in the south, Manas in east and Sonkosh in west. Their northern limit is the range of hills in Bhutan up to 2,400 metres above sea level.
IUCN status – Endangered
In Assam, its main population is in the Manas Biosphere Reserve, a forested area along the border of Bhutan.