Grey, blue, green – why are there so many colours of hydrogen?
November 24, 2022

Posted by:

OptimizeIAS Team

Category:

DPN Topics

Grey, blue, green – why are there so many colours of hydrogen?
Subject: Environment
Context:
Hydrogen fuel-
Hydrogen emits only water when burned. But creating it can be carbon intensive.
Scientists assign colours according to the production method of hydrogen.
Depending on production methods, hydrogen can be grey, blue or green – and sometimes even pink, yellow or turquoise.
Green hydrogen is the only type produced in a climate-neutral manner.
It could play a vital role in global efforts to reduce emissions to net zero by 2050.
Black, Brown and Grey hydrogen
Grey hydrogen is the most common form and is generated from natural gas, or methane, through a process called "steam reforming".
This process generates just a smaller amount of emissions than black or brown hydrogen, which uses black (bituminous) or brown (lignite) coal in the hydrogen-making process.
Black or brown hydrogen is the most environmentally damaging as both the CO2 and carbon monoxide generated during the process are not recaptured.
Blue hydrogen
Hydrogen is labelled blue whenever the carbon generated from steam reforming is captured and stored underground through industrial carbon capture and storage (CSS).
Blue hydrogen is sometimes referred to as carbon neutral as the emissions are not dispersed in the atmosphere.
However, 10-20% of the generated carbon cannot be captured.
Green hydrogen
Green hydrogen – also referred to as "clean hydrogen" – is produced by using clean energy from surplus renewable energy sources, such as solar or wind power, to split water into two hydrogen atoms and one oxygen atom through a process called electrolysis.
It currently makes up about 0.1% of overall hydrogen production.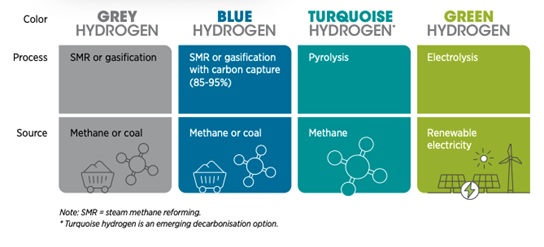 Other colours of hydrogen
Turquoise hydrogen

refers to a way of creating the element through a process called methane pyrolysis, which generates solid carbon.
As such, there is no need for CCS and the carbon can be used in other applications, like tyre manufacturing or as a soil improver.

Pink hydrogen

Like green hydrogen, it is created through the electrolysis of water but the latter is powered by nuclear energy rather than renewables.

Yellow hydrogen

is the term used for hydrogen made through the electrolysis of water using solar power, although some use it to mean hydrogen generated through electrolysis of water using mixed sources depending on what is available.

Hydrogen can also be generated from biomass and, depending on the type of biomass and CCS technologies can have lower net carbon emissions than black/brown or grey hydrogen.