Gross National Happiness Index
November 8, 2021

Posted by:

OptimizeIAS Team

Category:

DPN Topics

Gross National Happiness Index
Subject – Economy
Context – Bhutan, a small, landlocked mountainous least developed country (LDC) in South Asia is next in line to graduate from the LDC category in 2023. It is best known for its philosophy of promoting Gross National Happiness over Gross Domestic Product (GDP).
Concept –
Gross National Happiness (GNH), sometimes called Gross Domestic Happiness (GDH), is a philosophy that guides the government of Bhutan.
The phrase 'gross national happiness' was first coined by the 4th King of Bhutan, King Jigme Singye Wangchuck, in 1972 when he declared, "Gross National Happiness is more important than Gross Domestic Product."
The concept implies that sustainable development should take a holistic approach towards notions of progress and give equal importance to non-economic aspects of wellbeing.
It includes an index which is used to measure the collective happiness and well-being of a population.
The GNH Index includes both traditional areas of socio-economic concern such as living standards, health and education and less traditional aspects of culture and psychological wellbeing.
It is a holistic reflection of the general wellbeing of the Bhutanese population rather than a subjective psychological ranking of 'happiness' alone.
The GNH Index includes nine domains

Psychological wellbeing
Health
Education
Time use
Cultural diversity and resilience
Good governance
Community vitality
Ecological diversity and resilience
Living standards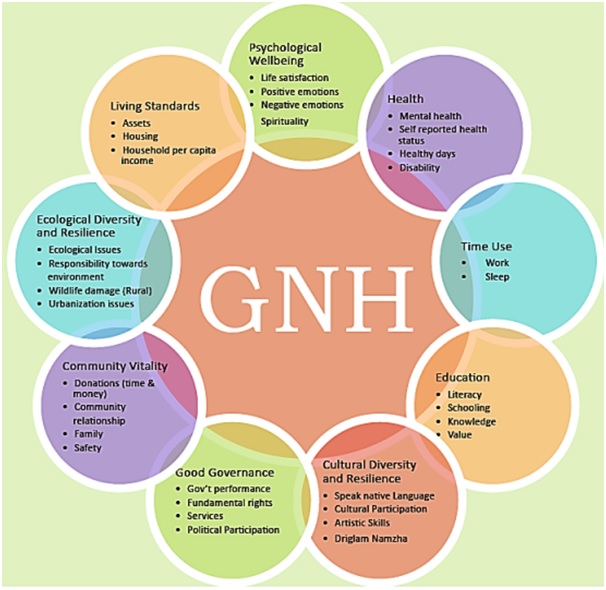 Bhutan and the UN Resolution on Happiness and Development
In 2011, the UN unanimously adopted a General Assembly resolution, introduced by Bhutan with support from 68 member states, calling for a "holistic approach to development" aimed at promoting sustainable happiness and wellbeing.
The Gross National Happiness Index is a single number index developed from the 33 indicators categorised under nine domains. The Centre for Bhutan Studies constructed the GNH Index using robust multidimensional methodology known as Alkire-Foster method.
The concept of GNH has often been explained by its four pillars;

good governance,
sustainable socio-economic development,
cultural preservation, and
environmental conservation.

The four pillars have been further classified into nine domains in order to create widespread understanding of GNH and to reflect the holistic range of GNH values.
World Happiness Report 2021
The World Happiness Report 2021 has been released by the UN Sustainable Development Solutions Network.
Finland was once again crowned as the world's happiest country, for the fourth consecutive year.

The Nordic nation is followed by Iceland, Denmark, Switzerland, The Netherlands, Sweden, Germany and Norway.

India has been ranked 139 out of 149 countries in the list of UN World Happiness Report 2021.

In 2019, India was ranked 140th.

The World Happiness Report is a landmark survey of the state of global happiness that ranks 149 countries by how happy their citizens perceive themselves to be.
The annual report ranks nations based on gross domestic product per person, healthy life expectancy and the opinions of residents.
Pakistan is on 105th, Bangladesh on 101st and China on 84th, according to the report.
People in war-torn Afghanistan are the most unhappy with their lives, followed by Zimbabwe (148), Rwanda (147), Botswana (146) and Lesotho (145).